Great Nanyang Heritage Cafe: Savour nostalgic local delights at this old-school kopitiam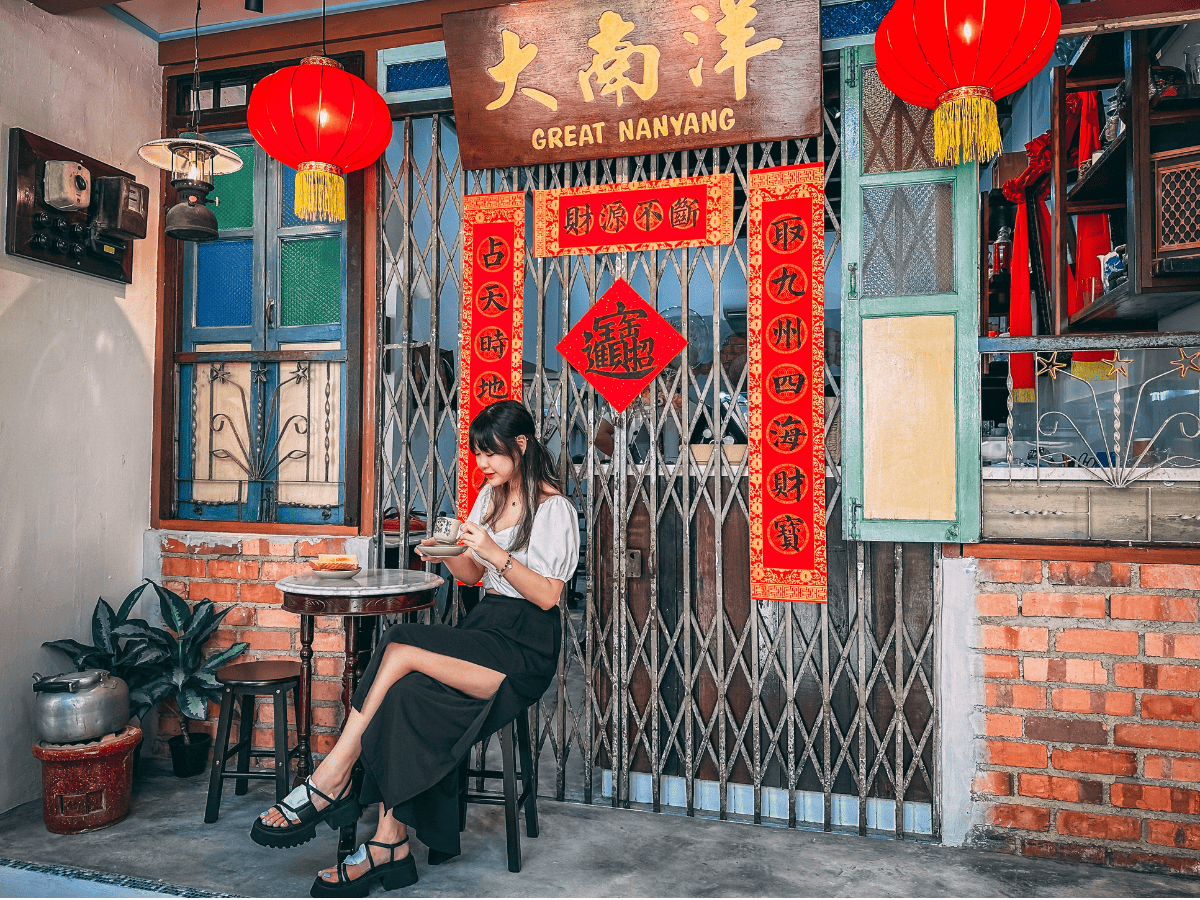 Those reminiscing about the halcyon days of the past will love Great Nanyang Heritage Cafe, an olden-day kopitiam (coffee shop) concept along Craig Road. 
The eatery pays homage to the old-school coffee shops of Malaysia and Singapore, and is the latest venture by Keith Kang, founder of Yang Ming Seafood.
Featuring rustic grilles, traditional wooden windows and a retro signboard, its storefront impressed us when we arrived. It's set up to be the perfect photo spot for diners and passersby alike — even we couldn't help but snap a shot for the 'gram.
The joint is meticulously designed to resemble the heyday of kopitiams in the 1950s and 1980s, with vintage memorabilia peppering every nook and cranny. Think: Old movie posters, classic vinyl speakers and even a first-edition photograph of founding father Lee Kuan Yew's visit to Malaysia in 1963. 
They're all bibs and bobs from Kang's own collection, one that he's cultivated over the years. All these relics are truly a peek into the past, creating a unique dining experience like no other.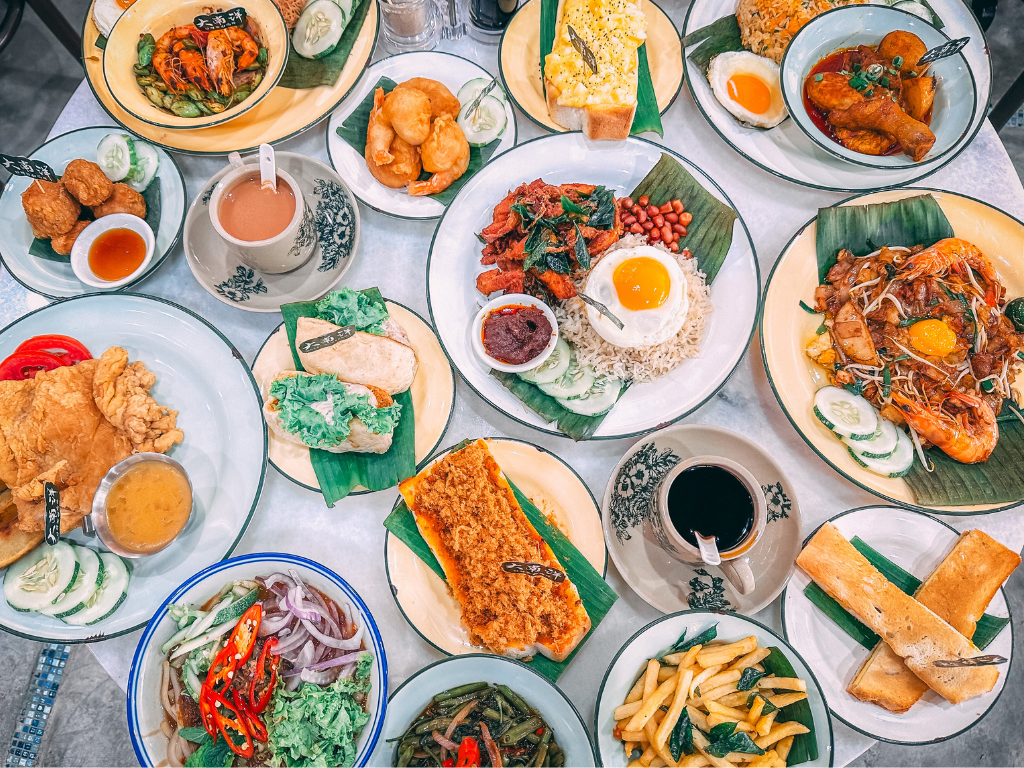 Great Nanyang's menu also stays true to the theme, with a lineup of nostalgic coffee shop favourites that most of us would be familiar with. 
Boasting timeless flavours that's sure to please both the young and old, the dishes at Great Nanyang Heritage Cafe make for wonderful morning pick-me-ups and afternoon tea delights.
Pick from breakfast favourites such as handmade toast and soft-boiled eggs, or classic mains that include mee siam, hor fun and more.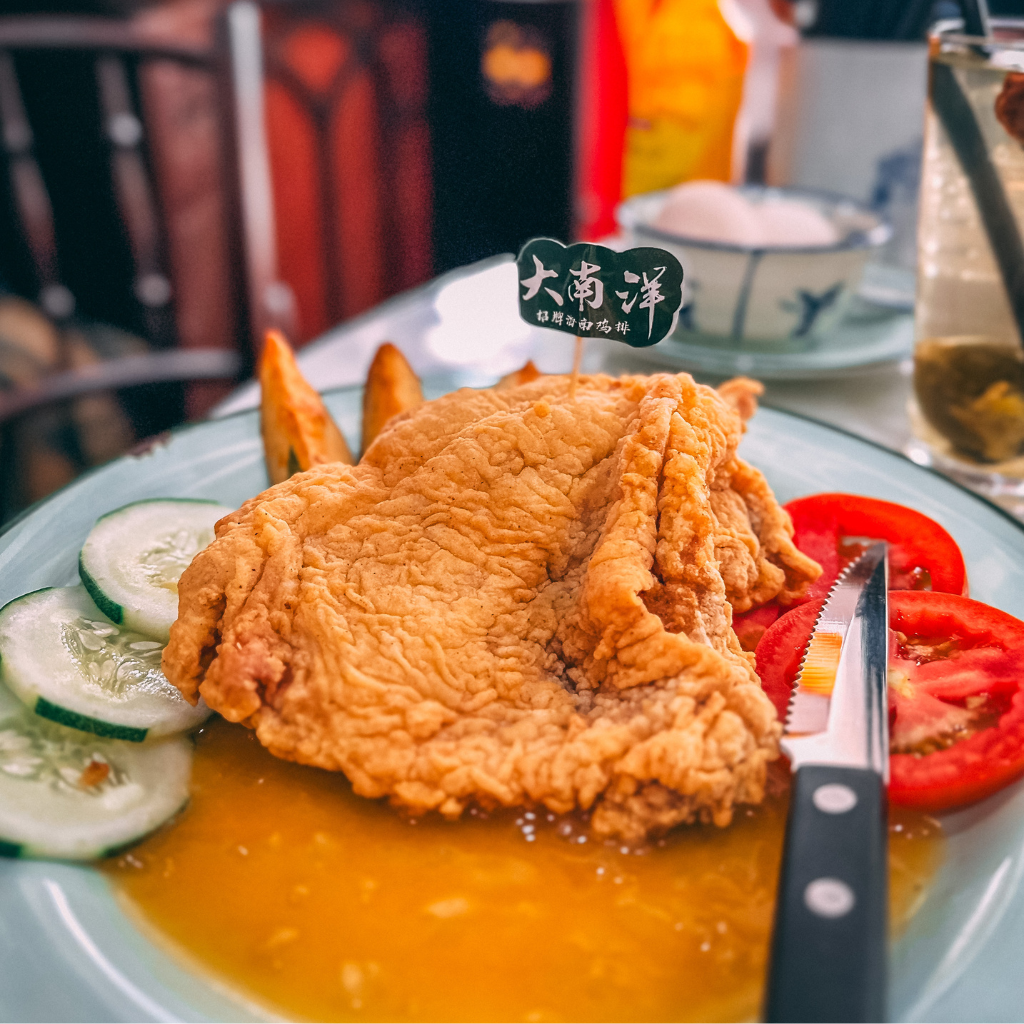 The first dish to arrive at our table was the signature Hainanese chicken cutlet (S$15.90). It's a unique rendition of the popular Hainanese chicken chop — one of Kang's favourite foods — just crunchier, juicier and much more succulent. 
The end result is not just any ol' chicken cutlet. Great Nanyang Heritage Cafe's version comprises tender boneless chicken meat that's marinated and thinly battered to crisp, flavourful perfection. 
Accompanying this dish is a tantalising handmade sauce of butter, onions and pandan leaves. The gravy is sweet and tangy — a wonderful balance to the savoury chicken.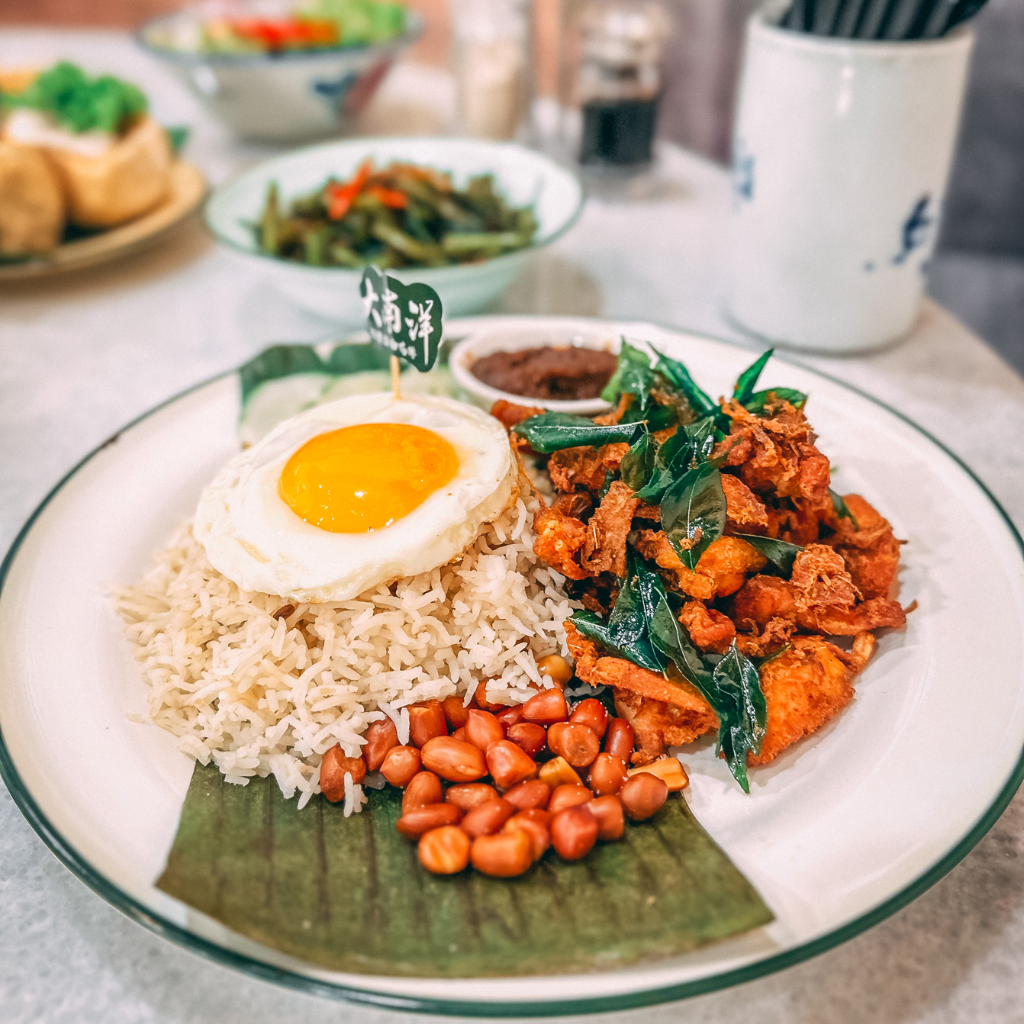 The nasi lemak kukus with chicken berempah leg (S$8.90) is another delicious creation that sees fragrant steamed coconut rice made from basmati grains, a side of hot sambal sauce and flavoursome cubes of boneless chicken berempah leg. It's then completed with the usual suspects of peanuts, slices of cucumber and a fried egg. 
The dish is also customisable to your preference. Feel free to swap out the chicken berempah leg for curry chicken, sambal petai prawn or rendang mutton.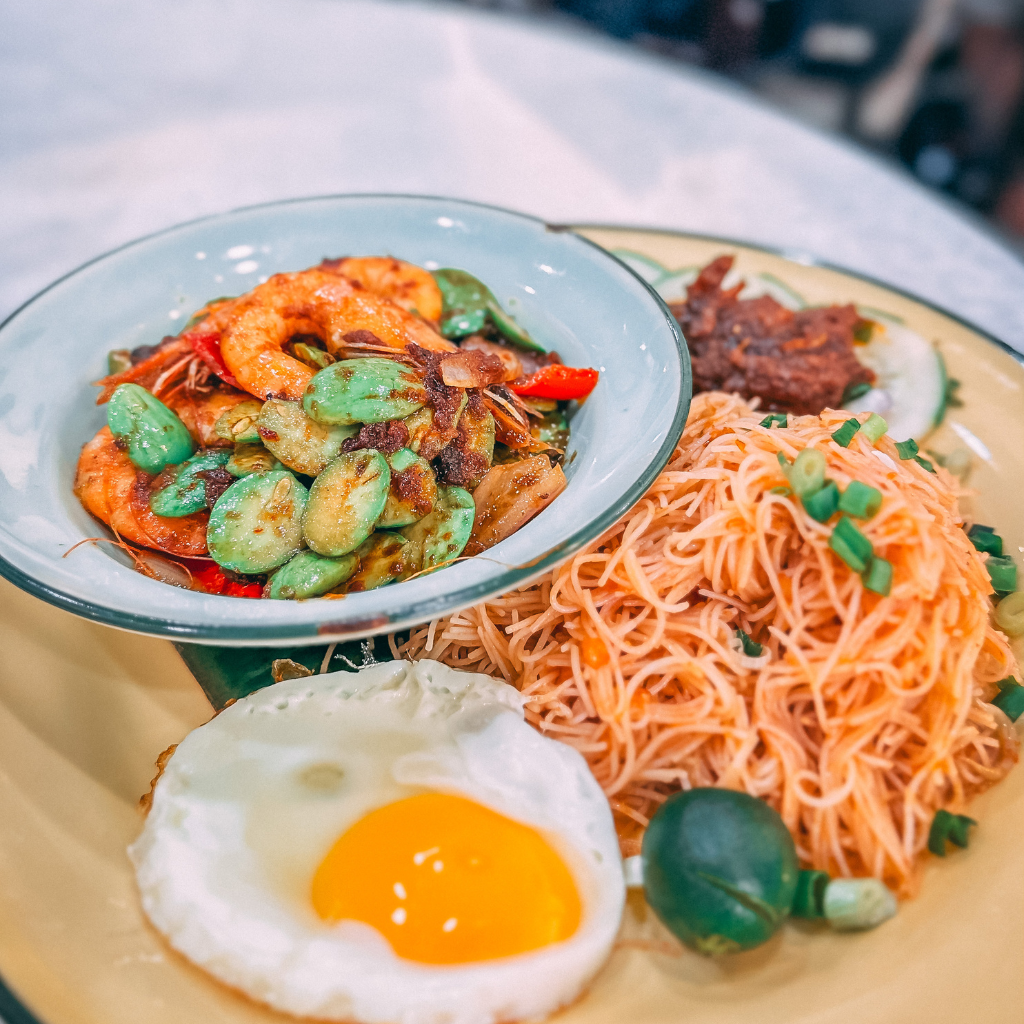 The dry mee siam (S$8.90) is one of our favourite items at the Great Nanyang coffee shop. The bee hoon noodles are cooked with a secret sauce that's made from 13 different herbs and spices, as well as a dried shrimp paste. 
The prawns were also fresh and succulent, going surprisingly well with the sambal petai (stink beans cooked with sambal chilli). Overall, it's a fragrant dish that delivers a flavourful punch.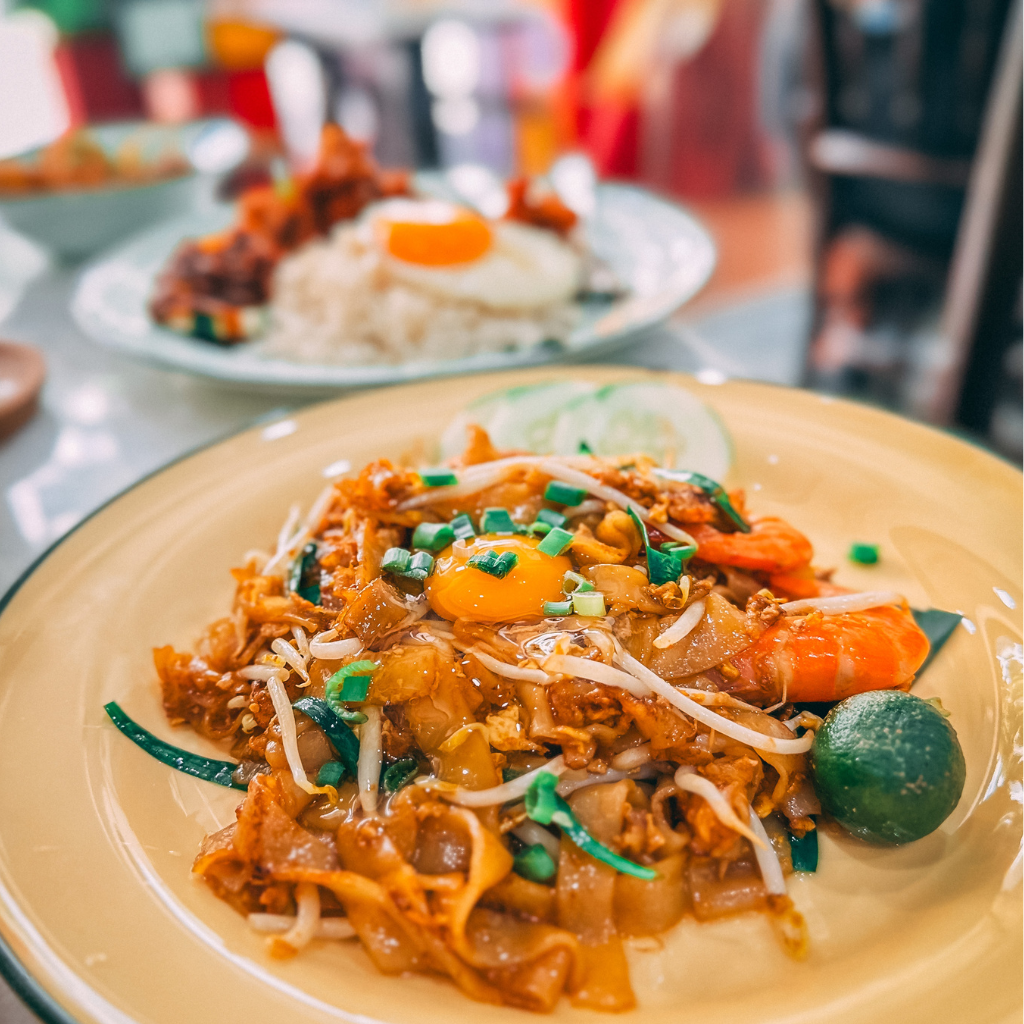 Great Nanyang Heritage Cafe also dishes up incredible zi char delights, such as the Moonlight hor fun (S$7.90) — a decadent plate of stir-fried hor fun that's rich in wok hey and topped with runny egg yolk. 
To best enjoy the dish, break the egg apart and give the dish a good toss. The yolk coats the noodles with its contents, giving the dish a silkier, creamier texture. Squeeze the lime to add citrusy notes and a touch of acid.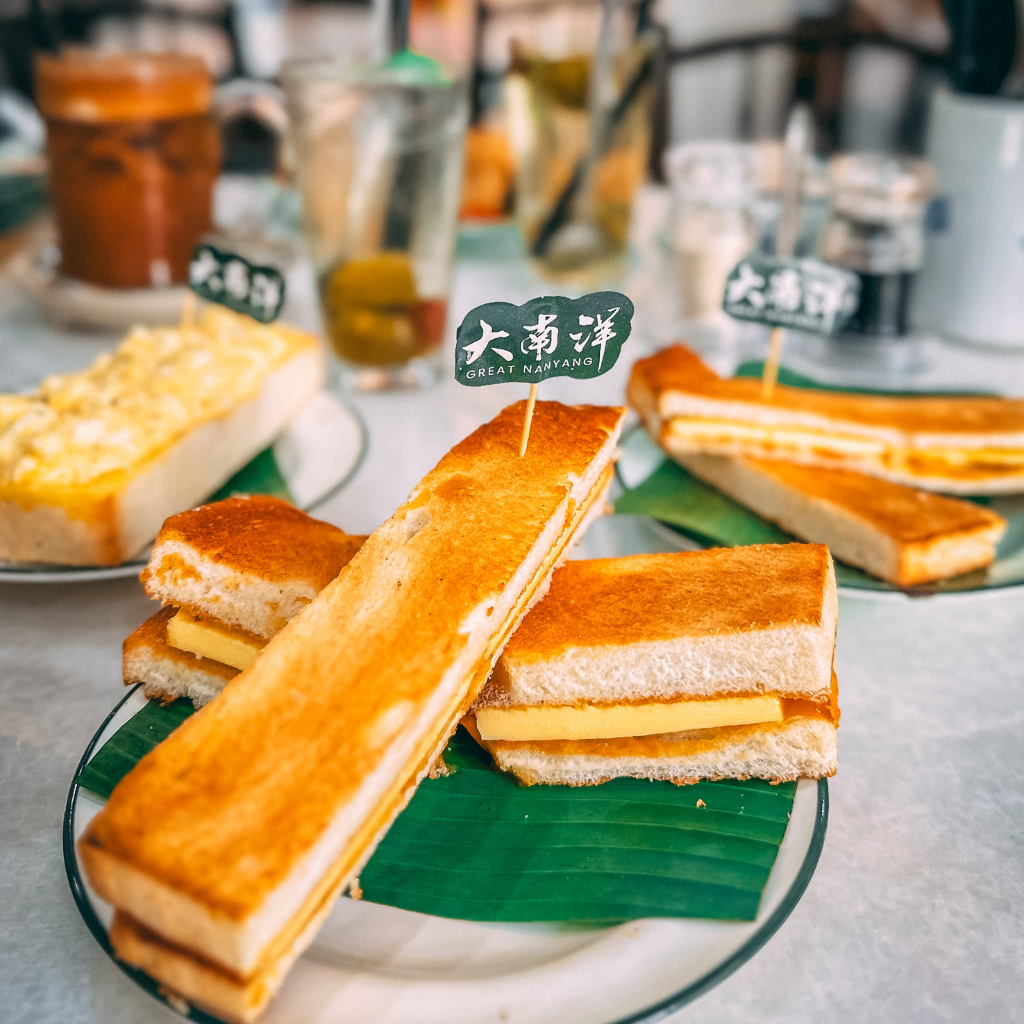 Besides an extensive menu of nostalgic mains, there are also quintessential breakfast treats that you can't miss. It comprises childhood favourites that we grew up savouring, such as soft-boiled kampung eggs (S$2.50 for two) and handmade kaya toast (from S$2.50). 
The kaya toast is one that we'll return for. It's a true morning indulgence, complete with creamy homemade kaya spread and premium butter that's sandwiched between freshly toasted bread.  
For your toast, select whether you prefer your bread thick-sliced (S$2.70), traditional (thin-cut bread, S$2.50) or wholemeal (S$3). The former has our vote, since there's more bite and crunch.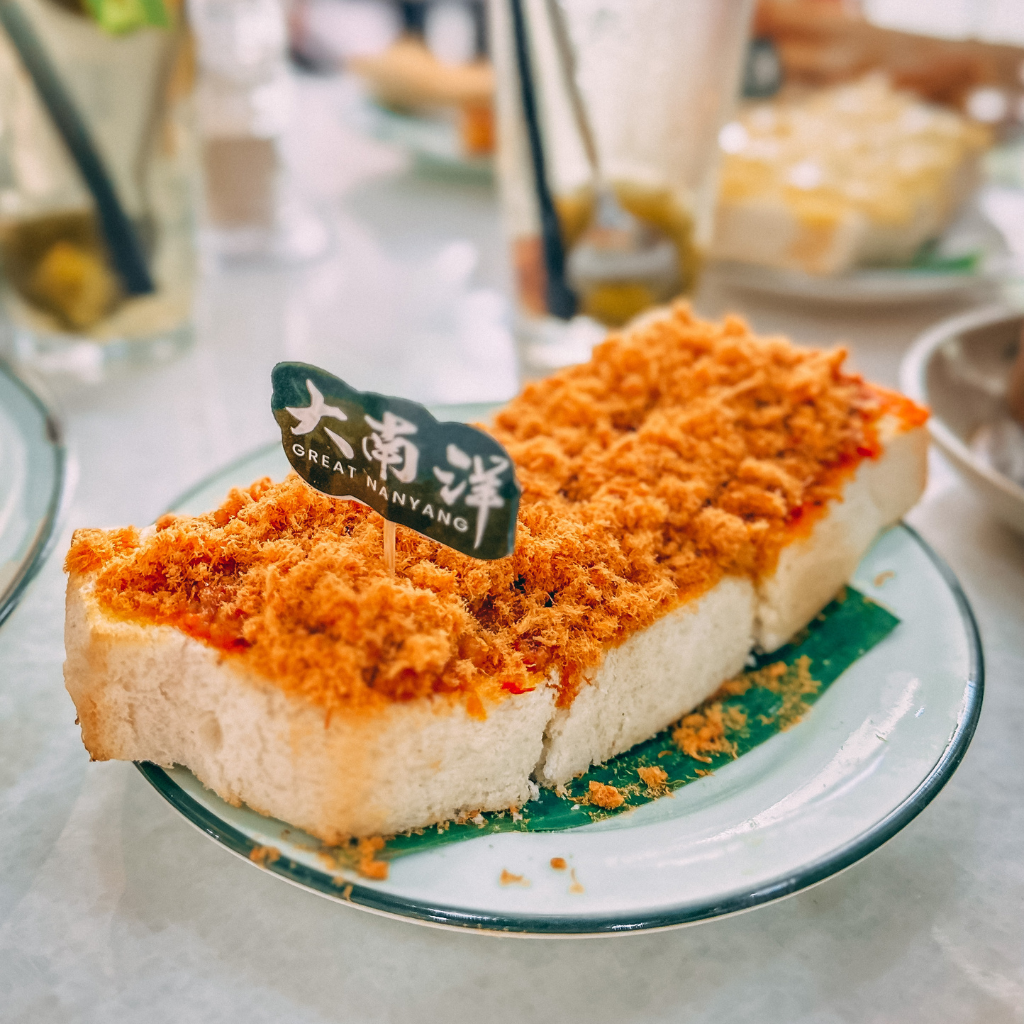 The new Great Nanyang at Tanjong Pagar also introduced savoury toasts with a plethora of toppings, such as egg mayo, cheesy ham egg, tuna mayo, and more. 
We had the chicken floss thick toast (S$4.80), which sees the fluffy bread adorned with a crown of melt-in-your-mouth chicken floss and a layer of sambal spread in between.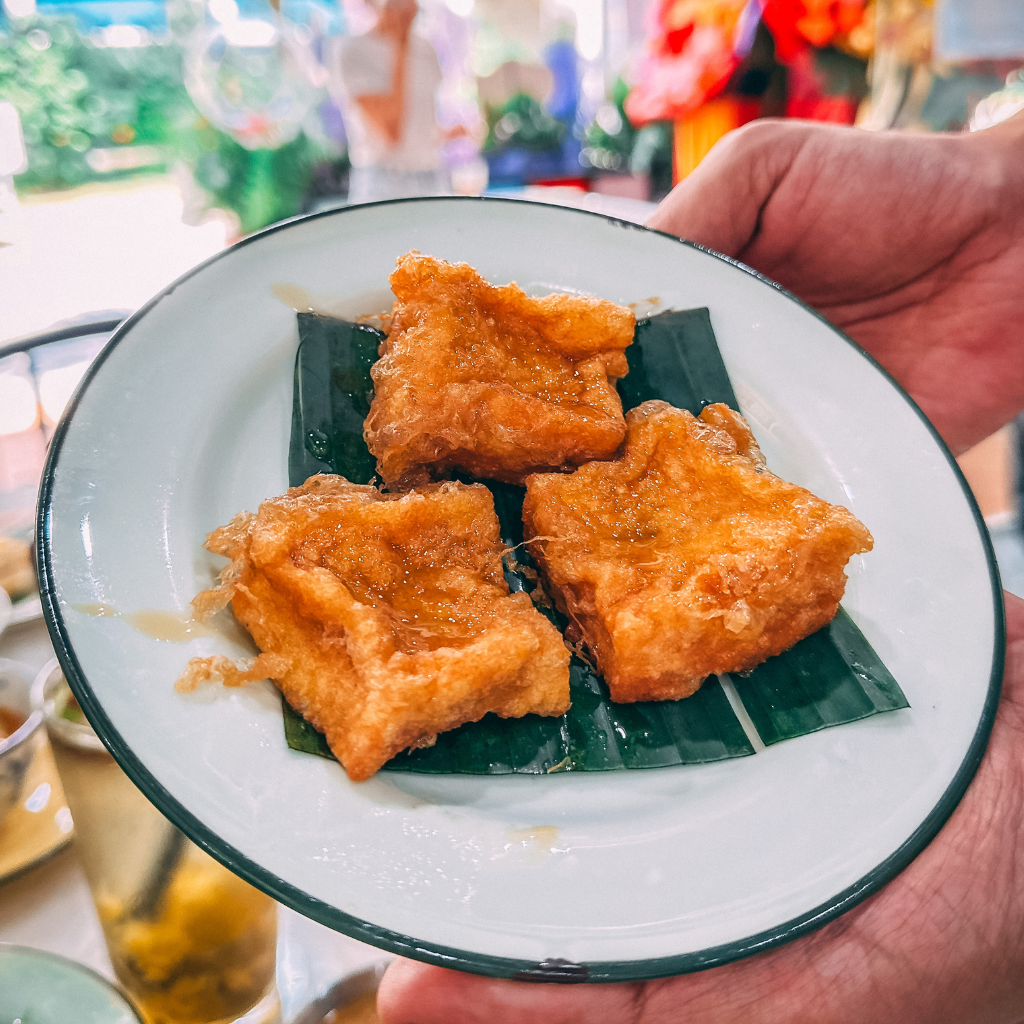 The French toast with peanut butter (S$4.50) is to die for. Served in dainty lil' cubes, the pan-fried toast contains a gooey middle that oozes peanut butter with each bite. It's also drizzled with maple syrup for extra sweetness. 
If you're not a fan of sweet toasts, perhaps you'll enjoy the savoury versions instead: Kaya butter (S$4.50) or cheesy ham (S$5).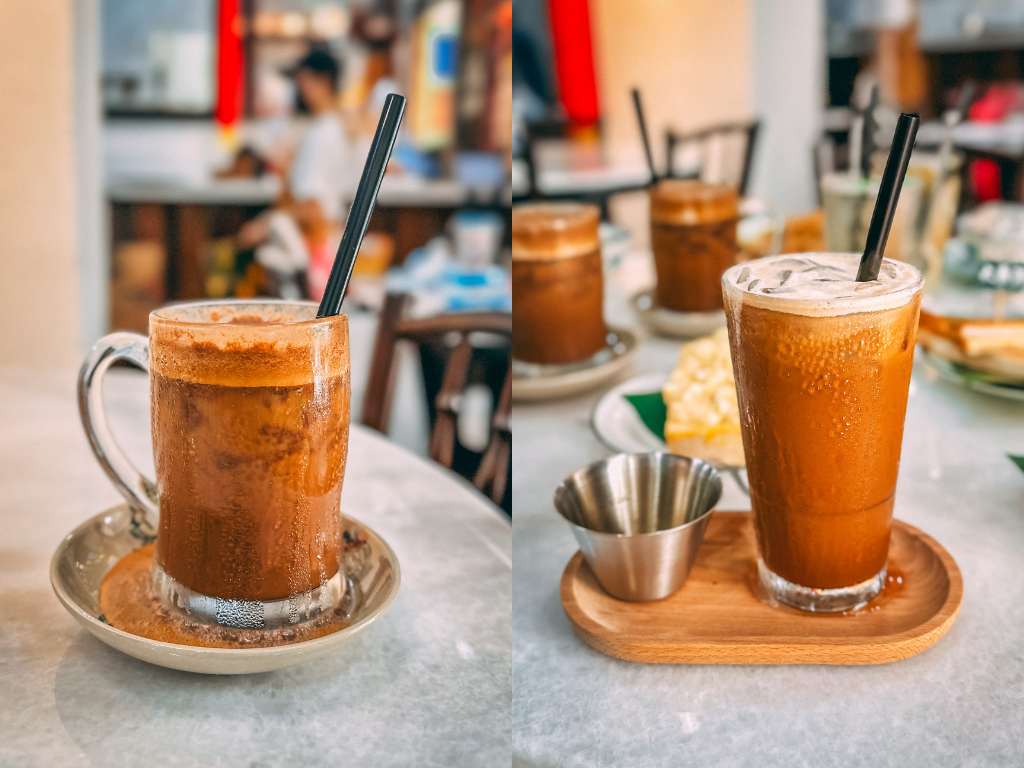 Round up the meal with its signature beverages. We love the Hor Ka Sai (from S$3), which directly translates to 'tiger bites lion'. A harmonious blend of Milo and coffee, this indulgent drink is said to energise diners with every sip. 
The coconut coffee (S$5.90) is another must-try — a mixture of rich Nanyang coffee, condensed milk and creamy coconut water. 
Alternatively, the Golden Lime (S$3.50) is a zesty kumquat drink that's made with limes and prunes — the perfect thirst quencher on a hot day.
Great Nanyang Heritage Cafe
5 Craig Road
Nearest MRT station: Tanjong Pagar
Open: Monday to Sunday (7.30am to 9pm)
5 Craig Road
Nearest MRT station: Tanjong Pagar
Open: Monday to Sunday (7.30am to 9pm)
---