All Things Hainanese in Bras Basah sells Hainanese kueh handmade by 2 young hawkers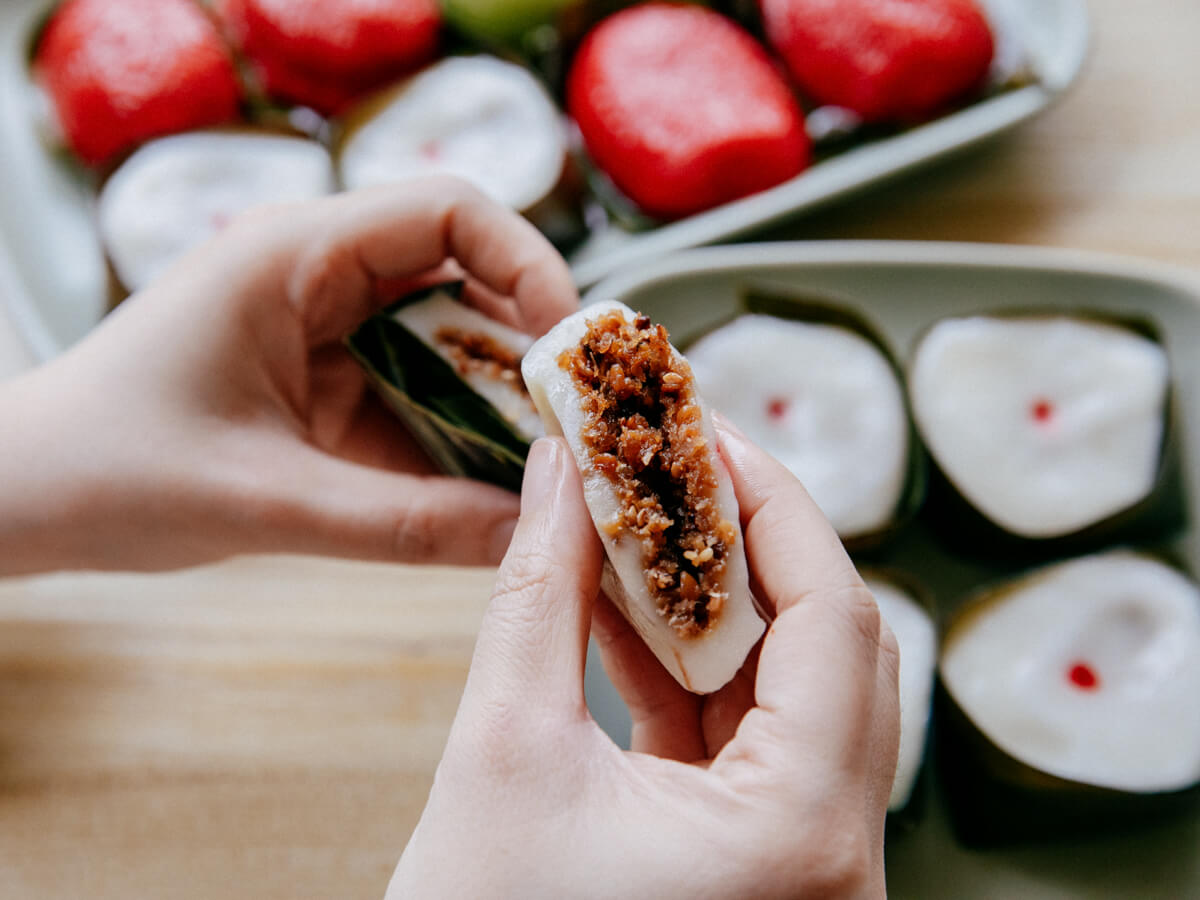 All Things Hainanese is run by third-generation hawkers Jocelyn Loi, 30, and Charmaine Goh, 19
They sell yi bua, a rare kueh made only by the Hainanese, that is fully handmade from scratch with no preservatives
The duo carries on a family legacy spanning over 40 years 
You'll also find modern takes on legacy recipes, including yi bua butter cookies and mochi.
When it comes to the world of kueh, most of us will think of ang ku kueh. Or perhaps png kueh — pink-hued, peach-shaped glutinous rice cakes — or putu piring (and its tutu kueh variant), a round steamed rice cake filled with palm sugar and moulded to resemble a delicate flower.
Over at All Things Hainanese, a pair of third-generation hawkers have made it their lives' work to celebrate, well, all things Hainanese. 
And with it, a rare kueh that's made exclusively by the dialect group — the yi bua.
What is yi bua?
If we were to dissect it into its raw constituents, the yi bua is a chewy, doughy kueh stuffed with gula melaka (palm sugar), peanut, sesame, dried tangerine, coconut and brown sugar.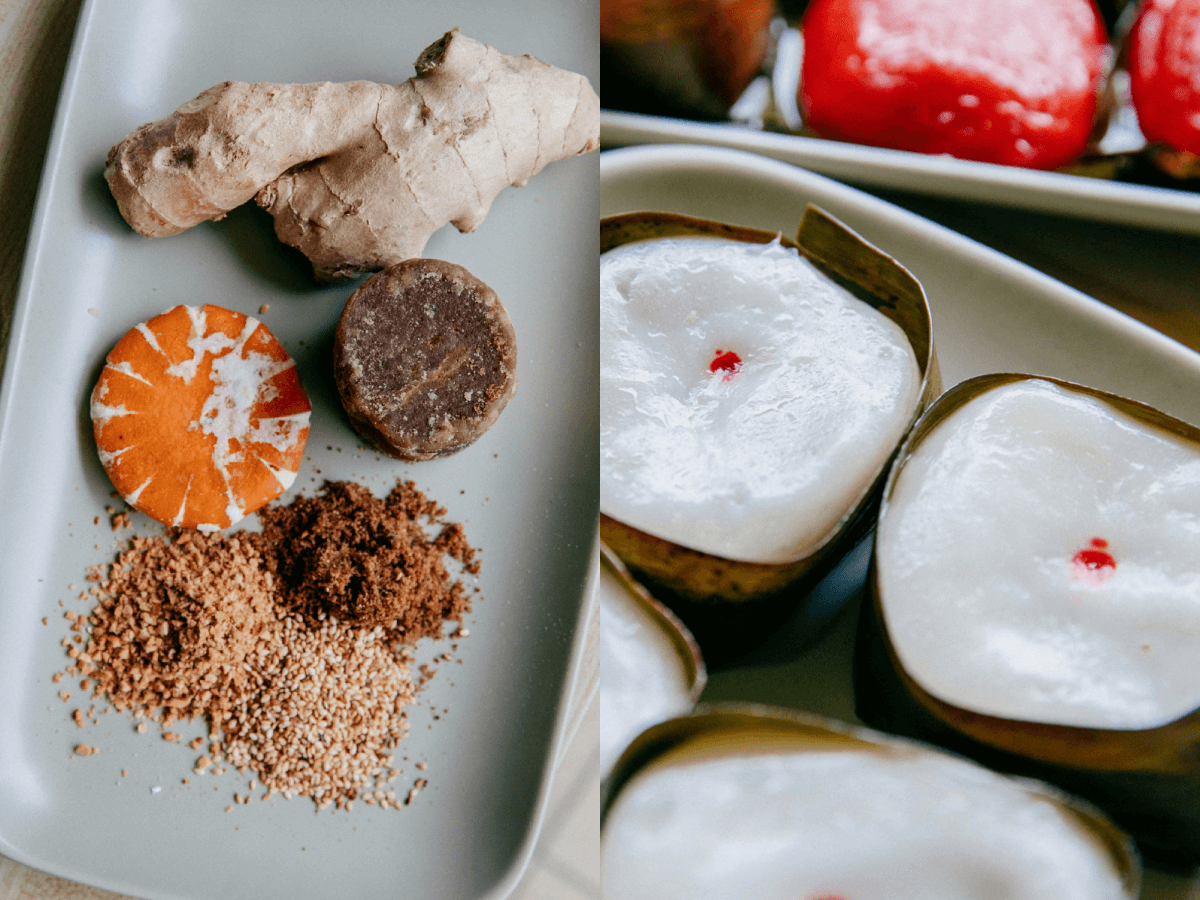 Glutinous rice dough is kneaded by hand, filled with stuffing, and then wrapped with a strip of banana leaf before being steamed.
The result is a squarish cake with rounded corners and a single, red dot in its centre.
As with most heritage eats, there is a secret ingredient. You won't catch co-founder Jocelyn Loi, 30, sharing that anytime soon, though.
To Loi, the yi bua (S$8.40 for six pieces) is more than just another snack.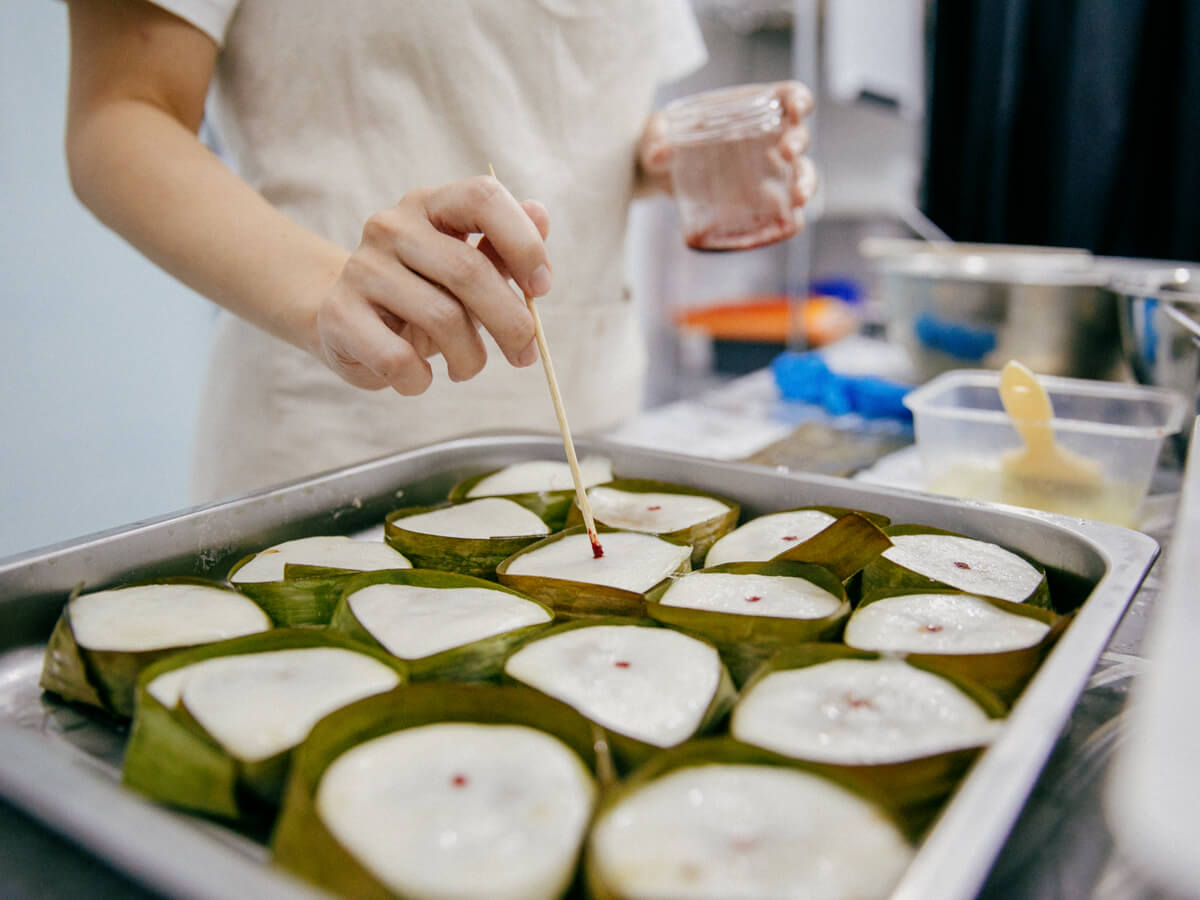 Historically, this kueh is used by the Hainanese for all occasions, from moments of celebration to death. For funerals, the yi bua is made sans the spot of red, since it's typically an auspicious colour for the Chinese. Meanwhile, during birthdays for the elderly, the kueh takes on a triangular shape and is known as tar kat lau.
These days, you're more likely to see it at a Hainanese child's first-month celebration or at a wedding. 
Otherwise, the yi bua is seldom seen in modern Singapore, and often flies under the radar in comparison to its more popular relatives within the kueh family.
A family legacy
Growing up, Loi herself didn't quite appreciate the enormity of her family's cultural legacy. She, along with the other children in the family, had always helped out with the kueh-making process.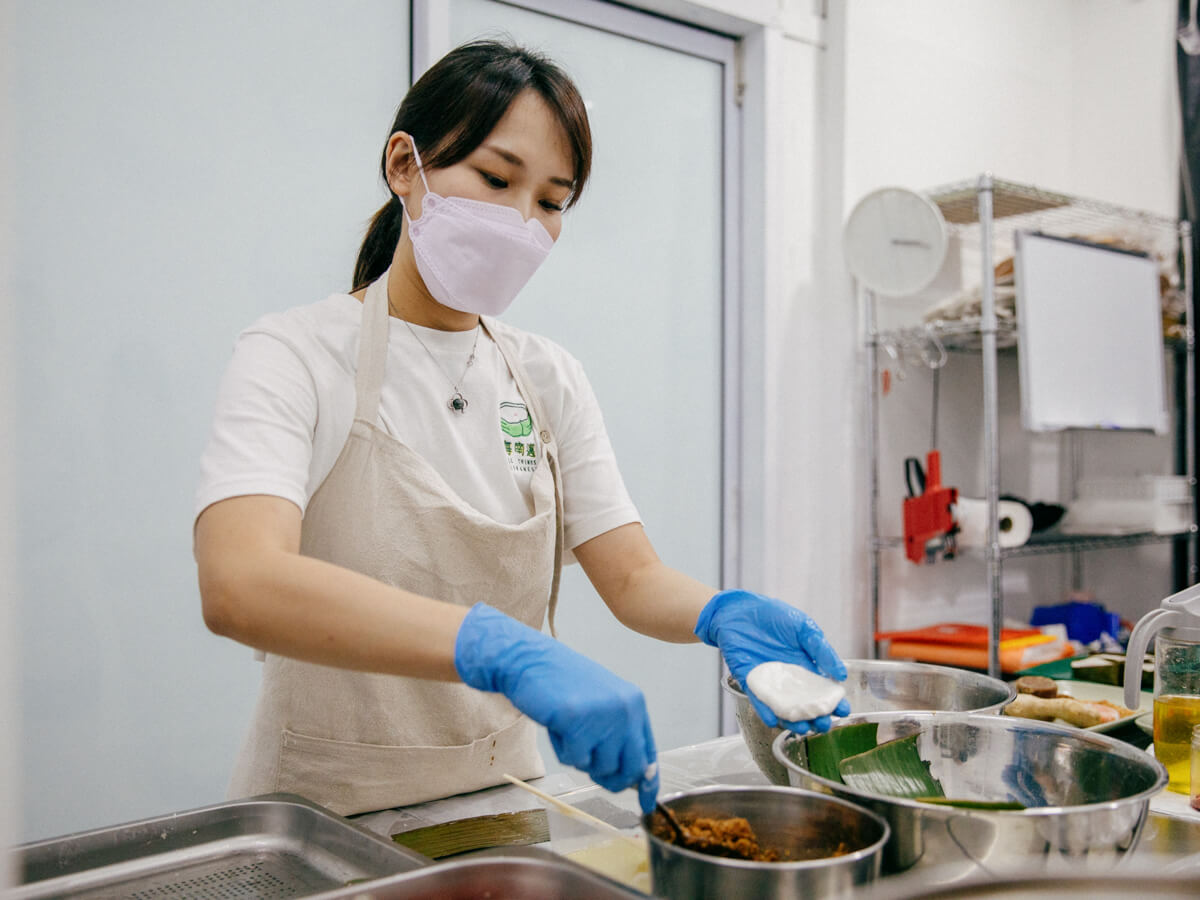 "Back then, when we were all kids at home, (making kuehs) was part of our everyday life. We would help out with moulding the kueh or the various food preparation steps. But it didn't occur to us that this wasn't something that everybody did. We were like the little minions at home helping out.
We didn't know that it was special, until more (media) articles came out and we realised that we actually have something quite unique."
The recipe is carefully guarded and passed down from Loi's maternal grandmother Yeoh Min Lin, who started Hainan Xiao Chi, a hawker stall selling kueh like these and more, in Toa Payoh during the 1970s. 
With the help of the late Ong Teng Cheong, then-Member of Parliament for Toa Payoh, and later the fifth president of Singapore, she secured a stall selling traditional kaya, soft buns and various kueh.
"Since then, we've gained more popularity and people started to travel all the way down (to Toa Payoh) to buy these kueh."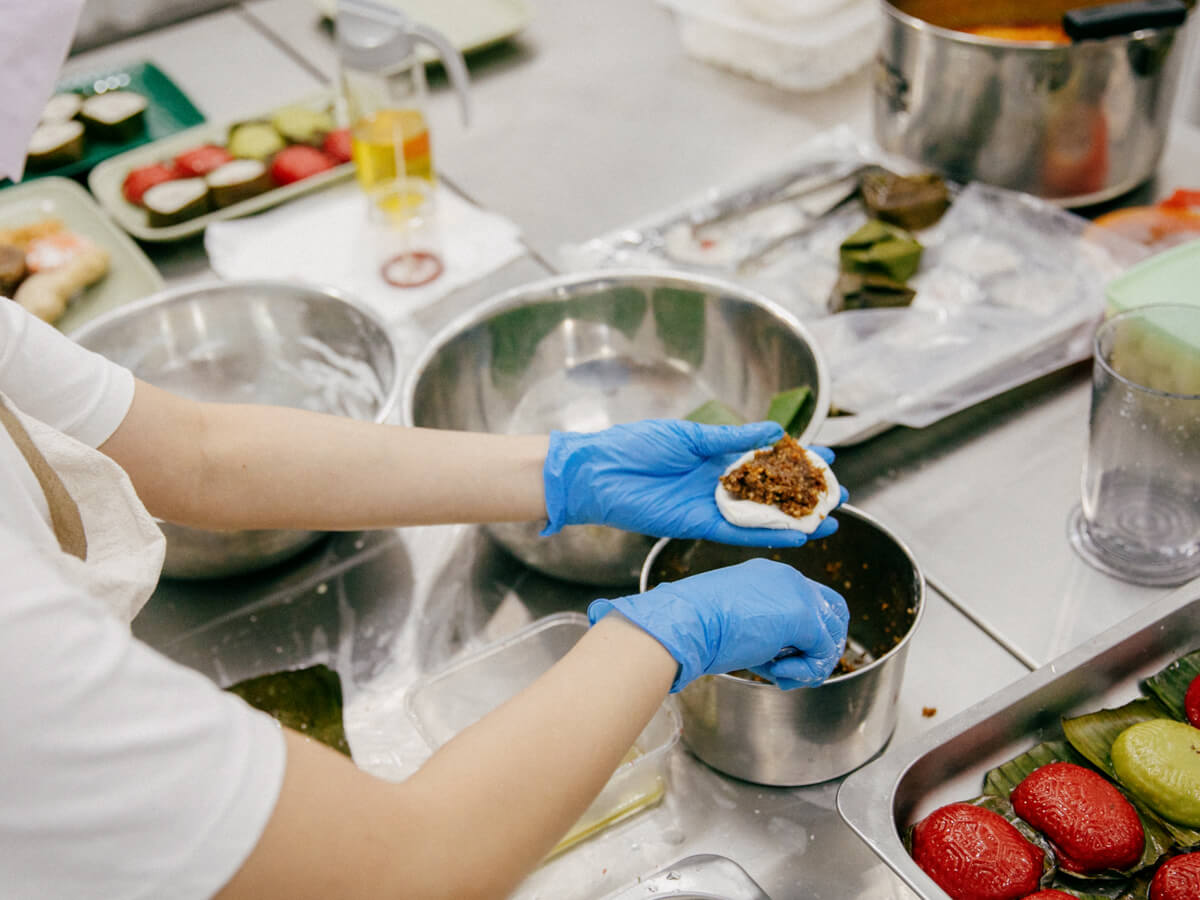 Today, the stall is still in operation. Helmed by Loi's mother, Goh See Mui, 57, it continues to draw quite the crowd. 
The hawker space is small, and stocks are limited, so it's not uncommon for the kueh to be fully sold out by the early afternoon. Prospective patrons are often turned away without an yi bua in hand.
New beginnings
It wasn't until Yeoh passed away in 2019 that Loi took up the mantle of championing her family's legacy.
"No one expected it, so it came as a shock for everybody," she recalled. "One day, I snapped out of that grief and thought: 'If I don't continue this, there's no more connection left with her.'"
All Things Hainanese was thus born in September 2020. 
Even though it operates under the same umbrella as the more established Hainan Xiao Chi stall, Loi and her cousin, Charmaine Goh, hope that the younger, newer branding will be more appealing to younger folks.
"We decided to come together and create this, because we wanted to pass down this culture to the next generation," she says. It's quite a niche group in Singapore, compared with other dialect groups, so most Singaporeans today — even Hainanese descendants — may not be familiar with the culture.
Loi traces her Hainanese ancestry to both sides of the family — her paternal grandparents used to run their own coffee shop, with her grandfather making his own kaya.
"It's just about putting everything together," she says. "It's no longer just a business, per se. It's also about passing on that heritage."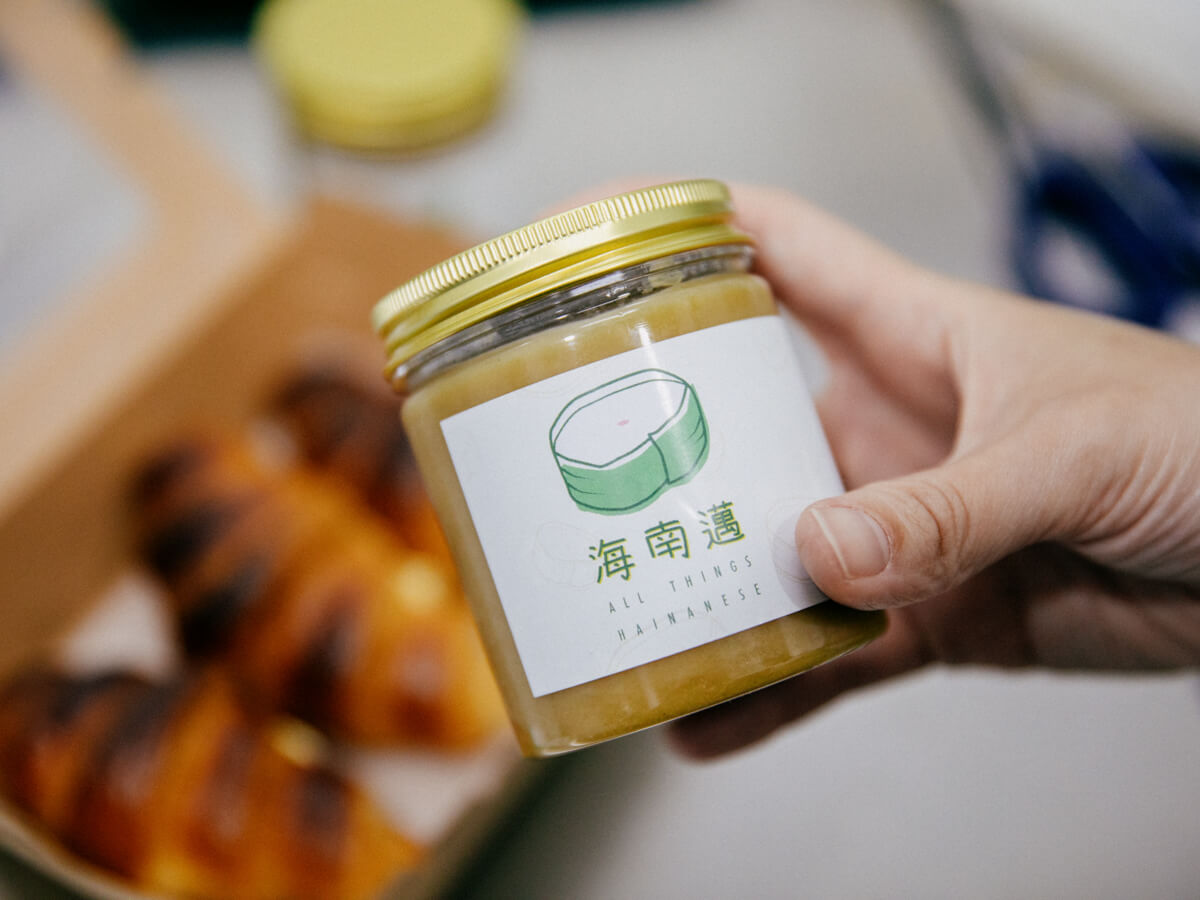 Loi, who had been working in the hotel industry for the past 10 years running events and weddings, wouldn't say that she's much of a cook. But that hasn't deterred her from picking up her family's trade.
It's a careful, gradual process, with her mother lending her support on more complex recipes while Loi masters the necessary skills.
The brand started out online, sharing tidbits about Hainanese culture on its Instagram page, while taking in weekend and corporate orders for the various kueh.
The kueh is fully handmade with natural ingredients — a tradition that's been passed down.
"We insist on not using machines in any step. We feel that there is a difference in terms of the skin texture. All our fillings are made from scratch — nothing is purchased off the shelf," says Loi.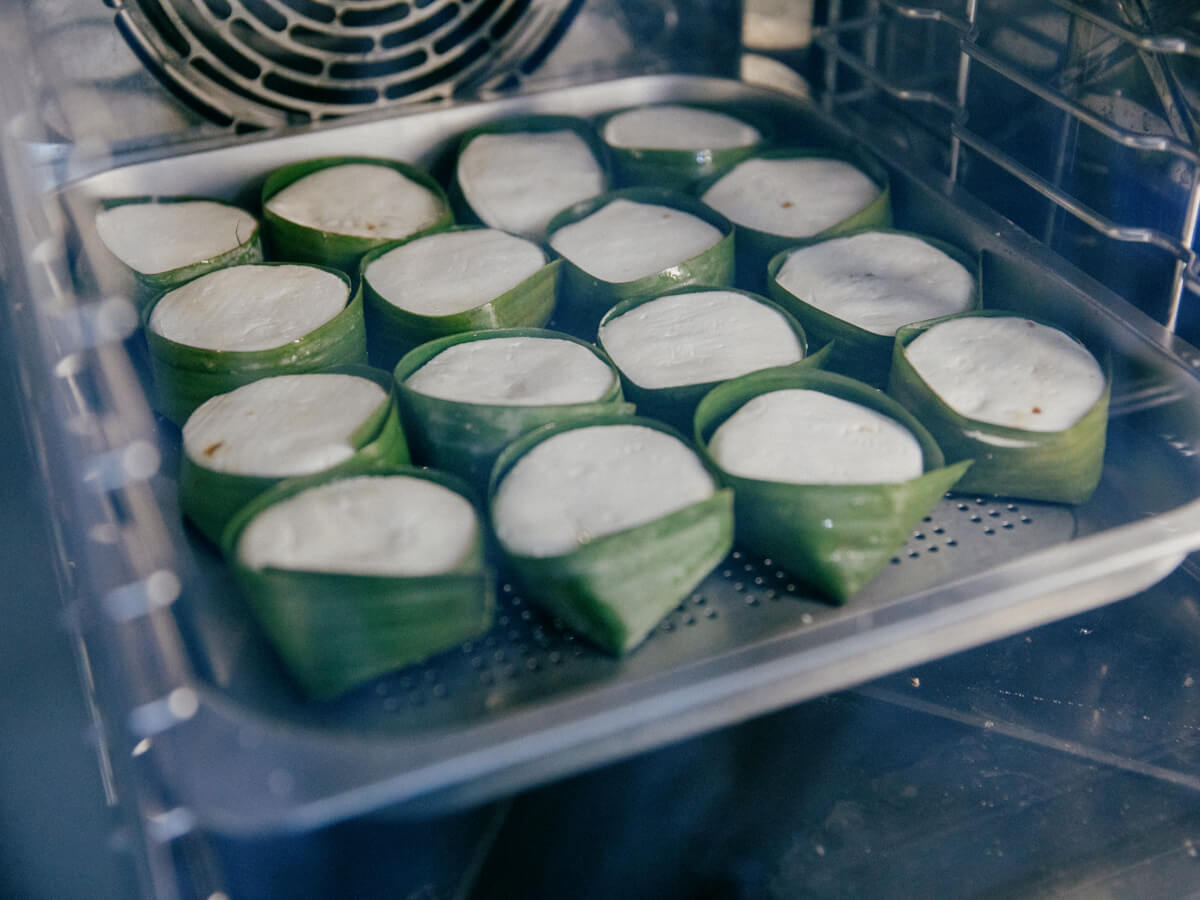 It takes about 20 to 25 minutes to make each batch of 16 yi bua by hand, but Loi says this is non-negotiable. There is a discernible difference in quality and texture otherwise.
When the orders pile up — especially during Chinese New Year — it's all hands on deck. The whole family pitches in to help out.
"If we need help, we have reinforcements."
The business today
All Things Hainanese opened its first physical store in Bras Basah Complex, with a soft launch on Dec 3.
It benefits from being very centrally located, so its customers can pop in more easily to pick up their orders.
The Purvis Street area — a mere stone's throw away — is also a former Hainanese enclave, so the store's new location is particularly apt.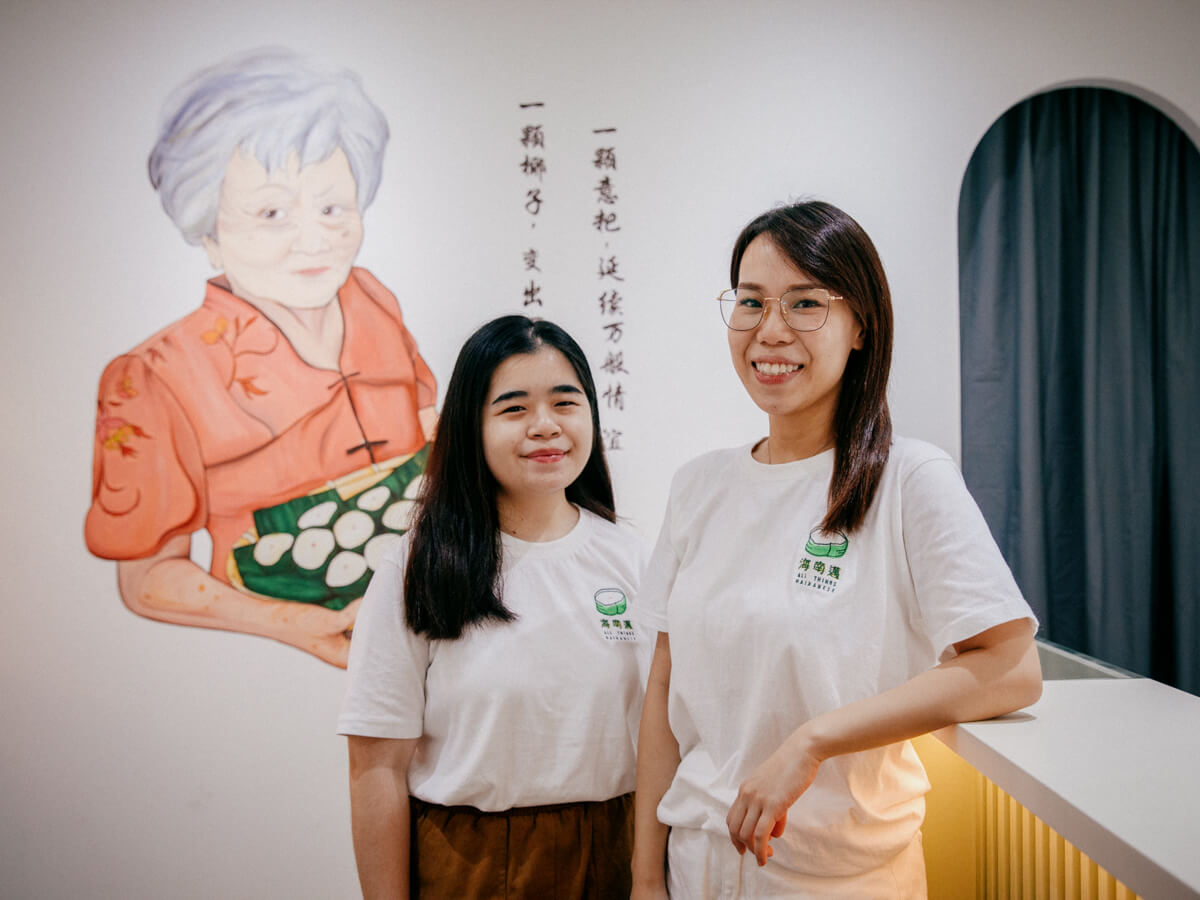 It is led by Loi and Charmaine Goh, 19, who is in charge of R&D for the business.
Charmaine Goh, a recent culinary school graduate from At-Sunrice GlobalChef Academy, has been the brains behind the brand's modern creations, including yi bua-flavoured butter cookies (S$12), mochi (S$8) and more.
"This is our first step to getting in with the younger market. But of course, our older customers still like the OG products," says Loi. 
Its signature yi bua — featured prominently as part of its branding — is of course available here.
The duo is working on other new offerings, including new yi bua skin options, but notes that the base flavour is naturally gingery and can be quite strong. It is a challenge to balance the flavours so that it doesn't overpower whatever skin it is wrapped in.
Other snacks, such as love letters (S$15.80) and pineapple tarts (S$21.80), are also available, including bua art (S$6), another traditional kueh that Loi describes as an "inverted yi bua".
The store is takeaway-only, but customers are encouraged to order its highly addictive butter-and-kaya croissant (S$2) to be eaten while hot. Slathered thickly with housemade kaya and a generous slab of butter, the croissants here are perfectly toasted fresh upon order — albeit more crunchy than flaky.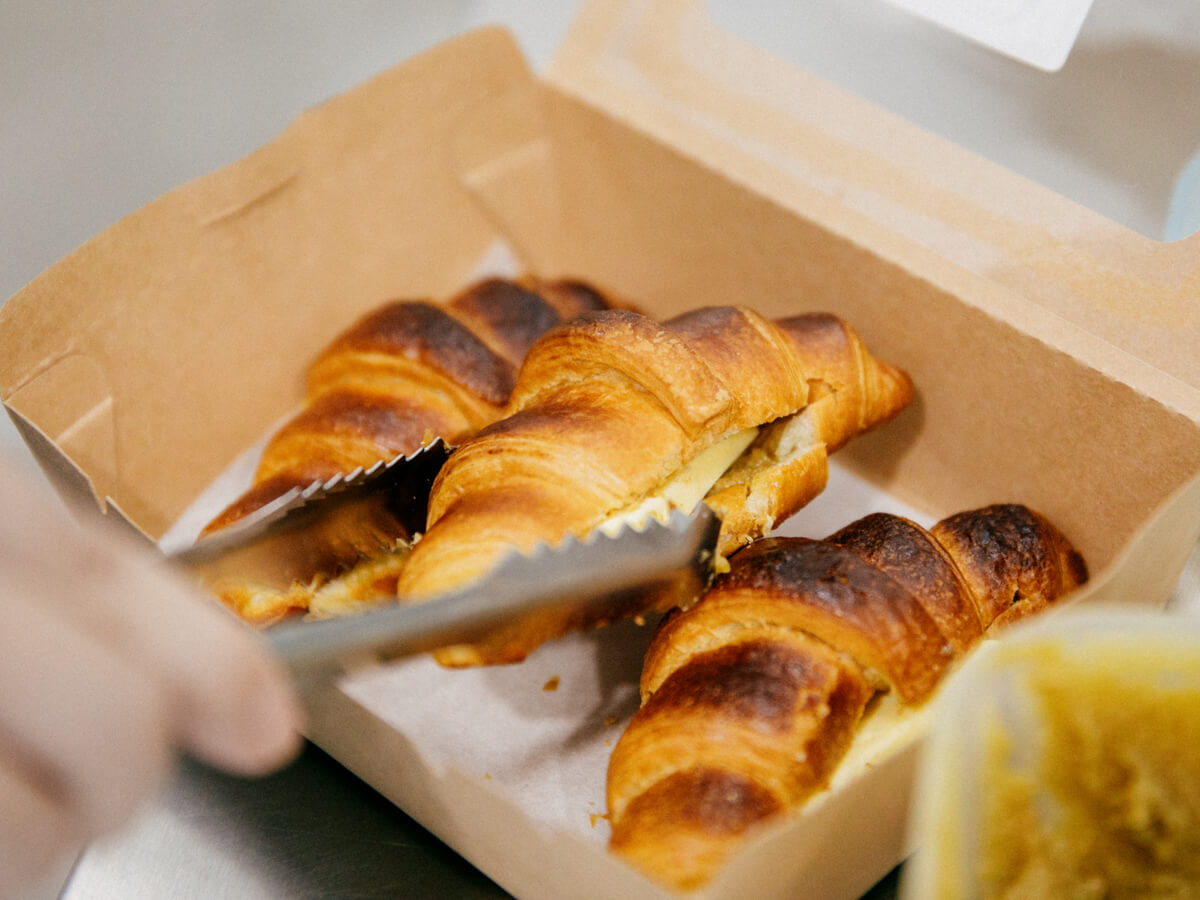 Charmaine Goh makes the croissants herself, and even the kaya is housemade with no preservatives. If you love kaya, be sure to pick up a jar of the spread for snacking on at home.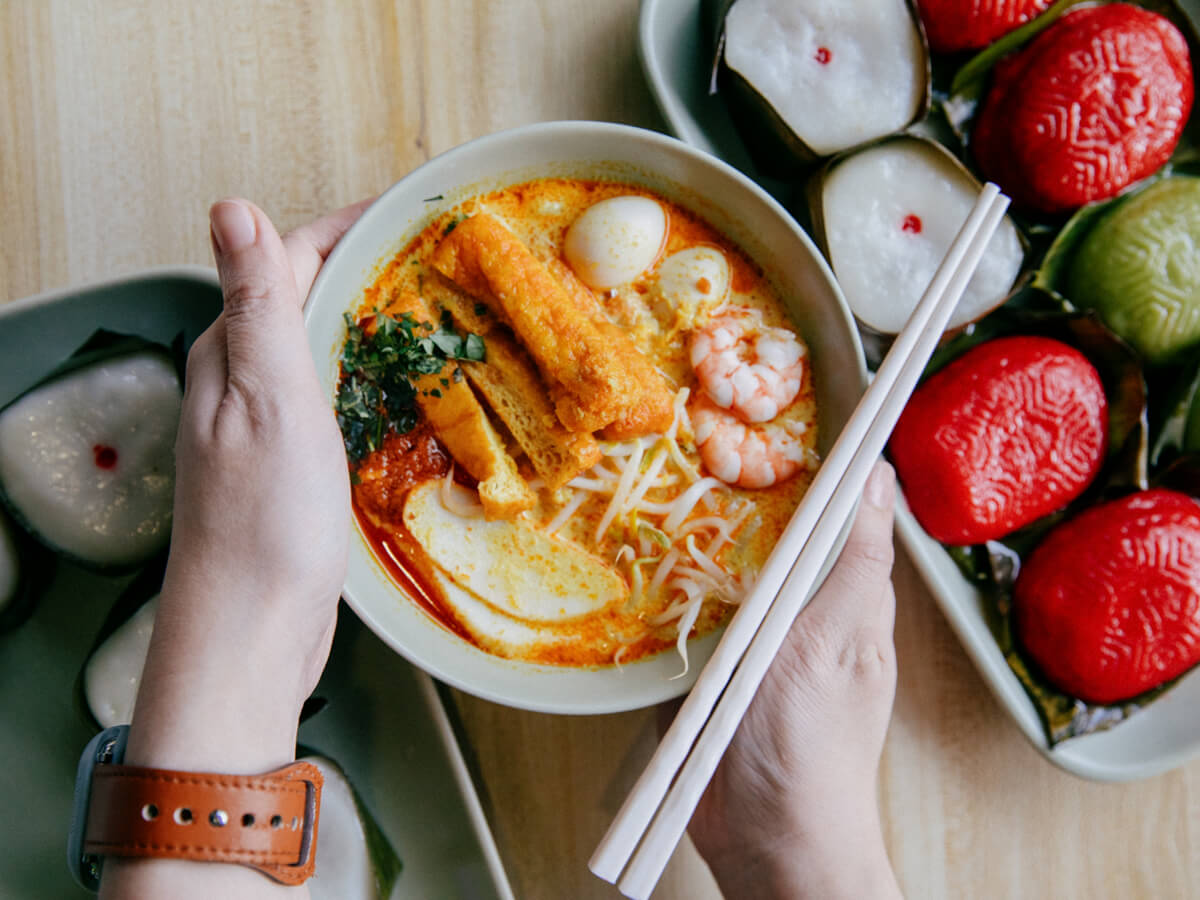 There's also a luscious bowl of laksa (S$4.50) to be had, with generous portions of tau pok (beancurd), fish cakes and prawns, and a dollop of housemade chilli. The broth is creamy and flavourful without being too heavy. And of course — it contains yet another secret ingredient that even Loi isn't privy to. For now, anyway.
All Things Hainanese is on the GrabFood delivery service. Alternatively, book a ride to its store.
Bras Basah Complex, 02-19, 231 Bain Street
Nearest MRT station: City Hall
Opens: Tuesdays to Fridays (10am to 3pm), Saturdays and Sundays (10am to 5pm)
Bras Basah Complex, 02-19, 231 Bain Street
Nearest MRT station: City Hall
Opens: Tuesdays to Fridays (10am to 3pm), Saturdays and Sundays (10am to 5pm)