5 authentic Korean eateries to visit in central Singapore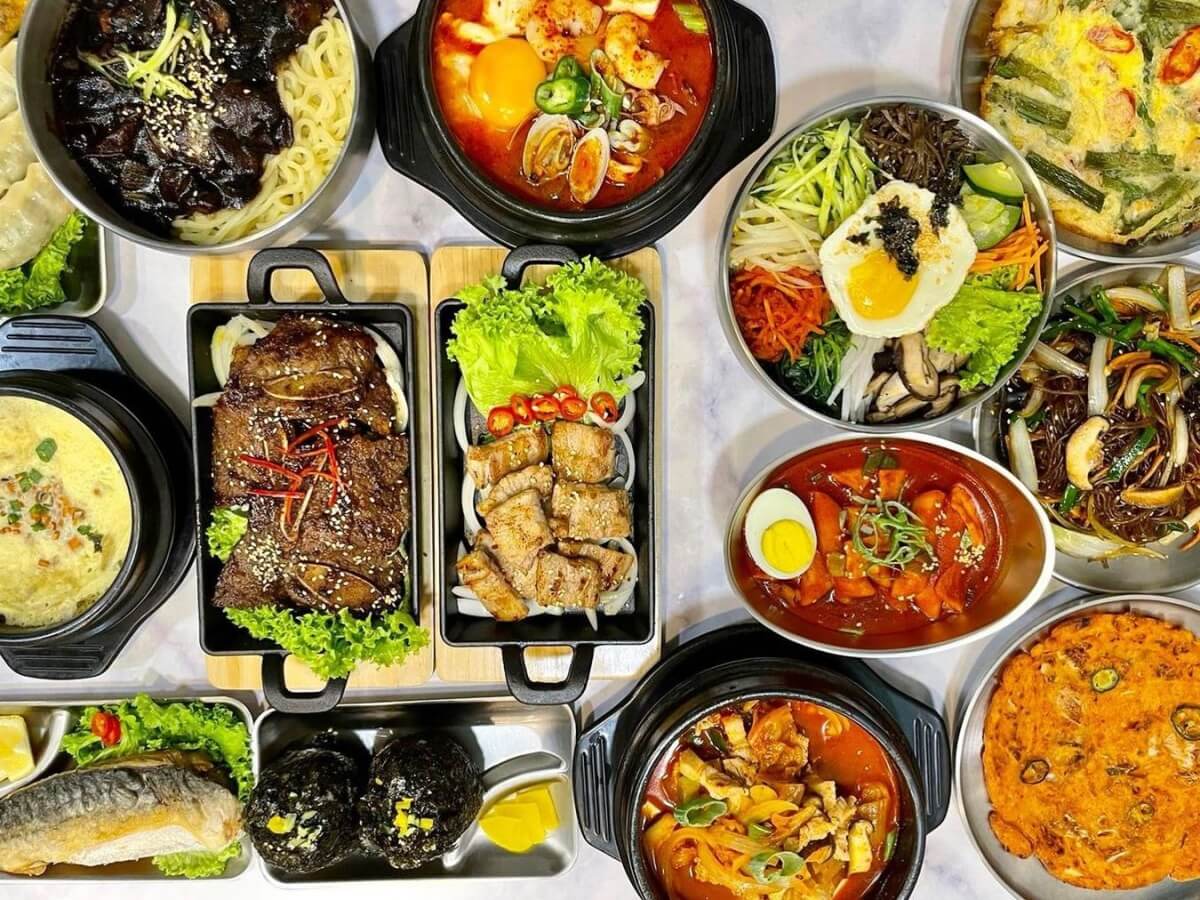 This is the second instalment of a five-part series on authentic Korean eateries in Singapore. Here, we check out places in central Singapore.
If you want to avoid the crowds that throng southern Singapore in search of some of the most authentic Korean food you'll find on our island, then central Singapore's your next-best bet.
We tell you where to find a homely jjajangmyeon restaurant and unearth a few unexpected heartland finds serving up Korean street food and comfort dishes.
1. Mukjja
275 Thomson Road, 01-07
Nearest MRT station: Novena
Open: Monday, and Wednesday to Sunday (11.30am to 2.30pm, 5pm to 8.30pm)
Calling itself the most authentic Korean-Chinese restaurant in Singapore, Mukjja may be a relatively new name to most. But years ago, it served up bowls of jjajangmyeon (black bean noodles) and jjamppong (seafood noodles) at Clarke Quay's Central mall under the name Tae Woo Ban Jum, developing a reputation for its authentic nosh.
The family behind the original restaurant resumed operations in Novena in 2020 with the name Mukjja, which means "let's eat" in Korean.
Revisiting Mukjja felt like a homecoming of sorts, seeing the same side dishes and tasting the familiar, comforting bowl of black bean noodles. This time, aside from the noodles, I've developed a newfound appreciation for its fried chicken dishes — kkanpunggi (spicy fried chicken with garlic sauce) and yuringi (fried chicken with hot soybean sauce) — which are guaranteed to spice up any Korean-Chinese meal.
What to order: Jjajangmyeon (S$11), kkanpunggi (S$32)
2. Parker Korean Restaurant
209 Upper Thomson Road
Nearest MRT station: Upper Thomson
Open: Monday to Sunday (11.30am to 2.30pm, 5pm to 9.30pm)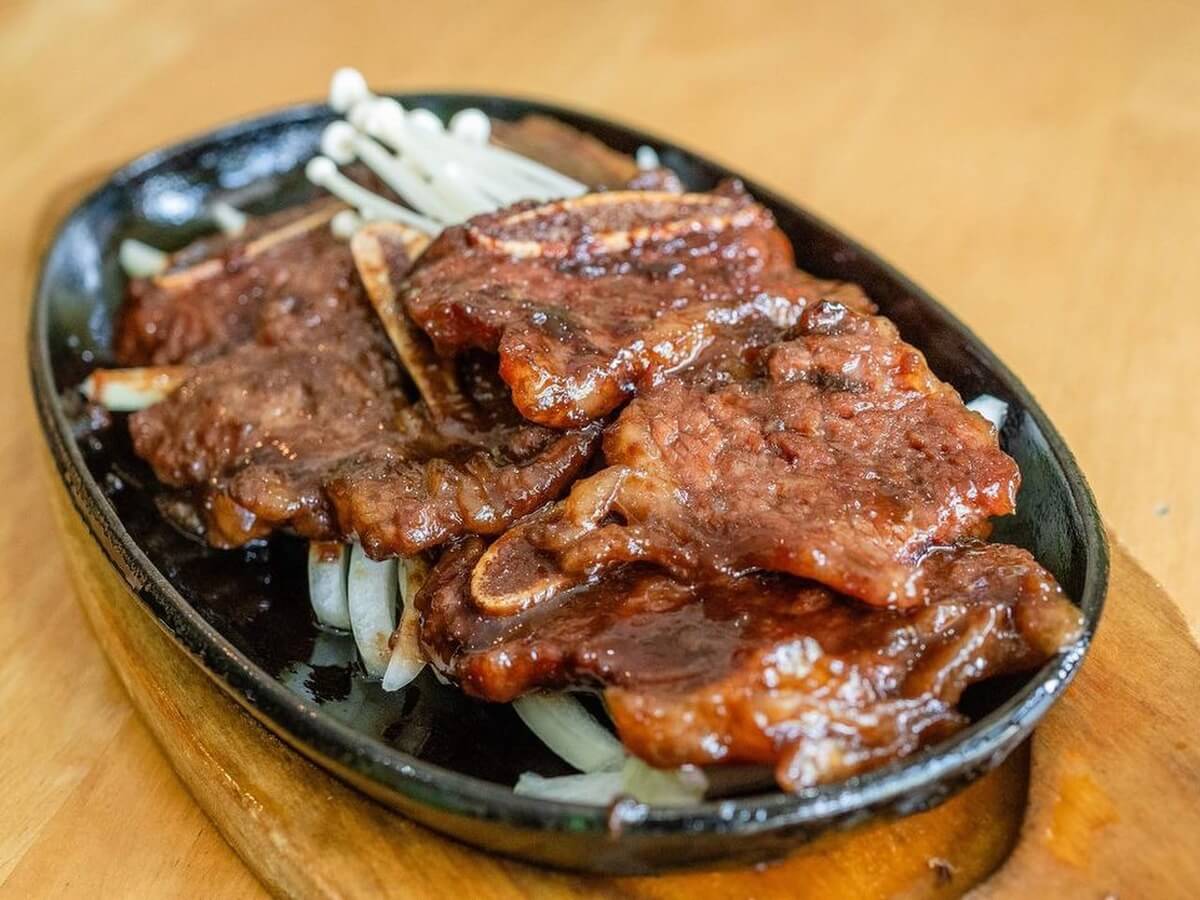 If you've visited South Korea, you'll know that some of the best, homiest Korean food can be found in the most unassuming restaurants. Parker is one such eatery; even its retro signboard and strikingly green interior are atypical of those you'll find in Korea.
The Korean couple behind the eatery arrived in Singapore in 1999 and started Parker in Boat Quay, before moving to Thomson, where they have been operating since. Their son Park Jin Sub runs the front-of-house, waiting tables while his parents cook — whipping up dishes with recipes handed down through two generations back in Korea.
What to order: Dak ganjeong — chicken with sweet-and-spicy sauce (S$20 for a small portion), LA Galbi — marinated beef ribs (S$42)
3. 82BunSik
Jubilee Square, 01-13, 61 Ang Mo Kio Avenue 8
Nearest MRT station: Ang Mo Kio
Open: Monday to Friday (1pm to 9pm), Saturday and Sunday (11am to 10pm)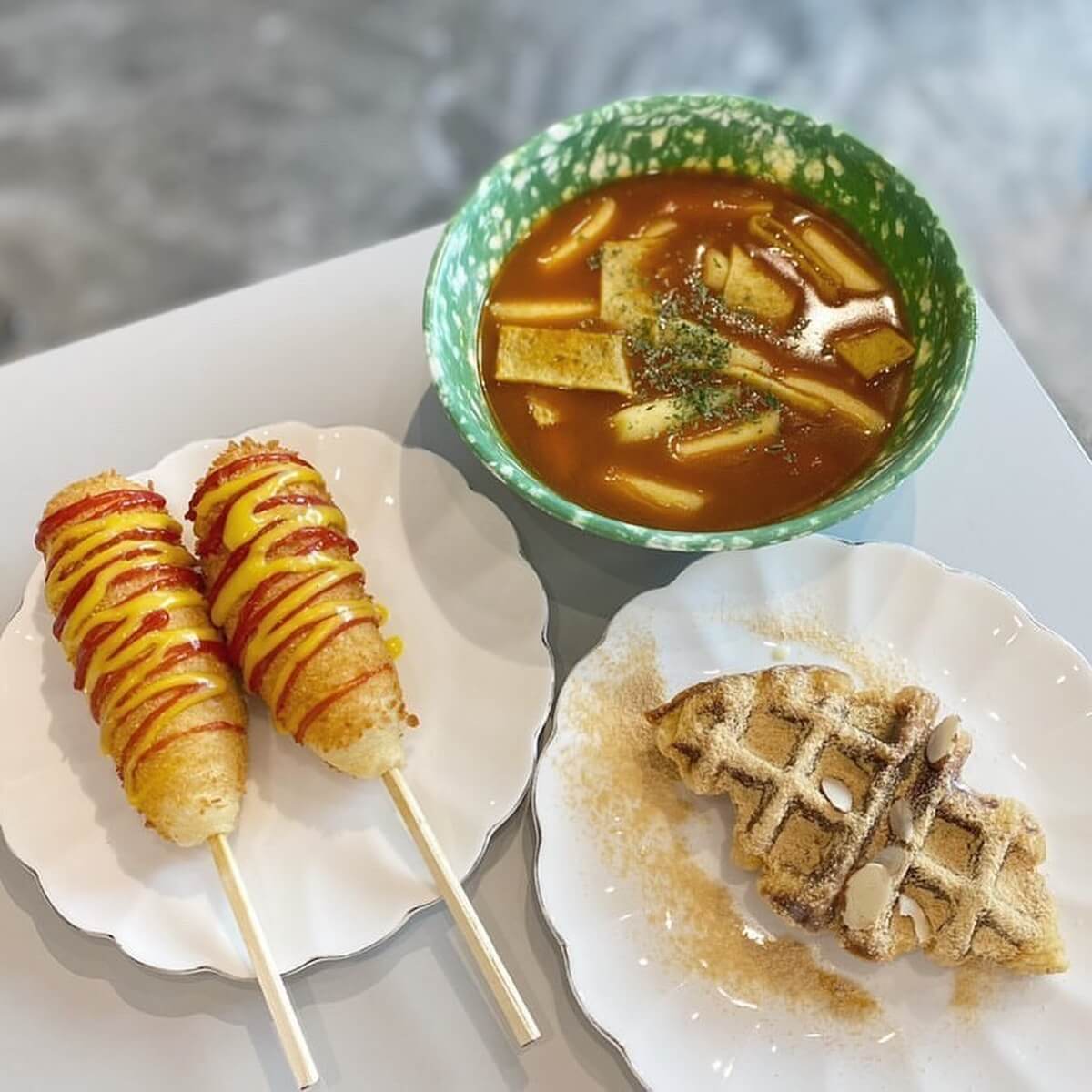 Named after South Korea's calling code, 82Bunsik is a quaint cafe in Ang Mo Kio Central selling simple Korean street food, namely corndogs, rice cakes and croffles. Croffles are a cross between a croissant and waffle, and have been quite popular in Korea.
You might baulk at the idea of shelling out close to S$5 for a corndog, but 82Bunsik proudly makes them using handmade yeast dough. The cafe ages the dough for a day after making it fresh daily, giving the corndogs a delightful crunch.
We also love that the cafe sells the trendy croffle snack in injeolmi (Korean sweet rice cake) flavour, typically found only in bingsu or shaved ice snacks here. If you love your Korean street snacks and injeolmi, you know where to go!
What to order: Original corndog (S$4.50), injeolmi croffle (S$5.50)
4. Kong Cafe
Thomson Plaza, 01-96, 301 Upper Thomson Road
Nearest MRT station: Upper Thomson
Open: Monday (11.30am to 8.30pm), Tuesday (11am to 8.30pm), Wednesday to Friday (11am to 9pm), and Saturday and Sunday (10.30am to 9pm)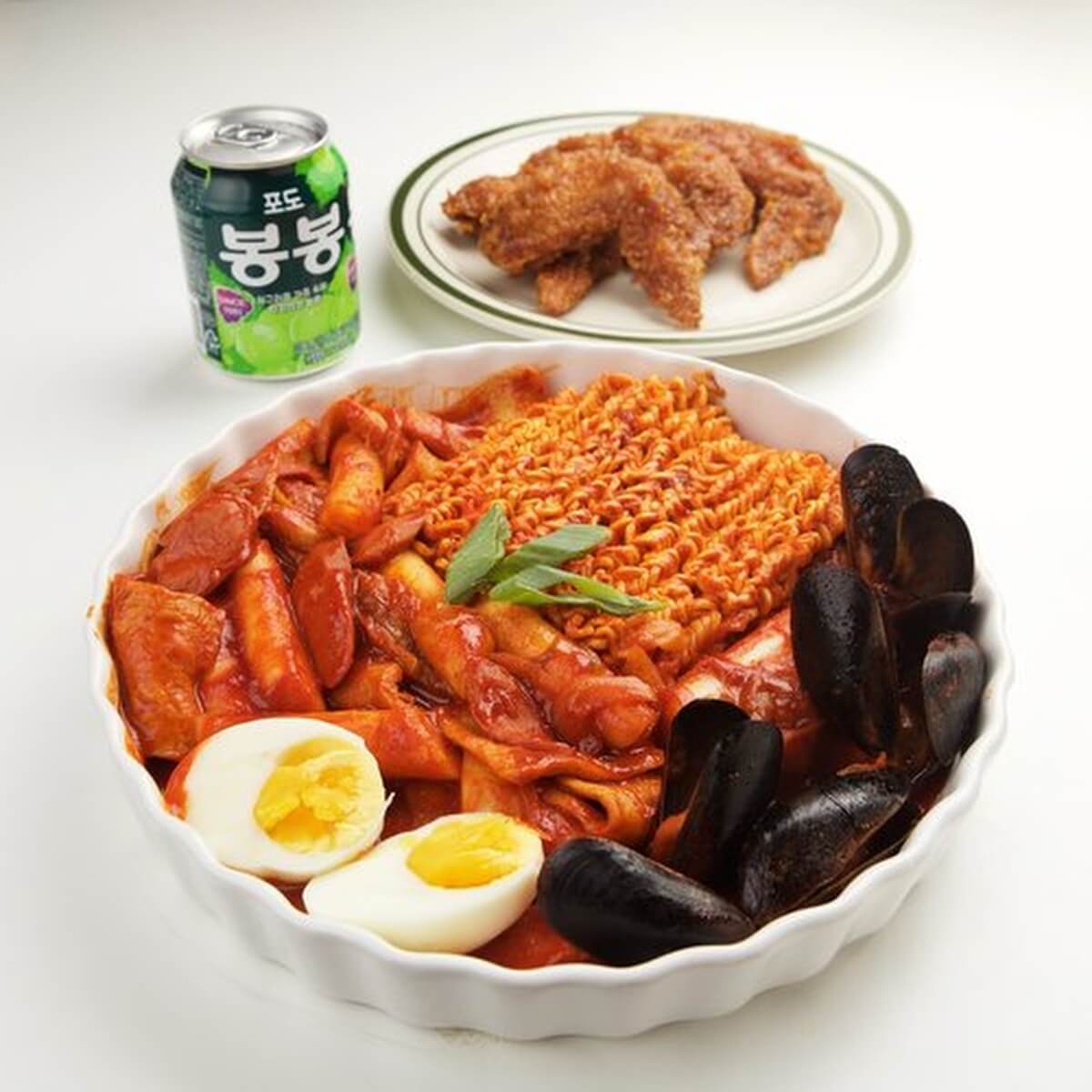 At first glance, Kong Cafe might look like a regular coffee spot with its minimalist aesthetic, but look closely at its menu and you'll see a medley of Korean and Western dishes. Owner Hanna Mi serves both all-day brunch and authentic Korean dishes in an east-meets-west concept at Kong Cafe.
It might be a peculiar concept, but hey, we're not complaining — after all, it might be among the few Korean eateries in Singapore where you can have coffee, lunch and dessert in one place. It's also a great location to dine at if you have a group of friends who are undecided about what to eat.
What to order: Rarabokyi — rice cakes, instant noodles, fishcake, mussels, and egg in a spicy sauce (S$26), honey butter wings (S$15)
5. Han Kki
190 Lorong 6 Toa Payoh, 01-516
Nearest MRT station: Toa Payoh
Open: Monday to Sunday (11.30am to 9.30pm)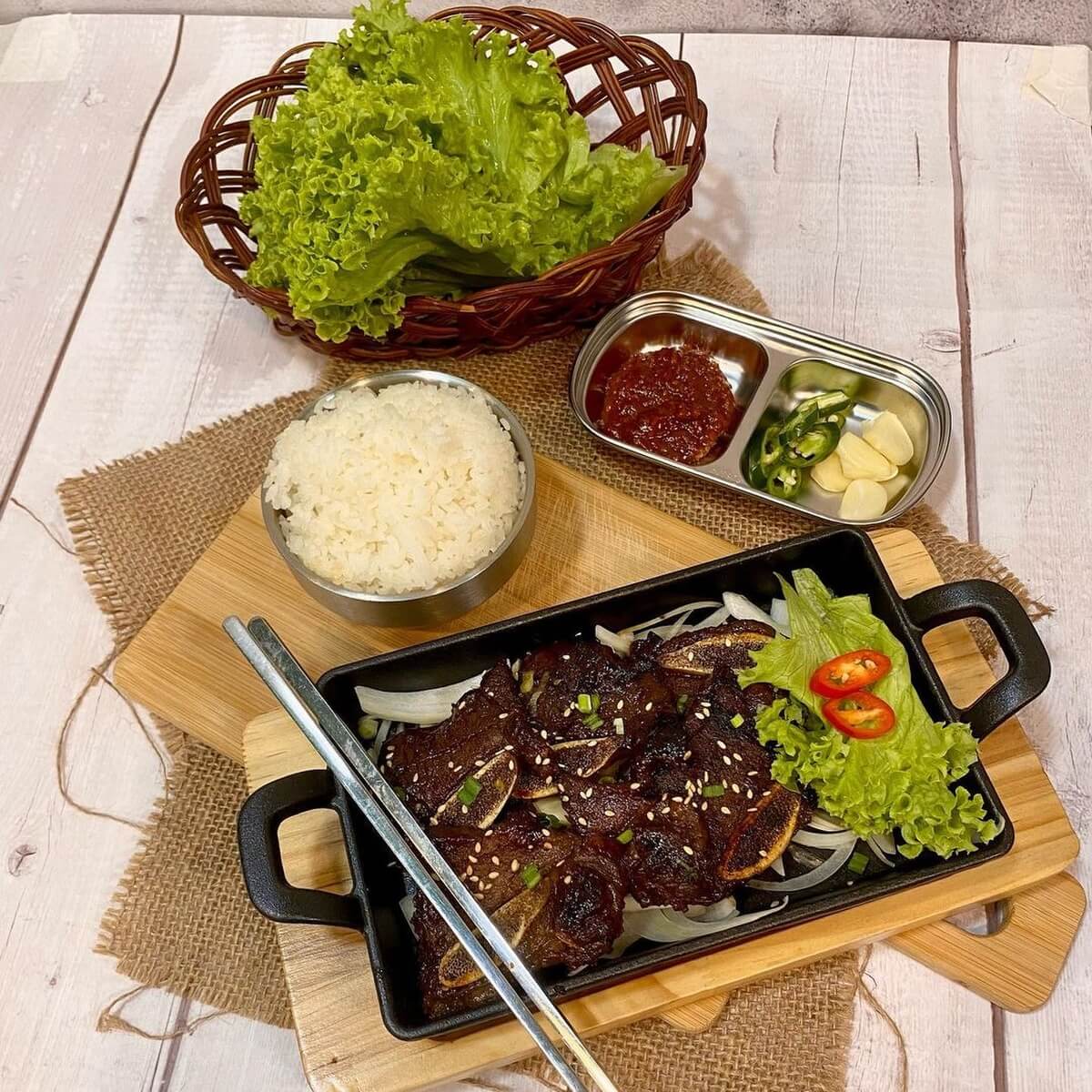 Young Korean chef Anna Lee runs Han Kki and dishes up home-style Korean food at affordable prices in the heart of Toa Payoh. Despite its small space, the eatery has an extensive food selection.
Expect to find barbecued chicken, pork and beef — all marinated in-house — and seared to perfection. The best part is everything's done in the kitchen, so you get your Korean barbecue fix sans smoke in your hair and clothes. Enjoy your soju and maekju (beer) here with your food — just be mindful of its closing time of 9.30pm.
What to order: Marinated grilled beef ribs (S$18), army stew (S$14.50)
82Bunsik, Kong Cafe and Han Kki are on the GrabFood delivery service. You can also book a ride to these places.
---