From Scratch: How ang ku kueh is made and the best places to get it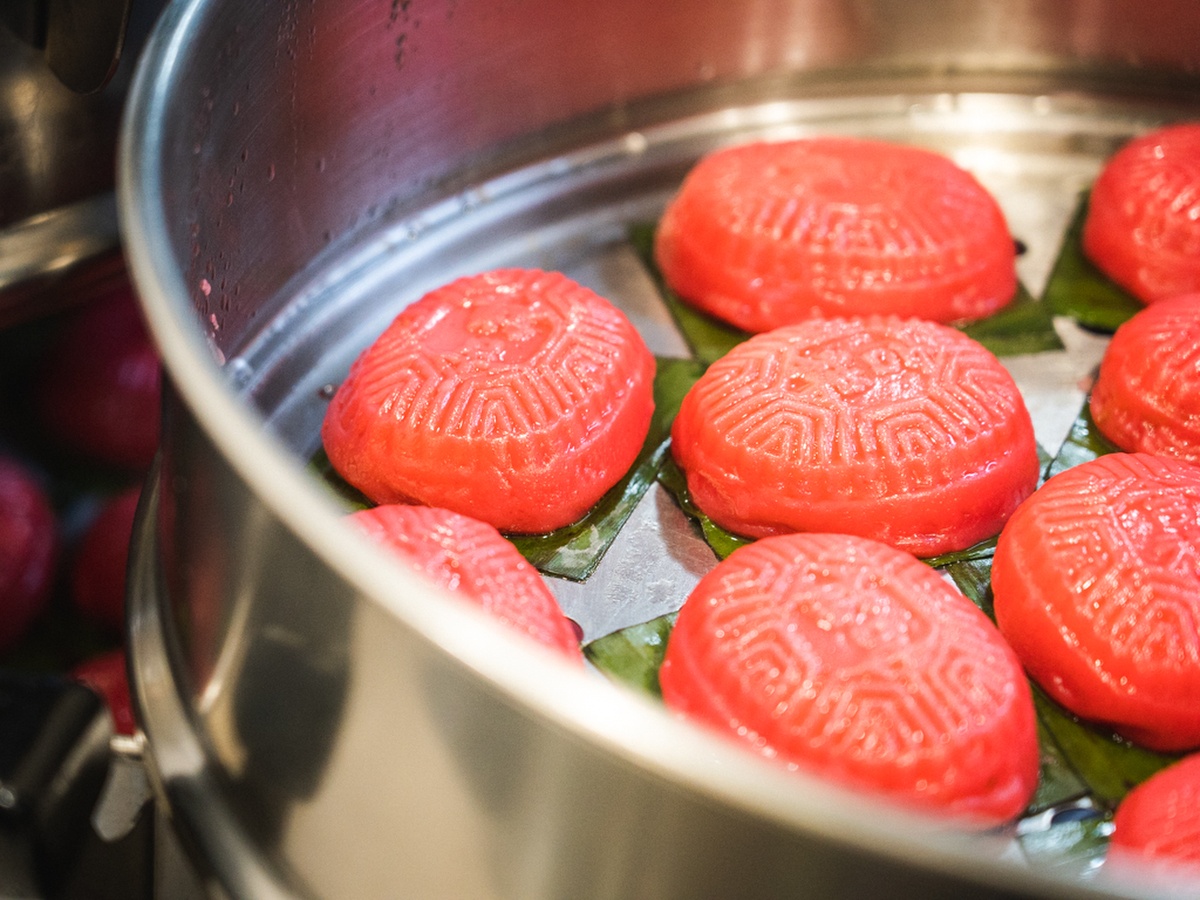 Ang ku kueh, also known as red tortoise cake, is a small round or oval-shaped Chinese pastry that symbolises wealth and prosperity
Kelvin Toh, the second-generation owner of Ji Xiang Ang Ku Kueh, dreams of making the traditional Chinese pastry popular again
More than just a business, he sees this as a way to keep alive the rich history and tradition
From Scratch is a series exploring the origins of foods that are popular in Singapore and the work that goes into making them.
Amid the mad bustle of Bugis, a cheerful tortoise with a pink shell is hidden in a corner of a wall, as if beckoning you to follow it. Blink and you might just miss it.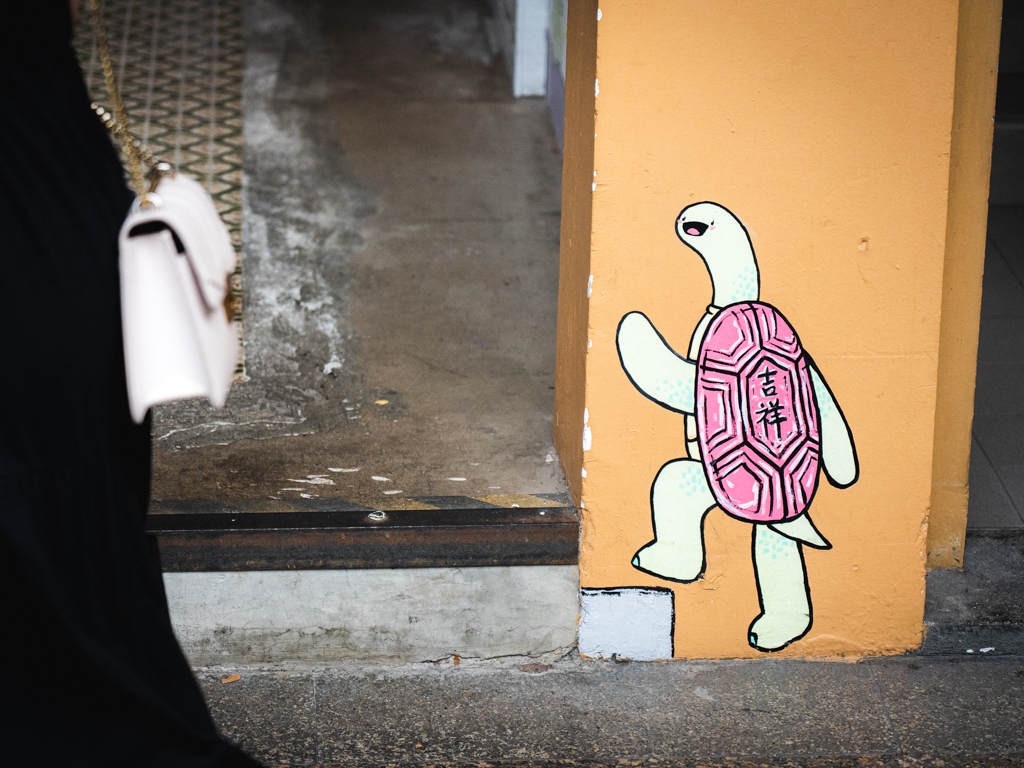 Follow the trail of different coloured tortoises along the wall, and you'll find them busy making and buying ang ku kueh.

They convene against the backdrop of an enormous tree — a family of tortoises gathering to celebrate a baby's first birthday, a tortoise smiling as it dreams of ang ku kueh in its sleep. Another two offer ang ku kueh to Caishen (the Chinese god of wealth), while some tortoise friends frolic over the rainbow while munching on ang ku kueh.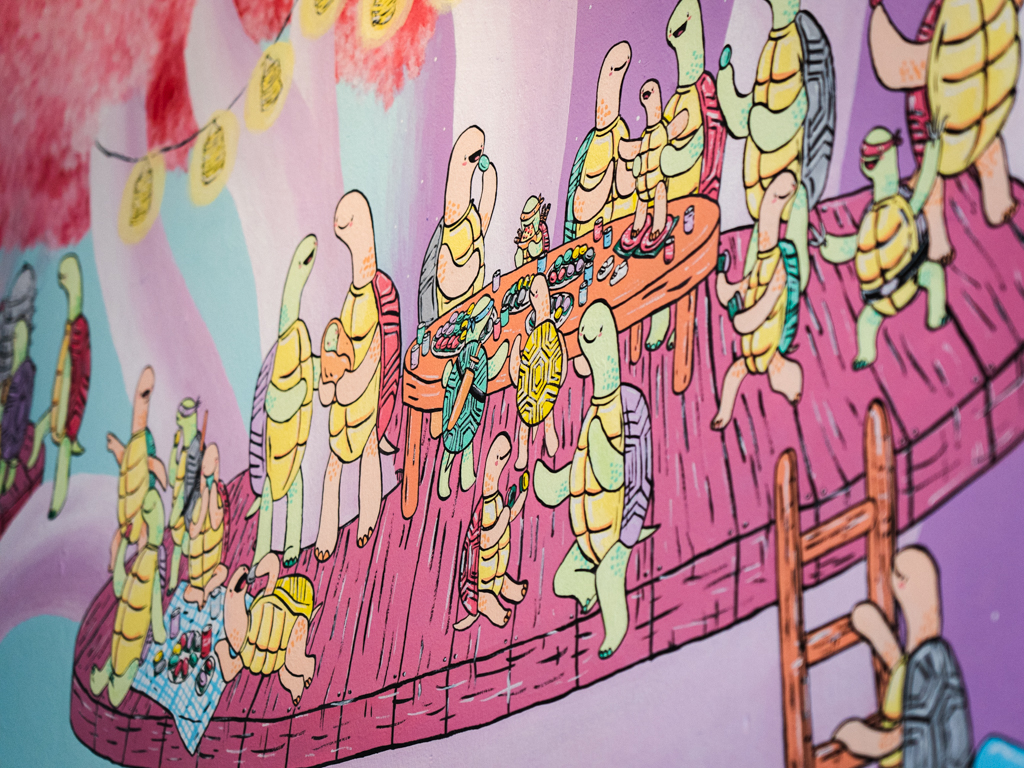 The whimsical painting of these 88 tortoises is no ordinary mural. 
It's the grand vision of Kelvin Toh, 41, the second-generation owner of Ji Xiang Ang Ku Kueh's Bugis store, who dreams of making the traditional Chinese pastry known to all far and wide. In Mandarin, "ji" means luck, while "xiang" means prosperity. 
Ang ku kueh, also known as red tortoise cake, is a small round or oval-shaped Chinese pastry with soft, sticky glutinous rice flour skin wrapped around a sweet filling in the centre, presented on a rectangular piece of banana leaf. 
The pastry is moulded to resemble a tortoise's shell to symbolise good fortune and longevity, traits the creatures are known for. 
While ang ku kueh has its roots in China, most Singaporean stalls, including Ji Xiang, have adopted the Nonya style of making this delicacy.

During our first meeting, Kelvin is animated and chatty, clearly well-versed in giving interviews. (He says that he doesn't turn down interview requests, even from polytechnic or university students.)
He jokes that he doesn't sell just ang ku kueh but "stories and nostalgia". He's on a one-man mission to revive the dying trade of crafting ang ku kueh in Singapore.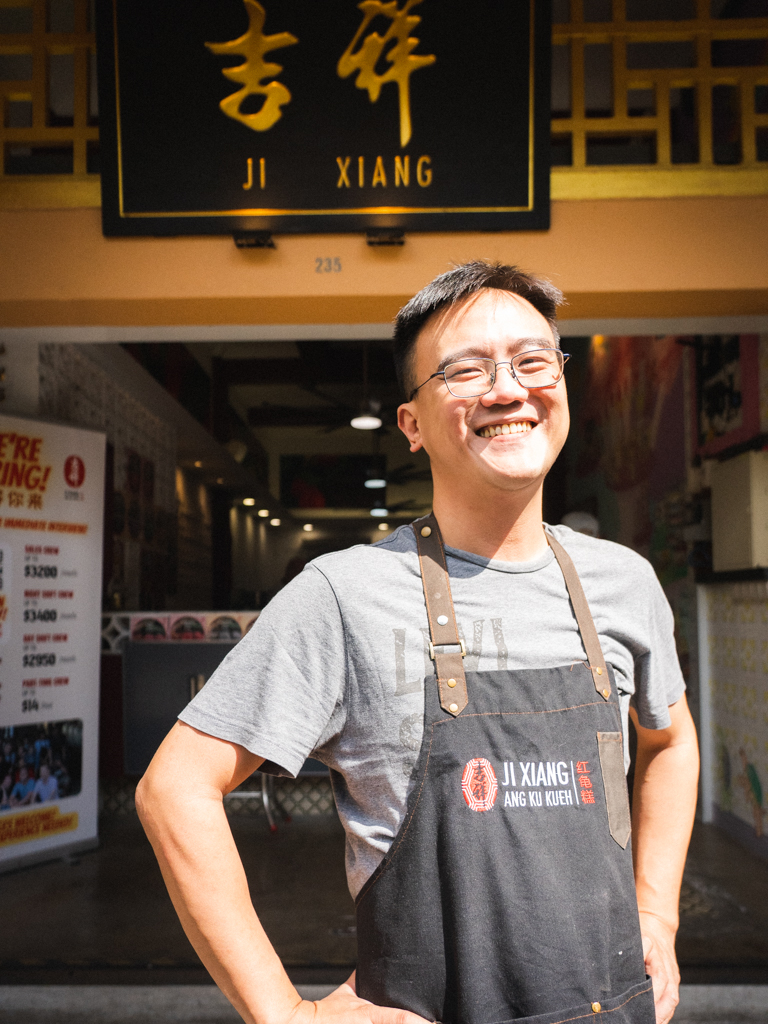 It saddens him that the ang ku kueh culture is fast disappearing.

"When people eat ang ku kueh now, they say: 'Whoa, this tastes like mochi.'"

"It's very sad that a foreign foodstuff has more recognition than my traditional foodstuff. I want a point in time where, when Singaporeans bite into mochi, they say: 'Whoa, this tastes like ang ku kueh.' It's a very steep hill to climb," he adds. 
 
How it began

Founded in 1988 by husband and wife Toh Poh Seek and Toh Bong Yeo, Ji Xiang Ang Ku Kueh is one of the longest-standing ang ku kueh stalwarts in the industry.
The family-run business has humble beginnings. 
It began as a hobby for Mrs Toh Bong Yeo (Kelvin's mother), who started making ang ku kueh by hand in her HDB flat at Everton Park. It was also to help out with the family income.

She started out selling only two flavours, peanut and sweet bean paste, to provision shops and hawkers around the neighbourhood. To her surprise, the ang ku kueh was so popular that she hired four people to help out. 
Her husband Toh Poh Seek, a former ship-welder, was roped in, too.

Three years later, they opened a store tucked away at Everton Park in Outram.

Today, it has amassed staunch supporters with some die-hard fans returning regularly for decades.
Ji Xiang now sells a total of eight flavours: Peanut, sweet bean, salty bean, corn, sesame, coconut, yam, and seasonal durian. Each is distinguished by the different colour of its skin.

Despite the tedious and time-consuming process, the kuehs are filled and moulded individually by hand, so that the skin achieves the right thickness and chewiness. Using machines might risk tearing the thin skin. 
The efforts of the folks at Ji Xiang have earned them accolades such as the Green Book Best Food Awards and the Slow Food Singapore Heritage Hero Award.

Ang ku kuehs are popularly used for festive occasions. Their busiest times of the year are during the birthday of the Chinese Jade Emperor (which falls on the ninth day of Chinese New Year), Hungry Ghost Festival and Qingming Festival (or Tomb Sweeping Day). 
The kuehs also feature frequently in gifts to celebrate a child turning a month old.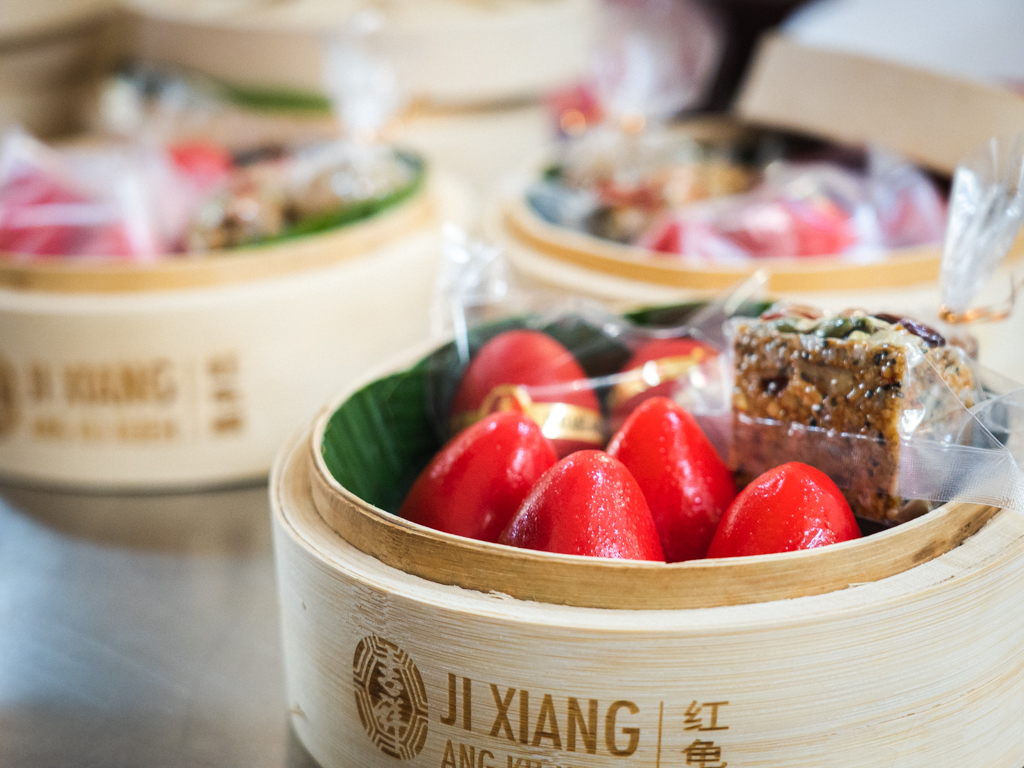 One fast-disappearing Chinese custom is the act of a baby stepping on a pair of ka ta kueh (the same kueh but five times bigger in size), says Kelvin. 
On a child's first birthday, the child would be dressed like a small tiger to ward off spirits and the ka ta kueh is an offering to the gods. Stepping on the ka ta kueh symbolises a smooth journey in life for the baby.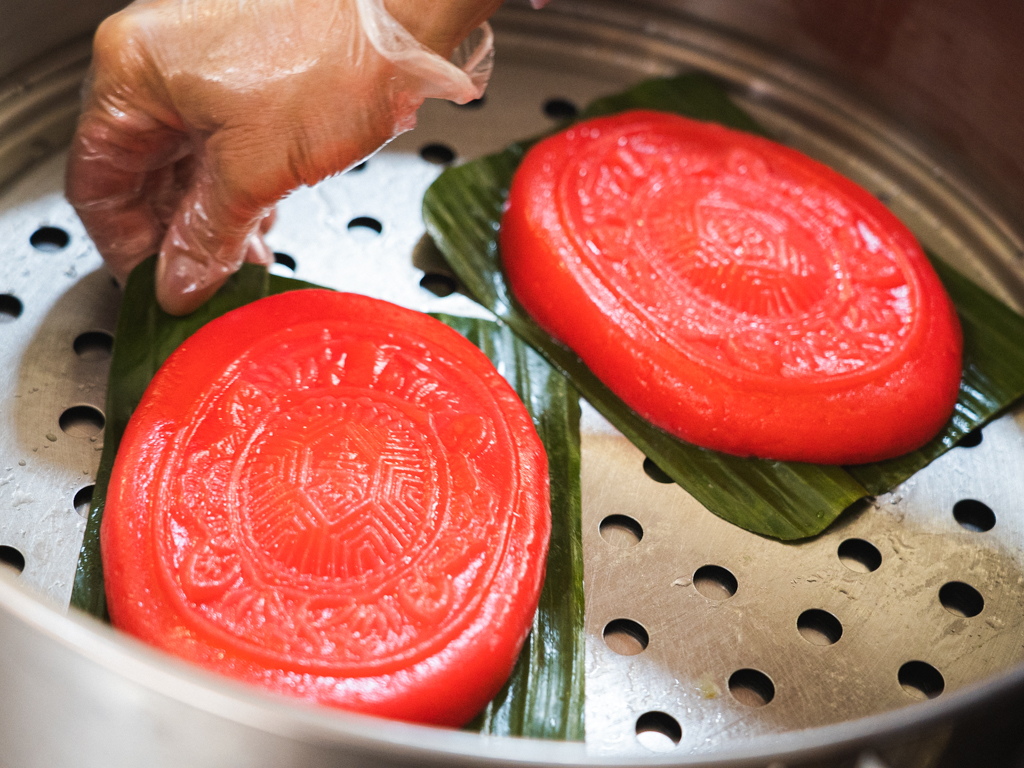 In 2015, Kelvin decided to practise this lesser-known custom for his oldest daughter. It attracted some media coverage and attention, so much so that the sales of ka ta kueh leapt from two pairs a year to thousands yearly. 
"Ka ta kueh has a very deep meaning in Chinese culture. When I did it, I felt very proud and emotional and nearly cried. I thought: 'Why are we not doing this?'"

It further cemented his belief that Ji Xiang was not just here as a business, but had an intangible social impact on continuing rich traditions.

A new chapter 
With a decade of experience in the F&B industry, Kelvin oversaw Ji Xiang's first expansion. In February 2021, he opened the legacy brand's second outlet in Bugis.
It was unlike the Everton branch, typically frequented by old-timers and big temples that would place large orders. On days leading up to festivals, groups of aunties would make the kuehs in 14-hour shifts. 
The Bugis outlet, though, was a whole different ball game.

Although the new outlet saw higher footfall, which translated to "many micro-transactions", Ji Xiang had to earn its stripes among the younger generation.

To them, ang ku kuehs were seen as uncool and typically associated with older people who used them as prayer offerings and during festivals. It was time to reinvent the ang ku kueh.

To keep the business trendy, Ji Xiang introduced new products such as rainbow and pastel-coloured ang ku kuehs and Mao Shan Wang durian-filled ones. When the Singapore Grand Prix came around, it made F1-themed kuehs.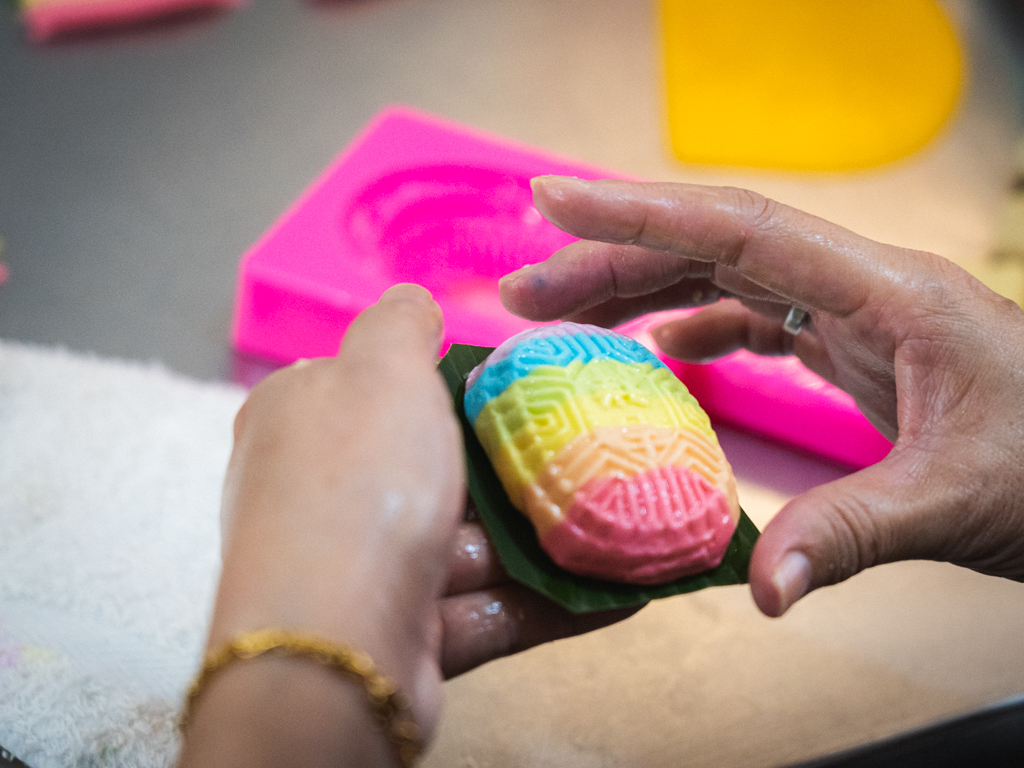 It also took on customised and corporate orders, making kuehs in all shapes and sizes, from the likes of Instagram-worthy unicorns to Minion and Pokemon-themed kuehs. And it even hired help solely to get customer feedback.
Frustrated with the old-fashioned way of running things, Kelvin set up a website for online orders and to increase its social media presence — a move reluctantly accepted by the elder Tohs.  
But some things remain unchanged. In their possession is a legendary book that has served their family over decades and is something they're unwilling to part with. 
Before modernising the ordering process, his parents would diligently pen down phone orders. Kelvin's father often spent his days painstakingly using a ruler to draw columns in the book.

"We haven't misplaced the book for the last 30 years. So if the book goes missing, jialat for us," he jokes. Jialat means "a dire situation" in Hokkien.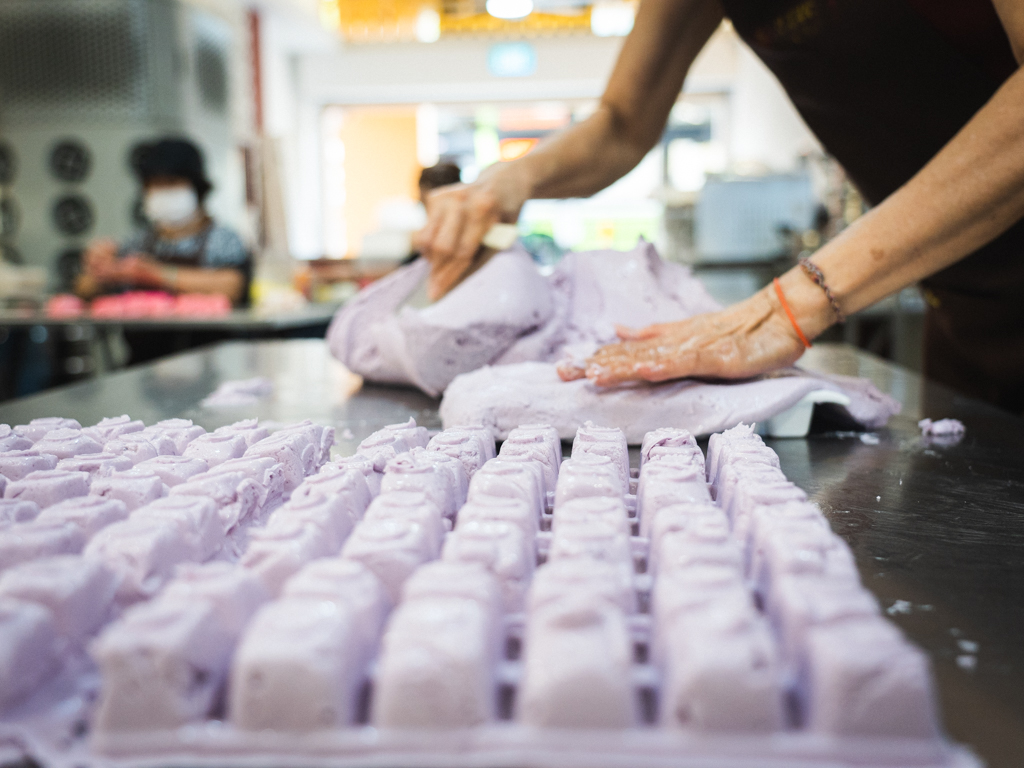 The vibe at the two outlets differs, too. At the old-school Everton Park branch, efficiency is king. It's known for its hurried service, where the aunties work at a frenetic pace and customers are served hurriedly.

At Bugis, the aunties chit-chat while making kueh and warmly greet customers. They ask about their kids and customers can walk around the store, while soaking up the likes of Cantopop tunes. By dark, the place transforms into a thumping disco as the younger staff work through the night.

Sometimes, Kelvin joins them when he feels stressed. He's so familiar with making ang ku kueh that he can do it with his eyes closed. 
"It's like meditation, very zen. I find it enjoyable when I sit there, not thinking about anything but focusing on the task ahead of me," he says.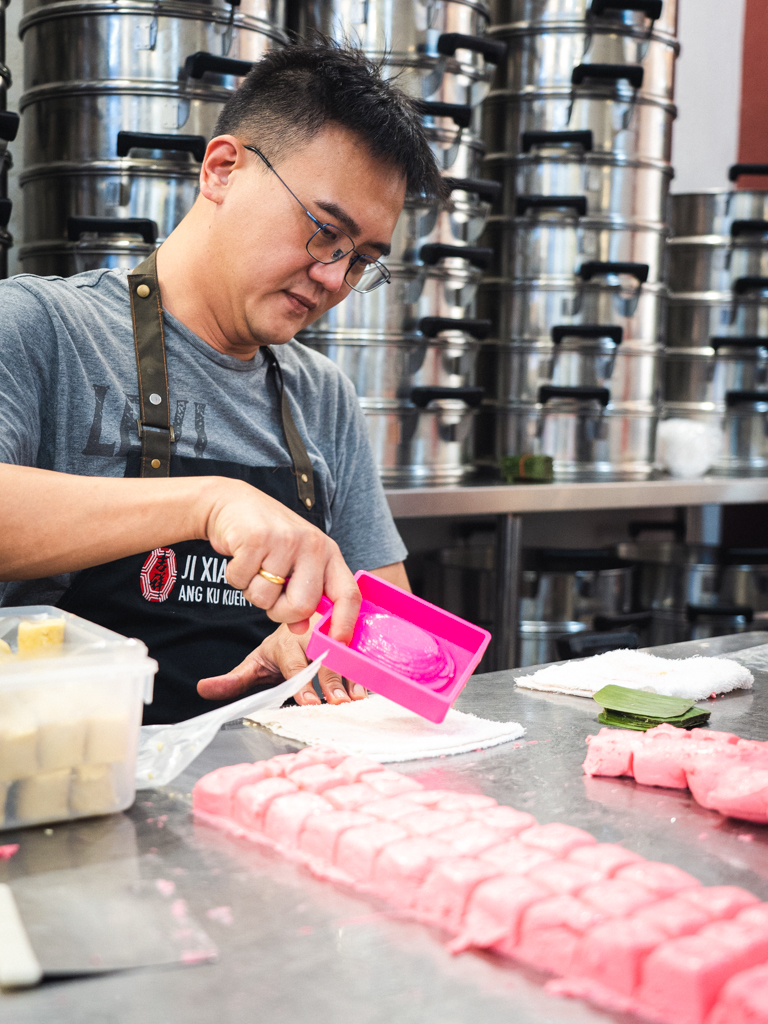 These days, he dedicates his time to sharing his heritage and running workshops for people wishing to try their hand at making ang ku kueh. 
He's had participants ranging from companies looking to do team-bonding events and parents with young children to tourists who sign up with Singapore hotels.
"If we don't do this, who else is going to?"
The art of perfecting ang ku kueh
Part 1: Cleaning and cutting up banana leaves

Preparing the banana leaves may look deceptively simple, but it's no joke when you have to wash thousands of pieces, wipe them dry and cut them to the right size.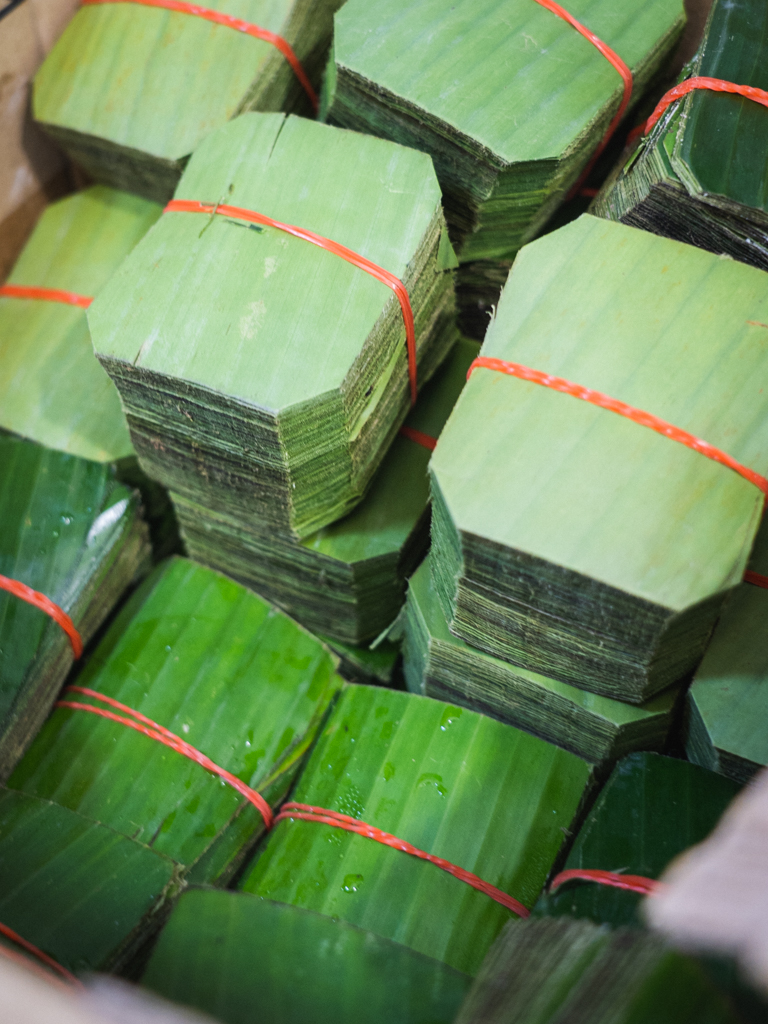 The team needs to cut 30kg worth of banana leaves twice a week. That's 2,000 pieces of banana leaves, cut neatly into 18 to 20 portions to get the equivalent of 36,000 rectangular pieces.

The elder Mr Toh designed a machine to ensure that the leaves could be cut into perfectly symmetrical pieces. 
While they could easily buy pre-washed and pre-cut leaves from Malaysia and Indonesia, Kelvin says that the cleanliness may not be up to scratch in terms of food safety. They would rather do it themselves, even though it's more expensive and labour-intensive.
Part 2: Cooking the mung bean filling
The most traditional is tau sar (mung bean filling), which Ji Xiang makes in-house.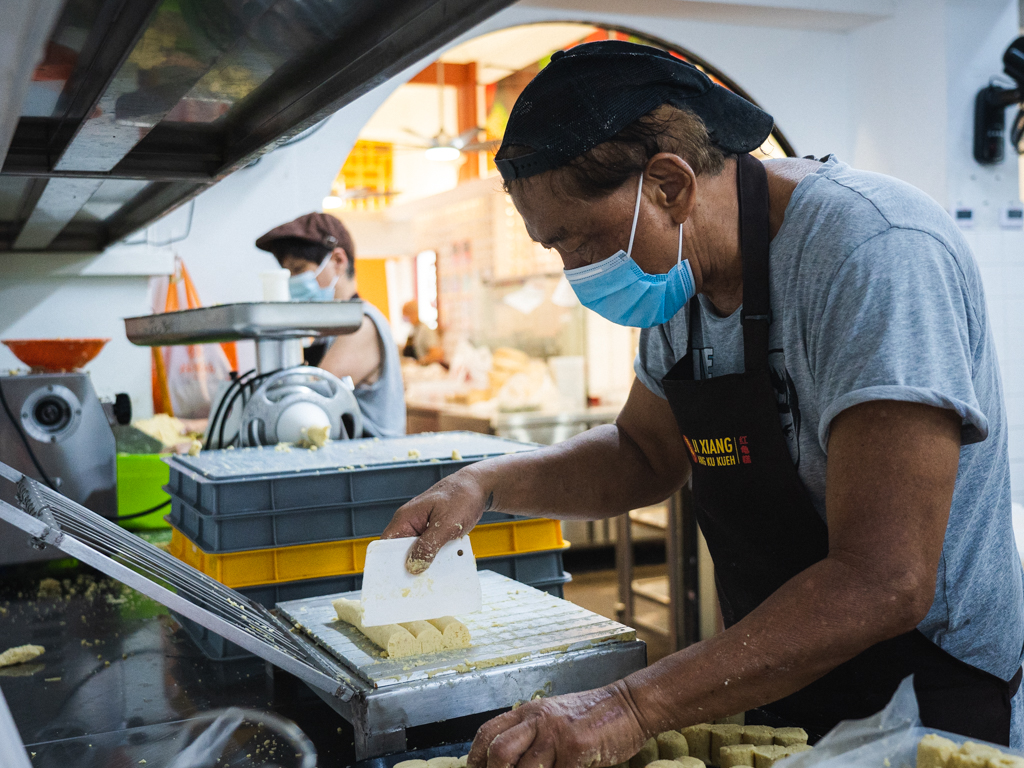 Some 80kg of raw beans are soaked, steamed, mashed and cooked with sugar, oil and water to achieve the right consistency for the optimum flavour to come through. 
After that, it is cooled and chilled to make it more malleable. Then it is divided into smaller portions, ready to be rolled into the pastry skin dough.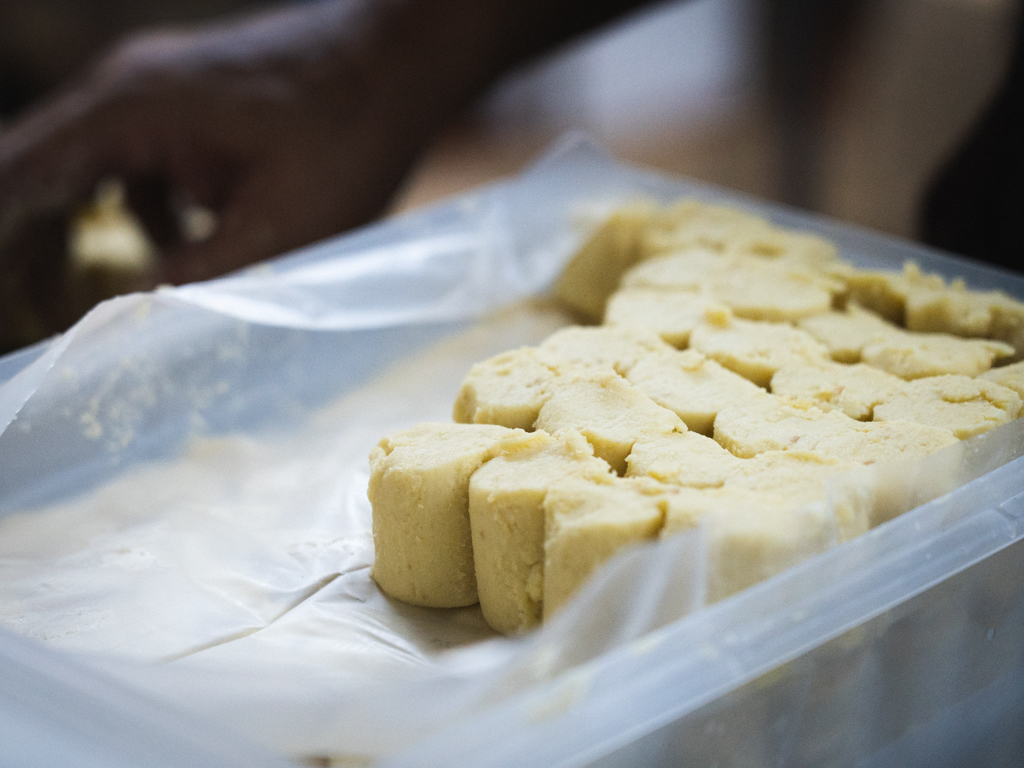 Part 3: Making and colouring the pastry skin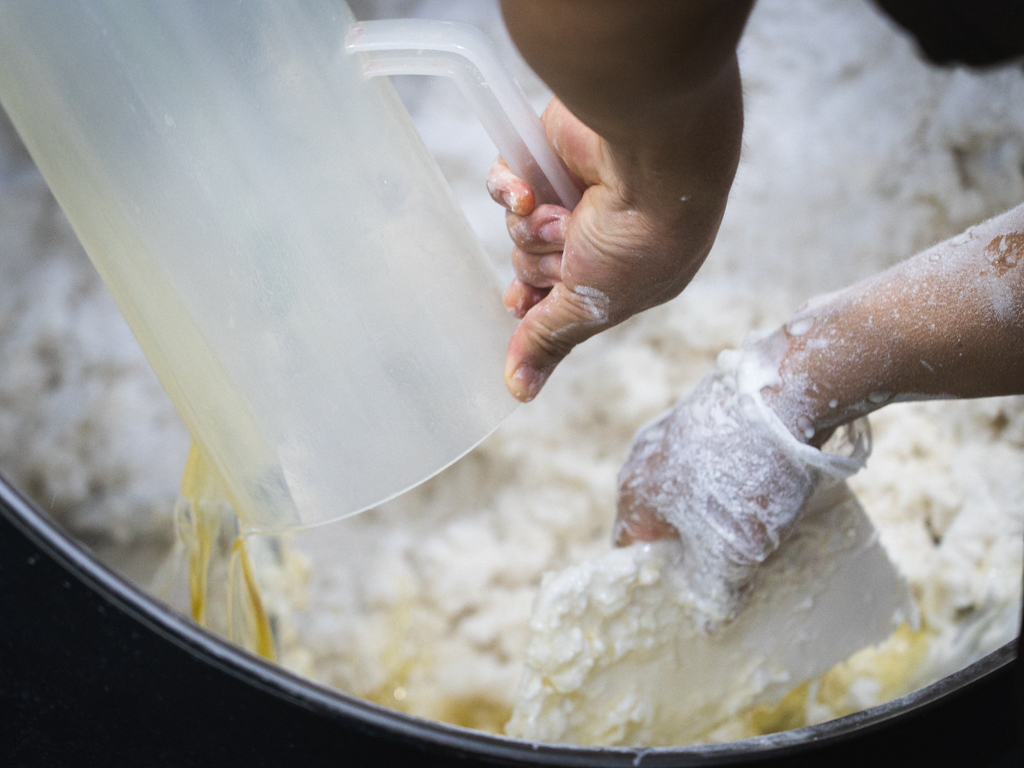 The pastry skin is made from a mixture of glutinous rice flour, oil, salt and sugar. Food colouring is added into the mixture to give the different flavoured ang ku kuehs their colour.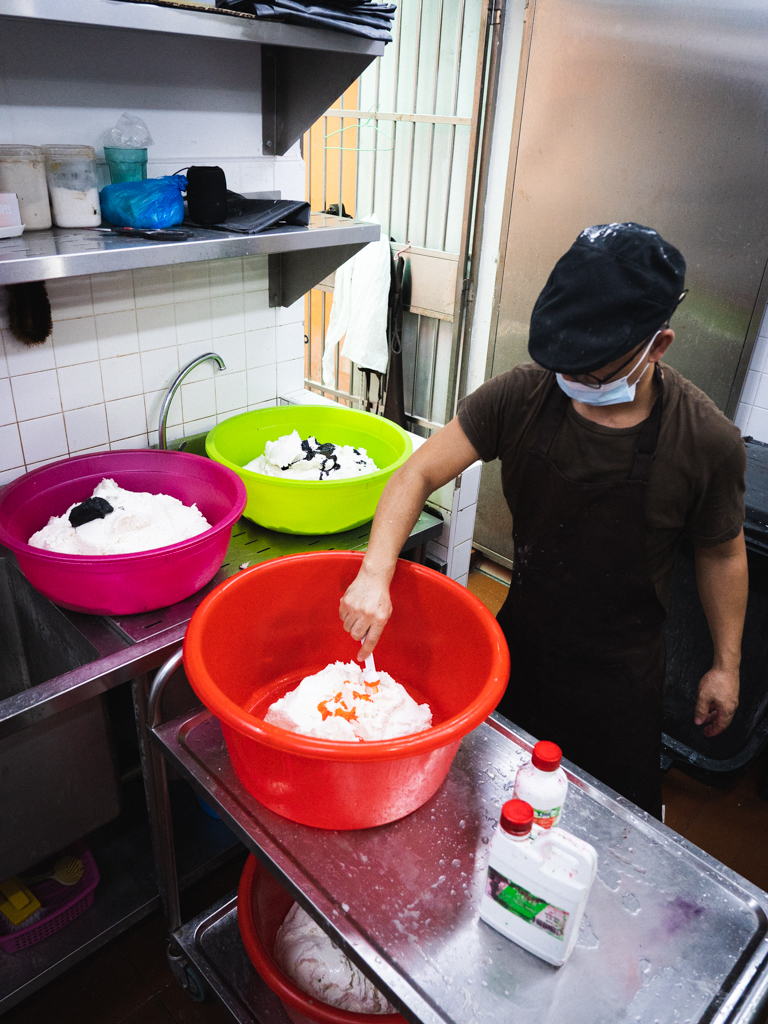 Part 4: Wrapping the filling with pastry skin
Finally, the pastry skin is combined with the filling and rolled into a ball. It's then pressed into the mould that gives it the distinctive tortoise-shell shape before being placed onto a piece of banana leaf.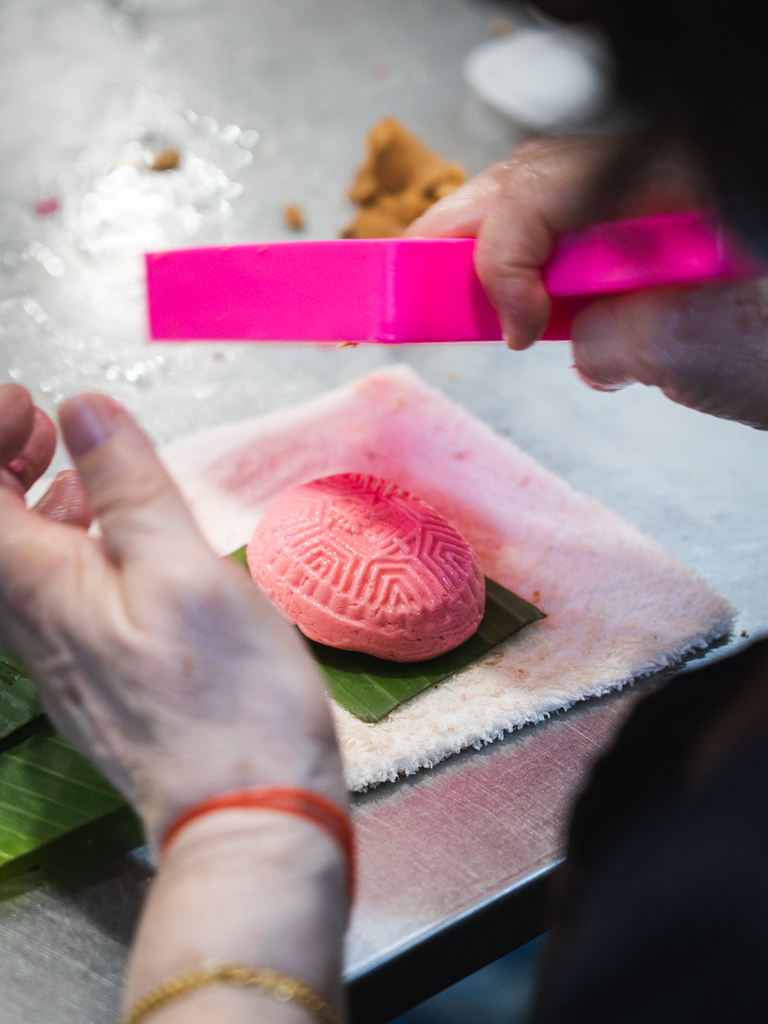 The ang ku kueh is placed into the steamer with the pandan leaf side down. This will allow the fragrance of the leaf to permeate the kueh.

When the kueh is cooked and turns into a deeper colour, the result is a glistening skin that's soft and chewy.

Workers start as early as 6am and the first batch of ang ku kueh is rolled out by 8.30am. Popular flavours such as coconut typically sell out after lunch. 
When a flavour is running out for the day, more will be made in small batches of 100 to 200 pieces.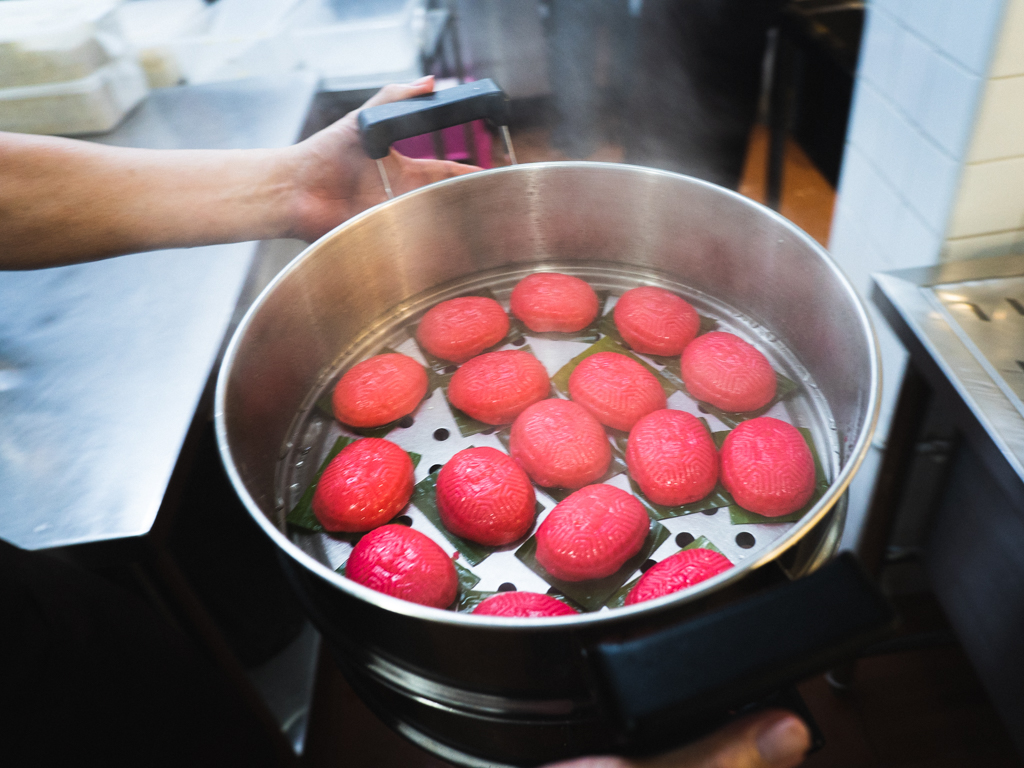 The bulk of the day's ang ku kueh is made in the morning (making the pastry skin, moulding and selling), while the team gets ready for the next day by preparing the banana leaf and filling. 
To meet the demands of the morning crowd, the team prepares the raw ingredients a day in advance.

Ji Xiang is powered by the strength of aunties — with a little help from cans of Red Bull. They enjoy the communal process of making the ang ku kueh. It's a gruelling process that requires dexterity, attention to detail in ensuring the high quality of kuehs and patience to sit for long hours on end making kueh.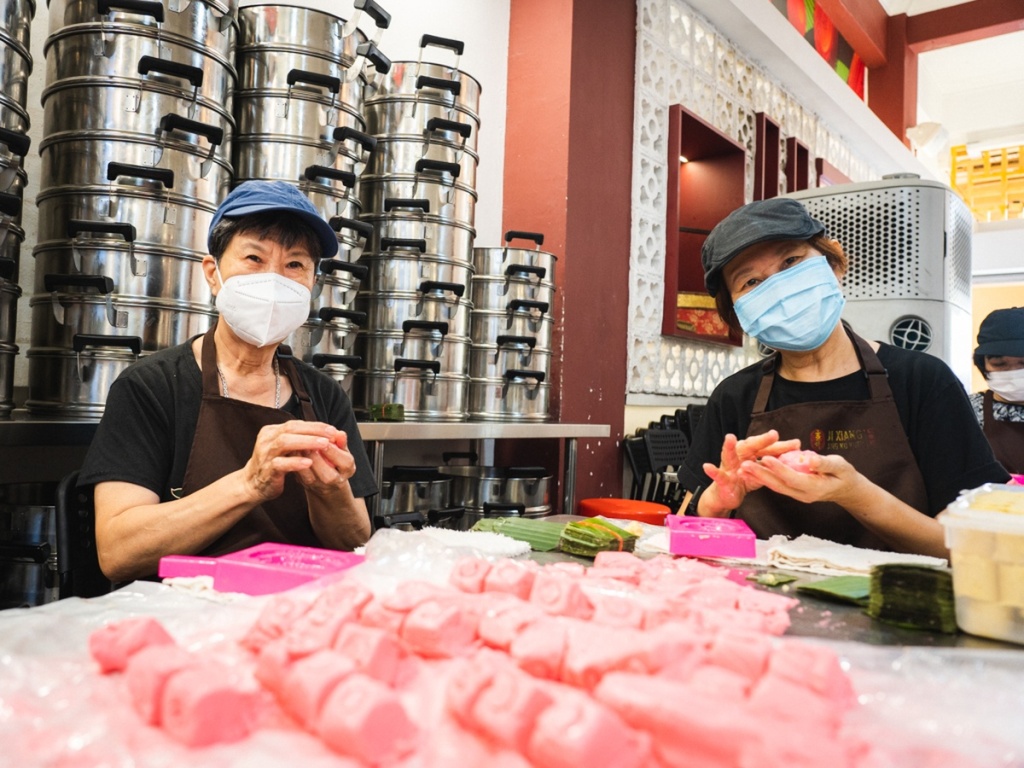 It's highly labour-intensive, which is why there are not many ang ku kueh stores around, Kelvin believes. 
One pro-tip on how to best enjoy the kueh — eat it as fresh as possible within the day. Otherwise, they can be kept for two or three days if stored in the fridge.
Where else you can get ang ku kueh 
1. The Ang Ku Kueh Hut
36 Kim Keat Road
Open: Tuesday to Saturday (10am to 5pm)

The Ang Ku Kueh Hut was established in 2004 by the pioneer generation of Toh siblings (unrelated to the Toh family that runs Ji Xiang Ang Ku Kueh). It aims to introduce modern elements to appeal to the young, with interesting flavours such as pistachio and hazelnut.
2. Kueh Ho Jiak
Tanjong Pagar Plaza Market & Food Centre, 02-20, 6 Tanjong Pagar Plaza
Open: Monday to Wednesday, Friday to Sunday (7am to 3pm)

Chinatown Complex Hawker Centre, 02-149, 335 Smith Street
Open: Tuesday to Wednesday, Friday to Sunday (7am to 4pm)

The brand was founded by Sandy Tan, who spent most of her childhood around her mother's small makeshift food cart selling kueh and simple food in the kampung. Today, Kueh Ho Jiak is recognised as a heritage hawker by Unesco. With the help of her daughter Elizabeth Chan, the family expanded the business to include catering services, online deliveries, and even a station for live cooking demonstrations at outdoor events and grassroots clubs.
3. AMK Nonya Kueh
Block 7 Hougang Avenue 3, 01-62
Open: Tuesday to Sunday (8.30am to 6.30pm)

Since 1984, AMK Nonya Kueh has been a hidden gem known for delicious traditional Chinese and Malay snacks. Choose from various ang ku kueh flavours — bean paste, peanut, black sesame salted bean paste, as well as durian and pandan skins with sweet bean filling.
4. Lek Lim Nonya Cake Confectionery
84 Bedok North Street 4, 01-21
Open: Monday to Saturday (6am to 5pm), Sunday (6am to 2pm)

Founded in 1968, Lek Lim sells ang ku kueh flavours such as coconut, peanut, yam and bean paste, and a wide variety of Nonya kuehs.

Ji Xiang Ang Ku Kueh, The Ang Ku Kueh Hut and Kueh Ho Jiak are on the GrabFood delivery service, while AMK Nonya Kueh and Lek Lim Nonya Cake Confectionery are on GrabMart. You can also book a ride to these places.  
Multiple locations across Singapore
Open: Operating hours vary across stores
Multiple locations across Singapore
Open: Operating hours vary across stores
---