Pergh!Chicks, headed by a 2nd-gen owner, revives an OG ayam percik recipe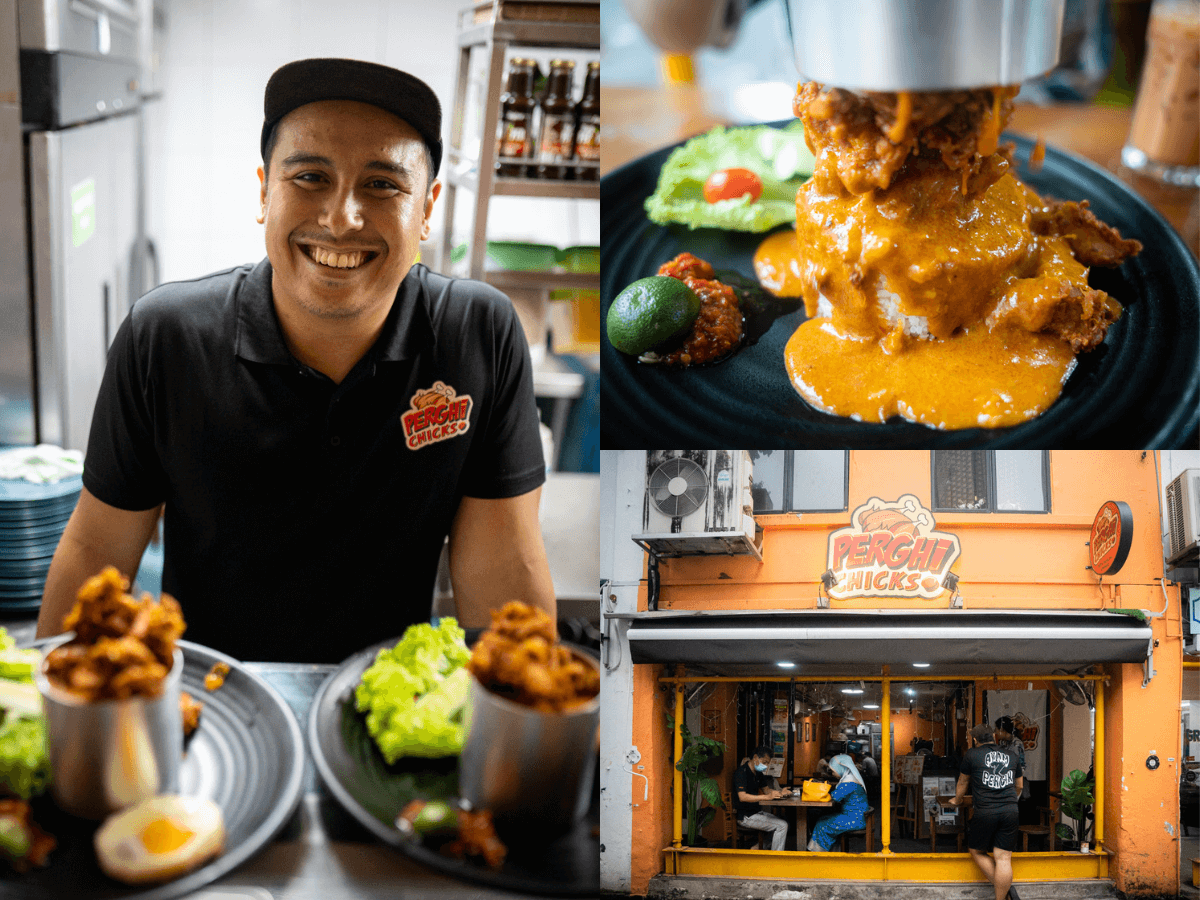 Afiq Irwan, 29, has revived a legacy ayam percik (spicy roast chicken with rice) recipe
He's the second-generation owner of the business, having taken up the mantle from his mother, who ran a pasar malam stall in the 90s
Pergh!Chicks has two stores in Jurong West and Bugis, with plans for more
Many of us have fond memories of visiting pasar malams (pop-up night markets) — the bright lights, upbeat tunes, people wending their way through narrow spaces to do their shopping, and of course, the food.
Afiq Irwan, 29, owner of Pergh!Chicks, knows this better than most of us, having spent much of his childhood at such markets.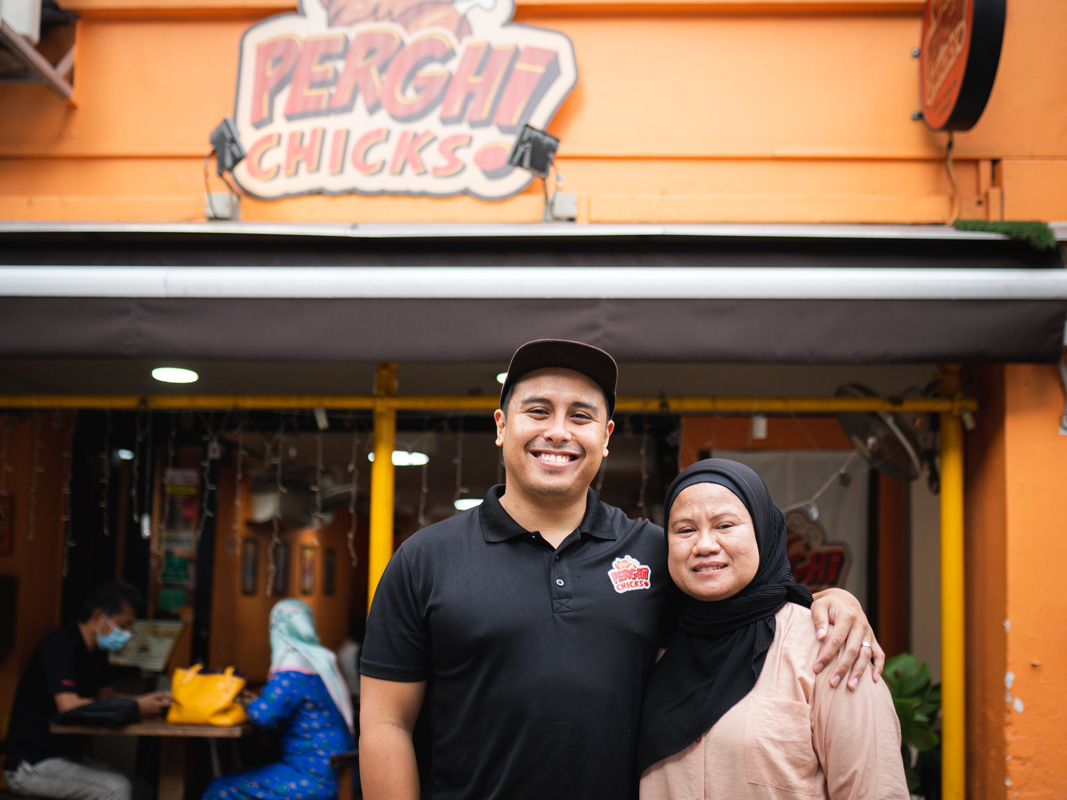 His mother Sabidah Borhan, 50, ran an ayam percik (spicy roast chicken with rice) stall at pasar malams around the island for more than 10 years. 
Having brought in the recipe from Malacca, Malaysia, and introducing it to Singaporeans in the 1990s, hers was the OG ayam percik stall, Afiq says.
"It was very colourful… my brothers and I grew up in pasar malams. During my O Levels, I'd study there," he adds. "Our whole lives revolved around the pasar malam scene."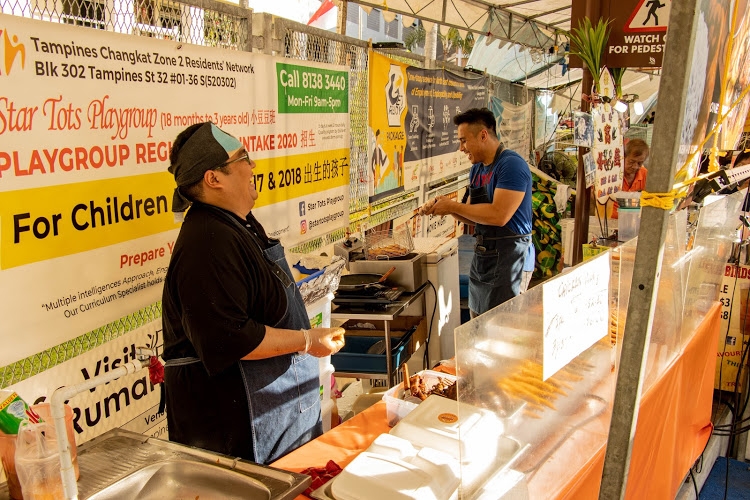 "Our stall would have the longest queue because I was very young," he recalls. "A lot of customers came to our shop to watch me cook their Ramly burgers or ayam percik. Back then, I was 13 to 15 years old."
Today, he's still serving up ayam percik, albeit at his two Pergh!Chicks stores in Jurong West and Bugis, and occasionally, at pop-ups.
How it all started
Sabidah began dishing up Ramly burgers, otah and traditional Malay kueh at pasar malams in 1999, but soon started selling ayam percik based on a decades-old recipe.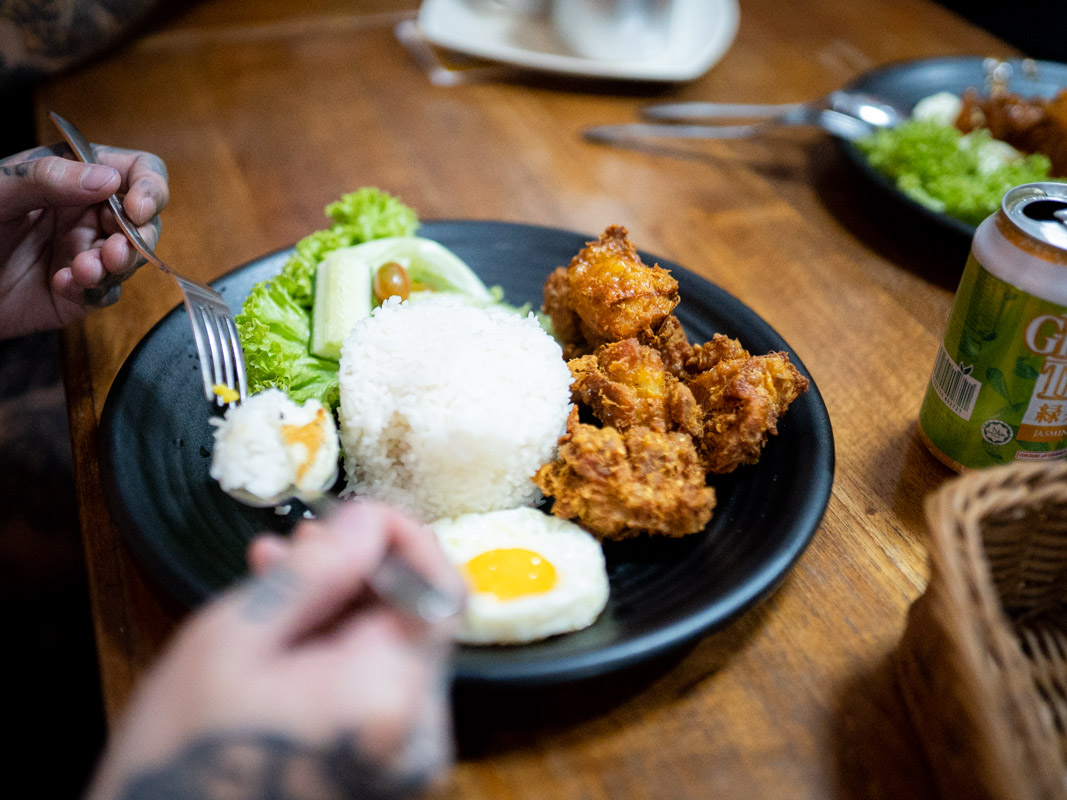 It's a family recipe, Afiq says, tracing it as far back as his great-great-grandmother.
As with many pasar malam stalls, the stall was nameless. But that never seemed to deter customers from returning for more.
In 2010, Sabidah called it a day and shut the business for good. 
"She thought it was a good time to focus on me and my brothers," Afiq recalls. At that time, he was sitting his GCE O Level exams.
But that wasn't the only reason. Rents for pasar malam stalls were on the rise, so it was no longer viable for the family. 
From then on, she sold ayam percik out of their home kitchen on occasion, but it wasn't until 2019 that Pergh!Chicks came into being.
The business today
In 2019, Afiq was laid off from his job in tech, where he dealt with software-as-a-service solutions, and mulled over the idea of restarting the business.
Apart from refreshing its look, he named it Pergh!Chicks, which means "awesome chicken" in Malay. It's also a play on its signature dish. 
It came back to life as a home-based business, but it was a challenge to recapture the hearts of Singapore's ayam percik fans.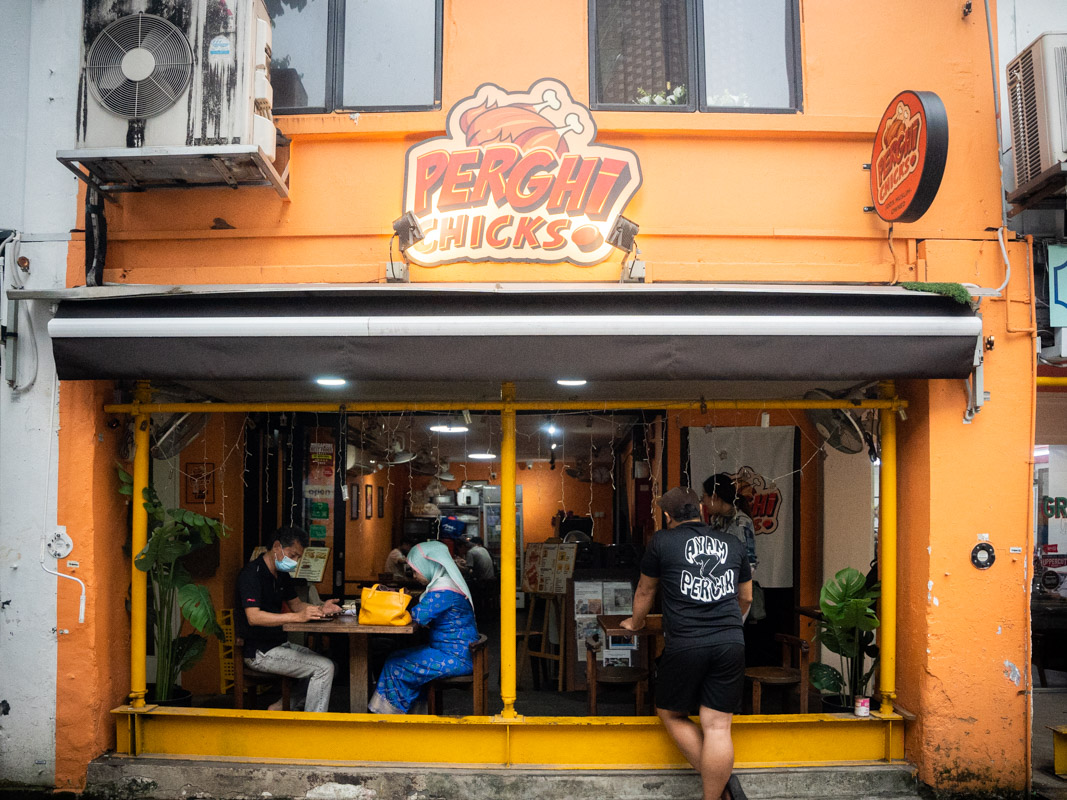 "We had a lot of competition because we'd stopped (the business) for 10 years, so not many people knew of us. We had to slowly gain traction. Then Covid-19 happened, so it became worse." 
The holy fasting month of Ramadan in May 2020 was pivotal for Pergh!Chicks. Unable to head into Malaysia for their ayam percik fix owing to pandemic movement controls, patrons turned to the internet and online deliveries. 
The brand's Instagram following jumped fivefold this period.
The limitations of their home space meant there was a lot of smoke, and they also had to rely on an electric grill instead of the traditional charcoal. 
They later moved first to a ghost kitchen in MacPherson, then to their first physical outpost — a hawker stall in Jurong West. 
In April 2022, Pergh!Chicks opened the doors to its Bali Lane store, which, for the first time, came with a seating area it could call its own.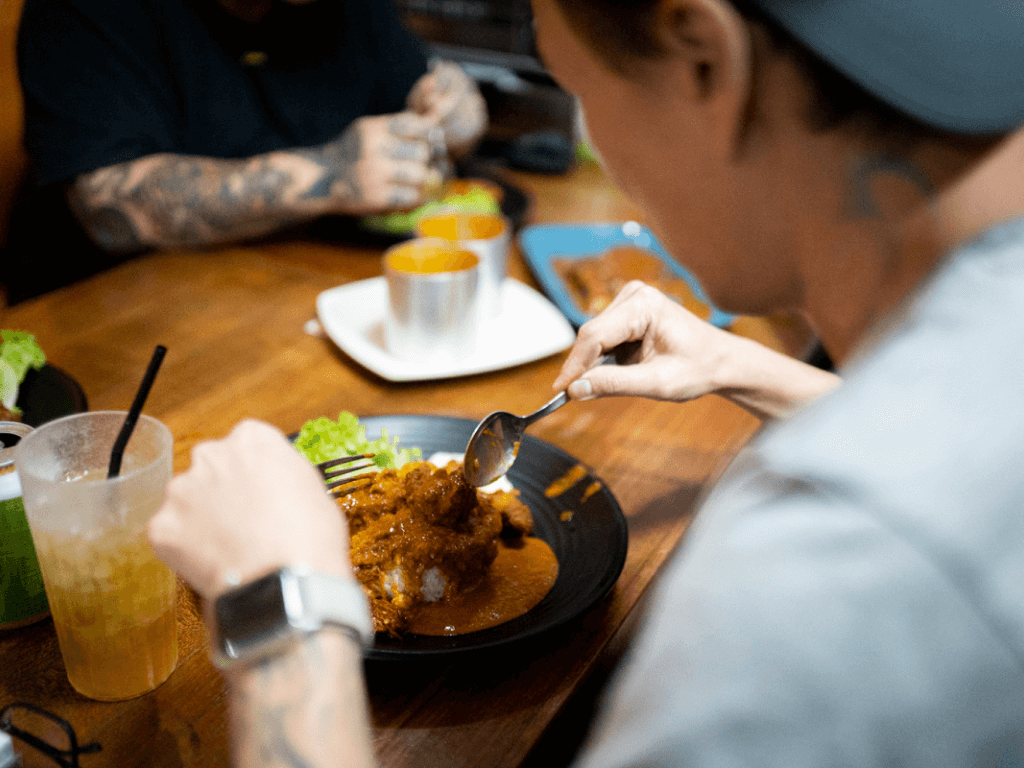 "At a pasar malam, you've to move every two, three weeks, so we'd be like nomads. Tearing down is the most painful thing to do," Afiq says. 
"A physical store makes us feel grounded. Our customers know where we are, so they can keep coming back."
Things are a lot better now, says Afiq. Aside from the availability of air-conditioning in the Bali Lane shop, there are also better amenities, such as a karaoke machine and a PlayStation 4 in an upstairs room for staff members, as well as a place for Sabidah to rest or stay the night if needed.
The food
According to Afiq, most ayam percik sold in Singapore comes with a sauce containing peanuts or curry powder.
This isn't true to the original recipe, he says. Traditional ayam percik doesn't usually include nuts but is instead lighter and richer with coconut milk.
Pergh!Chicks' rendition stays true to this principle with tweaks for Singaporean taste buds, such as making it spicier and less sweet.
The meats are also steam-marinated, so that the chicken soaks up all that flavour. It's a process that takes at least five hours, so much so that Sabidah starts her day at 5am to ensure that the chickens are ready to go by the time the shutters go up.
Another thing that sets Pergh!Chicks apart? Its signature — an Instagrammable nasi kukus volcano dish (from S$9.50), which incorporates Malaysian-style nasi kukus (steamed rice with curry).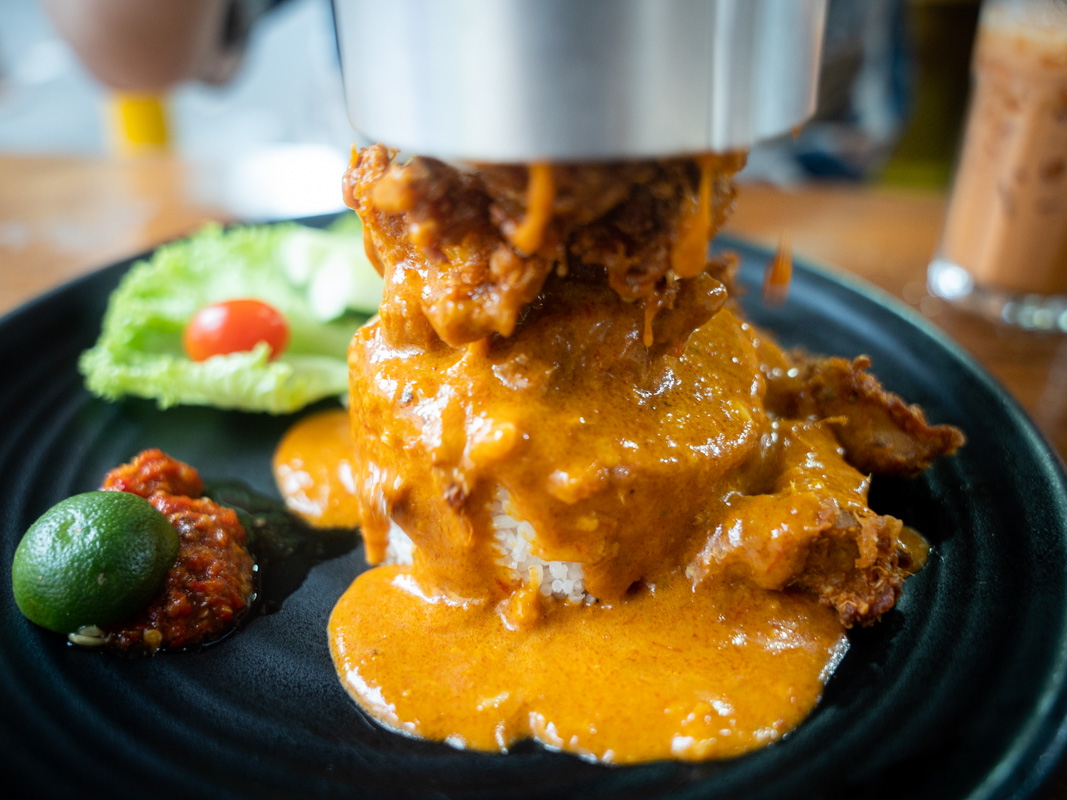 The rice, sauce and meats are contained within a cylindrical metal can before being served. Diners then gingerly grasp the can's edges, lift it from the plate, and voila! The sauce cascades out, much like a volcano.
And, since Singaporeans love their spice, Afiq hopes to create several sauces with varying levels of spice, to cater to different tolerance levels, in future.
Besides that, there are also souped-up Ramly burgers — in the form of several types of wagyu beef burgers (from S$14) — as well as mentaiko fries (S$6.90) and even a creme brulee milk drink (S$7).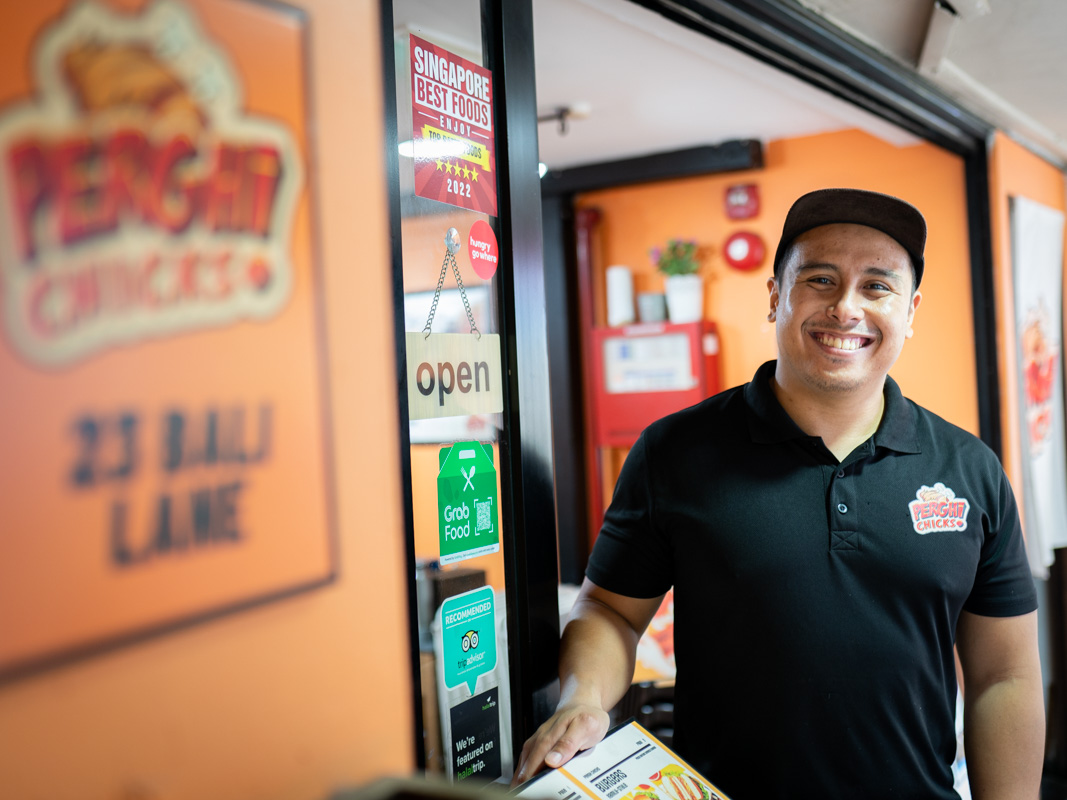 Afiq's favourite? None of his signatures, actually, he says a little sheepishly. 
After years of cooking and serving ayam percik and Ramly burgers, he's had more than his fill of them. The honey barbecued chicken chop (from S$5.20) is more his speed.
Regardless, he hopes to share the joys of ayam percik with more people.
"With a lot of modern food coming up, people tend to forgo traditional food, which is the root of our culture," he says.  
"We really hope that our customers support us in preserving this traditional cuisine and share it with other parts of the world."
It's Afiq's hope to start another stall in the east in the coming months, and possibly expand into Malaysia down the track.
Pergh!Chicks is on the GrabFood delivery service. Alternatively, book a ride to its stores.
For more features on young F&B entrepreneurs, read about Western eatery The Flying Pan and Peranakan stall Nyonya Pok Pok Kay.  
23 Bali Lane
Nearest MRT station: Bugis
Opens: Tuesdays to Sundays (11am to 9.15pm)
Tang Tea House, 414 Jurong West Street 42
Nearest MRT station: Lakeside
Opens: Mondays to Sundays (1pm to 9.45pm)
23 Bali Lane
Nearest MRT station: Bugis
Opens: Tuesdays to Sundays (11am to 9.15pm)
Tang Tea House, 414 Jurong West Street 42
Nearest MRT station: Lakeside
Opens: Mondays to Sundays (1pm to 9.45pm)