5 Thai eateries in western Singapore that serve mouthwatering fare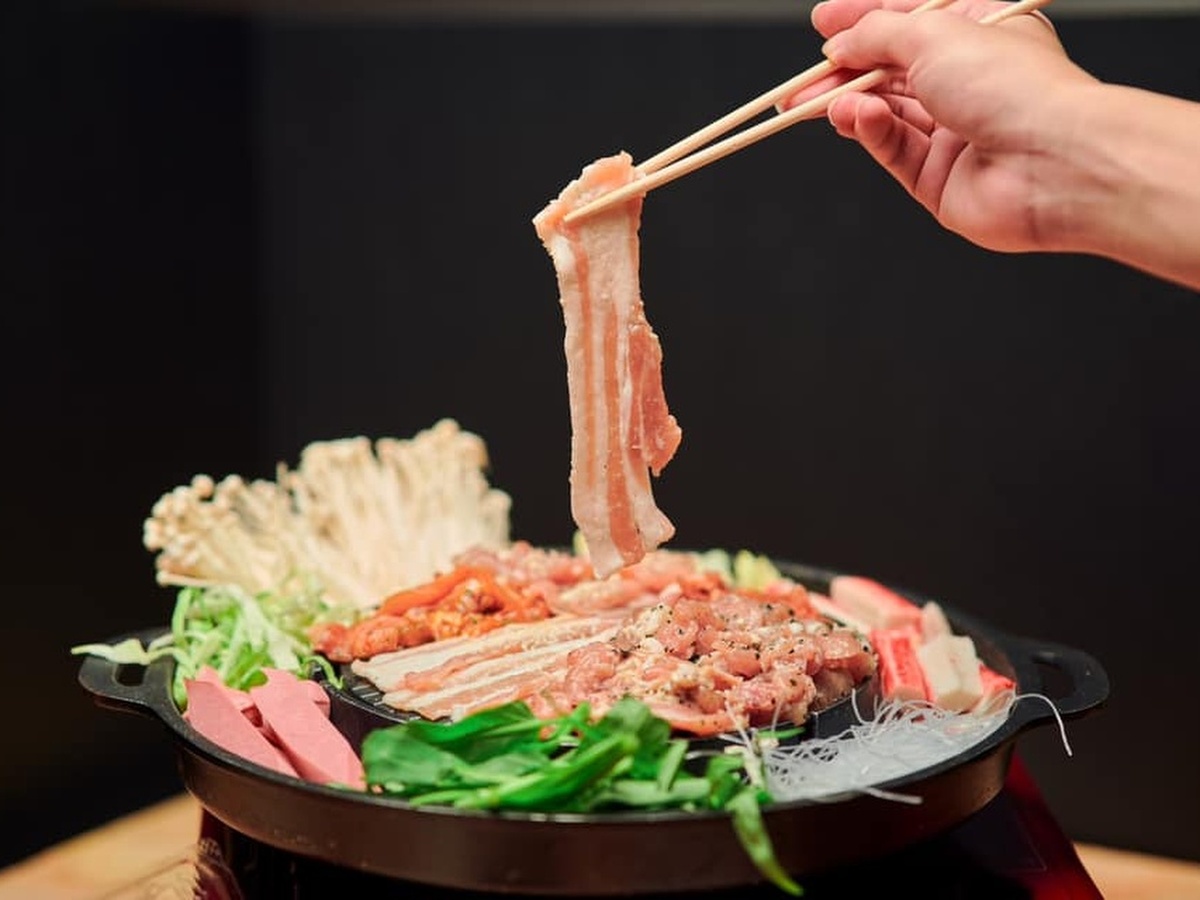 This is the final instalment of a five-part series on authentic Thai eateries in Singapore. Here, we check out places in Singapore's west.
Is Singapore's west really the best? Well, it's definitely home to some of our picks for authentic Thai eateries in western Singapore.
We narrow them down to five spots that dish out all your Thai favourites — from mookata to Thai hotpot.
1. 1345 Mookata and Bistro
01-12/13, 200 Pandan Gardens
Nearest MRT station: Jurong East
Open: Monday to Sunday (4pm to 12am)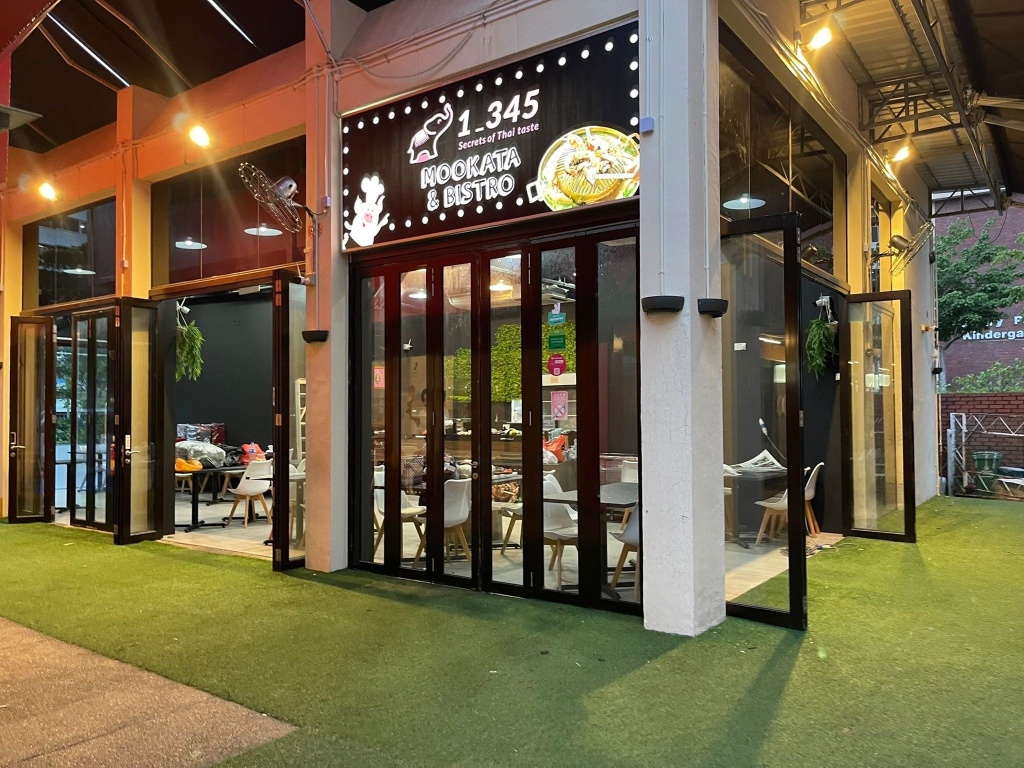 Previously at Bukit Batok, 1345 Mookata and Bistro relocated to Jurong East in June. The eatery offers three meat marinades: Black pepper, mala and basil. 
Pair the cooked meat with the housemade chilli and sip on the Chiang Mai-style mookata chicken soup stock that's MSG-free. The owner's Thai wife makes the soup stock daily.  
While the store opens only in the late afternoon, tables fill up quickly. Head there early or make a reservation for a table in its airy outdoor dining space. 
What to order: Black pepper chicken (S$8.50), basil pork (S$8.50), tom yum fish (S$9.50)
2. Tasty Thai
150 Bukit Batok Street 11
Nearest MRT station: Bukit Batok
Open: Monday to Sunday (8am to 8pm)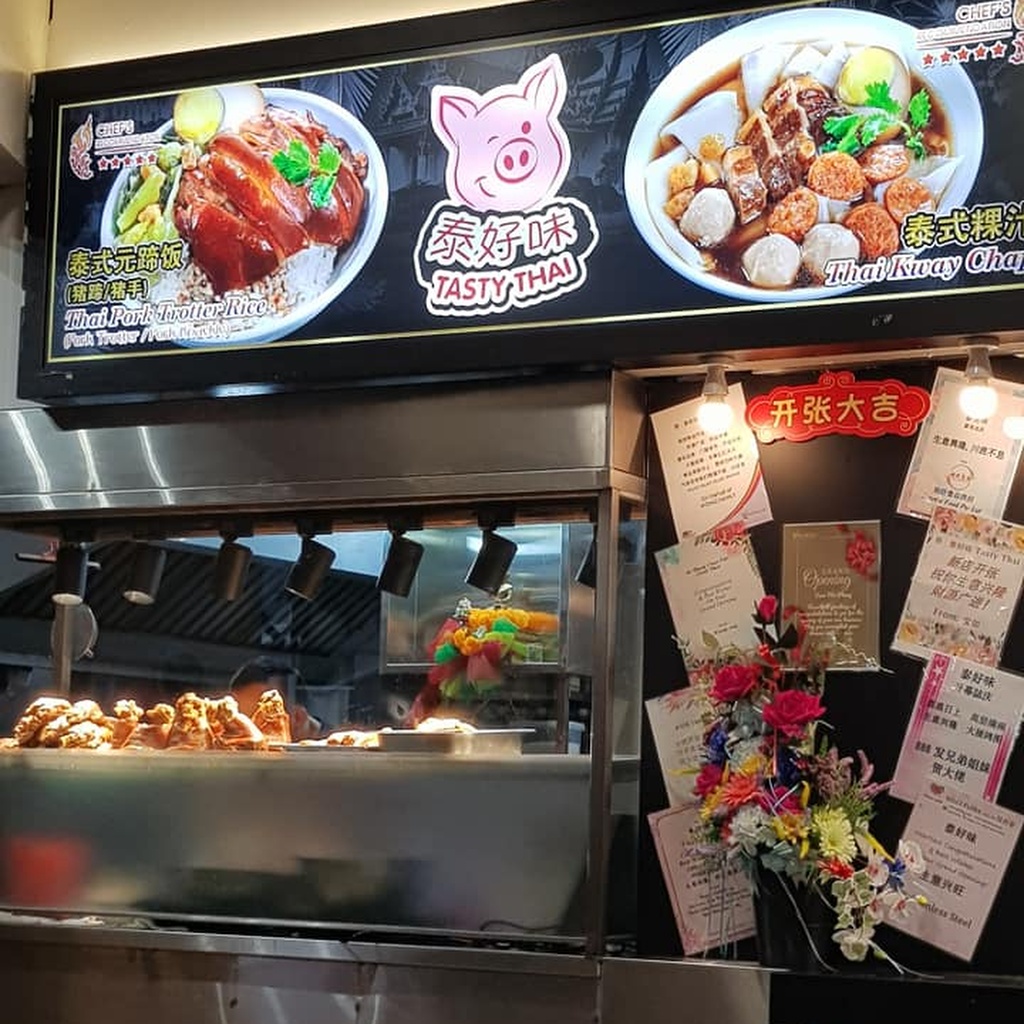 Former Thai restaurant manager Phang Chun Fatt opened Tasty Thai with two partners late last year. Using recipes from a chef friend of theirs, the stall specialises in Thai kway chap and pork trotter rice.
Instead of the usual bowl of Thai kway chap (S$4.90) found in Bangkok's Chinatown, the one found here is Hat Yai-style — more commonly found in southern Thailand. The herbaceous, darker broth is on the sweeter side — reminiscent of Teochew kway chap — and is served with the distinct rolled kway.
Another must-try is, of course, the Thai pork trotter rice (S$4.90), complete with tender meat and flavourful braised sauce. Other items such as Thai chicken wings (S$6), fish sausage (S$5) and various braised meats are available here, too.  
What to order: Thai kway chap (S$4.90), Thai pork trotter rice (S$4.90) 
3. My Thai Pot 
635C Senja Road
Nearest LRT station: Senja
Open: Monday to Sunday (10am to 11.30pm)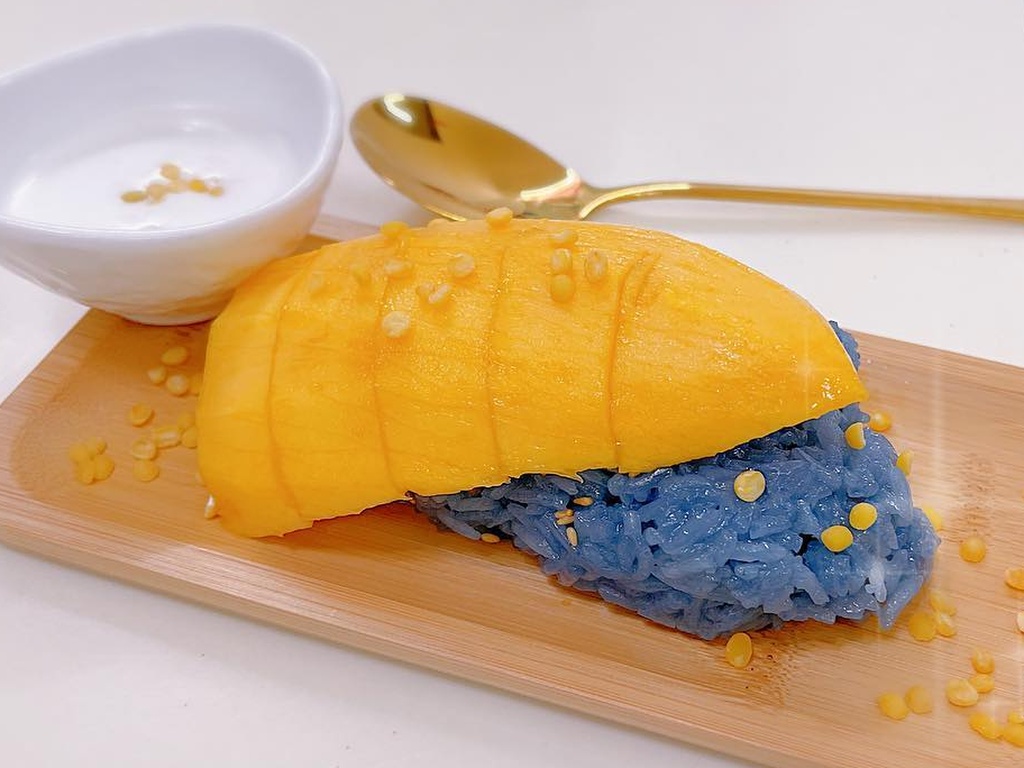 Serving a spread of delectable Thai dishes, My Thai Pot seeks to transport you to the Land of Smiles. The signature items are the tom yum fried rice (S$7) and Thai-style stir-fried lala, or clams (S$14).
For dessert, the blue pea mango sticky rice (S$8) is a pretty number with pale blue sticky rice.
The usual suspects of basil leaf rice with egg (S$6.50), pad see ew or stir-fried noodles (S$6.50), pineapple fried rice (S$6.50), homemade prawn cake (S$10), and pad thai (S$6.50) are also great choices. 
What to order: Thai-style stir-fried lala (S$14), blue pea mango sticky rice (S$8)
4. Thai Paradise
378 Clementi Avenue 5, 01-338
Nearest MRT station: Clementi
Open: Tuesday to Sunday (10.30am to 3pm, 6pm to 9pm)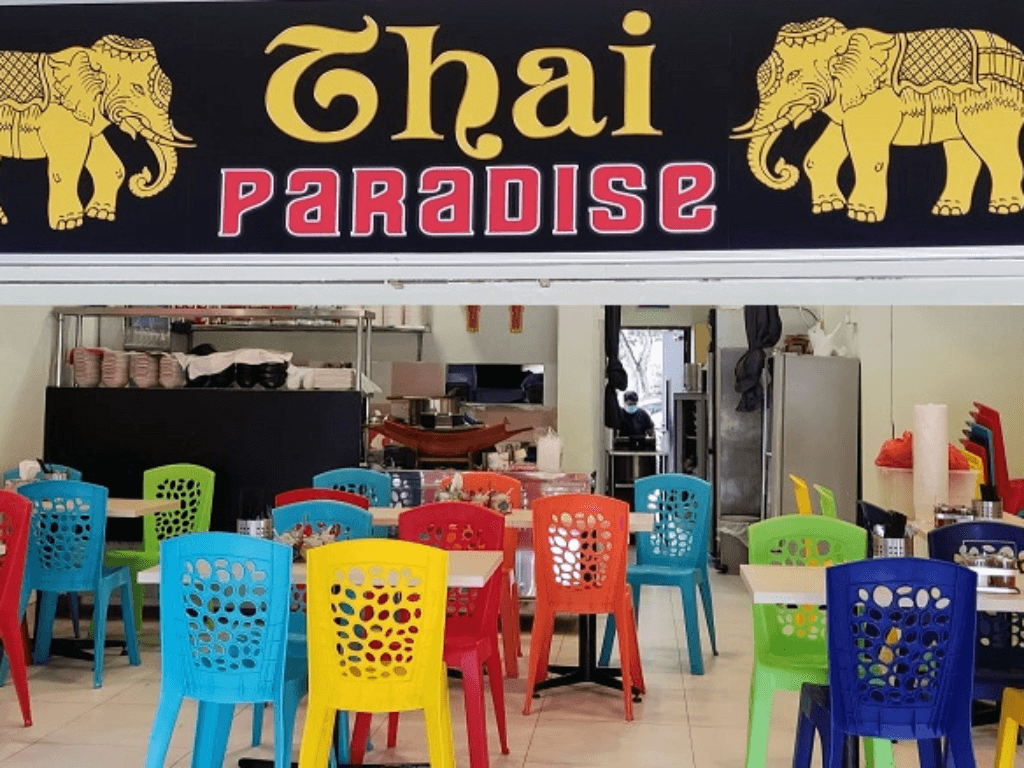 Located in a ground-floor HDB retail unit in Clementi, Thai Paradise offers authentic Thai fare at reasonable prices. If you're seeking homely, comforting Thai food, this casual eatery does it right.
Indulge in favourites such as basil pork with rice and egg (S$6.50) and beef boat noodles (S$5.90) for mains. Complement your meal with side dishes such as pandan chicken, signature prawn cakes (S$10), or Thai deep-fried garlic chicken or pork (S$9/S$15).
End your meal with a sweet finish with red ruby or mango sticky rice (S$5.90).
What to order: Pandan chicken (S$8.90), red ruby (S$4), Thai milk tea (S$3)
5. Jub Jub Mookata 
810 Choa Chu Kang Avenue 7
Nearest LRT station: Keat Hong
Open: Sunday to Thursday (4.30pm to 9.30pm), Friday and Saturday (4.15pm to 9.45pm)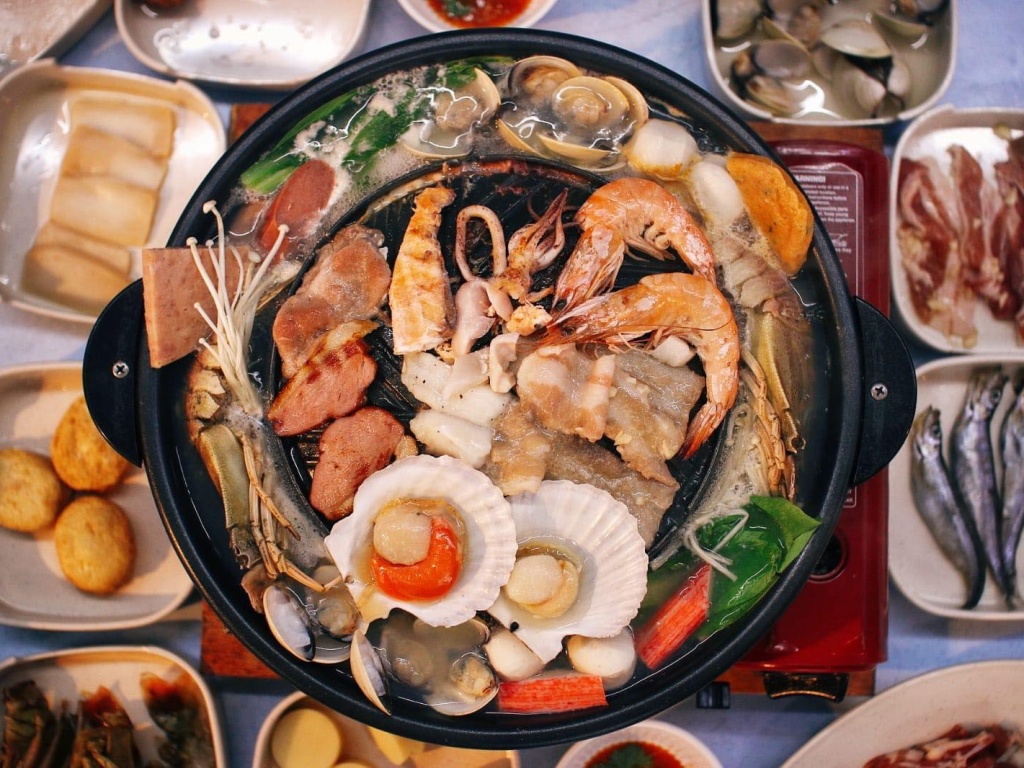 Seeing as mookata is a well-loved Thai dish among many Singaporeans, it's no wonder that there are two mookata stalls in this list. Jub Jub Mookata is a family-run mookata stall in a kopitiam and offers a variety of meats and vegetables for your grilling pleasure.
Choose between a variety of a la carte dishes (from S$1.90) or set meals that cater to large groups. The minced pork (S$2.90) is a crowd favourite that's best paired with the housemade chilli.
Do note that it gets crowded on weekends, so head there early to avoid a long waiting time. 
What to order: Minced pork (S$2.90)
Tasty Thai, My Thai Pot and Thai Paradise are on the GrabFood delivery service. You can also book a ride to these places.