Burger Daddy offers dry-aged smash burgers dripping in goodness — from a condo balcony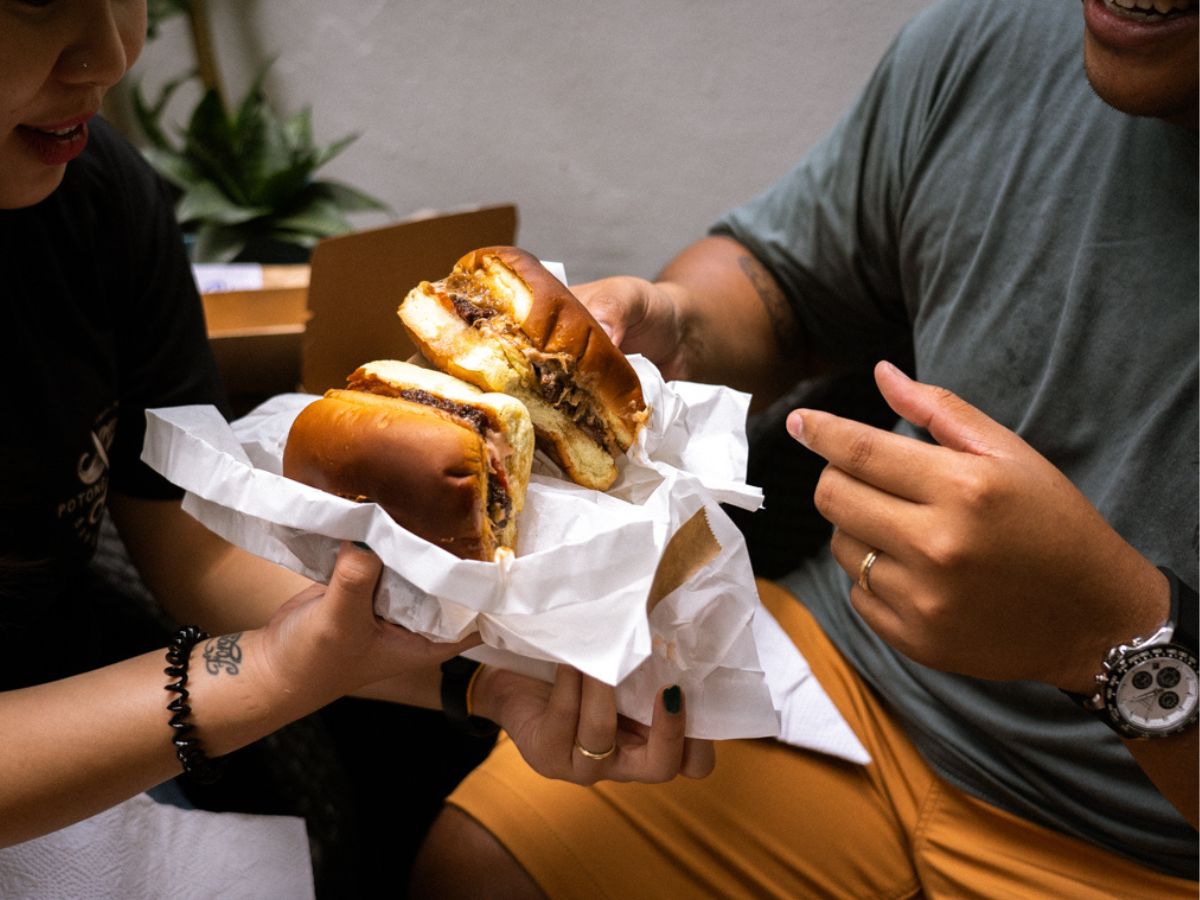 Burger Daddy, the latest IG-worthy home-based business in town, serves up great burgers and good vibes 
Lowered down to you from a basket, it delivers a smash dry-aged beef patty slathered with gooey cheese, and encased between traditional Hainanese sweet buns
Described as a "food-centric creative outlet", we love it for its novel concept, snazzy visuals, and references to music, film and pop culture 
On a cool Sunday morning, just off Balmoral Crescent in central Singapore, a bright-pink cloth tapestry flutters delicately in the breeze, partially hidden by the dense foliage. A red basket holding a crinkly brown paper bag is carefully lowered down the condo parapet to an expectant customer.

The goods? This is the "The Smash Hit" — a smash dry-aged beef patty, with gooey American cheese, onion jam, and fresh tomatoes, encased between traditional Hainanese sweet buns and a gherkin on the side. Shoestring fries with garlic chilli and ketchup are add-ons.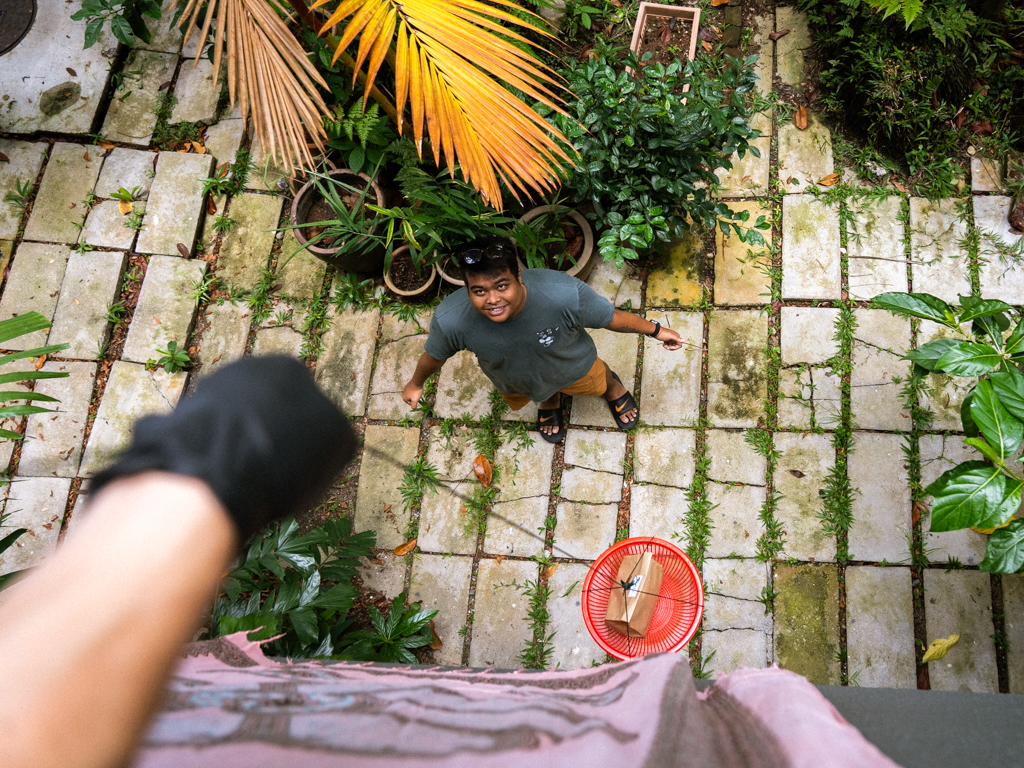 Upstairs, burger maestro Ulrich Chia, sporting an equally bright pink cap, cooks up a storm at the grill on his balcony, the sound of sizzling meat melding with old-school funk, rock, rhythm and blues music playing in the background.
Chia is the co-founder of Burger Daddy, the latest home-based burger business to spring up in Singapore. Its unique pick-up concept brings to mind the likes of Ground Floor Coffee, which turns out fresh cups of joe from an HDB flat window and went viral on TikTok earlier this year.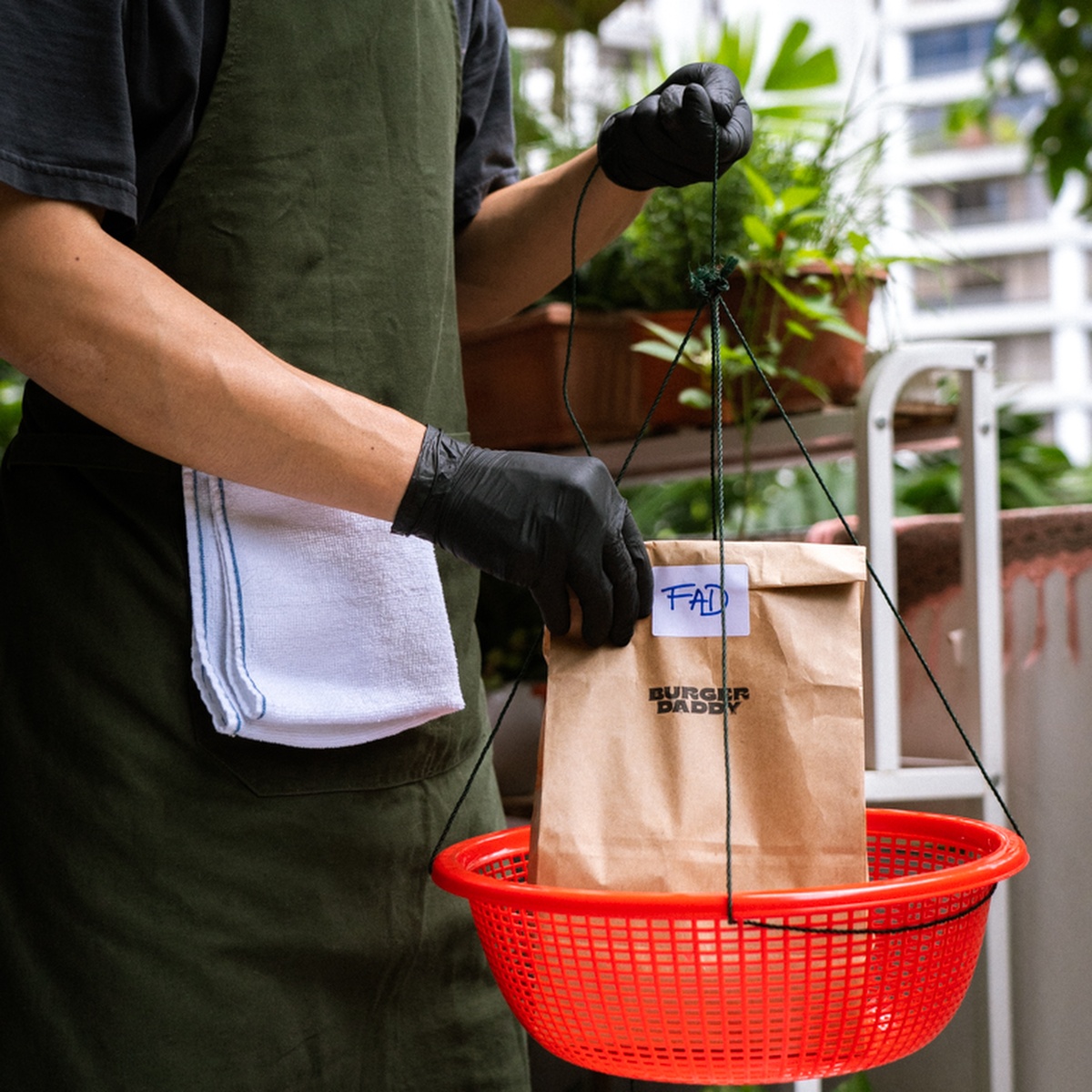 Started in September, Burger Daddy is the first F&B venture for Chia, a freelance architectural designer, and his partner Clara Lee, who is a writer, researcher and cultural worker. Most people would also know Chia from his musician days, when he was at (now defunct) local rock band, Cashew Chemists.
The cheekily named @patyourbunbun, Burger Daddy's Instagram page, depicts a love letter to burgers, music and vinyls, film, pop culture, design and wordplay.

For Chia, the smash-burger obsession began in 2019, when he had his first taste at Burger Joys in Hong Kong.
To the uninitiated, a smash burger is pretty much exactly what it sounds like: A loosely packed ball of ground beef placed on a hot pan or grill and then pressed firmly into a thin patty with a spatula or a cast-iron press for at least 10 seconds. The goal is to get it to a proper sear till it's nice and browned (almost slightly burnt) on both sides.
In contrast, a classic burger is made with a thicker patty that has been seasoned before shaping, or seasoned just with salt and pepper. It's also often cooked to medium-rare or medium, which results in a nice, pink and super-juicy centre. And while typically grilled, it's not pressed down and flattened like smash burgers, and resembles a steak.
"The smash burger is a totally different genre of burgers," says Chia, 32.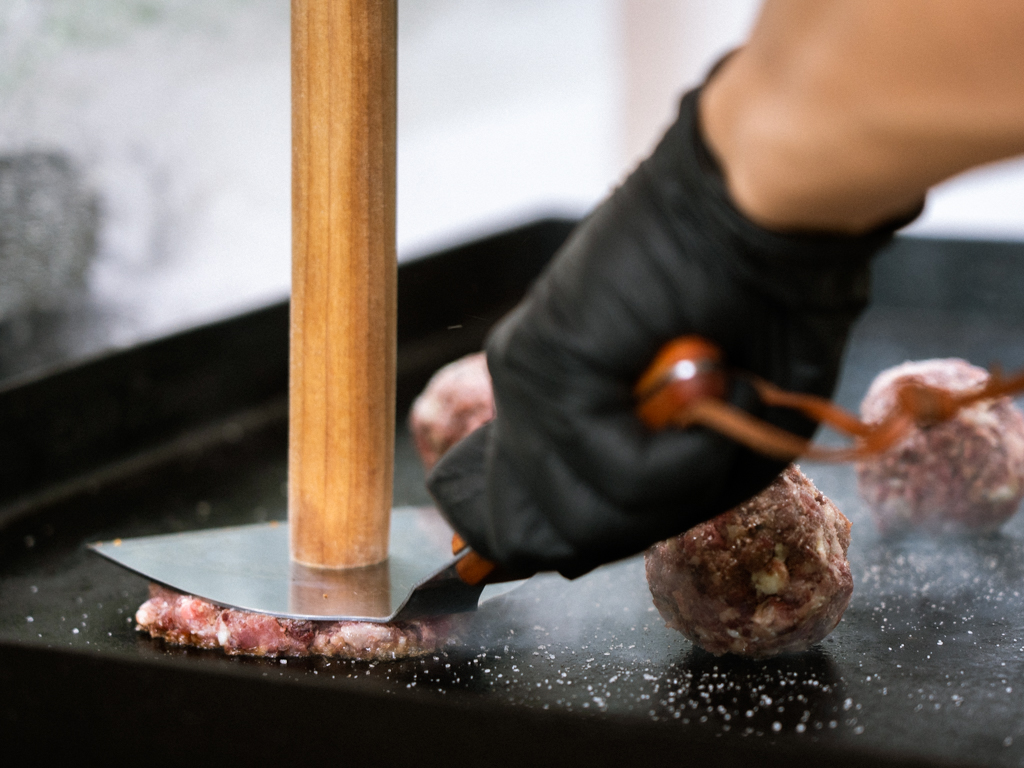 The backstory

Back then, cult burger chains such as Shake Shack or Five Guys (known for making smash burgers) were not mainstream in Singapore yet. Sensing a gap, Chia was fired up to make his own smash burgers with the help of YouTube. He was obsessed with perfecting his own version.

Chia took the chance to serve smash burgers and steak when he hosted dinners and parties for friends at his family home.

The group sizes could go up to 20 people, which meant that he would be "slogging and struggling" in the kitchen, but he didn't mind. He's happiest in the kitchen, bringing people together through food.

Fast-forward to today.

On a recent visit to Chicago last December (where his partner is presently based) — the United States is the "mecca of the smash burgers" — Chia took the chance to check out as many smash-burger joints as he could. It was later in Vancouver, trying Between 2 Buns, that Chia was instantly transported to his first love, back when he had his first taste of Burger Joys. Between 2 Buns, he declared, makes the best burger he's ever had.

In Singapore, the current burger market is extremely saturated, says Chia. He's of the view that Shake Shack is "too mass-market" and "doesn't quite live up to the smash burgers in America".

He began to toy with the idea of starting something on his own — marrying both his love for smash burgers and dry-aged beef, and introducing these concepts into the everyday Singaporean's vocabulary.


Designing the perfect burger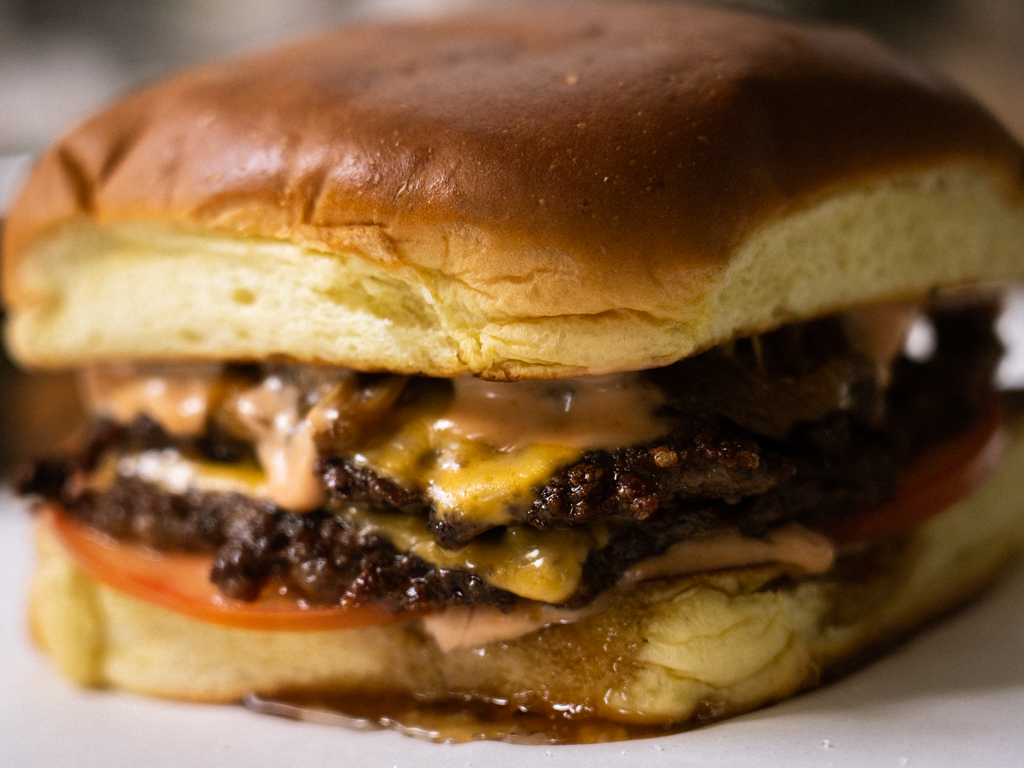 There are three components that make up Burger Daddy's burgers.

First off, Chia makes a patty from a blend of dry-aged beef trimmings sourced from Singapore butchery Maturo, which supplies a wide variety of cuts from 20-days-aged, all the way up to 200-days-aged cuts. During the dry-aging process, moisture loss and enzymatic action lend dry-aged beef a more intense, rich, nutty and deep beefy flavour.
Then there's the act of smashing the burger. When the meat patty gets in contact with the grill and browns, it leads to the Maillard reaction — a chemical reaction between amino acids and a type of sugar called a "reducing sugar", located on the surface of food, in the presence of heat. This charring is what helps to create those incredibly complex and savoury flavours. Hence, maximum browning equals maximum flavour. 

Finally, the bun — the crowning glory. Instead of using the typical brioche hamburger buns, Chia decided to go slightly off the beaten path. He discovered that the traditional Hainanese sweet bun was a unique alternative.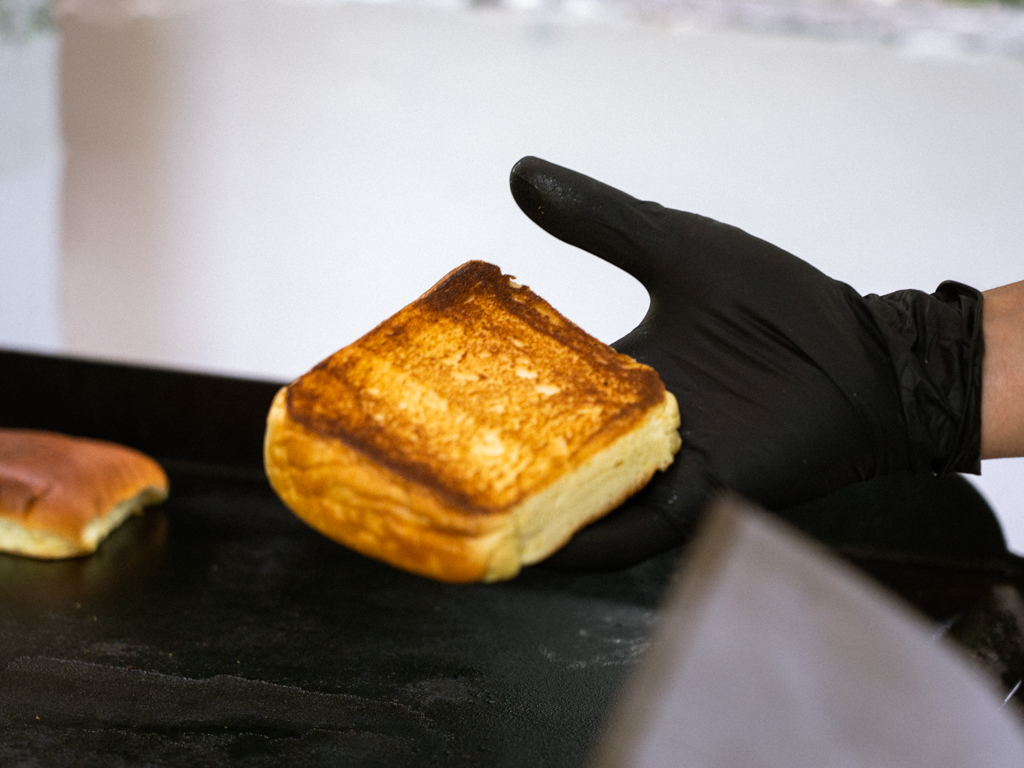 Soft, pillowy, yet still able to hold structure, it also pays homage to Singapore's roots. Upon visits to several traditional bakeries, rejecting those that were too sweet or soft, Chia tracked down one that hit the sweet spot.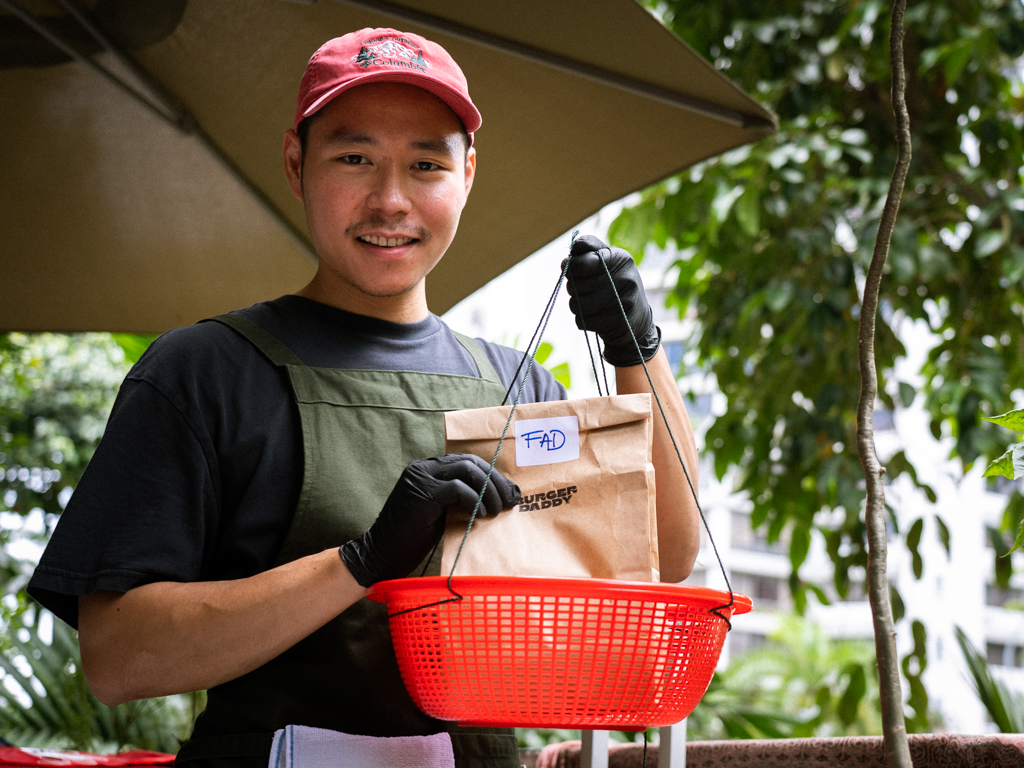 Early in the week, Chia releases slots for orders via Instagram, with "The Smash Hit" priced at S$17. You can add fries to make it a complete meal at S$19.50.
Thursdays and Fridays are for sourcing the dry-aged beef and fresh buns, and cooking the onion jam. On weekends, between 12pm and 2pm, customers can come by to collect their orders. His partner Lee handles marketing, admin and orders as well.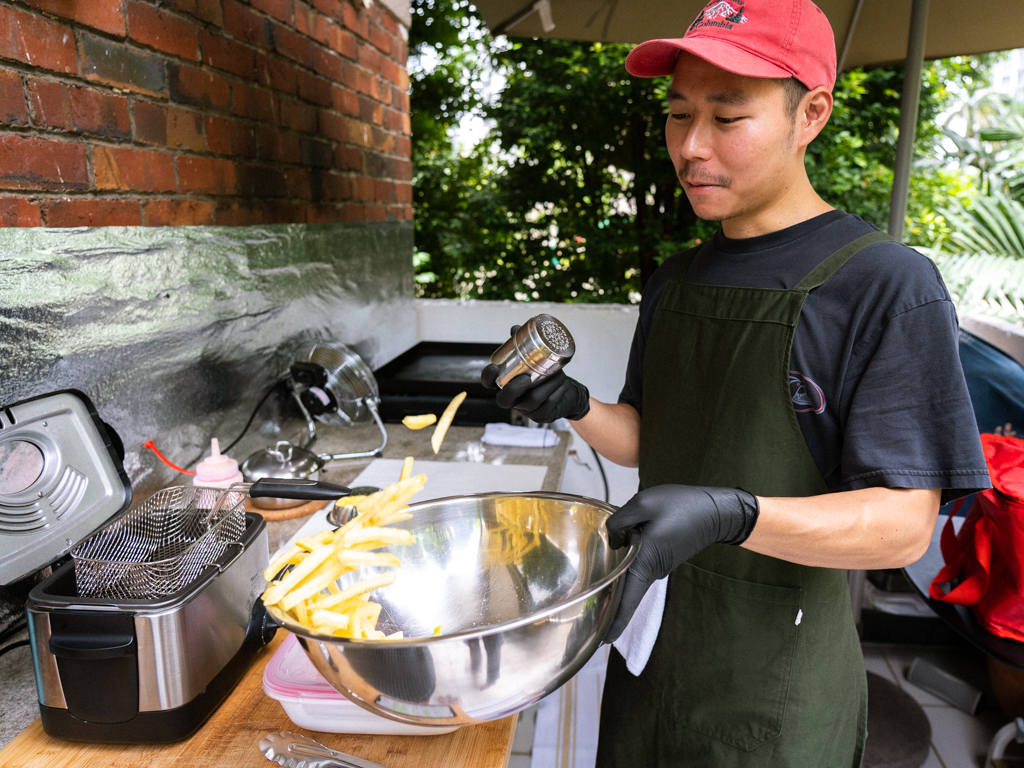 We arrived on a Sunday morning to watch Chia in action at his home balcony. It's a delicate operation, as he expertly smashes the meat over a portable camping flat-top grill that he specially ordered from the States.
We take one bite of the burger, and it explodes in mind-blowing goodness. It's a messy affair, though, and Chia's mother dashes over to give me wads of tissue to soak up the burger's dripping juices, concerned yet amused.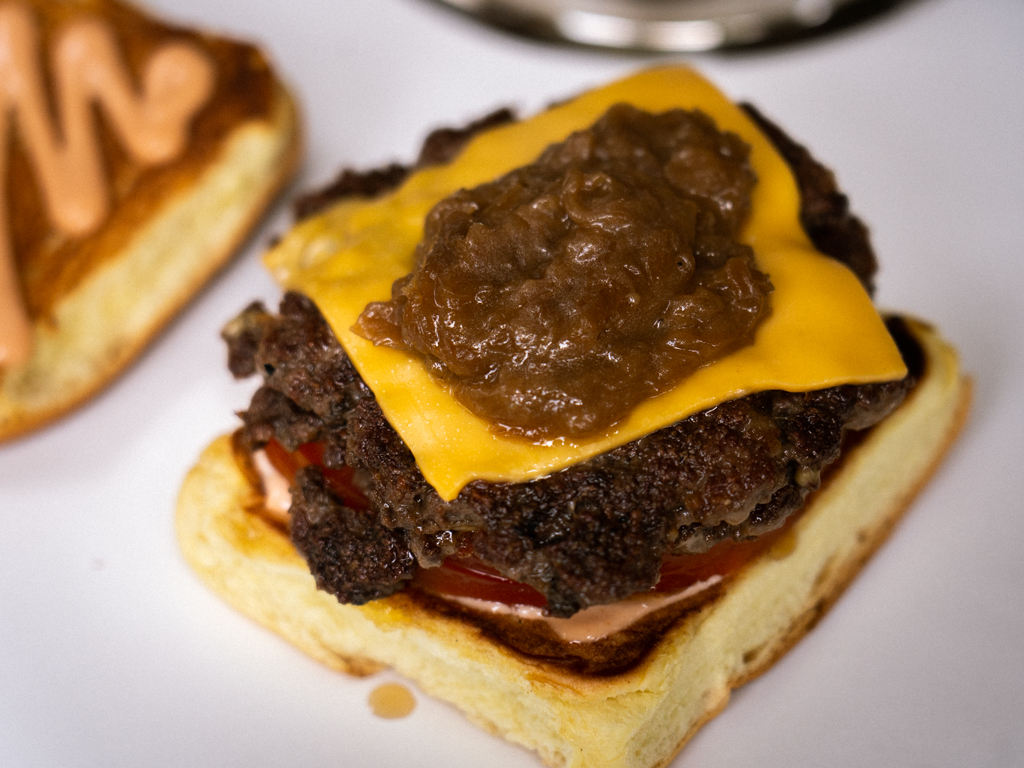 Says Chia: "A quintessential burger is something that's easy, fast, not too fancy. It's meant to be a little bit cheeky, not something you eat every day, when you're feeling like a cheat day. For me, there's no in-between burger. If you want to have a burger, you've to be prepared to put on a little bit (of weight), and maybe go for a run the next day.

"That's pretty much my philosophy and how I live my life," adds Chia, whose favourite burger joints in Singapore include One Fattened Calf Burgers and the now-defunct Omakase Burger.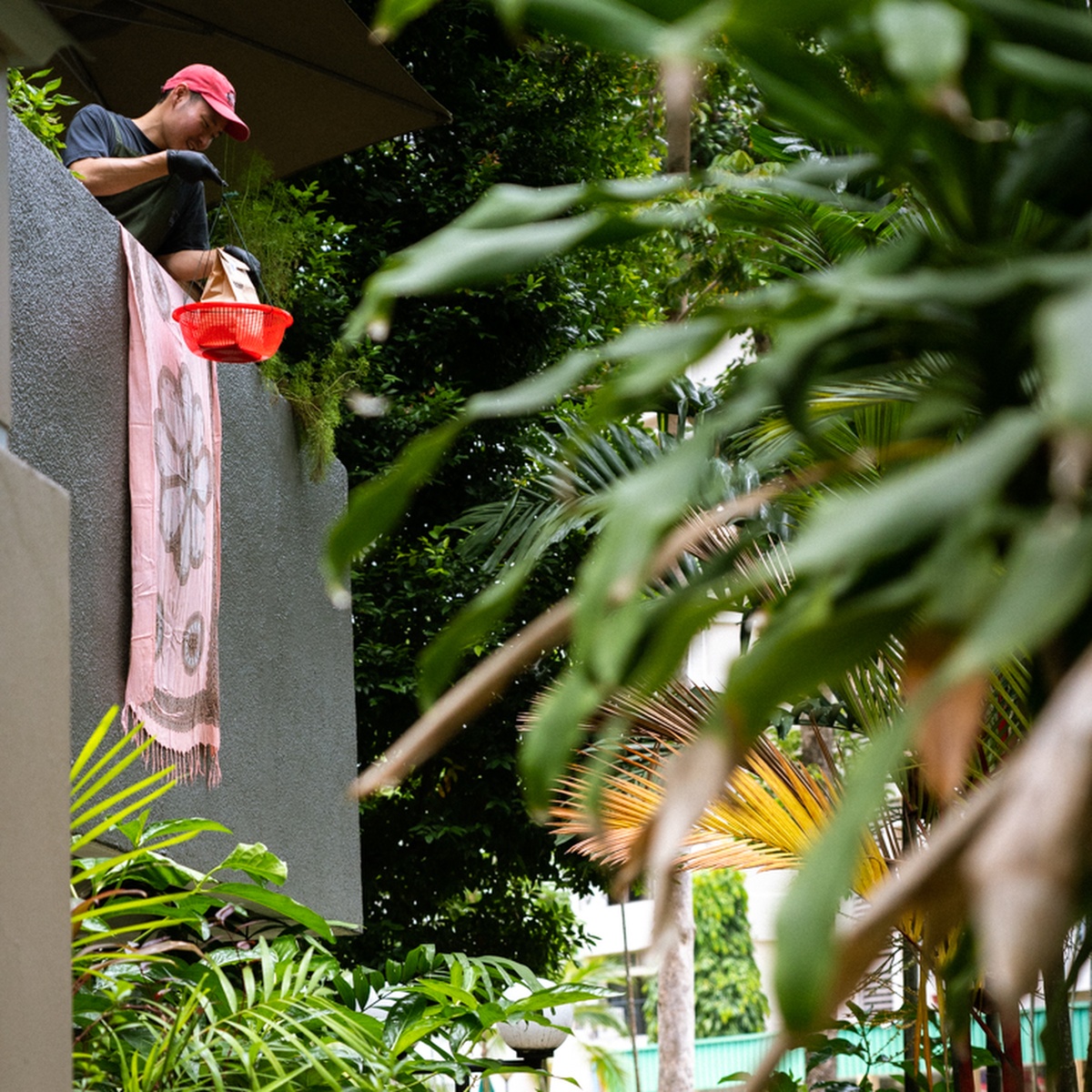 While at present Burger Daddy only does pick-ups, we recommend consuming the burgers on the spot. There's a casual outdoor seating area, but do be mindful of neighbours.

The response has been supportive so far, with the bulk of orders from friends and family.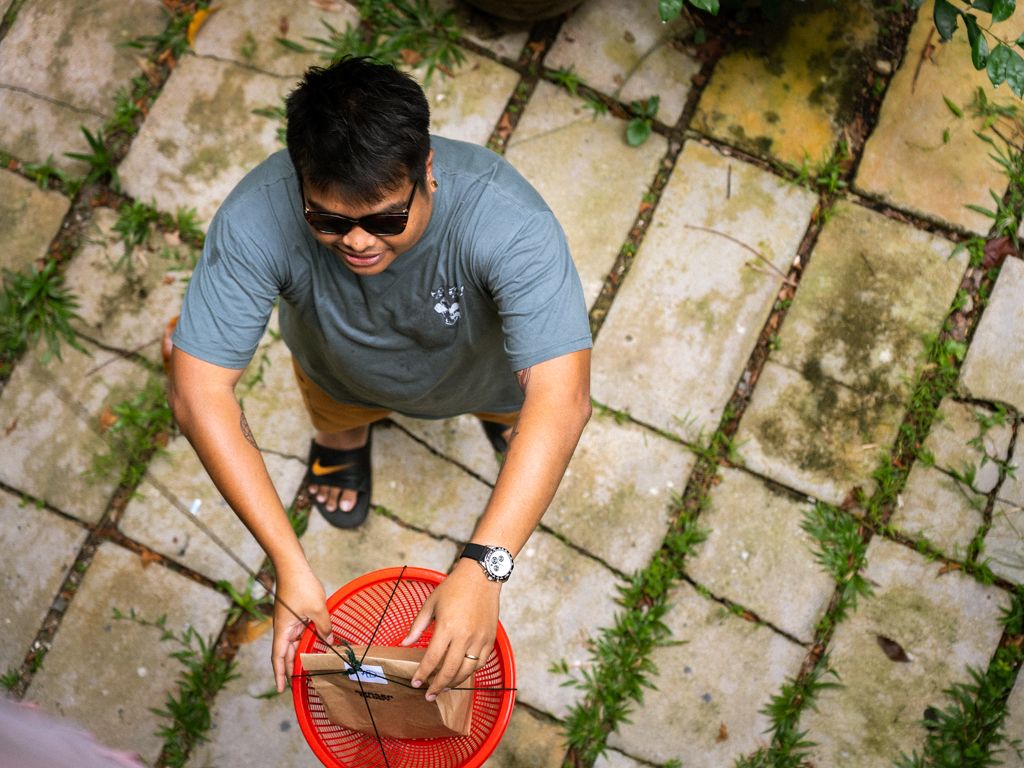 On busy days, Chia can prepare 20 to 32 burgers in a day.

The journey, however, has not been easy, as he has had to contend with challenges such as wet weather, space constraints (especially as he lives with his family), inexperience, and finding ways to make the business sustainable. Until Burger Daddy can find a way to build demand for dry-aged beef in bulk, the price of the burger will remain the same, he says.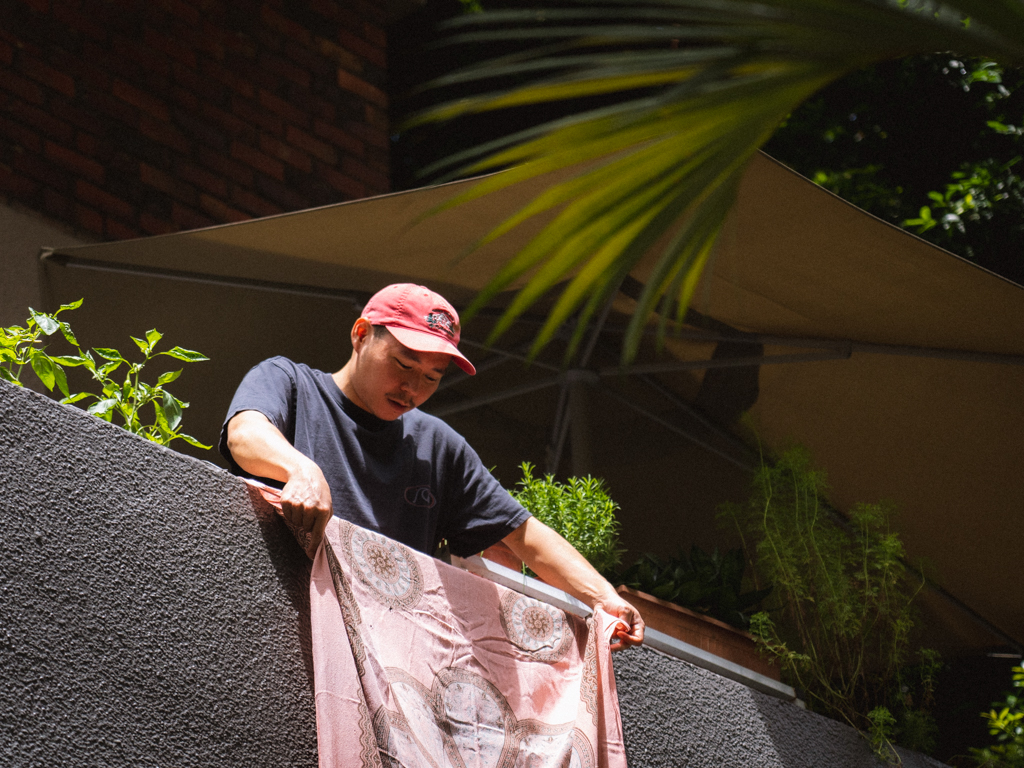 In a way, the pandemic has been a good testbed for similar home business models to pop up, says Chia. Other similar outfits include Black Goat Burgers.

Chia describes this project more as a "collaborative food-centric creative outlet".
Further down the road, Chia envisions expanding into designing merchandise and zines, or doing collabs with bars, event pop-ups and music festivals. Selling burgers from his own food truck is the "real dream", he adds.
"We're not too worried about banging things out. We plan to take things as they come, to do what we love and still uphold quality," he says.
For now, Chia has a new veggie burger up his sleeves, though he's coy about it. He plans to roll it out by the end of the month.
We're already digging it.
Book a ride to Burger Daddy. Alternatively, engage a courier for a burger pickup via GrabExpress.


Nearest MRT station: Newton
Open: Saturday and Sunday (12pm to 2pm). See Instagram for details on how to pre-order

Nearest MRT station: Newton
Open: Saturday and Sunday (12pm to 2pm). See Instagram for details on how to pre-order