52 Best Buffets in Singapore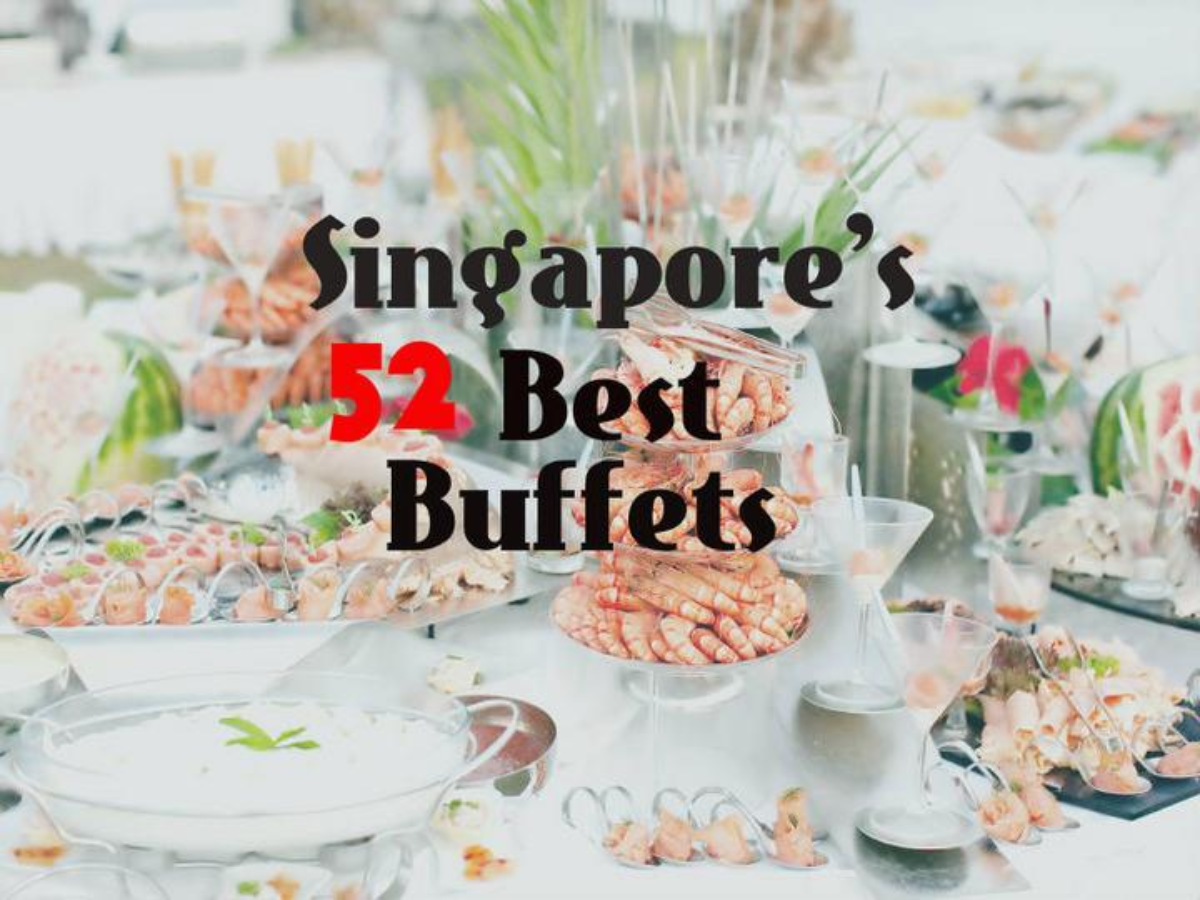 Singapore loves buffets, no surprise there. For lunch, brunch and even in the wee hours – there are few things that excite us more than piling our plates high with 'all you can grab' grub. From seafood on ice to Indonesian rice plates, sushi and sashimi to ice-cream and steamboat, we help you navigate the city's smorgasbord of buffet spreads to bring you only the best (all 52 of them) on offer. Loosen those belts, and dive straight in – with unlimited champagne on hand, of course.
The Line
Über-luxurious international buffet
Be bowled over by the sheer volume and variety of the buffets (breakfast, lunch and dinner) at The Line (Buffet hours: Daily 6-10.30am, noon-1.30pm, 6-10.30pm). A modern, minimalist 400-seater restaurant at Shangri-La, their buffet has 16 stations that offer worldly fare, from pesto spaghetti cooked on the spot to satay skewers aplenty, sashimi, Indian curry and a carvery. Get some creamery style ice-cream with the toppings mashed up, and finish with a freshly-brewed flavoured cappuccino at the barista bar. If you're a diehard seafood fan, go for the marine harvest special on Tuesday and Thursday nights. All 16 kitchens will transform into seafood stations serving up a mix of traditional and new creations featuring fresh catches like Boston lobsters, king prawns and crabs. Desserts are also a dream with choices such as ice cream teppanyaki (iron-griddle cooked food) and piping-hot soufflés. The Line also does a great Sunday brunch, but if you're brunching at the Shangri-la, give The Waterfall café a try.
Prices: Dinner: Tue & Thu $102.64 with unlimited sparkling wine; Mon, Wed, Sun $84.24 with unlimited non-alcoholic drinks; Fri-Sat $91.26 with unlimited non-alcoholic drinks.
Carousel
Halal, international buffet that requires stamina
This one is for the serious 'buffetarian'. Carousel at Royal Plaza on Scotts (Buffet hours: 6.30-10.30pm) has a big buffet spread for every meal, but their dinner is the biggest and baddest. There is an eye-popping array of seafood – prawns, shellfish, lobsters and a whole Atlantic salmon; sushi, sashimi, a live teppanyaki (iron-griddle cooked food) station and shabu-shabu (thinly sliced beef dipped in broth/sauce). There is a small mezze selection and a large salad bar, a rotisserie and Middle-Eastern chicken kebabs. Have your pasta cooked à la minute and paired with their freshly baked bread and halal cheese. The European selection has a decent beef bourguignon and carrot au gratin. There is Asian and Indian fare and separate stations for noodles, dim sum and even one for Hainanese chicken rice with all the condiments. We recommend coming on a (very) empty stomach to get through this.
Prices: Mon-Thu adult $72.54, child $44.46; Fri-Sun adult $87.75, child $49.14
King's Laksa Steamboat
Laksa lovers' buffet
Take it from us – the laksa base is really lemak (rich) and spicy, just the way everyone likes it. King's Laksa Steamboat (Buffet hours: Daily 11am-11pm) lives up to its name, serving more than 80 steamboat ingredients in its buffet as well as cooked food such as prawn paste chicken wings. Choose two soups for your steamboat: the signature laksa broth is the most popular, followed by herbal soup, Szechuan mala chilli, and a hearty chicken and seafood soup rounding out the choices. The ingredients are decently fresh for the price, but don't expect any frills from this simple shophouse space.
Prices: Lunch: $19.80 per person, dinner: $26.18 per person
Todai
Affordable seafood buffet at Marina Bay Sands
The dining options at MBS come with sky-high prices, but you get the most bang for your buck at Todai (Buffet hours: Mon-Sat 11.30am-3pm, 5.30-10pm; Sun 11.30am-4pm, 5-10pm). This all you can eat spot's forte is their cold seafood counter. Piled high with snow crabs, oysters, clams and shrimp (depending on seasonal availability); this counter alone makes this buffet worth it. The sashimi selection is fresh and regularly refilled as are the sushi, nigiri and maki rolls. Among the hot food counters, there's a good rendition of Singapore chili crab, garlic steamed fish and local favorite – laksa. Wait, there's more; dim sum, noodles, salad, Korean and Chinese food, so pile those plates high and make multiple rounds. We had little room for desserts but the tower of macarons could not be ignored.
Prices: Lunch: Tue, Thu & Fri child $30.42, adult $53.82; Mon & Wed child $30.42, adult $67.86; Sat, Sun, eve of public holidays and public holidays child $30.42, adult $74.88 | Dinner: Tue, Thu & Fri child $30.42, adult $79.56; Mon & Wed child $30.42, adult $66.86; Sat, Sun, eve of public holidays and public holidays child $30.42, adult $79.88.
Forlino 
A bay side brunch buffet
Forlino (Buffet hours: Sat-Sun noon-2.30pm) weekend à la carte buffet features three appetisers, three pasta dishes, two mains, three desserts and unlimited refills. Chef Kentaro Torii rotates the dishes regularly, but past menus have included a cream of mushroom soup, straccetti with beef ragout, white tuna with lemon butter sauce, homemade ice cream and sorbet. The buffet is available at a hard-to-beat one-for-one offer until June 2013. Bay views and fine Italian cuisine is how we want to spend our next weekend.
Prices: $102.96 for two
Cherry Garden
Elegant, all-you-can-eat dim sum
Cherry Garden (Buffet hours: Sat-Sun 11am-1pm, 1.30-3.30pm) with its dark wood decor and intimate Oriental courtyard ambience is the most desirable setting for a dim sum buffet. The main dining hall overlooks the Marina Bay and can accommodate only 70 people at a time, making this weekends-only lunch experience cosy and exclusive. What to eat? The gold dusted (yes – edible, powdered gold) steamed bamboo pith and prawn dumplings or the poached garlic pork and mushroom dumplings in spicy Thai sauce. Move on to the meats and try the flawlessly glazed Kurobuta char siew and silky-skinned braised soy chicken. For dessert, we recommend the cream of avocado with walnut ice cream and the exotic watermelon chutney with aloe vera, crystal pears and lemongrass jelly.
Prices: adult $79.56, child $46.80
1 Market
Chef Wan's big buffet
Helmed by Malaysian (although, did you know, he was born in Singapore) celebrity chef, Chef Wan, 1 Market (Buffet hours: Daily 11.30am–2.30pm, 6–10pm) at Plaza Singapura almost needs no introduction with the hype around it since its opening in November 2012. On a daily basis, makcik (Malay aunty) fangirls of Chef Wan's queue up for a dining spot in the 450-seater halal buffet restaurant. We ate our way through the big buffet and brought you our detailed verdict here..
MELT – The World Café
Sweet 'Marketplace' hotel buffet
The experience MELT – The World Café (Buffet hours: Daily 6.30–10.30am, noon–2.30pm, 6.30–10pm; Sun noon–3pm) would like you to take away is that of a high-end market place. Of the live and prepared buffet stations, you can find Indian, Italian, Thai, Chinese and Mediterranean sections. Our strategy through this 300-seater is always to get in on the made-to-order handmade angel hair pasta (three types every day) swirled up in a light, not-so-tart tomato and basil sauce; then the neighbouring station for tandoor-cooked meats in their specially-built oven – the lamb is the best where the meat is cooked just right and not dried out. After which, head straight for the packed patisserie counter – from freshly-made Belgian waffles, a chocolate fountain and chocolate mousse in cups (when eaten with the mint ice cream this harkens to Andes mint chocolates), to a display case of sweet treats in shot glasses and tiers of indulgent full-sized cakes. Yes, you do get to determine the size of your slice, but why should it be less than generous
Prices: Lunch: Mon-Sat $79.56, Sun $128.38 & $184.86 with unlimited Champagne; Dinner: Sun-Wed $91.26, Thu-Sat $102.96.
Equinox Restaurant
A semi-buffet lunch with a view 
The view from the 70th floor of Swissotel The Stamford is one of the island's best – so enjoy it while tucking into a semi-buffet lunch spread at Equinox Restaurant (Buffet hours: Mon-Sat noon-2.30pm). Gorge on unlimited servings of soup, salad, cold seafood and desserts but keep room for the main courses (you can order one from a selection of six). It's hard to pick between the ballotine of Sakura chicken breast and the half-grilled Maine lobster (additional top-up of $15), but try. It would be unfair to enjoy this view and not have a drink at hand; thankfully the buffet includes a glass of Casa Lapostolle Sauvignon Blanc or Merlot. On Sundays, the restaurant offers a full international buffet ($173 with unlimited champagne, $149.76 with unlimited non-alcoholic drinks).
Prices: Mon-Sat adult $69, child $34.50
Cafebiz
Wholesome and healthy international selection
Cafebiz (Buffet hours: Mon-Fri noon-2.30pm; Sat & Sun noon-3pm) at Traders Hotel nods to spring in their popular lunchtime International buffet. The menu is actually inspired by flowers, fruit and tea (for the months of March and April) and the food is infused with their goodness. Savour creations such as scallops ceviche infused with jasmine tea and yuzu vinaigrette, poached seafood in spicy roselle broth and a glazed Lapsang Souchang chicken – all delightfully light on the palate. Other mainstays of the buffet are the roasted meat corner, laksa and fresh seafood on ice.
Prices: Mon-Fri $52.65; Sat & Sun $65.52
Alkaff Mansion Ristorante
Hilltop buffet, hijinks, with bubbles
Breathe in the fresh air of Telok Blangah Green at Alkaff Mansion Ristorante (Buffet hours: Sun 11.30am-3pm) where towering decade-old trees add to the serene surroundings. Located in a gracious colonial house, Alkaff Mansion makes a dignified alternative to most crowded, overloaded hotel options. Its Sunday prosecco brunch allows you to help yourself to a cosy Italian spread of cold items such as wagyu beef carpaccio and fresh oysters, with hot pasta and roasts served and plated up to your table. More importantly, the free-flow tipple is NV Bisol Belstar prosecco, a refreshing aperitif made from late ripening grapes in Italy's most famous prosecco region. Homemade pastries round out the feel-good buffet, and you can walk off the calories in the adjacent park.
Prices: $88++ per person
Au Jardin
A Sunday buffet brunch amid lush greenery
When it comes to an exclusive spot for Sunday brunch, few places can match up to Au Jardin's (Buffet hours: Sun 11am-1pm & 1-3pm) picturesque setting at the Botanic Gardens. If you want to have the best seats in the house, snag the tables on the small balcony facing an expanse of greenery. A small but all-you-can-eat selection of starters await at the buffet table. Expect decadent bites such as foie gras terrine, duck rillettes (cured meat paste) and tempura of fish and prawn beignet (fritters). You'll also receive a serving of soup, eggs Benedict and a choice of main course, dessert and coffee or tea. Chef Ng Wei Han changes up the main courses twice a month to include seasonal offerings, but past signature dishes include Boston lobster pasta with sweet basil and sea salt-baked ocean trout.
Price: adult $84.24, child $43.12
Annalakshmi Janatha Restaurant
All-you-can-eat, for whatever you can pay
Annalakshmi Janatha restaurant (Buffet hours: 11am-3pm; 6-9.30pm) is named after the goddess of plenty and runs by the ethos "atithidevo bhav" (Sanskrit for "the guest is God"). The atmosphere here is like dining at an Indian friend's home. The menu changes on the chef's whim (those who cook and serve at Annalakshmi are volunteers of the charitable organisation by the same name) but the food is consistently good. We have tried their appam (fermented rice pancake) and vegetable stew, potato palya (dry, spiced potatoes) and cauliflower curry among a slew of other North and South Indian home-cooked dishes. You can order off a menu or take your pick from the regularly rotated buffet counter. Annalakshmi invites customers to pay what they wish (or can). For the amount we ate, we sheepishly dropped a hefty dollar.
Price: As you wish
The Magic of Chongqing Hotpot
Steamboat buffet with a rich, hearty stock
The Magic Of Chongqing Hotpot (Buffet hours: Daily noon-3pm; 6-10.30pm) is the undisputed mother of steamboat buffet restaurants and popular for their rich chicken stock soup base. Other unique soup bases on offer are the ma la ("Mandrin for "numb" and "spicy") chilli, herbal chicken, herbal turtle broth and hotpot with preserved vegetable. There is an unlimited supply of fresh ingredients such as thinly-sliced beef, sliced pork, fish paste, carp fillet, green vegetables, varieties of mushrooms and four dipping sauces to choose from. Wash all this down with a cup of fragrant (and good for digestion) Eight Treasures tea.
Price: Lunch: Mon-Fri $24.45, Sat & Sun $26.79; Dinner: Mon-Fri $39.60, Sat & Sun $42
Brazil Churrasco
Buffet of meat, meat and more meat
At 19-year-old institution Brazil Churrasco (Buffet hours: Daily 6-11pm) you are treated to an authentic Brazillian barbeque and can gorge on over 14 kinds of beef, chicken, pork, lamb and specialty sausages. Giant skewers heavy with various types of meat are brought to your table by passadors (meat-wielding waiters) who carve what you want onto your plate. The meat assault is intense, and you are warned (there are signs in the menu) to go easy if you aren't used to consuming meat in such large quantities. Alternate your servings with helpings from their salad bar, and the recommended tipple to wash all this down with is a potent rum-based Caiprinha.
Prices: adult $52.65 (for salad bar only $30.42), child $18.71
2D1N Soju Bang
Korean fever hits this buffet
The phenomena that is '2D1N Sojubang' – a Korean TV show – has spilled over into 2D1N Soju Bang (Buffet hours: Daily 5.30pm-3am) – the authentic Korean buffet restaurant. Expect snaking queues (no reservations allowed) and spiffily dressed youngsters alongside more staid Korean food lovers. Help yourself to the generous buffet spread of raw, marinated meats, seafood and vegetables, and grill them to personal perfection at your table. The addiction factor comes from the fabulous dipping sauces, as well as lettuce wraps for cutting through the glistening meats. Beware of smelling like a barbecue – but it's all worth it.
Prices: $23.40 per person
Basilico
Best Italian lunch buffet
The buffet spread at Basilico at The Regent hotel (Buffet hours: Mon-Sat noon-2.30pm, Sun noon-3pm), bears such a distinct Italian flavour you'd be forgiven for thinking the Don and his clan are coming to lunch. Help yourself to an exceptionally well-curated selection of breads, cheeses, and antipasti such as marinated tiger prawns and sea bass carpaccio, pizzas, a variety of pasta including lasagna, carvings (think Angus beef sirloin and roasted leg of lamb) as well as grilled fish. For desserts, zero in on the gelato which is made fresh daily. On weekends, say cheers to their prosecco lunch, which is an all-Italian affair with an extensive antipasti spread and classic mains like squid ink tonnarelli and seafood risotto. Sundays see the spread expand even further to include live cooking stations, a cheese room and a foie gras bar.
Prices: Mon-Fri $56.16; Sat $63.18 with free flow non-alcoholic drinks, $126.36 with free flow prosecco; Sun $103 with free flow non-alcoholic drinks, $149.76 with free flow prosecco
Brasserie Les Saveurs
A tai tai style high tea buffet
Spoil yourself at The Grand Astor Afternoon Tea, a legacy of St Regis' founding matriarch, Caroline Astor. Bask in a rarefied atmosphere at Brasserie Les Saveurs (Buffet hours: Mon-Sat 3-5pm), heightened by the tinkling of ivories while you indulge in an array of sweet and savoury scones complemented with divine fruit jams. And of course, there are your classic cucumber sandwiches and pastries served on the quintessential three-tiered stand. The latest additions to this afternoon tea experience are the live stations serving up fluffy pancakes, waffles and crepes done a la minute. Go on, indulge. Drop by for the high tea on a Saturday and partake in a tea dance to a live band. Left feet? Not to worry, they have instructors on hand.
Prices: Sun-Fri $53.82; Sat $65.52
Oscar's Cafe & Terrace
A graze-worthy buffet
The buffet spread at Oscar's Café & Terrace's (Buffet hours: Mon-Sat noon-2.30pm, 6-10.30pm; Sun noon-3pm) is East-meets-West for both lunch and dinner and is one of the longest (and most exhaustive) in town. Begin at the noodle counter for a choice of laksa, sliced fish soup, prawn noodles, bak chor mee (minced meat noodles) and wanton noodles. Then move on to the Chinese-style wok dishes such as steamed sea bass with XO chilli sauce and tang gui slipper lobster. Curry lovers will be pleased with the authentic array of north Indian meat and vegetable dishes. Graze further at the salad section, with its amazing variety of greens, nuts, dressings and even homemade freeze-dried fruits. Oscar's Caesar salad has many takers – what with the creamy dressing, crunchy croutons and fat slivers of anchovy. Swing by on a Sunday for an expanded selection that includes a proper Sunday roast. On offer are five types of ocean-fresh molluscs from France, Italy, Ireland and Scotland.
Prices: Lunch: Mon-Sat $62, Sun $173.16 with unlimited Champagne, $91.26 with unlimited non-alcoholic drinks; Dinner Sun-Thu $59, Fri & Sat $78
The Courtyard
An institutional buffet for chocolate lovers
The Courtyard at The Fullerton Hotel (Buffet hours: Fri & Sat 8-11pm) has a legendary chocolate buffet that has been around for 11 years, so it's no one-hit wonder. Why is it worth the calories? Served with unlimited coffee and tea, the buffet menu includes both classic and experimental dishes. There is wasabi lime chocolate jelly, a salted chocolate caramel tart and gourmet chocolate creations such as cakes, tarts, brownies and pralines. The highlight is the hot chocolate connoisseurs' bar, where chefs whip up bespoke cups of premium hot chocolate à la minute for guests, who choose from eight different percentages of cocoa.
Prices: adult $44.46, $53.92 with a glass of dessert wine, child $22.23
The Corner Place Korean BBQ
A buffet of Korean home-cooked fare
The Corner Place Korean BBQ (Buffet hours: Mon-Thu 6-10pm, Fri-Sun 3-10pm), true to its name, is indeed a cosy, no frills family-style diner. Help yourself to beer and bottled drinks from the fridge at an extra charge, or stick to the included teas and drinks. Pick and grill your own beef bulgogi (marinated beef), marinated galbi (short ribs in Korean soy sauce), different parts of pork and squid, alongside fresh vegetables to make your own wrap. Kimchi fried rice and pancakes round out the hot food selection. Though other buffets offer more variety, the quality and cleanliness here makes for a more than satisfactory outing.
Prices: Mon-Thu $25.74, Fri-Sun $27.95
Crystal Cafe
Porridge, just like grandma makes
Orchard Grand Court's Crystal Café (Buffet hours: noon-2.30pm, 6pm-10pm) Taiwan buffet porridge spread proves that you can find cheap eats in a hotel in the heart of town. Dig into standard braised items such as pork trotters, pork belly, chicken wings, chicken feet, tau pok (tofu cakes) and tau kee (beancurd skin). The dishes have a homemade flavour – tastes the way a doting grandma might make it. Lunchtime on weekdays sees an office crowd; on weekends, the place is incredibly popular with families.
Prices: Lunch: Mon-Fri adult $16.14, child $13.80, Sat & Sun adult $18.99, child $16.14; Dinner: Daily adult $18.99, child $16.14
Tiffin Room
Dine on Raffles tradition
Operating since 1899, Raffles Hotel's historic Tiffin Room (Buffet hours: Daily noon-2pm; 7-10pm) continues dishing up its famous curries to celebrities and politicians. The 'tiffin' in colonial times referred to a light meal, but today, the buffet spread offers refined North Indian specialties including piping hot, fluffy naans (baked flat bread) delivered to your table. Why splurge? Think silver service, colonial style decor and white-gloved waiters, alongside ten kinds of chutneys and pickles, ample curries for both vegetarians and non-vegetarians, and hot and cold desserts galore. This is for the serious curry-lover – casual diners may find the spread a bit of overkill after the first few curries.
Prices: Lunch $70.20, Dinner $87.75
The Dining Room
An old favourite with 'Women Only' specials
The Dining Room (Buffet hours: Lunch: Mon-Fri noon-2.30pm, Sat & Sun noon-3pm; Dinner Wed-Sun 7-10pm) is a firm favourite with at least three generations of foodies in Singapore. The breath-taking space features tall glass windows facing a scenic waterfall, while the classic buffet spread features seafood platters on ice, Japanese sashimi, prime rib roast, the famous Dining Room laksa and durian pengat (mousse). Look out for 'Women Only Wednesdays' when ladies enjoy 50 per cent off the Mediterranean dinner spread. Also, these guys seem to be the only ones whose (lunch) buffet prices go down on the weekends, the spread however, remains just as exhaustive.
Prices: Lunch: Mon-Fri $48.90, Sat & Sun $45.66; Dinner: Wed-Sun $67.86
Edge
Just don't call it a buffet 
Pan Pacific Singapore's Edge (Buffet hours: Daily noon-2.30pm, 6-10pm) features cuisine from the Pacific edge (get it?) – open concept kitchens serve Chinese, Malay, Indian, Singaporean, Thai, Japanese and Australian cuisines. Despite the all-you-can-eat price, the restaurant steers away from being called a buffet, instead asking diners to focus on the a la minute offerings, from fresh crab at the chilli crab station and satay at the charcoal grill, to pasta and noodle prepared on the spot. They call themselves a food theatre, and rightfully so. Be spoilt for choice at the elaborate dessert station, with two chocolate fondue fountains, ice cream counter and live crepe and waffle station. Edge ups their game on Sundays with a live foie gras station, a whole suckling pig and carving stations featuring home-cured Norwegian salmon and a whole Parma ham, and we've spotted a sugarcane juice machine in a corner – nice touch!
Price: Lunch: Mon-Sat adult $56.16, child $28, Sun adult $114.66, child $57.33; Dinner: Sun-Thu adult $67.86, child $28, Fri & Sat adult $79.59, child $39.78
En Japanese Dining Bar
All-you-can-drink and an Okinawan buffet
The ambience at En Japanese Dining Bar (Buffet hours: Mon-Thu 6-11pm; Fri-Sun noon-3pm, 6-11pm) is light, though the buffet is anything but: a menu of tako harumaki (deep-fried beef and cheese spring rolls), hot soupy udon (thick wheat noodles) and sushi, sashimi, and yakitori provide a full-on Japanese binge. You will need it to soak up the free-flowing Japanese beer ($35 surcharge for two hours). If you are still standing after, grab a scoop of matcha (green tea) ice cream to go.
Prices: Lunch: Mon-Thu adult $56.76; Fri-Sun adult $60.84, child $21; Dinner: Fri-Sun adult $56.76, child $21; $35 for two hours of free-flow beer
Mandarin Court
Dim sum buffet for special occasions
On the 35th storey of the Mandarin Orchard is the elegant Mandarin Court (Buffet hours: Sat & Sun 11am–12.30pm, 1–3pm), this restaurant has a stunning view and supposedly boasts great feng shui. Suitable for extended family gatherings and lunch with the ladies, chef Sunny Leong pairs time-tested cooking methods with the freshest ingredients. The result is a huge spread of 80 types of dim sum. We like the fish maw dumplings with century egg and XO sauce; and the braised goose web with shiitake mushrooms. The fluffy, steamed pork buns do live up to their reputation, and the siew mai with mushrooms don't disappoint either. We like the desserts, with the lemon jelly and aloe vera in calamansi lime juice complementing the main dishes perfectly.
Price: adult $56.16, child $28.08
Himawari
High quality Japanese buffet
Himawari (Buffet hours: Daily 11.30am-2.15pm, 6-9.15pm) is as good as it gets when it comes to Japanese food done buffet style. The food won't win any excellence awards but the standards are better than most, and with over 80 dishes to choose from, there is something for everyone. The sashimi is thick-cut and the hand rolls come chock full of ingredients. More unusual offerings include natto (fermented soybeans) with tuna or squid, grilled salmon head, Japanese salads and generous portions of grilled meat. The service however, leaves much to be desired. Opt for the premium buffet, and you get a one-time order of uni (sea urchin), otoro (tuna belly), oysters and other premium morsels. The oldest (and most reliable) outlet is the one at Alexandra Road.
Price: Lunch: Mon-Fri $41.80, Sat & Sun $44; Dinner: Mon-Fri $43.90, Sat-Sun $48.90. Premium buffet $102.96
Clifford
Waterfront buffet, with award-winning cheese
Clifford (Buffet hours: Sat-Sun noon-3pm) at The Fullerton Bay with its chic, contemporary decor, 10-metre high floor to ceiling windows and waterfront views make it a desirable spot for a weekend brunch buffet. Luckily, the food does not disappoint either. Here's a hearty spread – eggs Benedict, Belgian waffles, burgers and fries and a truffle omelette There is also the usual: mixed salads, cold seafood, a carving station and mini cakes, but do linger at the cheese bar. Clifford imports their cheese from the award-winning Philippe Olivier cheese shop in Northern France. The Champagne flows freely on Sundays, and Saturdays are devoted to hangover cures, so wash down those eggs and waffles with as many Bloody Marys as you can stomach.
Price: Sat adult $102.96 with unlimited house wine, beer and Bloody Mary, child $51.48; Sun adult $149.76 with unlimited champagne, child $74.88
Kiseki
Exhaustive Japanese spread that is one of the most affordable in town
Kiseki's (Buffet hours: Daily 11.30am-3pm; 6-10.30pm) buffet spread spans 29 categories and 200 items. If you need variety, this is where you head to. Although they call themselves a Japanese buffet, they've included pasta, pizzas, and western grills (dinner only). What should you eat first? The sashimi, Sri Lankan blue swimmer crabs, ribeye steak, grilled salmon belly, teppanyaki (iron-griddle cooked food) and tempura. Not enough? Fill up on the zosui (Japanese porridge with chicken) and kimchi hotpot. Not Japanese, but still good are the freshly made waffles topped with gelato. This is one of the most affordable buffets in town.
Prices: Lunch: Mon-Fri $23.16; Sat, Sun & public holidays $32.56; Dinner Mon-Fri $37.20; Sat, Sun & public holidays $40.70
Greenhouse
Decadent buffet that demands a dress code
If nothing will sate you but the choicest of spreads, in the most luxurious of settings, Greenhouse (Buffet hours: Daily 6am-10.30am, noon-2.30pm, 6-10.30pm) at the Ritz Carlton's daily buffets and vintage Champagne Sunday brunch is for you. Over 50 (15 on weekdays) international cheeses are ready to melt on your tongue, complemented by slivers of salmon, ham and other meats. Sure, the arsenal of oysters, Boston lobsters and prawns are on display, but it's okay to practice prudence and skip to desserts, especially when it's a slew that includes six flavours of freshly-made ice-cream, chocolate mousse topped with caramel and chopped nuts, strawberries in chocolate fondue and an assortment of gummies, M&M's and other candy. Here on a Sunday? After a couple of flutes move onto their Sunday bar to sample a few (or several) muddled cocktails like mojitos and caiprinhas. Friday and Saturday's dinner spread has a kicker chilli crab with steamed man tou (Chinese soft wheat bun), charcuterie spread, seafood on ice and a live noodle station. The Greenhouse demands an 'appropriate' dress code, so swap those shorts and slippers for pants and closed shoes.
Prices: Lunch: Mon-Sat $67.86, Sun $198.56 with free-flow champagne, wine and cocktails; Dinner: Mon-Thu $79.56, Fri & Sat $93.94
Kuishin Bo
Japanese buffet with roasts and grills
Kuishin Bo's (Buffet hours: Daily 11.30am-3pm, 5-10pm) buffets are so popular the restaurant chain has spawned two other outlets (Jurong Point and Great World City) since it first opened at Suntec City in 2001. The buffet spread features fresh seafood, sushi and sashimi, salads, appetisers, tempura and desserts. Those in the know come here for the ultra-fresh and sweet Zuwaikani snow crabs, which are either served au naturel or marinated in sweet vinegar. Try the tobanyaki (roast on a ceramic plate) – take your pick of salmon, beef, chicken or gindara (cod fish) and they will be roasted up for you a la minute. Also great is the charcoal grill that serves up a perfectly smoked rack of lamb.
Prices: Lunch: Mon-Fri adult $38.50, child $22.10; Sat & Sun adult $40.80, child $22.10; Dinner: Mon-Thu adult $53.07, child $22.10; Fri-Sun adult $58.40, child $22.10
Town Restaurant
Best Singapore high tea buffet
Town Restaurant (Buffet hours: Sat & public holidays noon-3pm) at The Fullerton Hotel's Singaporean high tea spread will thrill those with even a stubborn local and Asian palate. If you're going to be away from Singapore for some time and need to fill up on local fare, this will be an excellent place to have a gathering with friends and family. Savour dishes such as the signature Town laksa, freshly made prata, kueh pie tee, rojak, chicken curry and satay among other local faves. Desserts are also as local as it gets, what with treats such as pandan chiffon cake, chendol (shaved ice dessert with coconut milk, red bean and pandan jelly) and tau suan (split bean dessert).
Prices: adult $37.12, child $18.72
Lotus Vegetarian Restaurant
A vegetarian spread even meat eaters will love
Lotus Vegetarian Restaurant (Buffet hours: Daily 11.30am-3pm, 6-10pm) from Taiwan makes even carnivores happy with its spread of quality Taiwanese dim sum and buffet specialty items. From Mondays to Thursdays, diners feast on steamboat items – choosing from the herbal or spicy soup base; while from Fridays to Sundays, the spread is Asian and international. Think Taiwanese dishes, Japanese sushi, salad and fruits, western soups and local chicken rice and curries – not always of the mock meat variety.
Prices: Lunch: Mon-Thu adult $21.99, child $12.60, Fri-Sun adult $24.30, child $12.60; Dinner: Daily adult $24.30, child $12.60
Straits Kitchen
Singapore cuisine, halal buffet
Straits Kitchen (Buffet hours: Daily noon-2.30pm, 6.30-10.30pm) is a one-stop buffet for the best of Singapore cuisine under one roof – but at five-star prices. This food is halal and you can watch the chefs toss your roti prata or grill you some satay through the theatre kitchens. All the local favorites make an appearance; Hainanese chicken rice, beef rendang, biryani and desserts like durian ice cream and almond cream. This is a good spot to bring out-of-town guests – they get to sample a smorgasbord of local fare, in a posh and sanitised environment.
Prices: Lunch: $51.48, dinner: $63.18
One-Ninety
Healthy eaters' buffet spread
Breaking away from the usual 'all you can eat till you burst' hotel buffets is One-Ninety (Buffet hours: Mon-Fri noon-2.30pm, Sat noon-3pm) at The Four Seasons. The appetisers and desserts-only spread includes cold seafood, an exhaustive salad bar, cold cuts and meats like ox tongue, duck rilette (cured meat paste) and roast beef with parmesan and fresh rocket. There's also a selection of cheese with nuts and dried fruit and pre-made vegetarian salad platters. Weight watchers, take nibbles of their baked macarons, assorted éclairs and cookies. Slightly bigger eaters can opt to add an entrée to their meal (for an additional $11.70) – options include a roasted baby chicken or their signature apple wood Angus tenderloin.
Prices: $44.46 per person
The Song of India
Curry in a colonial bungalow
The Song of India (Buffet hours: Mon-Sun noon-3pm) on Scotts Road is housed in a black and white heritage bungalow we would all love to live in. The food does match up to the opulent setting; the buffet is laid out but warm breads are served fresh and fluffy to the table. They do a well-seasoned and perfectly charred tandoori chicken and the vegetable curries and dal (lentils) do not disappoint either. There are two options for dessert and we tried a sweet and sinful carrot halwa (carrots cooked into a pudding with milk and cashews) and the kheer (rice pudding). For all that grandeur, the prices are surprisingly affordable.
Prices: Mon-Sat $23.40, Sun $34.90
Peony Jade
Weekday a la carte dim sum buffet
Peony Jade (Buffet hours: Daily 11am-2.15pm) makes the cut for being one of the few Chinese restaurants to serve an a la carte dim sum buffet on weekdays. Their weekend line-up adds in a buffet line of roast meats, seasonal greens, noodles and rice, plus desserts. Look for the adorable handcrafted animal-shaped dim sum, which look almost too cute to eat (but they're too delicious). Order the steamed custard buns, the steamed meat dumplings in hot and sour sauce and the carrot cake.
Prices: Mon-Fri $31.35, Sat & Sun $39.55
Yantra
North-Indian buffet in an elegant setting
Yantra (Buffet hours: Daily noon-3pm) at Tanglin Mall exudes a 'fine dining meets date night' vibe; the décor spells muted elegance and the a la carte prices are high. So the affordable buffet lunch is a pleasant (and welcome) surprise. Expect an array of North Indian style curries, kebabs (yoghurt-marinated and grilled meat and vegetables) and tandoori items. Mind you, there is more here than just a dal makhani (curried lentils) and chicken curry. We liked the Ab-e-Hayat, a vegetable soup cooked in coconut water and tandoori chaat (a melange of veggies and fresh fruit such as apples, guava, bell peppers and tomatoes marinated and roasted). Our favourite however was their aromatic dum biryani – think biryani, but steam cooked in an earthen pot.
Prices: Mon-Thu $19, Fri & Sat $25, Sun $49 with unlimited non-alcoholic beverages
Pete's Place
A soup, salad and pasta buffet
Known for their Italian comfort fare and wood-fired oven pizzas, Pete's Place's (Buffet hours: Mon-Sat noon-2.30pm) soup and salad, lunch buffet is just right for a working lunch or an in-between shopping break – their convenient location on Scotts Road certainly helps. This buffet is simple, fuss-free and healthy: take your pick from their salad bar and slurp down a bowl of the 'soup of the day'. End the meal with a cup of tea or coffee. Need carbs? Opt for the pasta buffet, where you can fill up on two choices of pasta (past menus have included spaghetti aglio olio or hearty Bolognese) in addition to the soup and salad option.
Prices: Pasta buffet $40.95, salad buffet $32.76
Pin Wei Xuan
Late-night hidden gem
Relative newcomer Pin Wei Xuan (Buffet hours: Daily 5.30pm-3am) offers cooked Szechuan cuisine but is especially known for its value-for-money steamboat buffets. For night owls in the Zouk vicinity, it's a godsend as the brightly-lit restaurant stays open till 3am. Tuck into a range of standard steamboat items such as thinly sliced meat, prawns and vegetables, alongside a choice of soup: pork bone, mushroom, tomato and spicy Szechuan mala. Hungry gourmands have the option to upgrade to higher end meats such as the US beef – just make sure someone is able to speak Mandarin to the staff.
Prices: $29.13 per person
Pool Grill
A wine and beer buffet
We can't all escape to Bali (or Sentosa) even on a whim – so do the next best thing and enjoy Pool Grill's (Buffet hours: Sun-Thu 11am-10pm, Fri & Sat 11am-11pm) daily wine and beer buffet by the enticing Marriott hotel's swimming pool. Even if you saunter in at 11am, you can tuck right into the selection of wines and Carlsberg beer, which is unlimited for two hours from the time you start imbibing. Chardonnay, Sauvignon Blanc, Cabernet Sauvignon and Shiraz are the merry vinos as you while away a breezy afternoon. If you get peckish, there is the famous Marriott burger ($22) and other gourmet bites on the regular and bar menu.
Prices: $52.65 for two hours
Yum Cha
Old school dim sum buffet, with pushcarts 
Everything about this Chinatown eatery from the interior to the food, is unpretentious. Yum Cha's (Buffet hours: Daily 3-6pm) old school marble-topped tables and wooden chairs are stuck in a time warp of sorts. This a high tea buffet and the à la carte dim sum menu includes over 60 items including desserts. The classics, such as har kau (prawn dumplings), siew mai and yam puffs, are done well, and the century egg and lean meat congee is done the way we like it – smooth yet not too thick. They also have some unique offerings such as the siew mai with spinach, deep-fried prawn and mango sesame fritters and pan-fried pork pancake. A must-try is the crispy red bean with banana pancake from the dessert tray.
Prices: adult $25.70, child $19.80
The Ramen Stall
Kushiyaki high tea buffet
The Ramen Stall (Buffet hours: Sat & Sun 2-5pm) is not really a stall, but it is a casual eatery off Selegie Road that serves (what else) ramen. What's special? They do an all you can eat, high tea kushiyaki (skewer grilled) buffet. There are more than 35 kinds to choose from – take your pick of and gorge on stick after stick of beef, pork, chicken, salmon, pork neck and vegetables which are barbequed on the kushiyaki grill. All you need is a chilled mug of beer to accompany the stick snacks.
Prices: adult $33.70, child $19.66
The Rice Table
A variation on nasi padang
While trendy at one time, eat-all-you-can Dutch-style rijsttafel (rice meal) can now only be found at the single outlet of The Rice Table (Buffet hours: Daily noon-3pm; 6-9.15pm). The price is right for 14 dishes at lunch and 20 dishes at dinner, where unlimited small plates of each dish, such as tahu telor (fried tofu) and sambal kangkong are served to your table. We love the chicken dishes, especially the satay, soto, and fried chicken on the dinner menu. Quick service, halal-certified ingredients and a pleasant dining room add to the no-frills experience.
Prices: Lunch $17.88; Dinner $28.49
Senso Ristorante & Bar
Cheesy, Italian prosecco brunch buffet
On Sundays Senso Ristorante & Bar (Buffet hours: Sun 11.30am-3.30pm) puts its right wheel forward. From its cellar comes a big round of Parmesan cheese for its weekly unlimited Prosecco brunch buffet. This long-standing Italian brunch (since 2006) has a lot going for it. Apart from the pear- and apple-noted Torresella extra-dry Prosecco and soft and hard cheese selection (five, including the generous wheel), this mix of a la carte (order as many servings of the pasta, meat and fish dishes, but only one of the main) and buffet-line items serves sophisticated portions to ensure diners get the best variety. Start with oysters, Parma ham and melon, and beef carpaccio; fill up with the interesting primi piatti pastas (fusilli with duck ragout remains our favourite), meats (robust stewed oxtail with potato mousse is our choice) and tiramisu, among others.
Prices: $114.66 with unlimited prosecco & rosé prosecco, $138 with unlimited Ca'del Bosco Franciacorta sparkling wine, Italian wines and beer
Suanthai
In the mood for Siam
Perennially popular Thai food is served a la carte style at Suanthai, at reasonable buffet prices. Though plain water is chargeable and many meat items are limited to a one-time order, the restaurant stands out for its variety of salads, soups and mains, ending with a small offering of sweets. Some special items include the deep-fried egg beancurd and pomelo salad. Their tom yum soup is fiery (just the way we like it). To douse the fire, top up $1.70 per person for unlimited helpings of pineapple rice.
Prices: Lunch: Mon-Fri adult $21.10, child $15.20, Sat & Sun adult $22.11, child $16.40; Dinner: Mon-Thu adult $23.48, child $18.25, adult Fri-Sun $24.44, child $18.72
The Coffee Lounge
A traditional Taiwanese porridge buffet
The Coffee Lounge (Buffet hours: Daily noon-2.30pm; 6-10.30pm) at Goodwood Park Hotel has a stately décor, so sink right into those plush seats. Few things say 'comfort food' like a piping hot bowl of plain porridge accompanied with home-style dishes and condiments. This Taiwan porridge a la carte buffet is all that and more. You can find old favourites such as fried omelette with crunchy chye poh (preserved radish), braised pork belly done just the way grandma does, chilled beancurd in Japanese soya sauce and pork floss, and seafood dishes such as baby squid in sweet oyster sauce and sautéed prawns with dried chilli. The plain porridge, enhanced with sweet potato, is slurp-worthy. The price also includes a selection of desserts.
Price: $44.75 per person
Tripple Three
A brimming local, Indian and western buffet
Meritus Mandarin's buffet restaurant, Triple Three (Buffet hours: Daily 6.30–10.30am, noon–2.30pm, 6.30–10pm; Sun noon–3pm) (named after its address at 333 Orchard Road) has eight stations dishing out Asian and International foods. There is no contest that the sashimi, seafood and salads are fresh, though this buffet is renowned for its premium roasts, teppanyaki, local tze char favourites and spicy Indian staples. Here is what typical plates will look like: blue cheese alongside grapes, dried fruit and papadums(roasted lentil crisp-bread); a bowl of, if you get lucky, lobster bisque and asparagus soup; sambal sting ray, la la (sambal-fried clams) and chilli crab with man tou (fried/steamed buns); biryani rice, oysters, pasta with white asparagus (made to order) and long beans stir-fried in garlic (by this time all rules have gone out the window); roast wagyu beef and teppanyaki bean sprouts, prawns and beef; and an assortment of Nyonya and Western desserts. We're full just from repeating this mouthful.
Price: Lunch: Mon-Sat $56.16, Sun $67.56; Dinner: Mon-Fri $102.96, Sat & Sun $114.66
The Square
A buffed up buffet
The Square (Buffet hours: Daily noon-2.30pm, 6pm-10pm) created a buzz when it first launched, and till today the crowds continue swarming, so much so a second outlet has opened at Novotel Clarke Quay. The value for money promotions and ample international selections help this restaurant stay popular with the family crowd. Sashimi, fresh seafood on ice and the crab dishes – including salted egg yolk crab – are the first on the list, followed by a la minute Asian noodles and plenty of mini cakes for desserts. Highlights of this spread are the mussels and chicken stewed in laksa lobster broth and served with a you tiao like dough fritter. On Sundays, they crank it up a notch by offering oysters, baby lobsters, crepes and unlimited Ruffino prosecco.
Price: Lunch: Mon-Sat $44.46, Sun $79.50, $102.96 with unlimited prosecco ; Dinner: Sun-Thu $56.16, Fri-Sat $67.86
Udders
Udderly cool ice-cream buffet
Eat, make and learn all at the same time at Udders Ice Cream's (Buffet hours: Next available on 20th April, 11am-1pm) monthly ice cream workshop-plus-buffet. The popular two-hour session comprises theory, hands-on ice cream making – using tools you have at home – and culminates in a 50-minute all-you-can-eat ice cream buffet at their Novena outlet. Tuck into ice cream, waffles and cold drinks – die-hard fans usually head straight for the premium Mao Shang Wang durian ice cream, considered the best in Singapore. Not for little ones, this ice-cream orgy is only for 9-year-olds and above – smart move.
Price: $40 per person
---