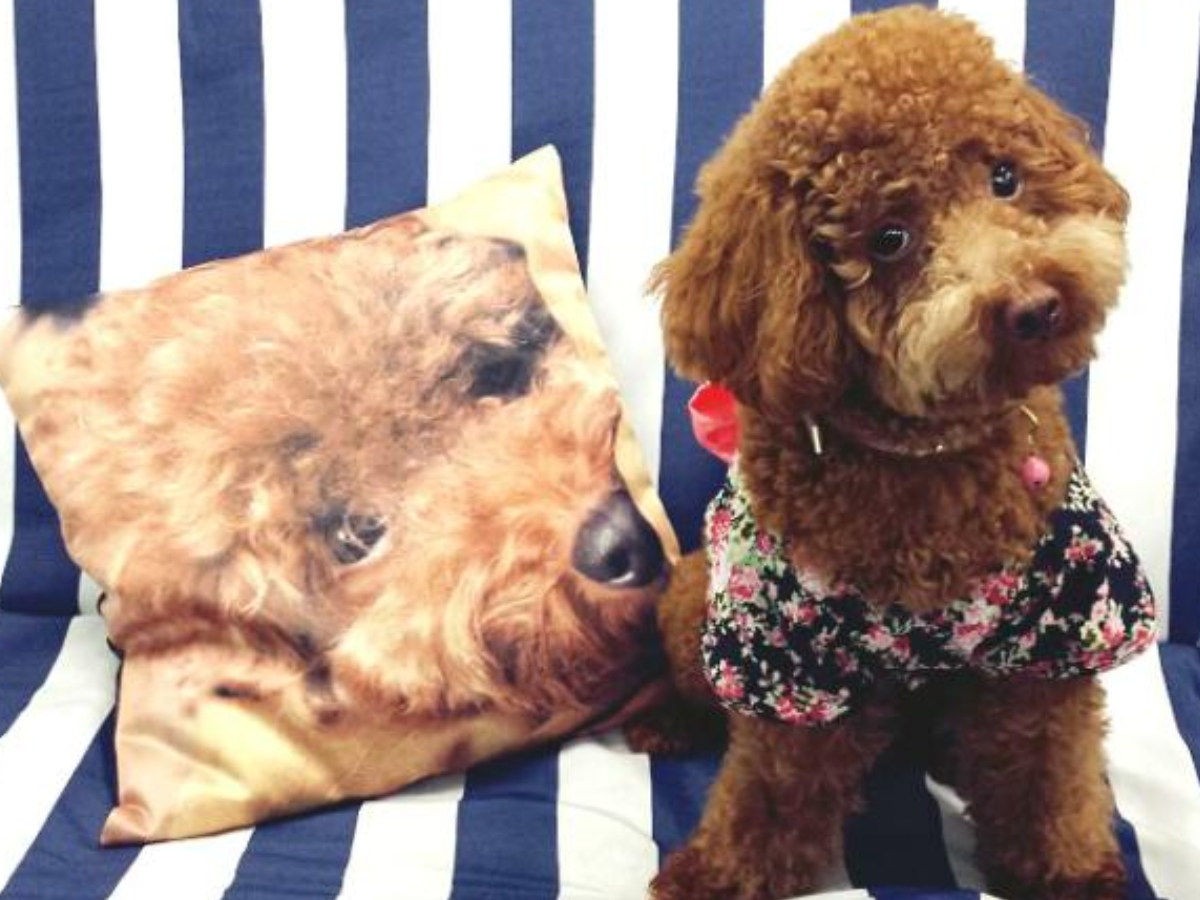 Let your doggie and kitty get in on the surging cafe culture in Singapore. We round up some pet-friendly cafes where they may run about and make new friends, and partake in the goodies on special menus prepared just for them. And don't worry, there's something to keep you full too.
III Cafe
Stock up on doggy treats
III Cafe is a huge hit with dog owners mainly because it stocks delicious and healthy homemade treats (think cakes, cookies and other snacks) from local dog food bakery, The Barkery. The air-conditioned space has furniture lined along the walls to give your pets more room to roam and run in the middle of the room. Each table is equipped with cleaning supplies and there is a basket of doggy toys if you need them. The spicy Mexican Drumlets ($5.90) seem to be a hit with the human crowd, whereas the Chicken or Beef Meatballs ($5) are popular with the pooches – the ingredients that The Barkery uses are all human-grade. You should make a reservation on the weekends as it is typically full-house.
III Cafe | Address: 687A East Coast Road, 2nd floor | Tel: 66558288 | Opening hours: Tue-Thu 3pm-10pm, Fri 3pm-11pm, Sat-Sun 11am-11pm
Doggiestyle Cafe
Custom-made cakes for doggies
The hangout is cosy and hip – think concrete floors and colourful mismatched chairs. Pups are free to roam the entire place. Doggiestyle Cafe specialises in tantalising custom-made baked treats for your pets. Cakes and cupcakes have to be pre-ordered but you may get your hands on weekly-made cookies ($6 per 100g). For yourself, try its popular dish, Tori Katsu Curry Rice ($10) – it comes with a sinfully crispy deep-friend breaded chicken thigh, rice and a Japanese-style curry. Doggie may pick from a rather extensive menu – made with human-grade ingredients. We heard the Pumpkin Pork Pie ($5.90) is a hot favourite. A layer of cooked mashed pumpkin sits atop some minced pork and minced broccoli and carrots. Hand sanitisers are provided and if your dog has an "accident" in answering nature's call, the employees will clean up for you.
Doggiestyle Cafe  | Address: 496 Changi Road | Tel: 64491296 | Opening hours: Mon & Tue 1pm-10pm, Thu & Fri 1pm-10pm, Sat & Sun 11am-10pm
Sun Ray Cafe
For top-notch food and coffee (for the pet owners)
Prepare your cameras because you will want to snap a shot of the well-plated dishes that emerge from the kitchen. Oh, and yes, that artisanal cup of coffee is ready for your sipping at the end of the meal as well – there are cold brews! Some stellar starters include the garlic herb butter escargots (from $9 for half dozen) and the truffle-perfumed Field Mushroom Soup ($7). The crew tells us that the light and flavourful Prawn Aglio Olio ($16) is a hit with the regulars, as is the super tender and succulent Duck Confit ($22). There is a steal during weekdays with the one-for-one set lunch ($25), which comes with a soup, a main and a drink. The modern-looking cafe is split into human-only and pets-only sections. The menu for the pets is simple: pick from a range of unsalted, preservative-free meats such as chicken, beef, salmon, beef and pork (from $5 for 80g) and throw in rice or fresh fruit if you want.
Sun Ray Cafe  | Address: 79 Brighton Crescent, Serangoon Gardens | Tel: 62838700 | Opening hours: Mon & Tue 6pm-11pm, Wed & Thu 11am-11pm, Fri 11am-midnight, Sat 10am-midnight, Sun 10am-11pm
Paw Pet-radise
For a good dessert fix
The tables and chairs in this cosy cafe are pushed to the side to leave a larger space in the middle for your four-legged besties to play. You'll find the standard western starters and mains here, but you must leave room for desserts. They're decided on a weekly basis and are consistent winners with patrons. Favourites such as Earl Grey Tea Cake with Vanilla Ice Cream ($5.90), Mixed Berries Tart ($7.50) and Chocolate Lava Cake ($7.50) are featured on a rotational basis, so don't fret if you miss one. Even your doggie may get in on the sweet treats – let it try the Strawberry Vanilla Ice Cream Tart ($7.50) after it has had its meal of the well-loved Porkie Meatballs ($4.90). The menu for pets changes on a weekly basis too. Cleaning supplies are provided for owners.
Paw Pet-radise  | Address: #01-07 Monville Mansion, 530 Balestier Road | Tel: 97473295 | Opening hours: Mon 5pm-11pm, Wed & Thu 3pm-11pm, Fri 3pm-2am, Sat 11am-2am, Sun 11am-11pm
Animal World
The ultimate day out for your dog
This was previously known as K9 Kulture before it underwent a management change. It still operates as a daycare for pets, with a boarding and training centre for dogs, but you may take your dog here for some play time. The highlight of this large 30,000sqf establishment – with a cafe, dog run and grooming area – is the saltwater swimming pool (from $14 per hour for a small dog) which is going to be linked to a water theme park (price unavailable) for dogs. You will be able to get in there with them too, so take along a change of clothes. The menu for pet owners at the in-house Ah B Cafe is still undergoing some changes – when it is ready, you will be able to fill your stomach anywhere within the entire establishment, including at the cat therapy centre where you may hang out with friendly resident felines. Doggy meals and treats are dished out at Pawlicious, a boutique pet bakery and bistro, located within the same compound. We were told the fish and lamb options are popular. Animal World is expected to be fully up and running by mid-July.
Animal World | Address: 110 Turf Club Road | Tel: 63149363 | Opening hours: Mon-Sun 7.30am-6.30pm; Ah B Cafe: Mon-Sun 11am-10pm

Dee Ohh Gee Cafe
For late-night quiet chillin'
You may treat your dog to one of three items here: the Pork Burger ($6.90), Pork Liver Parmesan Quiche ($7.90) or Cheesy Beef Balls ($7.90). The chow is homemade every day with human-grade ingredients and have no preservatives or seasonings. Hang out late into the night on weekends if you like. A favourite dish among the regular pet owners is the simple, comforting Chicken Chop ($12.90) which comes with baked beans and fried potato wedges. This is one of the larger cafes for pet dogs to roam. Owners will have access to doggy toys and cleaning supplies. The crew will help if your dog urinates outside of designated areas, but you will have to lend a hand with the poo.
Dee Oh Gee Cafe |Address: 110 Upper Bukit Timah Road, Goh & Goh Building | Tel: 92285117 | Opening hours: Tue-Thu 3pm-11pm, Fri 3pm-1am, Sat 11am-1am, Sun 11am-11pm
T.A.Z Cafe and Bistro
Separate VIP room for private bookings
The problem with having a limited number of pet-friendly cafes in Singapore is that if one place is booked for a private event, you will have to take your pup somewhere else. T.A.Z has a separate VIP room open for birthday party bookings, so the rest of the cafe is always open to the public. A specialty on its mainly western-food menu is the Beetroot Vegetarian Pasta, which is done almost aglio olio-style, with a light coating of sweet-savoury and herb-infused beetroot sauce ($11.90). There is a small menu for your pet, which includes Mudloaf Cake ($7.90), made of beef, vegetables, eggs and oats; and Chicken Rice ($4.90), which is brown rice paired with chicken breast, fresh cucumber and carrot puree. The dog food is homemade with human-grade ingredients and prepared daily. Doggy toys and cleaning supplies are provided.
T.A.Z Cafe & Bistro | Address: 10 Jalan Leban | Tel: 90276109 | Opening hours: Mon-Sun 11am-10pm
Happy Daze Cafe & Bistro
For football nights with doggie in tow
A bright orange sign greets you and your four-legged pal when you visit this cheery bistro. The setup is just like that of a bar, with indoor and outdoor seating – pooch is free to roam around the establishment. For yourself, stick with the appetisers on the menu, which features the usual western-food fare, and choose from the selection of beers. There is a full bar menu if you fancy a cocktail, too. A favourite snack for the furry ones is the lovingly handmade vegetarian Dog Muffin ($3.90), which contains a mix of vegetables with no preservatives.
Happy Daze Cafe & Bistro | Address: 11 Maju Avenue | Tel: 62852885 | Opening hours: Mon-Sun 3pm-1am
---
This archived article appeared in an earlier version of HungryGoWhere and may not be up-to-date. To alert us to outdated information, please contact us here.