8 waterfront restaurants in Singapore to shoot the breeze at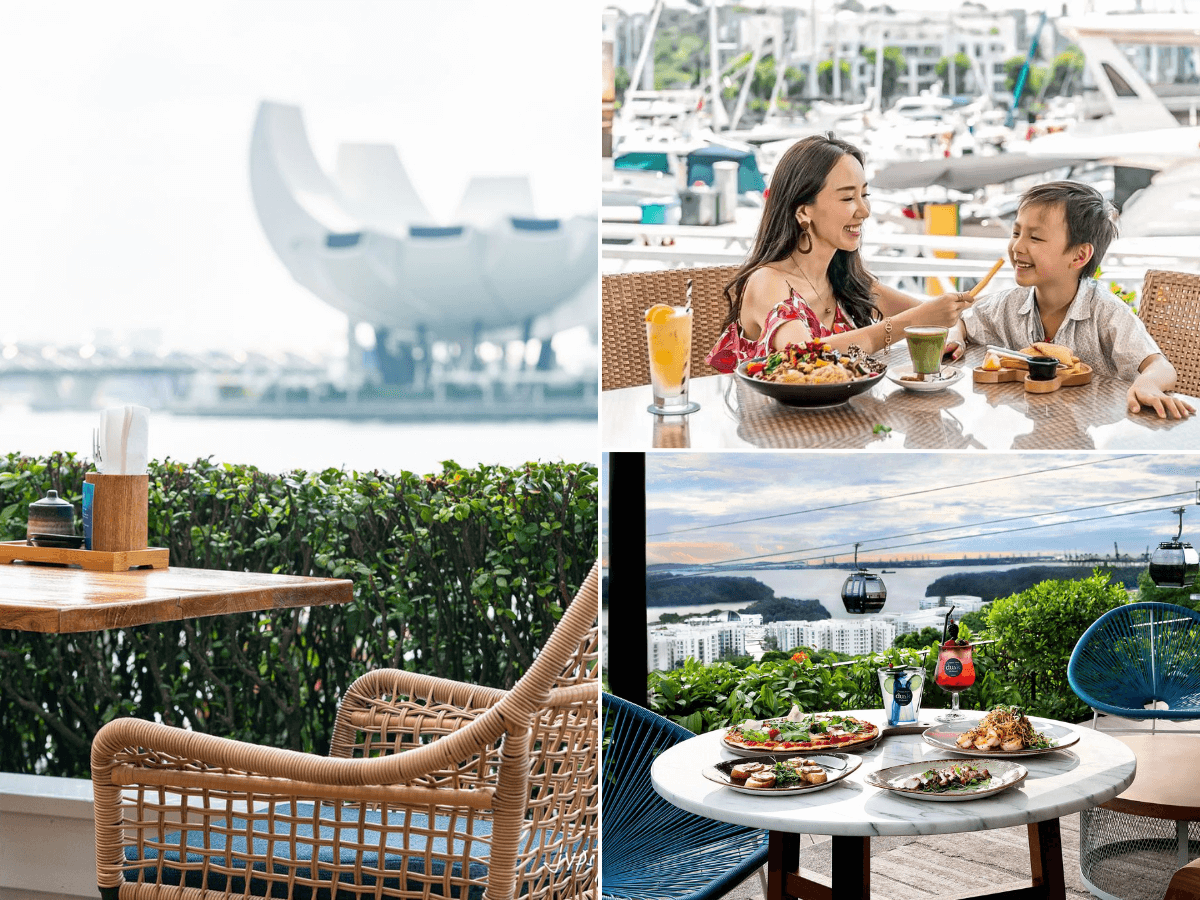 If you're reading this article right now, this is your sign to take a break from the hustle and bustle of city life at these waterfront restaurants with a view.
Even though our little island-nation is surrounded by water — rivers, seas and oceans of all sorts — it's not often that we get to stop to savour all that it affords.
Here's HungryGoWhere's top eight picks to do just that.
1. Jypsy at One Fullerton
One Fullerton, 01-02/03, 1 Fullerton Road
Open: Sunday to Thursday (11.30am to 4pm, 5pm to 11pm), Friday and Saturday (11.30am to 4pm, 5pm to 12am)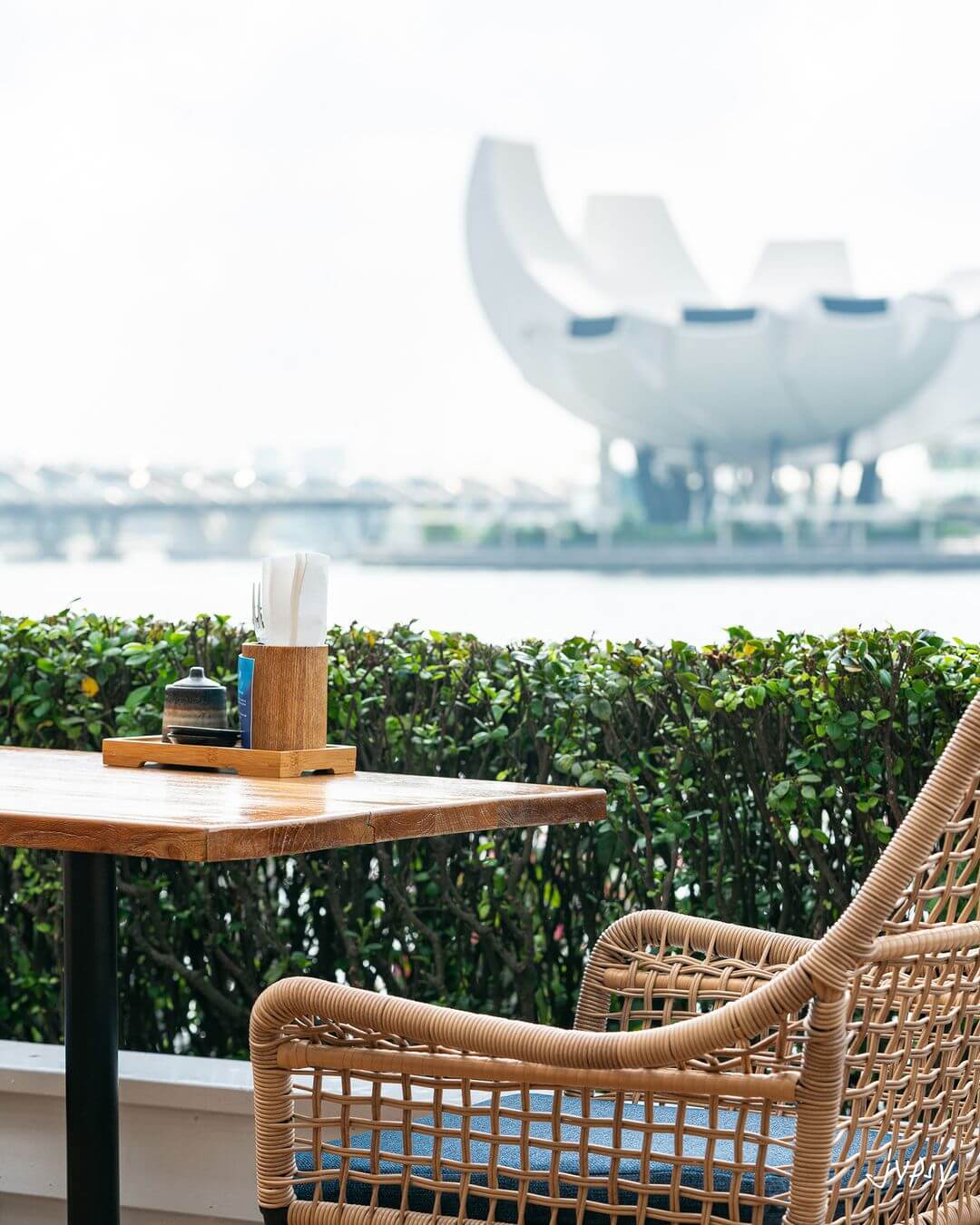 Why visit? If you love PS Cafe, why not try its Japanese-inspired sister brand which also happens to be a waterfront restaurant? 
At Jypsy, bohemian vibes take centre-stage, with blue hues and rattan accents all around. Its flagship store at One Fullerton boasts panoramic views of Singapore's iconic skyline, too.
Food-wise, there's sashimi, sushi rolls and many plates for sharing, as well as grilled and skewer dishes.
Price range: $$$
Crowd faves: Get the Nest of Fries (S$14), which comes with white truffle oil, wasabi mayo and teriyaki balsamic sauce, for sharing. The Jypsy salmon tacos (S$16 for two pieces) is also a popular order.
2. Super Loco Customs House
Customs House, 01-04, 70 Collyer Quay
Open: Monday to Thursday (11.30am to 11pm), Friday and Saturday (11.30am to 11.30pm)
Why visit? For another viewpoint of the bay, head to Super Loco at Customs House. 
This waterfront restaurant is a popular date spot and is usually packed most evenings with couples or big groups.
What brings the crowd back is not just the view, but also its vivacious atmosphere and excellent Mexican food.
Price range: $$
Crowd faves: Diners love the elotes (barbecued corn on the cob, S$8), baja fish tacos (S$11) and chicken quesadillas (S$18). Be sure to order a margarita or two (from S$13) to wash these down.
3. 1826
33/34 Boat Quay
Open: Monday to Sunday (11.30am to 12am)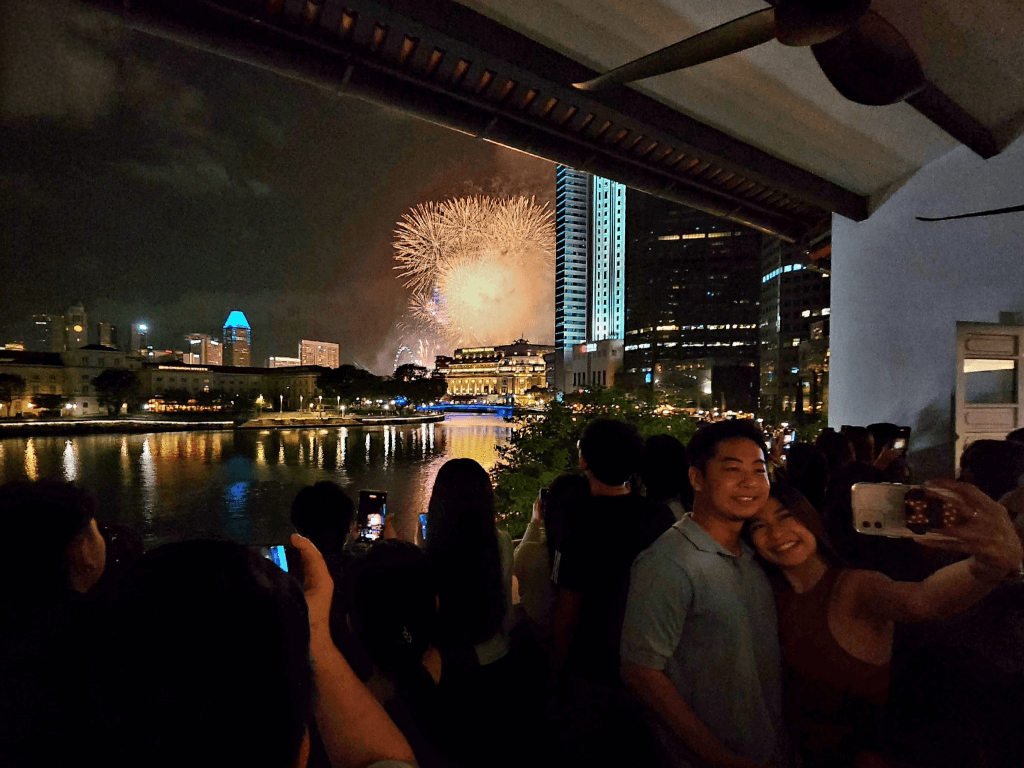 Why visit? Located further down along the Singapore River than our last two entries, this eatery provides waterfront views of a different sort. 
Diners can catch views of The Fullerton Hotel and Asian Civilisation Museum as they take in the smells and sounds of Boat Quay.
Housed in a conserved shophouse, 1826 serves up East-meets-West cuisine along the likes of tiger prawn kueh pie tee (S$16) and the satay-inspired cheesy pork skewers (S$16).
Price range: $$
Crowd faves: If you're with friends, order bigger plates such as the sambal sea bass (S$45) or salt-baked chicken (S$36) for sharing. 
To round out the meal, order some nibbles — including the kueh pie tee or charcuterie board (S$38) — to go with 1826's selection of craft beers.
4. Five &2
Punggol Park, 97 Hougang Avenue 8
Open: Monday to Thursday and Sunday (4pm to 12am), Friday and Saturday (4pm to 1am)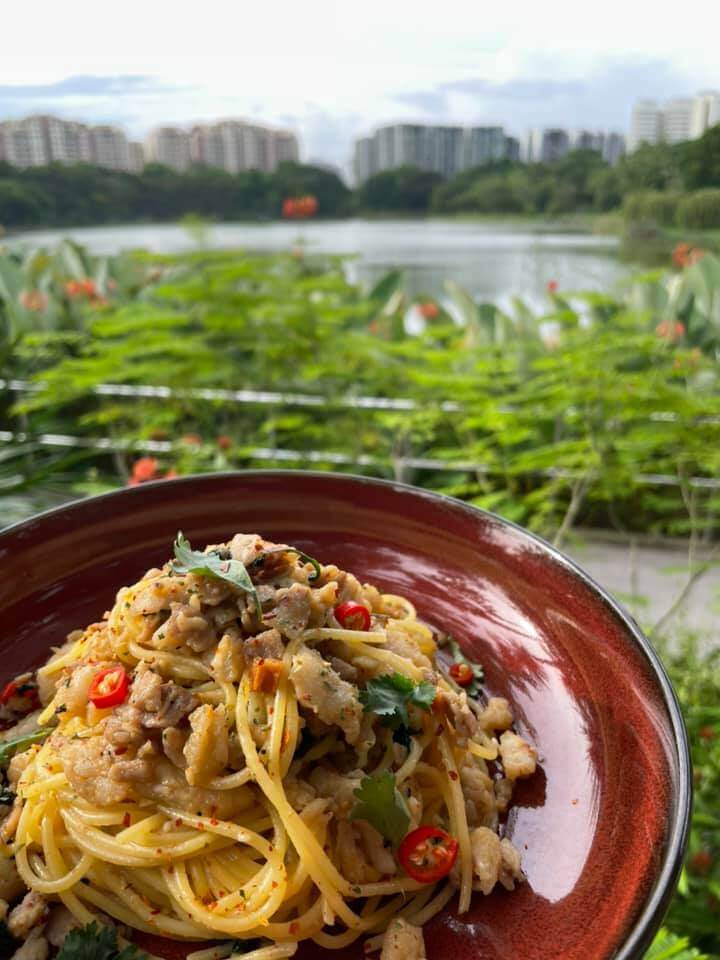 Why visit? This pet-friendly waterfront restaurant is a hidden gem tucked away on the edges of a pond in Punggol Park.
Five &2 is also a social enterprise that works with welfare agencies to provide employment for former inmates and people with disabilities, as well as to feed the underprivileged.
Take a seat on its terrace with a drink in hand and watch the sun set — it's truly great for watching the world go by.
Price range: $
Crowd faves: Its menu is Asian-focused, with fusion dishes such as Miso vongole (S$25.80) and dried tom yum seafood linguine (S$19.80). There's also a Sarawak curry chicken shepherd's pie (S$17.80) that's a must-try.
5. Sol & Ora
The Outpost Hotel, Level 7, 10 Artillery Avenue, Sentosa
Open: Monday (7am to 10.30am), Tuesday to Friday (7am to 10.30am, 6pm to 10.30pm), Saturday and Sunday (7am to 10.30am, 11.30am to 2.30pm, 3pm to 4.30pm, 6pm to 10.30pm)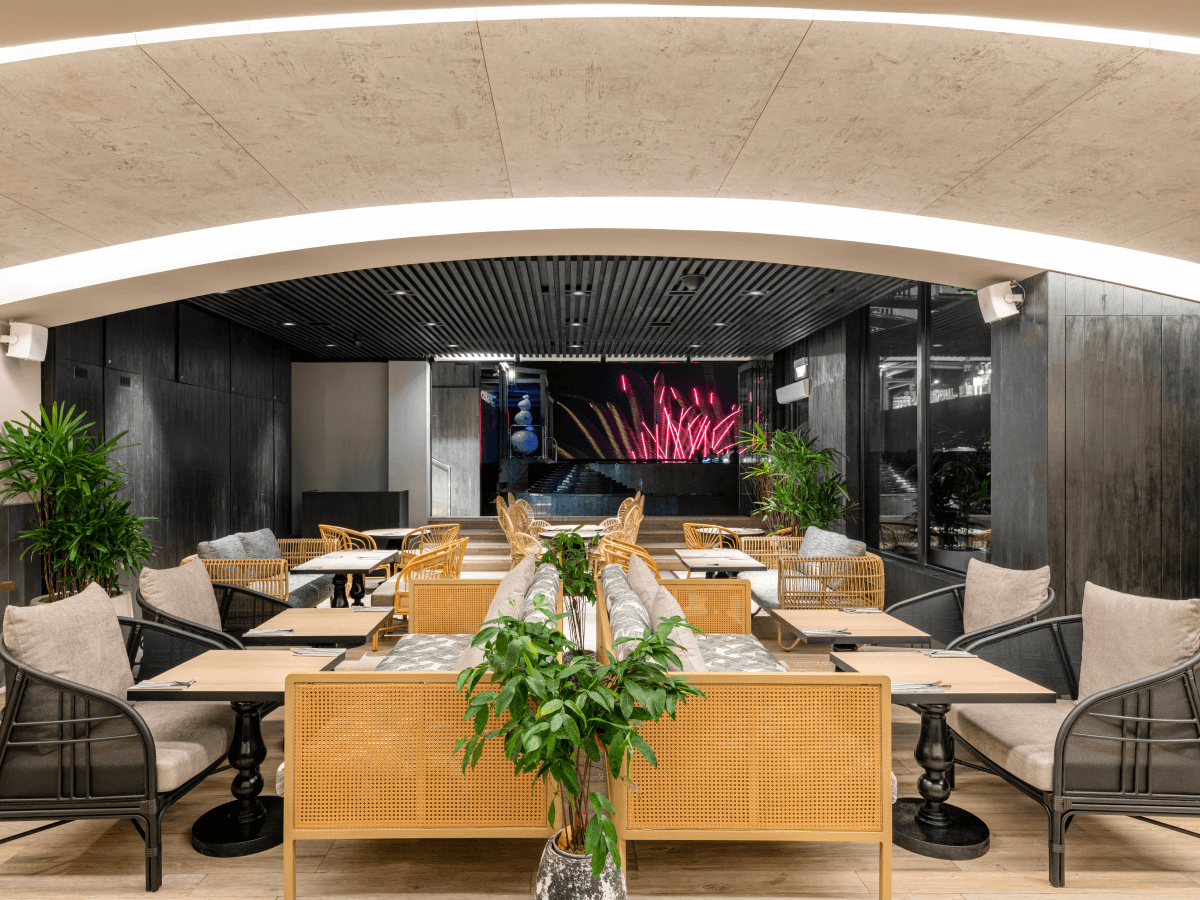 Why visit? Treat yourself and make a day of it at Sol & Ora — first, a relaxed day in the sun, and then a luxe meal at the restaurant.
If you're there at the right time, you can also catch fireworks at this waterfront restaurant from the nearby Wings of Time attraction!
Find out more about Sol & Ora here.
Price range: $$$
Crowd faves: Try the pan-fried Greek saganaki cheese (S$23), meatless imam bayildi (S$18) — a scorched, braised and stuffed eggplant — as well as the housemade cavatelli pasta (S$28). 
6. Dusk Restaurant & Bar
Faber Peak, Level 2, 109 Mount Faber Road
Open: Monday to Thursday and Sunday (4pm to 11pm), Friday and Saturday (4pm to 2am)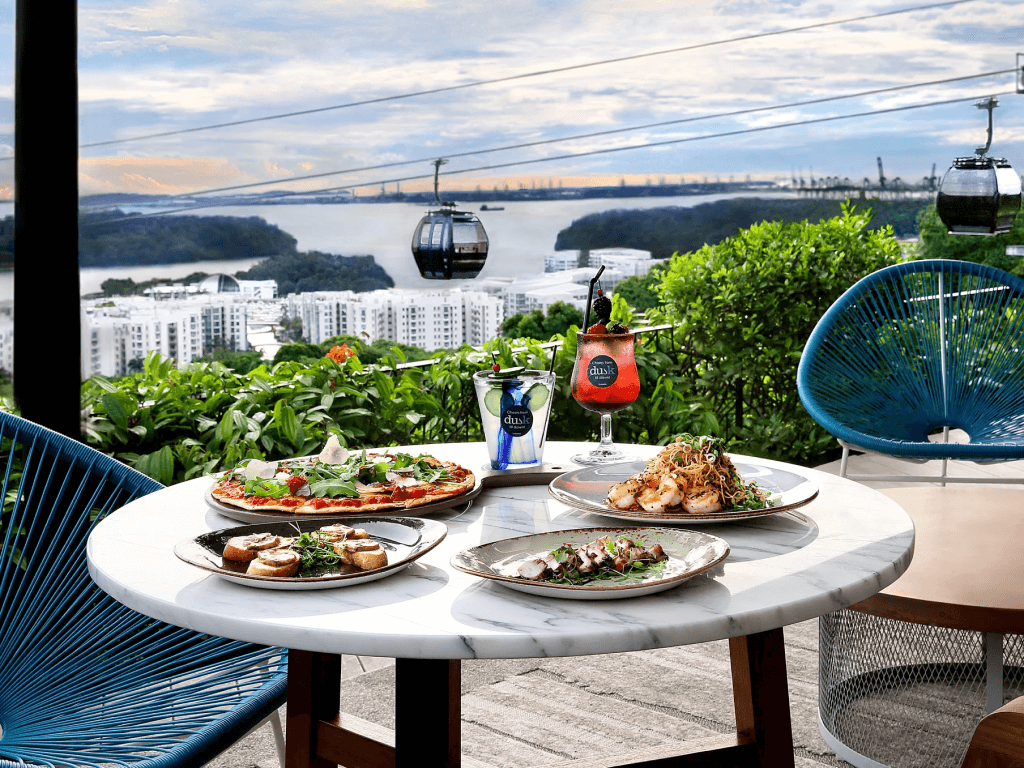 Why visit? Looking to impress? Head to higher ground with your date for a better view of the sunset at Dusk Restaurant. 
Situated atop Mount Faber, this waterfront restaurant affords romantic views from its alfresco dining area, so that you and your companion can watch the city lights come alive.
When it comes to the menu, diners are spoiled for choice — there's a wide range of European dishes to choose from, in addition to various wines, cocktails and drinks.
Price range: $$$
Crowd faves: If you're dining in a group, try its sharing platters, which include a charcuterie board (S$38.90 for two or three diners). Otherwise, solo diners will enjoy the Dusk signature prawn capellini (S$31) and seared duck confit (S$38.90).
7. Gin Khao Bistro
Quayside Isle, 01-12, 30 Ocean Way
Open: Monday to Thursday (12pm to 3pm, 5.30pm to 10pm), Friday and Saturday (12pm to 10.30pm), Sunday (12 to 10pm)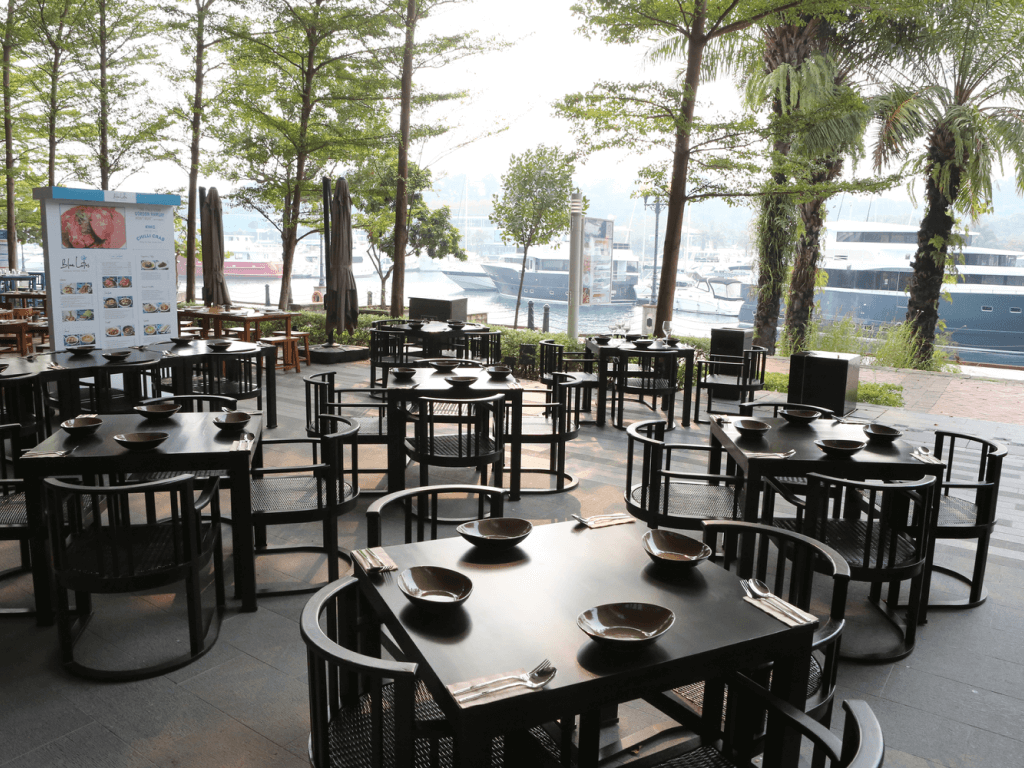 Why visit? Gin Khao's outpost on Quayside Isle serves up scenic views of the marina and a laidback vibe, alongside what it calls affordable Sino-Thai cuisine.
For its upmarket location on Sentosa island, the food at this waterside restaurant is reasonably priced and relatively low-frills, yet moreish and tasty.
Price range: $
Crowd faves: Be sure to order Khao Phat Dtaeng Moe (from S$14.80) — a Gin Khao signature of special watermelon fried rice — that comes served in a hollowed out watermelon husk. There's even a Thai boba milk tea (S$6.80), if the craving strikes.
8. Prive @ Keppel Bay
2 Keppel Bay Vista
Open: Monday to Sunday (9am to 10.30pm)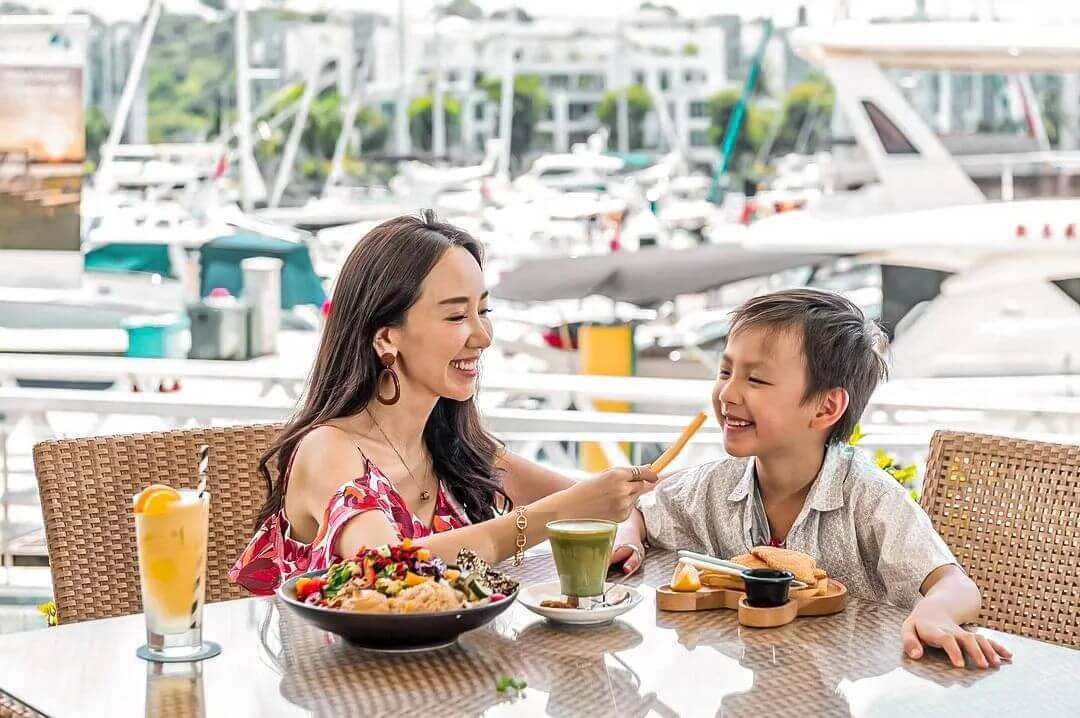 Why visit? With comfortable lounge seating and a view to die for, Prive's Keppel Bay restaurant is a popular waterfront cafe choice on the weekends, especially among those with families.
You may also find kid-friendly activities to keep your little ones entertained as you take in a leisurely brunch.
And it welcomes pets, too!
Price range: $$
Crowd faves: A plate of straight-cut truffle fries (S$15.50) is a must-have, as is the eggs benedict with smoked leg ham (S$20.50).
Sink your feet into the sand with our guide on beachfront and coastal restaurants.
All the eateries on this list, except Jypsy and Sol & Ora, are on the GrabFood delivery service and offer free delivery (up to S$3 off) with GrabUnlimited.
Alternatively, book a ride to these waterfront restaurants in Singapore.
---