8 restaurants in Singapore for romantic vibes if you're on a budget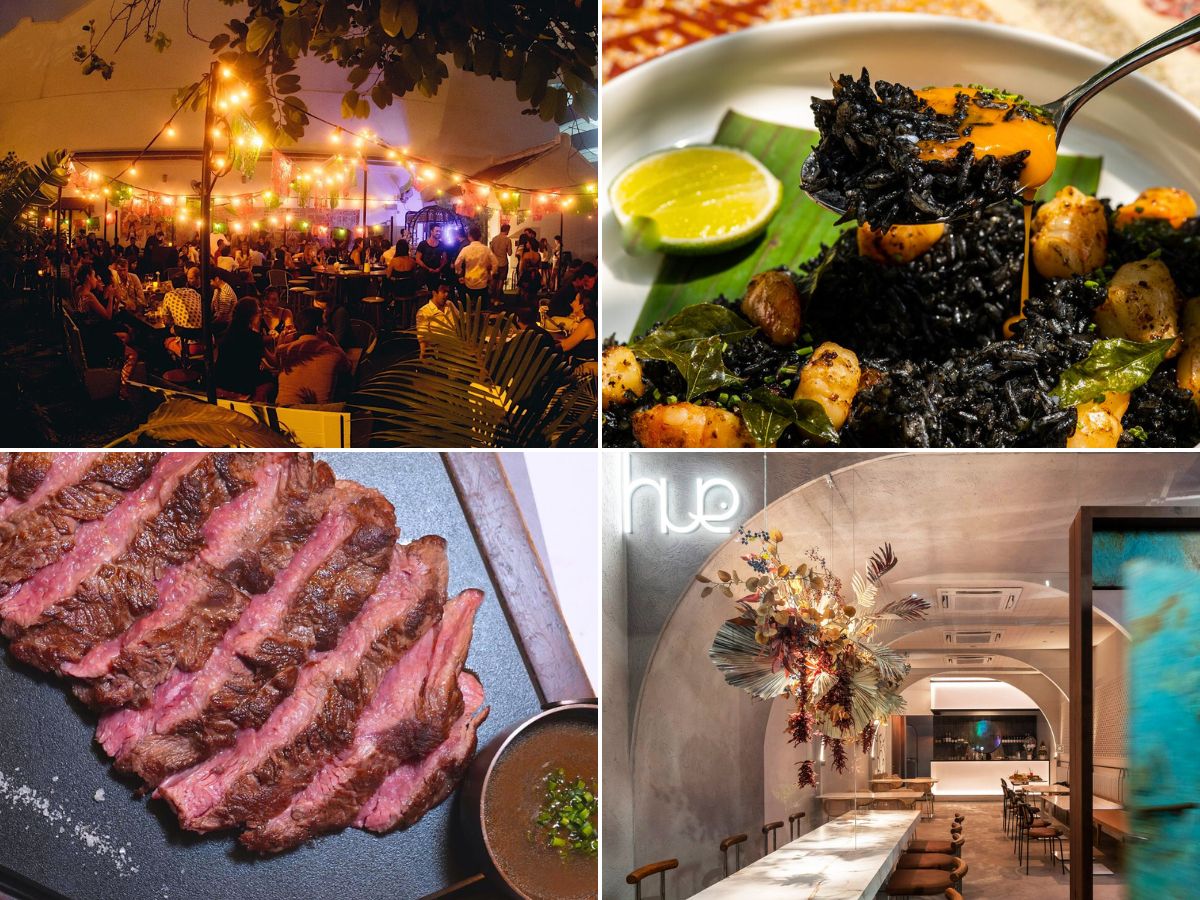 Let's be honest — dating in Singapore isn't exactly cheap, and affordable date night restaurants are few and far between.
Going out for a spontaneous movie date, accompanied by a romantic restaurant dinner, can put a significant dent in your weekly budget.
Be that as it may, it's only natural to want to impress your crush with dinner at a nice restaurant from time to time.
Your dinner dates don't need to be ostentatious affairs that will leave you penniless the rest of the month, but they don't have to be unremarkable either.
We've done the work and compiled a list of affordable date night restaurants in Singapore serving cosy, intimate vibes. The best part? You can get mains for S$30 and below.
Save this cheap date restaurants list for your next dating-app escapade:
8 affordable date night restaurants for a romantic night out on a budget
1. Raw Kitchen Bar
66 Kampong Bugis, 01-01
Open: Thursday and Friday (5.30pm to 11pm), Saturday and Sunday (11.30am to 11pm)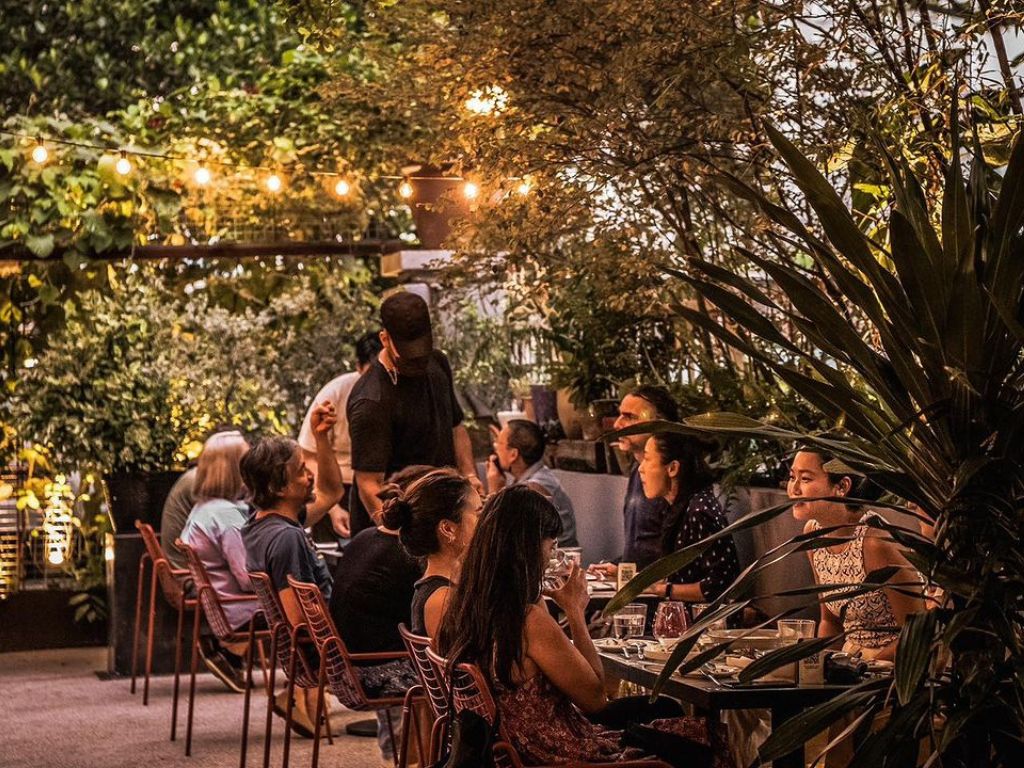 Why visit? This idyllic al fresco-only hideout is enveloped by lush greens and tasteful bohemian-chic fittings, complete with fairy lights. That's why it's one of our top picks for affordable romantic restaurants when we're searching for an appropriate spot that provides a tasteful setting for a reasonable price.
Located in a little cul-de-sac off the main road at Lavender, the space makes you feel like you've been spirited overseas to a Balinese villa. It's the kind of quaint and charming restaurant that will quickly dazzle your companion if you're on a first date.
Price range: $$$
Crowd favourites: Raw Kitchen Bar's culinary style can be vaguely described as Balinese-fusion, with familiar Asian flavours pervading the menu. Signatures include the black mamba (S$25), an intoxicating smoke-laden squid ink fried rice. The warung pork ribs (from S$28) dish is a solid option if you don't have time for a weekend sojourn to Bali.
2. Hue
123 Tyrwhitt Road
Open: Tuesday and Wednesday (6pm to 10.30pm), Thursday and Sunday (12pm to 3pm, 6pm to 10.30pm), Friday and Saturday (12pm to 3pm, 6pm to 11.30pm)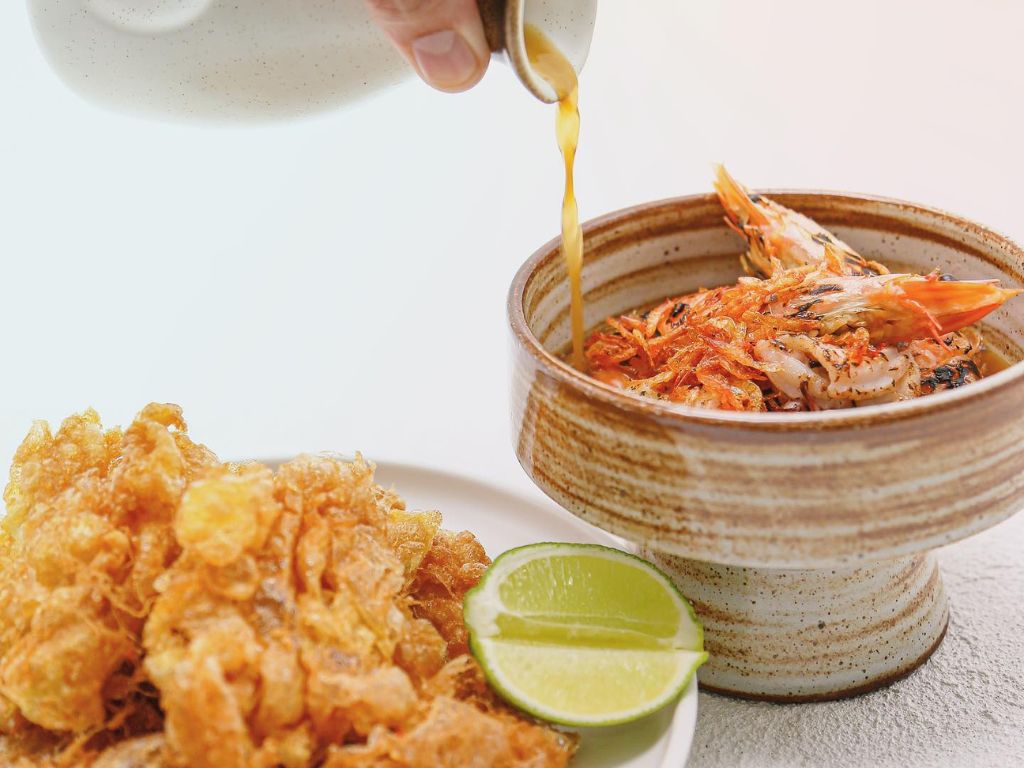 Why visit? Thai food doesn't usually come up when you're thinking of a romantic restaurant to bring someone on a date. Yes, Thai eateries are usually hole-in-the-wall types that focus more on the food than on the ambience (in fact, we're of the opinion that the more dingy it is, the more authentic it is!), but don't be too quick to write this off. Hue at Bendemeer is too gorgeous not to give it a chance.
Hue's space is elegantly minimalist. The marble tabletops, hues of neon lights, and whimsical overhanging floral arrangements help set the mood for a romantic date.
Price range: $$$
Crowd favourites: Hue's style of contemporary Thai cuisine adds an elevating touch to classic comfort dishes, Inspired twists include the Not a Tom Yum (S$21), a hot and spicy soup with charred seafood paired with crispy omelette, and the Niu Yolk (S$28), a Thai-style beef tartare paired with toasted baguette.
3. Lucha Loco
15 Duxton Hill
Open: Monday (5pm to 11pm), Tuesday to Thursday (11.30am to 11pm), Friday and Saturday (11.30am to 12.30am)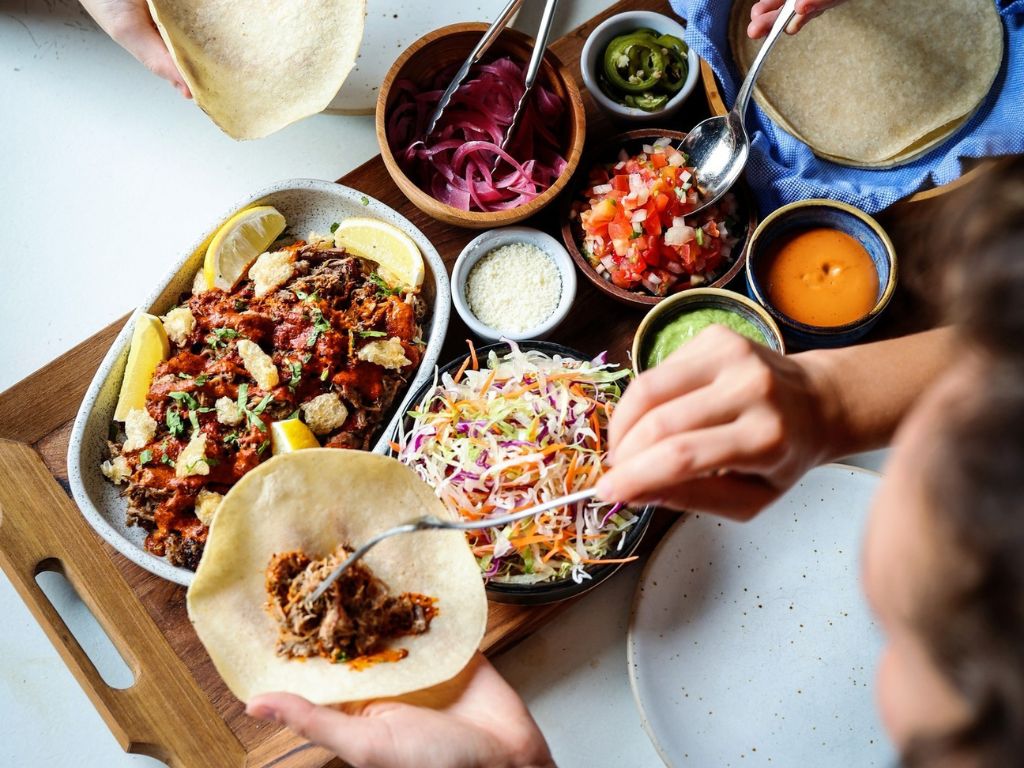 Why visit? Nobody else in Singapore does convivial Mexican dining quite like the Super Loco Group, known for its stable of popular Mexican joints that also include Lucha Loco and Chico Loco. Its Duxton Hill outfit Lucha Loco in particular is a vibe in itself, and a great place for a romantic meal for two.
Its vibrantly decorated al fresco area — made even more festive with its lines of fairy lights and techni-coloured banners — will make you feel like you've been thrown into a Mexican backyard fiesta. If you're a fan of waterfront views, both Super Loco restaurants are equally stunning spots for a romantic date!
Price range: $$
Crowd favourites: Though messy tacos and burritos do not exactly scream "romantic first date restaurant", we argue that the food is great for a memorable third or fourth date after you're more comfortable with each other. 
It helps that it has a diverse range of tacos — get a little bit of everything to share, from the signature baja fish (S$11) to the luscious chorizo and beef brisket (S$10)
4. The Feather Blade 
61 Tanjong Pagar Road
Open: Monday and Tuesday (6pm to 10.30pm), Wednesday (6pm to 12am), Thursday to Saturday (11.45am to 2.30pm, 6pm to 12am), Sunday (11.45am to 2.30pm, 6pm to 10.30pm)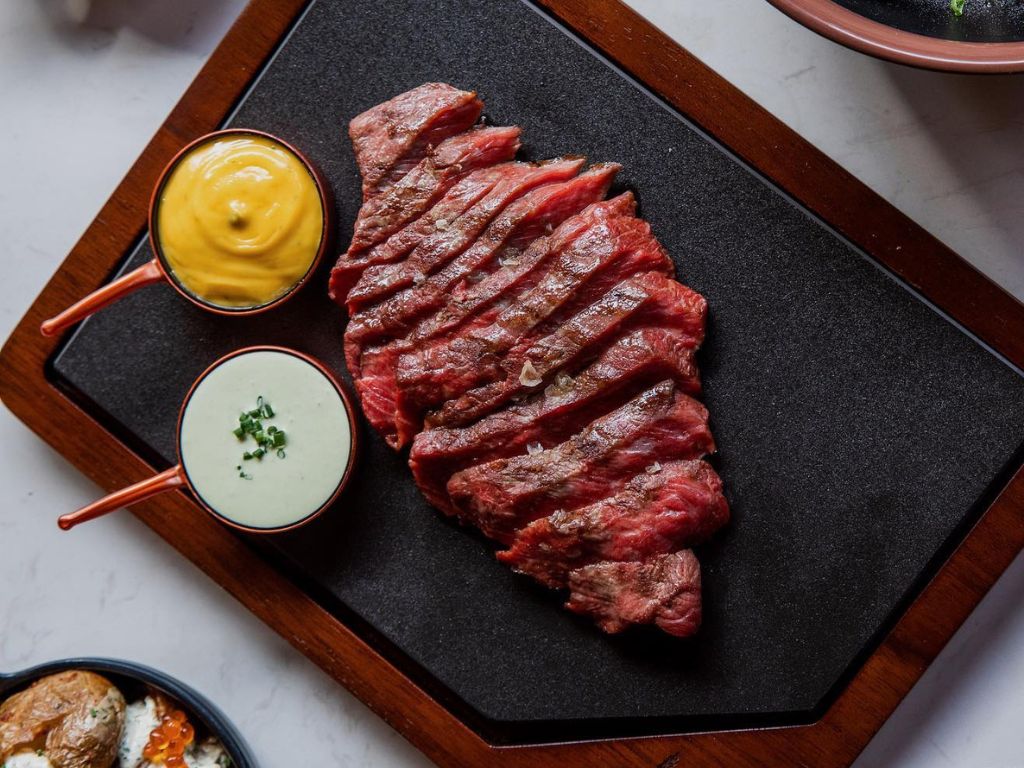 Why visit? What else says "romantic date night" than a delightful night at a steakhouse? While The Feather Blade isn't your traditional white-linen-covered steakhouse, the sleek modern decor more than makes up for it.
It's one of the rare places in Singapore where you can get a decently executed steak without breaking the bank, making for a affordable date night restaurant, unless you decide to cook at home — if you have the culinary nous, that is.
Price range: $$
Crowd favourites: Heavily inspired by the world-famous Flat Iron steakhouse in London, The Feather Blade utilises the feather blade or flat iron cut, increasingly seen as a good alternative to more expensive cuts. It's nicely marbled with lots of beefy flavours. The result? A succulent and juicy steak for just S$24, only a tad steeper than what some casual dining spots are offering. If you wish, there are also burgers and rice bowls here.
5. Common Man Night Shift
Multiple outlets islandwide 
Open: Operating hours vary across stores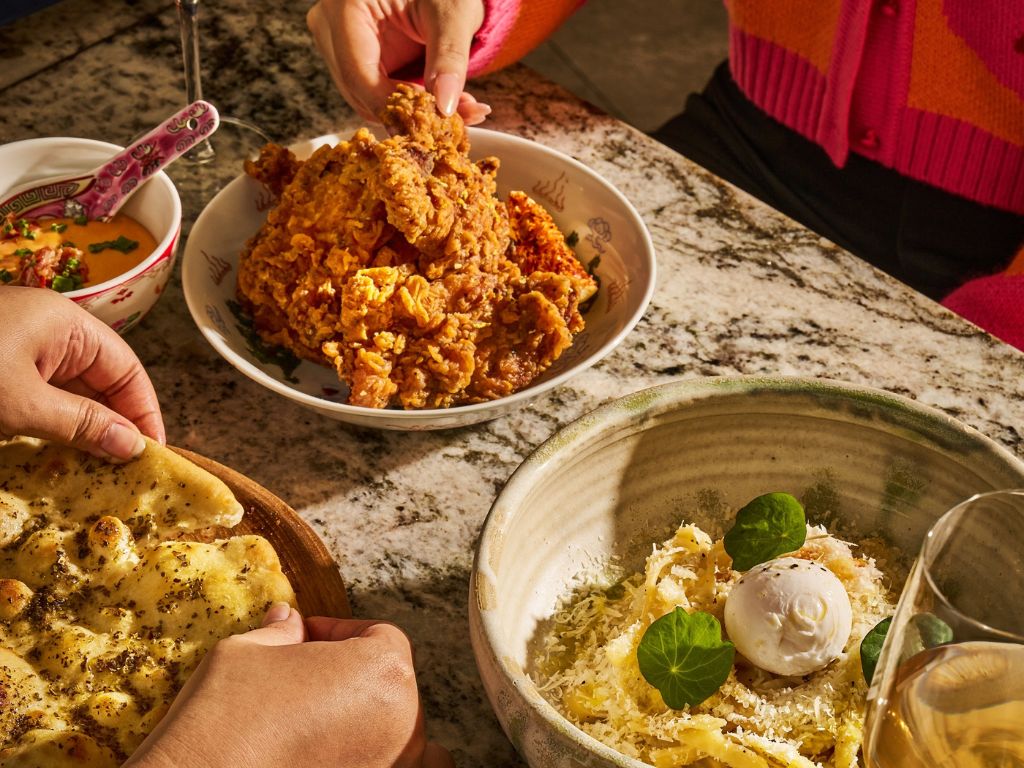 Why visit? This might already be on your list of your date night ideas, but not everyone knows that the popular Drunken Farmer concept has recently rebranded into a new concept with a new menu. It's now known as the Common Man Night Shift.
Don't worry, there's no change in management — this has always been Common Man Coffee Roasters' after-hours alter ego, the rebrand just makes it more official now. Fans can still expect the same iconic neon lights and whimsical ambience when you reserve a table at this natural-wine-focused restaurant for your next romantic date night.
Price range: $$
Crowd favourites: The revamp sees the introduction of certain new specials on the menu. Popular newcomers include the one-of-a-kind cacio e pepe udon pasta (S$24). 
Still, those who'd been to Drunken Farmer will know it's sacrilege to leave without trying its delectably airy sourdough pizzas (from S$18) and addictive fried chicken karaage (S$22), served with a side of kimchi mayo.
6. Merci Marcel 
Palais Renaissance, 01-03, 390 Orchard Road
Open: Tuesday to Saturday (8am to 12am), Sunday and Monday (8am to 11pm)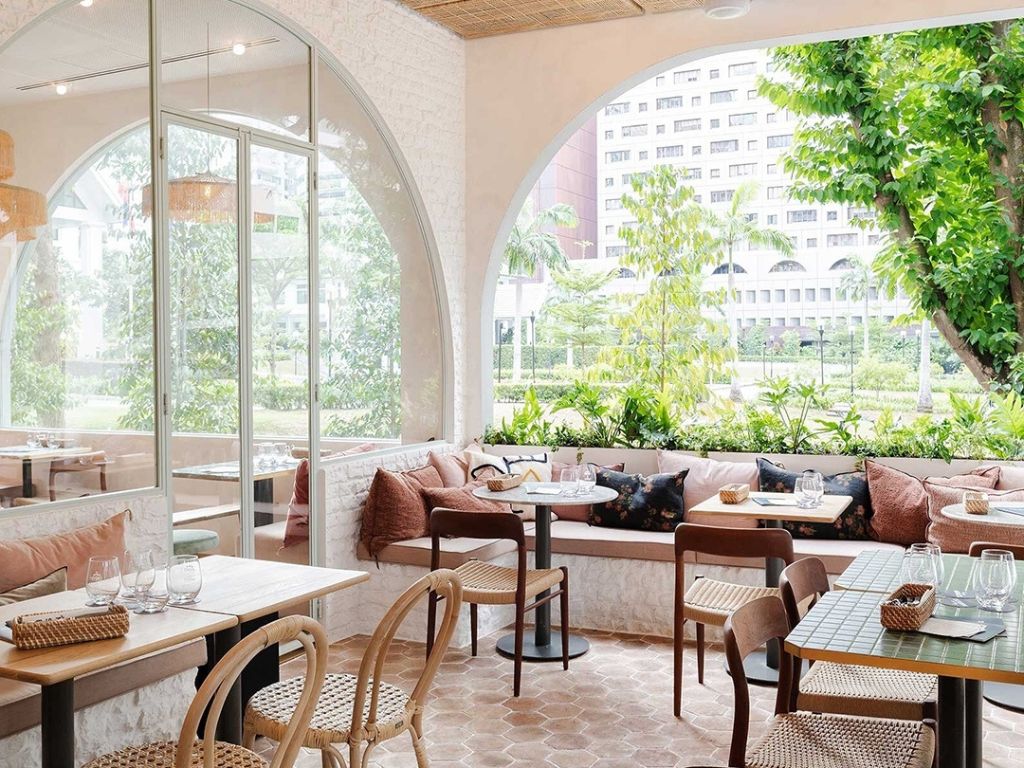 Why visit? Most cafe hoppers in Singapore would have visited Merci Marcel at least once. The brand, known for its rustic French-inspired fare, has multiple outlets that offer some of the most picturesque brunch options in Singapore.
However, one outlet in particular stands out, for it's a spot conducive both for a romantic date night and a lazy brunch — the chic Palais Renaissance store.
It presents you with a great view of the bustling Orchard Road as you tuck into its delightful dishes, making it a romantic yet affordable date night restaurant. 
Price range: $$$
Crowd favourites: There is no lack of hearty French classics on Merci Marcel's menu, but an imperative order is the unique ravioles de royans (from S$20) — tiny dumplings that are stuffed with silky cheese and bathed in a deluge of cream sauce.
7. Lino
7 Binjai Park
Open: Monday to Sunday (12pm to 2.30pm, 5.30pm to 10pm)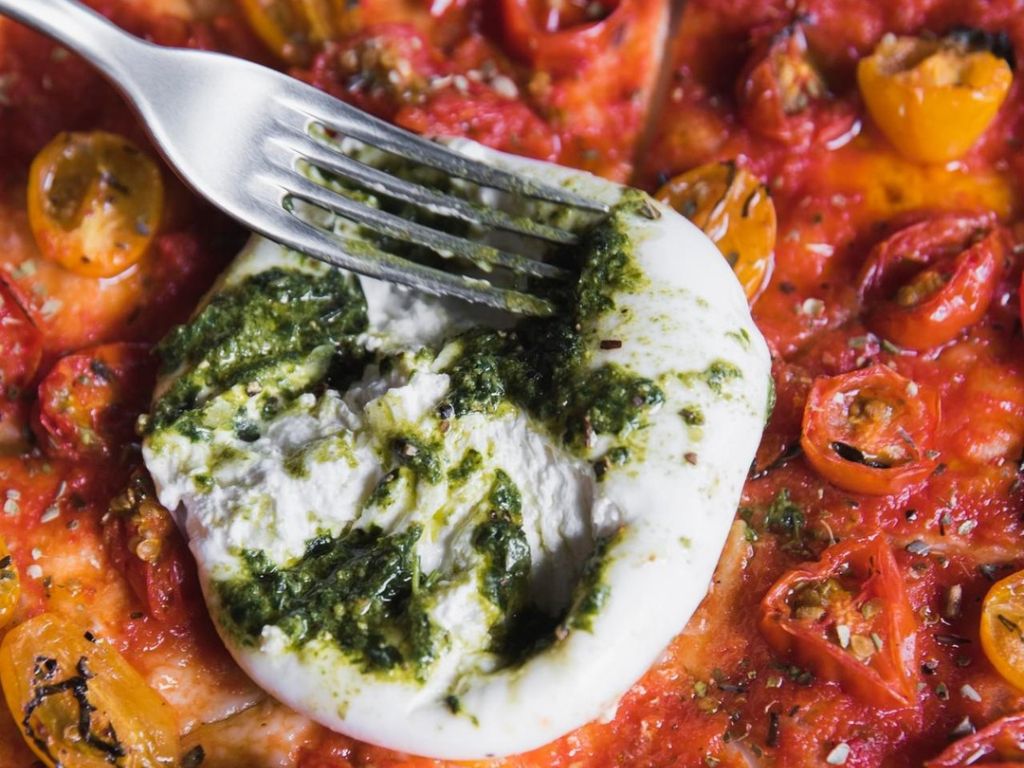 Why visit? Opened by the prolific Les Amis group, Lino is one of the best spots for a no-frills Italian meal on a budget.
Besides its solid slew of contemporary Italian dishes, the quiet Binjai Park shophouse is also enveloped in a cosy, serene atmosphere — we imagine this restaurant will be a pristine date spot for you to get to know your romantic interest well.
Price range: $$$
Crowd favourites: A safe choice for any date would be the burrata pizza (S$30) that's adorned with a burrata in its centre, which can then be split open to reveal a glut of velvety cheese. If you're craving for pasta instead, Lino also fires up some decent pasta dishes, such as the beef short rib fettuccine (S$29).
8. Anna's
Oasis Terraces, 01-04, 681 Punggol Drive 
Open: Sunday to Thursday (8.30am to 9.30pm), Friday and Saturday (8.30am to 10pm)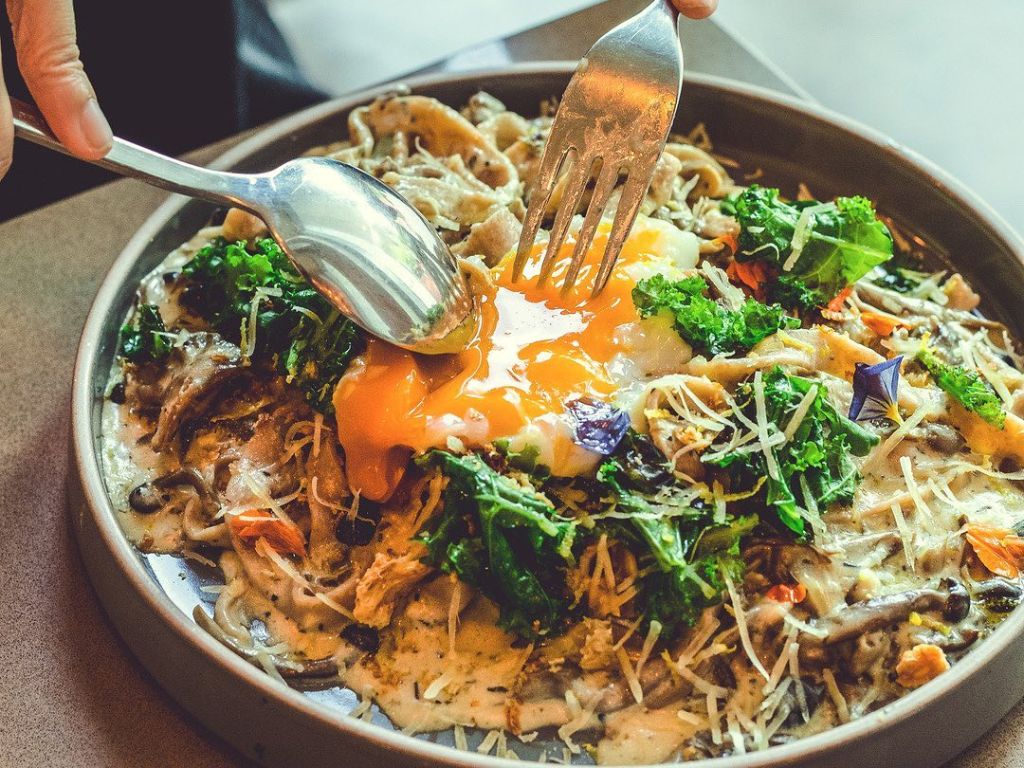 Why visit? Anna's might feel out of place in an affordable, romantic restaurant curation filled with fabulous date spots from Singapore's swankiest neighbourhoods — this sourdough specialist is located in Punggol, of all places. But we know how hard it may be to find time out of your busy schedules for a grand night out. 
Hence, Anna's is a convenient, but equally atmospheric restaurant, which will suit the young couples living in the sprawl of BTO apartments in the area. Its garden-like setting and breezy location right beside the Punggol Waterway means you can pop by for some peaceful quality time after those WFH days. Pro tip: Anna's is halal-certified, too.
Price range: $$
Crowd favourites: Anna's may be a sourdough specialist, but that doesn't mean it offers solely bread and pastries. In fact, what makes Anna's so unique is its selection of handmade sourdough pasta and pizza.
We can't imagine a better way to spend time with your romantic partner than slurping up some restaurant-quality margherita pizza (S$24) or umami carbonara pasta (S$22).
---