5 Best Bean Curds in Singapore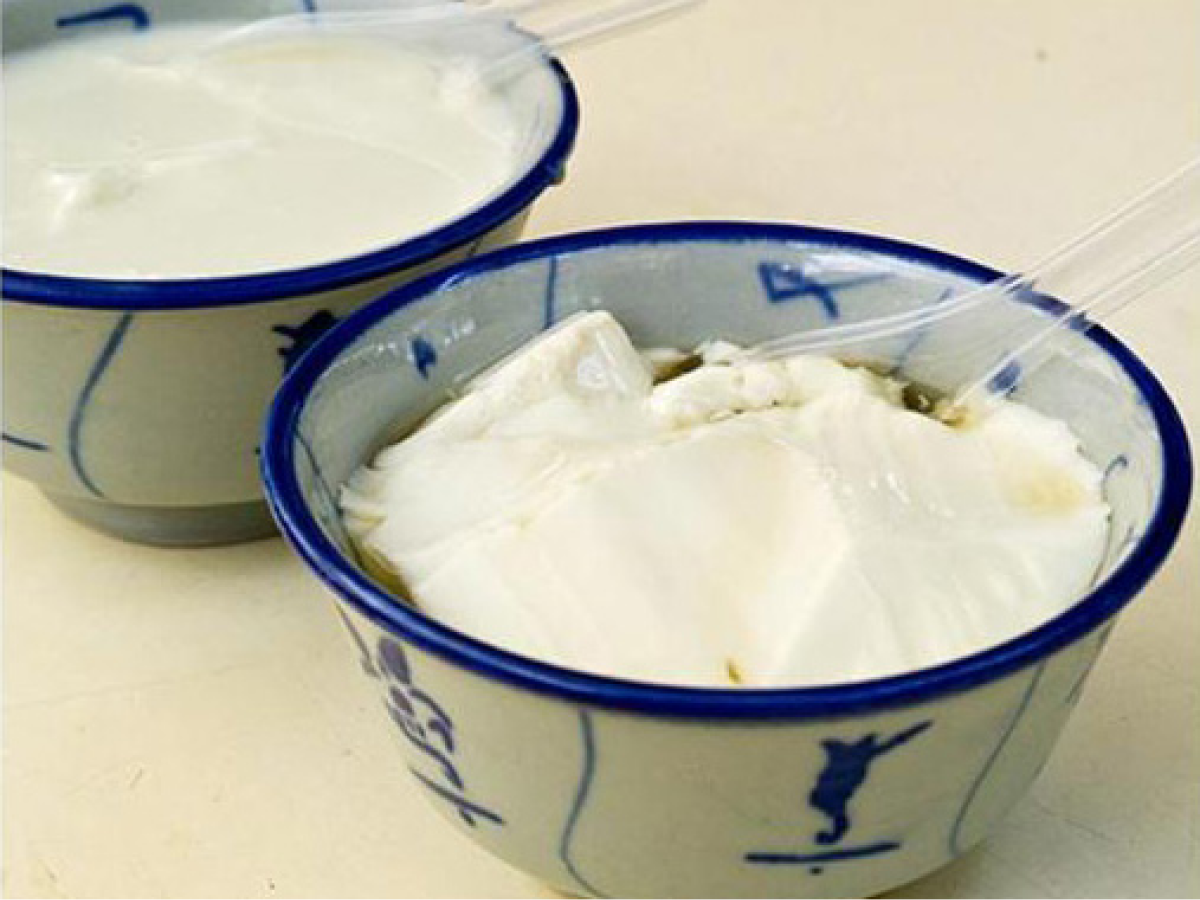 Foodies in Singapore sure love their dou hua (Mandarin for 'soy bean curd dessert') or tau huay (the same dessert, in Hokkien). Almost two years since the bean curd craze first began, the demand for this new version of the traditional dessert is still going strong. Almost one year down the road, we do another round up of the best bean curds in Singapore, this time venturing out of Old Airport Road Food Centre. Long queues continue to form at established vendors — and new players are still starting up shop to try and jump onto the bandwagon. Lucky for us, we still get to reap the benefits — here's a round-up of five of our best in the entire Lion City:
51 Soya Bean
Best for its variety of flavours
Started by Wang Wang Crispy Curry Puff, the taste of 51 Soya Bean's soy bean curd (from $1.50 a tub) is the closest to neighbour Lao Ban Soya Bean's (see below) version. It is sweet, smooth and pillowy, though slightly firmer and grainier. Still, queues followed and it's also built up its own following. While many of the soy bean curd stalls concentrate on plain soy bean curd and may offer a mere additional almond-flavoured version, 51 majors in experimenting with flavours. We tried its mango soy bean curd ($2.50 a tub), which went down a treat despite the slightly artificial tasting mango flavour. It reminded us of a gentler, silkier mango pudding which would fit right in to dim sum restaurants. There is also a strawberry version ($2.50 a tub) and not too long ago, durian, which may make a return appearance.
51 Soya Bean | Address: #01-72/#01-125 Old Airport Road Hawker Centre, 51 Old Airport Road | Tel: 90907009 | Opening hours: Daily 9am–10pm
Bean Singapore
Most innovative toppings
Launched late last year, this relative newbie situated a few stalls down from Lao Ban at Maxwell Food Centre is popular for its creative toppings. Definitely something new in the friendly bean curd war, many of its flavoured soy bean curd creations (made with organic soy beans) are paired with toppings such as dark chocolate cream or matcha powder. Its plain bean curd ($1.50 a tub) is smooth, silky and not too sweet — a good introduction to the rest of the flavours. One of the more popular choices is the mocha bean curd ($2.50 a tub) — the coffee aroma has a tinge of toffee and butterscotch which hits first. It then evolves into a subtle soy bean taste which isn't too cloying. Overall, this stall is a must-visit. You can also bypass the lines by ordering via SMS. Orders must be collected within 30 minutes.
Bean Singapore | Address: #01-86 Maxwell Food Centre, 1 Kadayayanallur Street | Tel: 84187418, SMS only | Opening hours: Daily 10am–late, or until stocks run out
Lao Ban Soya Beancurd
Best for original taste
This is the stall that started the sweet soy bean curd craze — hence the many references in this article. The office crowd love Li Hui Shing and his wife Hui Ywai Kwa's light scoops at Lao Ban (Mandarin for 'Old Companion') so much that many buy 40 to 50 tubs of its original and almond-flavoured bean curds ($1.50 each) at one go. How the extreme slurpers consume so many before the curds turn, we know not. But this curd ($1.50 each) is definitely positioned to be one cut away from the others — it is soft and silky with a melt-in-your-mouth texture. Although a very thin upper layer of skin marrs its appearance and adds a slight roughness to the mouthfeel at times, Lao Ban's version is still the one to beat.
Lao Ban Soya Beancurd | Address: #01-127 and #01-107 Old Airport Road Hawker Centre, 51 Old Airport Road; and two more locations | Tel: 81812201 | Opening hours: Tue–Sun 11.30am–6.30pm
Mr Bean
Most firm bean curd
Also known as 'soy pudding', Mr Bean's version is not only the firmest but also the cleanest-tasting of the lot. Tinged a pastel yellow colour, the wobbly pudding is firm and slightly chewy to the bite, with a very smooth texture. Its very subtle soya bean flavour works well for those who dislike an overpowering soy milk taste. Perhaps it's because the chain uses only non-genetically modified (non-GMO) soya beans. Unlike the other stalls featured here, Mr Bean's focus isn't only on this type of modern tau huay; in operation for over 15 years, the company has a comprehensive slew of soy bean products such as flavoured soy milk and soy ice-cream. Do check out their chendol soya milk — a healthier version of one of Singapore's most popular hawker desserts.
Mr Bean | Address:#B2-48 NEX, 23 Serangoon Central, and nine other locations | Opening hours: Daily 7.30am–10.30pm
CRITIC'S PICK QQ Soya Bean
Best for soya bean purists
Their bean curd ($1.80 a tub) is for those who prefer their desserts less sweet, and pure; it is the most authentic-tasting of the five yet not overpowering. Texture-wise, the dessert is very smooth and silky, and a little firmer than the one offered by Lao Ban and 51 Soya Bean — this version is the most similar in texture to silken tofu. Like Lao Ban Soya Bean, QQ also offers an almond version ($2 a tub). If you can't wait a week to get a taste of this, they also have branches in Sengkang and Tampines Interchange.
QQ Soya Bean | Address: #01-165 Old Airport Road Hawker Centre, 51 Old Airport Road, and two other locations | Tel: 83393459 | Opening hours: Daily 11am–9pm
---
This archived article appeared in an earlier version of HungryGoWhere and may not be up-to-date. To alert us to outdated information, please contact us here.