Spectre: New hidden bar focuses on creative local-inspired flavours & mental wellness; menu by Inch Chua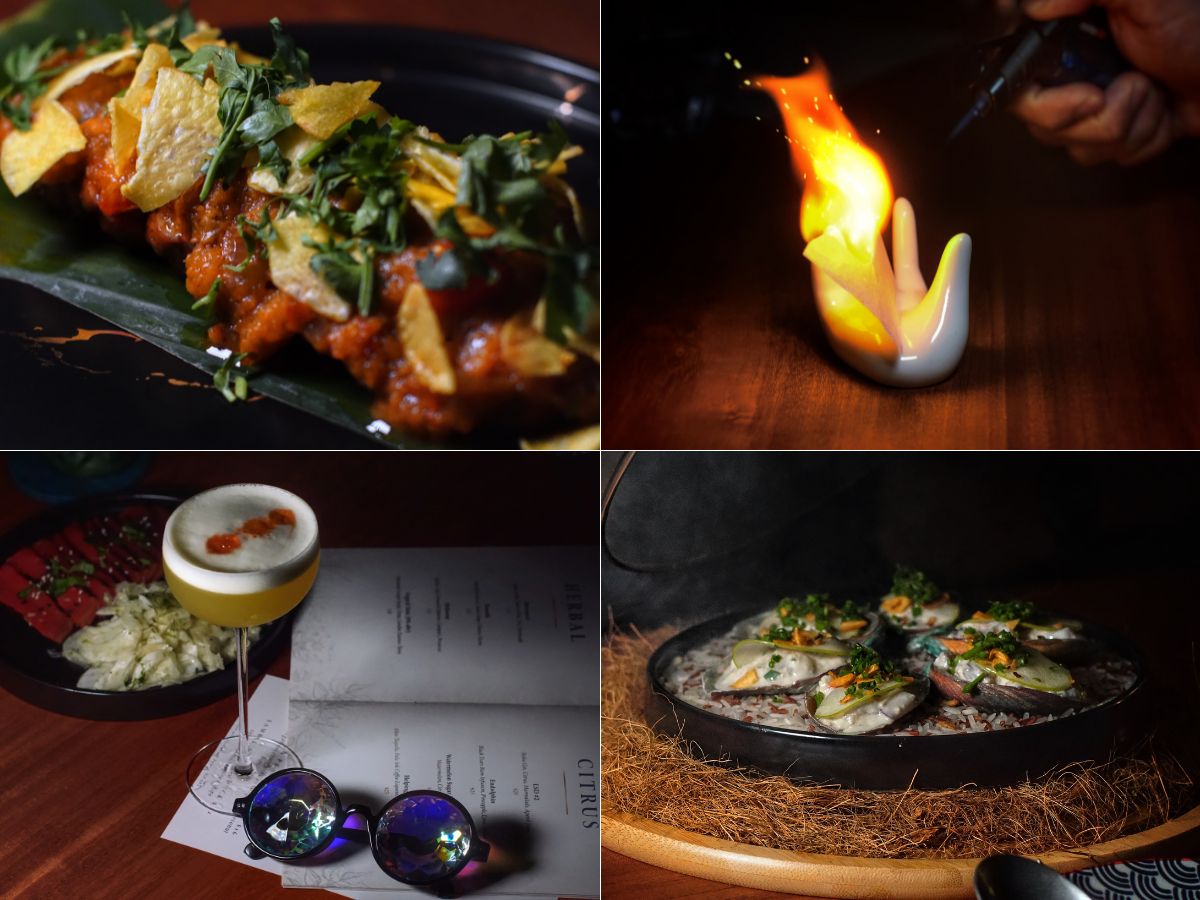 Remember how films used to regularly depict bars as the haven for downtrodden souls to drown their sorrows and confide in bartenders, or sometimes even strangers?
There's no doubt Singapore's glitzy bar scene has grown tremendously in status, laying claim to multiple spots on the Asia's 50 Best Bars list. That kind of intimate connection, however, has become more tenuous.
Well, that kind of connection is exactly what Singapore's newest hidden bar Spectre — slated to officially open on September 9 — aims to foster.
First introduced to the public as a pop-up at incubation space Ghostwriter, Spectre bar has found its permanent home on the second floor of a shophouse at Tanjong Pagar Road. 
Spectre was already in the works when they popped-up at incubation space Ghostwriter in May. Its current premises was undergoing renovations, so the team took the chance to open their doors to the public and experiment with their menu.
Besides an inconspicuous sign by the entrance, there is little indication of the bar. It is accessible only through a lift at the back of a narrow walkway, situated on the the left of the first-floor Korean restaurant.
Spectre's concept
Spectre is meant as a charming refuge from the hustle and bustle, one that also celebrates mental wellness. Facets of this can be peeped from various parts of its thoughtfully conceptualised fittings.
The establishment is helmed by two kindred spirits, co-owners Inch Chua and Andrew Pang, who subscribe to the importance of mental wellness in this hectic age.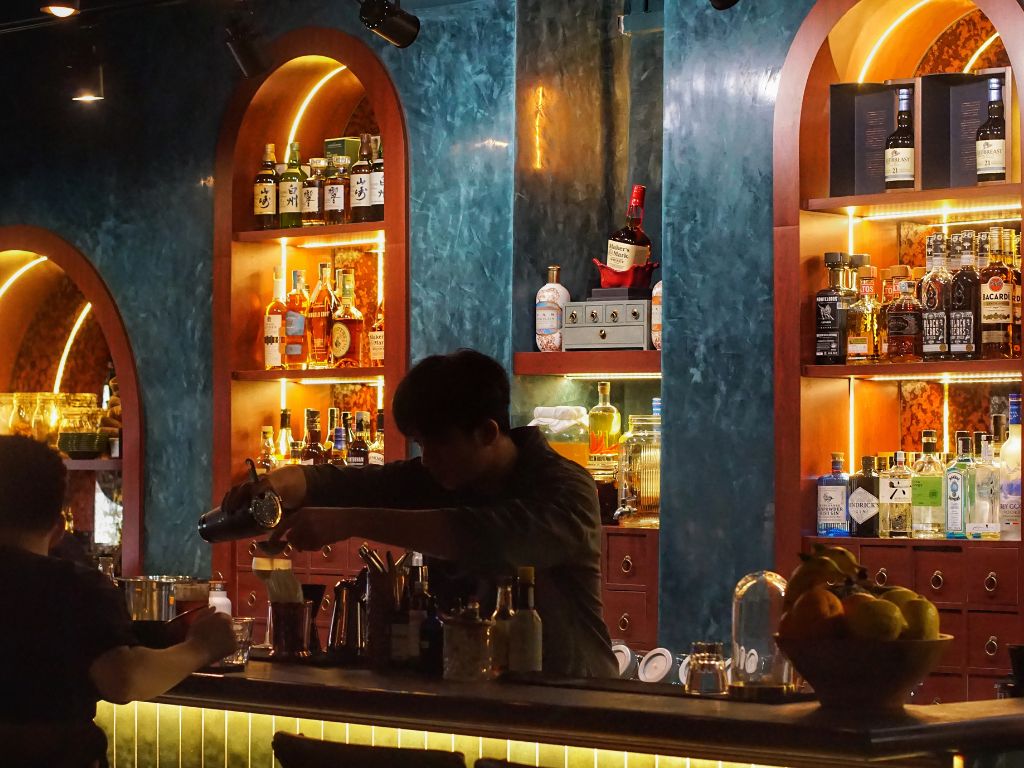 For example, the floor features imperfect tiles, joined together and fixed up by streaks of gold and mismatched patches of traditional Japanese patterns. 
This design quirk is a nod to the time-honoured Japanese tradition of kintsugi, a repairing technique that mends broken ceramics using gold-dusted lacquer.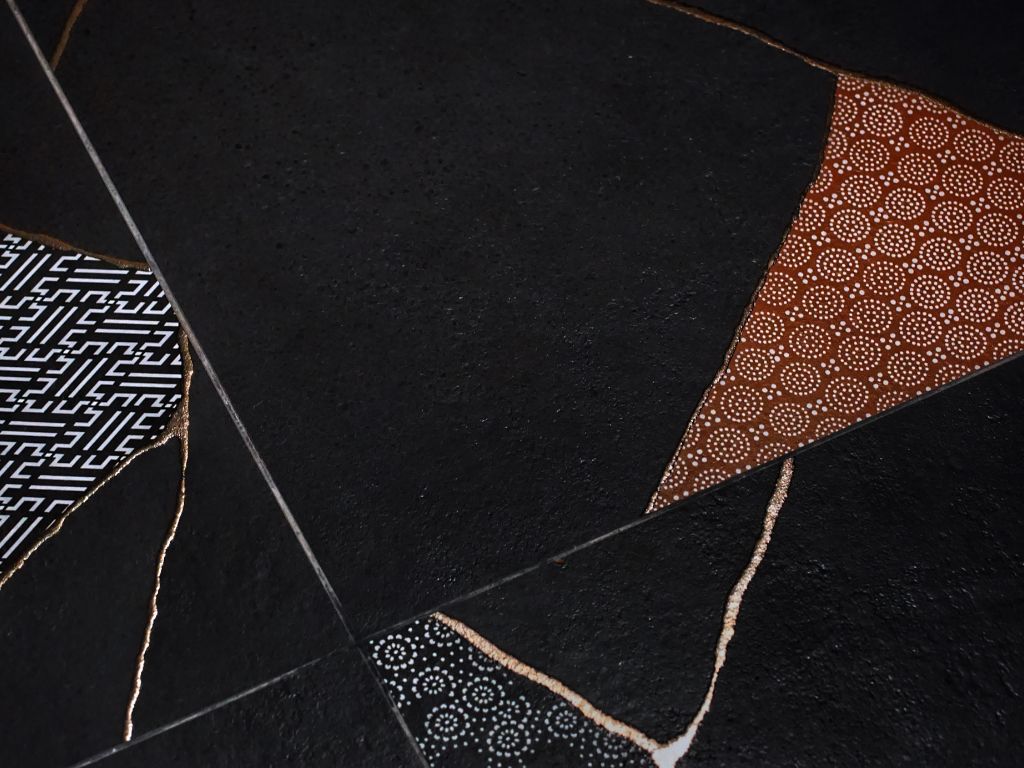 The results often turn out more beautiful than before, even with imperfections.
Kintsugi is often cited as an analogy in mental health circles — one need not be conventionally perfect, nor is beauty necessarily perfect.
To fully capitalise on the space, Spectre also has plans to host regular workshops to help with building up your mental wellness and build bonds.
These workshops will offer a plethora of relaxing activities such as art jamming, wine tasting and even whisky masterclasses that focus on mindfulness.
Food by local musician Inch Chua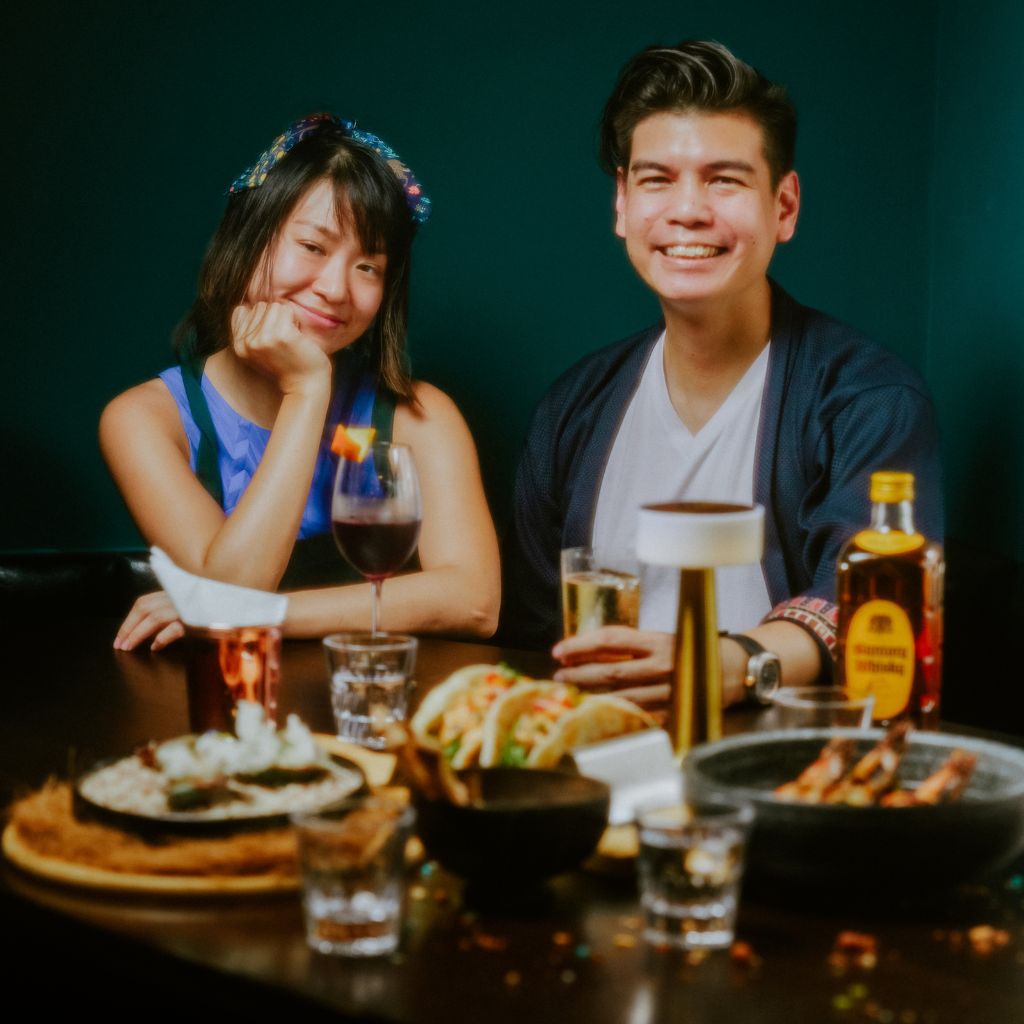 The mastermind behind Spectre's food menu is co-owner and homegrown multi-hyphenate, Inch Chua. 
Chua is best known for her exploits both as a talented singer-songwriter and, more recently, one of the contestants on MasterChef Singapore in 2021. This will be her debut project in the F&B scene.
Building on the theme of wellness, Chua and the Spectre team also draw inspiration from vintage apothecaries.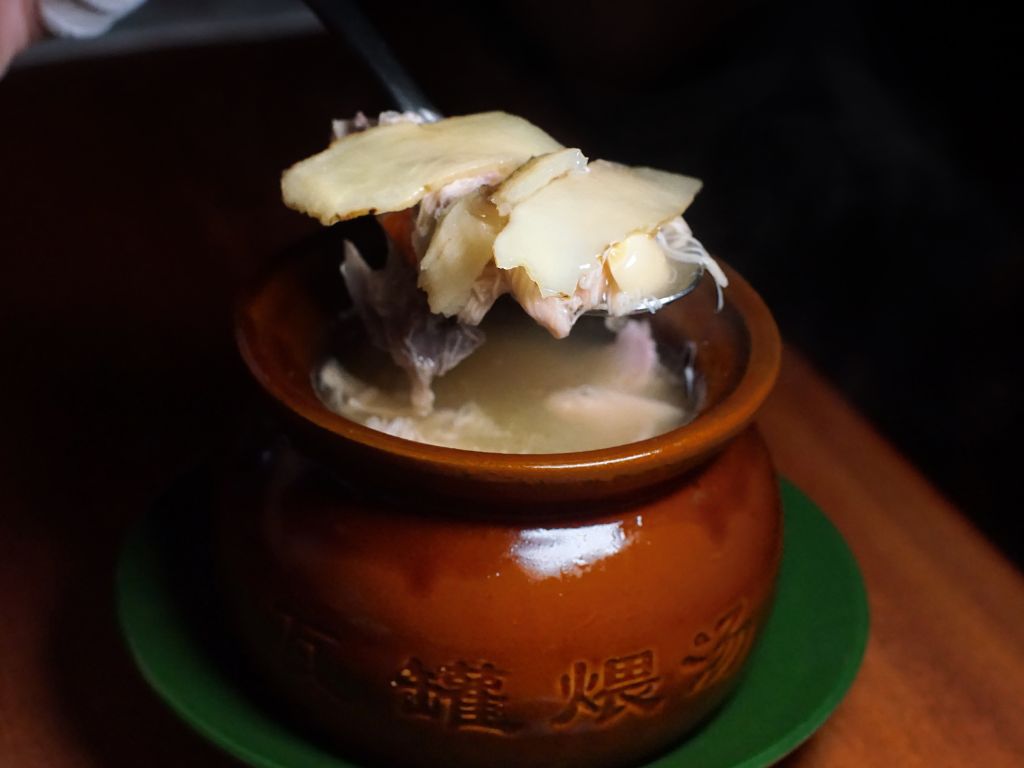 More specifically, there are elements of traditional Chinese medicine (TCM) weaved into the setting. Diners can expect a menu served in a medicinal cabinet and an array of nourishing, locally inspired dishes.
One such example is the herb-laden herbal chicken soup (S$20) — a no-frills take on a soul-soothing classic that feels all-too-nostalgic, almost like something your grandparents would make.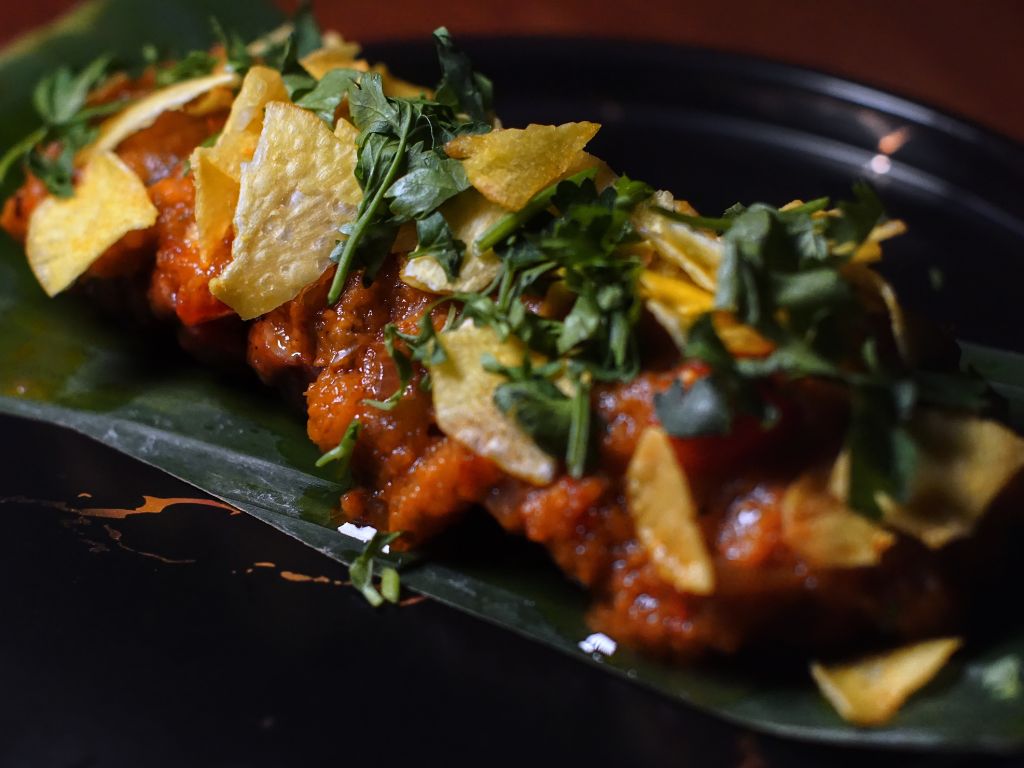 Apart from the homage to TCM, Chua also plays with familiar local flavours in myriad creative ways, with dishes such as the sambal smoked duck (S$22) that combines classic flavours with the smoked meat.
In this instance, diners will be left comforted by a tangy but feisty layer of tomato sambal, smothered all over the tender duck.
The sauce also comes together with tapioca chips that remind you of that old-school tapioca snack, or Doritos chips if you're more of a junk food lover like young me.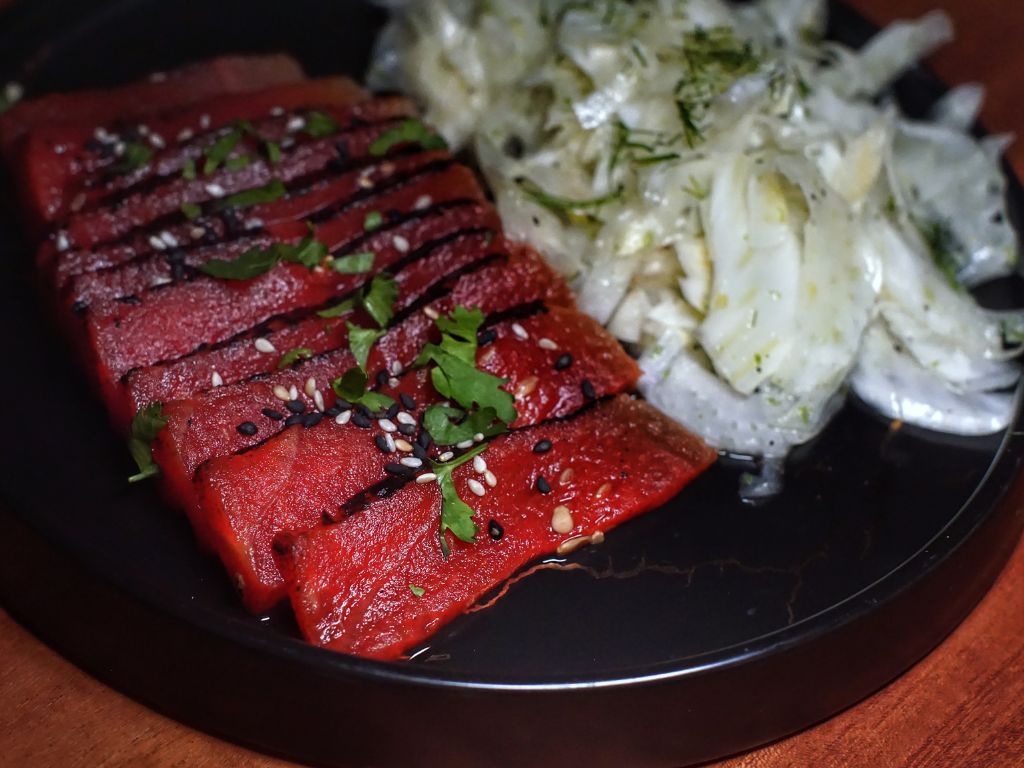 But the menu here is not just limited to a simple union of nostalgic flavours — Chua also showcases her culinary eclecticism, too. 
The watermelon sashimi (S$15), in particular, is quite an intriguing dish. It's a riff on the less-seen watermelon steak, but handled in such a way that the texture resembles tuna sashimi.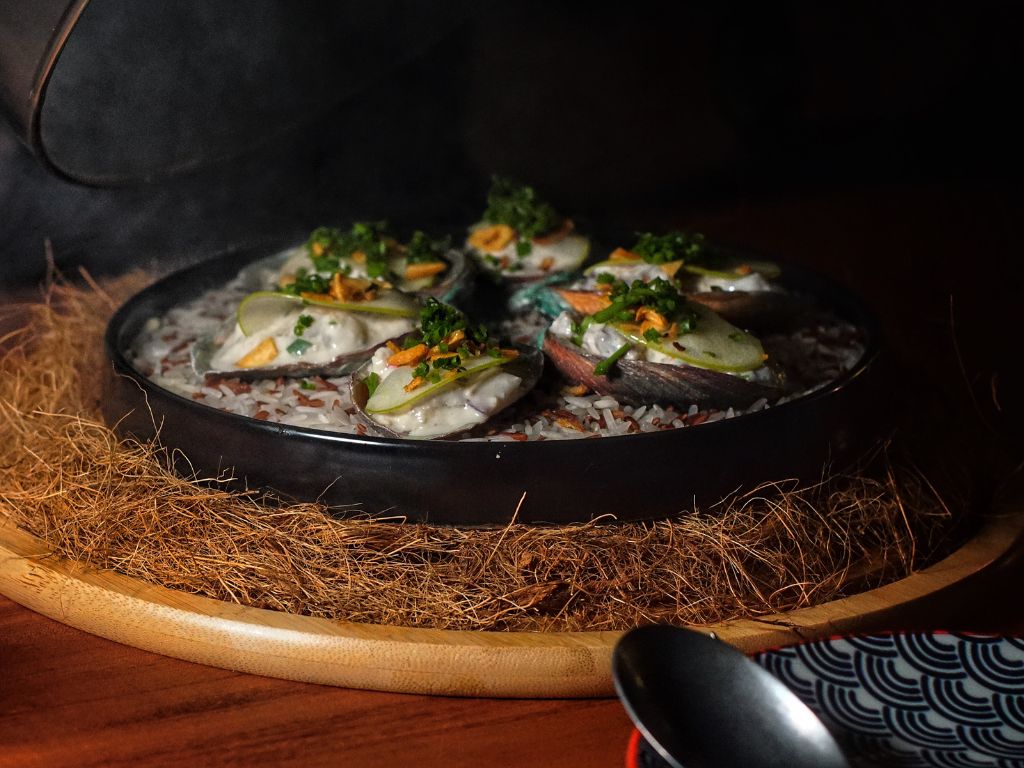 The other is the black tiger prawn kinilaw (S$16), which might be our favourite from Spectre's food menu. 
Based on a classic Filipino dish that's often likened to ceviche, it features succulent raw prawns drenched in a moreish concoction of coconut vinegar, coconut milk, chilli, and tuba (coconut liquor).
It's a dish that's slightly tangy, refreshing and charmingly complex, where the plethora of flavours coalesce in harmony.
Drinks by Suntory ambassador Andrew Pang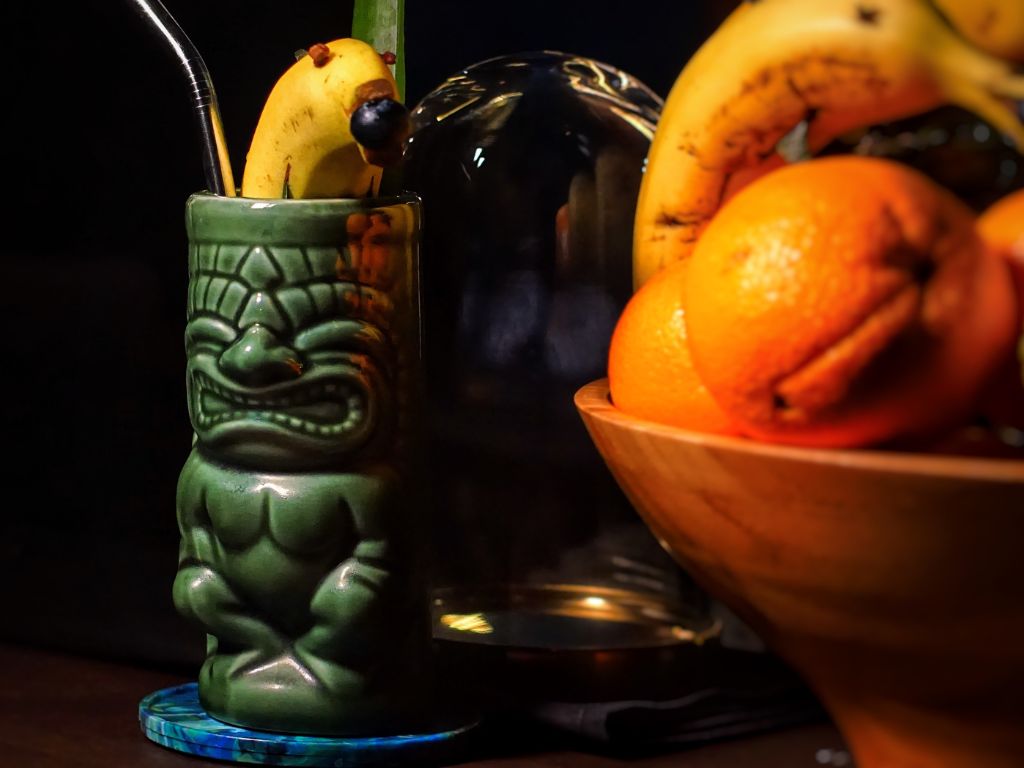 Spectre consists of two synergising operations — one is the food by Chua and the other is the specialty cocktail programme led by Pang.
Pang's name might not ring any bells to those unfamiliar with the scene, but the industry veteran is a respected figure, having been regional brand ambassador for legendary Japanese spirits-maker Suntory since 2020.
Read our feature on Andrew Pang's mixology journey here.
Here, Spectre's signature cocktail menu is presented alongside a TCM apothecary cabinet, filled with various spices and such for diners to take a whiff.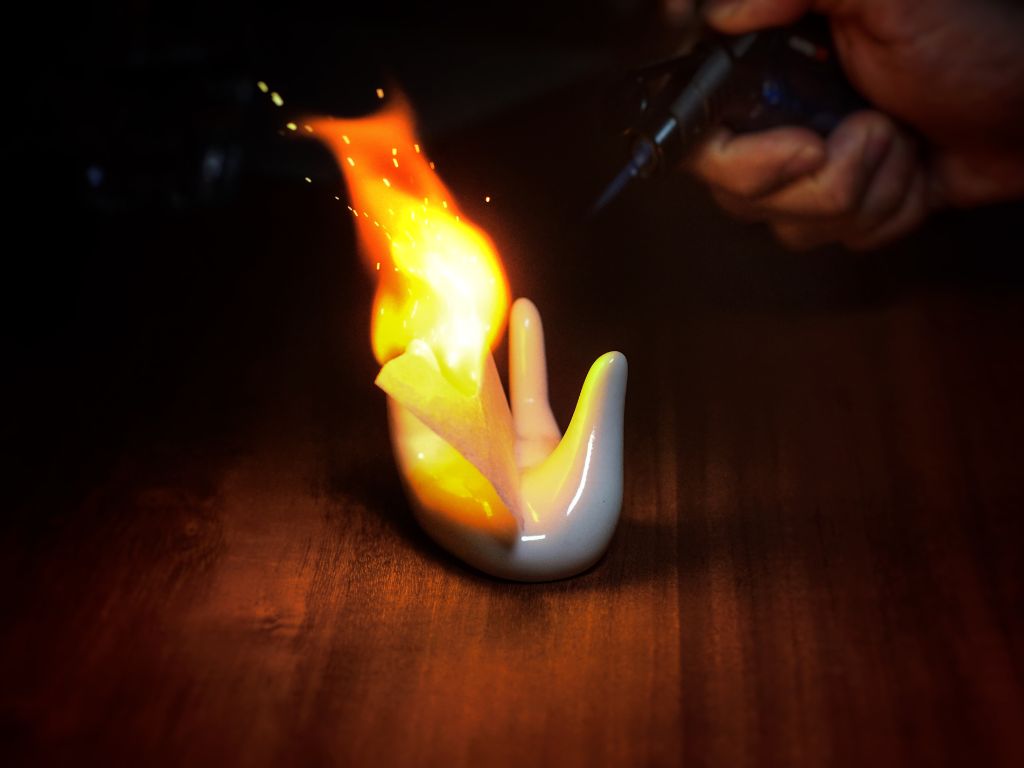 The intent is to make it more interactive. Diners can explore the various scents and herbs before making their decisions, especially since the concoctions are crafted around these specific flavours.
Be prepared to be pleasantly surprised, too. Some of Spectre's drinks come with whimsical garnishes and supporting theatrics.
If you're vexed by something, then the punchy Hathaway (rye whisky, dry vermouth, campari, prosecco, S$25) is a must-order. For this drink, a pen and paper will be provided, with the latter subsequently burned in front of your eyes.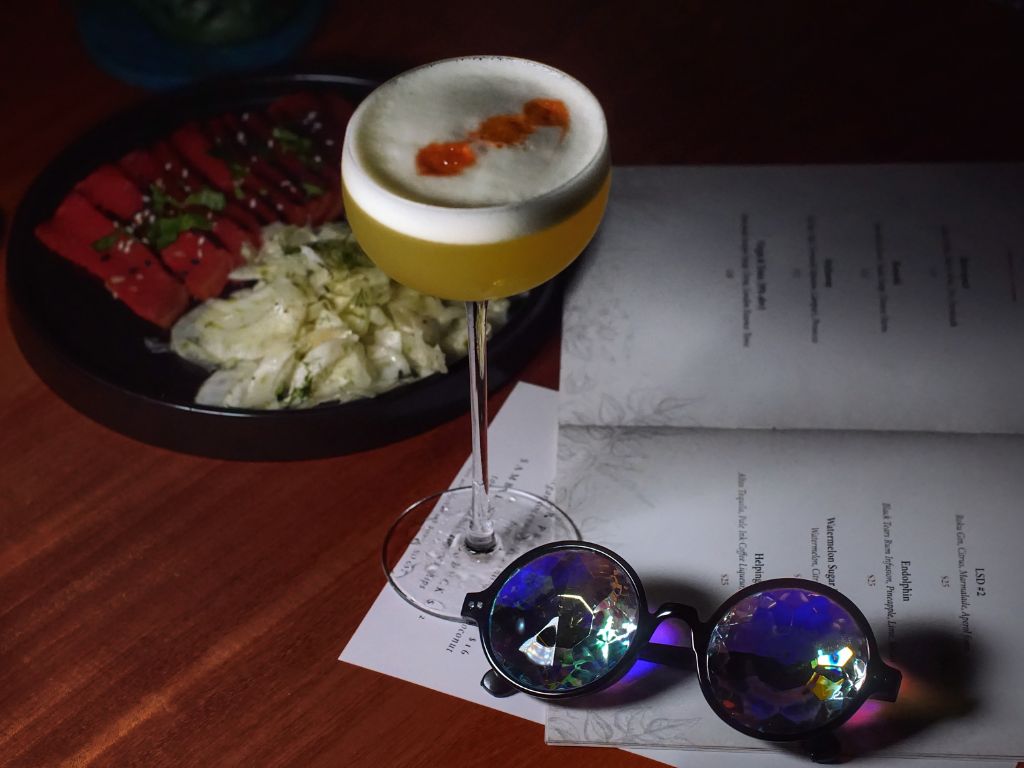 So if you have something — or someone — that's the root of your vexation, watch it sizzle into ashes. Take it as a symbolic destruction of your problems, or just a fun stress relief.
Then there's also the LSD #2 (gin, citrus, marmalade, aperol foam, S$25), a fruity but deceptively potent tipple that takes inspiration from The Beatles' seminal 1967 number, Lucy in the Sky with Diamonds.
A pair of kaleidoscopic glasses are served together with the LSD #2, which makes for some memorable selfies to add to your social media feed.
120 Tanjong Pagar Road, 02-01
Nearest MRT station: Tanjong Pagar and Maxwell
Open: Monday to Saturday (5pm to 11.30pm)
120 Tanjong Pagar Road, 02-01
Nearest MRT station: Tanjong Pagar and Maxwell
Open: Monday to Saturday (5pm to 11.30pm)