8 places in Singapore to get decadently crispy Filipino lechon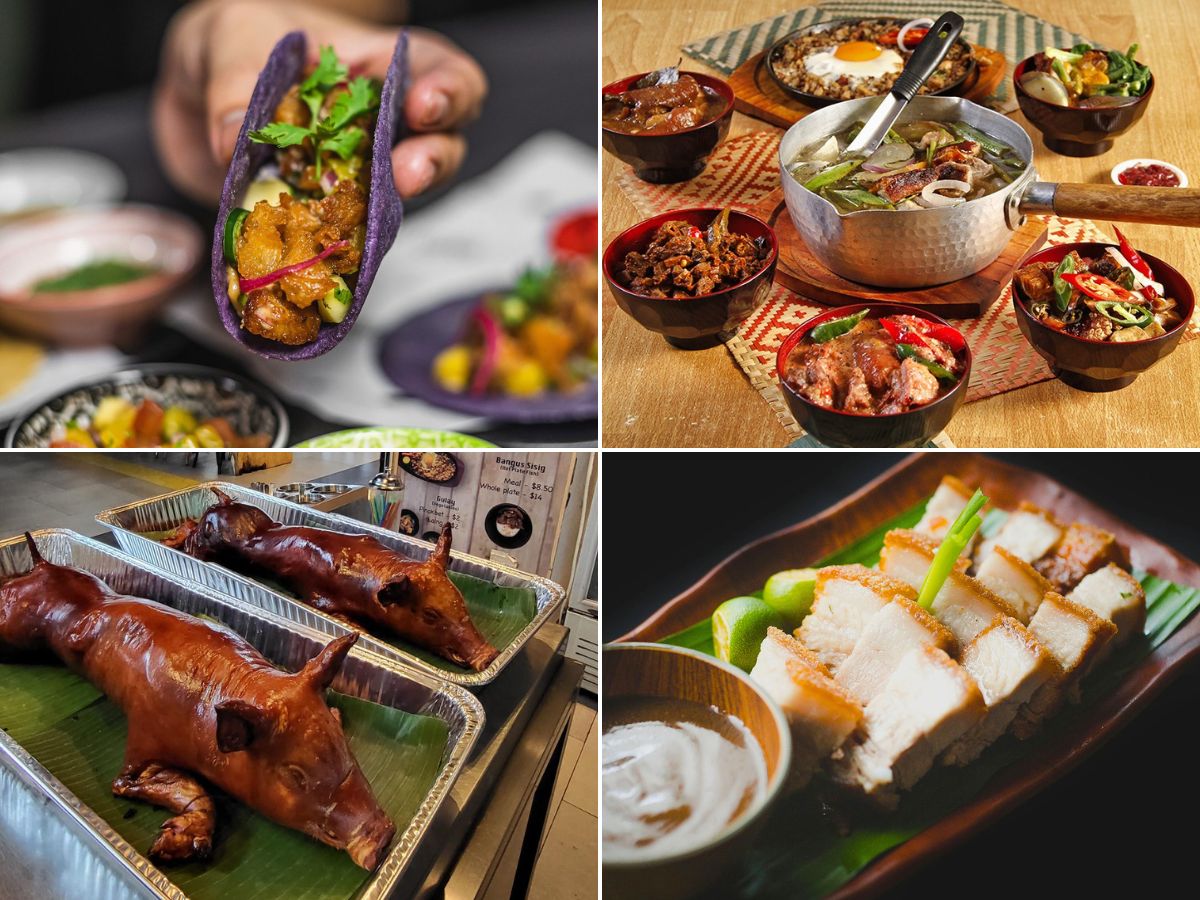 For many Singaporeans, Filipino isn't the most familiar of cuisines. It's sad, but our awareness of food from the Philippines for the most part extends to famous brands such as fast food chain Jollibee.
Still, if there's one particular food item that's been gaining popularity among foodies here, it is this — the lechon. It's a roasted suckling pig dish that boasts shiny crackling skin and juicy flesh.
Considered a national dish in the Philippines, the delicacy's origins can be traced back to its period of colonisation under Spain, a country also known for its suckling pig.
In fact, when the late Anthony Bourdain tried lechon in an episode of his documentary, No Reservations, he went on to exclaim that lechon was the "best pig, ever!". 
We quite agree; after all, there's no indulgence quite like the thundering crackle you get from this particular style of grilled or pit-roasted meat. While lechon generally refers to the suckling pig, there's also lechon kawali, which is a deep-fried pork fat belly dish that's more reminiscent of siew yoke.
Lechon is traditionally served on special occasions and for festivities, but fortunately for us, it's not hard to find good lechon in many of the authentic Filipino eateries around Singapore. Read on to find out where you can indulge in the popular dish!
1. Lechon Republic
Novena Regency, 01-09, 75 Thomson Road
Open: Tuesday to Sunday (11am to 8.30pm)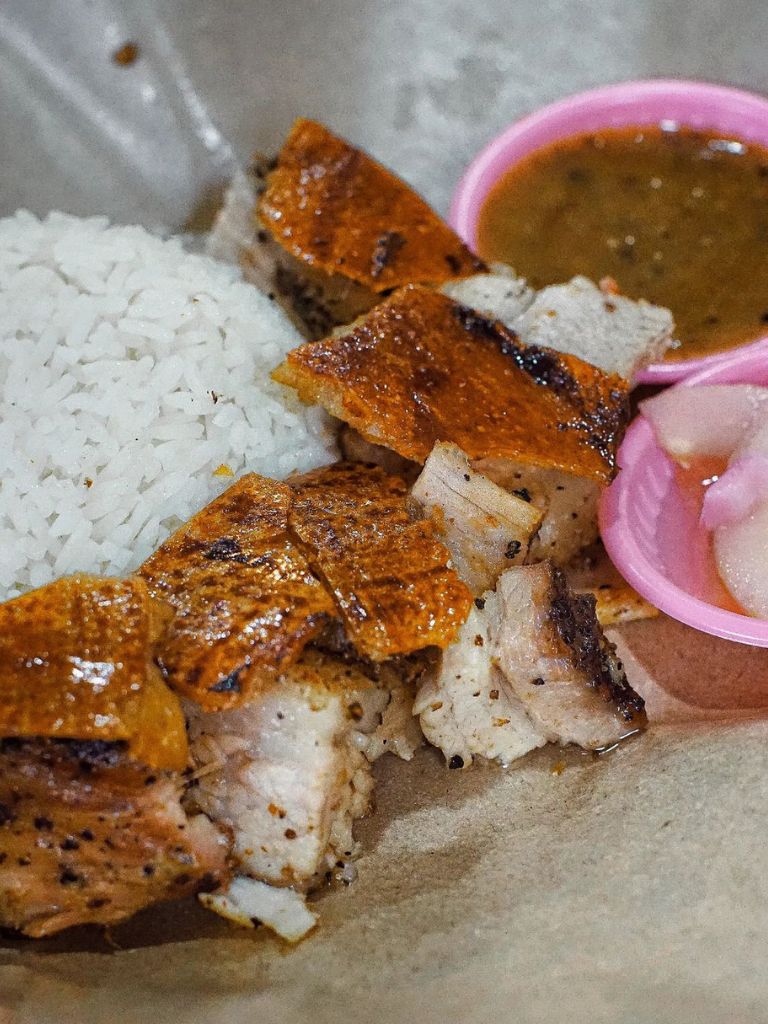 Why visit? When it comes to a discussion on where we can find the best lechon in Singapore, Lechon Republic at Novena Regency is always one of the first names mentioned.
No arguments from us here — this is one of our favourite spots if you're craving some authentic and delicious lechon. Best of all, this lechon specialist is located just a few minutes from Novena MRT station.
Price range: $$
Crowd favourites: As its name suggests, the star here is undoubtedly its crispy lechon. You have a few choices here — get it in a simple chopped lechon meal (S$12.80) to enjoy the delicacy at its fundamental best or get it in a sizzling hotplate, mixed up with other aromatics, when you order the lechon sisig meal (S$12.80).
2. Kuya's Kusinang Pinoy
North Bridge Centre, 01-06, 420 North Bridge Road
Open: Sunday to Friday (12pm to 8pm)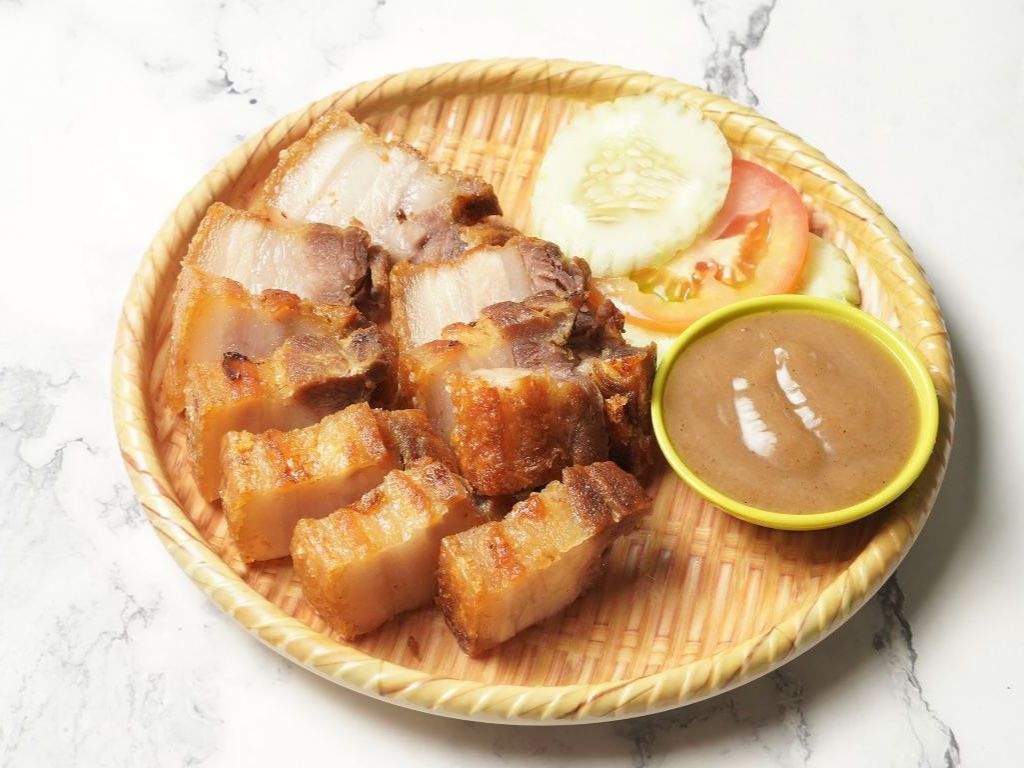 Why visit? Kuya's Kusinang Pinoy isn't a lechon specialist per se, it is better known as a great spot for an authentic Filipino food fix. However, its lechon kawali, Filipino-style deep fried pork belly, has garnered a strong fan base, thanks to the crispy skin paired with a savoury sauce.
The inconspicuous ground floor unit along North Bridge Road is easy to miss, but go in and you'd be greeted by a warmly lit display that's chock-full of delectable Filipino favourites.
Price range: $
Crowd favourites: The lechon kawali (S$9) is an affordable choice, especially if you prefer your meals with some crunch, but other traditional favourites such as the sizzling sisig (seasoned pork jowl meat scrambled and served on a hotplate, S$15) won't disappoint either.
If you prefer something more akin to Singaporean cai png, there's also the option of mixing and matching your dishes with the daily meal set A (rice with one dish, S$7) or set B (rice with two dishes, S$10).
3. Don Lechon
Grandlink Square, 01-52, 511 Guillemard Road
Open: Monday to Sunday (12pm to 9.30pm)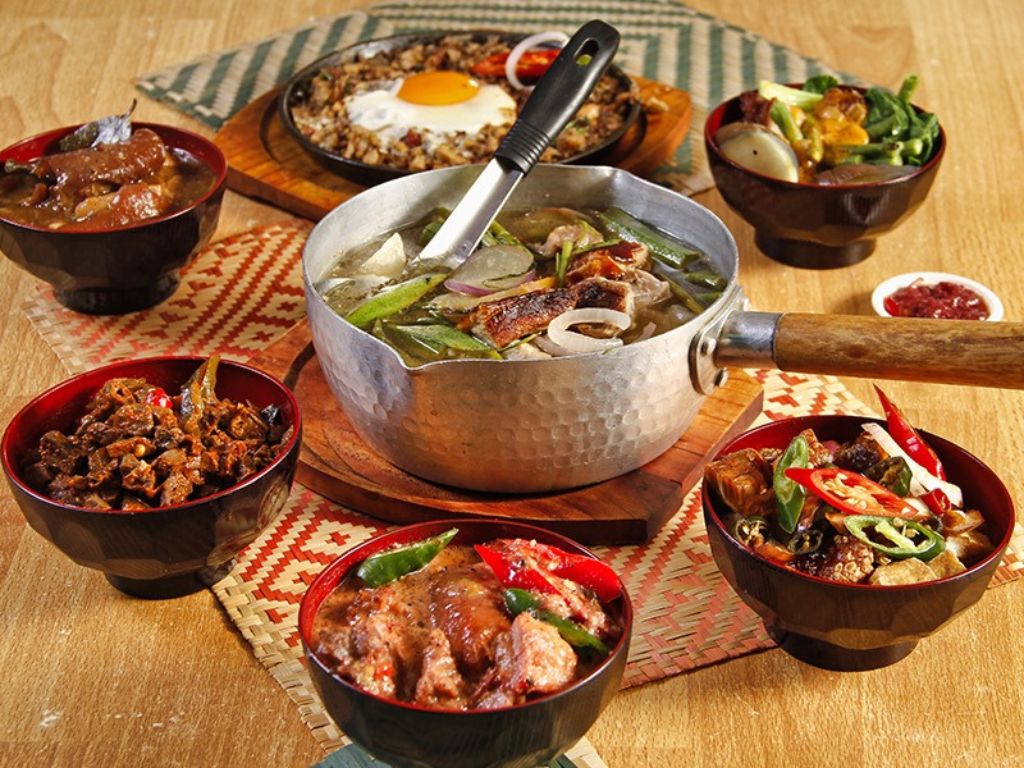 Why visit? Don Lechon is a bit of a hidden gem. Most locals wouldn't know it existed and its clientele comprises foodies who specifically made their way there for a taste of its signature lechon.
It is quite telling that this rustic unit is a not-so-well-kept secret, as it is able to amass a steady stream of customers based on word-of-mouth, despite being tucked away in a corner of Grandlink Square. On good weather days, its breezy alfresco dining area is also great for chilling with your friends.
Price range: $$
Crowd favourites: There's a lechon dish for everyone here with its myriad of rice sets that range from the regular chopped lechon (from S$12) to the more unique tofu-mixed tokwa lechon (from S$9) and tamarind soup-based lechon sunigang (from S$15).
4. Gerry's Grill
Starhub Centre, 01-02, 51 Cuppage Road
Open: Tuesday to Saturday (12pm to 10.30pm), Sunday (11am to 10.30pm)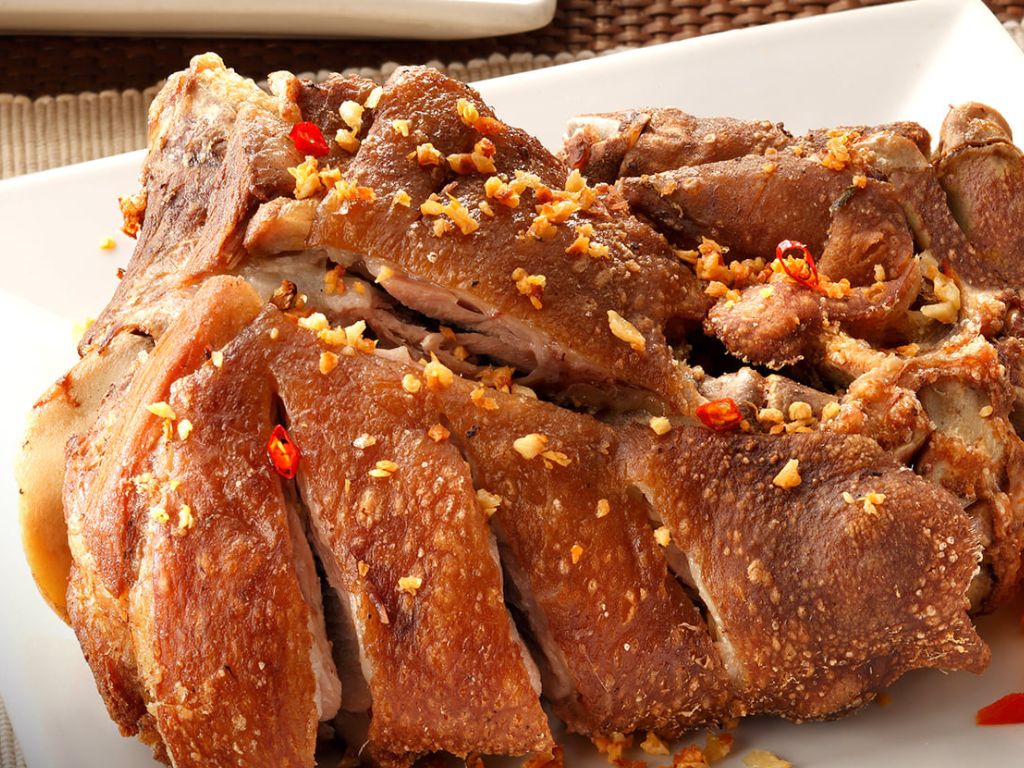 Why visit? Gerry's Grill is not just another homely eatery — it's actually a popular franchise that hails from the Philippines. It has even opened outlets in the United States.
Frequented by many Filipinos who are based in Singapore, Gerry's Grill is a safe bet if you're seeking a hearty, no-frills feast of Filipino flavours.
Price range: $$
Crowd favourites: As the name suggests, Gerry's takes pride in its chargrilled items, with inihaw na pusit (grilled squid, S$19) and inihaw na liempo (grilled pork belly, S$15) being some of its smoky signatures.
However, if you're seeking gratuitous crunch, the crispy pata (crispy fried pork knuckles, S$29) is a great alternative to the lechon kawali (S$15) on days you want to switch things up.
5. Kabayan Restaurant
Lucky Plaza, 03-25, 304 Orchard Road
Open: Monday to Sunday (9am to 9pm)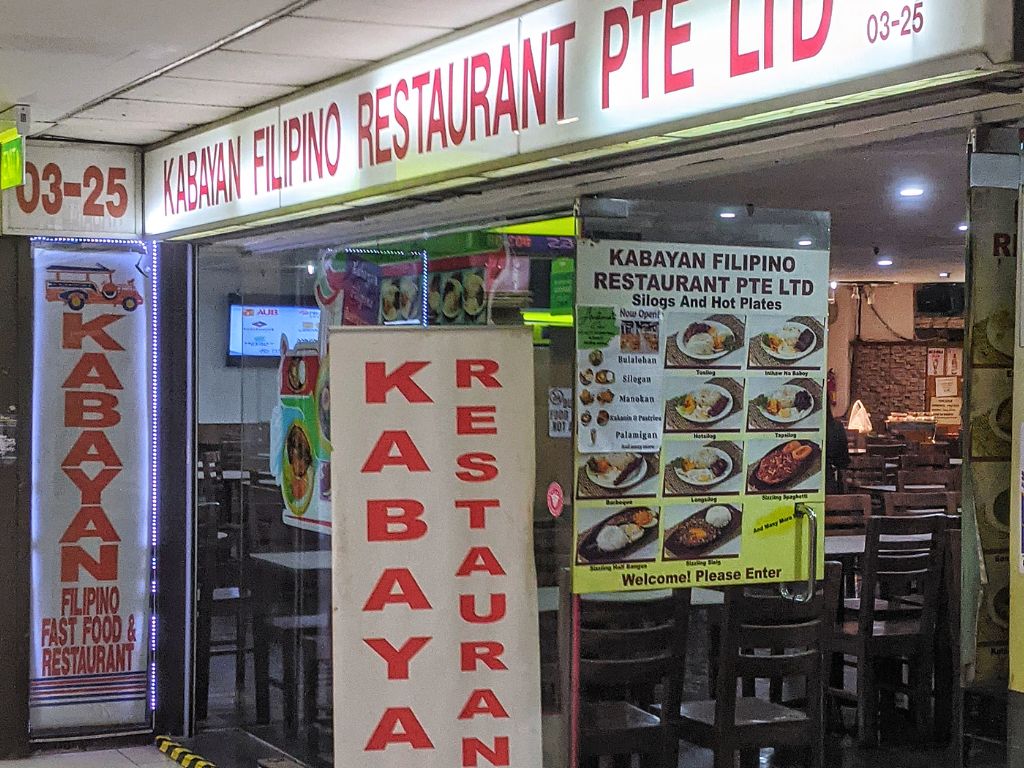 Why visit? If Golden Mile Complex was the "Little Thailand" of Singapore, there's no doubt that Lucky Plaza is its Filipino counterpart. Hence it's a good sign for your tummies when you find a popular, homey hole-in-the-wall eatery like Kabayan Restaurant in Lucky Plaza.
The fact that it can stand out among the fierce competition in the compound is a great sign. This establishment isn't a lechon specialist per se, but the lechon kawali, like many of its diverse array of dishes, will probably give other places a run for their money.
Price range: $$
Crowd favourites: This Lucky Plaza stalwart is the place to go if you're looking for wallet-friendly but hearty classics such as the quintessential tosilog (a common brunch combo comprising fried egg, garlic rice and sweet fried pork, S$7.50).
Of course, there's the inescapable lechon kawali (S$9.50) that's also served with egg and fragrant garlic rice here.
6. Iskina Cebu
Timbre+ One-North, 01-27, 73A Ayer Rajah Crescent
Open: Monday to Saturday (11.30am to 9.30pm)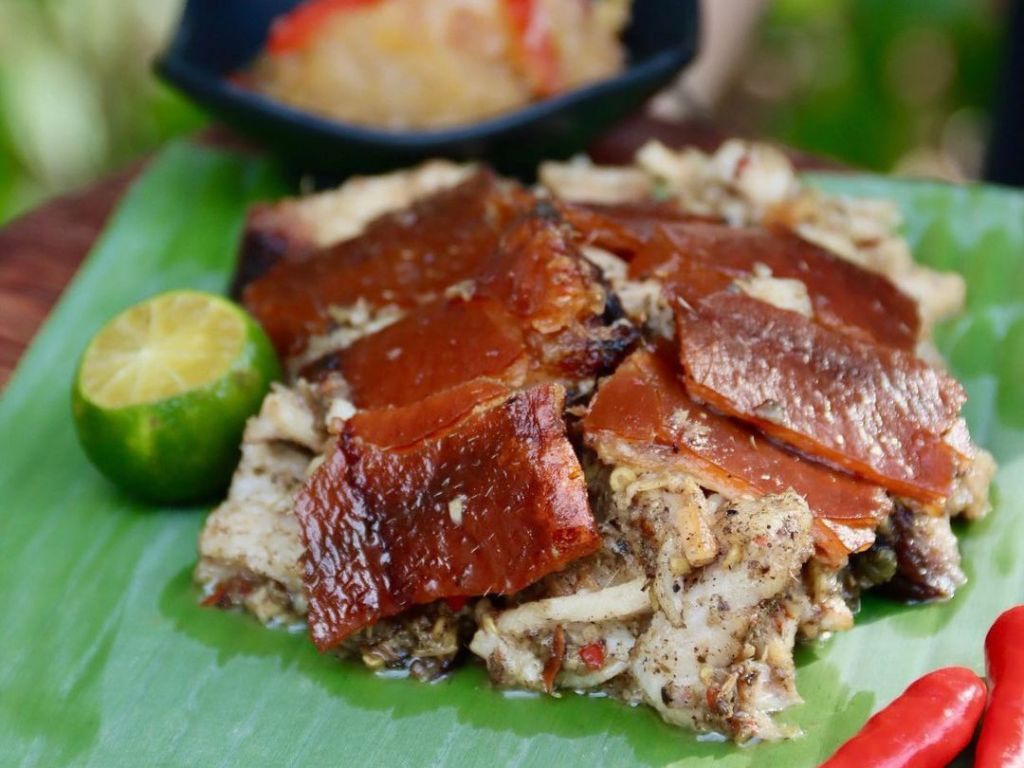 Why visit? This is probably one of the coolest settings to have lechon in Singapore — and probably the most true to its original spirit. Unlike the restaurants on this list, Iskina Cebu is located inside a hawker centre.
Sure, Timbre+ is a more elevated hawker experience, but there's just a uniquely Singaporean charm of pairing your lechon with the array of culturally distinct hawker favourites available there.
Price range: $$
Crowd favourites: Of course, most people go to Iskina Cebu for its scrumptious rendition of lechon, done Cebu-style — stuffed with a medley of aromatics to give it extra punch. But if you want some variety, you can order the sisig meal (from S$9) or the grilled pork belly meal (S$9.50) to pair with the lechon meal (from S$12).
7. Alegria
18 Teck Lim Road
Open: Tuesday to Sunday (12pm to 12am)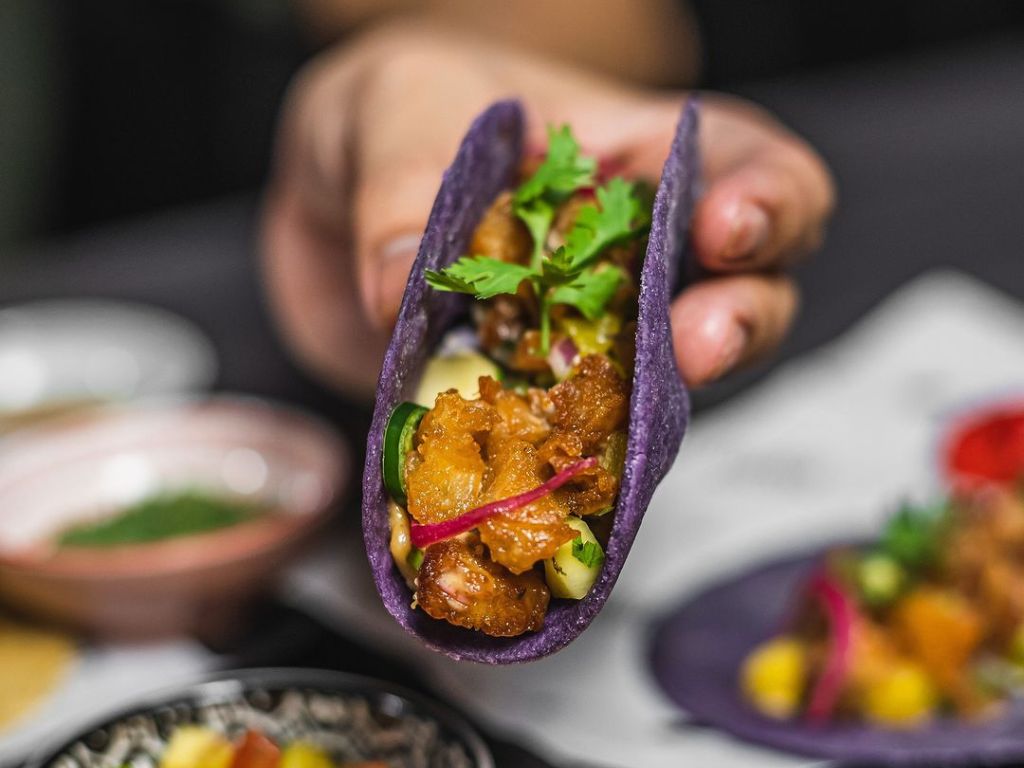 Why visit? Granted, Alegria is a bit of an oddball within this list, but it has quite an intriguing concept. Originating from Manila, this Keong Saik joint is the Mexican-fusion brand's first overseas foray.
Not only can you satisfy your taco urges, but you can do it in style in the form of a sisig taco that comes with an ube (a type of purple yam usually used in Filipino desserts) tortilla stuffed with a glorious glut of crackling pork chunks.
Price range: $$
Crowd favourites: Of course, the crowd favourites have to be its wacky taco creations including the sisig (S$18) and koreana (S$20) that contains ssamjang aioli and kimchi. You can even take advantage of its taco tuesdays promotion to get 50% off all its signature tacos.
If you have space left for desserts, you can also cap off your meal with a bowl of sinful champorado (sweet chocolate rice porridge, S$15).
8. El Mesa 
Clarke Quay, 01-07 Blk 3E, 3 River Valley Road
Open: Monday to Thursday (5pm to 2am), Friday and Saturday (5pm to 3am), Sunday (12pm to 2am)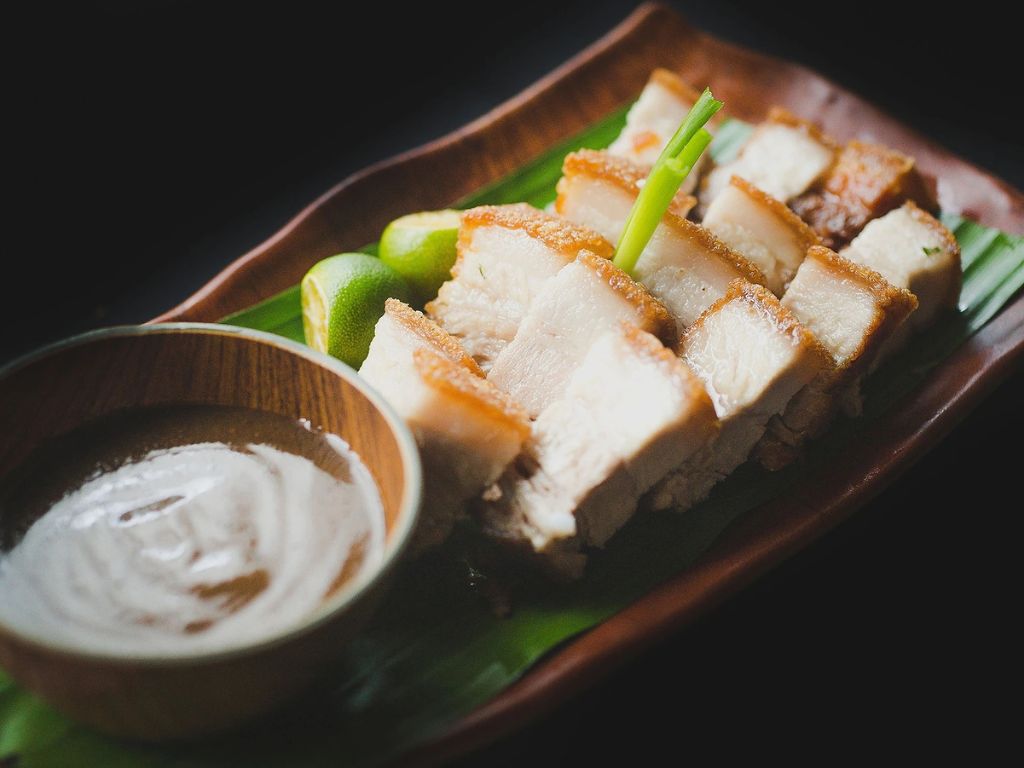 Why visit? Self-described as a "modern Filipino restaurant", El Mesa is quite different from the other Filipino restaurants we typically find in Singapore. Instead of the usual fuss-free, hole-in-the-wall types, it's found in Singapore's party central, Clarke Quay.
It might not be the most authentic of settings, but the eatery takes pride in presenting dishes with traditional flavours that will remind its Singapore-based compatriots of home.
Price range: $$$
Crowd favourites: As expected, its location means the prices are noticeably higher. However, you'd still find many pocket-friendly options, such as the lechon kawali (S$17) and adobong kangkong (S$16) that's a mix of marinated pork, tofu, and stir-fried kangkong. Great dishes to go with a glass of ice-cold beer.
---