Coconut shakes are S'poreans' firm favourites: 7 highlights from Grab's 2022 food trends report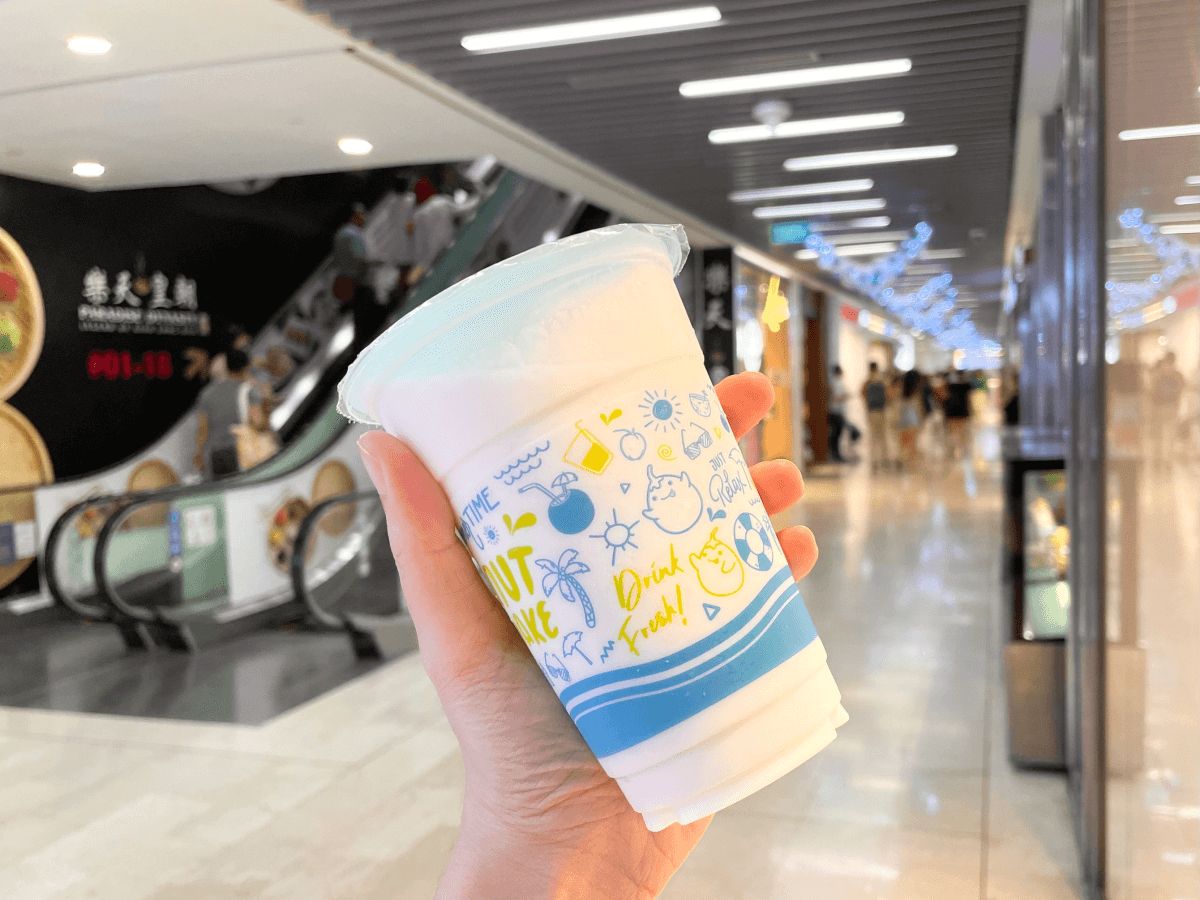 Scoot over bubble tea — coconut shakes are Singapore's most well-loved drink these days.
The creamy, refreshing beverage has been gaining traction as Singapore's go-to thirst quencher. In 2022, coconut shakes outpaced milk tea to a greater extent than in the year before, shooting up to second place on GrabFood's most-ordered list. 
That's according to superapp Grab and its latest SG Food & Grocery Trends report.
The 2022 report, released on Wednesday (Nov 9), is based on data from orders placed through its GrabFood and GrabMart delivery services, trend analysis, expert interviews and industry sources, and primary research in six countries.
If you're a food and grocery delivery addict, the findings are pretty interesting. But in case you're not up to reading all 45 pages, we've done it so you don't have to. Here's a TL;DR: 
1. Shake, shake, shake it off, bubble tea
When it comes to Singapore's most popular GrabFood orders, coconut shakes took one of the top spots. It rose two places — from No 4 in 2021 to its current rank at No 2.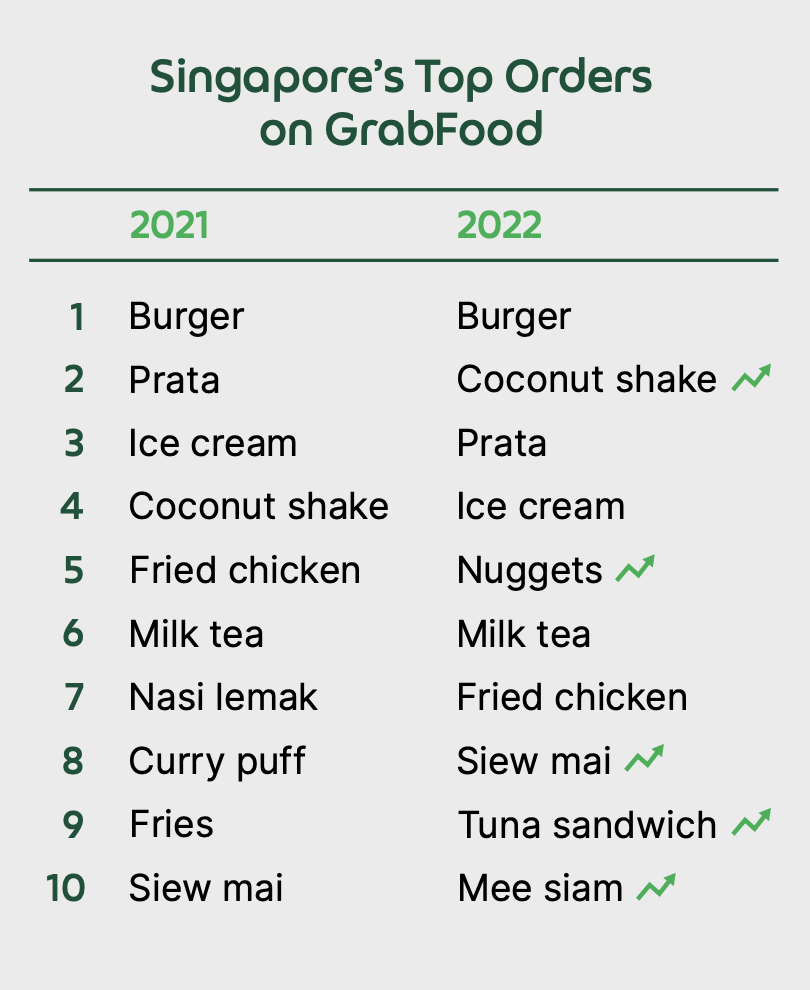 2. 14 burgers sold in Singapore every minute in 2021
Burger fans: You probably contributed to this statistic.

This means more than seven million burgers were sold in Singapore on Grab's food delivery service in 2021.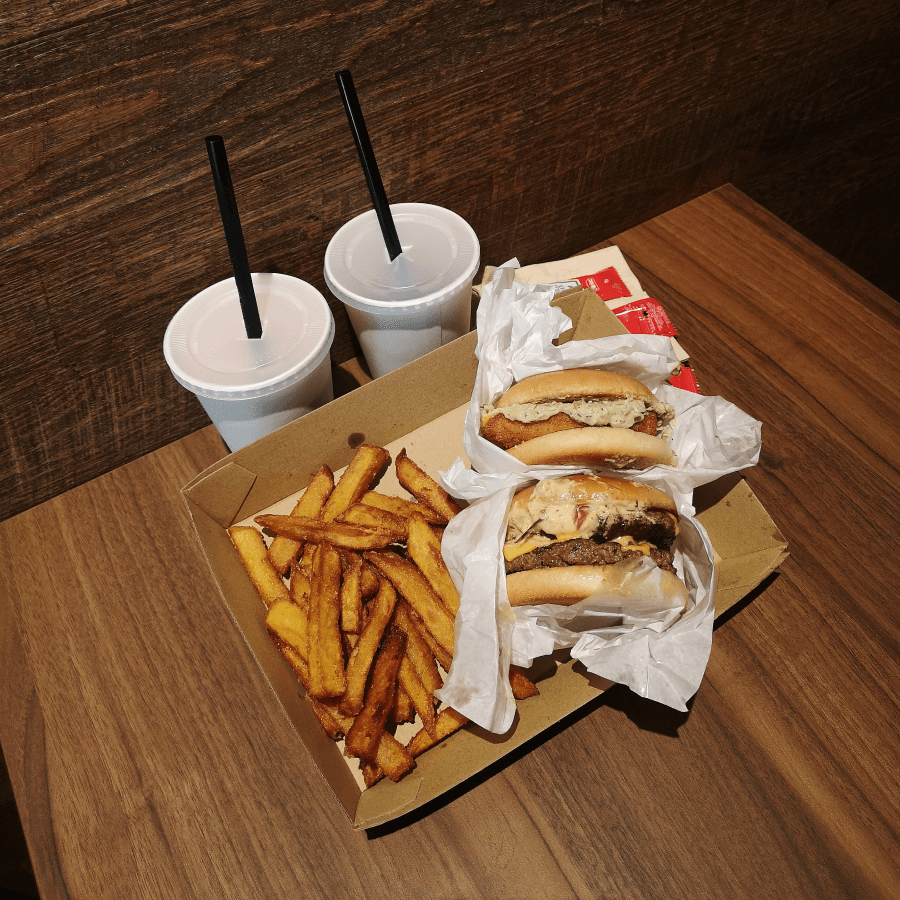 In Singapore, burgers were the most popular orders on GrabFood in 2021 and 2022. 
Burgers trumped prata, which took the No 2 spot in 2021 but slipped to No 3 in 2022.
3. S'poreans ordered burgers, fried chicken, prata round the clock. What else did people order? 
The early bird catches the toast-and-eggs worm, it seems. Breakfast staples of coffee, toast, sandwiches, soft-boiled eggs, and mee siam make up the most-ordered items from 5am to 11am.

Meanwhile, Singaporeans tend to indulge after the sun sets. Ice cream, nuggets and instant noodles are the foods of choice for supper, from 10pm to 5am.
Here are the top eats throughout the day:

4. 2022 essentials: Covid-19 test kits and home remedies
If you came down with coronavirus in 2022 and were told to drink more liang teh (cooling tea) and coconut water, this one's for you.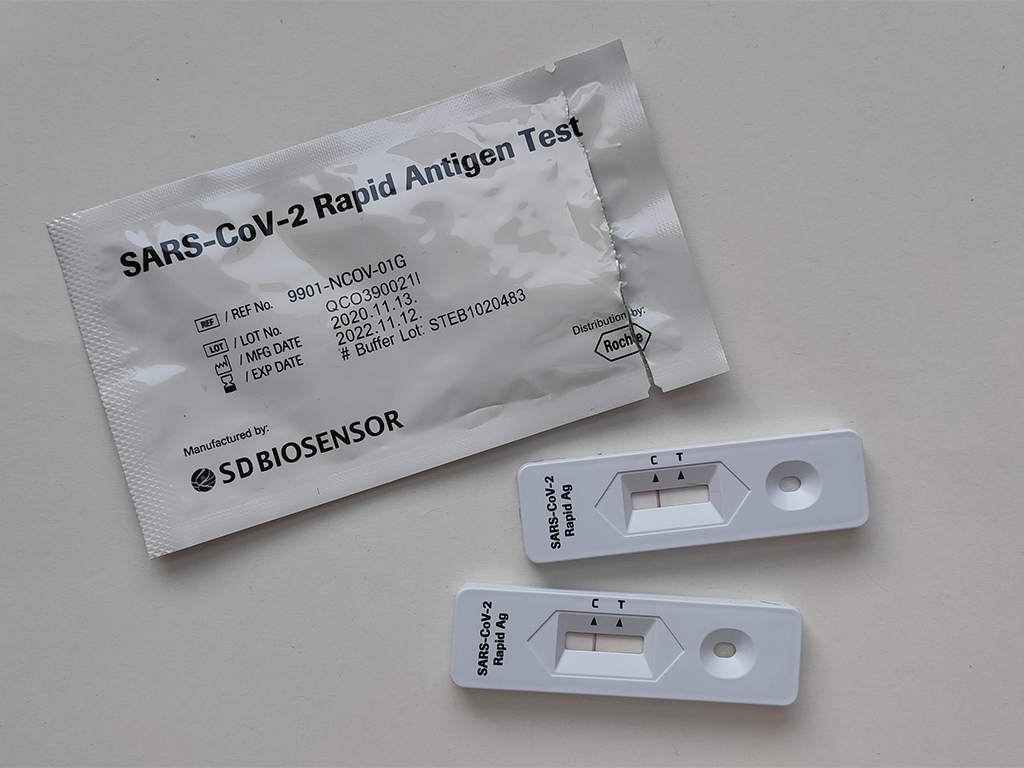 Covid-19 test kits and home remedies were among the 10 most popular orders on GrabMart in 2022. 
Think cooling water, ART (antigen rapid test) kits, and chrysanthemum or herbal teas. These items pushed out hot favourites from 2021, including daily groceries such as bottled water, ice, and fruit.
In Singapore, one Covid test kit was sold via GrabMart every two minutes in 2022.
5. On average, GrabFood users trawled through app for 17 minutes before ordering
I'm guilty of this myself — heading to my favourite food delivery app and looking around aimlessly until I find something that hits the spot.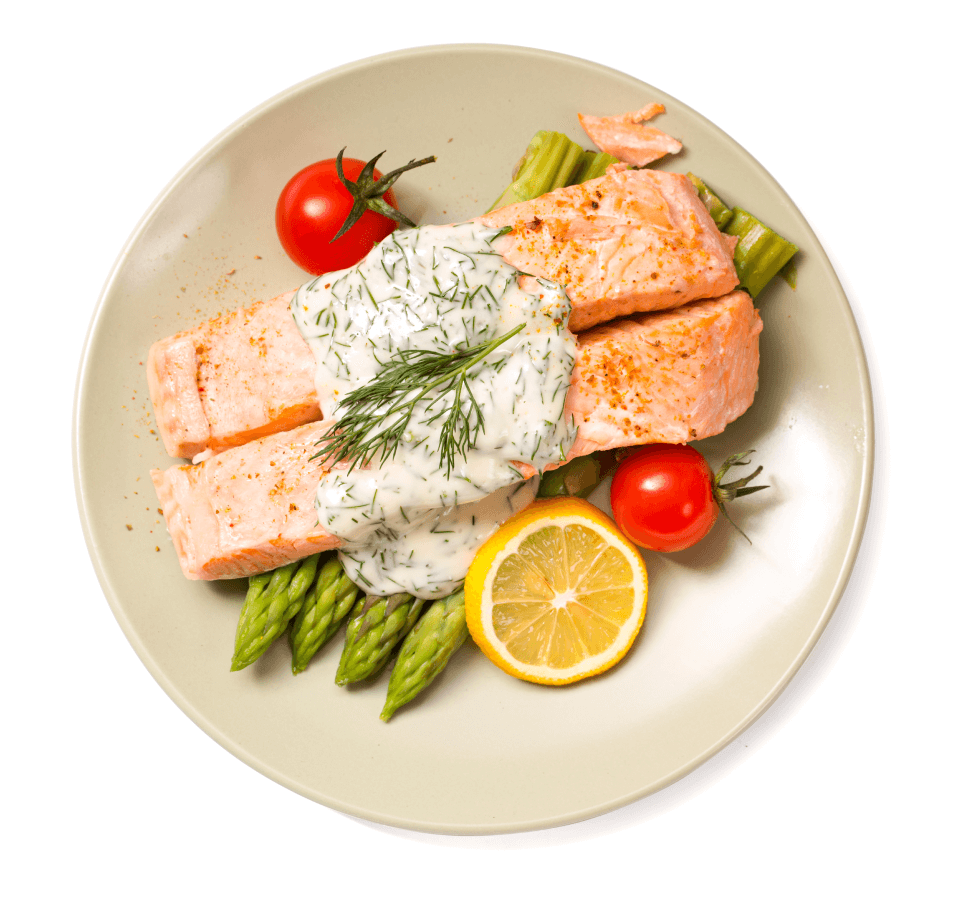 It's usually because I'm searching for the cheapest eats, so it's all about the offers or bundle meals to get the most value from my order. 
I do sometimes find a new food store that I probably wouldn't have tried otherwise. And I'm not alone in this — according to the report, 90 per cent of users did the same, too.
6. Someone ordered S$992.48 worth of food in a single GrabFood order
Wow, that's a sizeable order. We wonder what eatery that was from and how many people they were feeding.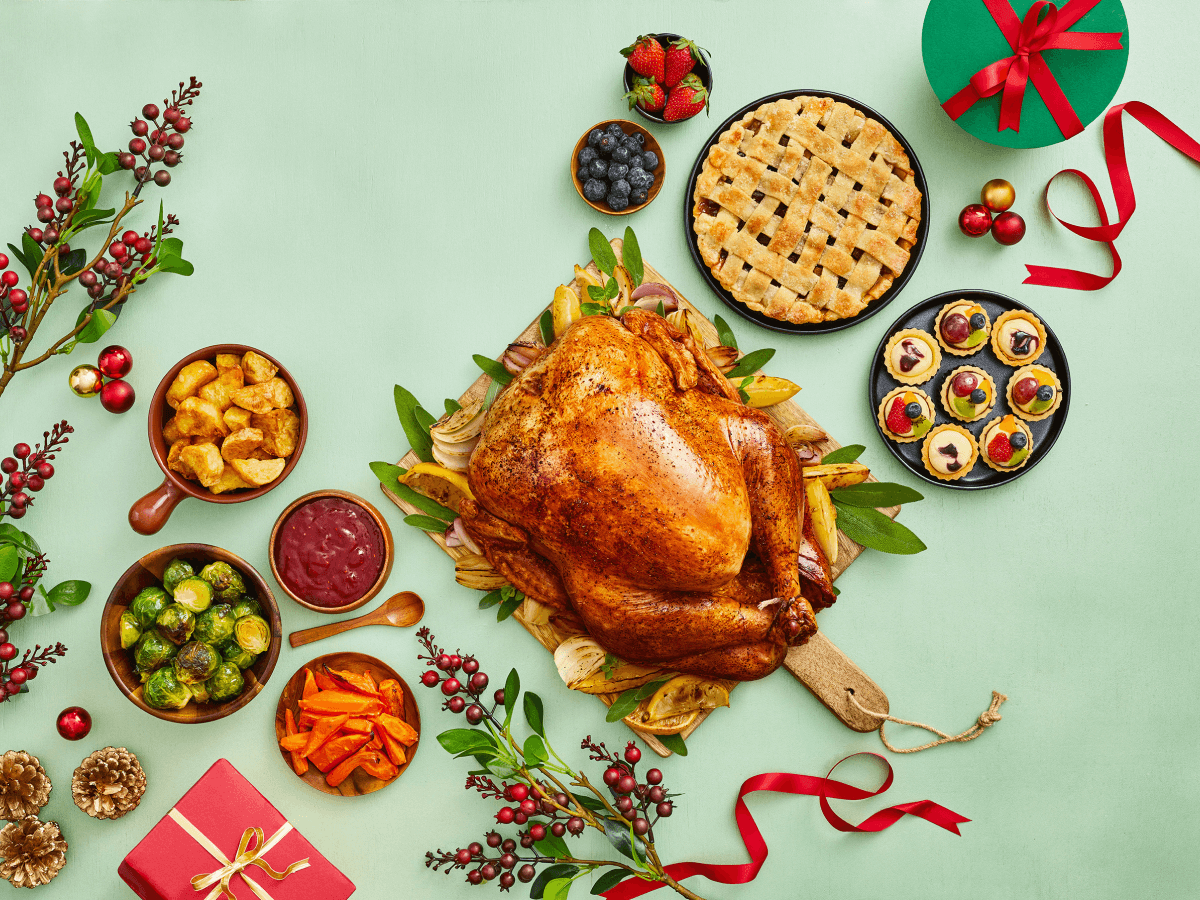 We'll probably continue to see larger orders — the average GrabFood basket size grew 15 per cent between 2019 and 2022, based on the report.
7. The next big thing: Vegetarian and healthy food
GrabFood users are also more interested in healthy and meatless options these days, with vegetarian food becoming the most-searched cuisine on GrabFood in 2022. 
Korean food was dethroned from its No 1 spot in 2021, dropping to No 3 in 2022. Thai food took second place. 
In that vein, more people are on the lookout for healthy and plant-based alternatives.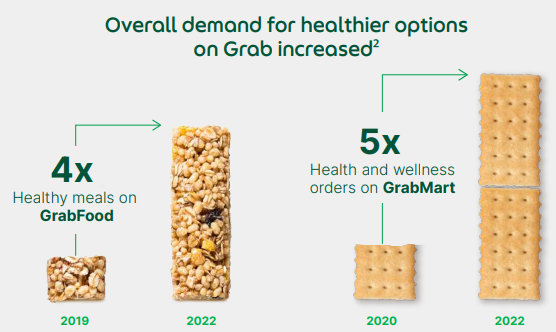 GrabFood orders for healthy meals have shot up in the last three years. Between 2019 and 2022, it's grown four-fold. This is especially so during lunch, with lunchtime orders for healthy food outpacing those at any other time of the day.
Three out of five Grab users surveyed in Singapore said that they have tried plant-based alternatives in the last six months.
Make an order on the GrabFood delivery service.
---