Old-school bubble tea brands: Where are they now?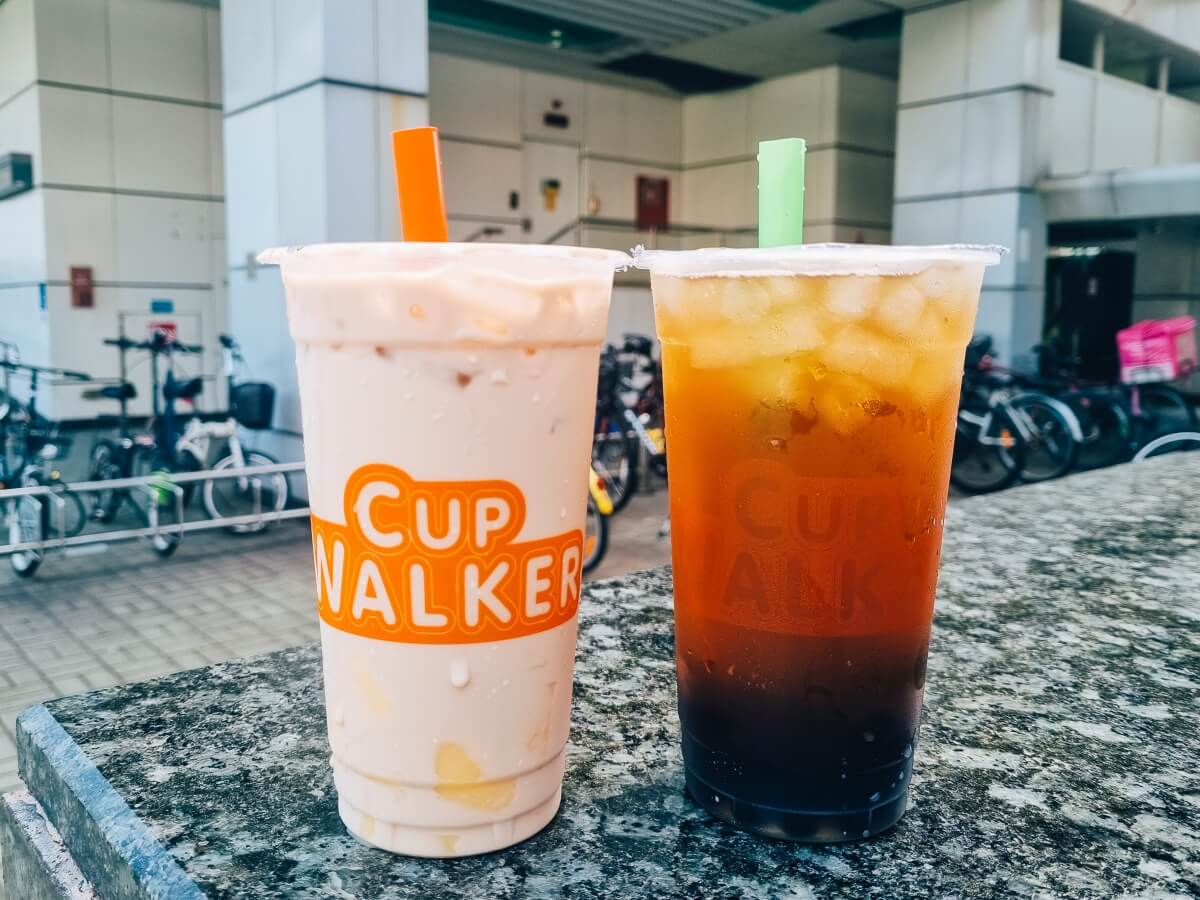 Old-school bubble tea brands such as Cup Walker, Sweet Talk and Happy Cup can still be found in Singapore

Not much has changed in terms of taste at Cup Walker and Sweet Talk, where prices are still kept low

Happy Cup, however, has rebranded itself, adopting a healthier approach to the beloved Taiwanese classic
My love affair with bubble tea bloomed in the early 2000s with the likes of green apple ice blended and blue coral milk tea from a neighbourhood bubble tea shop.
I later moved on to the more premium pearl milk tea from Cup Walker in Sengkang — a weekly indulgence whenever I visited a friend who lived nearby. My relationship with Cup Walker was short-lived, though, as I stopped frequenting the town.
But bubble tea lingered in my life through entrants such as Koi, Gong Cha and Playmade. Enticed by exciting new spins on the beloved Taiwanese classic, higher-quality offerings and fresh handmade pearls (gasp), I moved on quickly.
Up until a month and a half ago.
On National Bubble Tea Day, which fell on April 30, my fellow bubble-tea-loving editor and I were brainstorming topics to cover when we wondered aloud: Wait, what has become of the bubble tea brands of our childhood?
Cup Walker, Happy Cup, Sweet Talk, Quickly, Cool Station and Milk Girl — these were brands we grew up with.
But where are they now and, more important, do their drinks taste like they did before?
If you're already feeling a tinge of nostalgia, don't worry — we did some sleuthing (and taste-testing, of course).
Here's a closer look at three old-school bubble tea chains that have stood the test of time.
Cup Walker
5 Sengkang Square, 01-02
Open: Daily (10am to 11pm)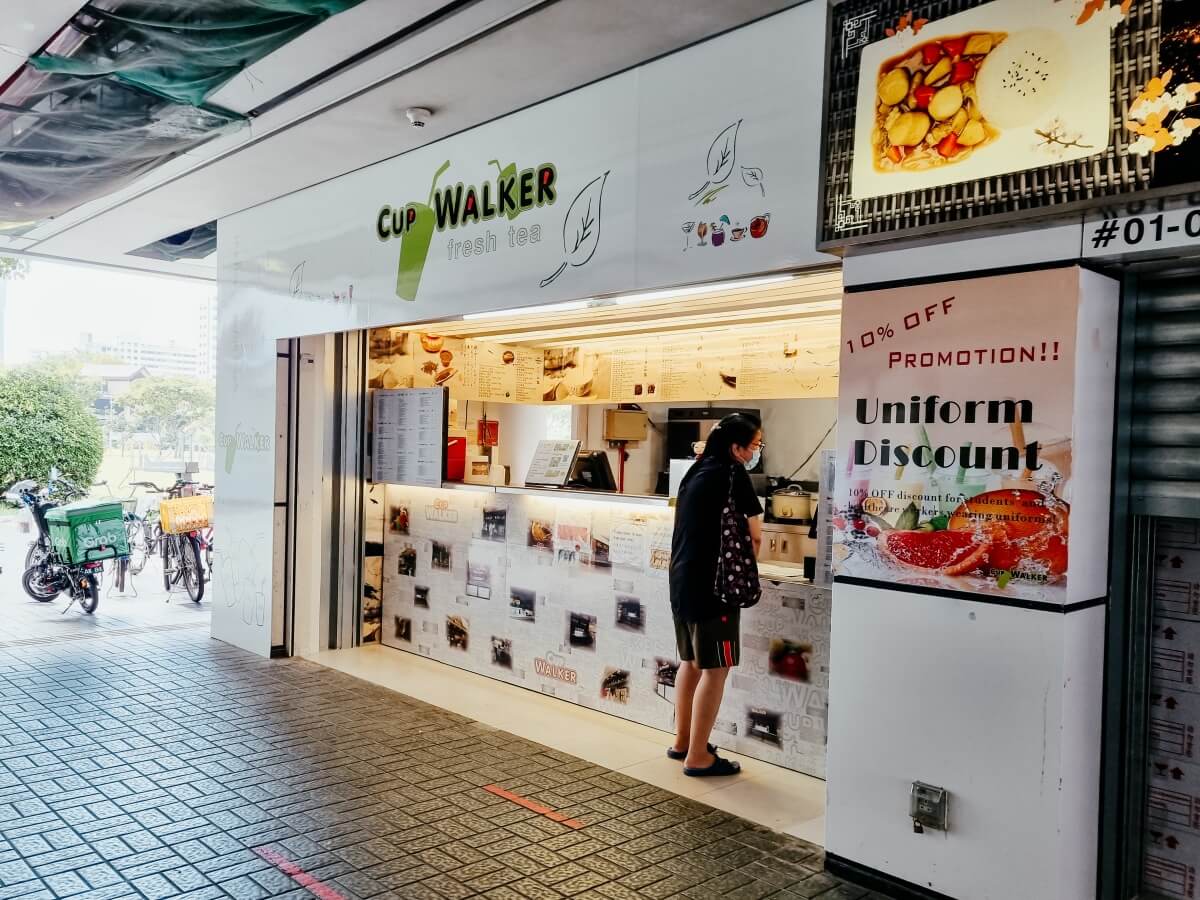 With Cup Walker being such a core memory of my childhood, I was most excited to see if the drinks I loved were still as comforting as I remembered them being.
Founder Thomas Lim, in his 50s, started Cup Walker in 1998 after seeing the bubble tea buzz in Taichung, Taiwan, and the success of his family's bubble tea shop in the Yizhong school district of the central Taiwanese city.
Since Cup Walker's launch 24 years ago, Lim acknowledges: "It does feel like we've almost been eliminated. The industry can be quite harsh. Bigger brands tend to be perceived as better, and it's easy for smaller businesses to get left behind."
Cup Walker's branch in Sengkang still stands in its original spot.
Lim says that business isn't as good now, though the store still gets its share of returning customers who remember the brand from their childhood and prefer the taste of its drinks.
It isn't just the taste that hasn't changed.
The prices, too, have stayed virtually constant for two decades. But Lim says he had to raise them recently, no thanks to rising manpower costs. Even so, you can get a decent cup of pearl milk tea for S$3.
Lee Qian Yi, 33, an academic based in Perth, Australia, decided to give Cup Walker a go on her last visit back to Singapore because she was curious to know whether its drinks tasted the same.
Not only was Cup Walker a convenient distance from her place, she found the prices affordable compared with other chains. On its taste, she says: "The pudding milk tea tastes the same as it did more than 10 years ago."
Civil servant Adrian Tay, who has for 17 years been buying Cup Walker's pudding milk tea from its Heartland Mall store, which closed in mid-2022, echoed this sentiment. "I prefer Cup Walker's milk tea, as it's aromatic, milky and sweet. Plus the taste is very, very consistent," said the 42-year-old.
After hearing both wax lyrical about the pudding milk tea, I couldn't help but get it myself.
The milk tea base was reminiscent of my childhood, but it was the pudding that was the game-changer. It reminded me of a less sweet and firmer version of Japanese custard pudding.
Perhaps that's the vintage appeal of Cup Walker — its unchanging offerings, retro menus and wallet-friendly prices. Even though the years have passed, and we've all grown up and moved on to brighter and shinier things, some things haven't changed.
Cup Walker staff's recommendations: Pudding milk tea (S$3 or S$4), honey oolong tea (S$3.20 or S$4.20)
Sweet Talk
442 Pasir Ris Drive 6, 01-38
Open: Daily (6am to 10pm)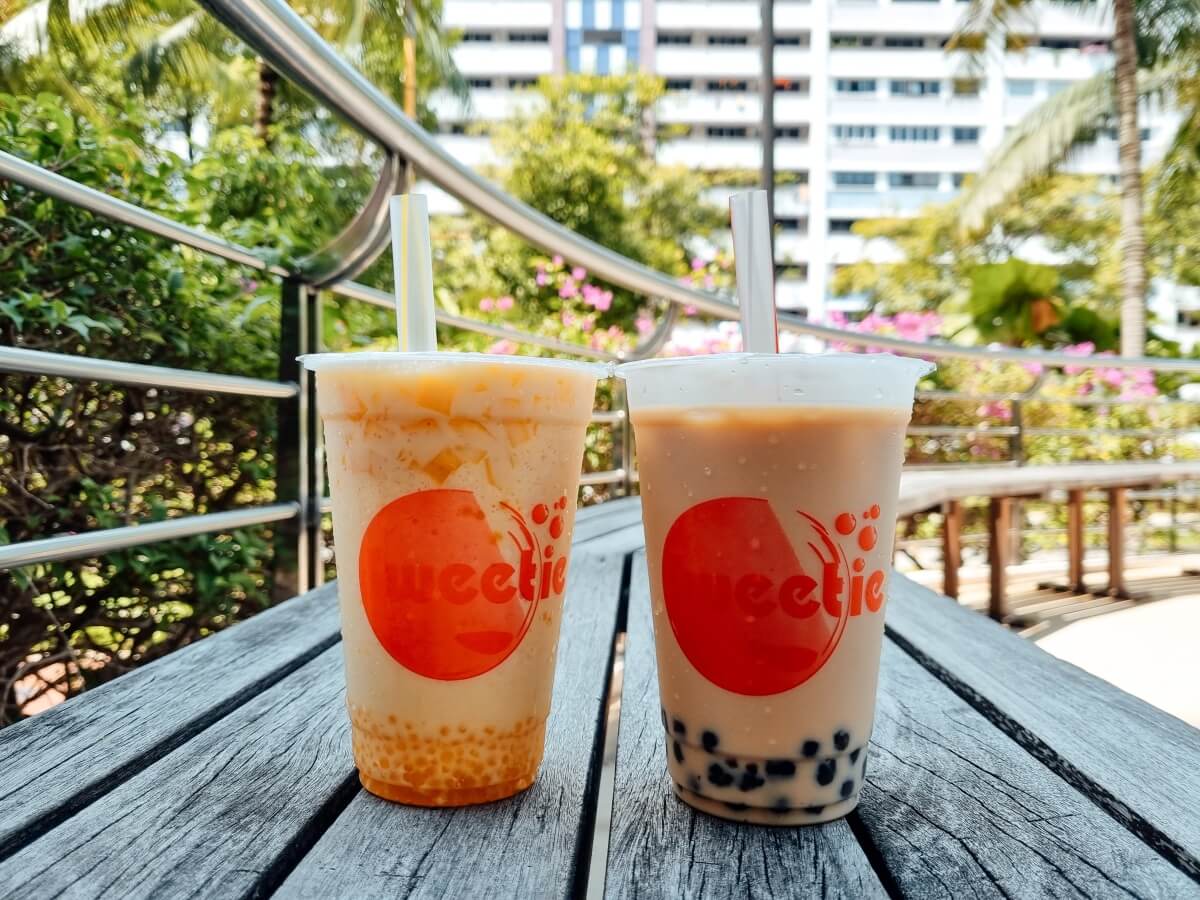 Some might recall this old-school bubble tea brand mushrooming in neighbourhoods in the early 2000s. While Sweet Talk doesn't have a consolidated store listing, checks online show that the brand still has shops in such areas as Hougang, Pasir Ris and Jurong.
Aside from bubble tea, Sweet Talk offers other drinks, including soya milk and lime juice. Some of its stores even stock soya beancurd, tea leaf eggs and fried snacks.
Its bubble tea prices appear unchanged, with its pearl milk tea being sold at S$1.60.
In spite of changing palettes, Sweet Talk has its fervent fans.
Located along a busy public housing walkway, its Pasir Ris Drive 6 branch saw a constant stream of customers when I paid it a visit.
On the way home with his takeaway lunch, Ong Jing Long, a 25-year-old home-based business owner, says he's patronised Sweet Talk from as early as 2009.
"I buy Sweet Talk because it's affordable," adds Ong, who visits the store once or twice a week and usually buys flavoured teas. "Compared with other bubble tea shops, there's a more old-school feel. In terms of taste, there isn't much of a difference."
I agree. Having had a lot of Sweet Talk's drinks as a child (out of pure convenience, since it was practically everywhere when I was growing up), I immediately recognised the familiar, cloyingly sweet taste of my pearl milk tea on the first sip.
So no, Sweet Talk hasn't adjusted the taste of its drinks.
You'll definitely still enjoy Sweet Talk if you're looking for an affordable sweet beverage that reminds you of your childhood, or a quick reprieve when you need an ice-cold beverage on a sweltering day.
Sweet Talk staff's recommendations: Pearl milk tea (S$1.60), mango sago ice blended (S$3.20)
Happy Cup
100 AM, 02-27B, 100 Tras Street
Open: Daily (10.30am to 10pm)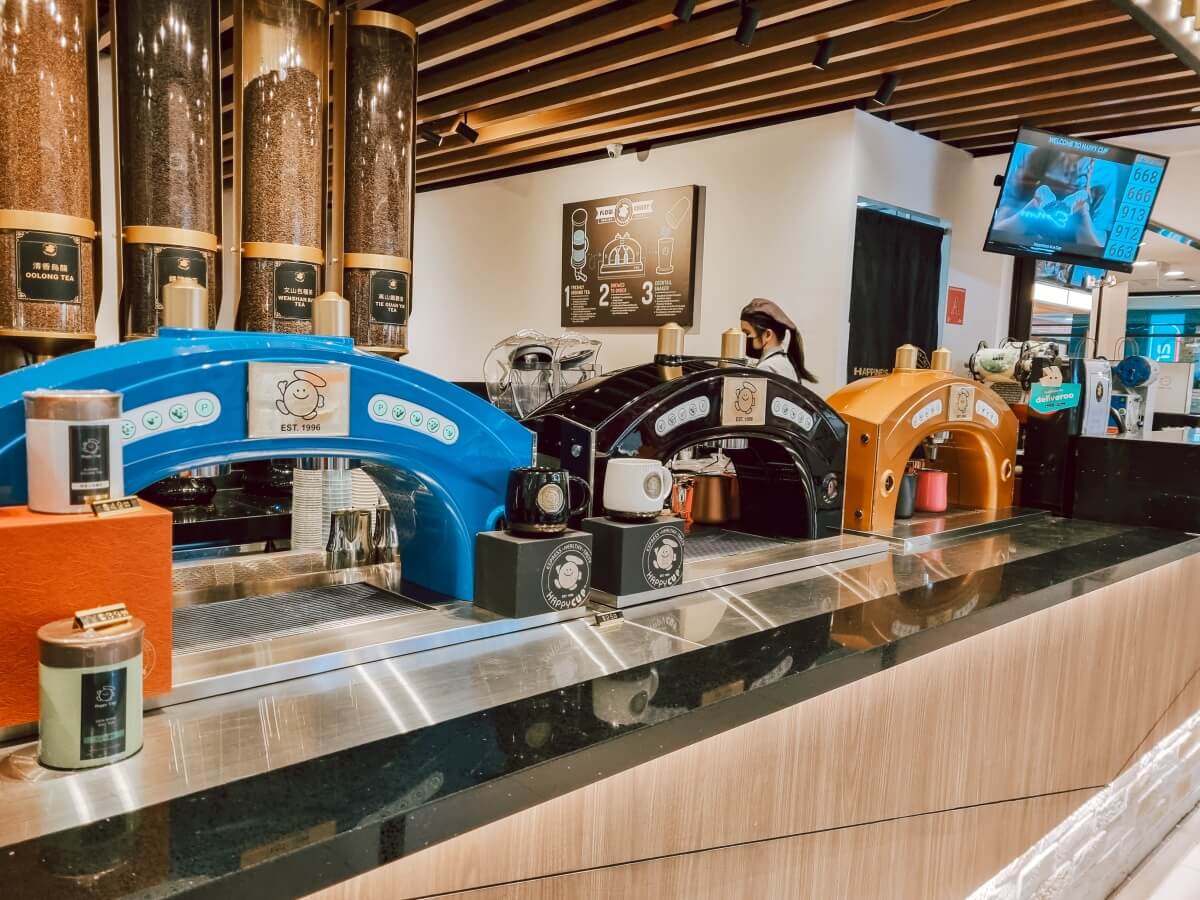 If this were a high-school reunion of old-school bubble tea brands, Happy Cup would be the schoolmate that vanished and returned with a new look and attitude.
With its flagship and only store occupying a prime spot in the 100 AM mall in Tanjong Pagar, you'd be forgiven for thinking that Happy Cup was a new kid on the block with its polished decor, fancy Teapresso machine and large cylinders stocking premium tea leaves.
On the contrary, the brand burst onto the Singapore market in 1996, making it one of the first few bubble tea brands here since the Taiwanese staple was introduced to our shores in 1992.
At its peak, Happy Cup had 45 stores islandwide — more than what Gong Cha and Chicha San Chen each have at present. Before its relaunch, Happy Cup closed its last shop in Singapore in 2007, after the initial bubble tea wave burst in Singapore.
Jessica Rosie, founder and chief managing director of Happy Cup, says the business was rebranded in 2020 to promote a healthier lifestyle.
"Happy Cup wanted to come up with a unique way of catering not just to the millennials, but other generations as well. Our motto is healthy, fresh and tasty."
Despite its fresh look and direction, Rosie says that the business chose to retain the brand's name because "we believe every cup that you hold in your hand makes you happy, just like the Happy Cup back in 1996".
The store has drawn new fans among the Gen Z crowd.
Student Cody Ang, 20, lives in the north of Singapore but makes a monthly trip to Tanjong Pagar to satisfy her Happy Cup cravings — particularly for its taro boba.
She chanced on Happy Cup in 2021 while at 100 AM and knew that it was an old-school brand given a new lease of life.
Stacked up to the more popular bubble tea brands, Ang says: "If I were to go for cold brew tea, I will definitely opt for Happy Cup. I like the light but refreshing tea leaf taste in their tea. Their quantity and quality are worth the price."
Rosie says the brand taps the finest and freshest tea leaves, and doesn't use creamers and syrups in its products. The Happy Cup website also states that its tea undergoes "a 373-step cycle of tests to ensure pesticide-free tea standards".
I often found the powdered creamers used by most bubble tea chains heavy and artificial in taste, so the use of fresh milk in my pearl milk tea (made with Ceylon red tea) was a welcome change.
The tea was fragrant, fresh and yet not overpowering. While my dairy-sensitive stomach may have regretted it a little later, my taste buds didn't.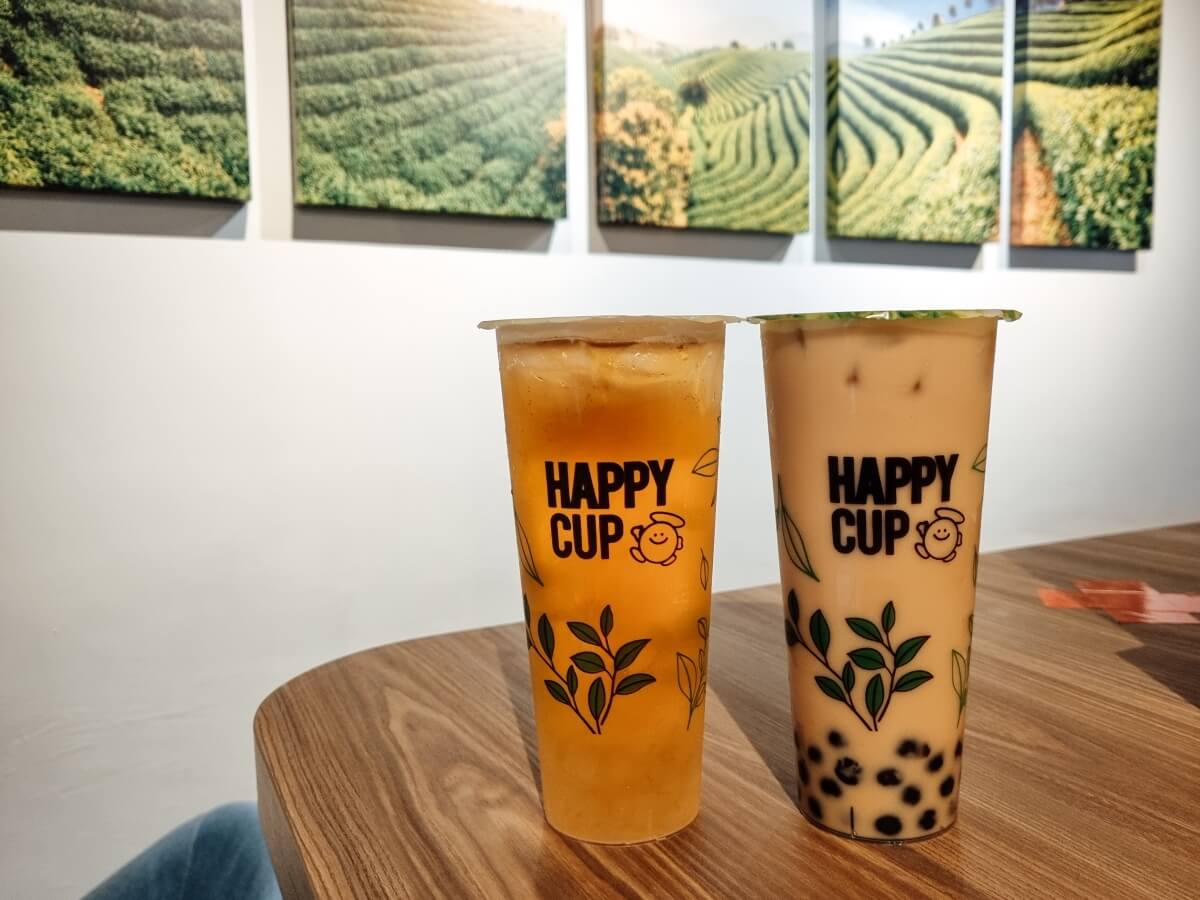 My only gripe, if at all, was that the prices (about S$6 for a drink with a topping) were steep compared with what I was accustomed to paying.
But considering I could consume my premium drink in the cool comfort of Happy Cup's city-centre store while I finished some work, that felt like a reasonable trade-off.
Happy Cup staff's recommendations: Taro fresh milk with small taro balls (S$6.30), osmanthus oolong tea with honey aloe vera (S$6.30)
Cup Walker, Sweet Talk and Happy Cup are on the GrabFood delivery service. You can also book a ride to these places.
---