Old Chang Kee Curry Puffs in London!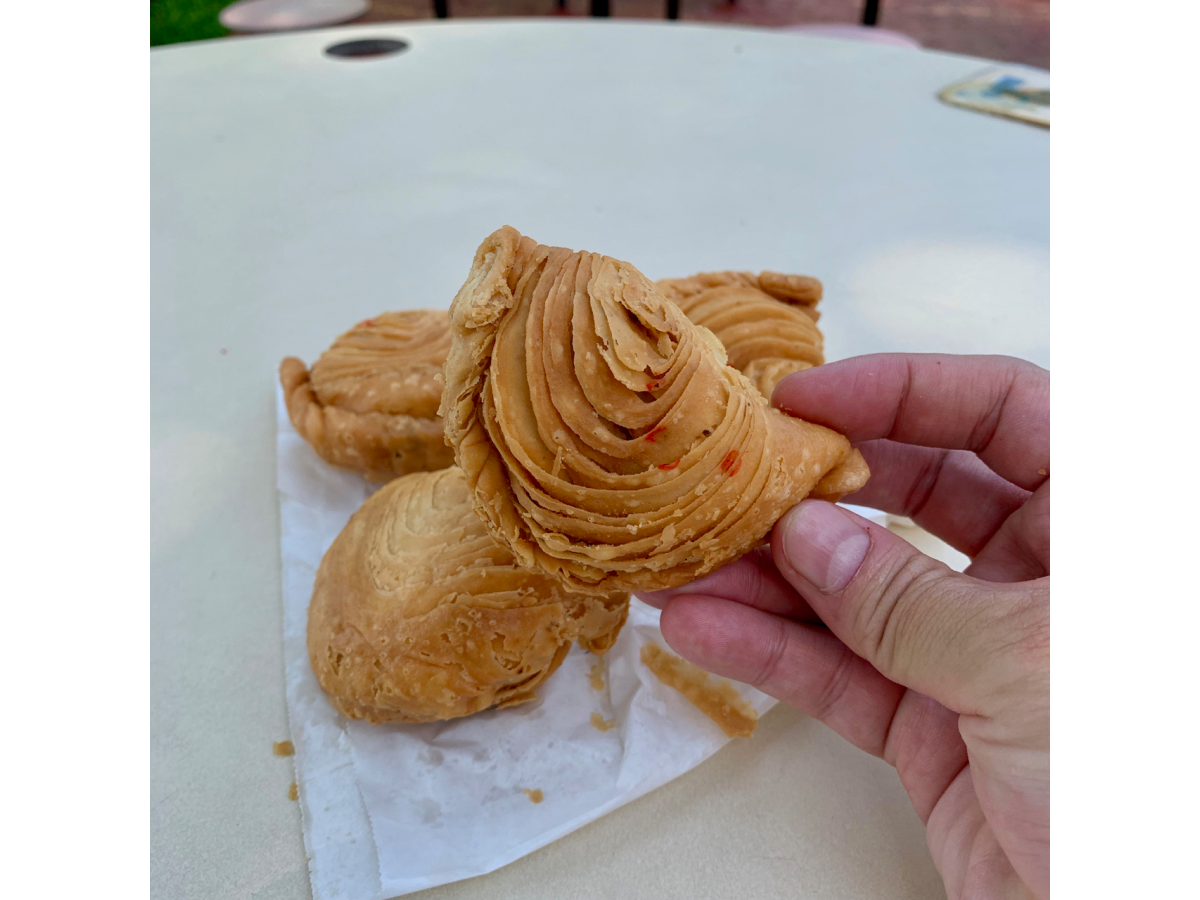 When it was reported in 2018 that Old Chang Kee opened up an outlet in Covent Garden, London, the first thought on every Singaporean's minds was — what does it taste like? Does it actually taste good or is it old and chunky? (pun intended)
Well, I had an opportunity to visit the London outlet on my annual family holiday this year and to cut a long story short, it's good…and better.
Better than the Curry'O you get in Singapore, that's for sure.
I didn't have time for a sit down but I did manage to check out the store and buy the standard Curry'O for takeaway — or as they call it over there, the Signature Chicken Curry Puff With Egg.
It's about one and a half times bigger, with a thinner, Malay-style shortcrust pastry.
There's more filling and the filling is nicely moist. Instead of chunky potatoes and chicken pieces, they've opted to use smaller potato cubes and smaller chicken pieces.
The curry flavour is roughly the same as what you'd get in Singapore with the level of spiciness rather low. If you're familiar with Old Chang Kee, you'll know that their curry puffs are pretty low on the spice-o-meter anyway.
As for the price? £2.95 ($4.96) versus the Singapore price of $1.50. The reason why the London puffs are more than three times the price is because of the bigger size of the puff, rental, labour costs and the cost of importing the curry paste from Singapore.
Like in Singapore, the pastry is made in a central kitchen and the fillings are cooked in the store's kitchen. The final sealing, crimping and frying of the puffs are also done at the shop.
A tiny niggle is that the puffs could have come piping hot. Then again, when I popped by the shop, it was on a Thursday evening (6pm) and there was no queue with only a couple of tables taken up.
Business wasn't as brisk like the first six months of their opening so the puffs had been lying around for a bit.
That said, the puff is so good that if I ever lived in London, I'd be going down to the shop every week to satisfy my local cravings, that's for sure.
There were other flavours like Creamy Chicken and Mushroom (£2.95), Beef Rendang (£3.50) and Chilli Crab (£3.20) but I didn't taste them.
The store has also added nine dishes from Old Chang Kee's restaurant venture, Curry Times, since its opening a year ago so now you can get Singapore favourites like Nasi Lemak, Laksa and Dry Chicken Curry.
The shop is a collaboration between Old Chang Kee and Sandra Leong, a Singaporean who has been living in London for the past eight years.
So good job, Old Chang Kee. Now can we please, please, please have the same thing in Singapore as well? I, for one, wouldn't mind paying more for a premium curry puff.
---
This archived article appeared in an earlier version of HungryGoWhere and may not be up-to-date. To alert us to outdated information, please contact us here.