McDonald's Ebi Burger and White Choc Strawberry Cream Pie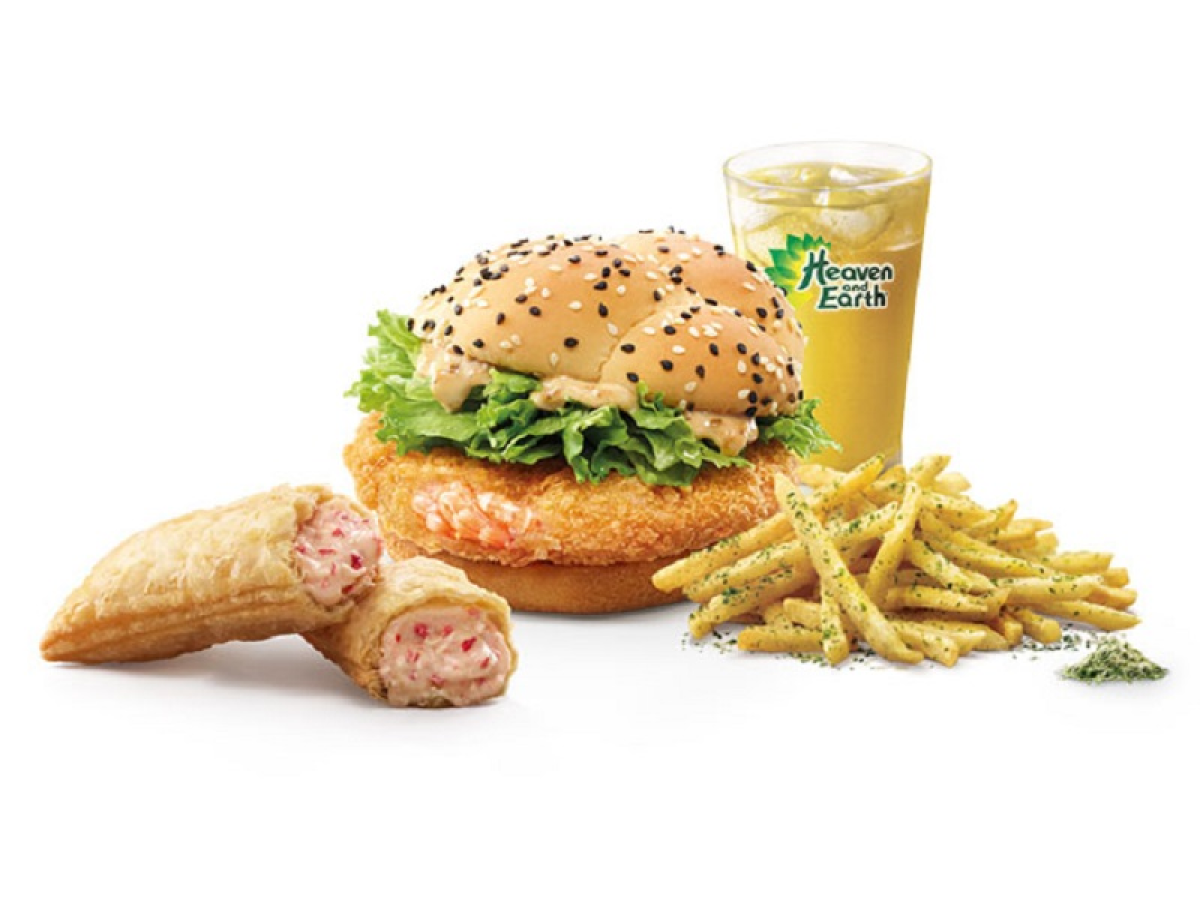 After a six-year hiatus, MacDonald's has decided to bring back the Ebi Burger again for a limited run. This time, it also introduced a new White Choc Strawberry Cream Pie to go along with it.
People who enjoyed this burger way back in 2013 will probably remember the chaos that took place then, when the buns were so popular they went out of stock soon after the initial launch. Now that they are back, we ordered an Ebi Burger Feast at our nearest Golden Arches for a taste test revisit.
Ebi Burger
In Singapore, seafood burgers are quite a rarity. The Ebi Burger, like its name suggests, traces its roots back to Japan ("ebi" means "prawn" in Japanese), where prawn burger patties are quite common at fast food chains such as Lotteria and MOS Burger.
Compared to its Japanese cousins, the MacDonald's Ebi Burger looks pretty similar. A deep-fried, breaded shrimp patty, served with a dash of sesame mayonnaise and sandwiched between buns topped with black sesame seeds. I expected this burger to taste similar to those from the Japanese chains, but when I sank my teeth into it, I instantly found it quite different.
The first thought that came to my mind was how similar the Ebi Burger patty tasted in comparison to the filling inside a har gow (steamed prawn dumpling) from a dim sum cart. You get chunks of prawn meat distributed evenly between a gooey, starchy, prawn-flavoured filler paste. Like har gow, it had a savoury, umami taste.
MacDonald's also made a unique choice in pairing the Ebi Burger with sesame mayonnaise instead of Thousand Island this time, and I can't say I like either very much. In the 2013 original, the Thousand Island was a little too tart and overwhelmed the taste of the prawn patty. In this version, the sesame mayo did complement the Ebi Burger patty better, but lacked the acidity that would have enhanced the flavour of the seafood. If I could choose, I would have gone with tartar sauce instead.
In all, the Ebi Burger tastes pretty decent. I like that it was not greasy and that despite it reminding me of dim sum, it was a pretty satisfying treat. Since it is a limited edition item, I would probably choose to eat this again before it runs out, but the Ebi Burger will not be my first choice if it was a regular menu item.
White Choc Strawberry Cream Pie
Making its debut in this latest limited edition run is the White Choc Strawberry Cream Pie. MacDonald's has come up with some rather awesome pies before, and I am quite a fan of them. I even liked the not-so-popular creamy chicken pie, that some people thought tasted odd.
Well, not this one. By its name alone, the White Choc Strawberry Cream Pie promised a lot. It was fair to expect that it should contain white chocolate, strawberries, and be creamy to boot. It was none of those.
Upon opening the packaging, I noticed that this pie is a little tinier than its Apple Pie cousin (which I totally adore). The White Choc Strawberry Cream Pie also comes with a Danish pastry shell, which I found to be a tad soggy and greasy.
But what undid the whole deal for me was the filling. The white chocolate strawberry filling had a dry, sandy texture. I liked that it was not too sweet, but I could hardly taste the strawberry flavours at all.
If you like greasy, fried pastries like curry puffs, and are also a sweet tooth, this limited edition dessert pie may be worth a shot. Otherwise, order an ice cream sundae instead.
---
This archived article appeared in an earlier version of HungryGoWhere and may not be up-to-date. To alert us to outdated information, please contact us here.