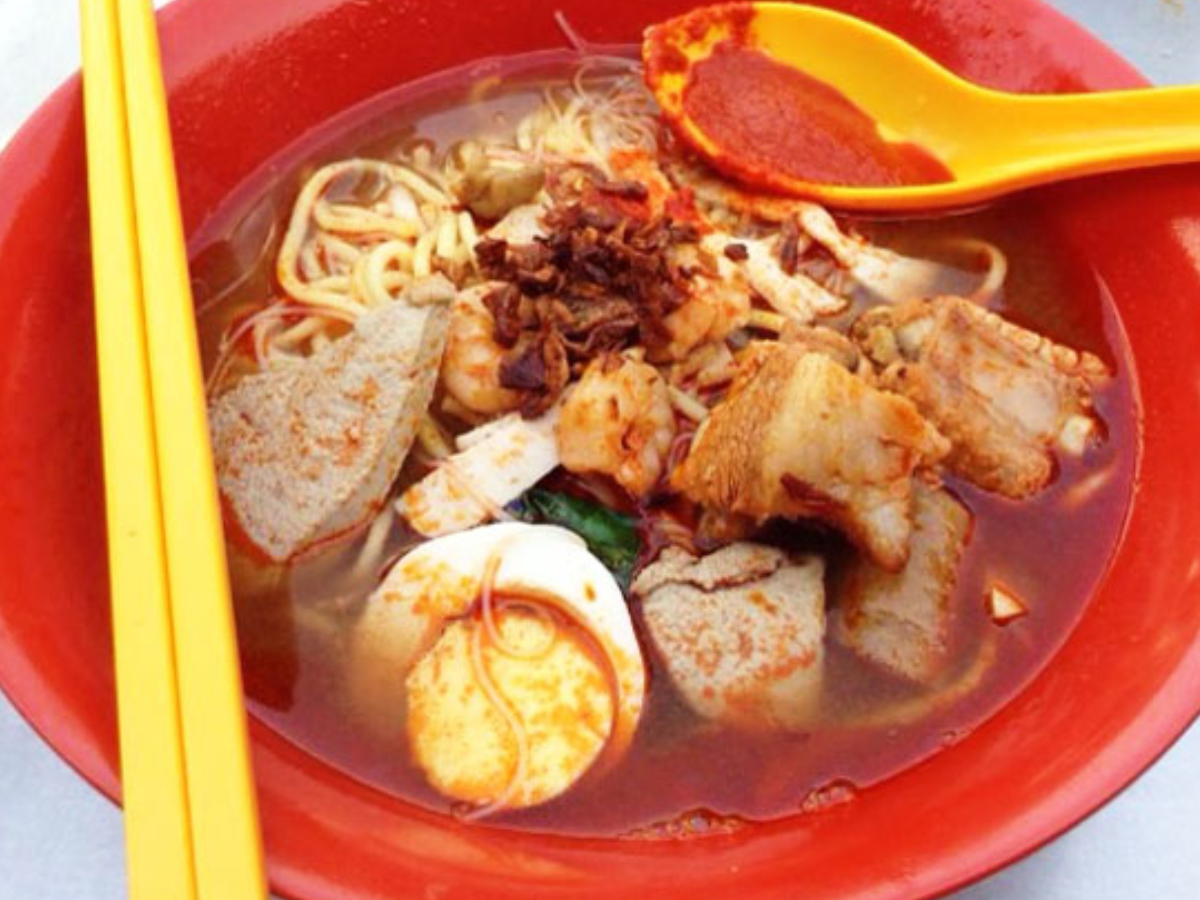 What makes or breaks our beloved prawn noodle is the broth. To get the ultimate prawn noodle soup base, a copious amount of prawn heads and shells is fried, then boiled for hours to extract the essence of the crustacean.
These days, pork is commonly included to give more body to the soup. It's a lengthy and laborious cooking process, so it's not surprisingly that some vendors cut corners.
Thankfully, there's a handful of worthy hawkers who continue to uphold the tradition of serving a bowl of fine prawn noodle. Here's a side-by-side comparison of five outstanding prawn noodle stalls.
Wah Kee Big Prawn Noodles
Blk 41A Cambridge Road, #01-15 Pek Kio Food Centre
Opening hours: 8am-2pm; closed on Mon
Price: $3 for regular prawn, $8/$10 for king prawn
Rating: 5/5 for king prawn, 3/5 for regular prawn
One-of-a-kind—that pretty much sums up Wah Kee's fabulous big prawn noodles. Otherwise, why would price-conscious Singaporeans happily shell out 10 bucks for hawker fare?
Despite being pricey by hawker standards, Wah Kee's king prawn noodles sell out daily. Discerning foodies come here for premium grade banana prawn and Wah Kee's unique prawn consommé. Coloured a deep reddish-orange hue, each spoonful of this saturated broth was a burst of sweet crustacean and briny ocean wholesomeness.
The climax of the dish was three fat banana prawns—prized for their fine-textured, delicate flesh. Fresh? Check. Juicy, bouncy flesh? Check. Creamy orange roe? Check. For prawns of this thickness, it was testament to the chef's skill that the flesh wasn't overcooked.
Accompanied by al dente noodles tossed in aromatic hae bee (dried shrimp) sambal and shallot oil, this was truly an unforgettable gastronomic ecstasy.
There are four pricings available—$3, $5, $8, $10—which correspondingly reflects the size and grade of the prawn. $3 is the bare bones version–just noodles in prawn stock topped with smallish prawns sliced in half. Good enough to satisfy a prawn noodle craving, but we recommend paying $8 and upwards for that one-of-a-kind experience.
River South (Hoe Nam) Prawn Noodles
31 Tai Thong Crescent
Opening hours: 6.30am-4.30am; closed once a month on Mon
Price: $3 for regular prawn, $4 for large prawn
Rating: 4/5
The first measure of a great prawn noodle is its broth, and River South Hoe Nam passed with flying colors. Brimming with complex umami-ness, it was a melodious harmony of sweet-savoury flavours. We liked how the rich broth was robust but refreshing at the same time.
Here, they used tiger prawns, which were a wee bit overdone, but still fresh and succulent. If you enjoy pork ribs, order the prawn and pork rib version ($5.00). With meaty, lean but very tender ribs, it was very satisfying indeed.
If you can't decide between the soup or dry version, we say, "Go for the soup!" The sauce mix for the dry version was rather underwhelming. It had just a hint of spiciness and not much else. Perhaps the intention was not to interfere with the broth, but some added piquancy would have been nice.
Noo Cheng Adam Road Prawn Mee
86 Zion Road
Stall 4, Zion Riverside Food Centre
Opening hours: 11am-2.30pm, 5.30pm-11pm; closed alternate Mon
Price: from $5.00
Rating: 4/5
Strictly speaking, Noo Cheng Adam Road's version is more of a prawn and pork rib noodle. Comparatively, they used more pork, resulting in a smooth and milky broth. Combined with the ocean sweetness of prawn and ikan bilis, this was indeed a very hearty and luxurious–albeit rather unctuous–broth.
Prices here start from $5.00. Sounds pricey, but they give you large-sized banana prawns. A pity they were split in half, which also cut the 'shiok' factor in half. But the prawns were still sweet, crunchy and very fresh.
Meaty and fall-off-the-bone tender, the ribs were excellent, too. We also loved their dry noodles. Tossed in a drool-inducing mix of fragrant hae bee, crispy fried shallot, chilli and ketchup, it drove our taste buds into overdrive!
Amoy St Boon Kee Prawn Noodle
7 Keppel Road, PSA Tanjong Pagar Complex
#01-01/02 H.L.Y. Eating House
Opening hours: Mon-Fri: 7.30am-1.30pm, closed on PH
Price: from $3.00
Rating: 3.5/5
Amoy St. Boon Kee's masterfully-executed prawn noodle is a well-known secret among those working in Tanjong Pagar. Perhaps they want it to remain under the radar, for this popular stall already sees long queues daily even without much media coverage.
Flavours here were bold, from the rich broth to the dry-tossed noodles. The full-bodied broth had distinct sweet-salty flavours, veering towards the sweet side. If you ask for chilli in your noodles, the default level is tongue-numbingly hot. You have been warned!
Of these five stalls, Boon Kee gets our vote for best value. For just $3, we got three plump tiger prawns that were extremely fresh, sweet, and succulent. There was also lean but tender sliced pork. Portions were very generous as well. We also tried the $4 version which had meaty pork ribs that were tasty but tended to be dry.
Joo Chiat Prawn Mee
15 Crane Road, Xin Hua Ji Food House
Opening hours: 7.30am-3pm, closed on Tues
Price: from $3.50
Rating: 3/5

Joo Chiat Prawn Mee's broth is light in style, without the depth that comes from pork. It was sufficiently flavourful, but a tad too sweet for our liking. Perhaps they were too heavy-handed with the rock sugar.
We were impressed with how they meticulously peeled and deveined the prawns, leaving the heads intact for us to suck all the goodness out. With the exception of two small mushy crustaceans, the tiger prawns we got were respectably large and fresh.
Both the soup and dry versions were equally good. Although on the soft side of al dente, the noodles didn't leave any trace of alkaline. Overall, this was a decent find that's memorable enough to drop by if you're in the vicinity.
---
This archived article appeared in an earlier version of HungryGoWhere and may not be up-to-date. To alert us to outdated information, please contact us here.