Superfood Kitchen: Meet the couple bringing affordable salads, healthy eats to the heartlands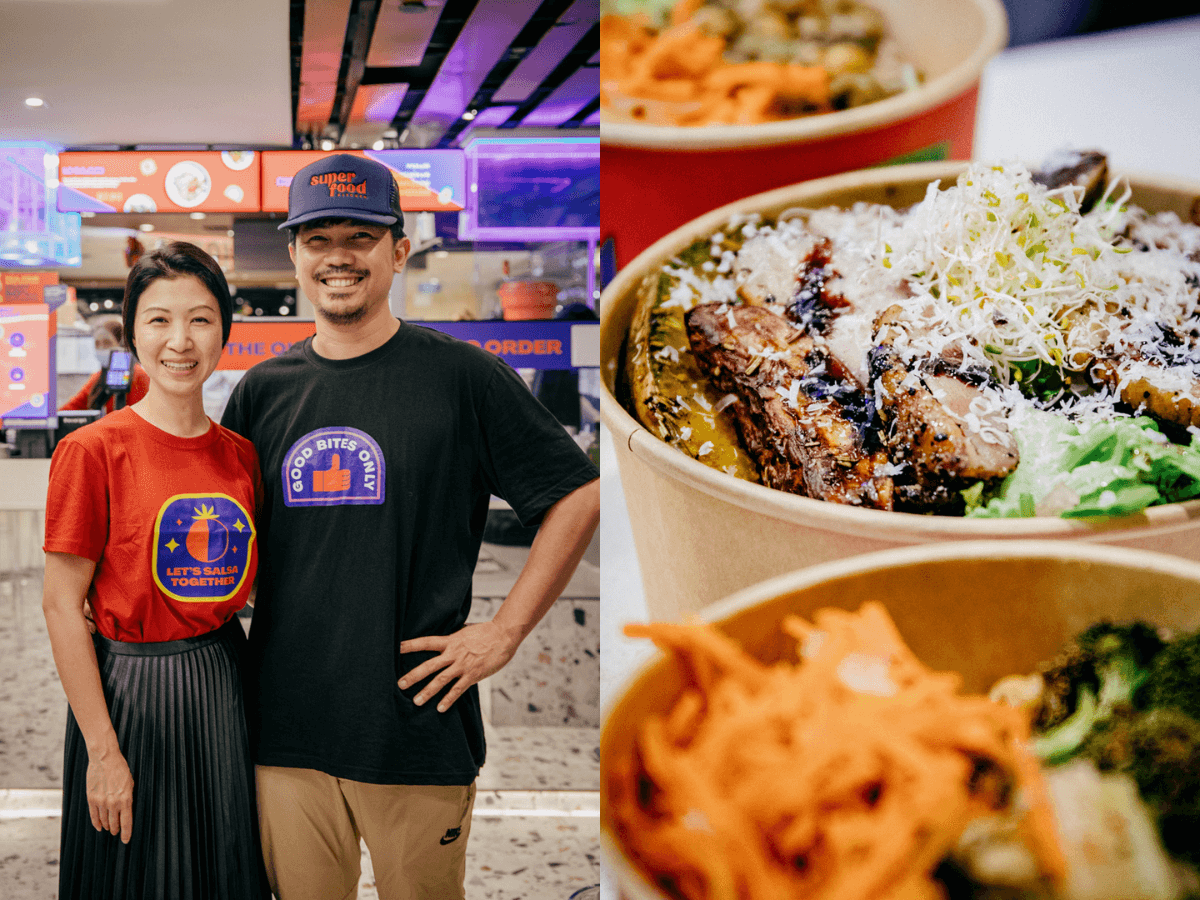 Ca-ryn Lim and Ernie Voon founded Superfood Kitchen x The Green Bar, a new affordable salad-bar chain that opened in late 2022
They aim to make healthy eating accessible to everyone, with meals from S$6.90
Roasted broccoli and pumpkin are among their bestsellers, and these are roasted on-site daily
Healthy food doesn't have to be expensive, says Ernie Voon, 45, and Ca-ryn Lim, 43, founders of Superfood Kitchen x The Green Bar.
The youthful-looking married couple and parents of two have been in the F&B industry for almost 15 years combined.
Now, they're hoping to make healthy eating more accessible to the masses, with meals starting from S$6.90.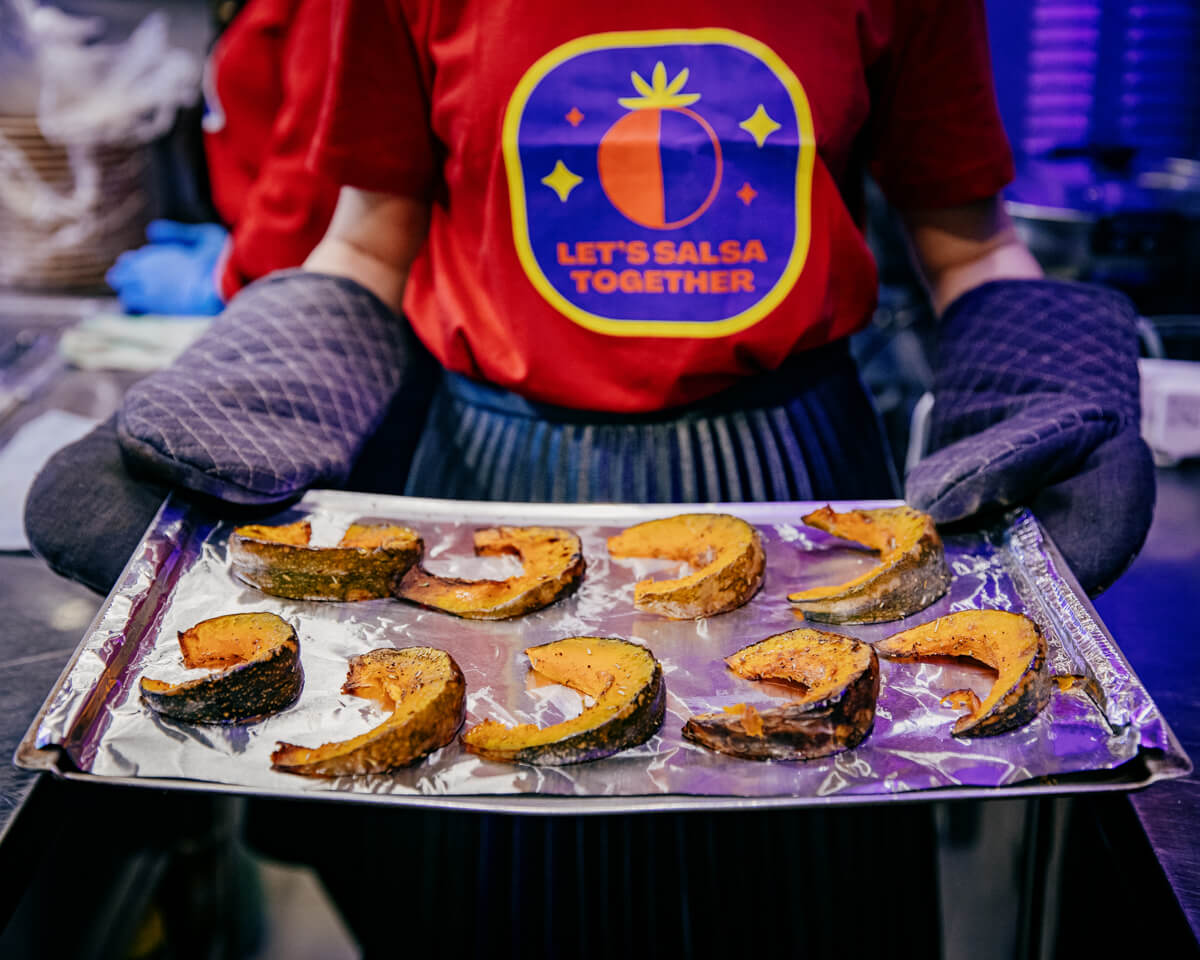 Voon says: "I always tell customers… 'I'm glad you enjoyed my wife's cooking!' Because (the dishes are based off) what we eat at home — it's really like our home kitchen."
It's been an intensely personal journey for the married duo, who found themselves running the business together only recently.
The menu reads a little like a personal travelogue, too. 
Says Lim: "Every time we visit a country, I will take down notes (of) what will pair well with each other… so that our customers can enjoy the different flavours of the world."
How it started
The business started as The Green Bar in 2010, with Lim at the helm and Voon offering advice from time to time.
"When we started, we didn't even know where to put the kitchen equipment, because going from feeding eight people (at home) to 200 people was a completely different ball game," Voon recalls.
Referring to the salad-bar industry in 2010, Voon says The Green Bar was among the "early pioneers". 
Lim, a self-taught chef who'd been cooking since she was nine, had previously worked in the marketing sector. She led The Green Bar full-time. At that time, Voon consulted occasionally on the business while working in the corporate space full-time with brands such as Nike and L'Oreal. 
The Green Bar was one of only two salad bars in the CBD then, but competition soon heated up. 
"By the time we left, there were so many competitors. There were 60 to 70 sellers in Raffles Place," says Voon.
Then the Covid-19 pandemic hit hard, especially in key areas such as the CBD and town, forcing the couple to close stores in the last few years.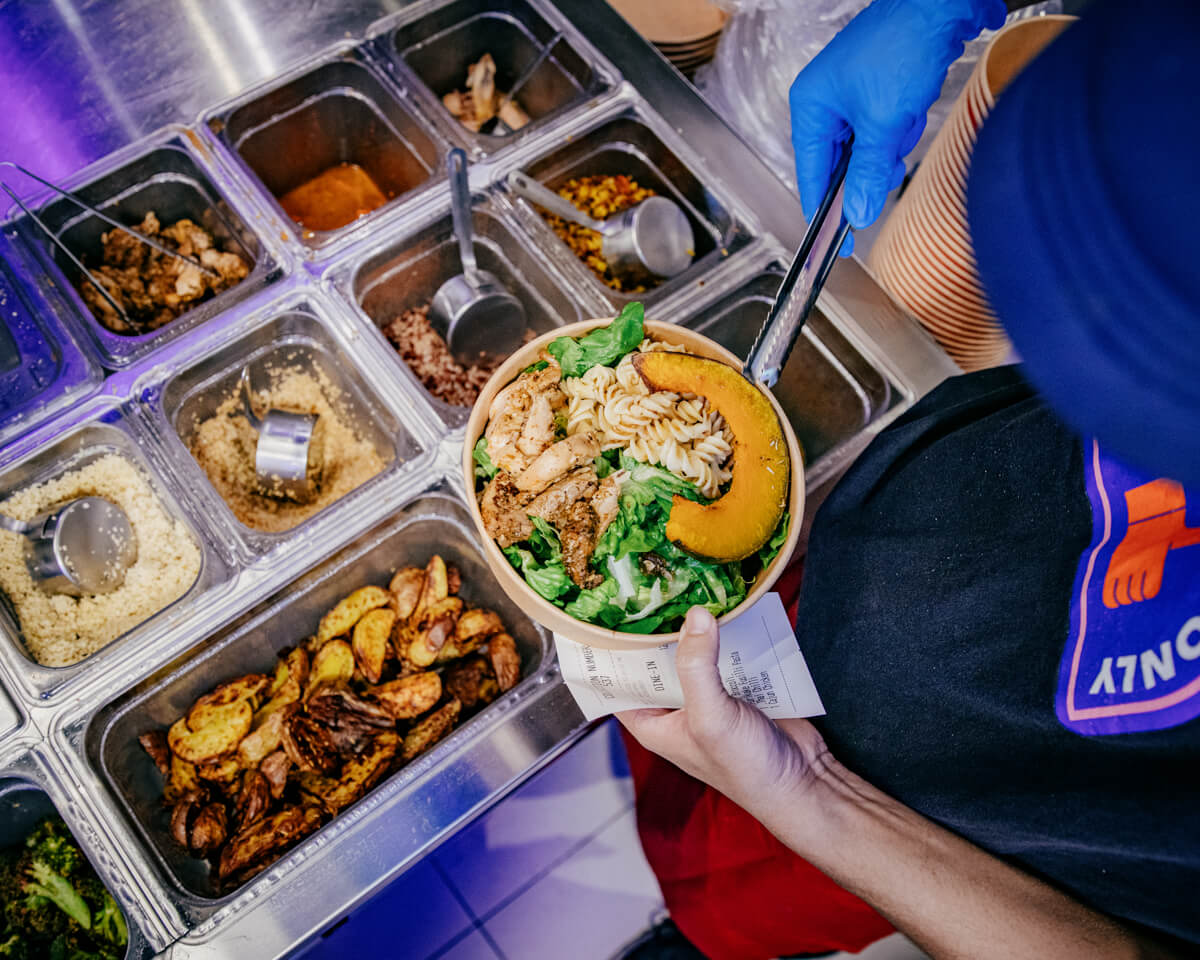 Even with the uptick in public health consciousness after the coronavirus, the couple found that not many people were applying that conviction to healthy eating. 
The price point was a key issue. "They say: 'We love the food, but it's just too expensive'," Voon recalls. 
There was also a notable lack of information about how food in general was prepared and how much nutrition one gets from it. "(That's) unless you go on those fitness apps and slowly count (the calories and macronutrients)," Voon says. 
Even then, it's a painstaking and frustrating process.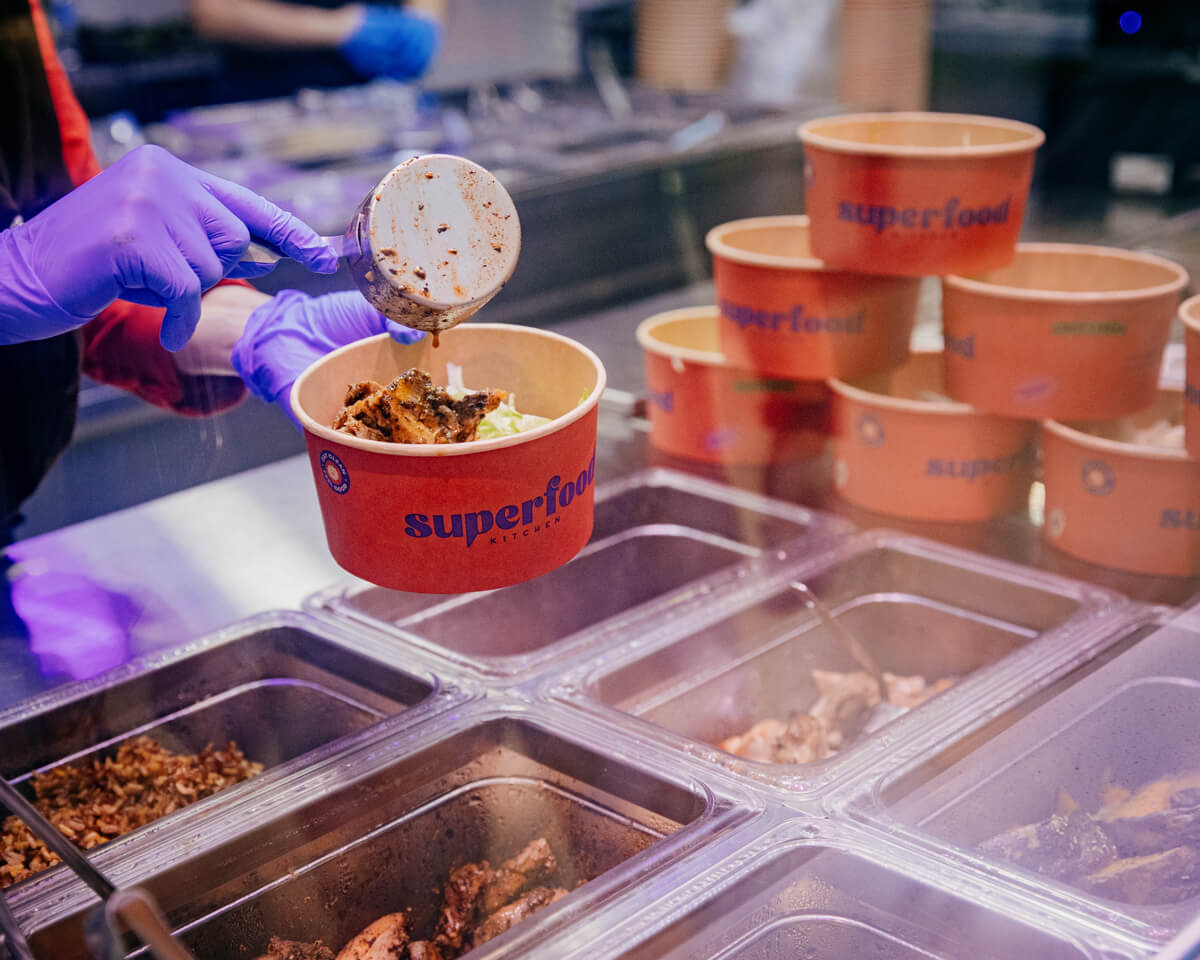 Enter The Green Bar's sister brand, Superfood Kitchen.
Born in late 2022, its aim is to make healthy food accessible and affordable, and empower customers to hold themselves accountable to their diets.
This is also when Voon, who was working in Shanghai, joined the fray full-time, managing operations while Lim continued overseeing the culinary aspects.
"We had this mission to make nutrition democratic," adds Voon. 
He says healthy food is certainly available in the CBD areas, in the price range of S$16 to $17, but not necessarily so in the heartlands.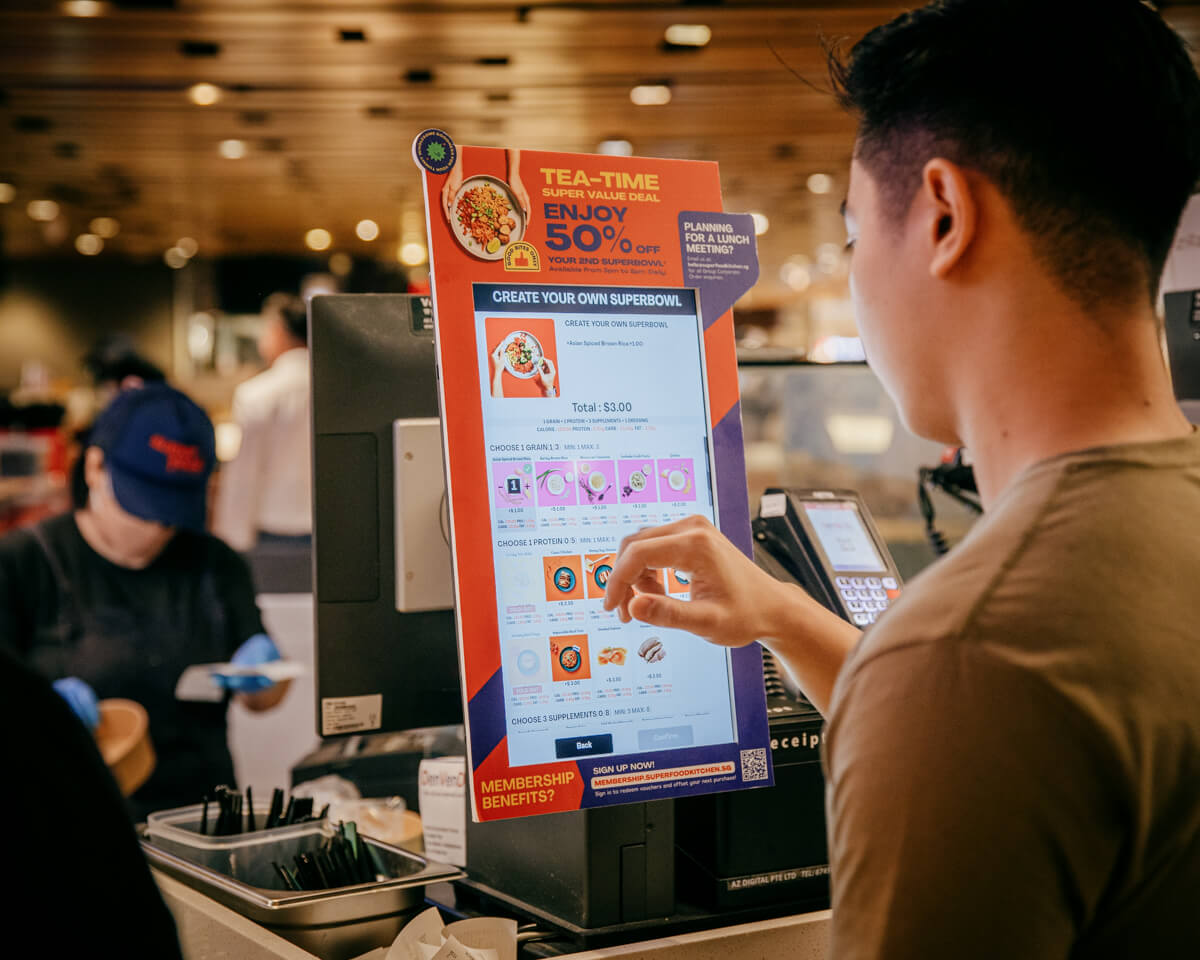 "We spent a lot of time thinking: 'OK, we really want to feed people starting from S$6 to S$7'."
Voon says it's been quite the effort to make the operation as efficient as possible.
From its e-ordering system to the layout of the food preparation area, the couple spent time cutting costs wherever they could.
"All our shops are this size or smaller, so that whatever (rent) we save, it goes back to the customer and we can bring the prices down," Voon notes.
Superfood Kitchen today
At present, the eatery has stores at Jurong Point, Changi Airport and Raffles City. It has been encouraging more heartlanders to try its food, but some were wary initially.
Voon says he generally fields a lot more curious looks and questions when he's at the Jurong Point store.
"They ask me: 'What is this?'
"I just need to say 'this is healthy cai fan' and they get it immediately."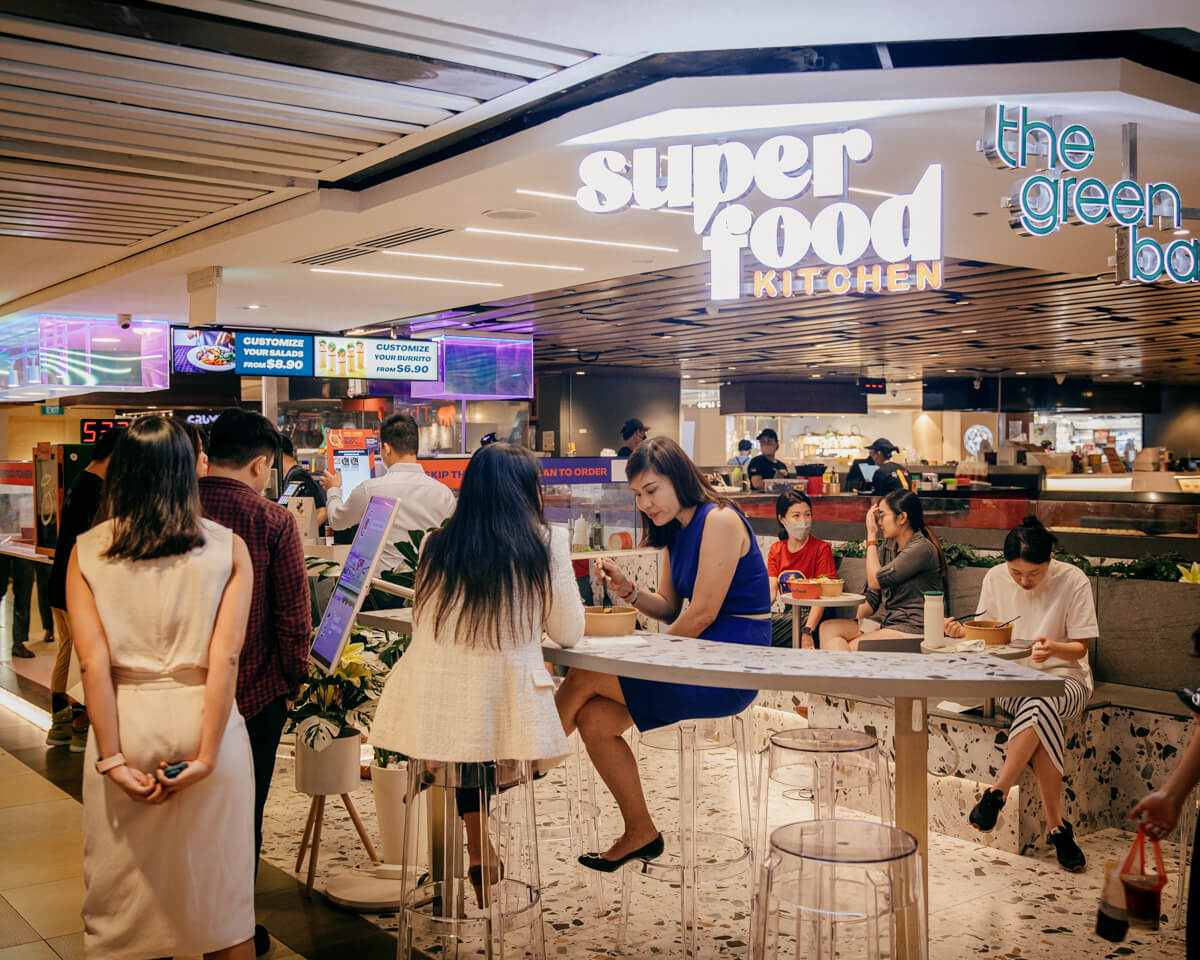 While the couple hold steadfast to their mission of expanding into the heartlands, they have definitely seen food costs climbing over the past few months, especially for chicken and grain, which are staples at their stores. 
"It's starting to stabilise, so we do see some light at the end of the tunnel," they add.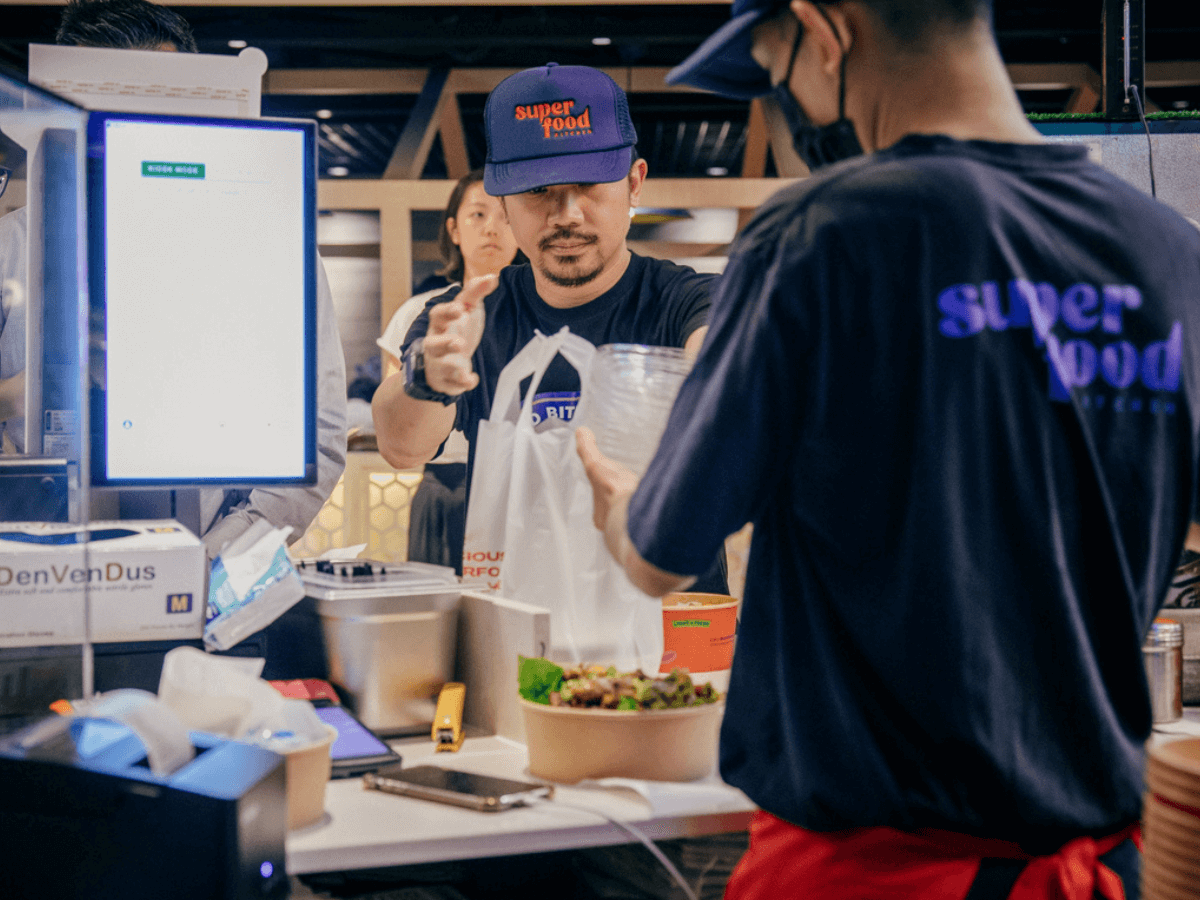 Working as a couple
F&B is certainly not the easiest of industries to work in.
But what about working together, as a couple?
"In the beginning, it's learning each other's working style and annoying each other regularly," Lim jokes.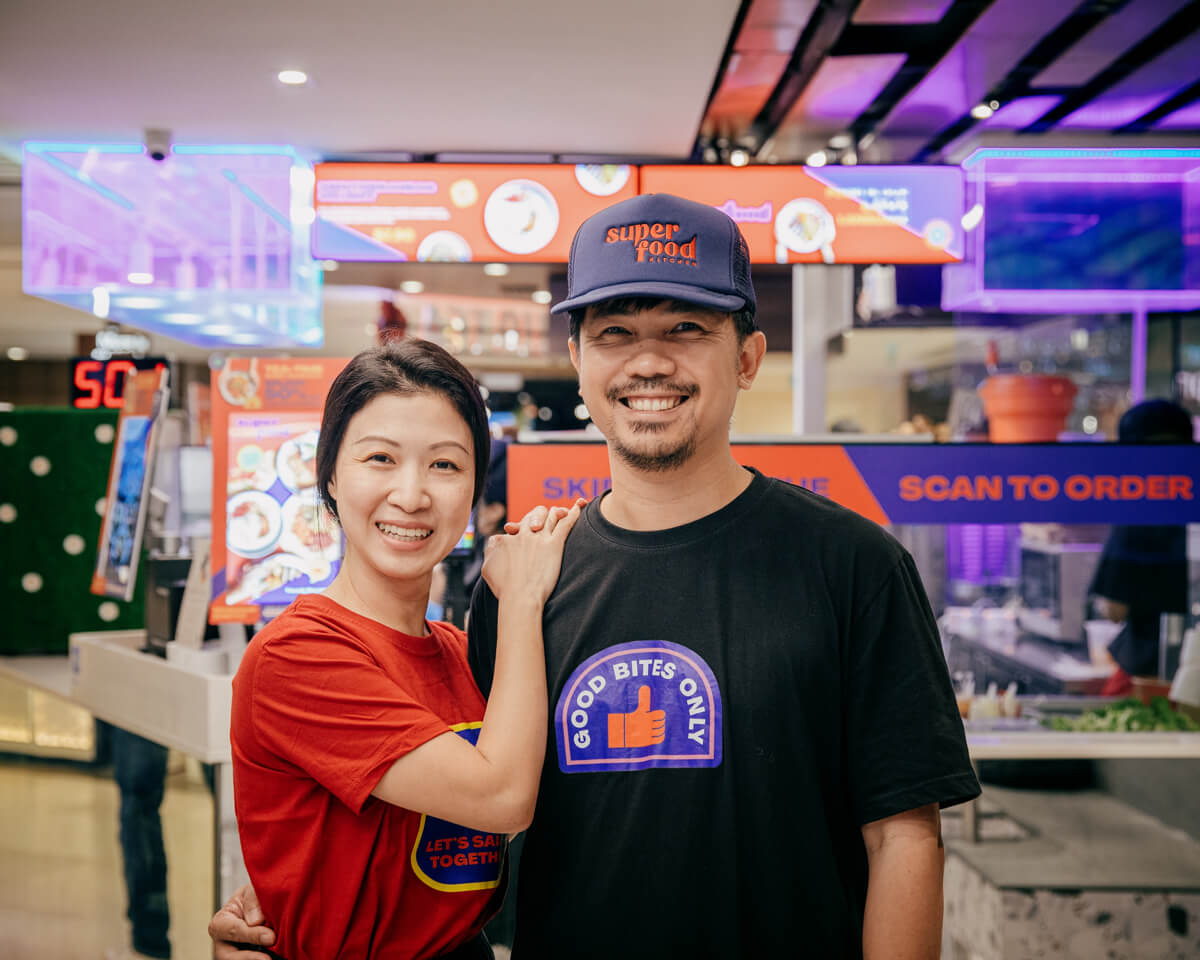 "Doing a business like this involves a lot of — literally — blood, sweat and tears. After a while, you learn how to adapt and things become a lot smoother."
Voon interjects: "She's putting it very diplomatically." 
Previously, Voon was less hands-on with the nitty-gritty of the business. 
But now that he's working full-time on Superfood with Lim, "it's a completely different ball game".
"Now, it's almost like she's having too much of me, because she's seeing me every day." 
It's hard to draw the line between home and business, and they're still adjusting to it, he says. Every conversation they have seems to include some part of work in it.
"We literally have to agree on everything before it goes live — the visuals, the brand, the logo."
For now, they try as much as they can to separate the streams of work: Voon oversees operations and strategy, and Lim helms branding and the food.
The couple's two daughters, aged eight and 11, are happy to see more of their parents, though they disapprove of the inevitable quarrels. 
"They're just happy we are doing something together," says Lim. 
The food
When it comes to what's on the menu, the couple have their kids to thank for one of their bestselling items.
"We tried to eat more broccoli at home, because we think it's healthy. But they got so tired of eating broccoli (cooked) in the usual Chinese stir-fry style," says Voon.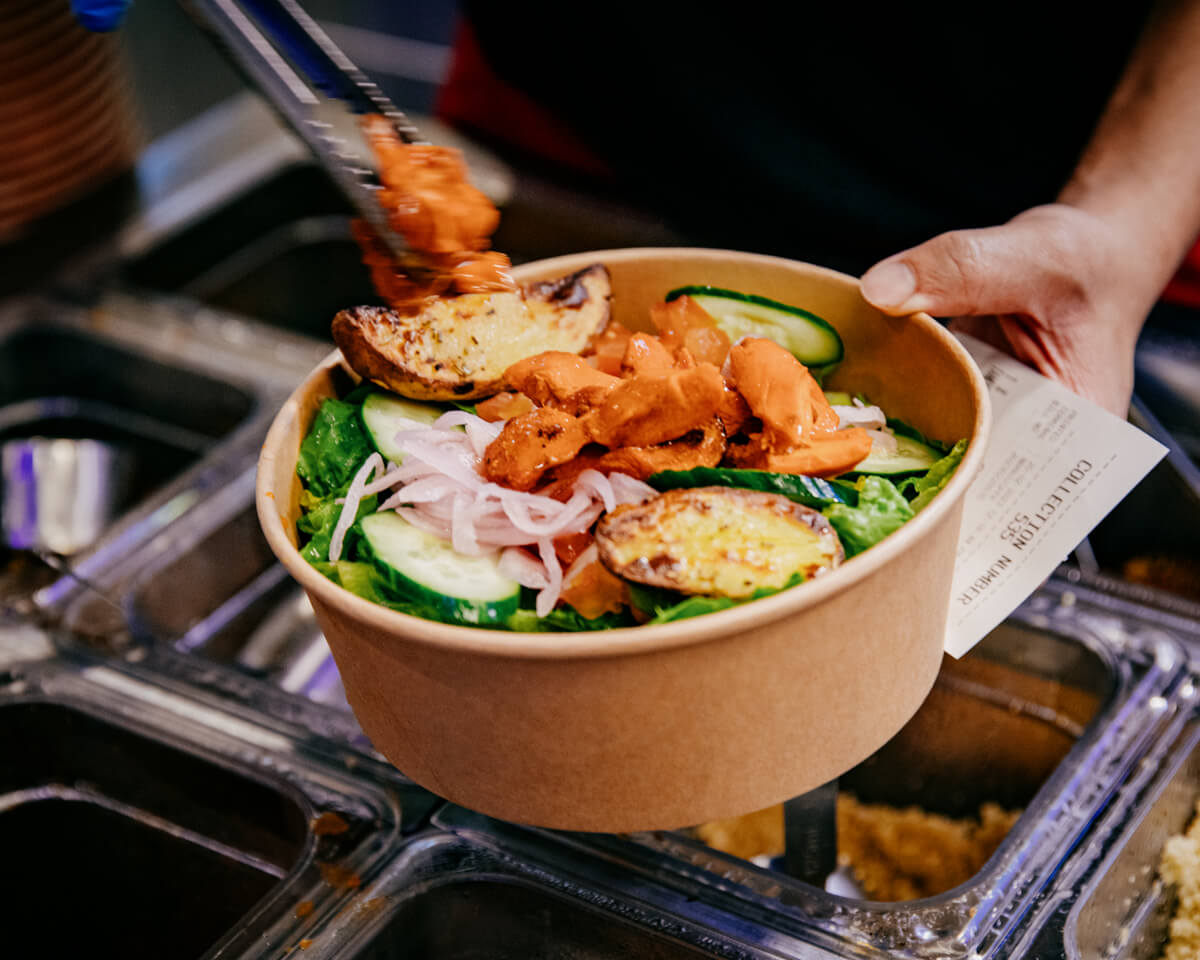 "(That's) until we started roasting them. It became a snack — they just kept chucking it (into their mouths)."
Superfood counts roasted broccoli and pumpkin among its top sellers, and these are freshly roasted on-site daily. By contrast, most salad bars serve these boiled, Voon adds.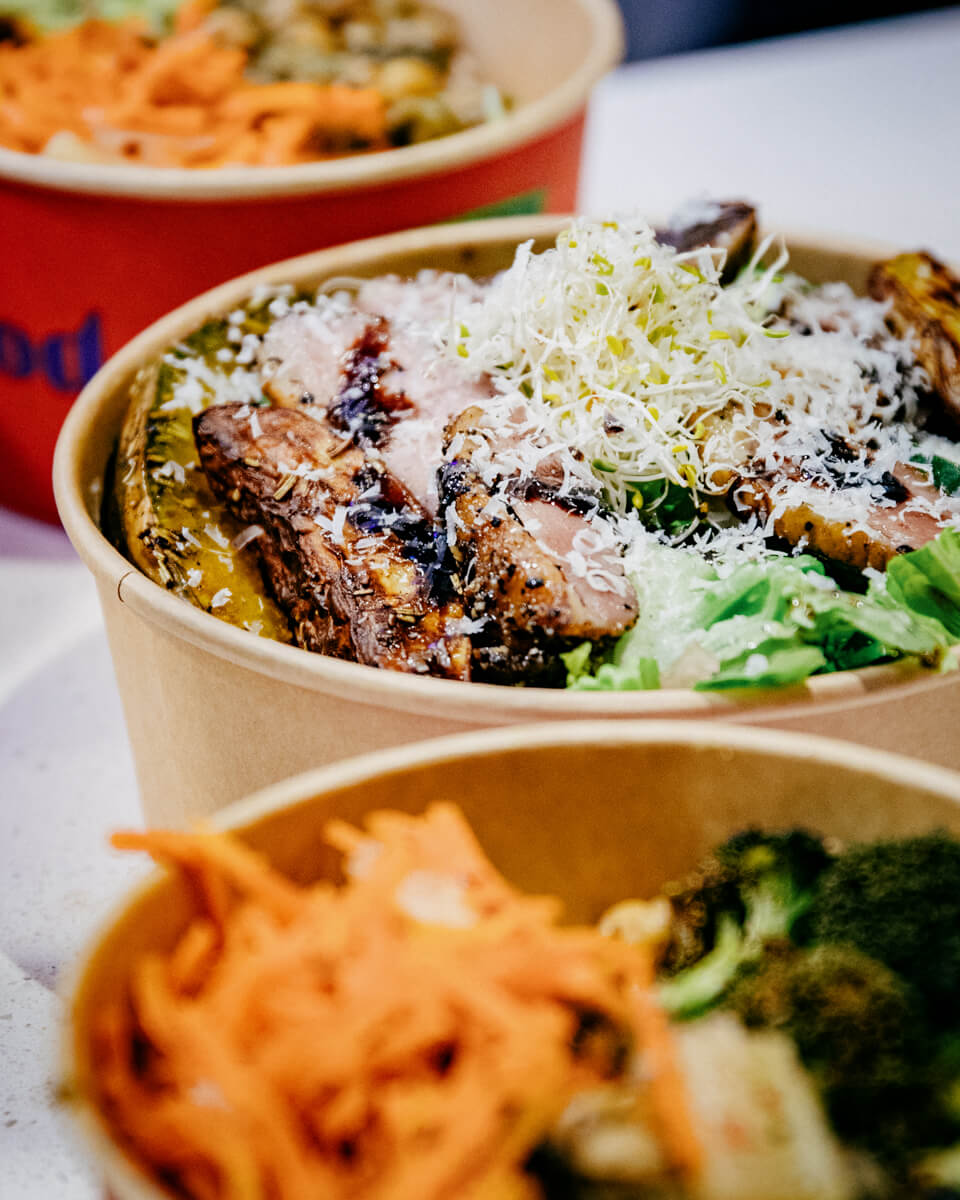 Lim says that the eatery tries to give certain ingredients "a little more tender loving care". For example, if you were to ask for parmesan cheese to go with your order, the staff would grate it fresh off the block, instead of using a prepared version.
Diners can choose to add all these and more into their customisable bowls or burritos starting from S$6.90, with top-ups for extra or more premium ingredients. There's a melange to choose from: Six types of grain, 10 proteins, 25 sides and 10 sauces.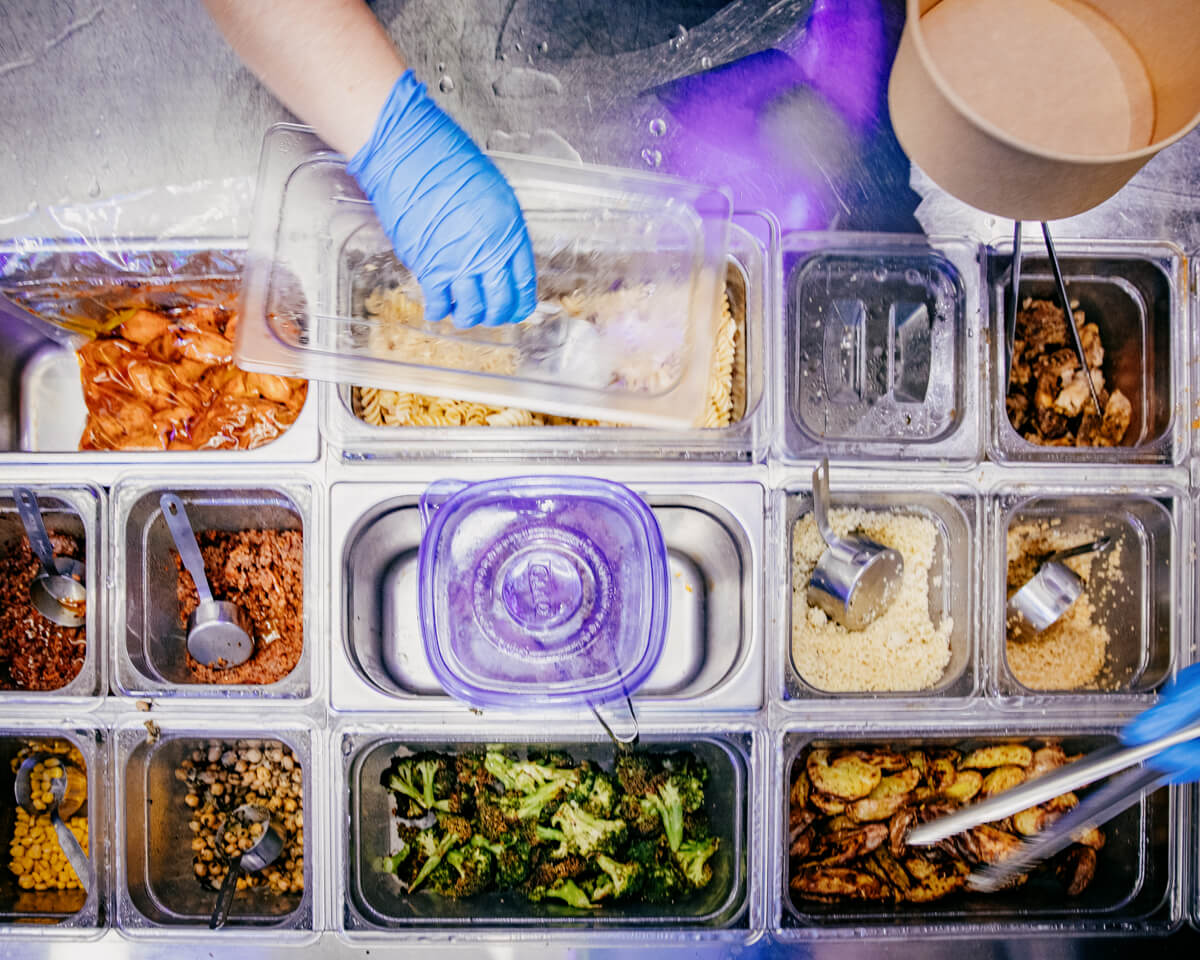 Those who're not in the mood to customise their bowls or burritos may choose one of Lim's curated recipes. 
There's Le Cajun (S$7.90), with roasted cajun chicken, tomato salsa, olived chickpeas and guacamole. Or Mr Italian (S$7.90), a smoky beef ragu with fusilli and roasted broccoli — a favourite among children, we understand — among several others.
Each recipe also has its macronutrients listed on the e-ordering kiosk, so that diners can moderate their intake of calories, carbohydrates, proteins or fat, depending on their diet.
Superfood Kitchen is also in the process of applying for its halal certification.
Ultimately, what keeps the couple going? "A love for feeding people," Voon says. 
For more ideas on healthy eats, read our articles on Vietnamese eatery Qwang and plant-based food. 
Superfood Kitchen x The Green Bar is on the GrabFood delivery service and offers free delivery (up to S$3 off) with GrabUnlimited. Or book a ride to its stores.
Superfood Kitchen x The Green Bar
Raffles City Shopping Centre, B1-78, 252 North Bridge Road
Nearest MRT station: City Hall
Opens: Mondays to Sundays (11am to 9pm)
Changi Airport Terminal 3, B2-25, 65 Airport Boulevard 
Nearest MRT station: Changi Airport
Opens: Mondays to Sundays (11am to 9pm)
Jurong Point, 03-25D/E, 1 Jurong West Central 2
Nearest MRT station: Boon Lay
Opens: Mondays to Sundays (11am to 9pm)
Raffles City Shopping Centre, B1-78, 252 North Bridge Road
Nearest MRT station: City Hall
Opens: Mondays to Sundays (11am to 9pm)
Changi Airport Terminal 3, B2-25, 65 Airport Boulevard 
Nearest MRT station: Changi Airport
Opens: Mondays to Sundays (11am to 9pm)
Jurong Point, 03-25D/E, 1 Jurong West Central 2
Nearest MRT station: Boon Lay
Opens: Mondays to Sundays (11am to 9pm)