Nesuto collabs with Guerlain to launch pop-up cafe at Ion Orchard, launches exclusive Guerlain-inspired entremets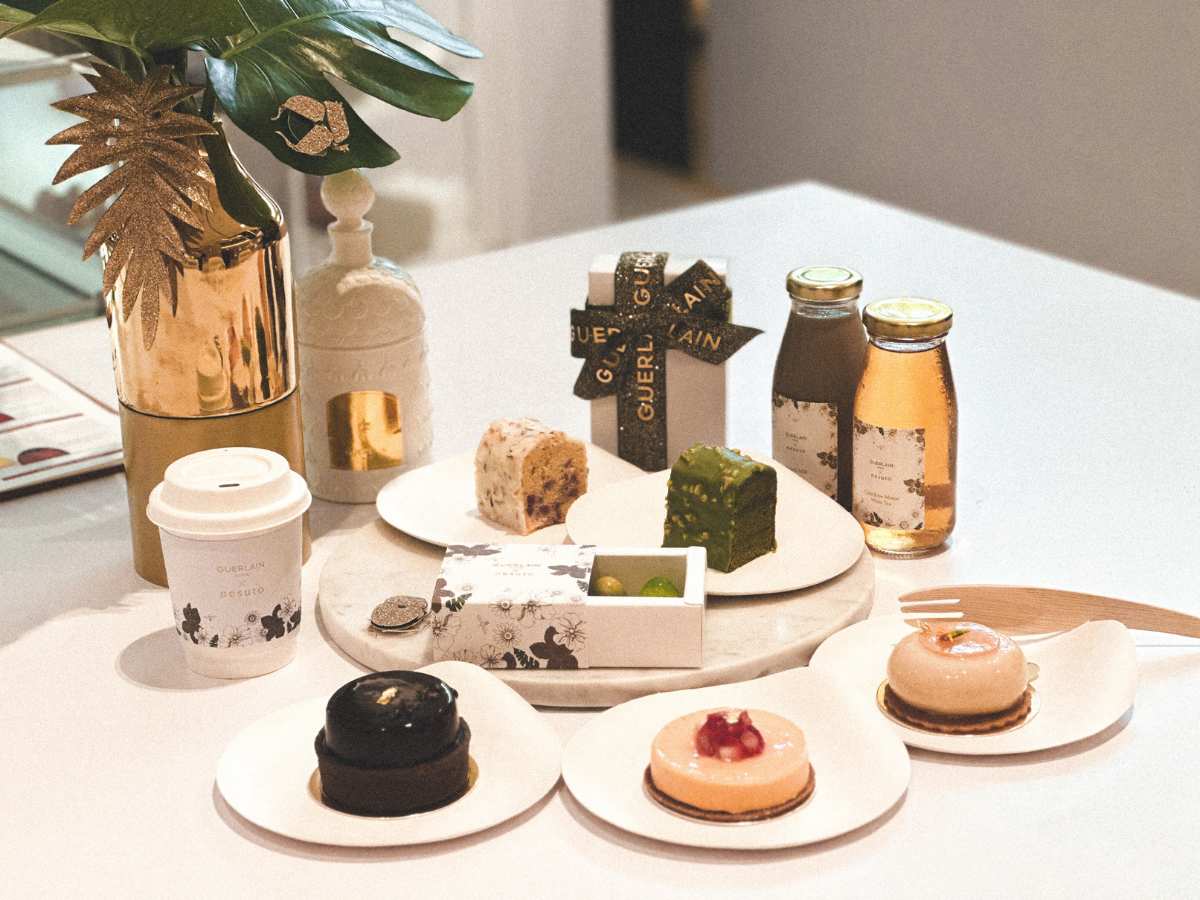 The festive season has become more exciting, for beloved Japanese-French patisserie Nesuto has joined hands with luxury fragrance brand Guerlain to launch a pop-up cafe at Ion Orchard! 
This marks the first culinary partnership between both powerhouses, with the outpost situated on the level one atrium of one of Singapore's most glamorous retail destinations.
Operating for a limited period only, Guerlain Cafe with Nesuto will run until Dec 17. 
Beyond offering a lineup of sweet treats inspired by the timeless elegance of Guerlain, the pop-up cafe also provides a bespoke personalisation service for the L'Art & La Matiere Fragrance Collection, as well as a deluxe range of Guerlain's signature products — including a holiday collection.   
For this collaboration, chef Alicia Wong, the mastermind behind the imaginative dessert outcomes at Nesuto, draws upon Guerlain's key product ingredients — namely honey and blood orange — and incorporates these flavours into unique, intricate treats.
The result is a range of pop-up exclusive desserts that enthralls both beauty connoisseurs and gourmands.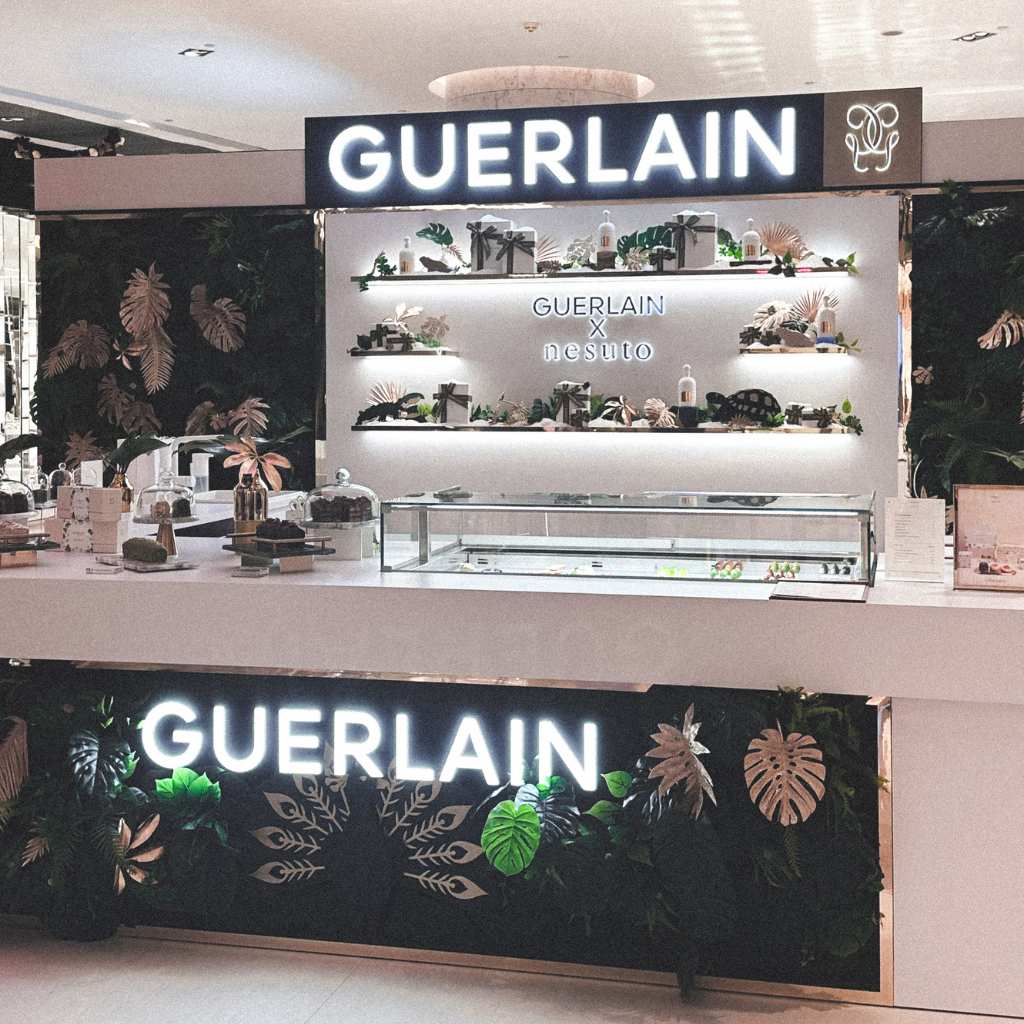 Catching your eyes from the get-go is the outlet's gorgeously decorated exterior, which is decked in royal gold and silver. Lining the walls are panels of luscious faux greenery, which are then embellished with gilded animal-themed motifs. 
The whimsical animal ornaments pay homage to Guerlain's bestiary, which impeccably reflects the beauty brand's commitment to aesthetics and artistry. Every corner is thoughtfully designed as a photo spot, the highlight being a bold installation of Guerlain's iconic perfume bottle nestled amid festive finery.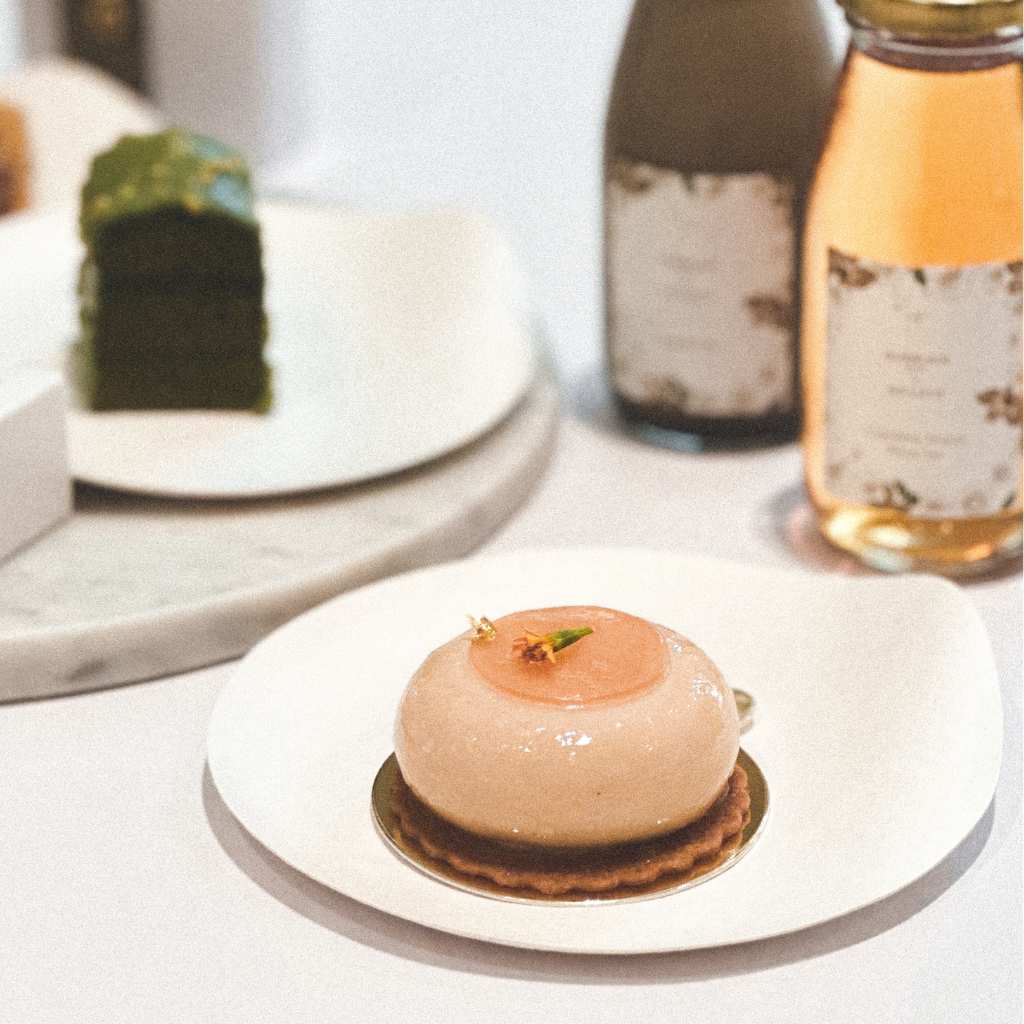 The menu opens with a trio of Guerlain-inspired mousse desserts, and it's recommended that you tuck into the aged narcissus tea entremet (S$13.80) first. This offering pays tribute to Guerlain's iconic Orange Solea fragrance, which spotlights a woody, honeyed flavour. 
It's a light treat that melts in your mouth, with a layer of blood orange compote and blood orange cremeux encased in an aged narcissus tea mousse. Elevating the creamy texture of the dessert is a buttery smoked sable cookie that sits just beneath the velvety confection. It's then adorned with a thin blood orange glee and Mexican tarragon flower.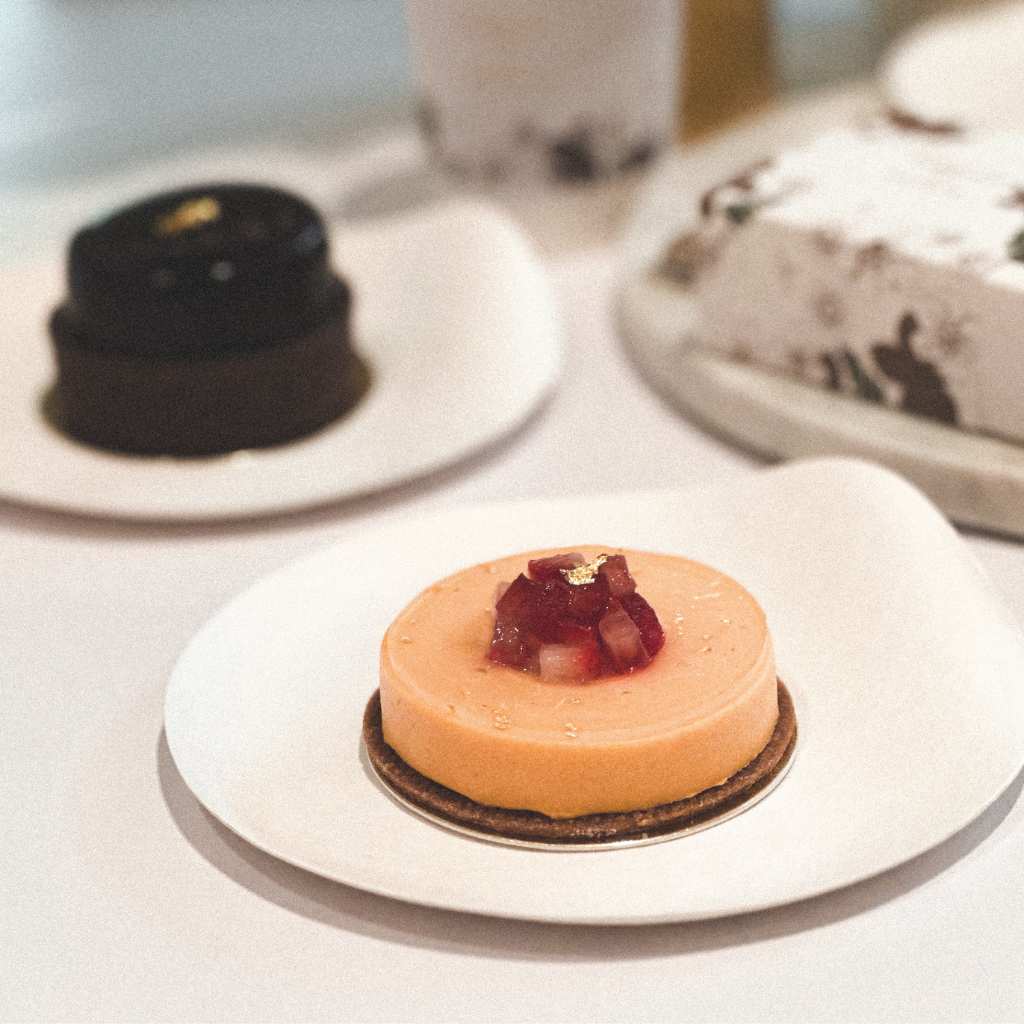 Try the apricot walnut entremet (S$13.80) next, which is a delicate, festive dish that's inspired by the nostalgic taste of fruitcakes and cookies. This dessert is on the tangier side, with a light apricot fruit mousse being the star of the show. Nestled within is a homemade walnut nougatine and fragrant apricot vanilla cremeux.
This is one of our favourites, for the fruity notes are a refreshing, harmonious pairing with the nuttiness of the cinnamon sable cookie beneath. For the finishing touches, it's topped with a rosewater-scented veil and speckled with gold leaves.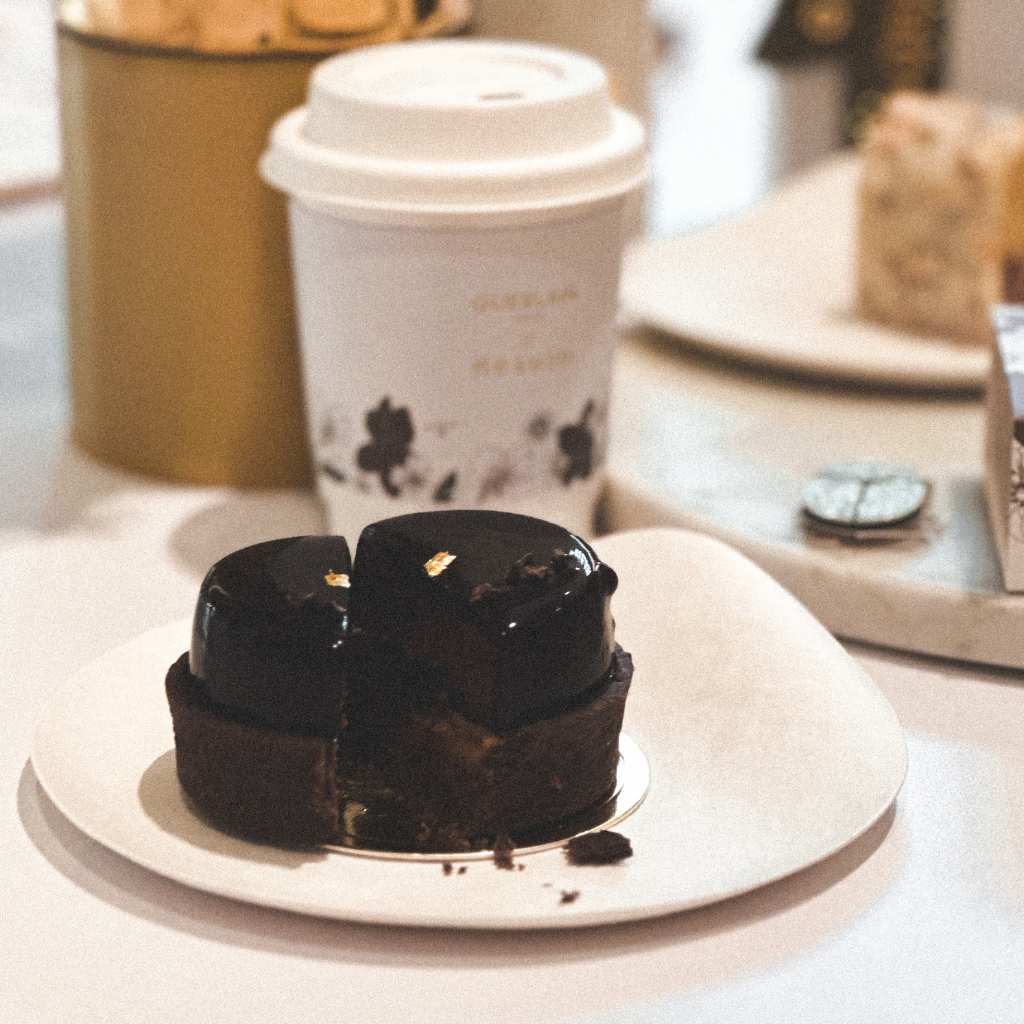 Savour the chocolate hazelnut entremet (S$13.80) last, which is the heaviest on the palate among the three. It's a classic chocolate dessert with a modern twist. Touting 85% Abinao dark chocolate mousse, rich hazelnut cremeux and a crunchy hazelnut chocolate tart, this is a delicacy that you can't go wrong with. It's then coated with a dark chocolate glaze and sprinkled with cacao nibs for extra oomph.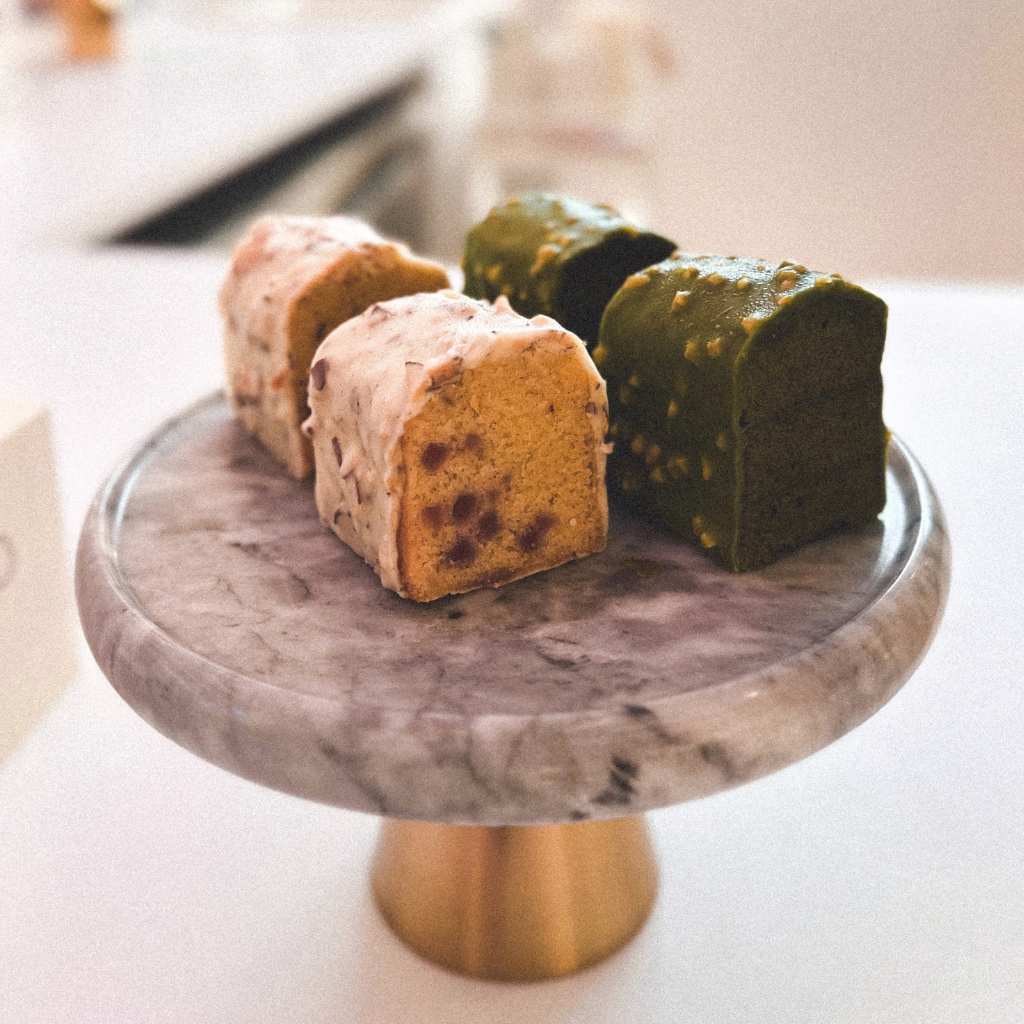 Joining the pop-up's exclusive range is the peach and vanilla gateaux de voyage (S$8.80 for a slice, S$49 for a whole). Also referred to as a travel cake, it features a fluffy vanilla sponge baked with juicy peach compote bits. It's then dipped in a decadent white chocolate coating chock-full of crunchy almond nuts. 
It's a wonderful festive dessert with just the right balance of sweetness and tartness. It's not too surfeiting either, which we greatly appreciate when savouring sweet treats.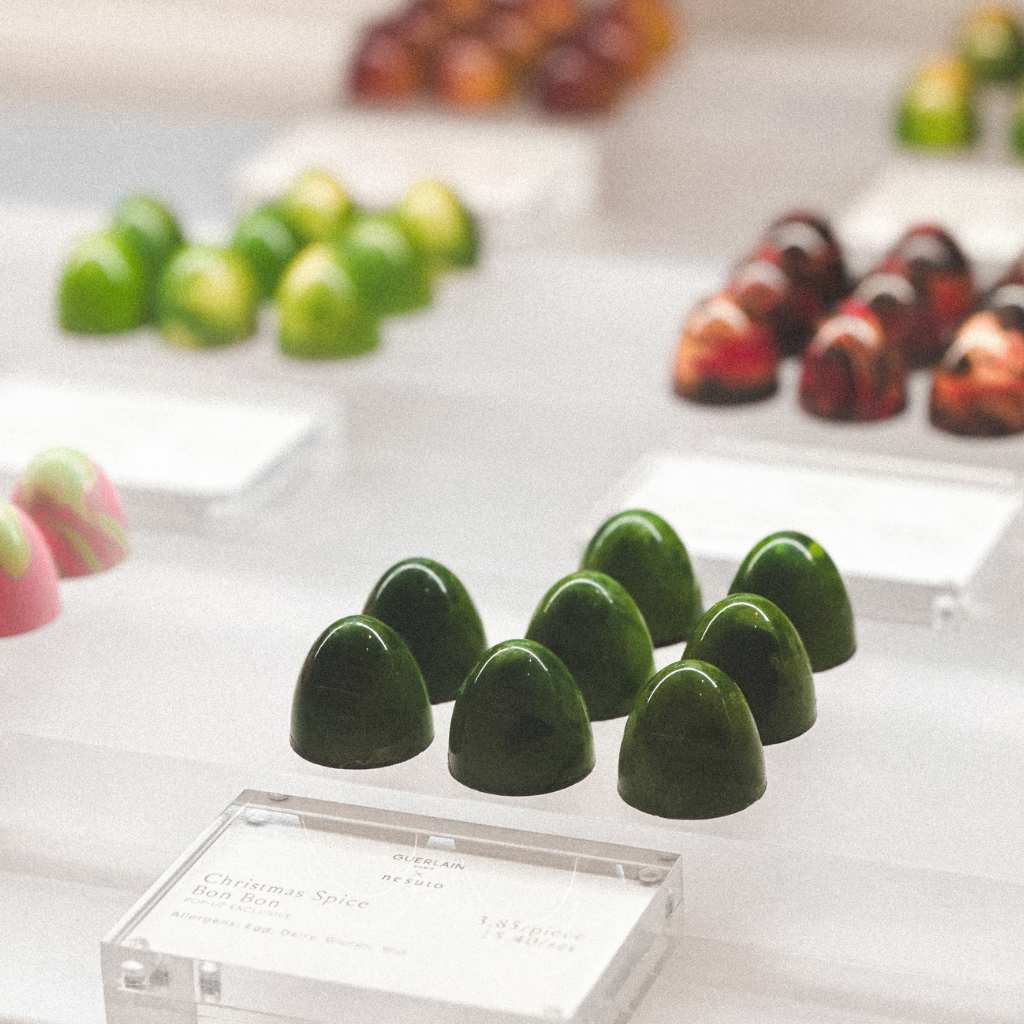 To celebrate its collaboration with Guerlain, Nesuto has doled out three new exclusive bonbon flavours: Christmas spice, brown butter honey walnut and blackcurrant Bali Sakanti 68%. 
The brown butter honey walnut bonbon is sure to please, for it highlights a blond chocolate ganache made with aromatic dulcey chocolate, brown butter and sea salt. It's also layered with caramelised honey walnuts, which add crunch and texture to the treat. 
Savour all three flavours with the four-piece chocolate bonbon box (S$15.40) that also comes with an existing signature flavour: Bergamot and earl grey bonbon.
Guerlain Cafe with Nesuto
Ion Orchard, Level 1 Atrium, 2 Orchard Turn
Nearest MRT station: Orchard
Open: Monday to Sunday (10am to 9.30pm)
Ion Orchard, Level 1 Atrium, 2 Orchard Turn
Nearest MRT station: Orchard
Open: Monday to Sunday (10am to 9.30pm)
---