From Scratch: How kimchi is made and the best places to get it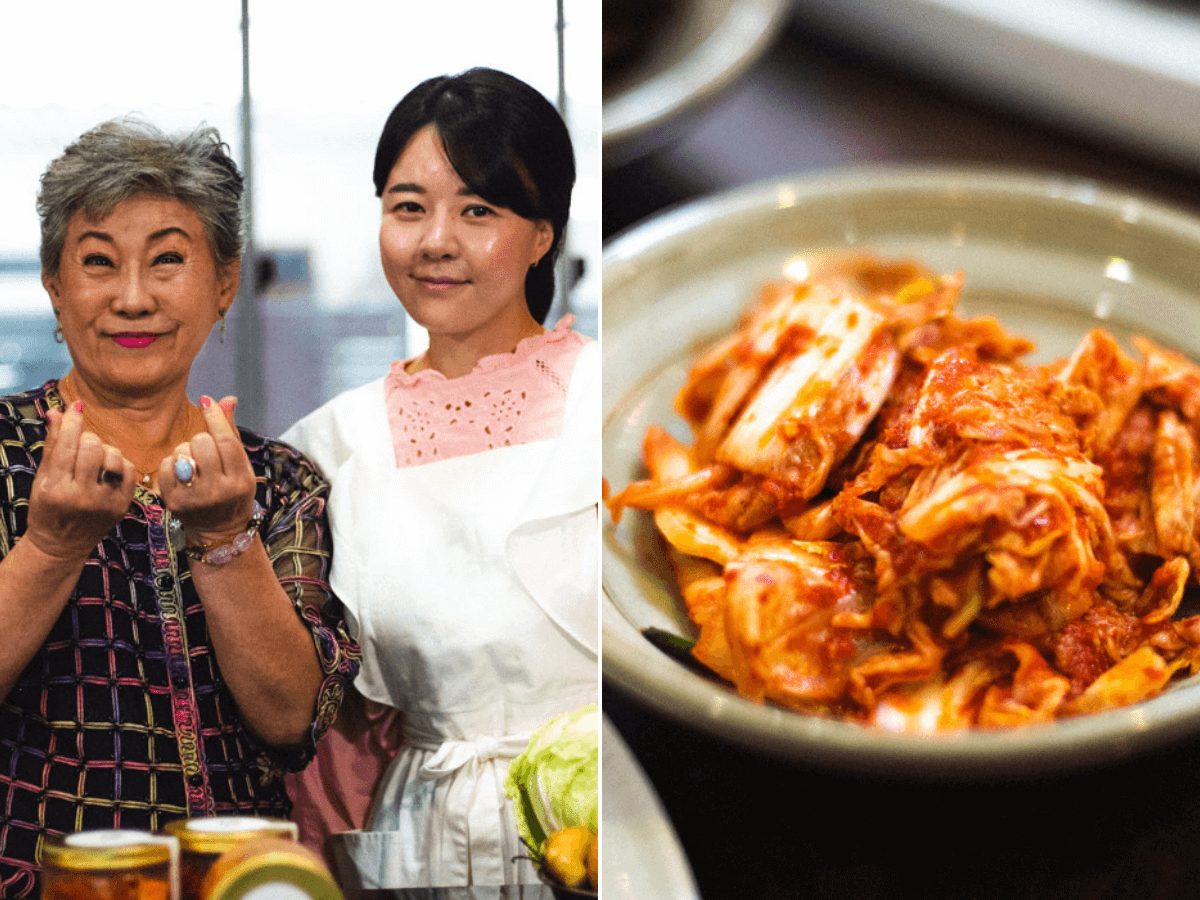 Singaporeans are no stranger to Korean culture and kimchi, but this hasn't always been the case
Many Singaporeans associate kimchi with cabbages
But there are many different types that use other vegetables, such as cucumber, radish and spring onion 
We find out how it's made from scratch
From Scratch is a series exploring the origins of foods that are popular in Singapore and the work that goes into making them.
While many Singaporeans have a love for all things spicy, kimchi has not always been a part of that lexicon.
Rather, it's something that's gained popularity in the recent past, alongside the wave of Korean culture that's swept the globe.
Trust Jin Yinji, 75, to know this better than anyone. The veteran Singaporean actress, Mediacorp artiste and co-owner of Gold Kimchi was born in South Korea and came to Singapore in her 20s to further her career.
"When I was pregnant during the 1970s, I craved kimchi, but there were limited ingredients here. I could only call my mother in Korea and sister in Japan to ask them how to make it," she recalls, speaking to HungryGoWhere in a mixture of Mandarin and Hokkien.
The result was not something Singaporeans would eat, she says. "Once my mother-in-law ate it, she asked me: 'How can you eat this? Sure lao sai (diarrhoea)!'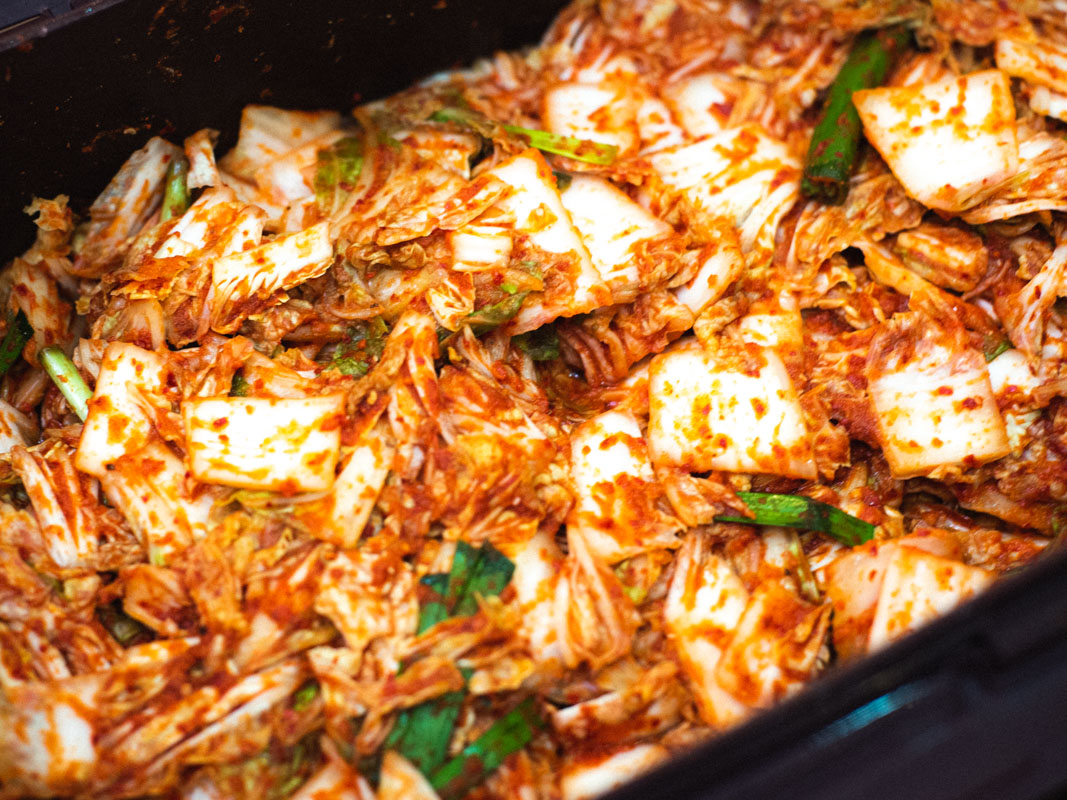 "It's really different. Who would have thought that in the future, so many people would like it? Especially the younger generation. Times have changed."
Today, you can find kimchi everywhere — on fries, in burgers, in little dishes alongside a hotplate of saba fish in your neighbourhood hawker centre… the list runs on.
How Gold Kimchi began
As ubiquitous as kimchi is today, freshly made ones are a challenge to find, and this was especially so during the Covid-19 pandemic.
That was how Gold Kimchi was born, says Cloe Han, 40, its co-owner. She is Jin's daughter-in-law and the hands behind the operation.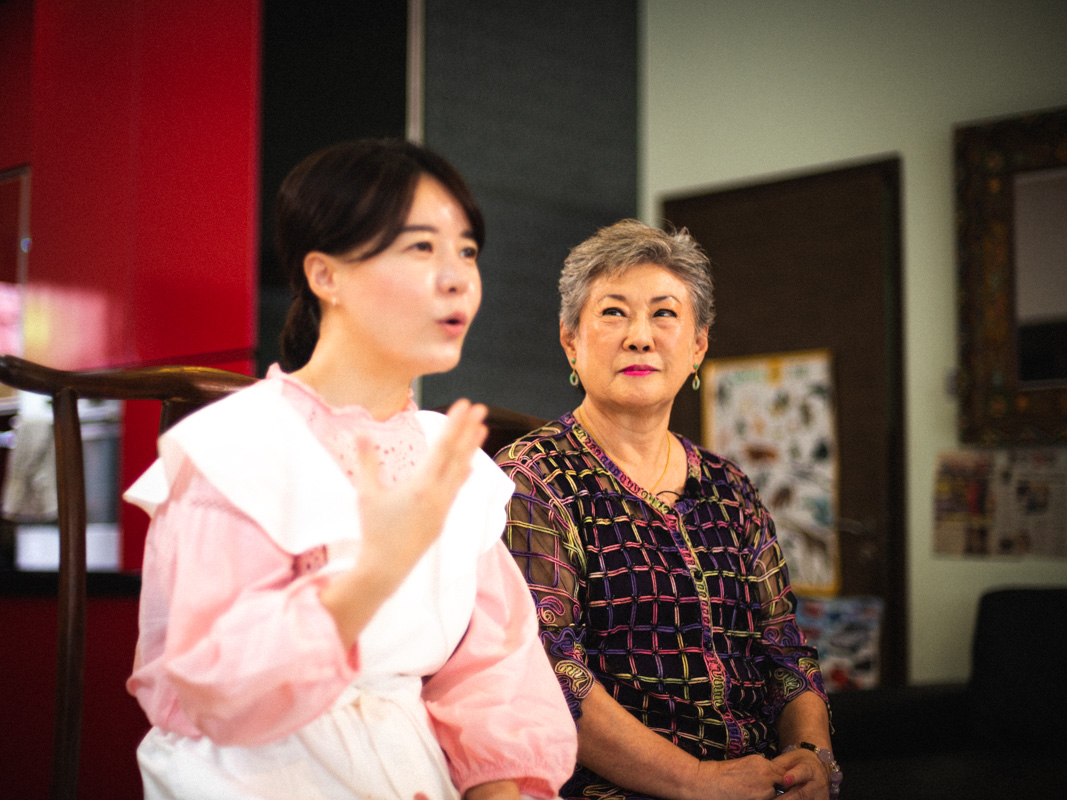 "(During the pandemic), I started to make kimchi because I couldn't find fresh ones in Singapore. The processed ones are a bit soggy and sour, so I tried to make it myself and shared it with friends."
She found ready-made kimchi rather one-dimensional, too. "It's good, but there's not much taste — only spiciness and sourness."
It took six months, after consultation with her mother and aunts back home in Korea as well as some help from YouTube videos, for Han to refine the formula.
Jin signed off on the recipe, too, says Han. "It has to be good; otherwise, she won't let us sell it."
What sets Gold Kimchi's products apart from others is the use of high-quality ingredients. Han uses products from Korea — either imported or specially bought on yearly trips home to visit her family.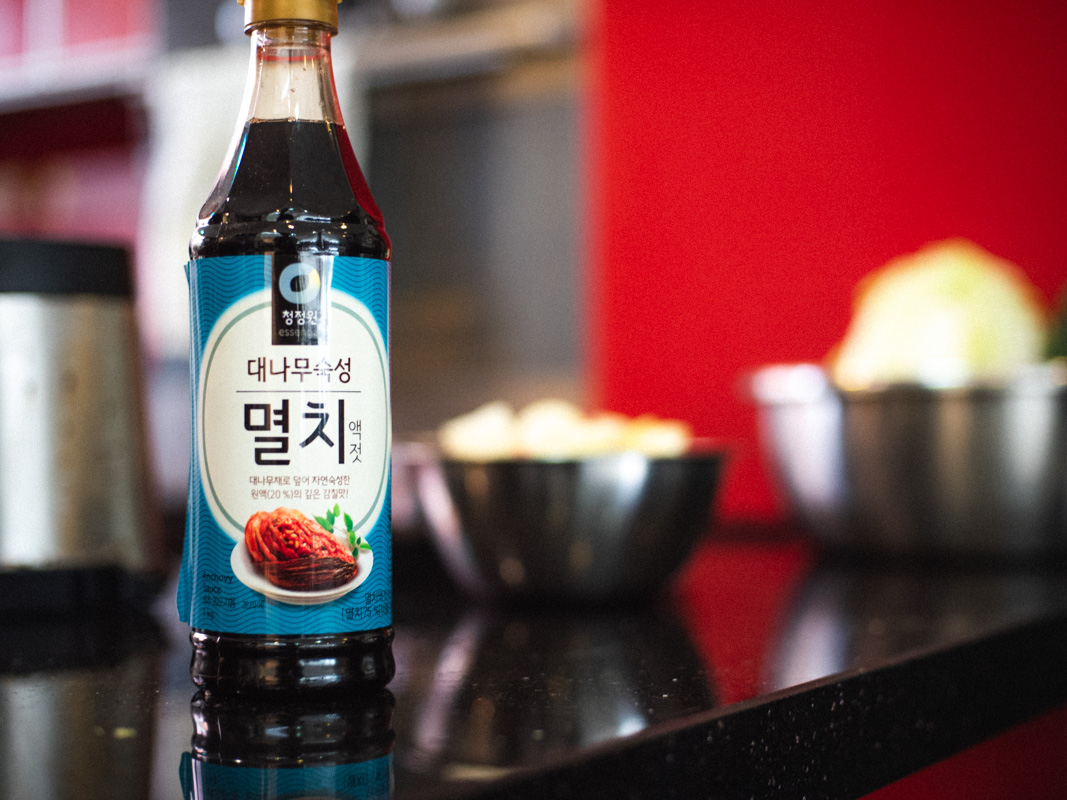 Korea-made fish sauce and chilli powder, for example, have different tastes and textures, so authentic ones are preferred.
"We use high-quality fruits," adds Jin. 
There is, of course, what Han calls a "secret-recipe sauce" in the mix as well.
Today, Gold Kimchi makes everything out of its home kitchen for sale online.
The products are fresh with no preservatives, adds the duo, although this means their shelf life is too short for sale in department stores.
"The ones you make yourself are fresher and healthier for the body," says Jin.
Kimchi over the years
Many Singaporeans associate kimchi with just cabbages, but it can be made with many other vegetables and fruits, such as radish and cucumber, and even apple.
The dish is characterised by its red hue — a by-product of the chilli powder used — and refreshingly tart flavours soaked into every bite.
It's considered a staple in Korean cuisine, and often served as one of several side dishes (banchan) or used in cooking.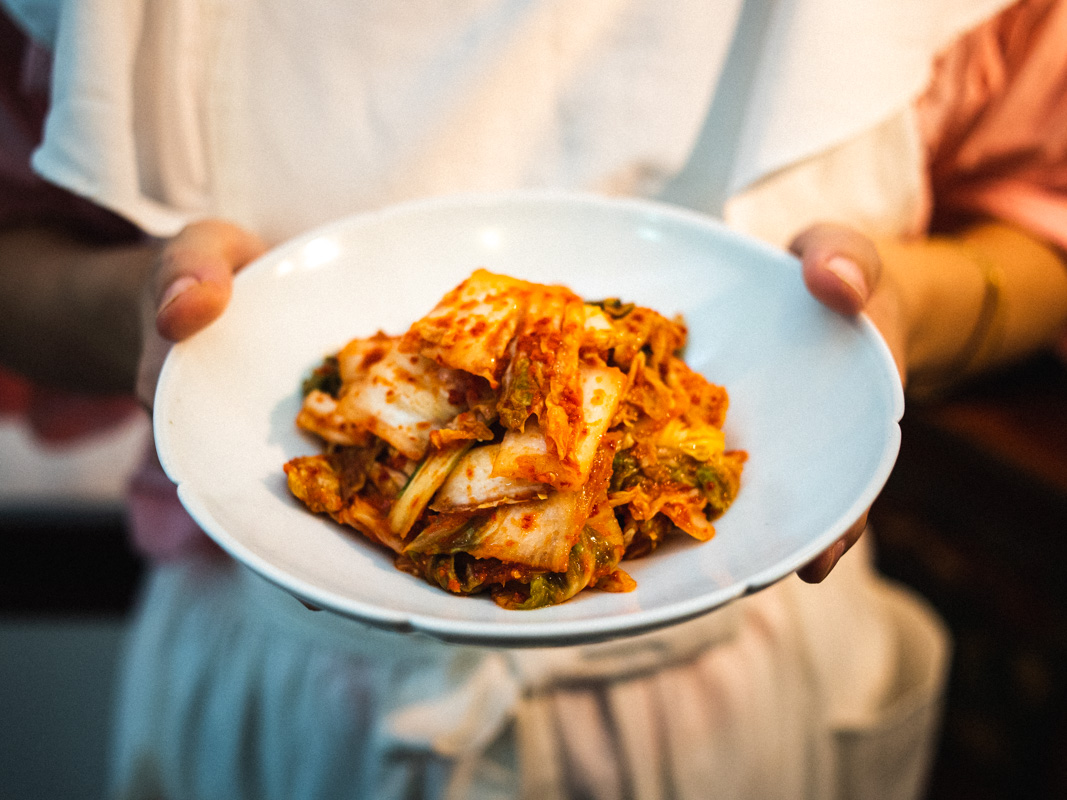 "You can put it in tofu soup (sundubu-jjigae) and noodles (ramen)," says Jin.
In her youth, Jin recalls making it in big batches in her family kitchen. They used large pots and stored them underground over the winter.
In the modern era, however, kimchi refrigerators are used. 
Unlike traditional refrigerators, these fridges don't keep their contents cold per se, but rather maintain a consistent yet cool environment that aids fermentation. These fridges are also more infrequently used and aren't opened daily, as is the norm for many kitchen fridges.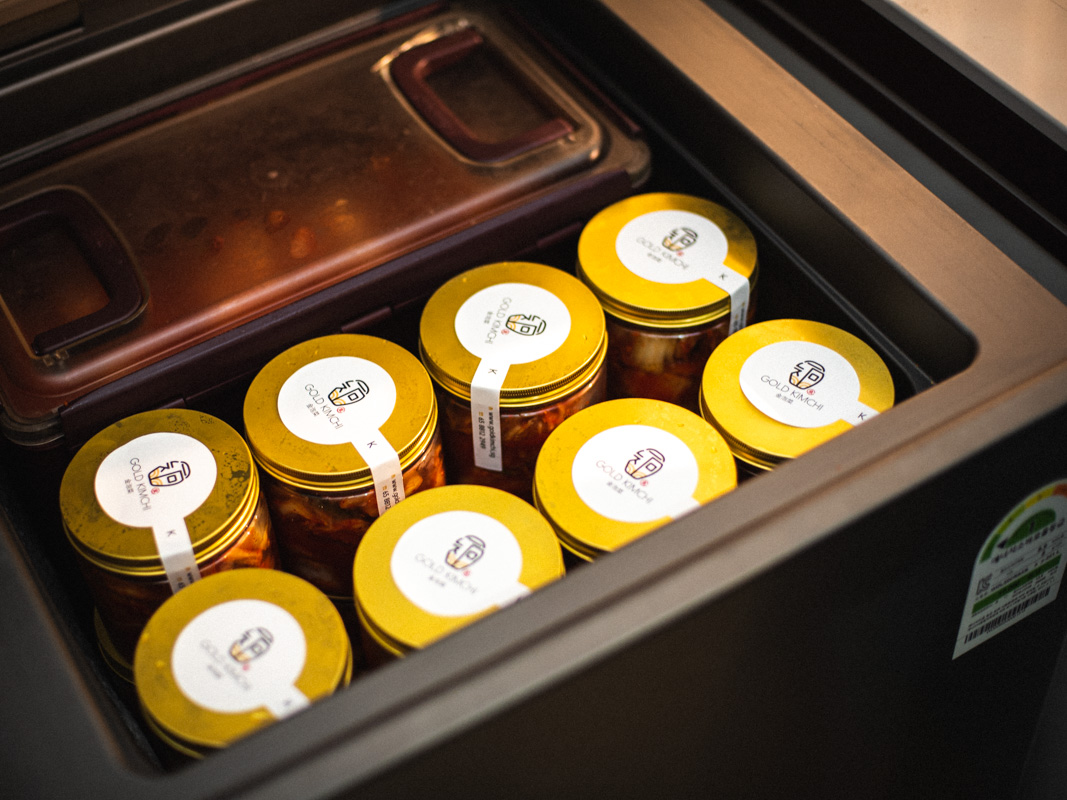 Han and Jin say this is even more of a necessity in Singapore's warm climate, which causes kimchi to ferment and turn sour more quickly.
As an extension of tried-and-true recipes, Gold Kimchi recently put out a new vegan, non-spicy and kid-friendly variant made with beetroot.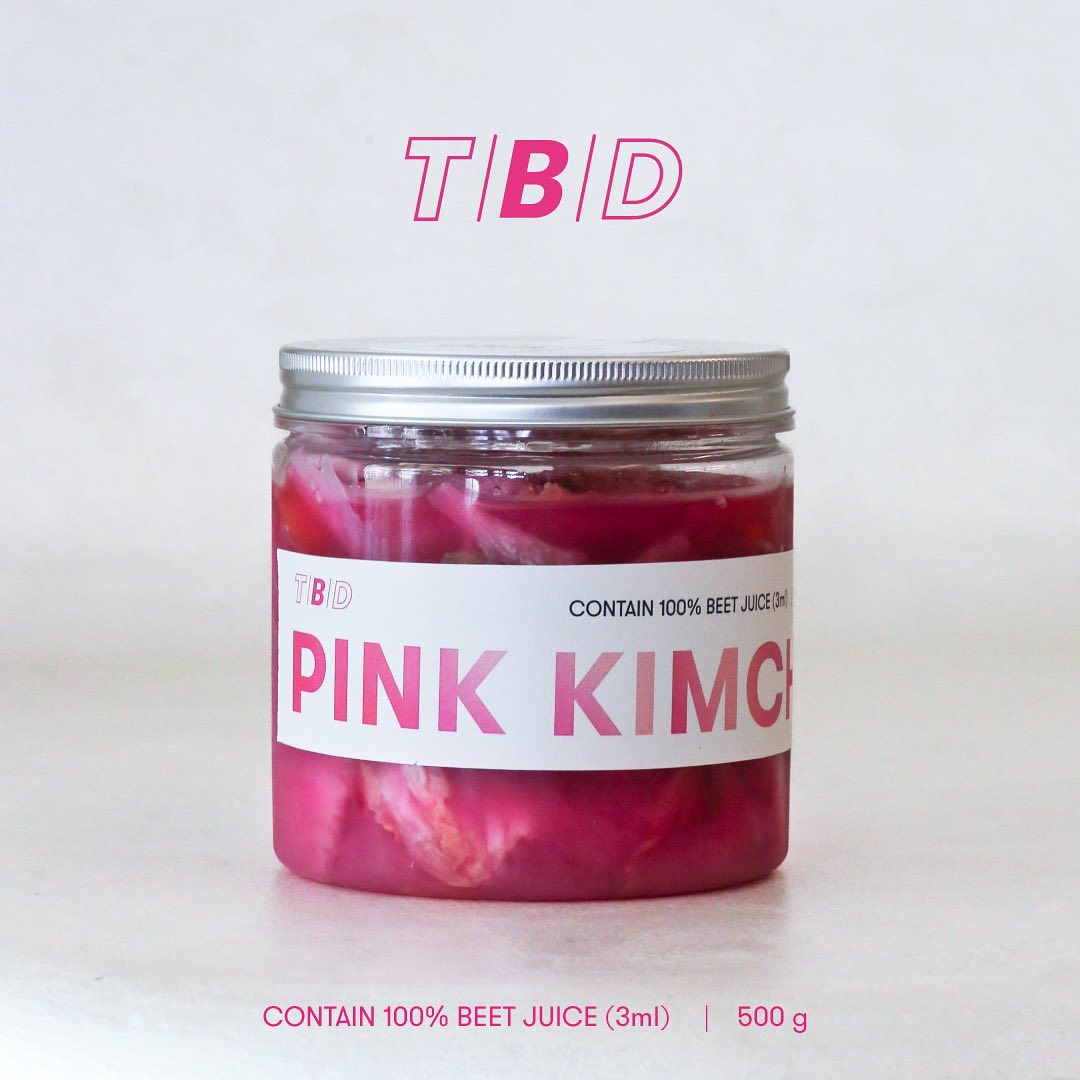 Aptly named Pink Kimchi, this was created in collaboration with gourmet Korean butchery The Butcher's Dining to match its take-home barbecue sets.
Gold Kimchi hopes to tie up with more brands on projects such as this. But in the meantime, Han has been sharing her love of Korean cuisine with fellow K-aficionados in the form of cooking classes.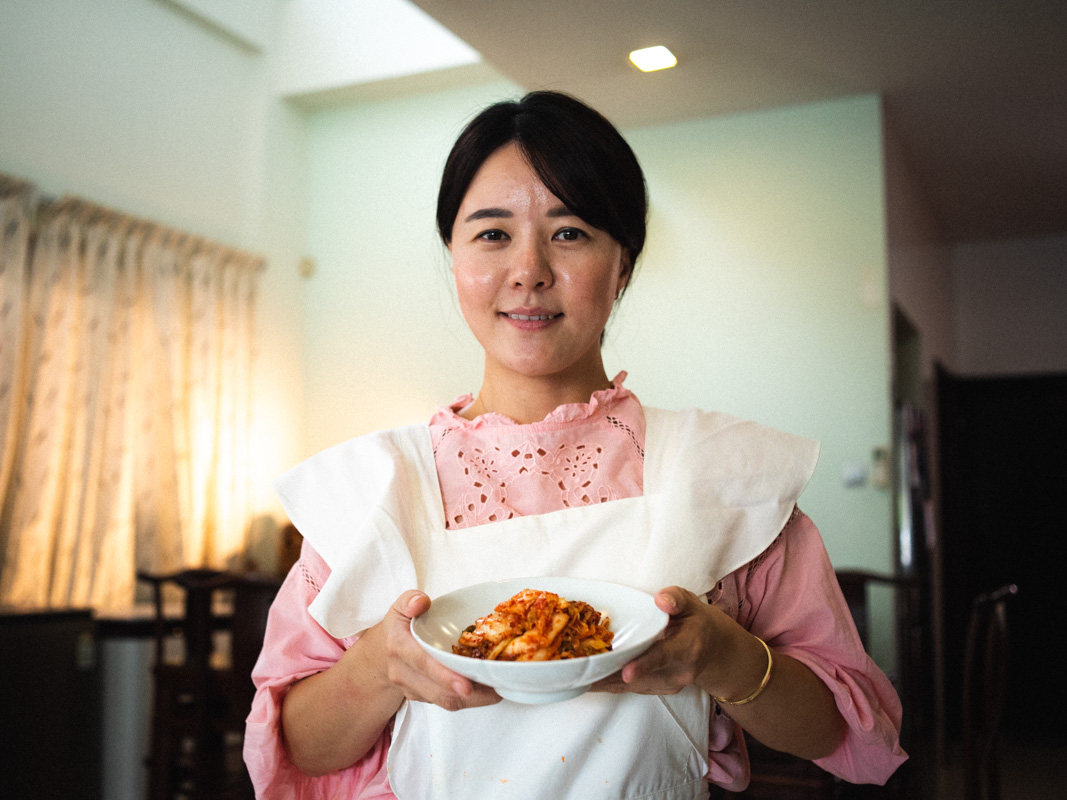 Jin says of her daughter-in-law: "She's not stingy with the food that she cooks. Some people will hide their recipes, but not her. If someone genuinely wants to learn, she will teach them."
How kimchi is made
Part 1: Preparing the ingredients
Han starts the process by cutting the cabbages into bite-sized pieces, and washing them thoroughly to remove dirt and impurities.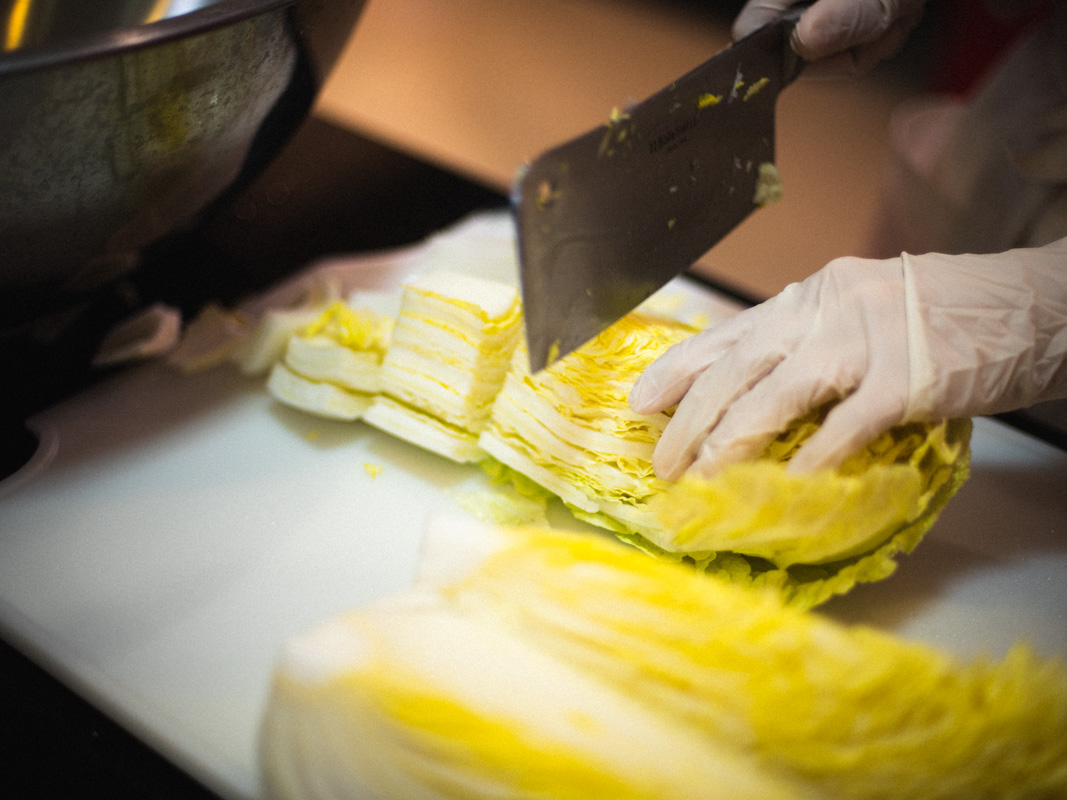 Next, Han adds coarse salt granules to water and soaks the vegetables in this solution for two hours. 
This process is called brining and pulls the moisture out of the cabbages.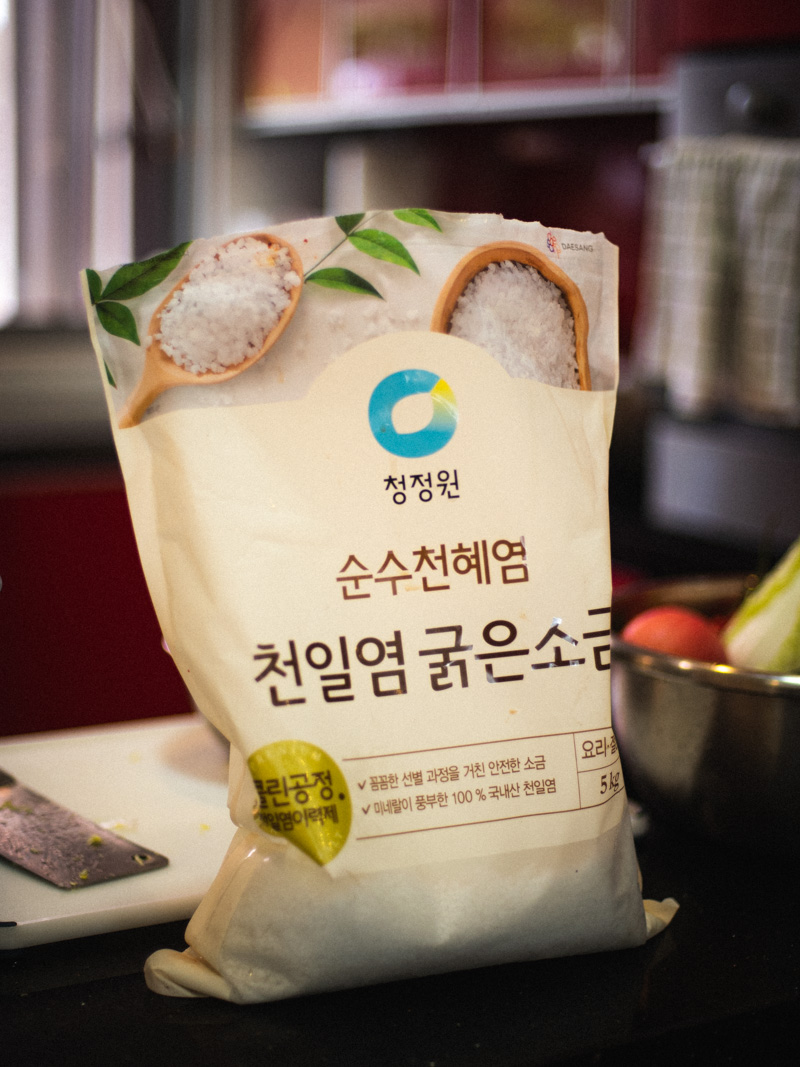 Part 2: Building layers of flavour
Meanwhile, she prepares the marinade. For cabbage kimchi, she uses red chilli, apples, brown pear, onion, ginger and garlic. These are peeled, chopped, then blended with Korean fish sauce.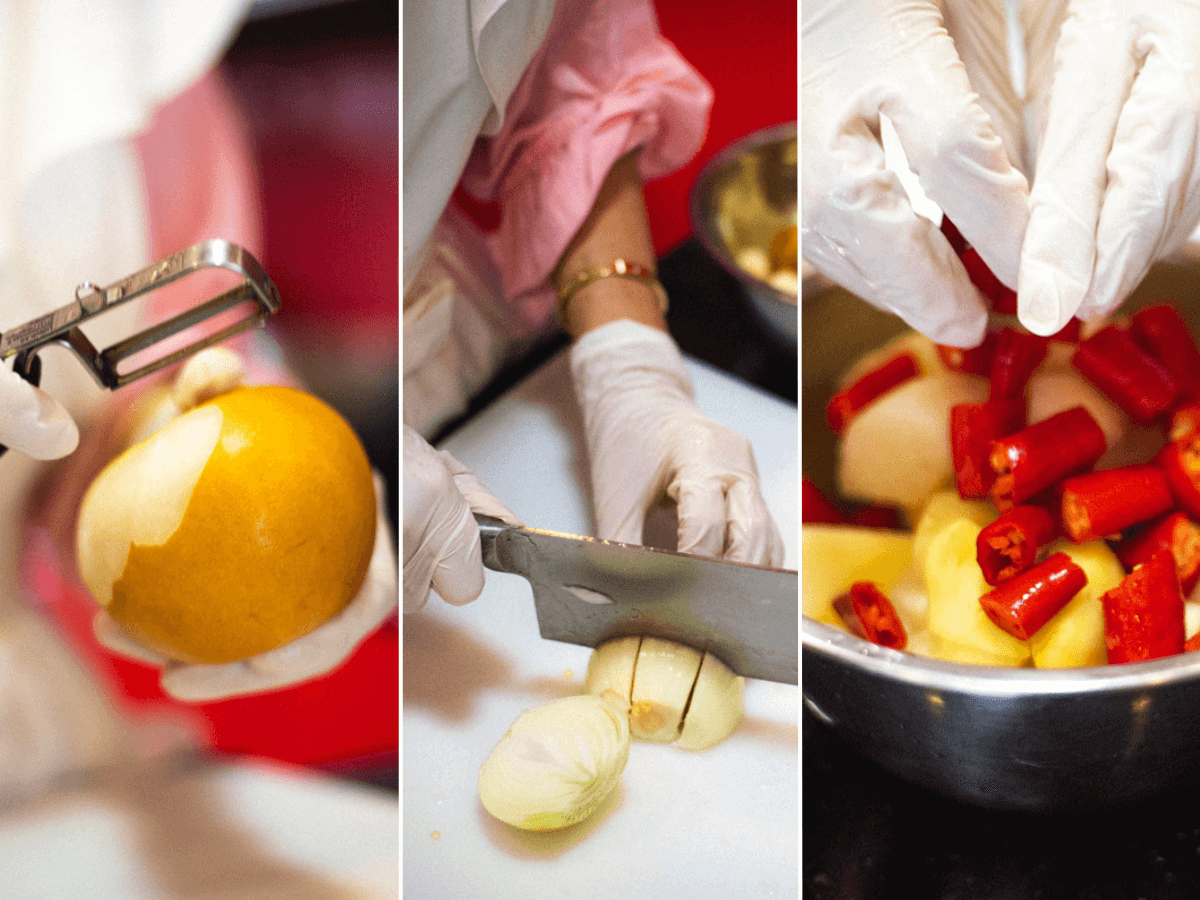 To the blended paste, Han adds salted shrimp or shrimp paste and Korean chilli powder — a lot of it — so much so that the mix turns a deep red.
At this stage, fish and oysters are commonly added into the mix, but these are difficult to source in Singapore, Han says.
Some sugar is also added to balance the kimchi's flavour profile, but sparingly so. This is because the apples and pears added earlier already contribute much of the necessary sweetness.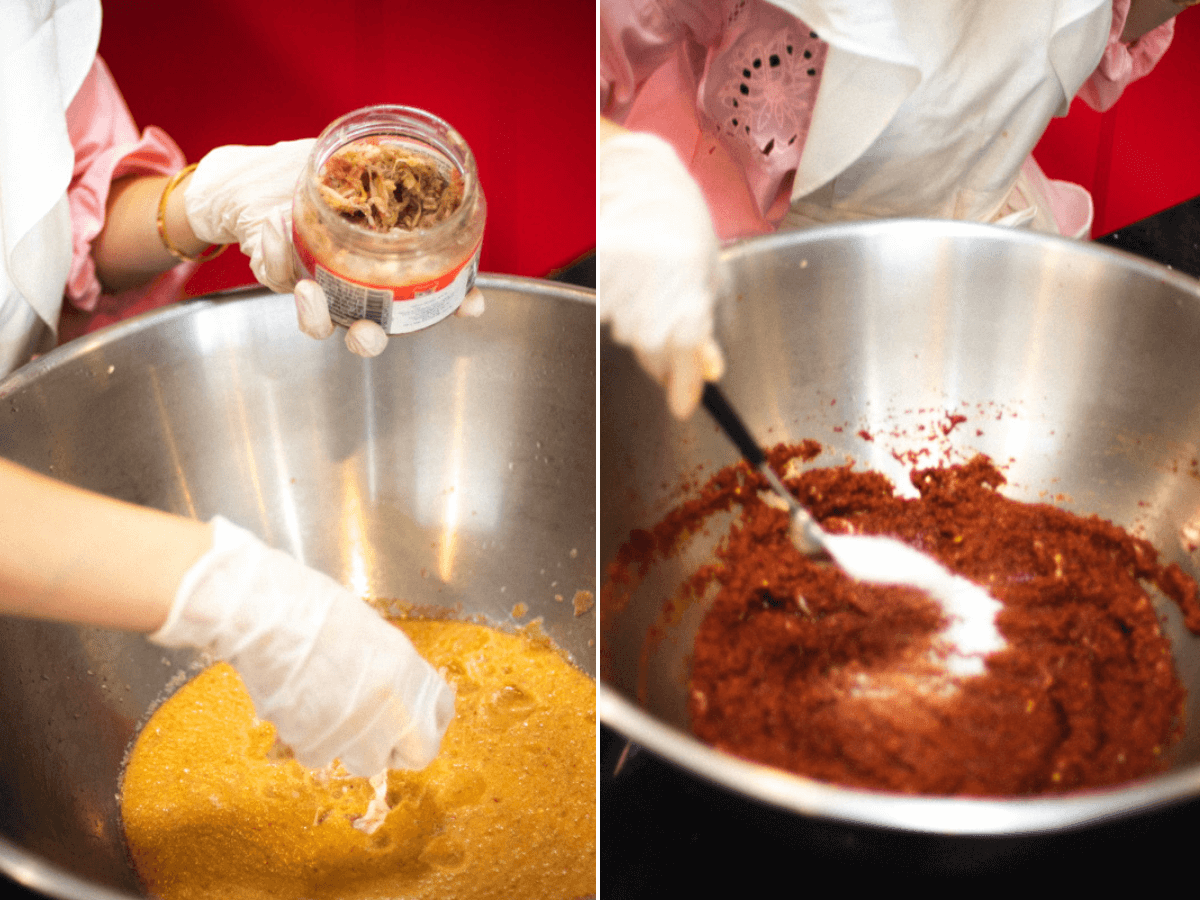 The components are then mixed until fully incorporated, forming a paste. It's then left to sit for an hour.
Part 3: Mix, mix, mix
The vegetables are carefully drained, rinsed and dried to remove any remaining saltwater.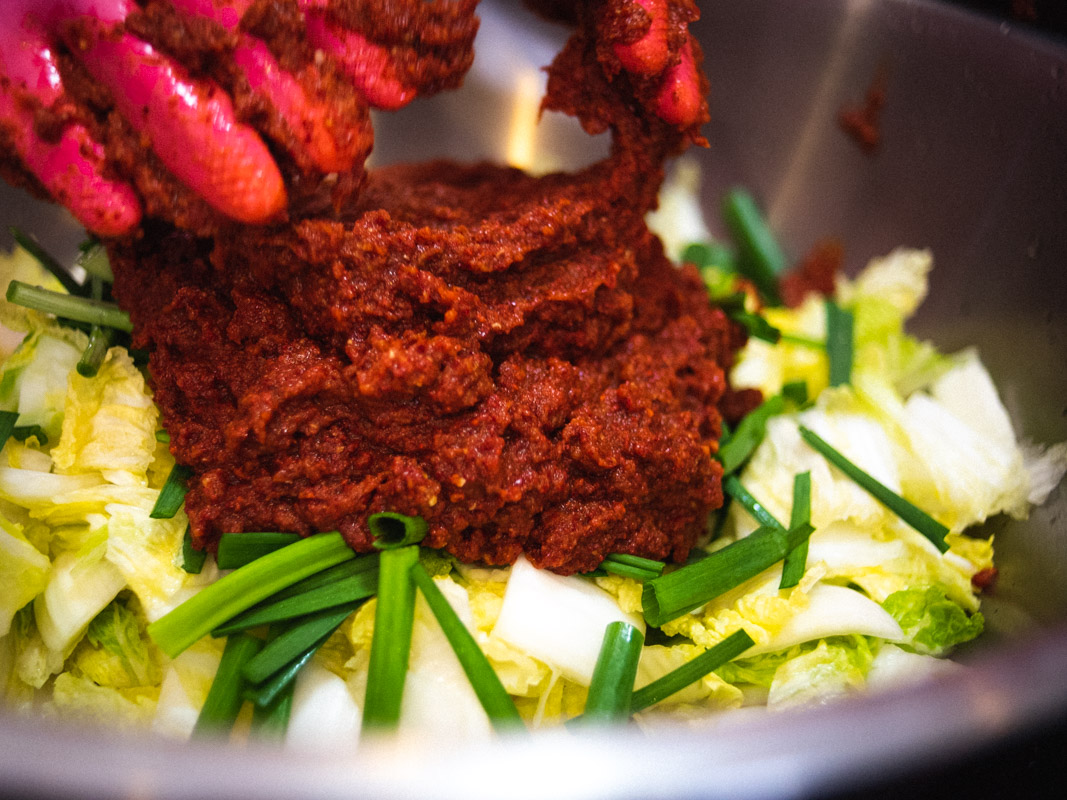 Once ready, the cabbages and kimchi paste are added into a large mixing bowl, alongside some chopped chives, and thoroughly mixed by hand.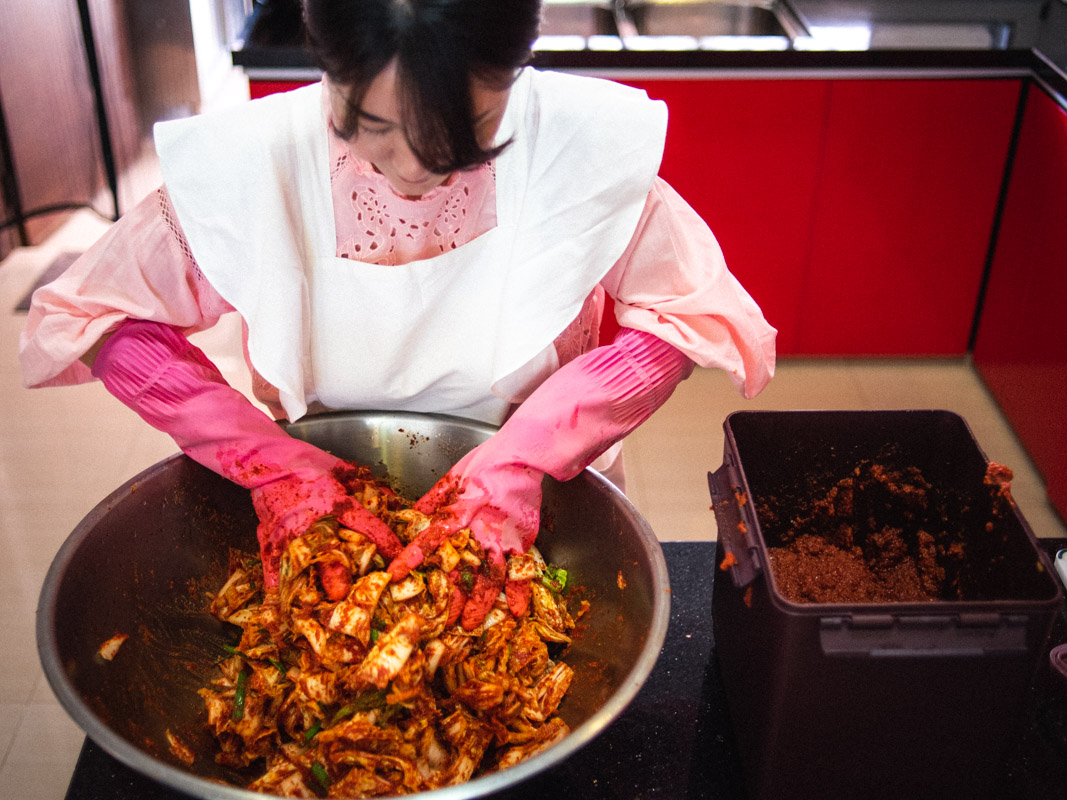 Part 4: Fermentation
Finally, the resultant mixture is placed into storage containers and goes to its home for the next few months — a kimchi refrigerator — where it develops its iconic flavour.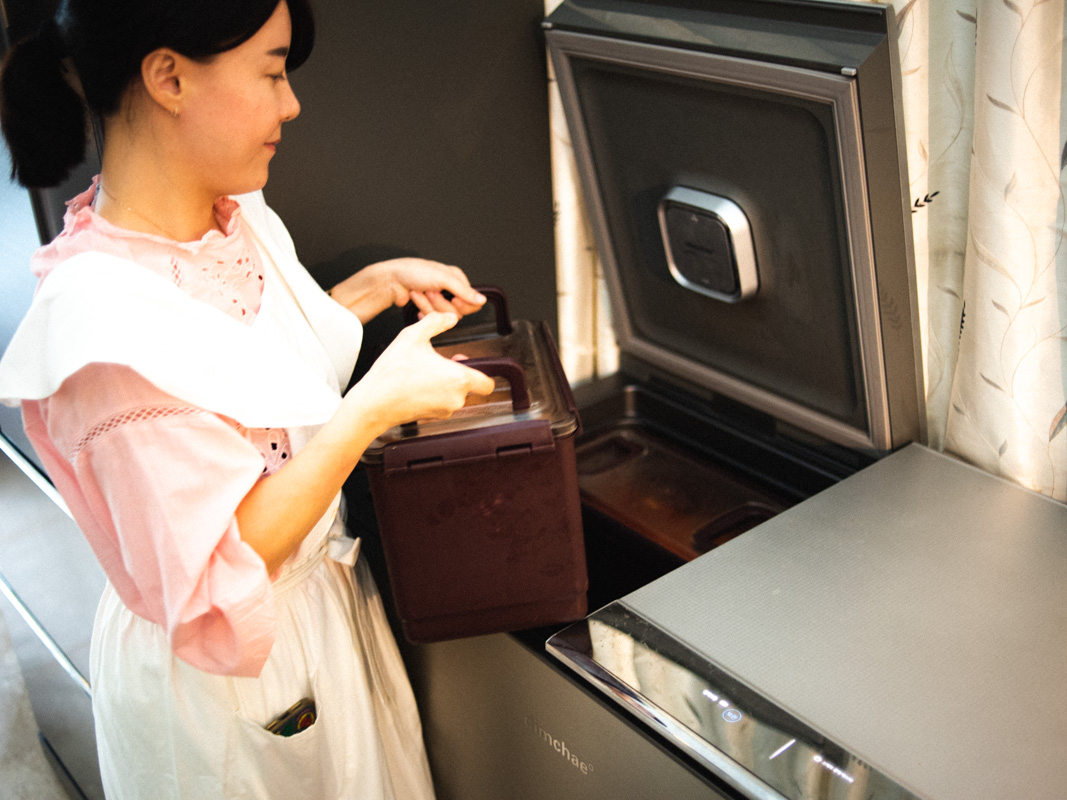 Where else you can find homemade kimchi
1. My Korean Mom's Kimchi
NEWest Mall, 01-71, 1 West Coast Drive
Nearest MRT station: Clementi
Opens: Tuesday to Sunday (11.30am to 2.30pm, 5.30pm to 9pm — last order at 8pm)
MKMK started as a home-based business, making authentic kimchi and other Korean delicacies out of a home kitchen in Tampines. In September 2022, it opened its first brick-and-mortar restaurant along West Coast Drive. Run by a bona fide ajumma (Korean aunty)-and-son duo, its food is excellent and reminds us of Korea's best.
2. Pink Candy
Beauty World Food Centre, 04-60, 144 Upper Bukit Timah Road
Nearest MRT station: Beauty World
Opens: Wednesday to Monday (11am to 2.30pm, 5pm to 9pm)
This hidden gem dishes up affordable yet authentic fare, in addition to great views from its al fresco dining area. Be sure to take home some of its homemade kimchi, too. There's quite the variety, including apple and spring onion.
3. Wanting Kimchi
Order online
Home-based business owner Zeng Wanting has been making kimchi that's MSG-free and low in salt and sugar since 2019. In her repertoire, you'll find vegan, keto and non-spicy versions, made using various fruits and vegetables.
For more stories on how your favourite eats are made from scratch, read about sourdough and bubble tea pearls.
All the eateries in this article are on the GrabFood or GrabMart delivery services, and offer free delivery (up to S$3 off) with GrabUnlimited. Alternatively, you can book a ride to their locations.