Your guide to a feast at the Artbox 2023 pop-up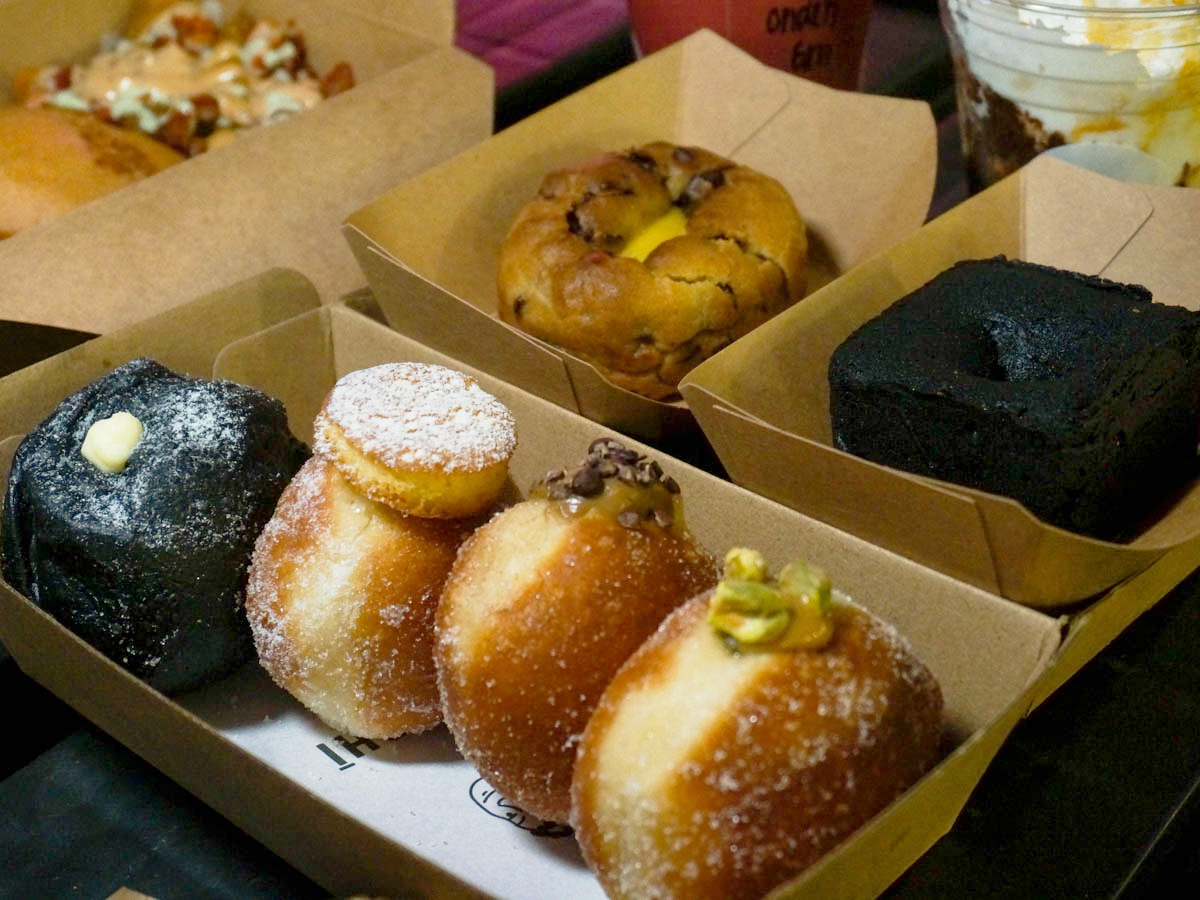 Artbox returns as an air-conditioned bazaar at Singapore Expo Hall 6
There are more than 300 fashion, lifestyle and food brands
It's got an array of food options available, from snacks to full meals
Bazaars and markets are back in full swing and the Instagrammable Artbox is no exception. 
After a three-year hiatus, the pop-up market returns bigger and cooler than ever — literally. The event, held indoors at Singapore Expo Hall 6, is air-conditioned for the first time.
It will run from Feb 24 to 26, and March 3 to 5, from 12pm to 10pm daily. Visitors require an entry ticket that's priced from S$6 onwards.
Boasting almost 300 fashion, food and lifestyle brands, you'll likely be stumped by what's on offer, and overwhelmed by the sheer number of stalls and activities to go through. 
From tarot readings and jagua ink tattoo stalls (that use a temporary fruit-based ink) to arcade games and stage challenges, there's plenty to be entertained by while you're at Artbox. 
And while we can't advise you on the best things to do there, we can advise you on what's there to feast on. Here are some of our food picks.
Starters and snacks when on-the-go
Hangry but still want to assess the stalls on display and weigh your food options? Then snacks are the way to go.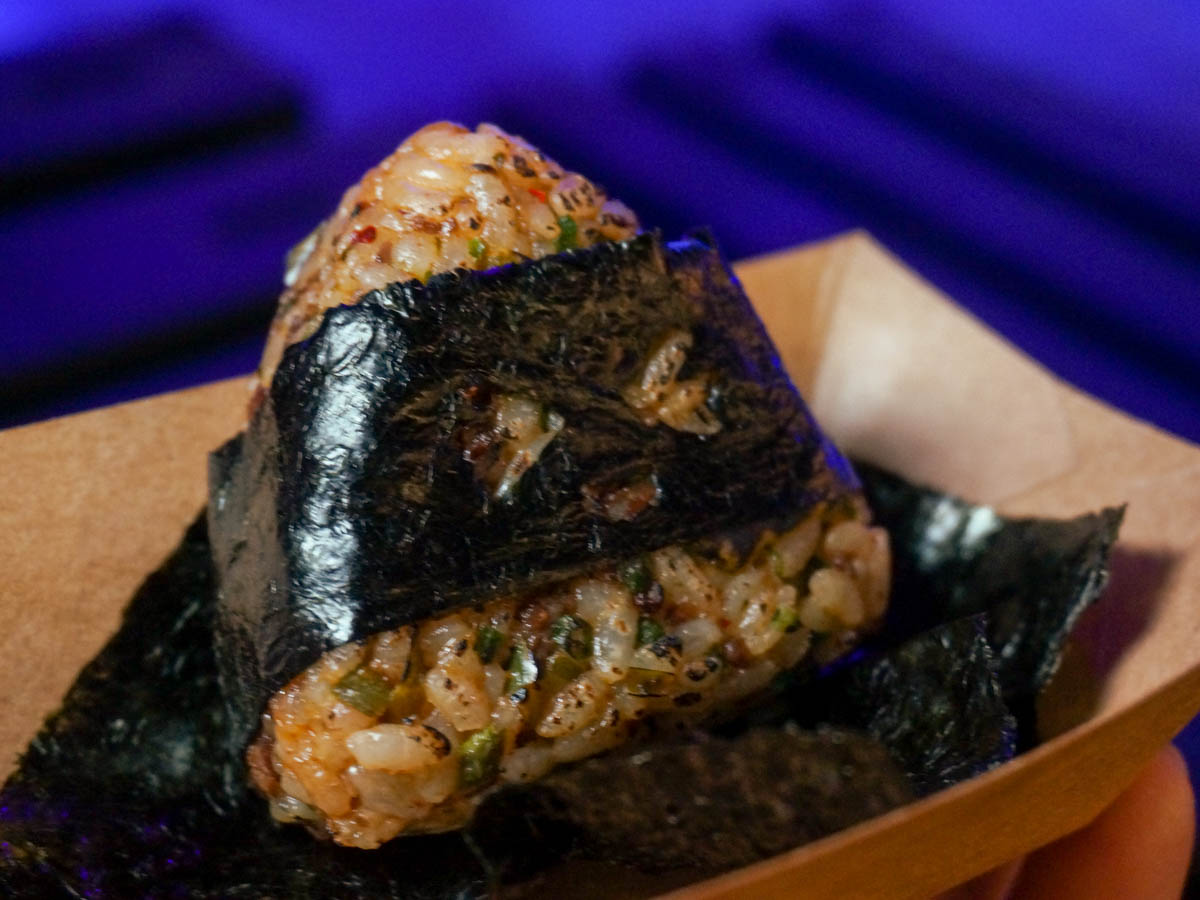 If you're fans of the TikTok-famous Rappu Handroll Bar, try the wagyu onigiri (S$8) at The Proper Concepts Collective (Stall 324). 
You'll be able to find this creation only at its Artbox pop-up as the onigiri is the team's newest experiment, and is not available for dine-in at the restaurant.
Also available at the stall is the Feather Blade meatballs (S$8) made with minced beef, served with foie gras mushroom cream and cranberry jam. 
If you're in the mood for something sweeter, opt for the pisang goreng (S$4 for five pieces) from Bo-Geh (Stall 267). 
Mains 
If everything looks too good to choose from, you can't go wrong with the classic dishes — burgers, pizzas and hotdogs.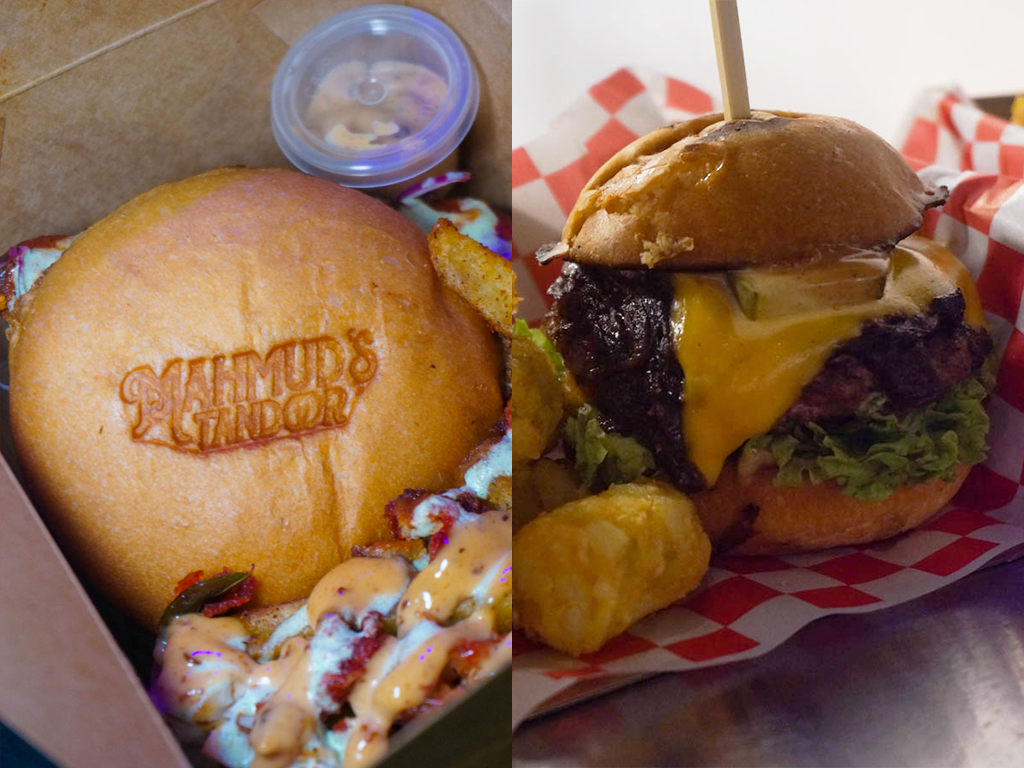 Mahmud's Tandoor's (Stall 252) burgers are one of the most economical options you can find at the event. Its baked burger and crispy doori (S$10 each) have earned the Muslim-owned eatery loyal fans since its inception. 
We recommend topping up S$2 for its perfectly fried masala fries.
If sinful, greasy cheeseburgers are more your thing, head to the underrated OOTB (Stall 306), also known as Out of the Bun, for a classic cheese slider and tater tots combo (S$11.90).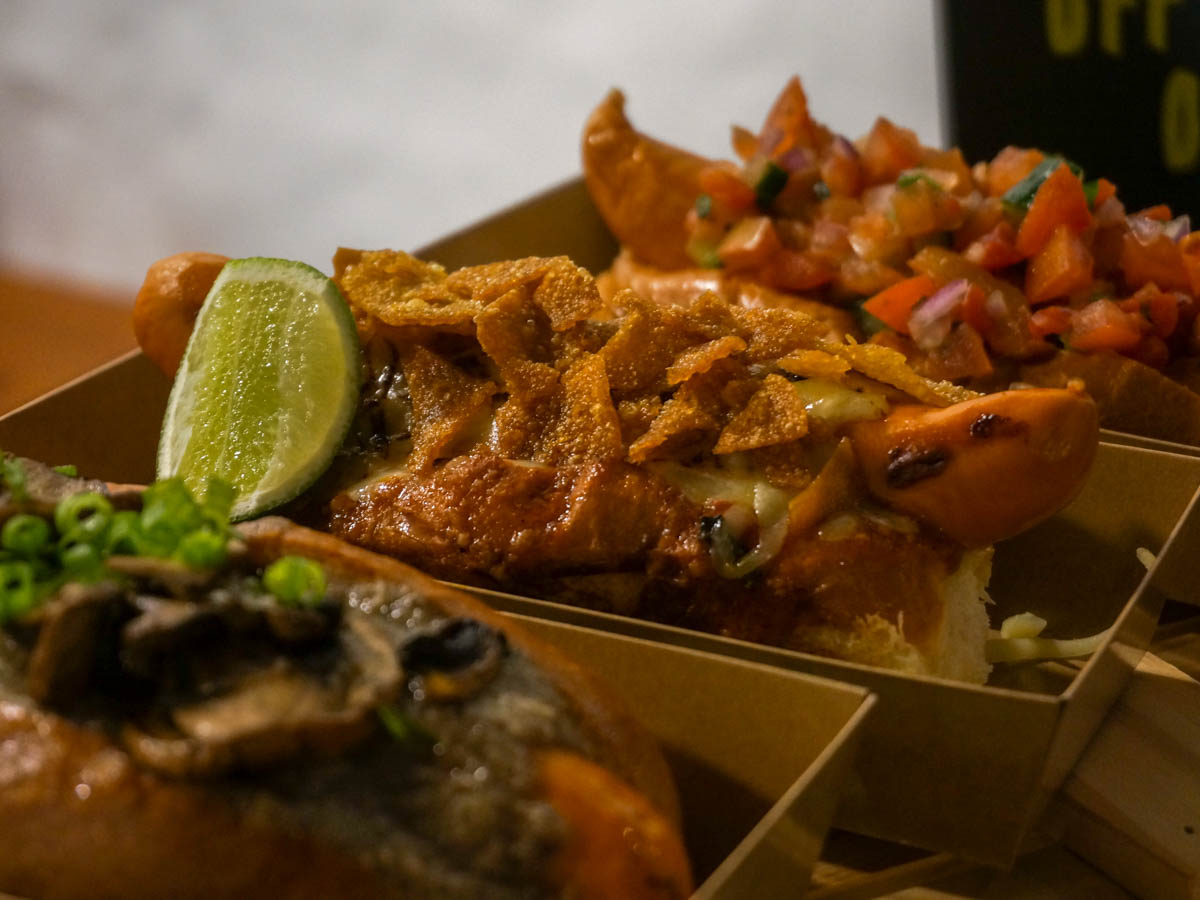 The Chicago-inspired hotdog stand, Miss Chardog (Stall 284), is also on the F&B lineup this year. Its Miss Beefchilli (S$14.50) consists of a smoked chicken sausage tucked into a brioche roll and topped with sambal beef chilli cheese, served with wanton skin crisps.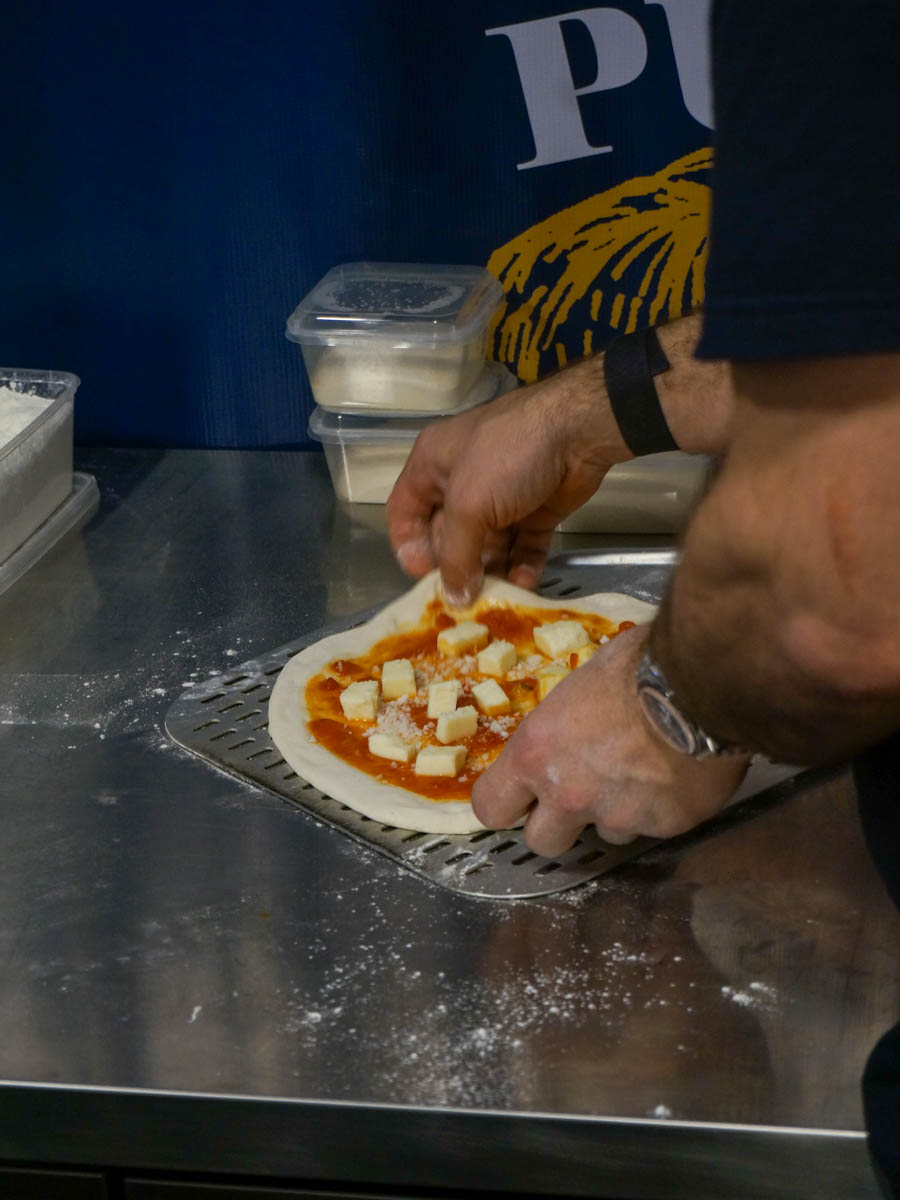 For groups, consider the New York-style pizzas from Mia Tavola (Stall 304). Headed by chef Nick, a Brooklyn native, the NYC pizzas (from S$9) are freshly baked. Must-tries include the Damn Spicy (S$12) that comes with fresh mozzarella, tomato sauce and Italian chilli crisp.
Desserts
If there's one thing Artbox has plenty of, it's dessert.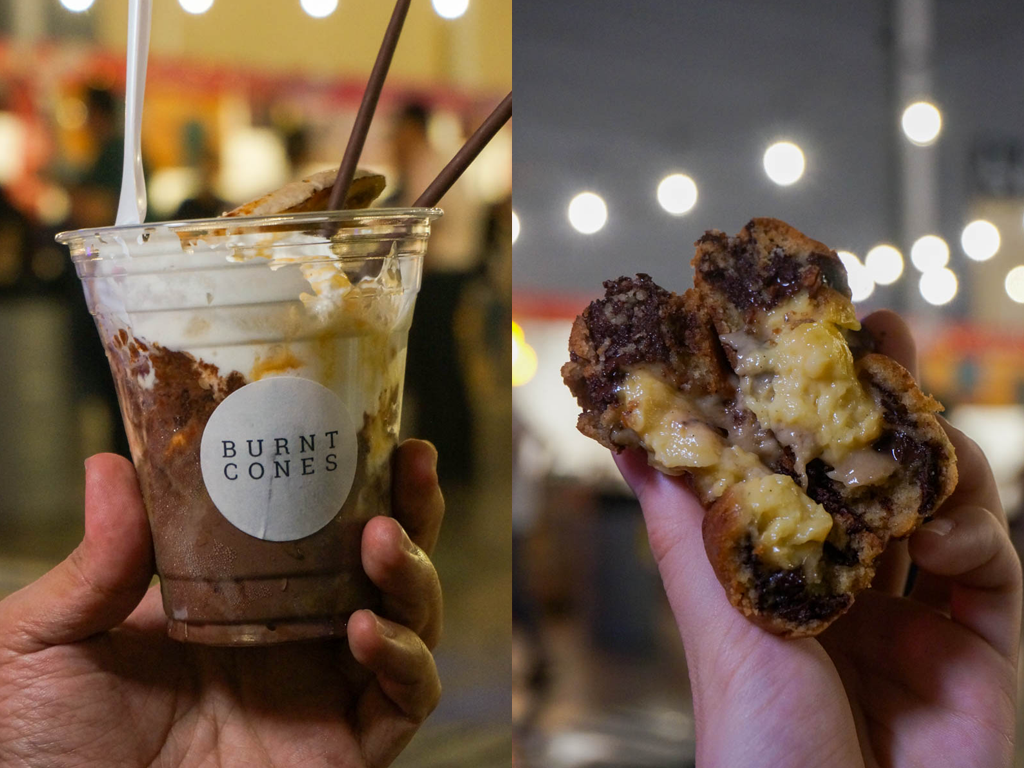 We spied the famous Burnt Cones (Stall 317), selling its single (S$6) scoop ice cream and waffles (S$4), as well as Whiskdom (Stall 289), a homegrown cafe brand known for its sweet delights, such as the creme brulee cookie (S$6.50) or the salted dark chocolate brownie (S$6.50).
If you've a soft spot for donuts, Kobashi (Stall 234) has made its way to the east to sell its famed Sourdo'nuts (from S$3.50). The donuts are a must-try with its soft, fluffy interior and well-balanced cream filling.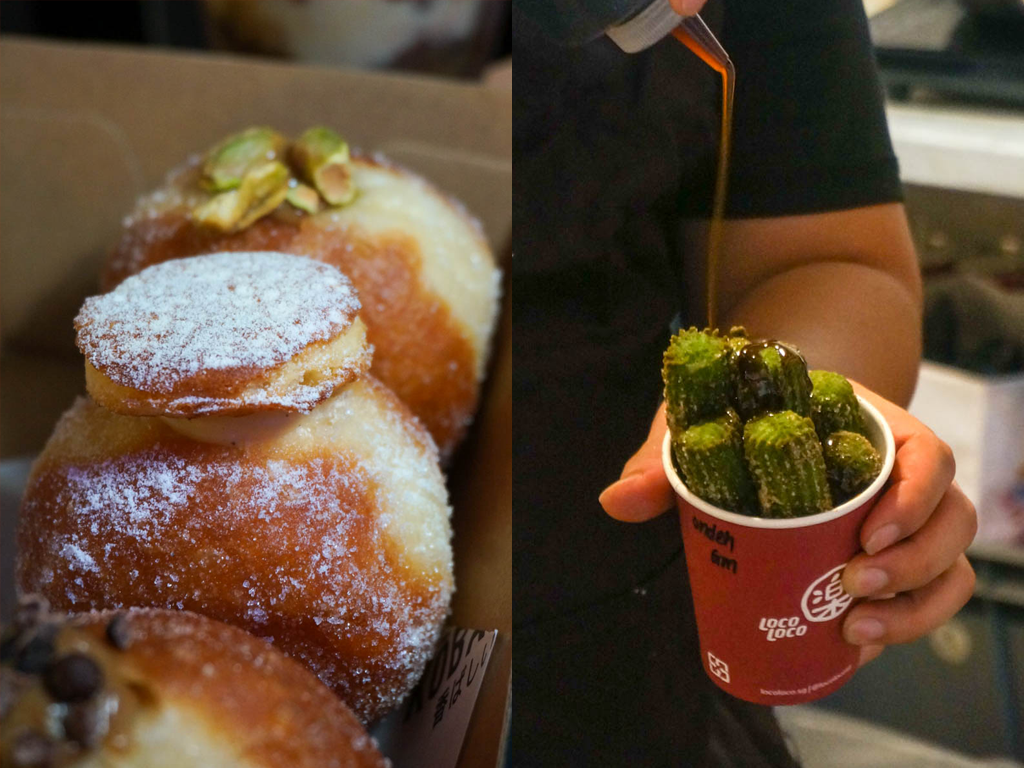 These sourdough doughnuts are made fresh daily, so head there early, as there is a limited number available. 
For something easy to munch on, try the ondeh-ondeh churros with gula melaka sauce (S$5) from Loco Loco (Stall 266). 
Packed with the fragrance of pandan and the sweetness of gula melaka, this is a treat you shouldn't miss. Do note the long waits, though, as the churros are freshly fried. 
Retail items 
While it was tempting to simply skip past the retail section near the entrance, since our sole focus was Artbox's food offerings, we were glad we didn't. 
Hidden amid the stalls selling clothes and trinkets, there were stalls selling some delicious food gems.
One of them is Fossa Chocolate (Stall 73), an artisanal bean-to-bar chocolate manufacturer that sells unique local chocolate flavours.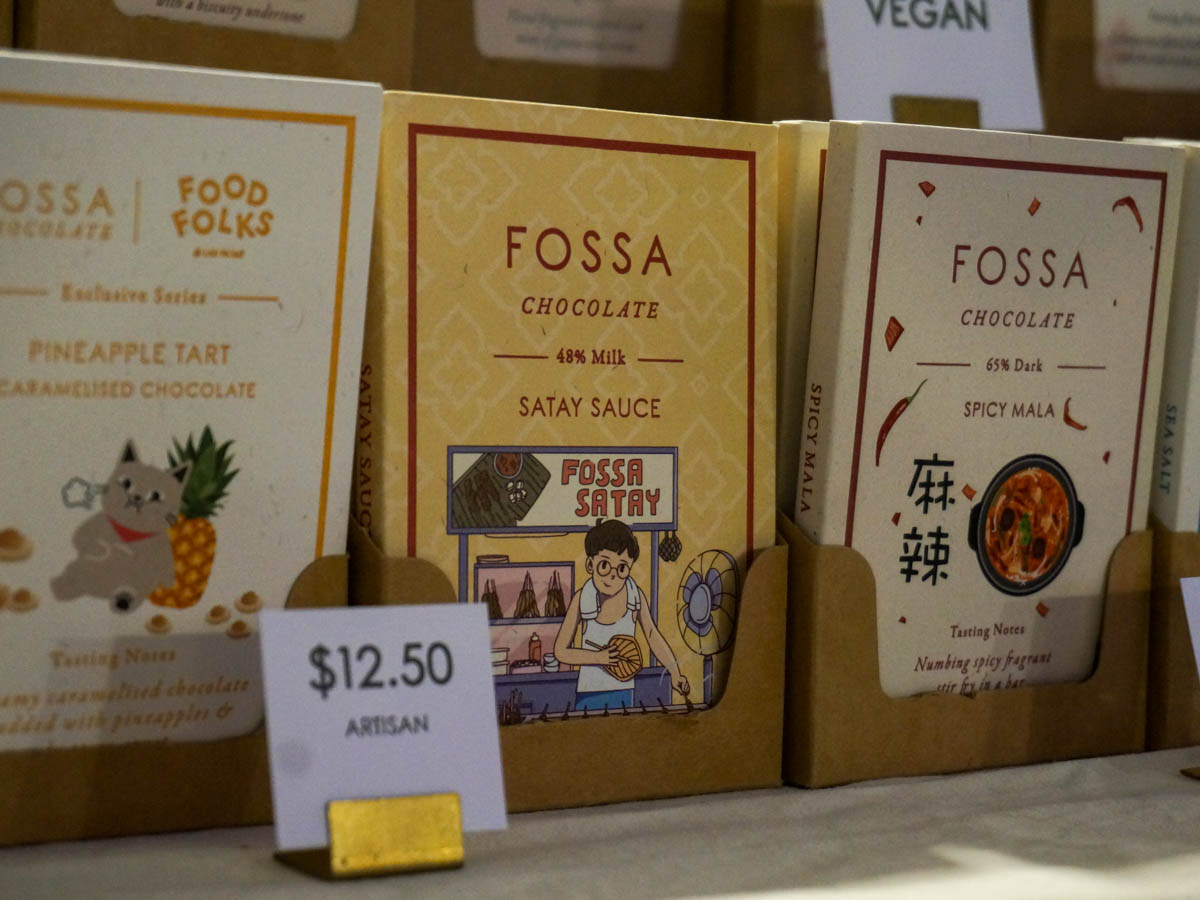 You'd likely be thrown off by its satay sauce or spicy mala flavours (S$12.50 each), but both had a pleasant savouriness that balanced out the sweetness. 
La Creamery (Stall 100), a handcrafted ice-cream cafe, is also camouflaged within the retail section. It's serving a large selection of tea-based ice cream, such as osmanthus jasmine (S$3.60) and blue pea honey chamomile (S$4.60). 
List of stalls, its corresponding numbers and dishes
The food section is located towards the end of the Expo Hall, and stalls can be identified by their numbers marked by a square box protruding at the top of the stall.
We know navigating bazaars can be painful, so we've compiled a list of the places mentioned in this article for your easy access.
Stall Name

Stall Number

Menu Highlights

Fossa

Stall 73

(Retail section)

Artisanal chocolates (from S$12.50)

LA Creamery

Stall 100

(Retail section)

Ice cream cups (from S$3.60)

Kobashi

Stall 234

Sourdo'nuts (from S$3.50), focaccia (from S$13) and grilled cheese sandwiches

Mahmud's Tandoor

Stall 252

Burgers (from S$10), loaded fries (from S$10) and slushie (S$5)

Loco Loco

Stall 266

Chicken sausage takoyaki in assorted flavours (from S$6), churros in assorted flavours (from S$5) and milk tea (from S$4).

Bo-Geh

Stall 267

Pisang goreng (S$4 for 5 pieces), durian goreng (S$10 for 5 pieces) and other snacks

Miss Chardog

Stall 284

Chicago-style hotdogs (from S$9.50)

Whiskdom

Stall 289

Brownies (S$6.50), cookiewich (S$12.90), bagelwich (from S$9.90), tater tots (from S$6.50) and ice cream (from S$4.90).

Mia Tavola

Stall 304

Tiramisu (from S$17), pizzas (from S$9), drinks including wine (from S$3.50) and desserts (from S$3)

OOTB (Out of the Bun)

Stall 306

Sliders and tater tots (from S$12.90 for a set)

Burnt Cones

Stall 317

Ice cream (from S$6), waffles (S$4) and sundae (from S$14)

The Proper Concepts Collective

Stall 324

Onigiri (from S$6) and meatballs (S$8)
For more ideas on what to eat, read our article on affordable buffets and Fatty Patty Burger & Grill.
LA Creamery, Whiskdom, Out of the Bun and Burnt Cones are on the GrabFood delivery service and offer free delivery (up to S$3 off) with GrabUnlimited. You can also book a ride to Artbox.
Singapore Expo Hall 6, 1 Expo Drive
Open: Feb 24 to 26 and March 3 to 5 (12pm to 10pm)
Singapore Expo Hall 6, 1 Expo Drive
Open: Feb 24 to 26 and March 3 to 5 (12pm to 10pm)