20 Questions with Leong Sheen Jet of Rappu and The Feather Blade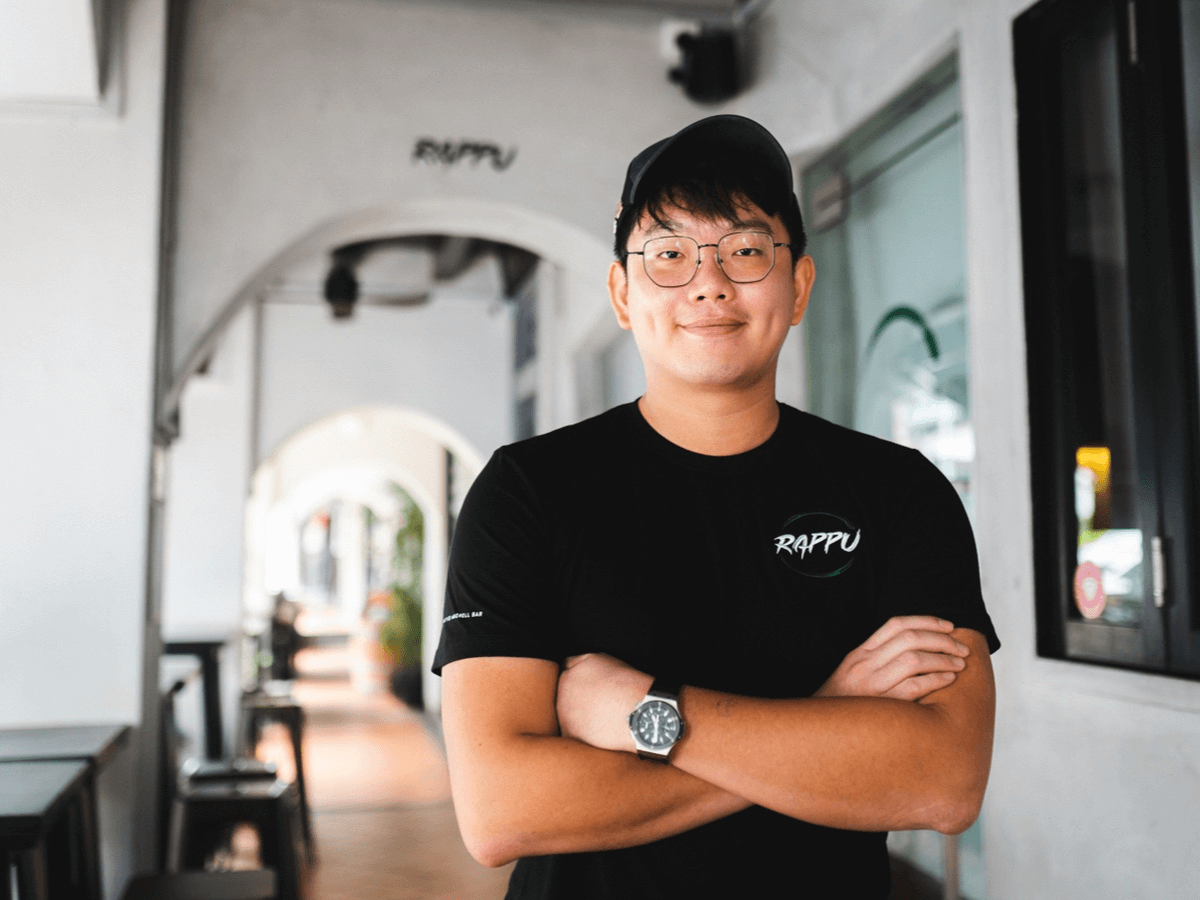 20 Questions is a HungryGoWhere interview series with the who's who of the F&B sector.
To say Leong Sheen Jet is a busy man might be an understatement. The 30-year-old launched four restaurant concepts with his business partners in rapid succession, one after another in the thick of the Covid-19 pandemic. 
The former fintech professional launched The Feather Blade in March 2019, Rappu in November 2020, Mezcla in October 2021, and Goho Kaiseki & Bar in March 2022. (For the moment, Mezcla is available only for event hires and catering.) 
As we delve into his methods, we can see that his approach is anything but foolhardy — the plan for his first restaurant concept was already in motion since his undergraduate days when he majored in finance. 
Leong knocked on the door of London steakhouse Flat Iron and spent a year working there. 
Armed with lessons from Flat Iron and a private-dining service he ran in mid-2015 in Singapore, he put together a 25,000-word dissertation as part of his undergraduate studies. It was a business proposal for his steakhouse concept The Feather Blade.
Seven years after his Flat Iron stint, he now runs Proper Concepts — which manages these dining concepts — with four business partners. 
They are beverage director Boo Jing Heng, creative director Joel Wong, finance and human resources director Daniel Wong, and Wilfred Ong, who's in charge of legal matters. 
Our hour-long interview is peppered with talk of business strategies.
It's intriguing to hear Leong speak about the advent and operation of his businesses in such a methodological and considered manner — you almost feel as if you're watching an episode of The Apprentice. 
Here's a lightly edited excerpt of the interview:
1. Take us to the start of your F&B career. When and where was that? 
My F&B career started when I was completing my undergraduate studies in London (in 2015). That's where I stumbled upon a steakhouse called Flat Iron. Flat Iron is a very popular steakhouse in London specialising in £10 (S$15.50) steaks — great vibes, great service, all at a very affordable price point. 
What I did next was work part-time there to learn their operating model, and then pick up learnings to start my own concept in Singapore, which is called The Feather Blade…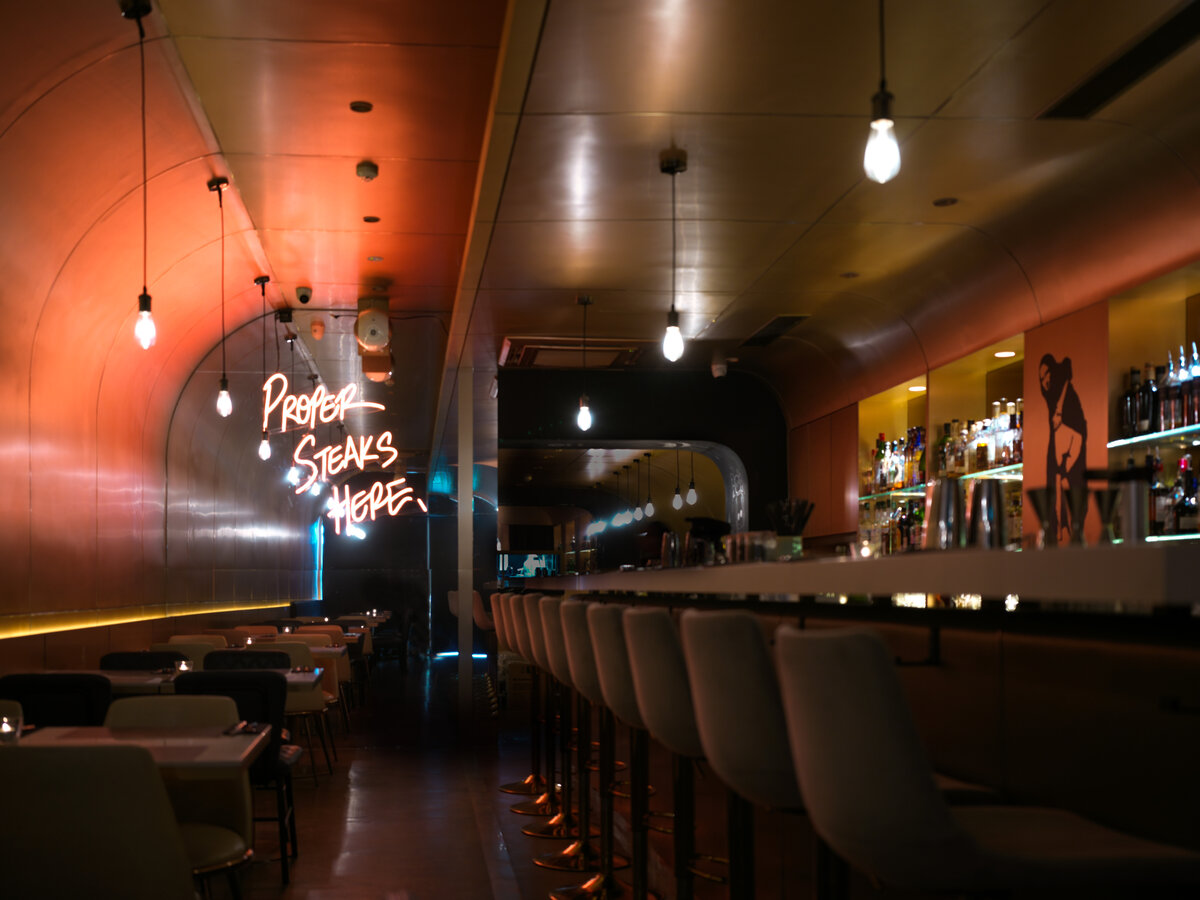 … I knocked on Flat Iron's door maybe two, three times and submitted my CV. They were already looking for staff, but it took some time to get in. On the third time, I got an interview, and I was the only Chinese and Asian dude in the restaurant then. I was there for a year, mostly on the floor — in the bar, kitchen and butchery.
2. You were a fintech guy. Was it tough breaking into the F&B industry without formal experience?
Cooking was something I took an interest in, out of necessity because I had to learn how to cook. I experimented a lot with cooking in London because you're on a student budget and you can't eat out all the time. I really got into cooking when I discovered a gadget called Anova, a sous vide machine. 
When I bought that, it opened my world up to a whole different side of cooking. It's a very fine dining tool that's now been made accessible to households. From there, I learnt how to cook a greater variety of food. 
That (discovery) happened to coincide with the time when I discovered Flat Iron. I then put two and two together that they (Flat Iron) actually cook their steaks using sous vide. 
I also took a liking to cooking when my grandmother would come to Singapore (from Australia) and cook. In the months leading up to moving to London to study, I spent a lot of time with her cooking and sourcing ingredients. We would go to the wet markets and learn how she picks out stuff, different types of meats and cuts. 
Before that, I worked part-time in the F&B sector as a student, learning the ropes because I thought it would be a humbling experience.
3. Do you see parallels between your previous fintech role and your present one as a restaurateur?
The biggest parallel was that when you're in a start-up (referring to his past fintech stint), in a start-up mode, you have to be hands-on and wear multiple hats, be ready to pivot quickly, try and fail quickly, and learn from those experiences. 
I applied the same principle of keeping the momentum going and being agile when starting The Feather Blade. I made sure we had tastings done regularly and had next steps lined up — just very good project-management principles that apply across both start-up and corporate culture to a restaurant culture. 
In a similar vein, what fintech is to the finance industry is that it goes against the grain of traditional finance. That's very much in my DNA when it comes to creating F&B concepts in Singapore. 
At The Feather Blade, we serve only one main cut of steak on our menu and it's not a prime cut. So that, in itself, already goes against the grain for most steakhouses. It was probably the only steakhouse back then focusing on one cut of steak. That was a huge gamble. We tried to mitigate this risk by ensuring that the quality of the steak was good enough for what you get.
4. What led you to start The Feather Blade steakhouse pop-up here in 2019?
The Feather Blade (as a concept) started as a private-dining service in the summer of 2015. My peers would typically sign themselves up for internships and whatnot, but I figured: Why not take a different route and start a private-dining service? 
I would host events at my clients' venues, and I would cook them a multi-course meal centred on the featherblade steak and sides. This ran for about 10 weeks. 
We had to create a whole branding around that, take photos and curate the menu. The name featherblade is a synonym for "flat iron" — names of the cut of steak that we serve. The featherblade is cut from the shoulder of the cow. It was only in the last decade or so that butchers found that this was a very prized cut nestled between the sinews of the oyster blade.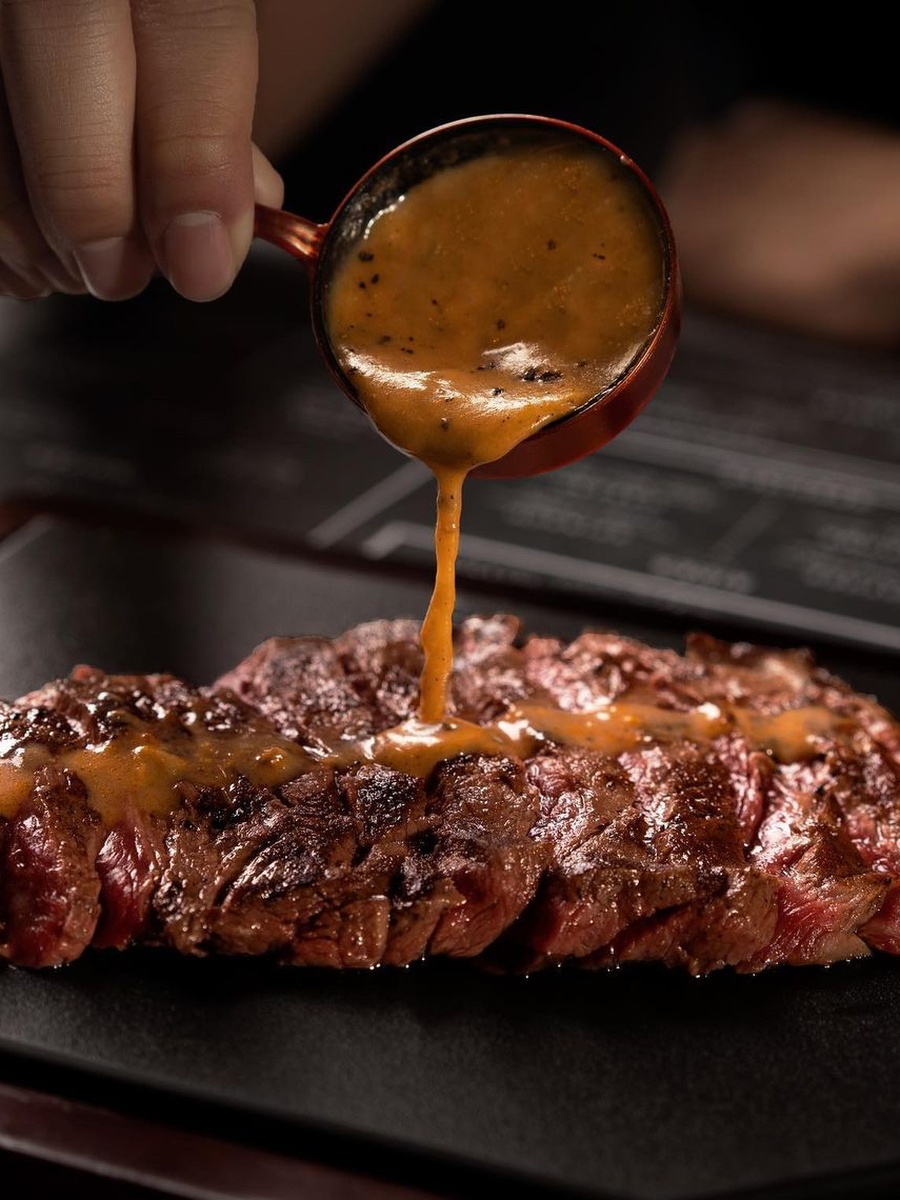 So I did private dining, worked at Flat Iron and wrote my dissertation on The Feather Blade from a business perspective. (After that,) I did get interest from restaurant groups in Singapore to open this concept, but the timing wasn't right because I was then accepted into Cambridge in 2016 for my master's in management. So I pursued that first and graduated in 2017. 
That delayed the plan for The Feather Blade. On the back of that, I got a job at a bank in London called OakNorth, which spun off a fintech company called OakNorth Analytics. I was moved there to help launch their presence in the Asia-Pacific, so I moved back to Singapore in 2018. 
In March 2019, I was still with the company, but as a side project, I decided to relaunch The Feather Blade as a pop-up on Club Street. Much of my role was marketing-focused, not operations, so I didn't have to be on the ground so often. 
First day, we gave out free steaks. It was eight weekends long — full from day one.
5. You've seen success with pop-ups. Do you foresee going down the pop-up route to test new business ideas in the long run?
It depends on the concept. For example, for Goho, we didn't have a pop-up or private dining — it was an eight-week project (to set up the restaurant) and we couldn't squeeze that into eight weeks.
We're in the process of transitioning to scaling existing concepts and creating new concepts. We're in a hybrid mode now. 
We've a new concept coming up in October, featuring one of the more famous celebrity chefs out there. We're partnering him to bring a mid-market concept to Singapore.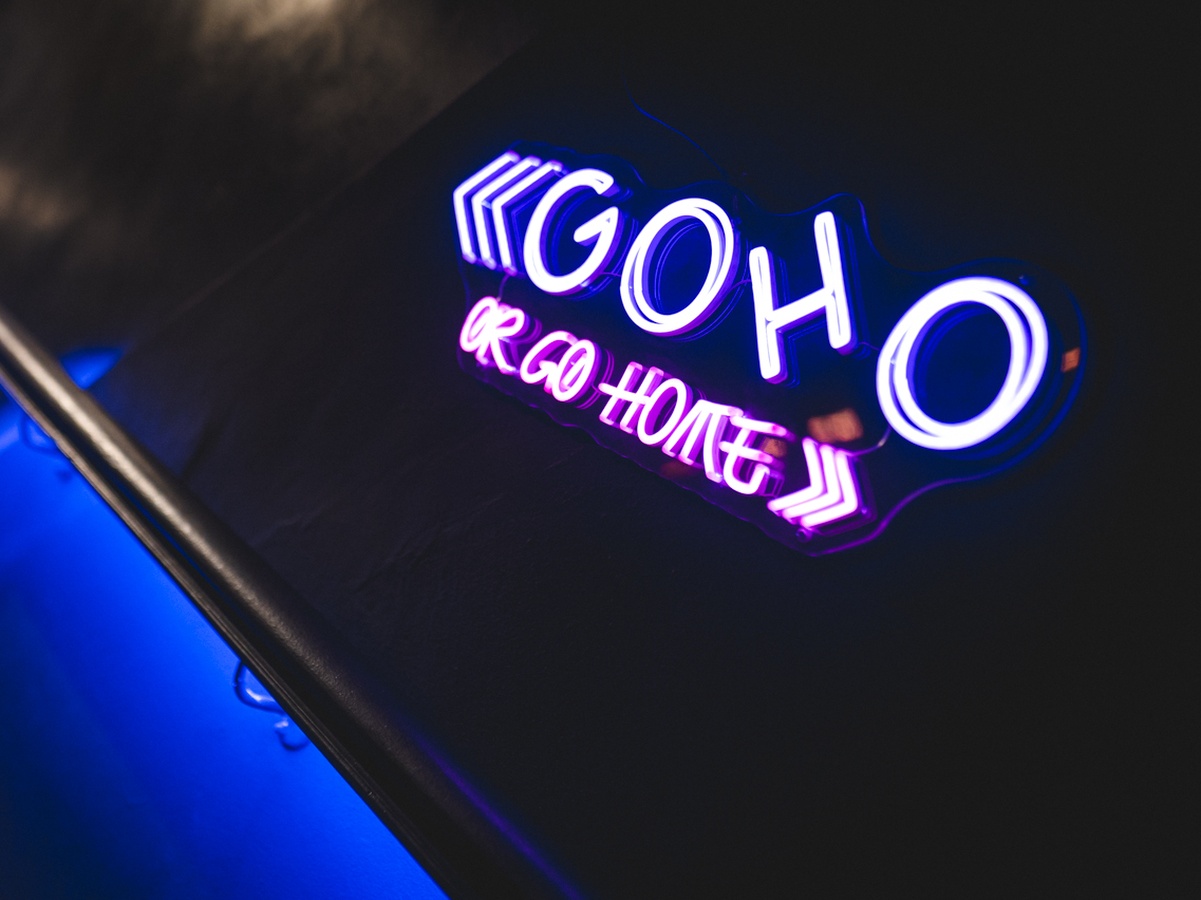 6. Give us the elevator pitch on your other brands — Rappu, Mezcla and Goho Kaiseki & Bar.
Rappu is a place where you've sushi handrolls alongside kickass R&B, rap and hip-hop tunes. 
Mezcla is a Japanese-Mexican taco and tequila affair.
Goho is a kaiseki hideaway featuring contemporary Japanese cuisine and cocktails.
The Feather Blade is a steakhouse where you can find proper steaks and cocktails.
7. How did you settle on these names?
The name has to tie in with the concept. The Feather Blade is very clear-cut — it's the name of the steak. When you say "Feather Blade", it also alludes to something that's no-nonsense and has the tone of voice where you know we mean business and we're here to give you a good steakhouse experience.
With Rappu, we wanted to come up with a name that was catchy. I Googled the word "wrap", because at the end of the day, a sushi handroll is a wrap, and "rappu" came up.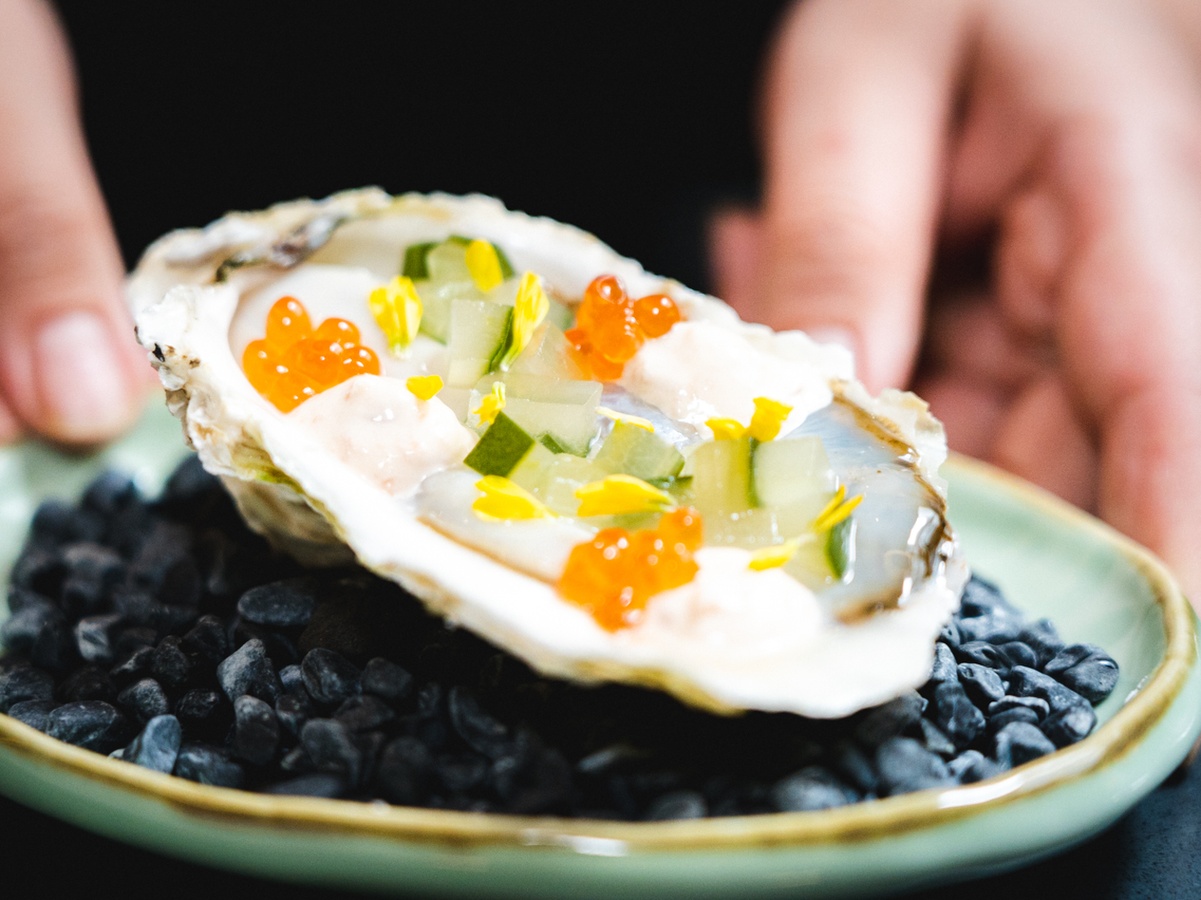 "Rappu" is a Japanese word for two things — one is "to wrap" like a sushi handroll, or rap music. This naturally guided the kind of music we would play here. When you dine at Rappu, you get sushi handrolls alongside rap, R&B and hip-hop. It also guided the look and feel, because with that kind of music going on here, it's more like a club.
Mezcla is a Mexican word for "to blend" and "mix", and Mezcla is our attempt to bridge the gap between Singaporeans and Mexican food. Mexican food is highly popular here, but mostly with expats. My partners and I have loved Mexican food for the longest time, and we figured, what better way to do (this concept) than to blend Singapore's favourite foreign cuisine, Japanese, with Mexican food? 
Goho was our first foray into something more fine-dining-focused because we always wanted to test that market but also make it affordable. Goho means the five ways, and it alludes to the five Japanese culinary techniques involved in the kaiseki form of cuisine. It's a multi-course meal that's arranged in a certain permutation and also features seasonality.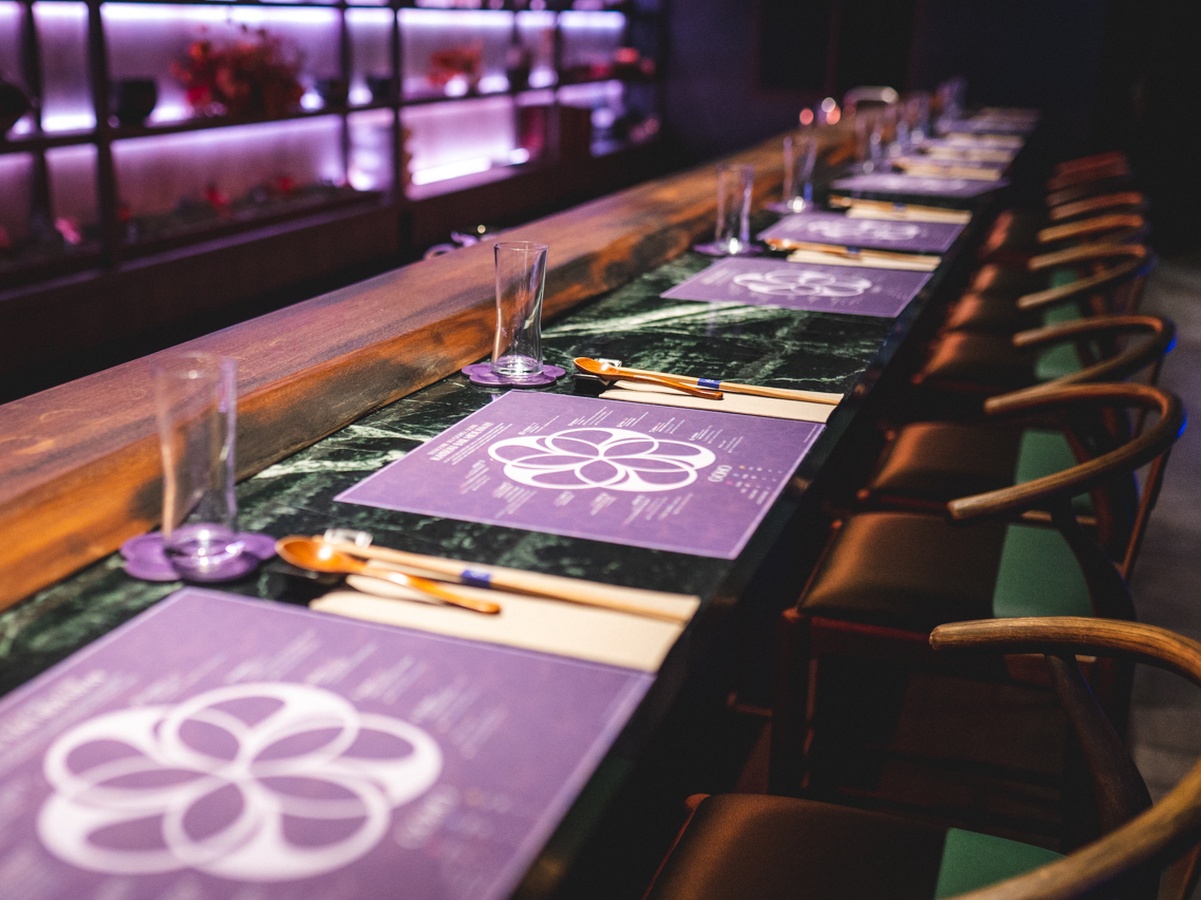 8. Rappu's handroll bar concept was fairly new when you launched it. What sparked this idea?
Rappu was one of the positives coming out of Covid — we would not have Rappu if it were not for Covid. It's a classic example of how you make the most out of a situation and find opportunities in adversity.
My business partner Joel Wong is an architect based in Los Angeles, US. He got stuck in Singapore because of Covid. He came back to Singapore for a friend's wedding and couldn't fly out because of the circuit breaker (partial lockdown) in 2020, so he stayed on. 
After the circuit breaker, we caught up, and then we talked about the idea of trying this new concept that we heard of in LA, involving handrolls. It's a handroll bar — you do it over the counter. The next week, we were experimenting with recipes, getting in different kinds of rice, vinegar, salt, seaweed, and sashimi to test the concept.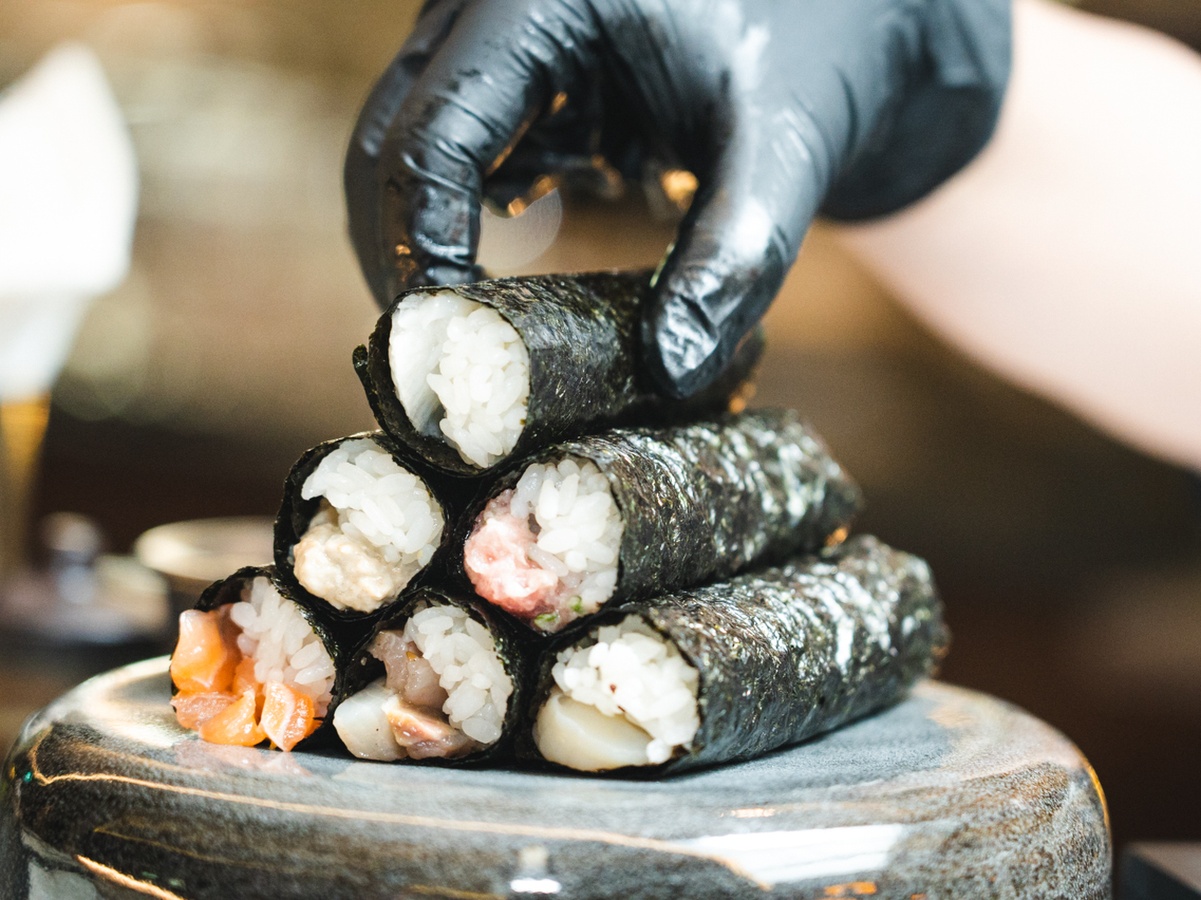 Every weekend, we started holding private-dining sessions at his place for a few of our friends and family to try the product. 
The whole point of running these events was not just to get arbitrary responses. We wanted quantifiable metrics (from survey forms at the dining events), so that we'd be better informed going into the pop-up or a full-scale restaurant, like how to price. 
We had to model this business based on Covid scenarios. With social distancing being the major factor, (we asked ourselves): Can we still run profitably because social distancing reduces your capacity?… Can our restaurant run on a 30 to 40 per cent reduction in capacity? We had to run the financial models and scenario analysis to make sure it works out. 
We opened Rappu in November 2020 and we broke even in four months. 
9. What changes can we expect at your restaurants in the next year?
The focus for existing brands, as they mature, is to establish them as go-to brands for their respective cuisines. We'll continue keeping things fresh by coming up with collabs, creating new products and merchandise, and looking to expand them locally or overseas.
10. What has been your most exciting moment since joining the industry?
There's a "happy-exciting" and a "scary-exciting". The first (happy) one would be the initial foray into F&B, putting things together, learning how a bar, a kitchen and the floor should run. That was really fun, and I was doing what I loved.
For my dissertation, especially, it was supposed to be a 10,000-word document, which most people dread because it's such a tedious process. But I really enjoyed working on it. My dissertation ended up being 25,000 words long, to which my supervisors said "don't worry about the word count, because you're actually going to work on it (the restaurant)". 
The other, not-so-fun but thrilling moment was manoeuvring through the circuit breaker. It was the challenge of tackling a problem as large as the circuit breaker and the various heightened alerts that came after. 
For the first circuit breaker, we had only The Feather Blade. In the subsequent heightened alert, we had Rappu, too, so we had to pivot the business.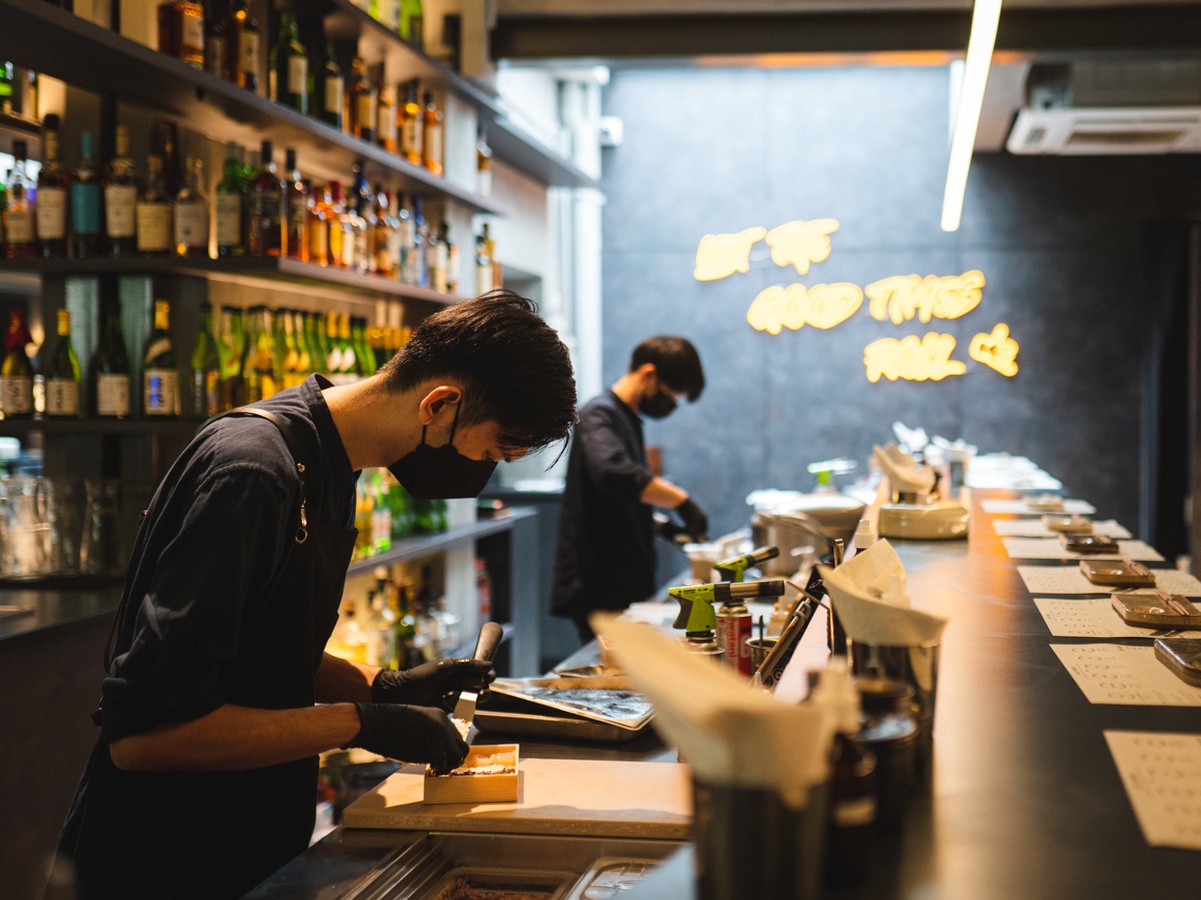 These challenges helped me and my team grow, being able to weather the storm and come out victorious. These moments are very special for me as well as for my company.
11. And the most rewarding?
The most rewarding moment is to see satisfied customers on a daily basis who come and dine in, and enjoy themselves here. 
I read reviews every day. It's my morning digest — I get email alerts. 
You've to be able to swallow the negative ones and filter out the noise. With negative reviews, there's the constructive and the non-constructive, so any good business owner should be able to separate his emotions from the business objectives.
12. Given a choice, would you have done anything differently?
No, not at all. Everything happens for a reason and we are here today in our best shape possible, given the circumstances that have panned out over the years. 
I'm very satisfied. 
13. Name us one must-have at each of your eateries.
For The Feather Blade, I highly recommend the Feather Blade Burger. We deep-fry the patty in beef fat, so it's crispy on the outside but still juicy on the inside.
At Rappu, I highly recommend the High Roller. It's the epitome of the Rappu experience.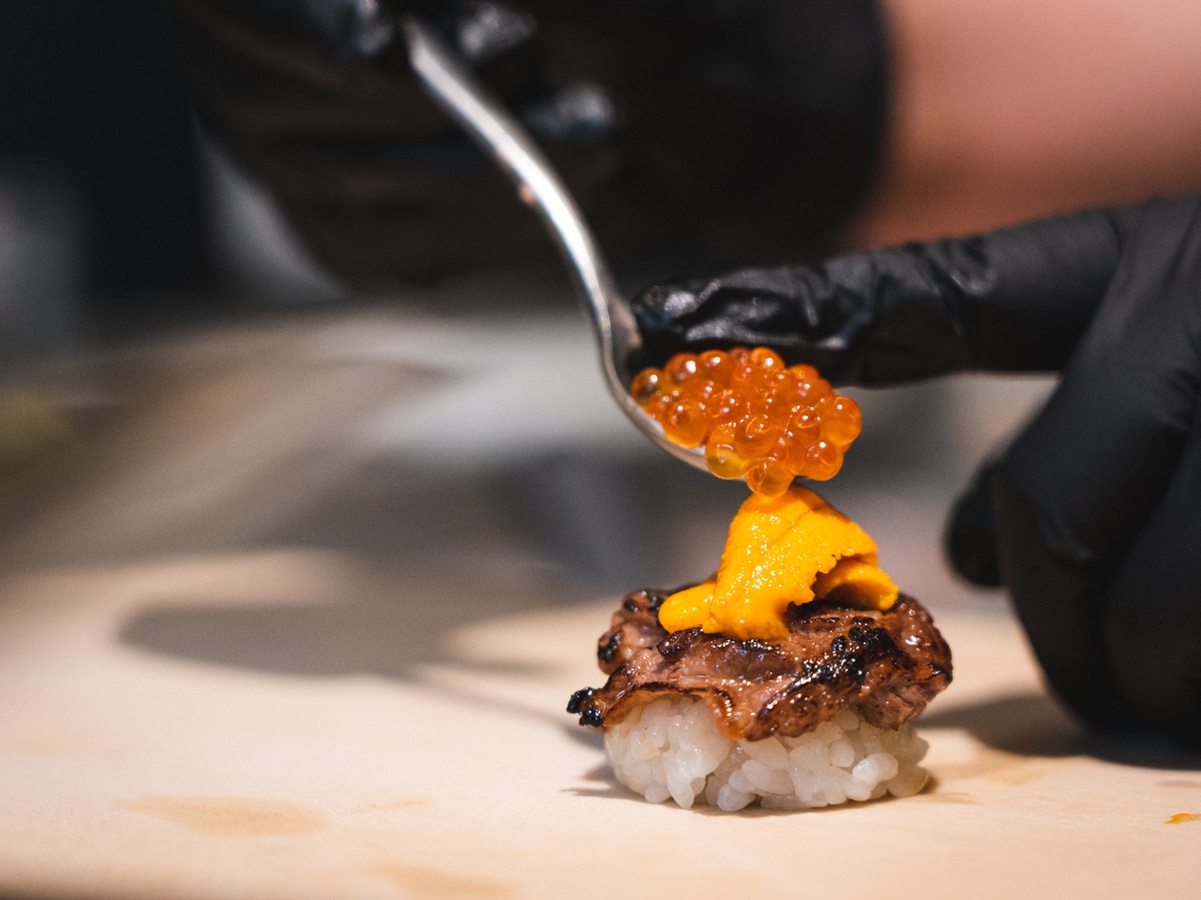 At Mezcla, the salmon taco. The taco shell is made of salmon skin and deep-fried, so it's super crispy. Then you have salmon sashimi and salmon roe — so you have salmon in three ways in one taco. 
Goho is a multi-course dining experience, so there's not one dish that I'll pick a la carte. But the highlight there would be the Hassun, a platter featuring seasonal ingredients and showcasing the chef's technique.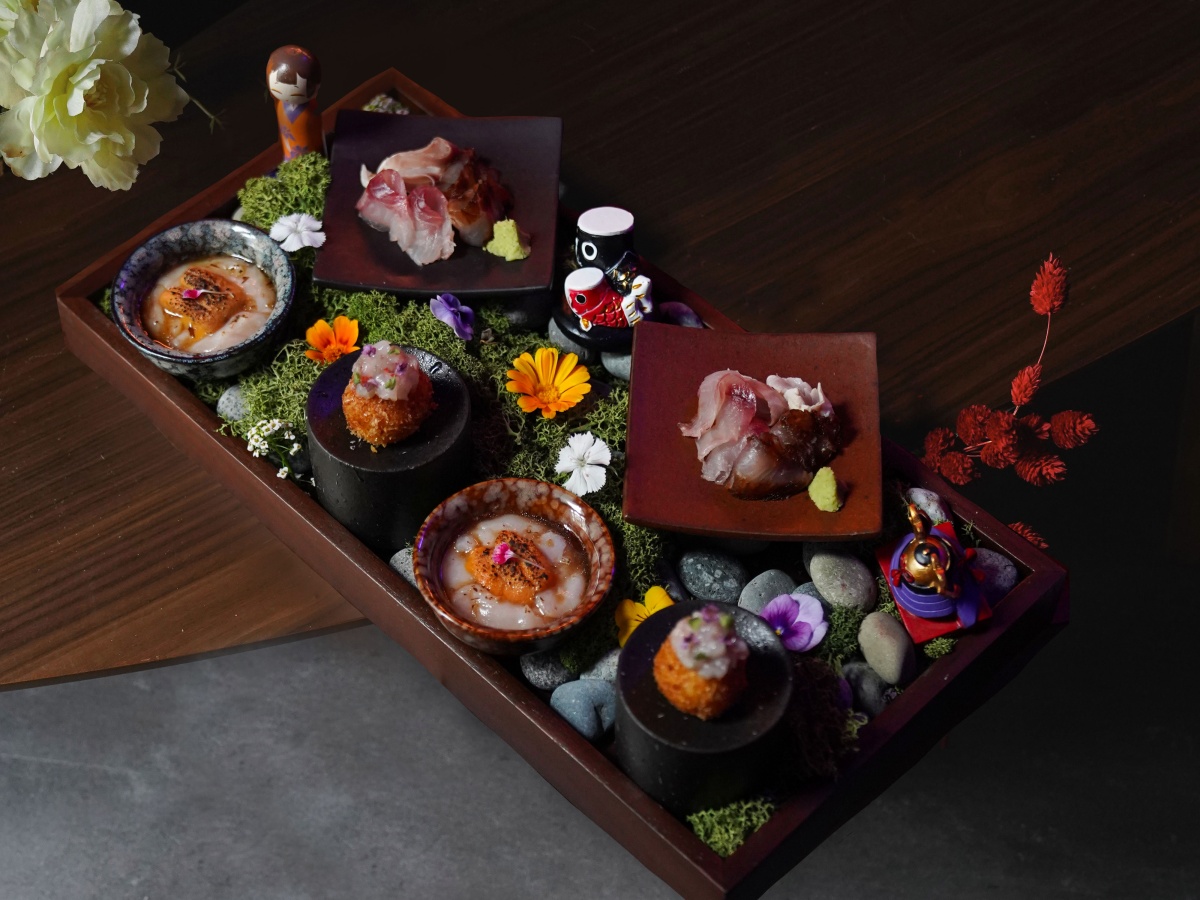 14. What's a day in the life of Leong Sheen Jet?
It varies. The first thing I wake up, I respond to priority messages. I try to get in a workout on most days. I've lunch and then head to the restaurant for mid-afternoon meetings with the management team, my partners and also tastings that might happen.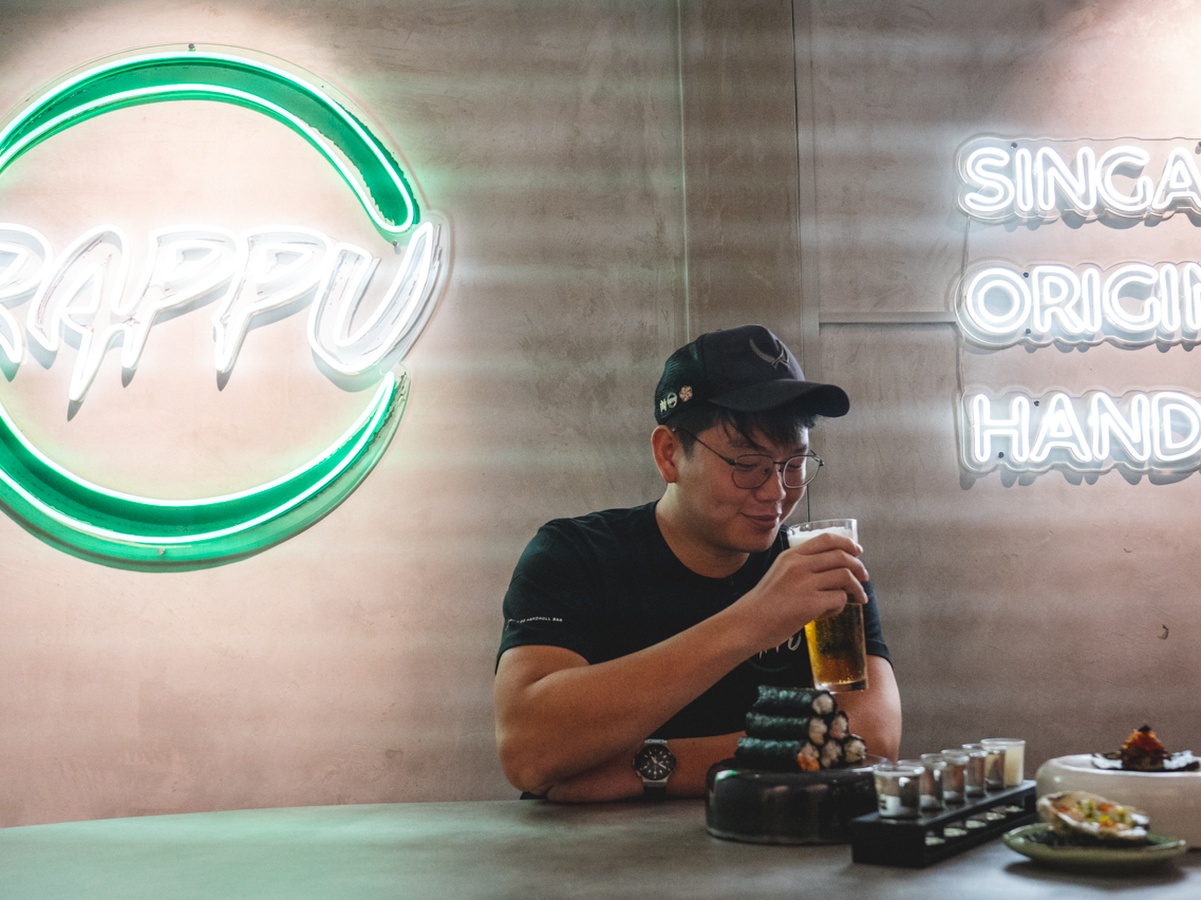 Evenings are usually spent entertaining guests and getting feedback. Sometimes, we head out for industry visits. We pay a visit to our friends in the bar or restaurant scene to show our support, connect with them and discuss ideas on how to better the industry.
15. Favourite restaurant, anywhere in the world?
So far, it's Noma in Copenhagen, which is the world's best restaurant with three Michelin stars. I was there in May.
16. What's your guilty indulgence?
Peaty whiskies, like a Lagavulin 16.
17. If you weren't a restaurateur, what would you be doing?
Probably a management consultant. I had aspirations to be an investment banker or a management consultant.
When I landed the gig at OakNorth, it was a great opportunity because I was working alongside the co-founders. That's where I really learnt a lot about managing and scaling a business from a sales and an operations perspective.
18. If you could dine at just one of your four eateries for a whole week, which would you pick — and why?
It'd be Rappu, because I love sushi. We also have izakaya (items), so that gives it more versatility. 
19. If you could eat only one thing for a month, what would that be? 
Chicken rice.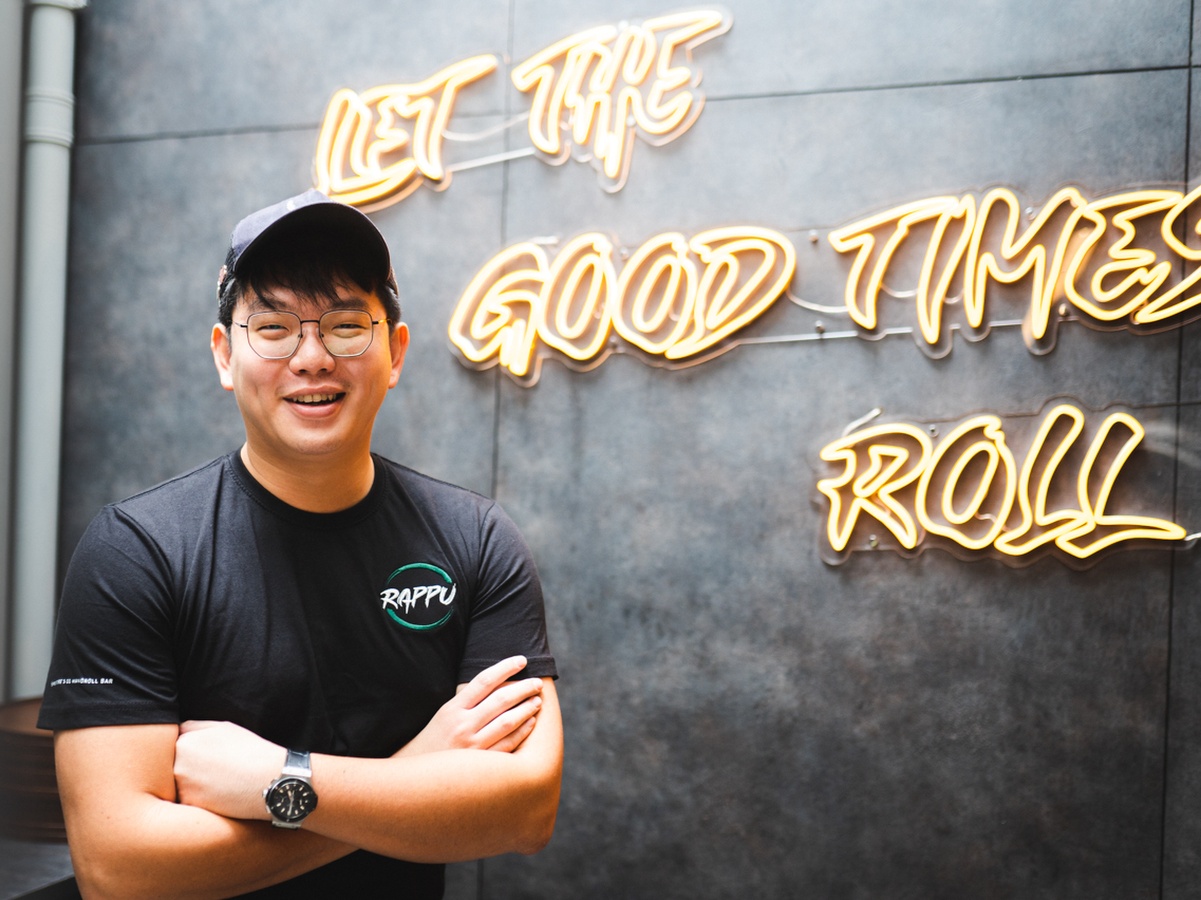 20. What's next for you?
I'm in this for the long haul. So what's next for me is to continue building the business. Come what may.
---