5 eating places to feed your wanderlust in Singapore's south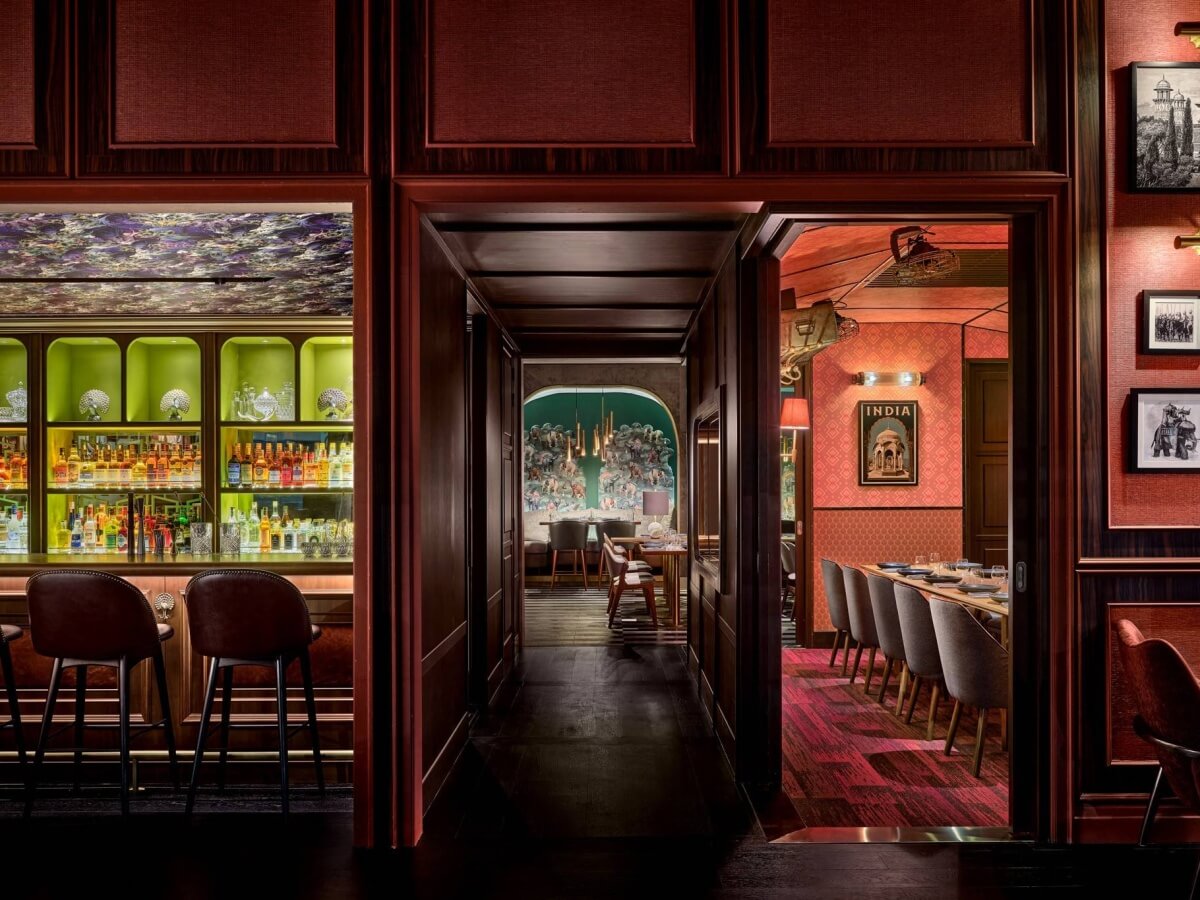 This is the first instalment of a five-part series on places that feed your wanderlust. Here, we check out eateries in Singapore's south.
As borders reopen gradually, some travel-starved Singaporeans are taking a wait-and-see approach before making the leap. For now, they'll have to make do with sampling cuisines available here for a momentary jaunt around the world. Here are some restaurants in Singapore's south that serve up a feast of evocative scenes and flavours.
For the intrepid explorer or plain claustrophobic, the culinary escapade takes one to the streets of Colombo, across the sweeping vistas of Rajasthan in India and into the heart of the relaxing Caribbean tropics.
Think of it as a teaser for when you finally get to travel.
1. Firangi Superstar
20 Craig Road, 01-03
Nearest MRT station: Tanjong Pagar
Open: Monday to Friday (12pm to 2.30pm); Monday to Saturday (5.30pm to 10.30pm)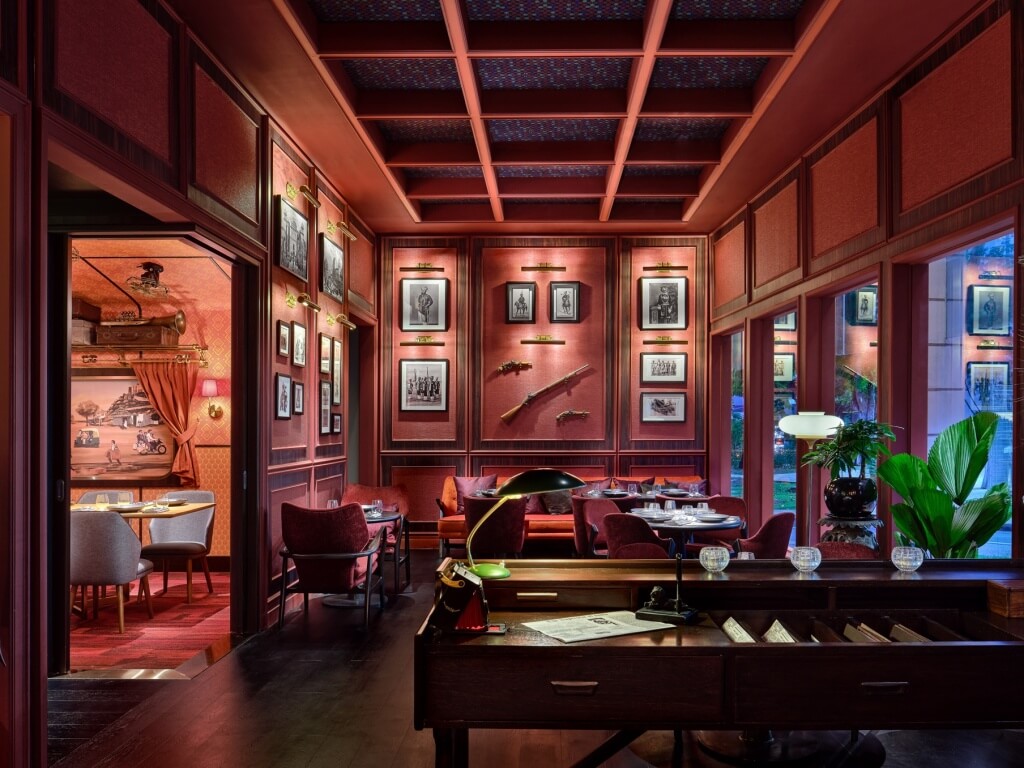 Welcome to the cinematic world of Firangi Superstar at Tanjong Pagar, replete with kaleidoscopic tableaux that wouldn't look out of place in a Wes Anderson film.
Hop aboard the vintage Old Railway Room, then meander through the lush safari Jungle Lodge complete with big cats prowling. Or step into the Officer's Club, a handsome salon lined with antique rifles, or bask in the turquoise opulence of the Elephant Palace straight out of Rajasthan.
Beyond the fantastical decor, the restaurant is a foreigner's love letter to India.
Armed with French-Western cuisine training, Thiru Gunasakaran, head chef and self-professed firangi (foreigner), draws on his roots as a third-generation Malaysian with south Indian heritage to dream up an inventive new take on Indian cuisine.
His imagination runs wild here. There's the playful This Is Not Aloo Gobi, which flips the typical stir-fried cauliflower dish on its head — it's composed of cauliflower couscous, masala compote and buttery potato cubes.
Or the quirkily named Prata Waffle??? (yes, with the question marks), an Indian twist on the American classic. It stars a crisp prata served with tangy Madras-style fried chicken and drizzled with jaggery (a coarse dark brown sugar) syrup.
What to order: This Is Not Aloo Gobi (S$16), Back in the Saddle — a lamb dish accompanied by confit garlic and curry leaves (S$20 per 100g)
2. Kafe Utu
12 Jiak Chuan Road
Nearest MRT station: Outram Park
Open: Wednesday and Thursday (10am to 5pm, 6pm to 11pm); Friday (10am to 5pm, 6pm to 1am); Saturday (9am to 5pm, 6pm to 1am); Sunday (9am to 5pm, 6pm to 11pm)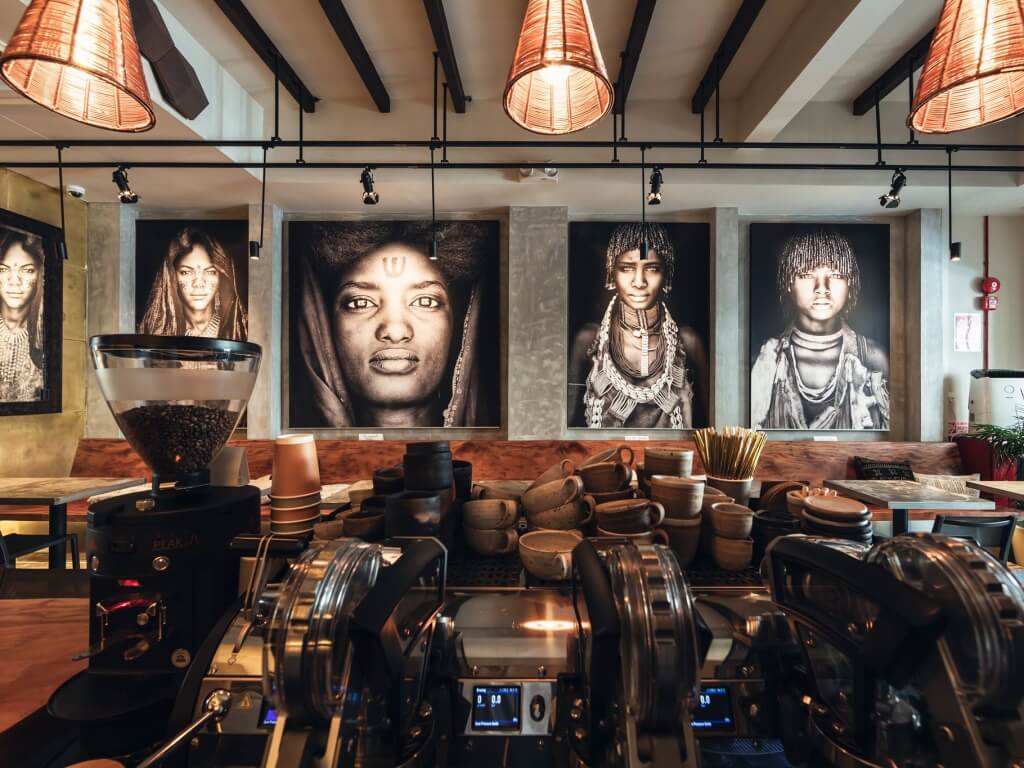 Having spent most of his childhood living in places such as Liberia, South Sudan and Kenya, entrepreneur Kurt Wagner dreamt of bringing Africa's bold splashes of colour, textures and rich flavours to Singapore.
In January 2019, Singapore's first African cafe Kafe Utu was born. Stepping off the busy streets of Tanjong Pagar, guests are treated to a visual feast across this three-storey space — from monochrome portraits of African women lining the wall to a massive African mahogany communal table and solid wooden doors hand-carved by Swahili craftsmen and artisans.
Expect a gamut of East and West African food and brunch items. Tuck into some hearty signature mains such as the Swahili fish curry served with fluffy coconut rice or the Nigerian fiery peppered pork stew.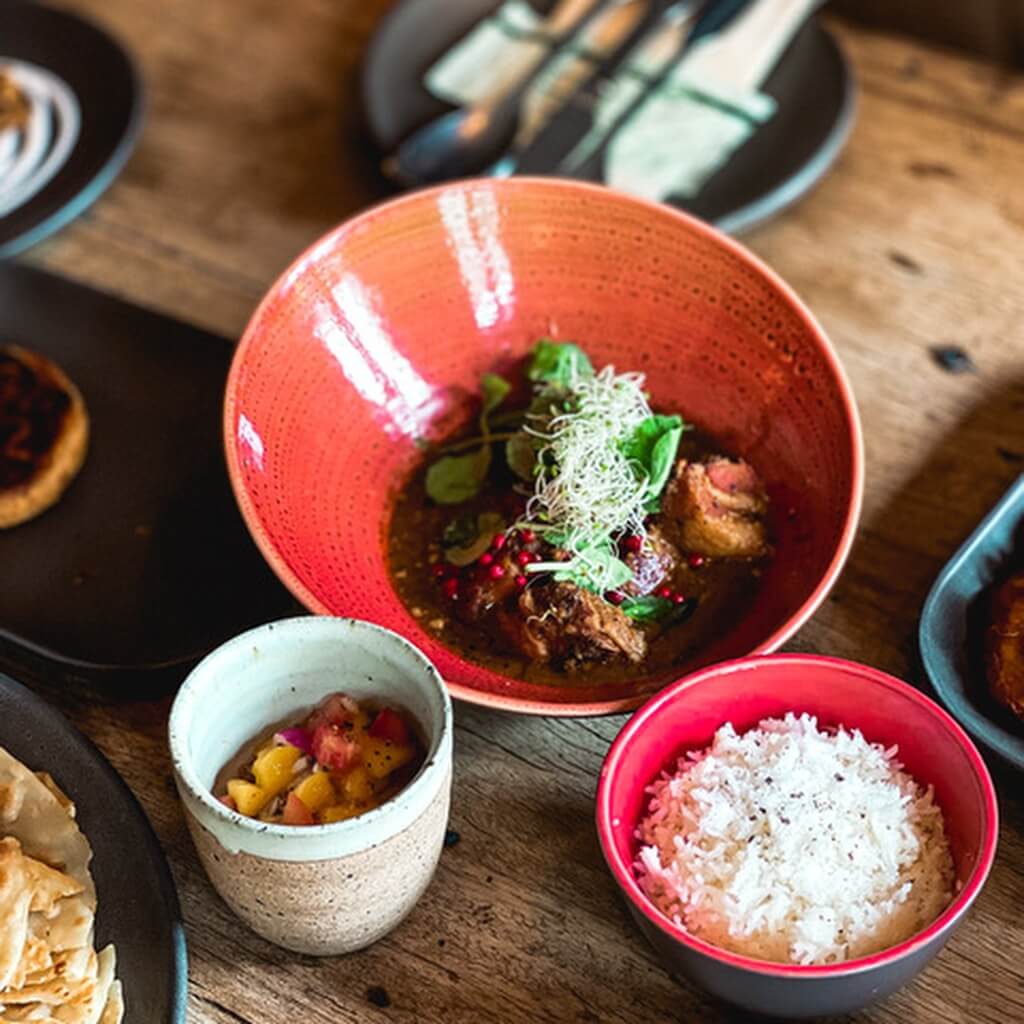 Kafe Utu prides itself on its specialty-grade single-origin coffees sourced from sustainable farms in Uganda, Brazil and Mexico. Linger over the aromatic notes of the Bidibado "Abracadabra" — espresso, dark chocolate and Hokkaido milk, with organic peanut butter, roasted almonds and pink peppercorns going around the rim of the cup.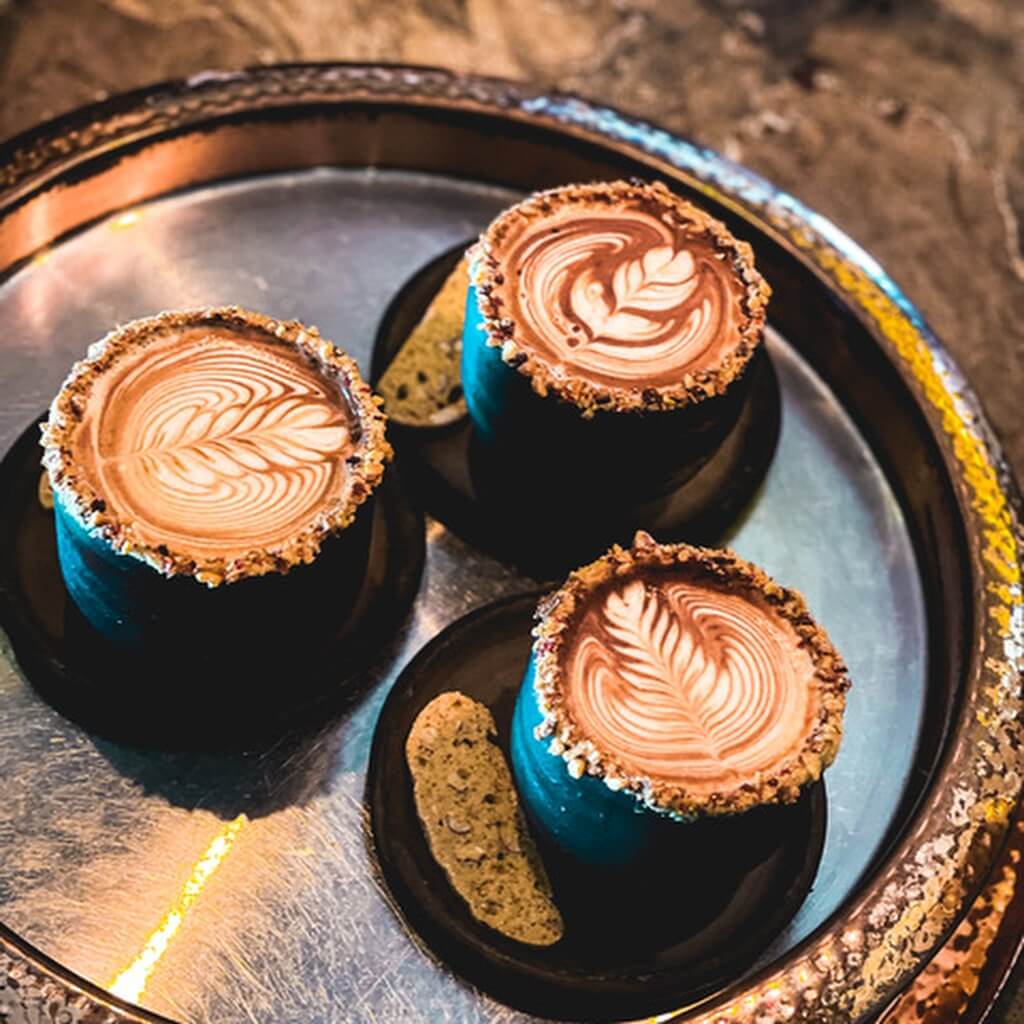 Come nightfall, relax at the Utu lounge for unique tipples, Kenyan ales and tapas-style plates for a boozy evening.
What to order: Swahili fish curry (S$29), Nigerian fiery peppered pork stew (S$30)
3. Artichoke
161 Middle Road
Nearest MRT station: Bras Basah
Open: Tuesday to Friday (5pm to 9.30pm); weekend (11.30am to 2.30pm, 5pm to 9.30pm)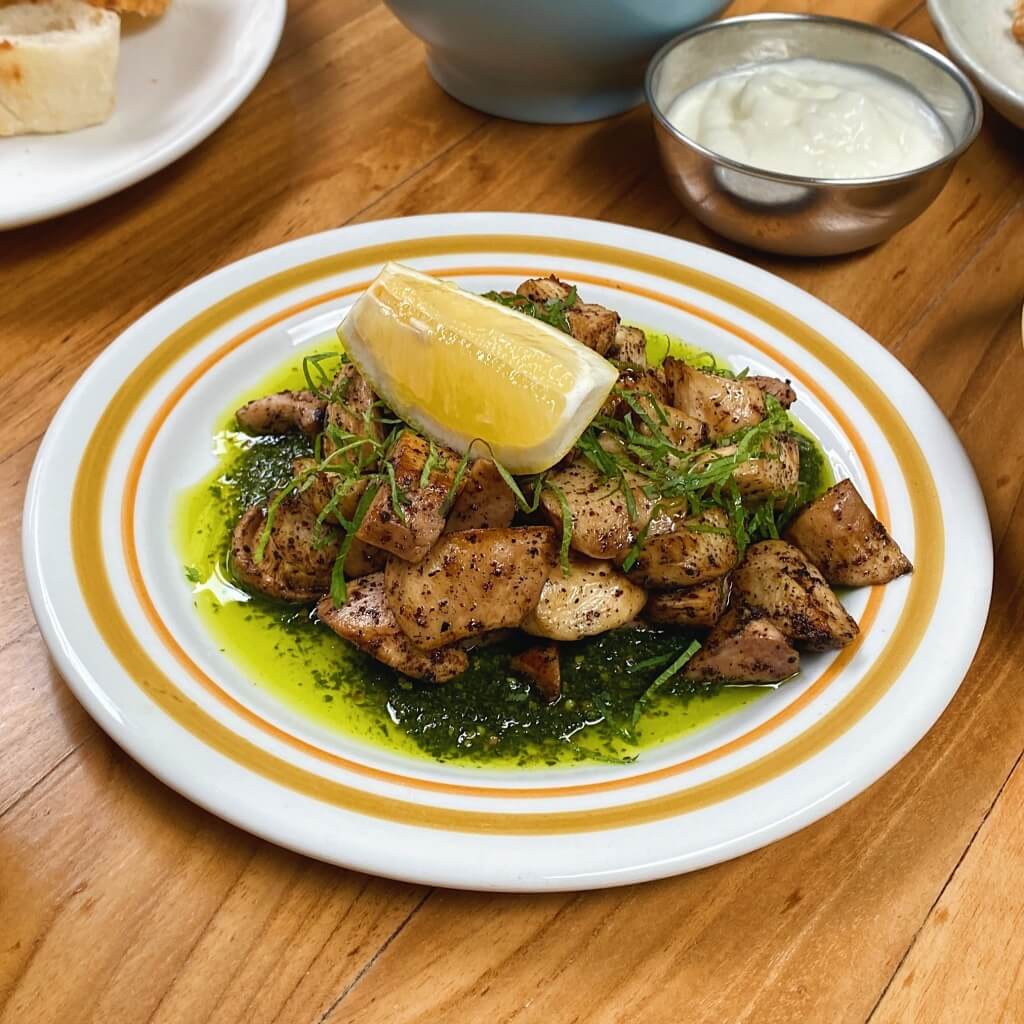 "Keeping it unauthentic since 2010" sums up Artichoke's celebrity chef-owner Bjorn Shen's offbeat brand of humour.
Artichoke is an extension of Shen's cheeky, zany personality. The vibe in this Bugis restaurant is funky and eclectic, breaking the rules of typical Middle Eastern flavours and ingredients with an original take.
To whet your appetite, start by dipping toasted Turkish bread in hummus.
Move on to the fried cauliflower with pickled beet, banana, walnut dukkah (a mix of nuts and spices) and pomegranate, or the green harissa sea bream, while grooving to a playlist of '60s soul and '90s hip hop.
If you have room only for dessert, indulge in the date pudding, a gloriously gooey concoction drenched in cashew, coffee and smoked custard.
What to order: Fried cauliflower (S$22), date pudding (S$16)
4. Lime House Caribbean (Keong Saik)
2 Jiak Chuan Road
Nearest MRT station: Outram Park
Open: Tuesday to Saturday (5pm to 12am)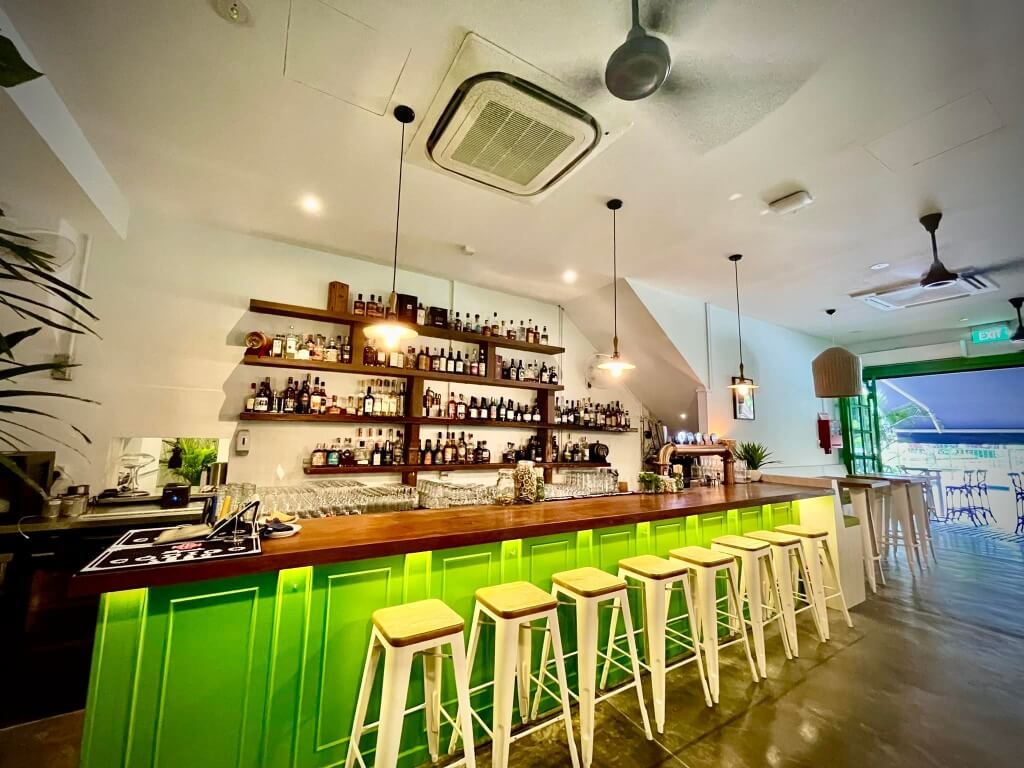 Lime House Caribbean is a four-storey heritage shophouse in Chinatown's Keong Saik belt that's decked out in a retro-style exterior with lime-green accents. Opened in 2013, it's an introduction to the Caribbean concept of "liming" — slang for unwinding with friends.
The menu is an intriguing mishmash of traditional and fine-dining Caribbean dishes, from the famous Jamaican jerk chicken seasoned with spices to baby back ribs and slow-cooked Trinidad curry goat meat.
For drinks, there's a dizzying array of quality cocktails to choose from named after gods, goddesses, spirits and ghosts from around the Caribbean, and linked by the rum to the country of origin.
What to order: Signature jerk chicken (S$29), baby back ribs (S$35)
5. Kotuwa
Wanderlust Hotel, 2 Dickson Road
Nearest MRT station: Jalan Besar
Open: Wednesday to Friday (6pm to 10pm); weekend (12pm to 3pm, 6pm to 10pm)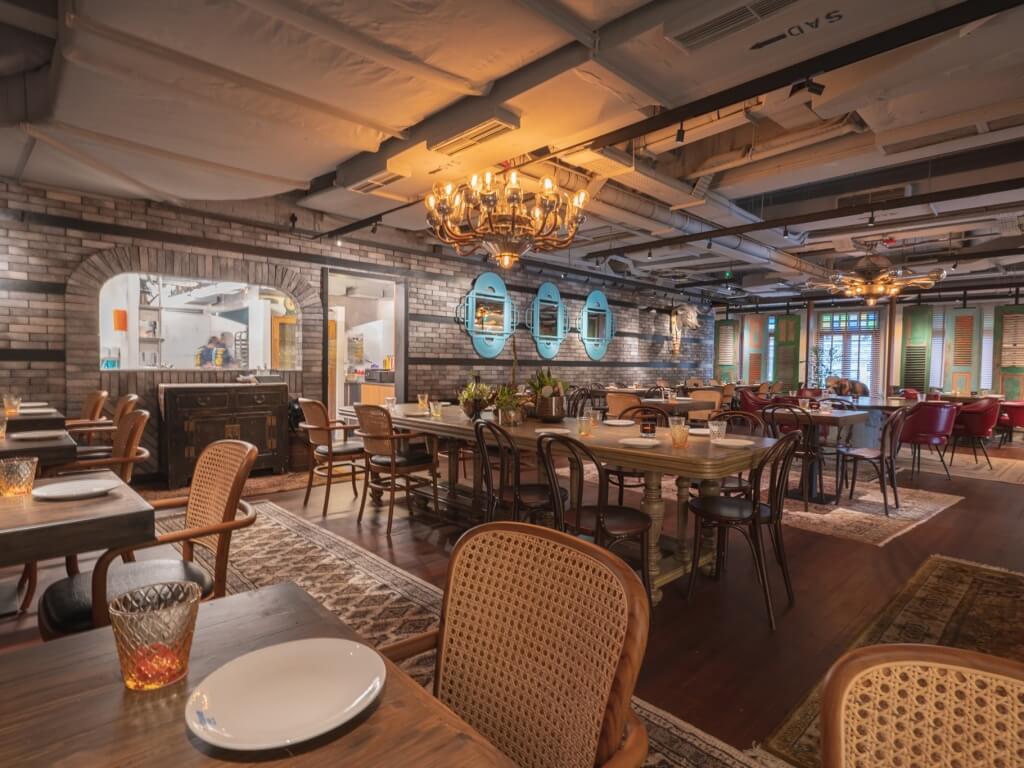 There's a certain heady romanticism that comes with dining at Kotuwa. It's the story of a young chef — who once had no clue how to make hoppers (crispy pancakes) — retracing his Sri Lankan roots and creating this labour of love.
Chef Rishi Naleendra, the tour de force behind fine-dining spot Cloudstreet and the now-defunct Cheek Bistro, has conjured up a vision of Colombo through his medley of spices.
It's aptly set within the lobby of the boutique Wanderlust Hotel in Jalan Besar. Like most historical trading posts, Kotuwa (Sinhalese for "fort") harks back to the time of ancient landmarks built by Sri Lankan kings, with its soulful cuisine drawing influences from Portuguese, Dutch and British settlers.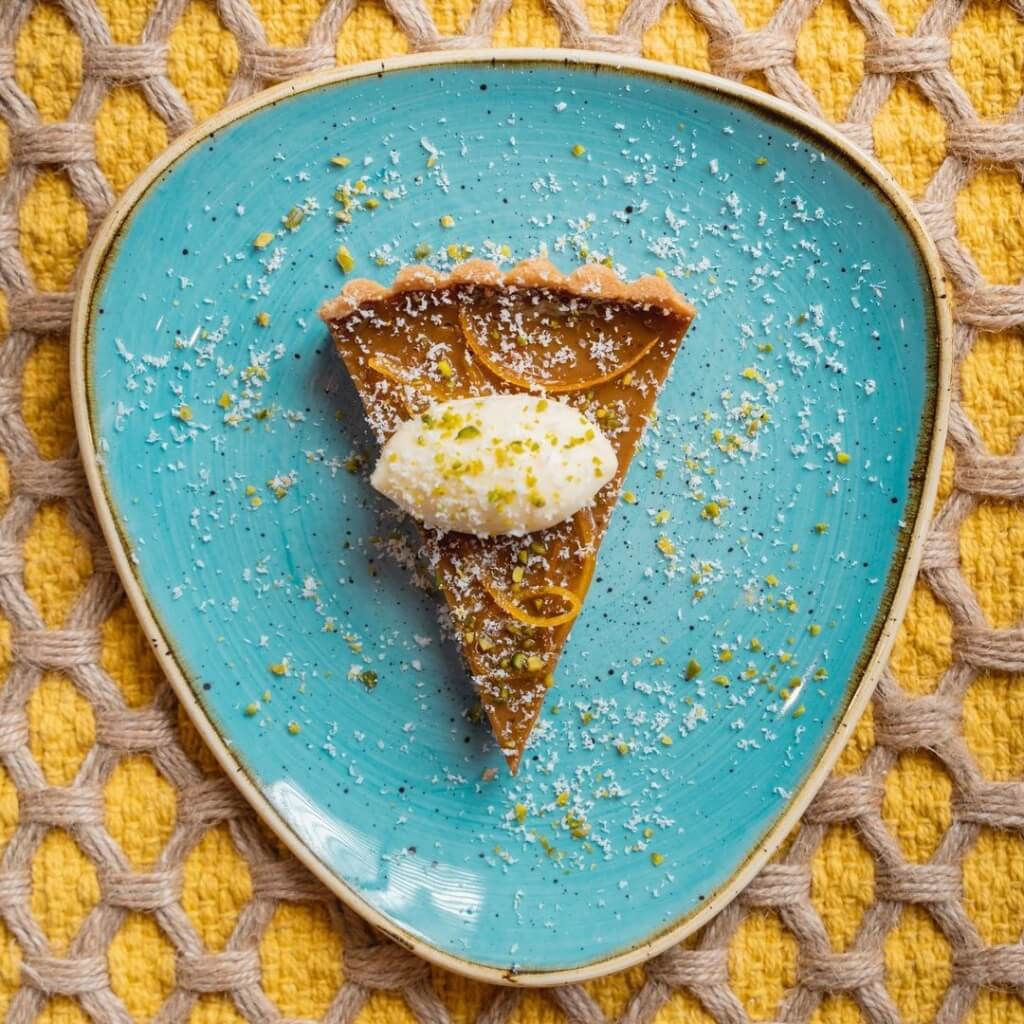 Each dish is an experience — from the crispy crab cutlets bursting with crabmeat brandade (a type of puree) and the melt-in-your-mouth tender lamb curry that's slow-braised in a red curry, to the modern rendition of a wattalappam tart, a coconut custard with jaggery, pistachio, candied orange and spices.
Kotuwa offers a slice of magic that everyone, newbie or the most hardened critic, should have the pleasure of sampling.
What to order: Lamb curry (S$28), crab cutlet (S$16)
Firangi Superstar, Lime House Caribbean and Kotuwa are on the GrabFood delivery service. You can also book a ride to these places.
---