Review: We tried scoops from famous ice-cream brand Van Leeuwen — and it didn't bring us joy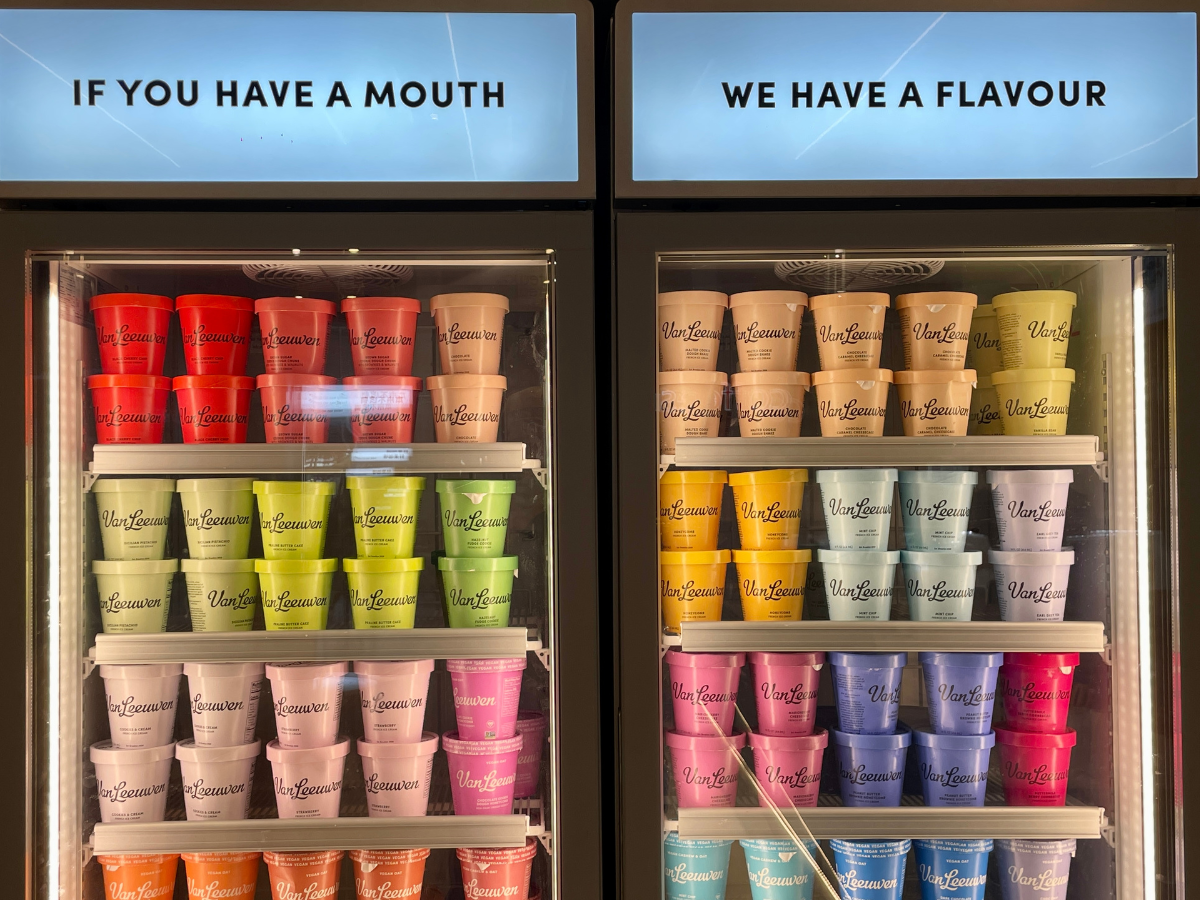 Van Leeuwen has opened its first international location in Singapore
It prides itself on scooping French-style ice cream, which requires double the egg yolks as regular ice cream
As a dedicated scoop shop, you can get ice-cream cones, cups, sundaes, milkshakes and ice-cream floats, as well as pints and sticks to take home
With more than 50 scoop shops in America, it only makes sense that the ice-cream empire Van Leeuwen would start to cast its eye overseas.
Singapore, it seems, was its choice for its first-ever international outpost, and it's no surprise why. The powerhouse of a city has a dynamic, thriving food scene with a whole country of discerning foodies, so any brand establishing a home here would have no shortage of eager diners. 
Well aware of this, many famous international brands have already made the country its overseas debut, such as Hong Kong burger chain Honbo, China's Luckin Coffee, America's Museum of Ice Cream and Korea's Cafe Margaret.
And now, Van Leeuwen is part of the list. With an inspiring origin story, ingredient-focused flavours and dopamine-fuelled packaging right out of a Pantone catalogue, this scoop shop will be pulling lines through Orchard Central for a while.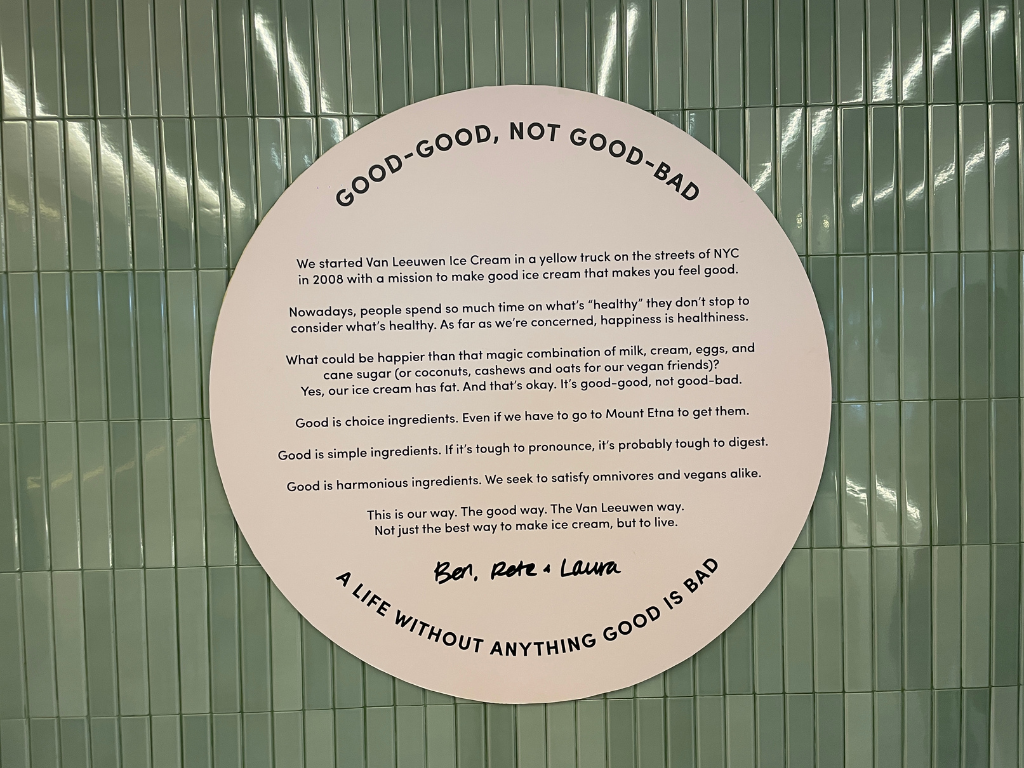 Founded by brothers Ben and Pete Van Leeuwen and close friend Laura O'Neill in New York City in 2008, Van Leeuwen is currently a household name and authority on ice cream in the United States.
The tale of Van Leeuwen's origin checks all the boxes of a tried and true success story.
One enterprising kid finding his way in the world. Check. 
A seemingly humdrum summer gig driving an ice-cream truck. Plot exposition. 
A band of loyal, try-anything friends. Who would Harry be without Ron and Hermione? 
A lemon of a truck that had to be restored with nothing but gumption and a prayer. Of course. 
An unstoppable appetite for scooping happiness to everyone. That's the heart of the story!
Van Leeuwen had all the early signs of an entrepreneurial sensation, and it shows in its 50 scoop shops across America, ubiquity on supermarket shelves and in restaurants, and now its arrival in Singapore. 
According to CNBC (August 2023), Van Leeuwen has achieved multimillion-dollar business status, bringing in upwards of US$300,000 (around S$406,200) a day from its scoop shops alone. It prides itself on serving ice cream made with only natural ingredients sourced from small producers and artisans.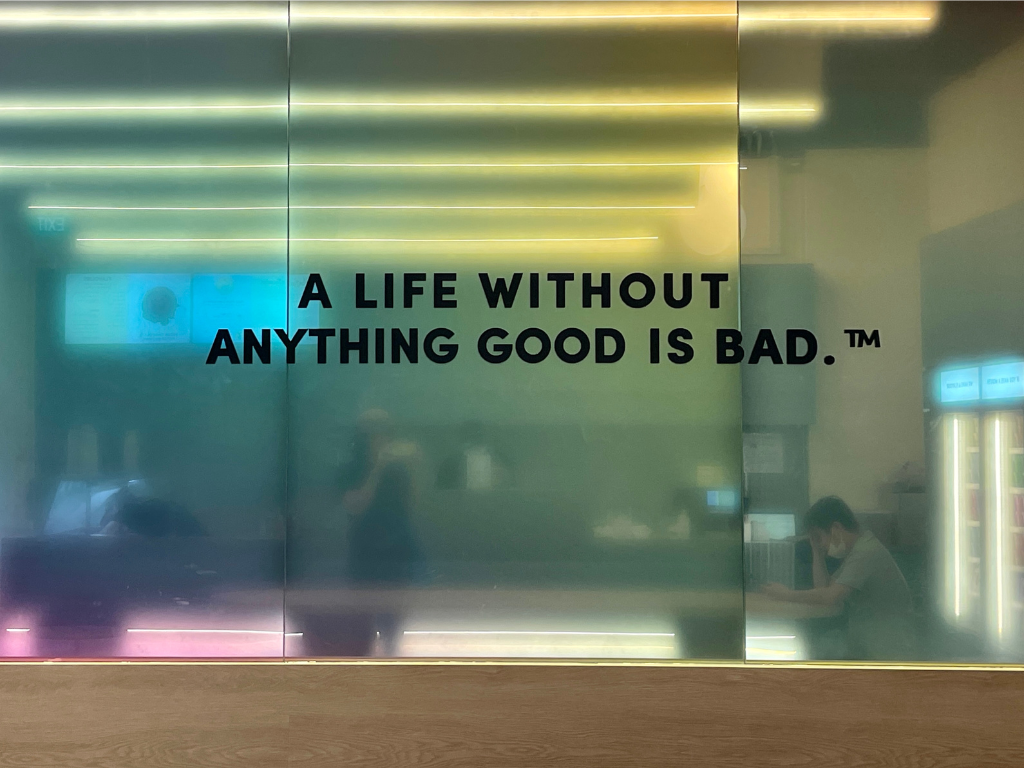 Starting at S$6.50 a scoop (which you can have in a cup or a cone), Van Leeuwen is priced higher than some beloved local parlours, such as Creamier and Birds of Paradise. 
Because of this, as well as its sensational reputation, I had high hopes for the ice cream I was about to taste.
Unfortunately, Van Leeuwen's flavours came across as rather tame, lacking a flavourful punch that I came to expect from local brands here. Flavours from the latter come across as richer, more luxurious and complex — and they always leave me wanting more.
Perhaps visiting on a Sunday at teatime was a risk, because the queues were healthy but the staff seemed overwhelmed by the crowds, making it a bit of a struggle to put my order in. Minor teething issues for a major opening.
I brought home some pints from Van Leeuwen, too, and found that the quality of these tubs did not quite live up to its name. More on that later.
Twee, rainbow-hued interiors and genial wooden seating make Van Leeuwen's scoop shop an inviting place for multi-generational family hangs. Its prime location in Orchard Central means a scoop (or two) is always easily within reach.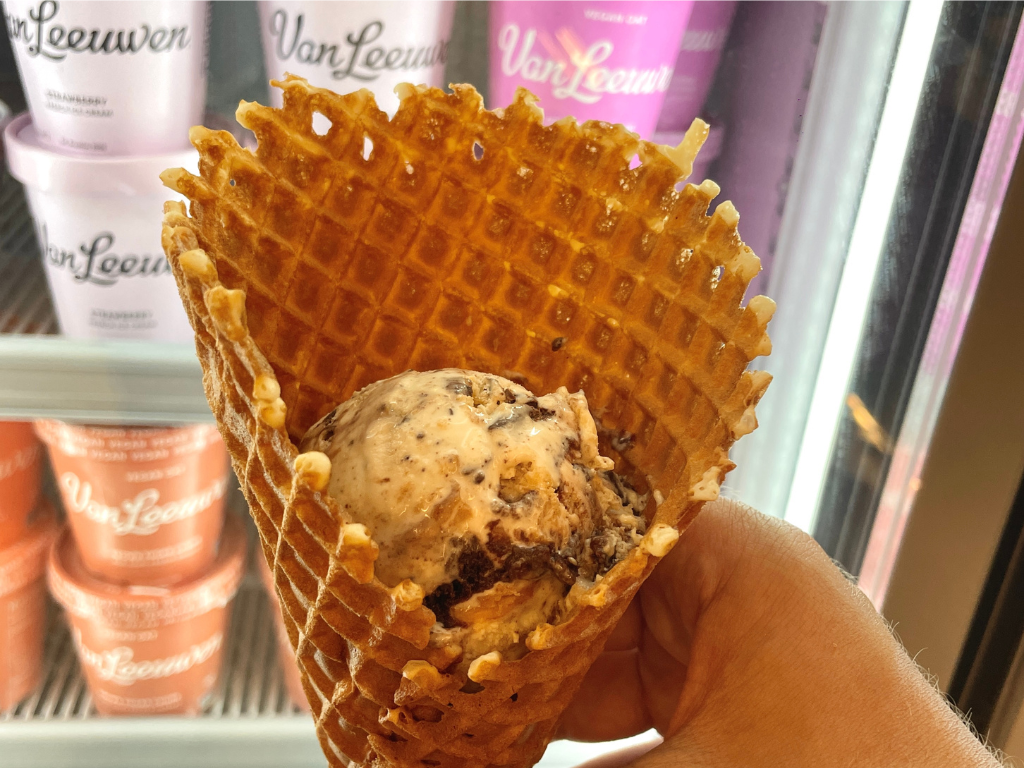 If you plan on going in for a scoop, I highly recommend the peanut butter brownie chip (S$6.50). This velvety, salty peanut butter ice-cream is chock-full of chewy brownie chunks, peanut butter ribbons and dark chocolate chips.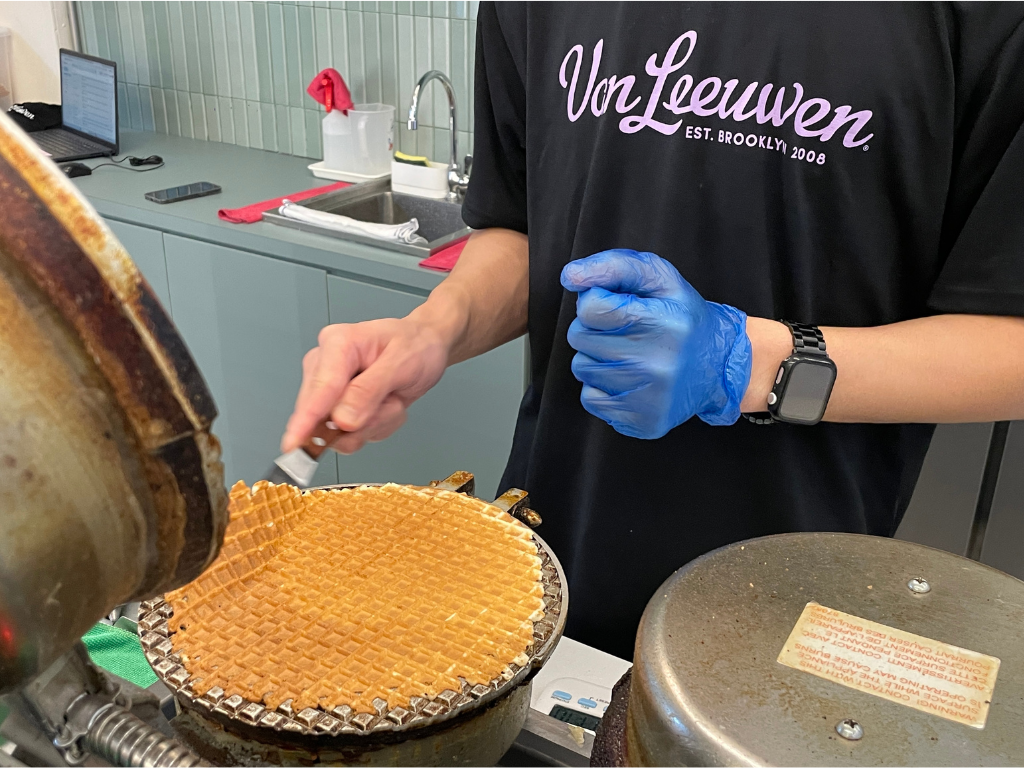 I had it with the housemade waffle cone (S$1), which is made fresh, its lacy edges delivering the perfect snap in every bite.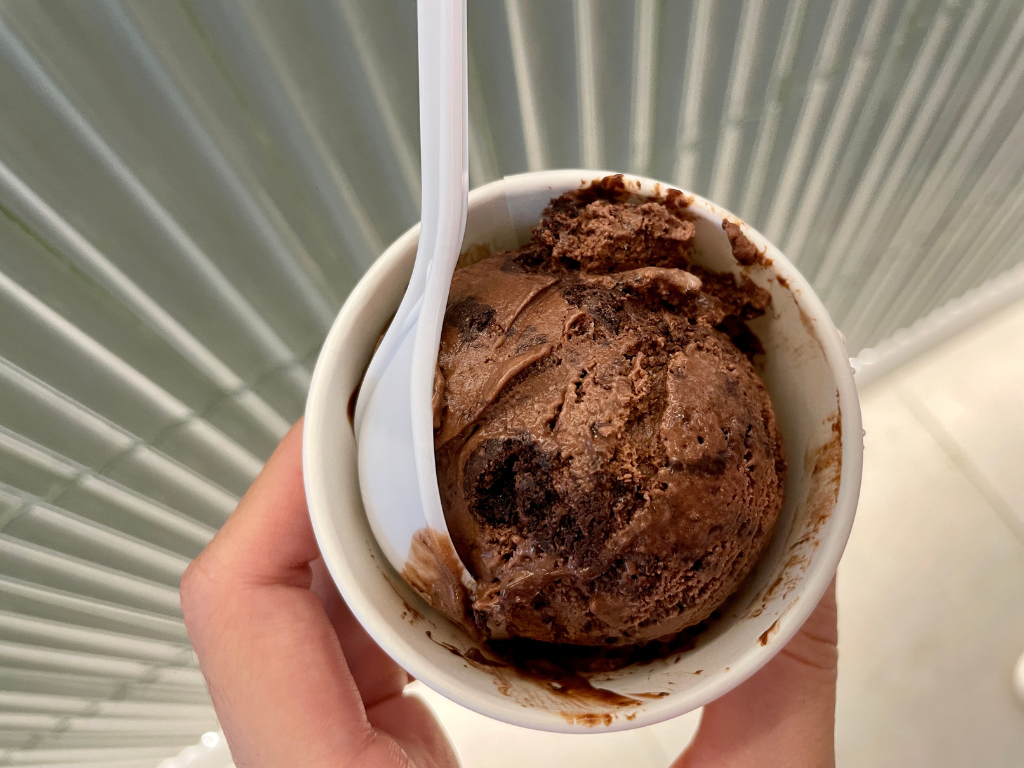 The sturdy lineup of vegan ice-cream flavours means lactose intolerant and plant-based folks can join in the fun too. I tried the vegan chocolate fudge scoop (S$7.50) and was bowled over by how rich the texture and flavour were. However, the chunks of fudge had a crumbly, sandy texture, not unlike a protein bar.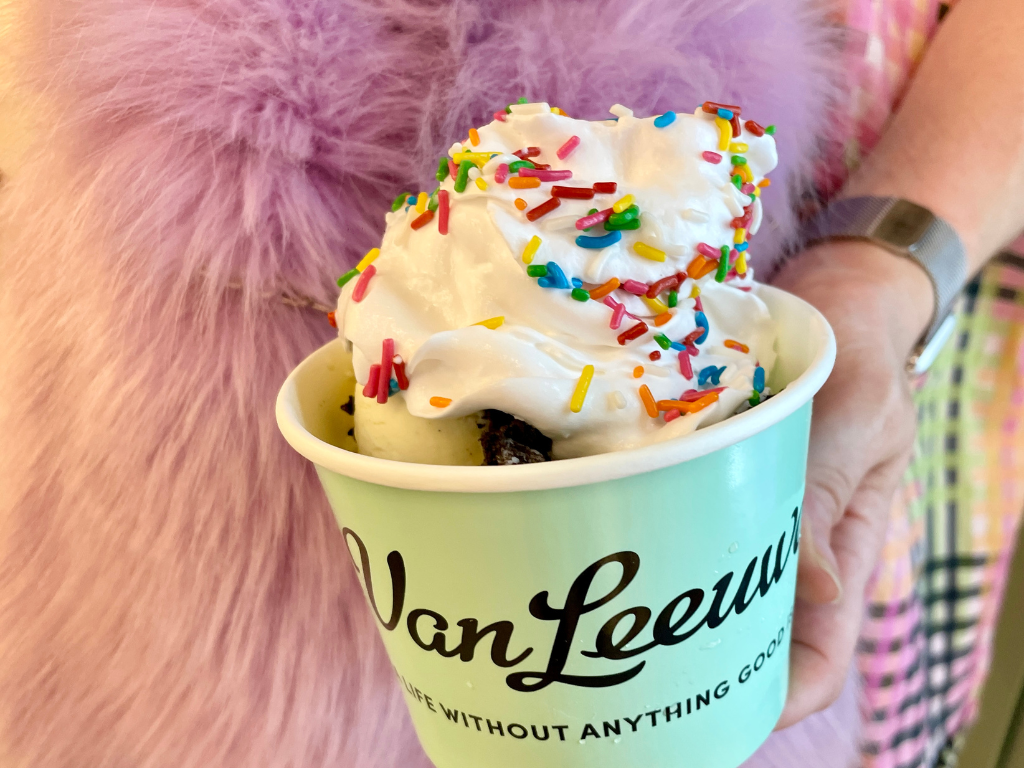 Van Leeuwen's make-your-own sundae (S$13 for 2 scoops and 3 toppings) offered a fun nod to the jolly decades of Americana when soda jerks and sundae joints were dujour. 
I went for a scoop of vanilla bean and strawberry ice cream, topped with regular whipped cream, cookies and cream crumble and rainbow sprinkles for my sundae as I wanted to try the quintessential, classic flavours. 
The vanilla bean had a fragrant, floral note to it, which I enjoyed. However, the strawberry flavour was missing the sweetness of summer-ripe fruit that I was hoping for. The whipped cream also had a rather artificial flavour to it.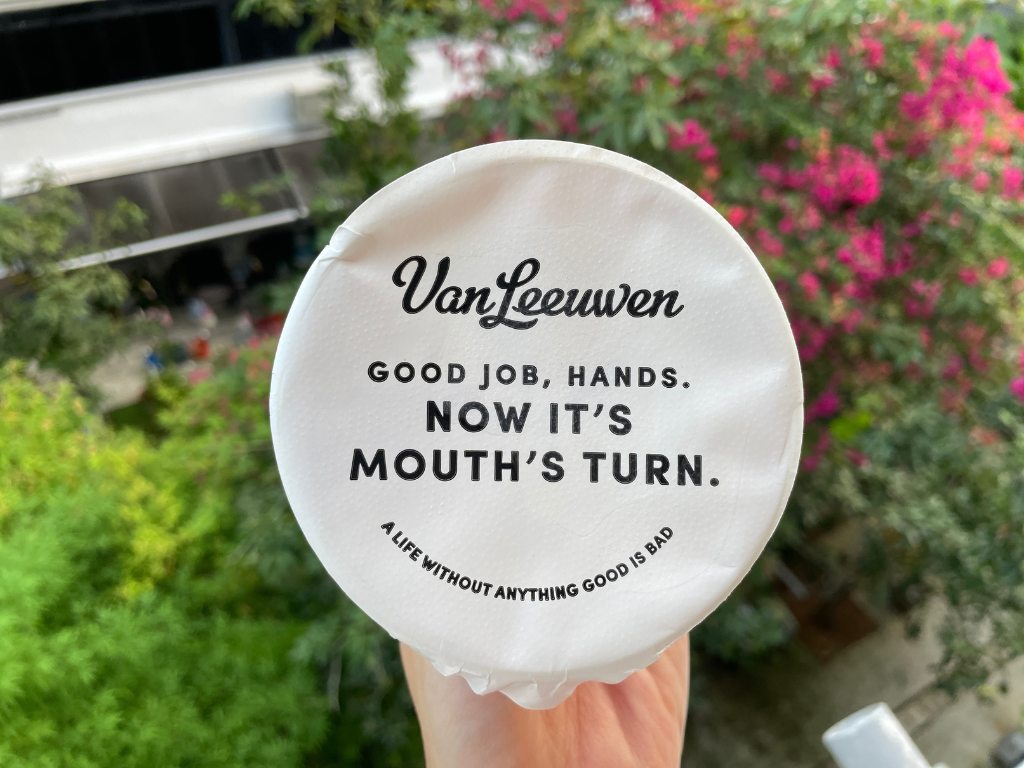 They say to be New York-born, is to be New York strong. Grit runs in the veins of a true-blooded New Yorker. Unfortunately for Van Leeuwen, being gritty (when it comes to ice cream, at least) is not something to be desired — not in the way Alicia Keys and Jay-Z would sing proudly about. 
To test out its retail-quality ice cream, I took home a pint of buttermilk berry cornbread and Sicilian pistachio (S$17 each). To my disappointment, both pints had a gritty, chalky texture. According to ice-cream scientists Ben & Jerry's, this is likely the result of freezer burn, which is when ice cream melts and refreezes, creating larger ice crystals that leave a grainy texture. 
The cornbread that was folded into the buttermilk berry ice cream was pale and stale, and the sweet taste of corn was missing.
As for the pistachio ice cream, it was muted in flavour and also had a grainy texture that tickled my throat. 
On a later revisit to have the peanut butter ice cream again, I found it had the same gritty texture as the pints. According to the staff, the ice cream is shipped all the way from the US. Coupled with the fact Van Leeuwen uses natural, artisanal ingredients, I wonder if the quality and consistency are being affected by cold chain delivery issues. 
Anyway, if you're having an ice-cream craving, there's no harm giving Van Leeuwen a go to see if you feel the same way. Otherwise, we suggest topping up an extra S$3.80 and treating yourself to a roasted pistachio pint from Creamier (S$20.80, available on the GrabFood platform).
Is it conducive to conversation? Yes. The space is cavernous, with ample seating and social media-ready interiors that will start conversations.
Is a reservation necessary? No.
How to get there? The nearest train station is Somerset MRT station, which is connected to Orchard Central. Orchard Central is also highly accessible by bus, or you could take a Grab ride there.
HungryGoWhere paid for its meal at this restaurant for this review. Still hungry? Read our reviews of The Kongsee and Don Don Donki's Sen Sen Sushi.
Book a ride to Van Leeuwen Ice Cream.
Orchard Central, 01-19/20, 181 Orchard Road
Nearest MRT station: Somerset
Open: Wednesday to Saturday (12pm to 12am), Sunday to Tuesday (12pm to 11pm)
Orchard Central, 01-19/20, 181 Orchard Road
Nearest MRT station: Somerset
Open: Wednesday to Saturday (12pm to 12am), Sunday to Tuesday (12pm to 11pm)
---