Hong Kong burger chain Honbo lands in Chijmes, serves crispy beef patties, housemade hot sauce, buns & pickles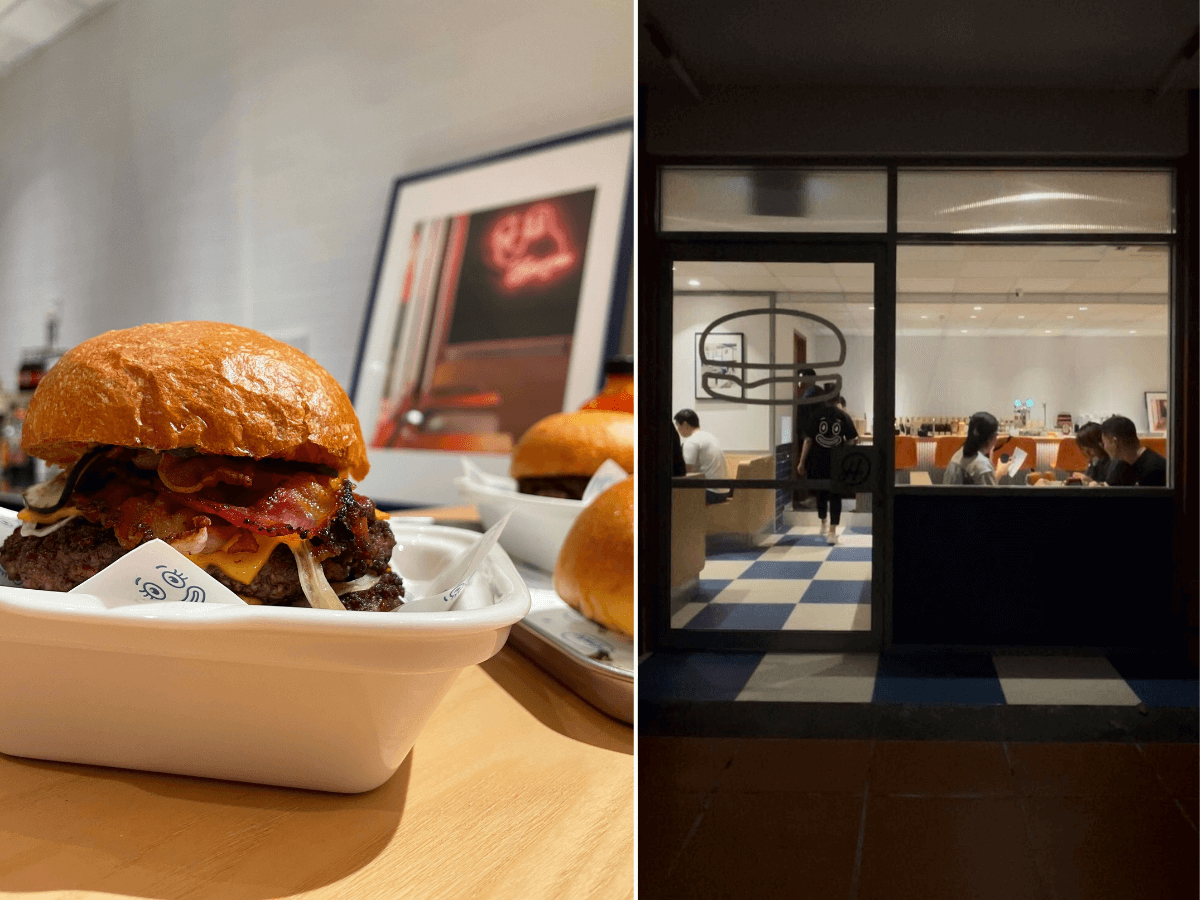 Classic American-style burgers built for Asian palates are the draw here, says founder Michael Chan.
"The concept Honbo, on its own, is designed to cater to the modern Asian palate. From the making of the bun, (to) the cut of beef that we use, how we make our sauces, and even the pickles, (it) is really dialed into the Asian demographic," says Chan.
What to order at Honbo
Chan says the brand is still tweaking the recipes, and may make further adjustments as time goes on.
The menu we tried at its launch is what Chan calls its "greatest hits", with some Singapore-exclusives in the pipeline.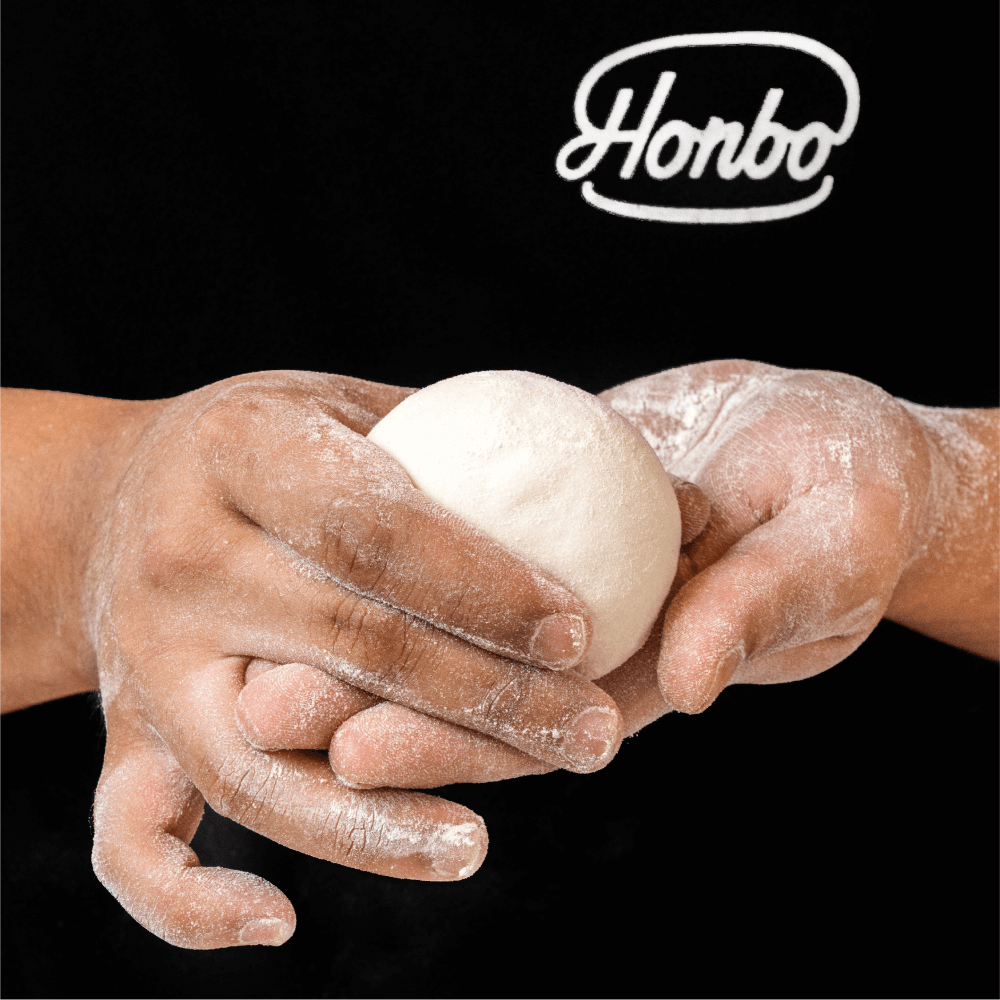 So just what is it that makes Honbo stand out?
For one, the brand prides itself on housemade potato milk buns made fresh each day, under the auspices of renowned baker Eric Kayser (of Maison Kayser fame). 
If you find yourself reaching for the tabasco bottle, you'll find some Flaming Smash Sauce — also housemade and exclusive to Honbo — instead. Its pickles, too, are made in-house with Japanese cucumbers.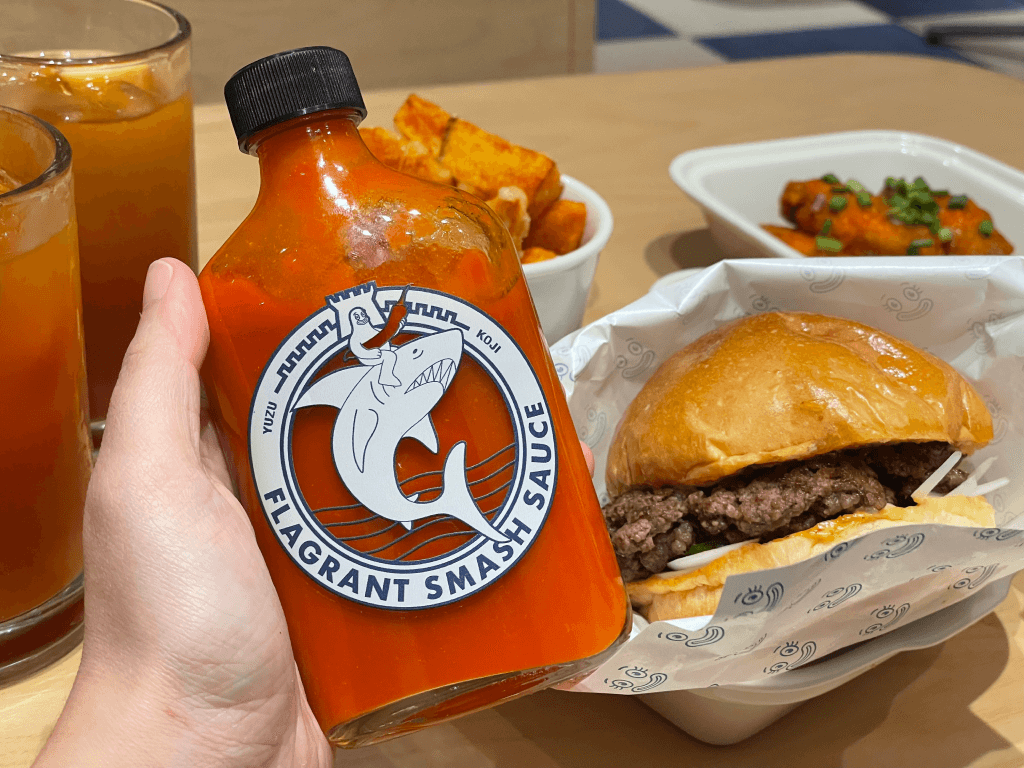 Honbo's signature patties come in two variations: A two-ounce crispy patty that is smashed thinly on the grill, and a thicker version.
You'll find the former nestled between layers of melty cheese and raw onions in the Honbo series of burgers. For a good sampling of what it has to offer, try the Honbo 1.5 (S$23), which comes with three crispy patties, cheese, pickles, and house sauce.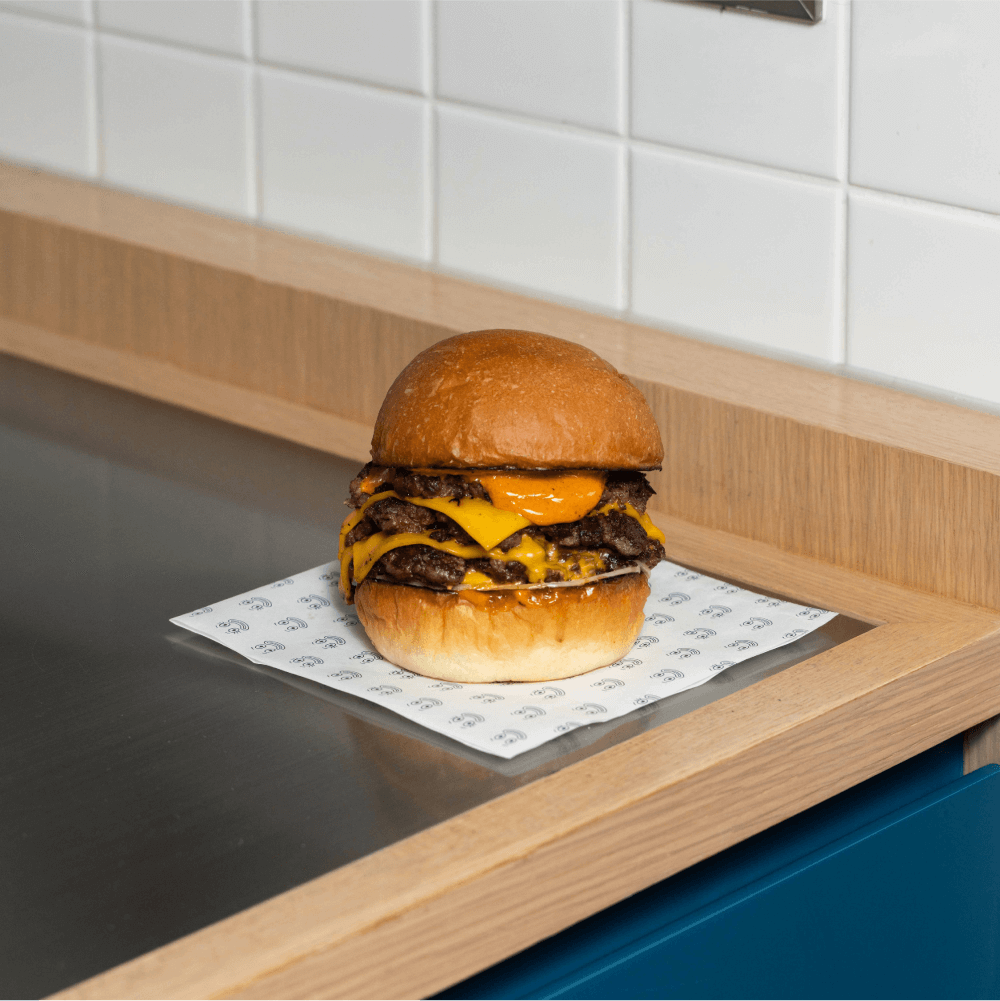 Depending on your appetite for the day, you can get a smaller or larger portion of meat. There's the Honbo (S$18), which has two patties, for smaller eaters, while the Honbo 2.0 (S$28) has four.
There's even a BB Honbo (S$15) with a single crispy patty, which works as a snack or a kid-friendly meal. Here, the mildly spicy house sauce has been swapped out for ketchup.
For a more traditional, juicier burger, there's the cheeseburger (S$18), which comes with a thick beef patty, American cheese, pickles, onions, lettuce and house sauce.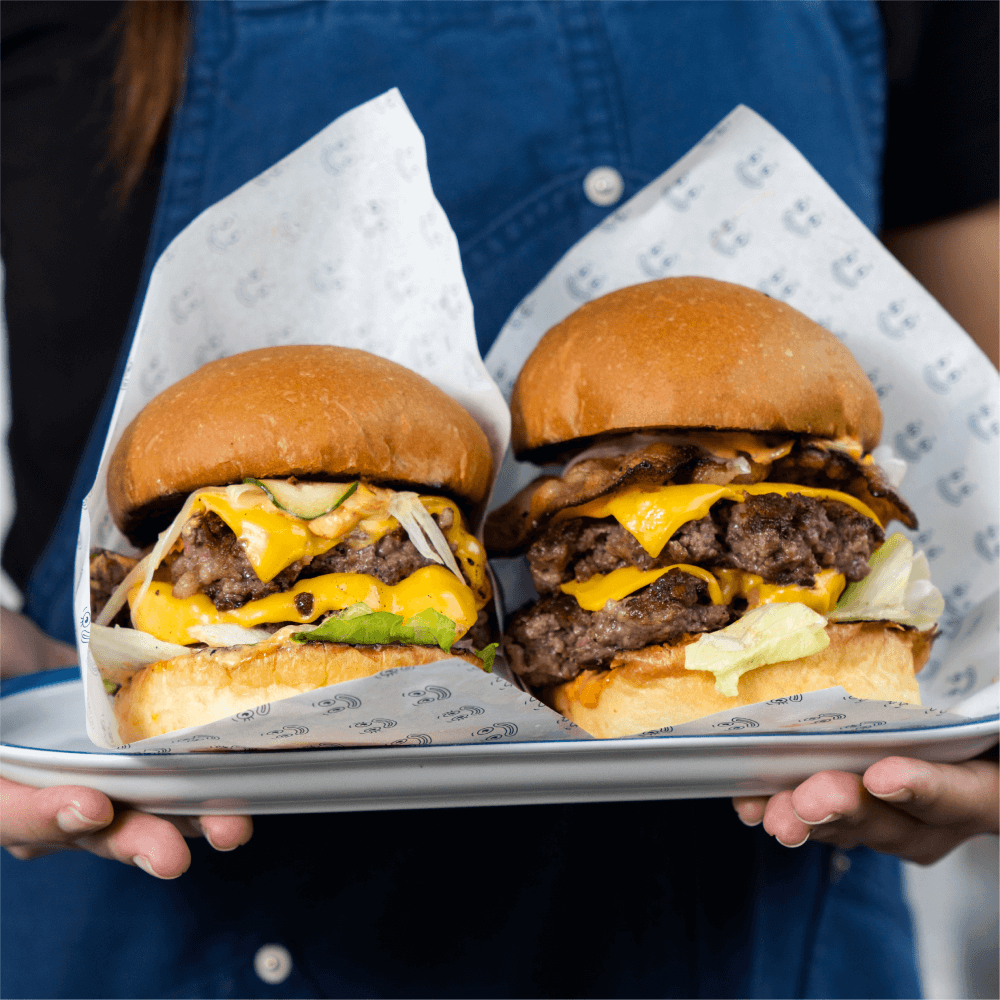 For a souped-up version, order The Gold Standard (S$28) to get double the patties and extra slices of applewood-smoked bacon.
If you love fresh seafood, be sure to order the scallop burger (S$26) while you can. It'll be available on Honbo's menu for only the next three months. Thick slices of sashimi-grade Hokkaido scallops are seared and pressed between pillowy buns and finished off with Japanese rocket and lashings of wasabi pico de gallo.
Honbo says there's a soft-shelled crab burger in the works, featuring a vodka batter and ginger coleslaw, that will make an appearance in the coming months.
Drinkswise, we liked the Michaelada (S$16), Honbo's take on the Bloody Mary cocktail, but with Corona beer instead of the usual vodka. Made with tomato juice and a dash of its Flaming Smash Sauce, it was wonderfully tart and helped to cut through the grease. Do note that this will only be available on weekends for now.
If you can't get your hands on that, there's an apple pie iced tea (S$7) with notes of cinnamon that worked equally well to refresh the palate.
The space
Just like its burgers, the restaurant is reminiscent of a classic American diner, with tiled floors, booth seating and countertop seats.
Instead of the usual black-and-white tiles, pleathery seats and dazzling reds however, Honbo sports more muted, seaside vibes.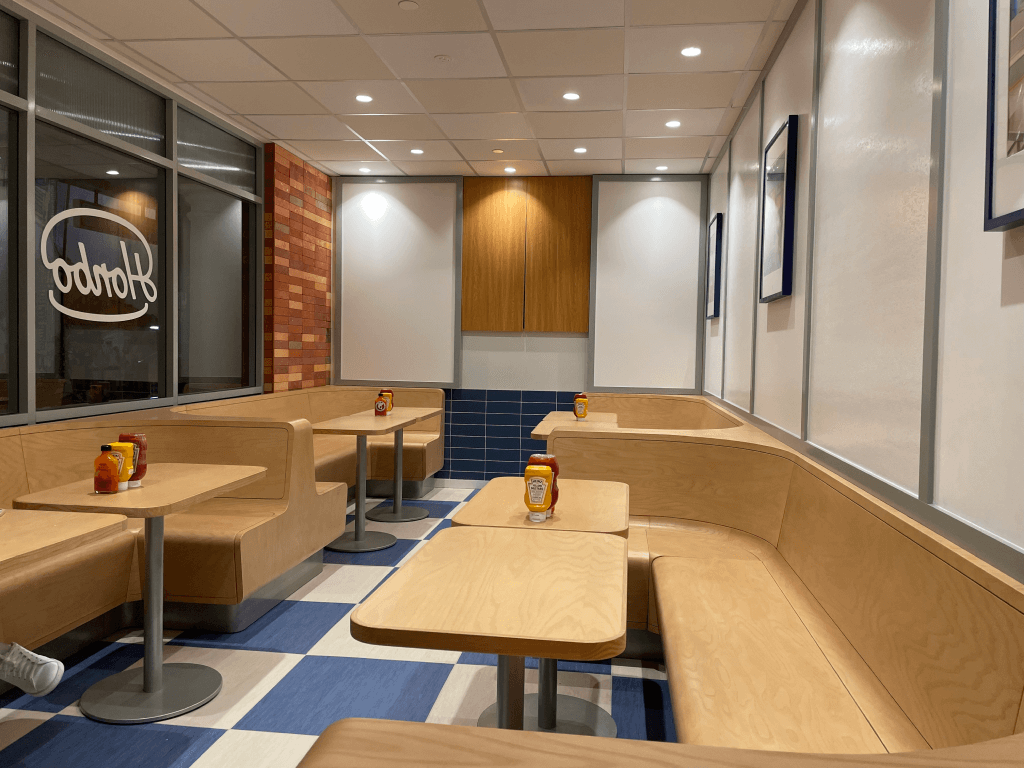 Decked out in warm oranges, blues and wooden accents, Honbo's Chijmes' store — just like its original flagship in Hong Kong — draws inspiration from the Malibu beachside.
Citing a penchant for car-lite pedestrian areas, Chan says that Chijmes was a natural go-to for Honbo's debut.
"Our shop in Harbour City in Hong Kong — it directly faces the ocean… even my original ground-floor shop in Hong Kong is on a pedestrian-only street. So this is our thing."
The vibe here is certainly well-curated, even down to the dishes used. At first glance, it looks like a run-of-the-mill disposable box, just like the ones you'd get with any fast-food burger.
But no, it's a pretty solid ceramic dish designed to look just like it.
We understand it's a special Honbo collab with international ceramics brand Loveramics. If you love it as much as we do, you'd be glad to know Honbo will be bringing these in for sale in the coming months. So keep your eyes peeled: You might be able to snag your very own.
This was a hosted tasting.
For more ideas on what to eat, read our stories on McDonald's latest nasi lemak burger and our top hidden bar picks.
You can book a ride to Honbo at Chijmes.
Chijmes, 01-09, 30 Victoria Street
Nearest MRT station: City Hall
Open: Monday to Sunday (12pm to 10pm)
Chijmes, 01-09, 30 Victoria Street
Nearest MRT station: City Hall
Open: Monday to Sunday (12pm to 10pm)
---