29 Private Dining Rooms in Singapore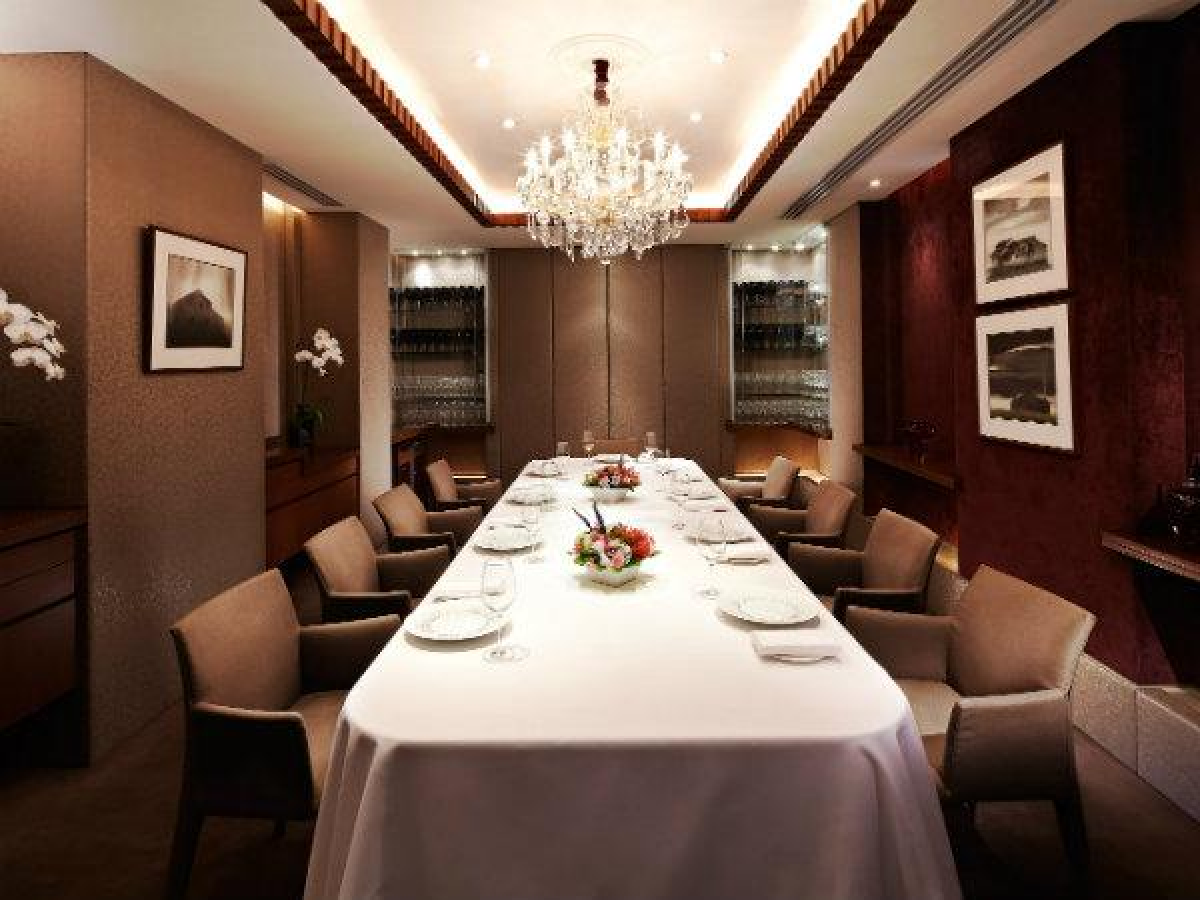 FOR PARTIES OF 15 TO 20
The Bank Bar + Bistro
Big business meals for 20 in uptown, sophisticated interiors
Attracting the high-flyers and bankers, kick back in their varnished interiors while tucking into a delicious pan seared seabass (with roasted potatoes, seasonal greens and tomato sauce, $25). Business lunches or dinners can be comfortably held in the 15-seat private room which needs to be booked in advance. A minimum billing of $1,000 is required, which is spare change to the regular clientele, no?
Address: 1 Shenton Way, #01-01 One Shenton | Opening hours: Daily 11am-midnight

Spruce @ Phoenix Park
For business lunches for 16 among lush greenery
They charge a minimum of ($600 for lunch, $800 for dinner) for their only private room, which is worth it for the dependable food and relaxed dining atmsophere. The Phoenix Park outlet is an impeccable business lunch option – its private room (book one week in advance) able to host up to 14 guests. They serve up hearty American fare such as the famous Spruce burger (homemade beef patty, melted cheddar, and pickles, with herbed fries, $18). Other recommendations include decadent baked ginger date pudding ($15).
Address: 320 Tanglin Road, Phoenix Park | Opening hours: Mon-Fri 11am-10.30pm; Sat, Sun & Public Holidays 9am-10.30pm
Tamashii Robataya
For outstanding Japanese aesthetics and food in groups of eight
This theatrical Japanese restaurant serves one of the best robatayaki in town, combining interior aesthetics and culinary finesse with aplomb. There are two private rooms (book at least 48 hours in advance) that can fit eight guests each, although the rooms can be merged to fit 14 to 16 patrons (minimum spend of $500 for lunch and $1,000 for dinner). Choose from a vast menu containing favourites such as gyuniku teriyaki ($38), or have your meal omakase style. The omakase sets start at $100 per person for lunch and $150 per person for dinner.
Address: 12 North Canal Road, #02-01 | Opening hours: Mon-Sat noon-2.30pm, 6.30-10.30pm
Rhubarb Le Restaurant
Fine French fare for 14
Book a private dining room for 14 at this French restaurant at Duxton Hill. The chefs at this establishment were previously from Au Petit Salut, which explains the stellar dishes offered like the confit of pigeon ($64) and foie gras served with apricots, almonds and grue de cacao ($32). There is a minimum spending of $1,000 for lunch while dinner is $1,800. Bookings need to be made at least one week in advance.
Address: 3 Duxton Hill | Opening hours: Mon-Fri 11.45am-2.30pm, 6.30pm-10pm, Sat 6pm-10.30pm
Yan Ting
For exquisite Cantonese offerings and three luxurious private rooms
The immaculate interior of Yan Ting reflects its Cantonese restaurant's offerings, like the Signature set Menu by chef Tony Wun (eight courses, $168 per person). Savour the richness of the steamed coral trout with Yunnan ham in lotus leaf, or the delicious pan-seared crab claw stuffed with shrimp mousse. The private rooms seat four, 10 and 16 guests. You'll understand why they have to be booked a week in advance, with minimum charges per room ranging from $750 to $1,500.
Address: 29 Tanglin Road, Level 1U The St. Regis | Tel: 65066887 | Opening hours: Mon-Fri noon-2.30pm; Sat, Sun and public holidays 10.30am-3pm; Daily 6.30-10.30pm
Si Chuan Dou Hua
For sharing comforting Cantonese and Sichuan food with 19 others
This restaurant owned by the Pan Pacific Hotel Group has a few branches, but the one perched on UOB Plaza definitely steals the limelight. Four of their private dining rooms seat up to 20 persons in total (the rooms can be combined) and the food menu is a healthy mix of Cantonese and Sichuan delicacies. Do make a booking at least three to five days in advance. Must-orders include the deep-fried prawn in wasabi ($28 small, $56 large) and the Sichuan dan dan noodles ($8). Minimum charges range from $800 to $1,200 per room.
Address: 80 Raffles Place, #60-01 UOB Plaza | Opening hours: Daily 11.30am-2.30pm, 2.30-6pm, 6.30-10.30pm
Yummy Recipes
For local and Cantonese cuisine for groups of ten to 20
For a business dinner spent sampling Cantonese and comforting local eats like roasted meats and seafood delicacies, book yourself in at one of the eight private rooms at Yummy Recipes. The regal decor and impeccable service will impress even the hardest to please client. There is a minimum spend of $400 per room and they comfortably seat from ten up to 20 persons. Sample the food by opting for set menus or order a la carte. We recommend you try their signature chicken in pig stomach soup ($46, serves six to eight diners) and the seasonal, Hong Kong style roast goose (large $138).
Address: #01-08, 47 Kallang Pudding Road | Tel: 63431818 | Opening hours: Daily 11.30am-10.30pm
Kaiserhaus
A VIP room fit for a king or queen.
Party like royalty at this private dining room located at Kaiserhaus in Capitol Piazza. The unique restaurant, cafe and bar spans two floors with a cake and pastry counter on the first floor and the VIP room on the second floor serving a Central European feast for up to 18 guests. The minimum spending for lunch is $600 and for dinner it is $1,200 and bookings must be made at least three days in advance.
Address: #02-06/03-06, Capitol Theatre, 17 Stamford Road | Tel: 63770013 | Opening Hours: Sun-Thur 10.30am-12am, Fri & Sat 10.30am-1am

FOR PARTIES OF 20 AND MORE

Summer Pavilion
Modern private rooms that come complete with your own bar
After an eight-month long renovation, The Ritz-Carlton Millenia Singapore unveils a new and more glamorous Summer Pavilion on 18 November 2015. The contemporary Cantonese fare is still as exquisite as we remember thanks to executive Chinese chef Cheung Siu Kong; it's the interiors that have been overhauled. Design takes inspiration from a Chinese garden with floral motifs aplenty and six private rooms named after botanicals. The smallest Plum room accommodates 10 while the Pine and Elm rooms seat up to 15 persons each. For bigger parties, there is the 24-seater Garden Suite that comes complete with a lounge area for guests to hang out before dinner starts. Modern linear chandeliers, pastel blue lazy susans, and black and white paintings, makes this one luxurious dining experience. Extra: each private room has a sleek bar-moire (an idea borrowed from French armoire or wardrobe), well stocked with wines, glasses and cutlery. Minimum spend is $100 for lunch or dinner.
Address: The Ritz-Carlton Millenia Singapore, 7 Raffles Avenue | Tel: 6434 5286 | Opening hours: Daily 11.30am-2.30pm; 6.30pm-10.30pm
Pasta Fresca Da Salvatore
For a big (60) Italian-style gathering
The entire second floor of Pasta Fresca Da Salvatore's Boat Quay outlet can be reserved, with a maximum capacity of 58. For 25 guests and above, there is a minimum spend of $35 per person (there may be extra charges if there are less than 25 guests) and the food will be served buffet style. Do order the Italian restaurant's signature polpa di granchio (crab meat sautéed with garlic, crushed black pepper and cherry tomatoes drizzled with white wine, $20.20). Reservations have to be made at least five working days in advance.
Address: 30 Boat Quay | Tel: 65326283 | Opening hours: Mon-Thu 11am-3pm, 6-11pm; Fri & Sat 11am-11pm; Sun and public holidays 11am-11pm
Donna Carmela
For Italy's finest and wholesome hospitality in a room for 20
Donna Carmela is a genuine southern Italian eatery that use to serve Brazilian churrascharia. There is one, large private dining room suitable for a hearty, meaty gathering. Order up favourites such as the guanciotto di manzo (tender beef cheek cooked for four hours in tomato sauce and red wine, $39), or if you'd prefer, the Donna Carmela gnocchi with mince Italian pork sausage and fresh chilli cooked in tomato and cream sauce ($25). Get ready to fork out $2,000 minimum on food and drinks once you book the private dining space that can hold up to 16-20 people. It is advisable to book at least seven days in advance.
Address: Hillcrest Park, 2 Greenwood Ave | Opening hours: Mon-Sun noon-3pm; 6.30pm-10.30pm
Imperial Treasure Super Peking Duck (Asia Square)
For trademark Cantonese dishes in a series of small private rooms
This classy Chinese restaurant offers consistently high-standard Cantonese dishes in nine private dining rooms. Whether you have a small team of five diners or a crowd of thirty, there's a room for each group size – with a minimum spend of $90 per person, of course. The rooms are bookable at least one week in advance. If your budget is more generous, splurge on the set menu for six persons and above ($128 per person) for a taste of their signature Beijing-style roast duck and stewed mee pok noodle with egg plant in XO sauce.
Address: 8 Marina View, #02-08/09/10 Asia Square Tower 1 | Opening hours: Mon-Sat 11.30am-2.30pm, 6-10pm
Hard Rock Café Singapore
For American chow for up to 50 people
A staple hangout for anyone looking for hearty American grub, Hard Rock Café Singapore has a private room that can keep 50 stomachs happy. Aptly christened 'The Lion's Den', be sure to call one week in advance to secure the room. This will be a spread of a la carte fajitas, burgers, sandwiches and desserts, unless you're a group of 30 or more – a buffet package can (should) be had at $65 per person. You might as well – a minimum spend of $1,500 is required for four hours of booking. It works out to about the same.
Address: 50 Cuscaden Road, #05-01 HPL House | Tel: 62355232 |Opening hours: Mon-Thurs 11.30am-12am Fri-Sun 11.30am-2am
Les Amis
For 30 well-heeled lovers of fine dining
For a fine dining restaurant that is dependable and luxurious, there's no better place than award-winning French restaurant, Les Amis. Dress to the nines and gather at one of their four private dining rooms. Three of them are situated on the mezzanine floor and can be merged to accommodate up to 34 guests. Be swept up in the grandeur of British antique furniture, chandeliers and collector's art, while dining on Les Amis's exquisite offerings. The signature dinner menu ($225 per person), if you're interested, includes caviar on angel hair pasta, seared scallops, warm lobster rouelle, pan roasted sea bass, cadoret oyster soup and roast duck. Bookings are on a first-come-first-serve basis, and the mezzanine floor is yours for a minimum spend of $8,000 for lunch, and $12,000 for dinner.
Address: 1 Scotts Road, #02-16 Shaw Centre | Tel: 67332225 | Opening hours: Mon-Sat noon-2pm, 7pm-9.30pm
Den
For avant-garde European dishes and the option of cocktails for 40
If you'd like to dine in the confines of Bartini Kitchen's sleek, red-walled establishment and modern European cuisine, the entire space can be booked for up to 50 guests. You do have to spend at least $1,500, and make a booking four weeks in advance, but it's worth Den's Truffle paste Jamon with vintage cheddar and caramelised onions. And the cocktails, don't forget the cocktails.
Address: 29 Boon Tat Street | Tel: 62200629 | Opening hours: Mon & Tues 8am-11pm Wed-Fri 8 am-12am Sat 11am-10pm 

Mitzo
Contemporary Cantonese fare in a modern setting for 26
Tucked away in a corner along Orchard Road is Mitzo located on the fourth floor of Grand Park Hotel. This modern restaurant serves fine Cantonese cuisine and diners can opt for the private dining room that accommodates up to 26 guests with lounge seating available on both sides of the room. Sip on unique, herb-based cocktails created by the resident bartender while you dine with the mesmerizing display of the jellyfish tank. The minimum spend is $2,000 and bookings have to be made at least one week in advance.
Address: Level 4 Grand Park Orchard, 270 Orchard Road | Tel: 6603 8855 | Opening Hours: 12pm-2.30pm, 6.30pm-10.30pm, 6.30pm-1am for Thurs-Sat and eve of Public Holidays

Scotts 27
An all-private-dining restaurant
While other restaurants offer private dining rooms as an add-on to their main dining area, Scotts 27 is based on a full private-room concept with two whole floors dedicated to it. Set in a classy, monochromatic colonial house, this restaurant on Scotts Road features three private dining rooms (The Wine Room, The Heritage Room and The Scotts Private Dining Room) on the first floor and two others (The Nutmeg and The Oak Room) on the second floor. The central living area at The Lounge is perfect for small get-togethers over afternoon tea. The largest Scotts Private Dining Room seats up to 30 while the smaller Wine room, which is designed like a gentlemen's bar, good for six. Each private room comes with personal butler service. Booking rates start at $200++ per hour with a minimum advance booking of 24 hours required.
Address:  27 Scotts Road | Tel: 6737 0895 | Opening Hours: Mon-Fri 12pm-2pm, Mon-Sat 6pm-10pm
The Clan Restaurant
For Modern European delights in Chinatown
An enviable destination for a year-end company meal, The Clan has one private area that can host up to 30 guests. There is no minimum fee, but a guarantee of the number of 20 guests must be given. Food will be served as pre-decided set menus. The modern European-Asian influenced menu ($49.80 for lunch and $69.80 for dinner) includes star dishes such as the prime beef short ribs on hoba leaf, and the distinctive kurobuta pork jowl in pistachio puree. You'd need to book the place at least two-three weeks in advance to private dine.
Address: 1 Selegie Road, PoMo #02-01 | Tel: 62222084 | Opening hours: Mon-Sun 11.30am-2.30pm, 6pm-11pm
Morton's The Steakhouse
For great steaks and classy interiors for up to 30
Certainly one of the glitziest places to partake in a steak, Morton's The Steakhouse is perfect for a big bonus celebration. Their three private rooms (or as they call them, 'Boardrooms') can be combined to fit up to 30 guests. A minimum bill of $2,000 is required for the combined room, and you should book at least one week in advance. For $149 per guest, the Boardroom set Menu is available, where you'd get to try house signatures such as the filet mignon and broiled salmon fillet.
Address: 5 Raffles Avenue, 4F Mandarin Oriental | Opening hours: Mon-Sat 5.30pm-11pm; Sun 5-10pm
For more restaurants with private rooms for groups of eight to fifteen, read Part I
---
This archived article appeared in an earlier version of HungryGoWhere and may not be up-to-date. To alert us to outdated information, please contact us here.