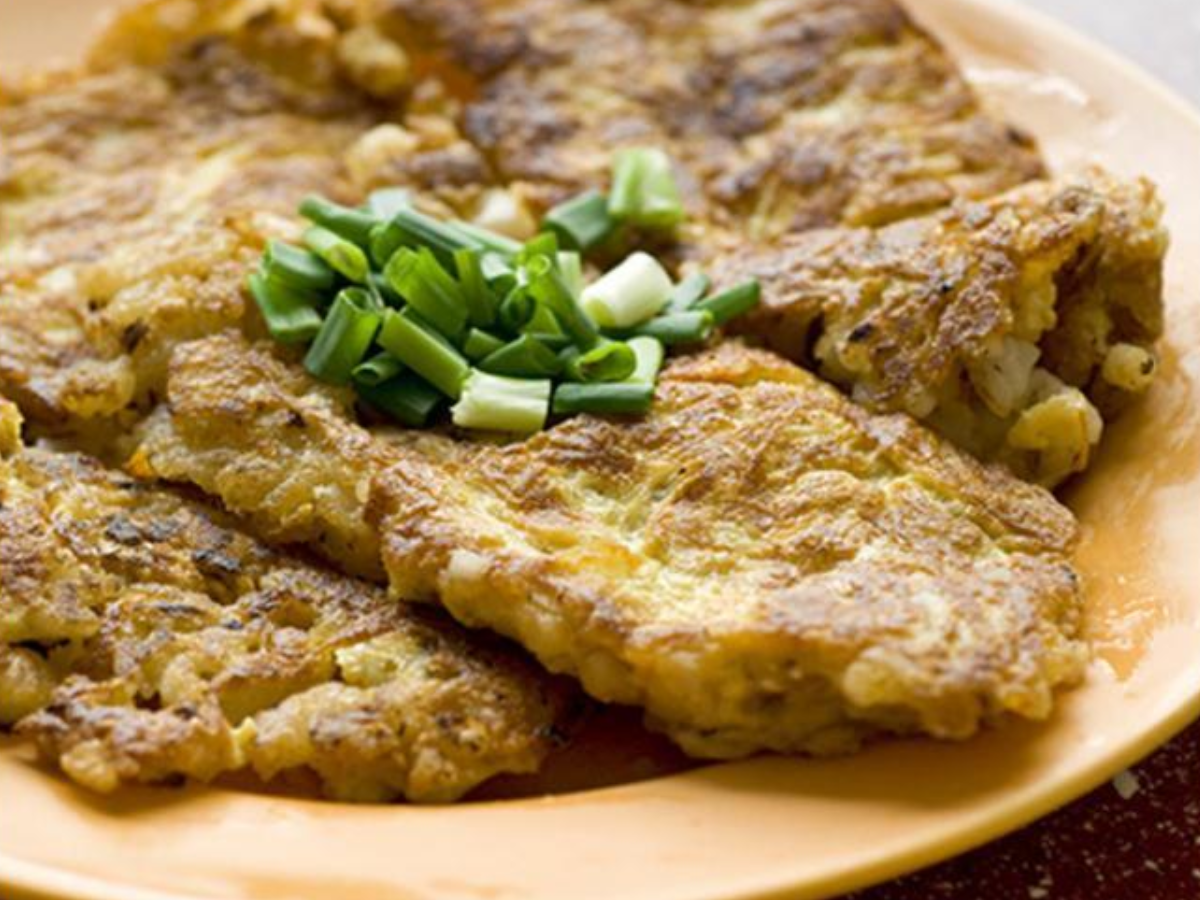 A culinary misnomer, this much-loved local hawker delight was so named because in Chinese, radish is called "white carrot". Even though it should be labelled "fried radish cake" instead, the name "fried carrot cake" has stuck.
But more commonly, we refer to it as "chai tow kway". Although it's available in both white and black (flavoured with dark soy sauce) versions, the original version is the white one. The main ingredient is the kway (steamed rice cake with shredded white radish), which is cut up into chunks and fried with garlic, fish sauce, chai poh (preserved radish) and egg.
For this review, we'll be comparing only the white version of chai tow kway. So which are some of the best white chai tow kway in Singapore?
Read on to find out!
Chey Sua Carrot Cake
#02-30 Toa Payoh Lorong West Market
Opening hours: 6am-1pm; closed on Mondays
Price: from $2.00
Rating: 5/5
It's rare that we give a stall full marks, but truly, Chey Sua's fried carrot cake is in a league of its own. Firstly, the stall steams the radish cake which has a super smooth and melt-in-the-mouth texture. The stall also adds shredded carrot for extra color.
What also makes the carrot cake so great is the special way it's fried. The kway is finely cut up, and then held together omelette-style. It's fried such that the egg side is super crispy, and the other side (with the kway) is still soft and moist. The carrot cake-omelette slices are of the perfect thickness.
As for the chilli version, it's also very unique. Instead of using sambal belachan, the cook plasters sweet-sticky chilli jam onto each slice of carrot cake, much like you'd butter a slice of bread. Very potent and extremely shiok!
Heng Carrot Cake 
#01-28 Newton Food Centre
Opening hours: 6am-2am; close on alternate Tues
Price: from $3.00 without prawn, from $4.00 with prawn
Rating: 4.5/5
Upon tasting Heng's carrot cake, we gushed, "Mmm, this is so wonderfully old-school!" Soft and smooth, the kway is lightly tossed in fish sauce, then fried till very fragrant. The egg batter binds the cakes together to create a thin, crispy omelette.
What we were most impressed with was how amazingly grease-free the fried cakes were. It was really addictive! The chilli version was rather mild. The stall also serves a deluxe version with prawn (at more premium prices), but we didn't think much of the smallish prawns. Just stick to the regular version which is gorgeous enough on its own.
Delicious Fried Carrot Cake
#01-33 Redhill Food Centre
Opening hours: 7am-2pm; close on Mon
Price: from $2.00
Rating: 3.5/5
Not only does this stall serve delicious fried carrot cake, it claims that its version is healthier, too. Besides using oil that's lower in saturated fat, you can ask for bean sprouts to be added at no extra charge.
Indeed, the stall was very liberal with bean sprouts as well as chopped spring onions. The crunchy bean sprouts were a refreshing contrast with the grease in the dish. But the best part was the wok hei (smoky flavour) of the cakes. The kway was very well seared, and gave off a lovely, charred aroma.
Picking up the chunky pieces of kway was a breeze. Though they were sufficiently soft, they weren't as smooth as we'd prefer. They were also light-handed with the seasoning, perhaps in keeping with the healthy mantra, but luckily, there was plenty of crunchy chai poh to provide some flavour. Order the chilli version for more kick.
Ang Mo Kio 107 Carrot Cake
Blk 107 Ang Mo Kio Ave 4
#01-164, Lim-Kopi Foodcourt
Opening hours: 4pm-12 am, close on ad-hoc basis
Price: from $2.00
Rating: 3.5/5
Don't judge the carrot cake here by first impressions. Visually, it doesn't look like much, but taste-wise, it's really sublime. The star here is the kway. Although the stall owner now outsources the kway, he maintains firm control over its quality. Smooth, even, and melt-in-the-mouth, the texture is truly fantastic.
Besides being well-made, the kway is expertly fried so that it's evenly seasoned. We liked how the kway was flavourful without being too salty. There's just enough egg to bind the irregularly cut-up kway together. The chilli version was also very nice. The stall uses a sambal that's not heavy on belachan, so the result is rather refreshing.
If we had to nitpick, we wished they'd cut down on the grease and add more chai poh.
Golden City Carrot Cake
1 Telok Kurau Road
Opening hours: 7.30am-2pm; closed Tues
Price: from $3.00
Rating: 3/5
Fancy ikan bilis on your fried carrot cake? That's the unique selling point of Golden City Carrot Cake. The crunchy ikan bilis topping was fun to munch on, but ultimately, it's the kway that matters the most.
Although fried till nicely crisp and browned, the kway was cut up too finely. The fried egg bits were also crispy, but at the risk of being a little too dry. The dish definitely suffered from too little chai poh, and a distinctive taste was lacking. The chilli version didn't have much oomph, either.
Overall, it was better than average, but forgettable. We wonder if standards have dropped because the original stall owner – an elderly lady – has retired and someone else has taken over.
This coconut soup is rich yet light. Sweet pumpkin slices are enveloped in a distinctly Thai aroma garnered from the stalks of lemongrass, kaffir lime leaves and slices of galangal. These aromatics are used to infuse the broth and are left in as a garnish—make sure to tell your guest not to eat them. A handful of basil leaves gets stirred in at the very last moment with its hint of anise.
---
This archived article appeared in an earlier version of HungryGoWhere and may not be up-to-date. To alert us to outdated information, please contact us here.