Dishing up love: How 4 power couples keep their romance alive through F&B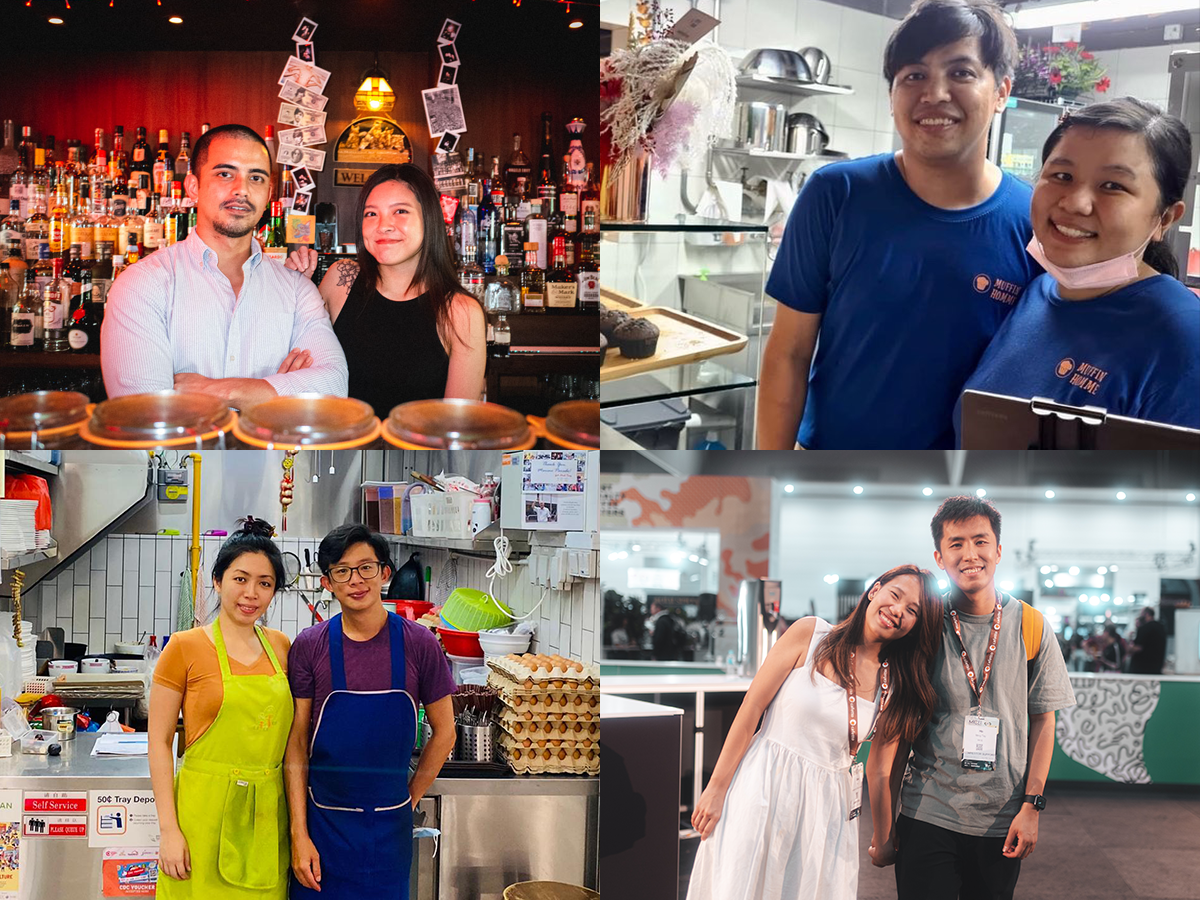 For Valentine's Day, HungryGoWhere speaks to four couples who found love or strengthened their bonds through F&B 
Elayne Ang and Samuel Tan started Tian Kee Carrot Cake and Hokkien Mee from scratch
Trisha Lee and Daniel Raghani of Parliament Bar bonded over John Mayer's tunes
Wu Yuxuan and her husband Tan Khal Chiang bake sweet treats at Muffin Homme 
Elysia Tan and Tay Ho Ming from Homeground Coffee Roasters are united in their vision for the cafe
Love is in the air — and on the plate — this Valentine's Day (Feb 14). 
And while you've heard the cautionary tale of not dating those with whom you work, we spoke to four couples who have overcome that cliche to put the most important ingredient into your meals: Love.
From hawkers serving Singaporean fare to the owners of a bustling cafe, we discover the heartwarming love stories behind these food establishments. 
Hokkien mee, or go on a date with me?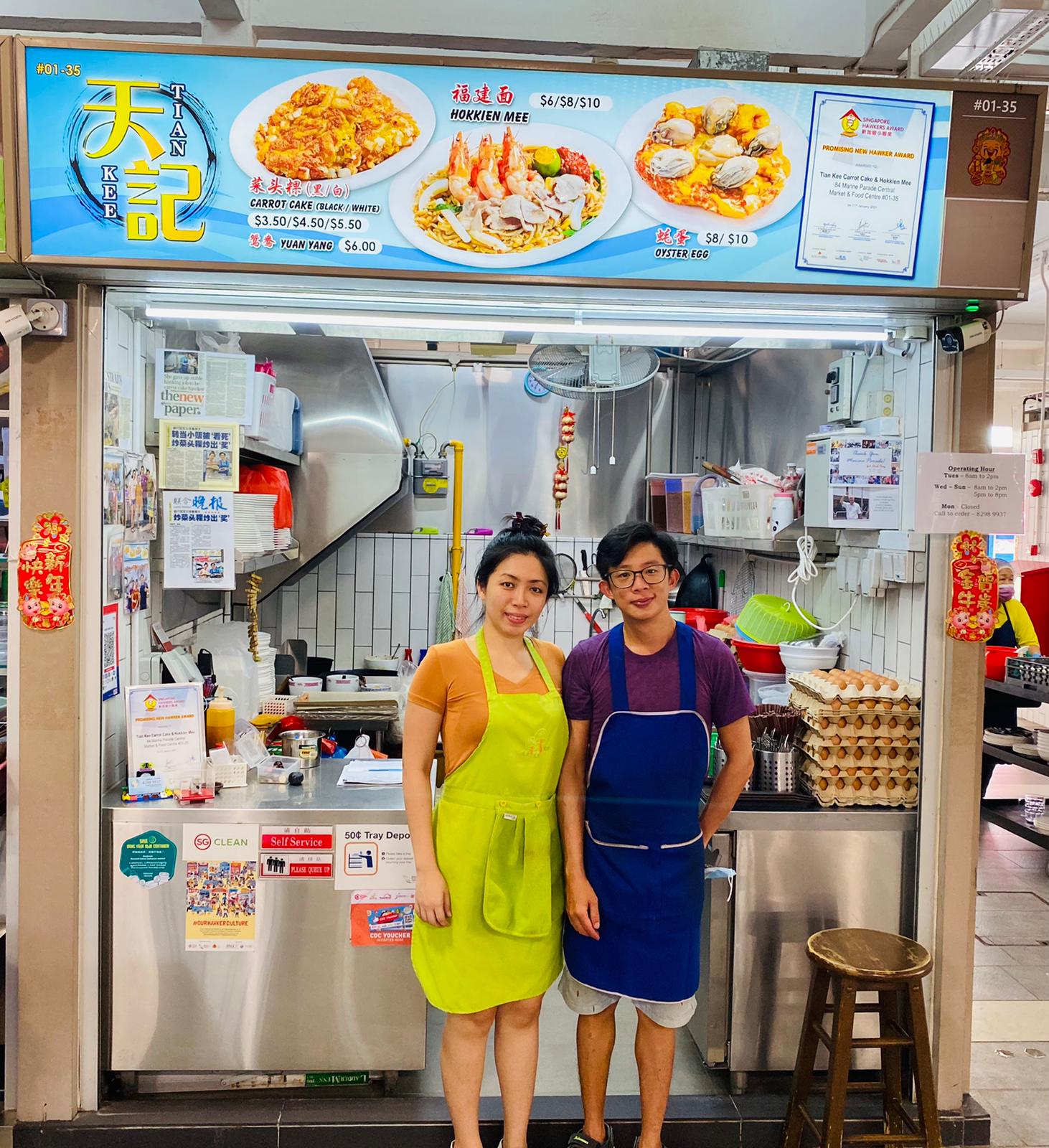 Hawker power couple Elayne Ang, 42, and Samuel Tan, 38, were both fledglings in the F&B scene when they launched their Marine Parade stall, Tian Kee Carrot Cake and Hokkien Mee, in 2019. 
Before that, Ang was a senior trainer at a bank and Tan a regular in the army. While both of them were unfamiliar with the inner workings of the hawker trade, they shared a deep passion for food.
"We would fight over the kitchen because we both enjoyed cooking," recalls Ang.
When the opportunity to run a stall presented itself through a friend, the couple leapt at the chance. They started selling carrot cake and Hokkien mee — Ang's favourite hawker fare. 
With just time in their home kitchen to guide them, the couple struggled to find the right suppliers and perfect their recipe. Working together in a confined space also cranked up the pressure, especially since both of them had been in leadership roles.
Despite the bumpy journey, Ang and Tan agreed that whatever happens at the stall stays there.
"Once, I was so upset with him I turned off the lights and we stood in the stall for 30 minutes trying to resolve the problem before we went home," Ang says.
Tan adds that working together has brought them closer, as Ang's previous job had longer, more demanding hours. 
Now, they get to see each other much more often, and even volunteer together at the Federation of Merchants' Associations Singapore, an organisation dedicated to supporting Singapore hawkers. There, they help with event planning and relay issues hawkers face to the federation. 
Their hope? To attain official halal certification and continue building relationships with their regulars.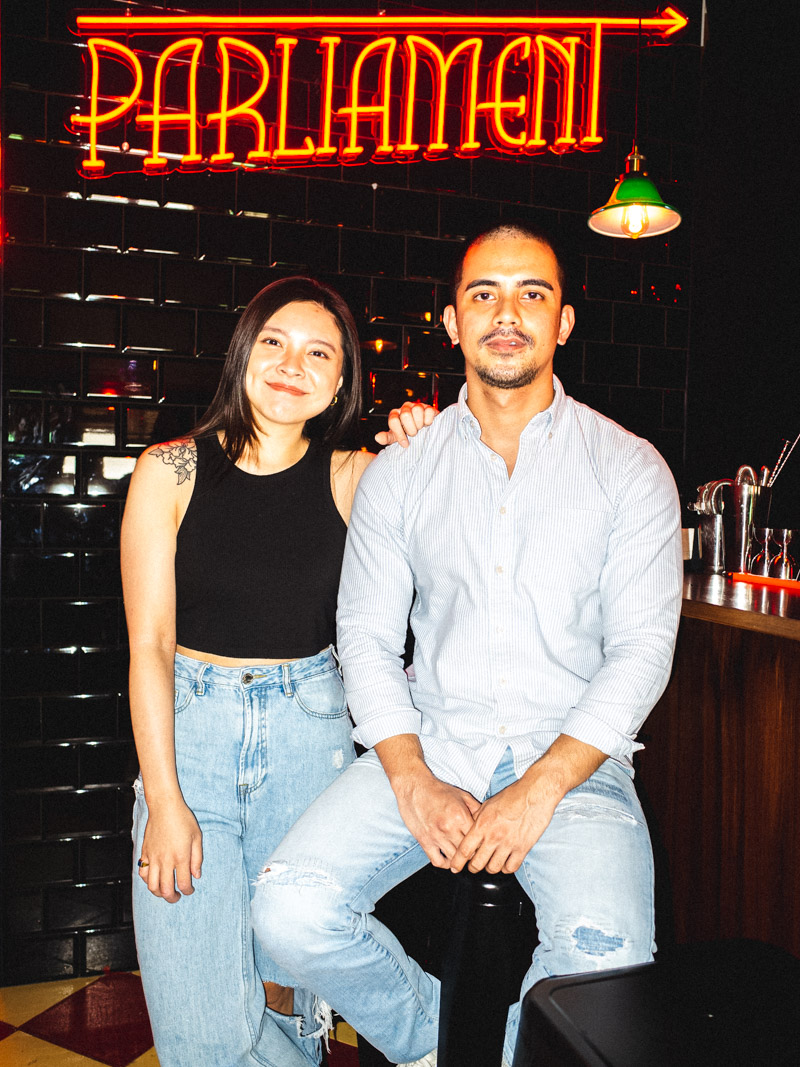 With its retro booths, neon lights and casual vibes, Parliament Bar is a space inspired by the American dive-bar experience. 
Hidden away on the second floor of a shophouse along Teck Lim Road, it's the brainchild of the folks behind Marcy's. The bar launched in 2022. 
Bringing the concept to fruition were partners Trisha Lee, 30, and Daniel Raghani, 29, who met at Level 33, their previous workplace. 
"We bonded over John Mayer," Lee recounts. "I remember I said Edge of Desire was my favourite song and told him my favourite part in the lyrics when he completed my sentence for me."
While most embrace fresh beginnings, the pair say opening Parliament Bar was a challenging time. 
With Raghani at the helm of much of the work, he was under immense pressure, while Lee was burnt out from toiling away at Marcy's. Raghani oversees the bar, while Lee handles everything else from the food to administration. 
"We just had to retain whatever's left of our sanity and just help the other person as much as we could," Lee says. 
This thread of understanding and support from working in the same environment underlies the unwavering trust in their relationship.
Adds Raghani: "It's good to know that there's someone you fully trust and who has your back. I feel like our bond is stronger."
Working in the F&B line comes with colossal demands — from managing customers to keeping a lid on costs — and being able to rely on each other has made a big difference for Lee.
"Having someone at work that you can 100% trust usually doesn't happen," Lee continues. "It's tough in the F&B line, as there aren't many female managers. So it was important for me that someone always 'saw' me and I can talk to that person."
While starting another concept is not on the books for Raghani anytime soon, the pair has other aspirations — perhaps even performing music together someday.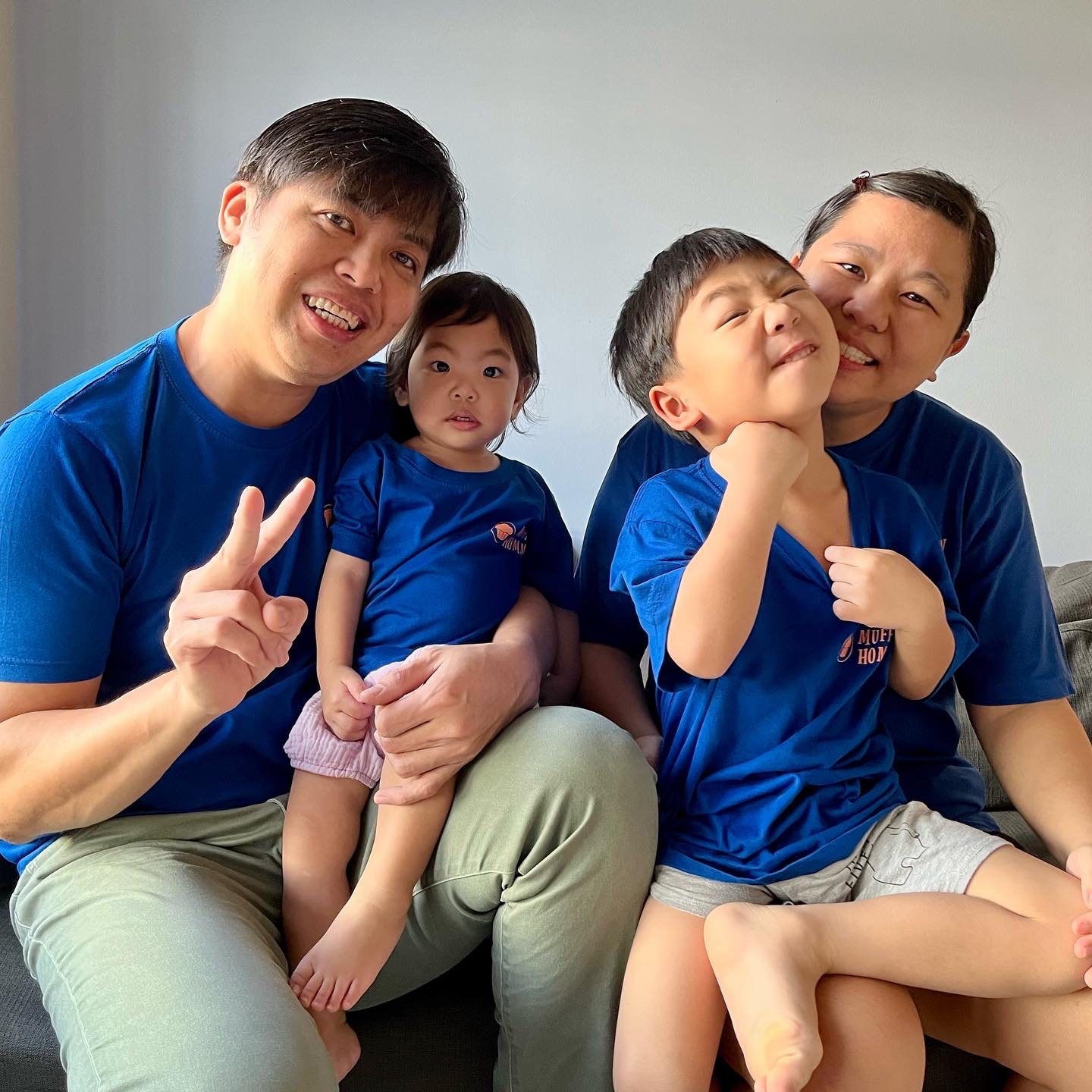 Muffin Homme, a new entrant to Bukit Canberra Hawker Centre, has won over patrons with its unique, healthier muffin offerings. 
But, really, it's the love story of the husband-and-wife duo behind the stall that's warming our hearts. 
Wu Yuxuan, 35, and Tan Khal Chiang, 38, met while working at a local bakery about a decade ago. 
Wu later took a short break and ventured into a corporate role. But the couple decided to return to their first love — baking — and launch Muffin Homme.
It allows the pair, who live near their stall, the flexibility of spending time with their two kids, aged one and three, and experiment with different flavours. Their muffins do not have artificial colouring or preservatives, and are made with a low-sugar formula mixed with natural yoghurt.  
At their previous bakery, Wu and Tan navigated long hours at work, making it difficult to find quality time even for themselves. That, however, did not stop the couple from pursuing their relationship. 
"Those times helped me realise that he was a man that I could rely on," Wu says. "I remember one incident where my leg was swollen from standing for long hours. So he sent me back at 11pm and helped to massage my legs."
But why muffins specifically, you may ask? Wu jokes: "I have a sweet tooth. It's so sweet that I married him." 
Although running an F&B business is a back-breaking affair, Wu says there are many perks that come with working together. 
"We know what the other person's doing, have common topics, and learn how to put ourselves in the other's shoes," she says. "I also like that I get to see a different, more serious side of him when he's working."
While it's still early days for Muffin Homme, the entrepreneurial couple hopes to stabilise their venture before looking to expand in future.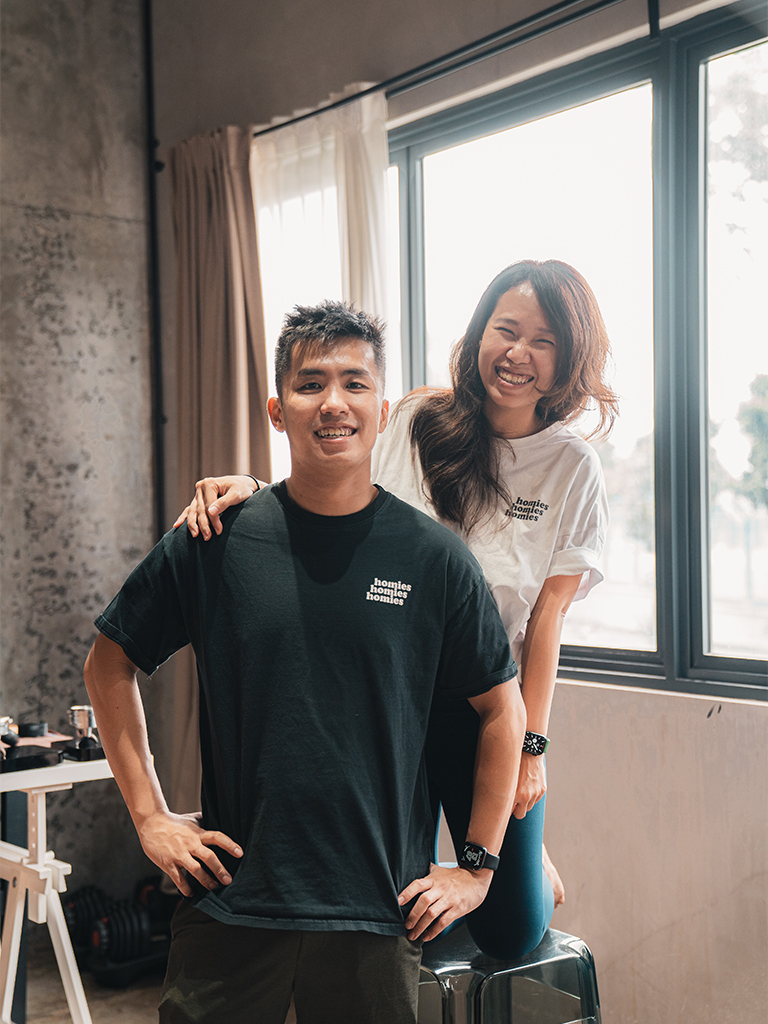 Homeground Coffee Roasters has been an institution for coffee drinkers since its inception in 2017. Founded and led by couple Elysia Tan and Tay Ho Ming, along with Tay's cousin, the cafe relocated in 2022 from its Joo Chiat stronghold to Outram Park.
The coffee masters have been hard at work since. Last year, Tan put Homeground Coffee Roasters (and Singapore) on the map after she came in as the second runner-up at the World Brewers Cup — the first Singaporean to bag that achievement. 
Given that coffee is such a big part of their lives, it's unsurprising that Tan and Tay met while working at a cafe.
"Initially, I didn't like him. I really hated working with him, too," Tan says with disarming honesty. "He was quite annoying… I was wondering: 'Who is this guy?'" 
After surmounting initial hesitations, the pair slowly bonded over their passion for coffee and suppers. 
Her impression of Tay also turned: "After seeing him at work, I realised there are certain things that he's just very straightforward about. It's not like he's trying to be annoying or to offend you. I came to know that this is just him being him."
Fast forward to the present day and they've grown what started as an online business into a bustling cafe. 
After almost six years of working together, one thing has remained at the heart of their relationship: Their vision of growing the number of coffee homebrewers in Singapore. 
At their cafe, Tan and Tay are clear-eyed about the need to minimise conflict — something especially critical when they're leading their teams at Homeground Coffee Roasters.
"People might feel stressed if they're working for a couple, so we don't (argue in front of them). If there are any fights, we bring it home," Tan adds. 
The couple, thankfully, hasn't fought much since starting work on Homeground.
They attribute it to understanding each other fully — from their shared business goals to the challenges faced at work. 
Tay says: "Being in the same environment makes it very easy for me to understand what she's going through from point to point." 
Although the couple got engaged last year, they haven't had the chance to hold a wedding ceremony. 
Tan likens working with Tay to brewing coffee. 
"We call it 'calibration'," she says, referring to a term common in the world of coffee. 
"You have to calibrate with each other, and get to know what the other party's style and way of communicating are… We do value our day-to-day time together."