Bulgogi Syo at Woodleigh Mall pulls out all the stops with its fiery meats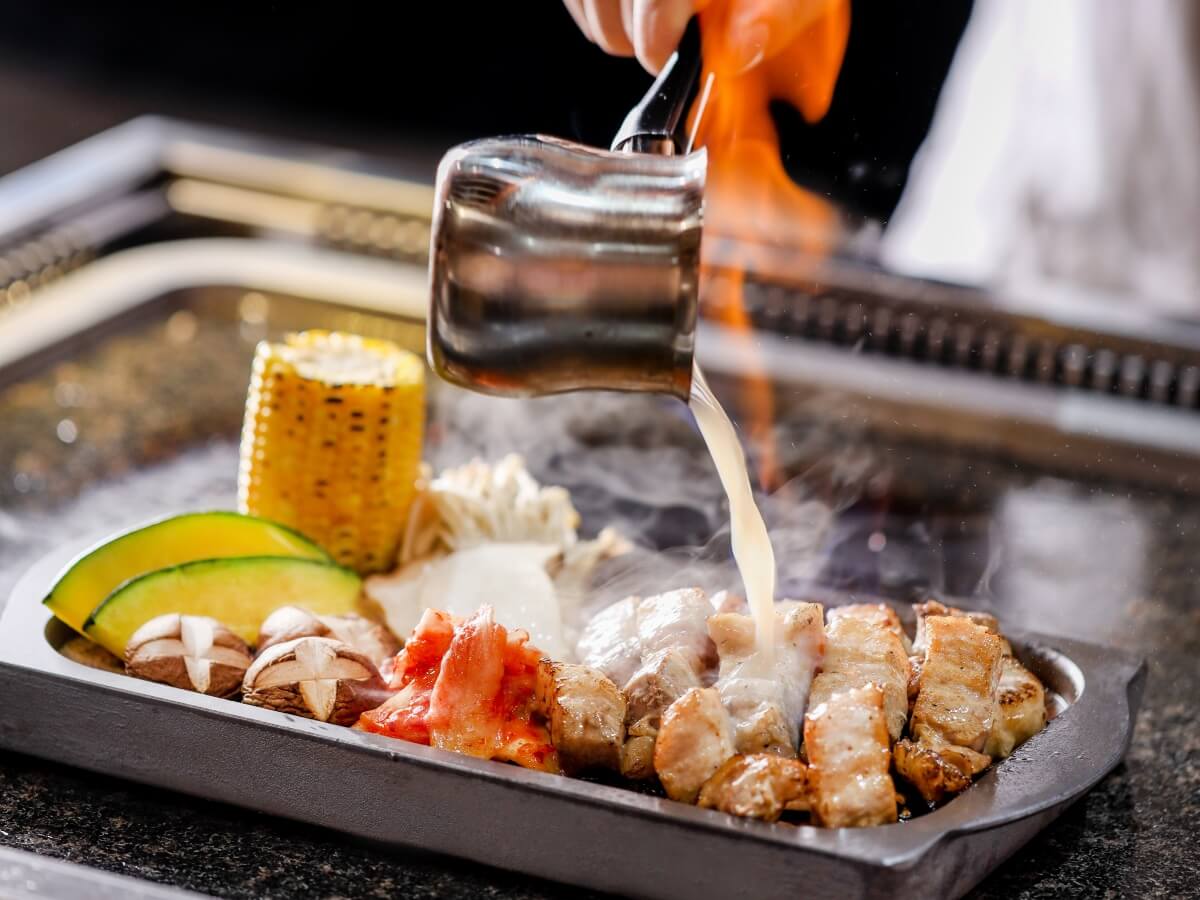 If you live in the Woodleigh or Bidadari estate, chances are you would have come across the new neighbourhood mall and its hot new entrant, Bulgogi Syo at The Woodleigh Mall.
For those familiar with Korean cuisine, you might associate the term bulgogi with the marinated Korean barbecued beef dish, often served up in a large pan. 
In Bulgogi Syo's case, it's more than just marinated Korean barbecued meats.
Bulgogi Syo gets its name from the Korean words for fire (bul), meat (gogi), and show or experience (syo). As you would expect, it promises you a literal fiery barbecued meat experience.
A special three-step process — sear, torch and flambe — is used to cook its quality cuts of meat. This elevates the dishes beyond the usual smokey, slightly charred flavours you get at most Korean barbecue restaurants. 
The brainchild of chef Chul Park of Korean brand Seorae, Bulgogi Syo made its debut in Singapore on April 9 at Bugis Junction. 
Building off the warm reception at Bulgogi Syo in Bugis, its second outlet opened exactly a month later on May 9 at The Woodleigh Mall. And it's conveniently connected to Woodleigh MRT station, too.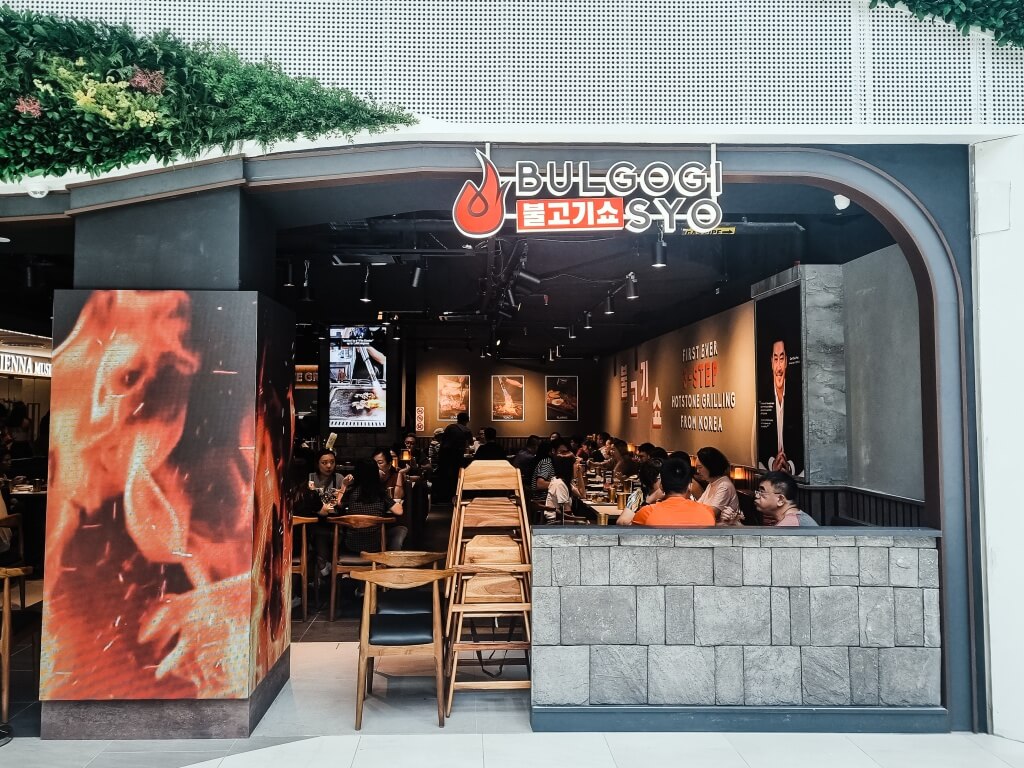 Perhaps it has something to do with Bulgogi Syo's affordable four-course lunch deals starting from S$12.90, or that everyone is just curious about this new fiery concept. 
Despite being open for barely two weeks, Bulgogi Syo at The Woodleigh Mall was already drawing a long line when HungryGoWhere visited before its doors opened for lunch at 11.30am. 
So, if you're at Bulgogi Syo for the show or syo, here are two things to take note of. 
First, the first two steps — searing the meat on its hot stone pans and torching it with impressive-looking blowtorch guns — happen solely in the kitchen. Only the flambe step takes place tableside.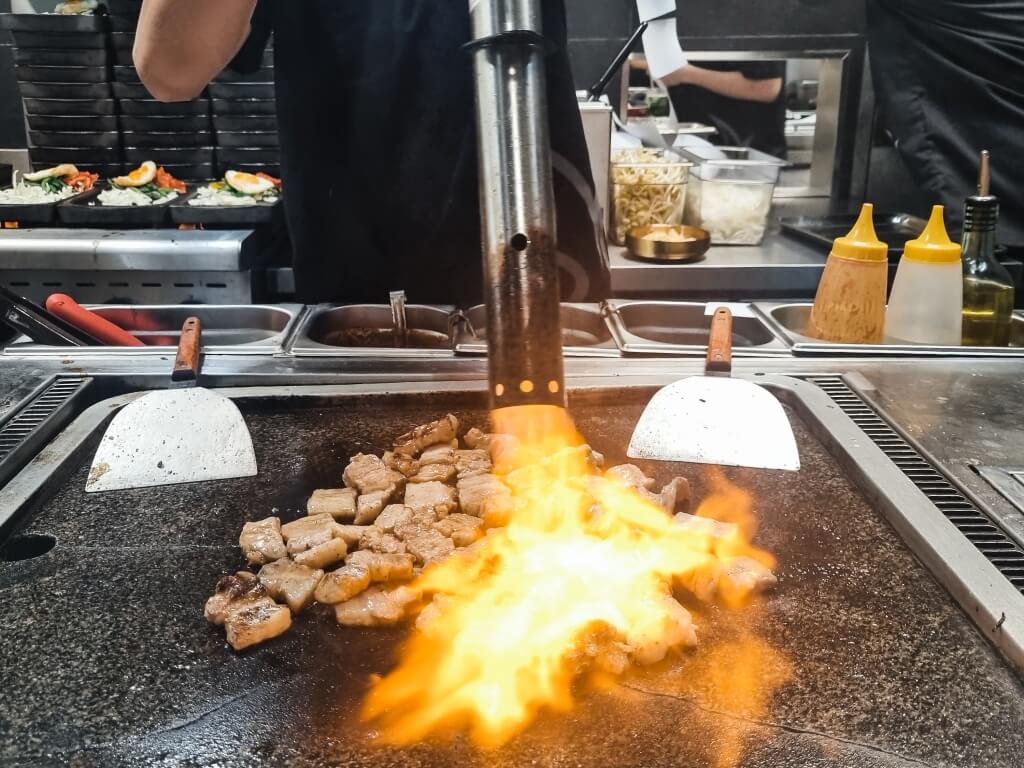 But its open-concept kitchen means you can sneak a peek at the action any time from within the restaurant or even outside the store.
Second, only the Syo specials on Bulgogi Syo's menu, such as its Angus beef tenderloin (S$35.90) and duroc pork belly (S$20.90), come with a flambe show, so make sure you order the right ones when you're there.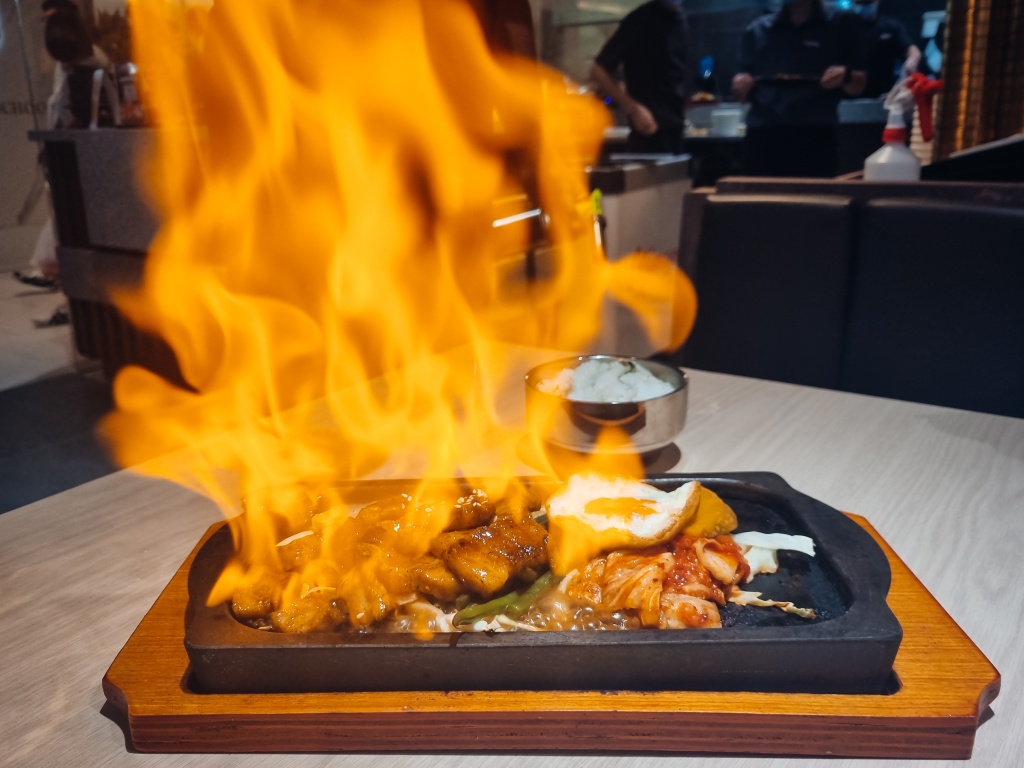 Beyond barbecued meats, you will spot noodle dishes on its menu, such as seafood jjampong (S$18.90, spicy Korean seafood noodle soup) and jjajangmyeon (S$14.90, noodles in black bean sauce). We hear it's because they're favourites of the Bulgogi Syo team.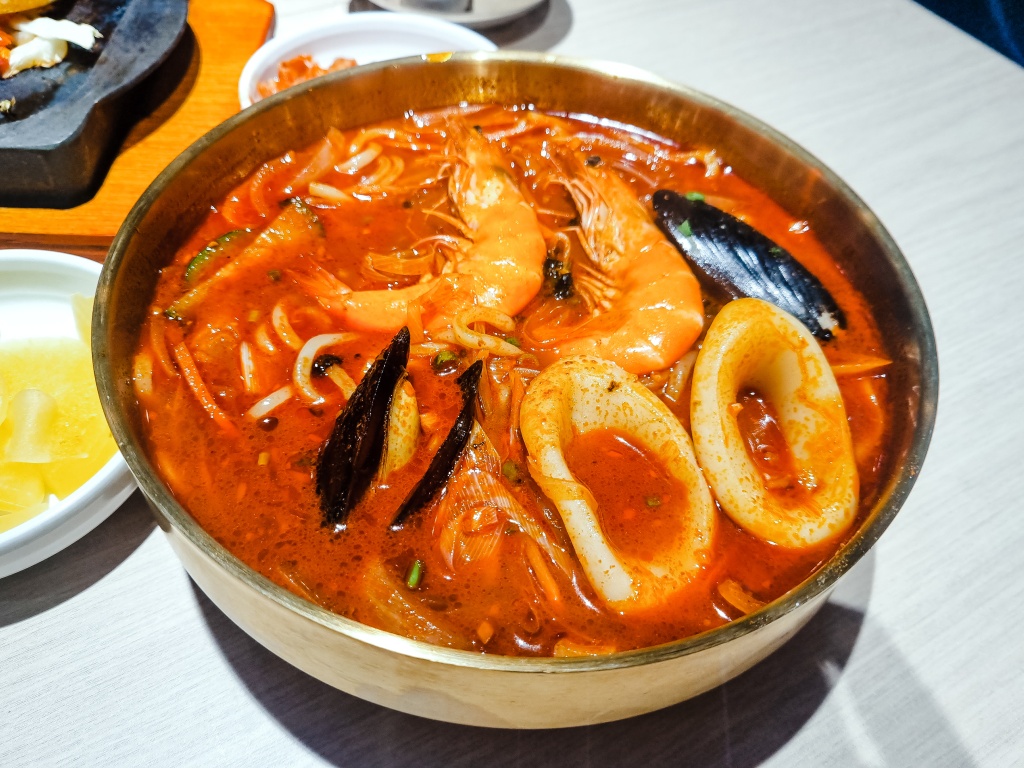 Be warned: The seafood jjampong is quite spicy, so you may want to order its Bong Bong beer set (S$9.90), to quench your thirst.
This is a unique combination of two Korean beverages: Terra beer and Grape Bong Bong, a canned drink. The staff will even mix it at your table a la K-drama drinking style. 
If you're looking for more unique Korean items, Bulgogi Syo also has a bacon kongnamul pancake or bacon bean sprout pancake (S$15.90) on its menu — a combination we haven't quite seen in Korean pancakes, but it somehow works.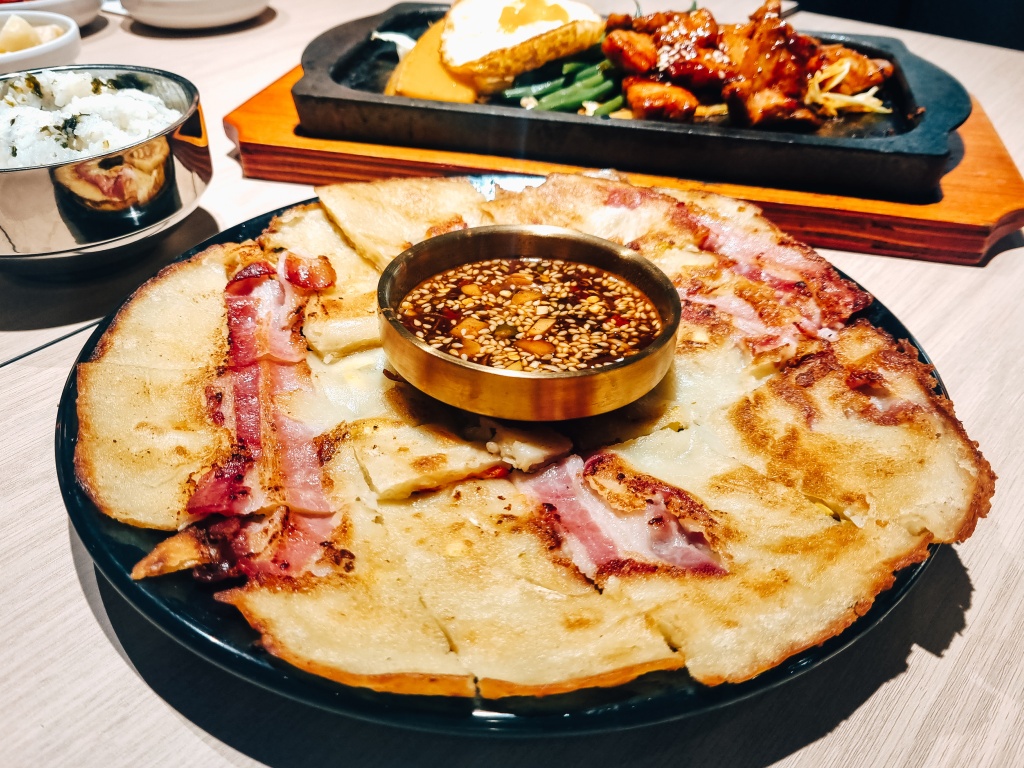 If you're saving that visit to Bulgogi Syo at The Woodleigh Mall for a special occasion or a birthday celebration, the restaurant also provides a free non-alcoholic tiramisu cake, complete with a sparkling candle.
Now, combine all of these fiery elements and it's guaranteed to make any celebration or meal at Bulgogi Syo pretty lit, quite literally. 
This was a hosted tasting. 
If you're looking for more exciting Korean food concepts in Singapore, why not read more about Singapore's first chicken-only Korean barbecue restaurant or Korea's first BHC chicken outlet in Singapore?
Book a ride to the new Bulgogi Syo at The Woodleigh Mall. 
The Woodleigh Mall, 01-33, 11 Bidadari Park Drive
Nearest MRT station: Woodleigh
Opens: Monday to Sunday (11.30am to 10pm)
The Woodleigh Mall, 01-33, 11 Bidadari Park Drive
Nearest MRT station: Woodleigh
Opens: Monday to Sunday (11.30am to 10pm)