More than 40% off: Your guide to the best last-minute Christmas food and gifts
With the festive season right around the corner, you may find yourself zipping from shop to shop checking off items on your gifting list, or having zero chill trying to plan the perfect Christmas party for your loved ones and friends. 
Good news — it doesn't have to be all that hectic. 
You may not get to experience a snowy Christmas in the tropics, but we'll keep your Christmas nice and chill with some of the best festive food and gifting deals you'll find on GrabFood and GrabMart. 
With deals reaching up to 44 per cent off and items running the gamut from fried chicken and pizzas to booze and gift sets, you'll certainly land on something that meets your needs. What's more, you can get them delivered, even down to the last minute.
So kick back on your couch and stay as cool as a cucumber. Whether you're planning a cosy Christmas with your date, or a big party with your mates or folks, we're here to help you breeze through the Christmas frenzy like a pro with these offers.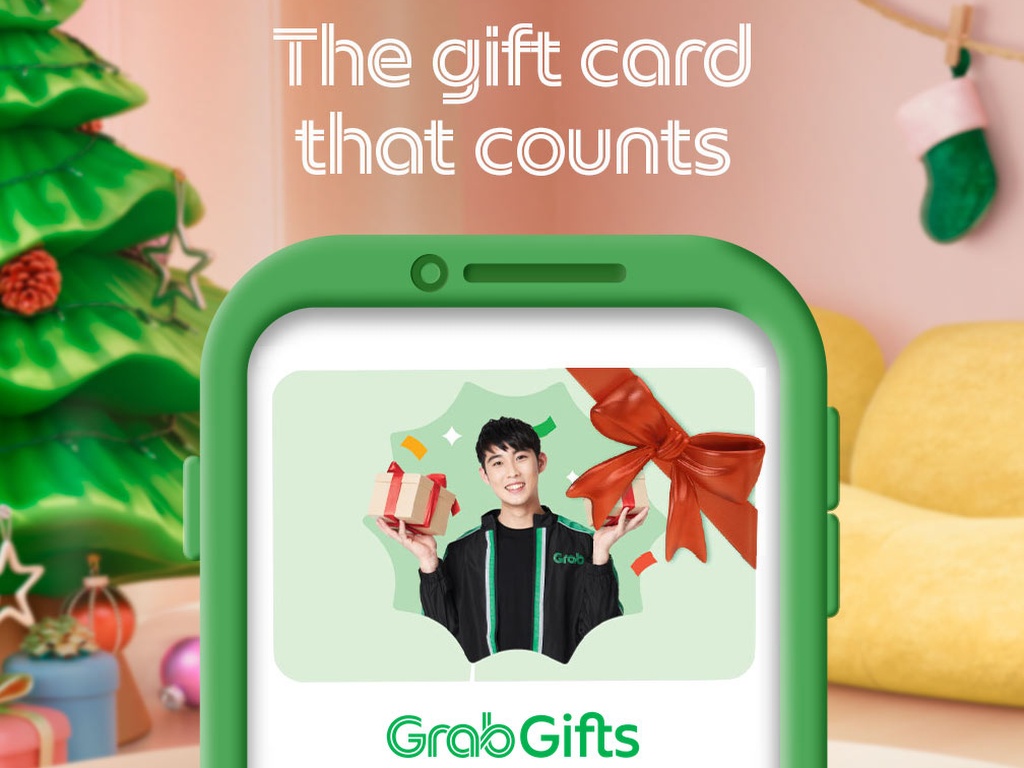 Psst — if you're still undecided about what to get your loved ones, there's always GrabGifts, your trusty e-gift card that can be used across Grab services, such as Grab rides, GrabFood, GrabMart, and even some non-Grab merchants (for a full list, check out the Grab app, under Gifts). This Christmas, you can even send an e-greeting from national shuttler Loh Kean Yew for that special touch. 
Cosy Christmas with your date
Food
Popeyes
Did you know that in Japan, it is a tradition to have fried chicken for Christmas dinner? 
But you don't have to be in Japan, nor do you have to wait till Christmas Day, to fulfil those fried chicken cravings.
Get your fried chicken fix with Popeyes' 4+4 Chicky N Cheese bundle at 35 per cent off. The bundle comes with four pieces of nacho cheese chicken, four pieces of chicken, and two large mashed potatoes, and is going at a promotional price of S$33.90 (U.P.: S$51.80). 
Jollibee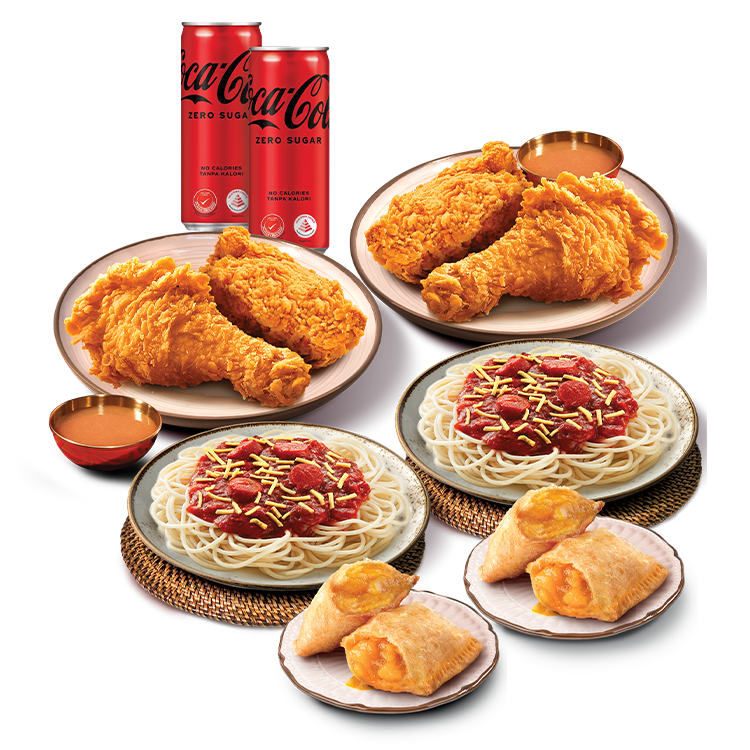 There's a reason why fried chicken constantly features among the most-ordered items in Grab's food trends reports — everyone just can't get enough of it. 
If you and your date are on the same page, then Jollibee's got your Christmas date night covered with its Chickenjoy Value for 2 with PMP (Peach Mango Pie), going for 23 per cent off for a limited time. 
Its Chickenjoy Value for 2 with PMP (peach mango pie) meal — S$24.90, U.P.: S$32.20 — comes with four pieces of Chickenjoy (spicy or original), two portions of Jolly spaghetti, two peach mango pies, and two cans of Coke zero sugar. 
Chicha San Chen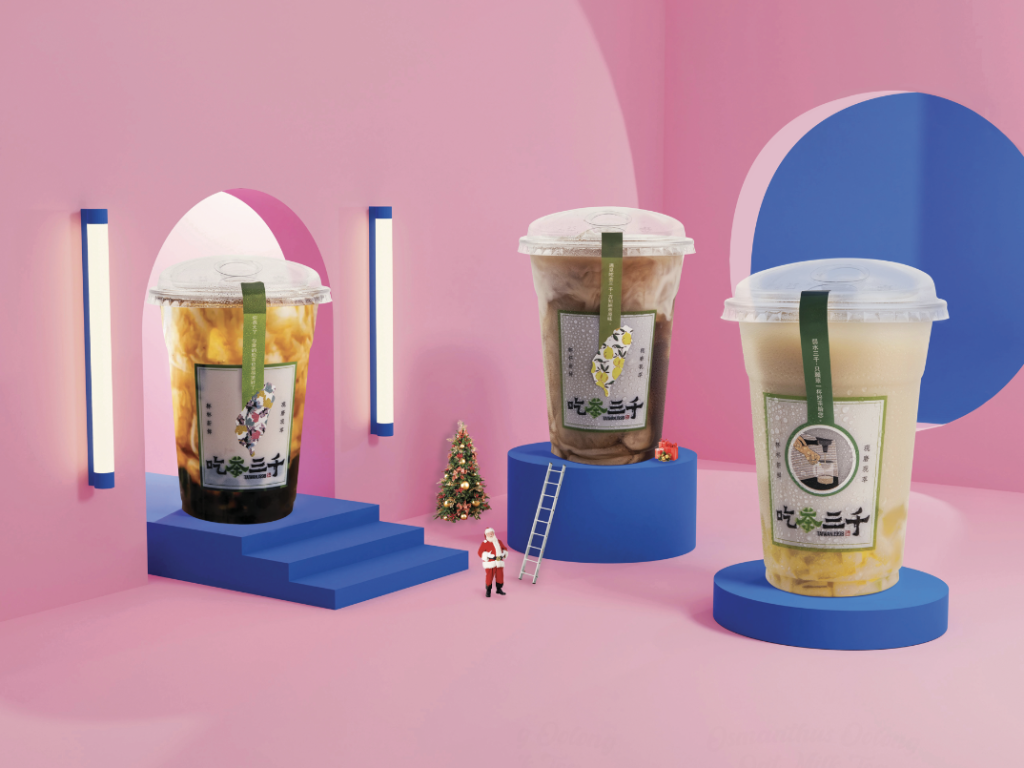 If there's anything people love more than fried chicken, it's bubble tea. Taiwanese tea specialist Chicha San Chen is giving you 20 per cent off selected drink bundles, so that you can share some sweet moments with your date after a satisfying dinner. 
The discounted drink bundles, which come in pairs, are:
Two oat milk with brown sugar bubble drinks

Two dong ding oolong oat milk teas

An osmanthus oolong oat milk tea with coconut jelly and a dong ding oolong oat milk tea 
Gifting ideas
Hush Candle  |  Blooms: by M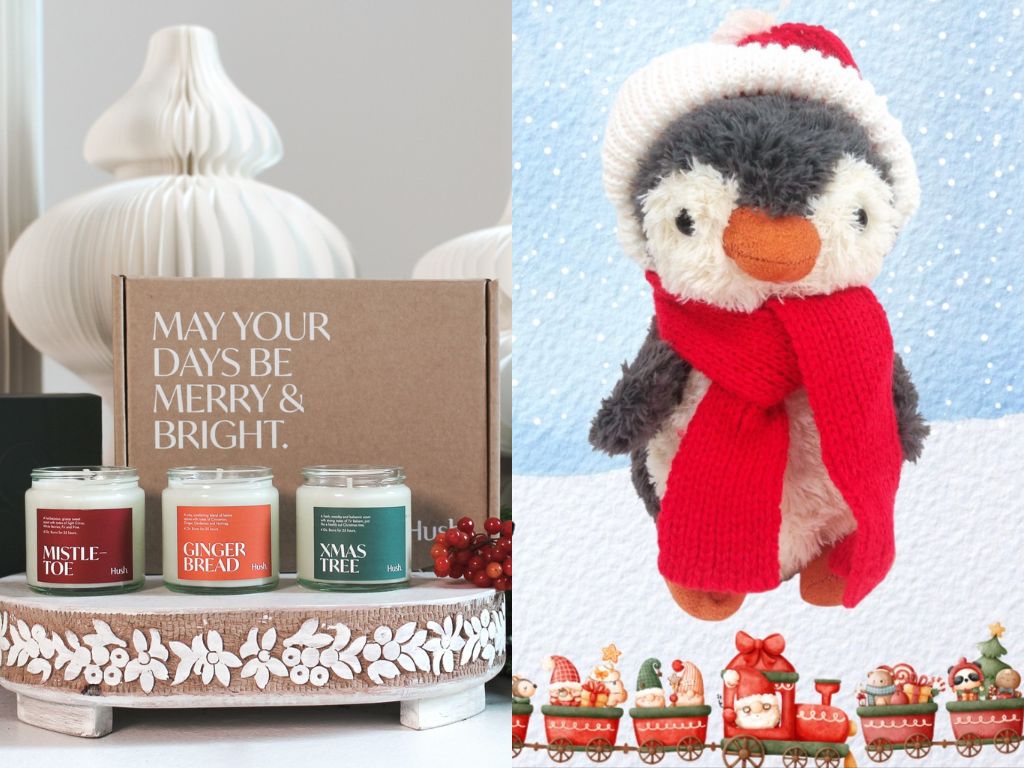 With food out of the way, you can also keep last-minute gift shopping at bay with GrabMart's wide selection of gifts. 
Homegrown boutique fragrance studio Hush Candle is offering 5 per cent off its holiday gifting selection, including its candle and sanitiser festive gift box and trio candle festive bundle. 
If you want to go all-out festive, Blooms: by M has a 10 per cent discount off its Christmas-edition items, including Flippers the Penguin presents as well as Christmas trees and decorations. 
From Dec 1 to 31, it's also throwing in a free Christmas balloon bauble with any order of its Christmas-edition bundles, or with any purchase above S$50. 
Bigger Christmas parties with family and friends
Food
Domino's Pizza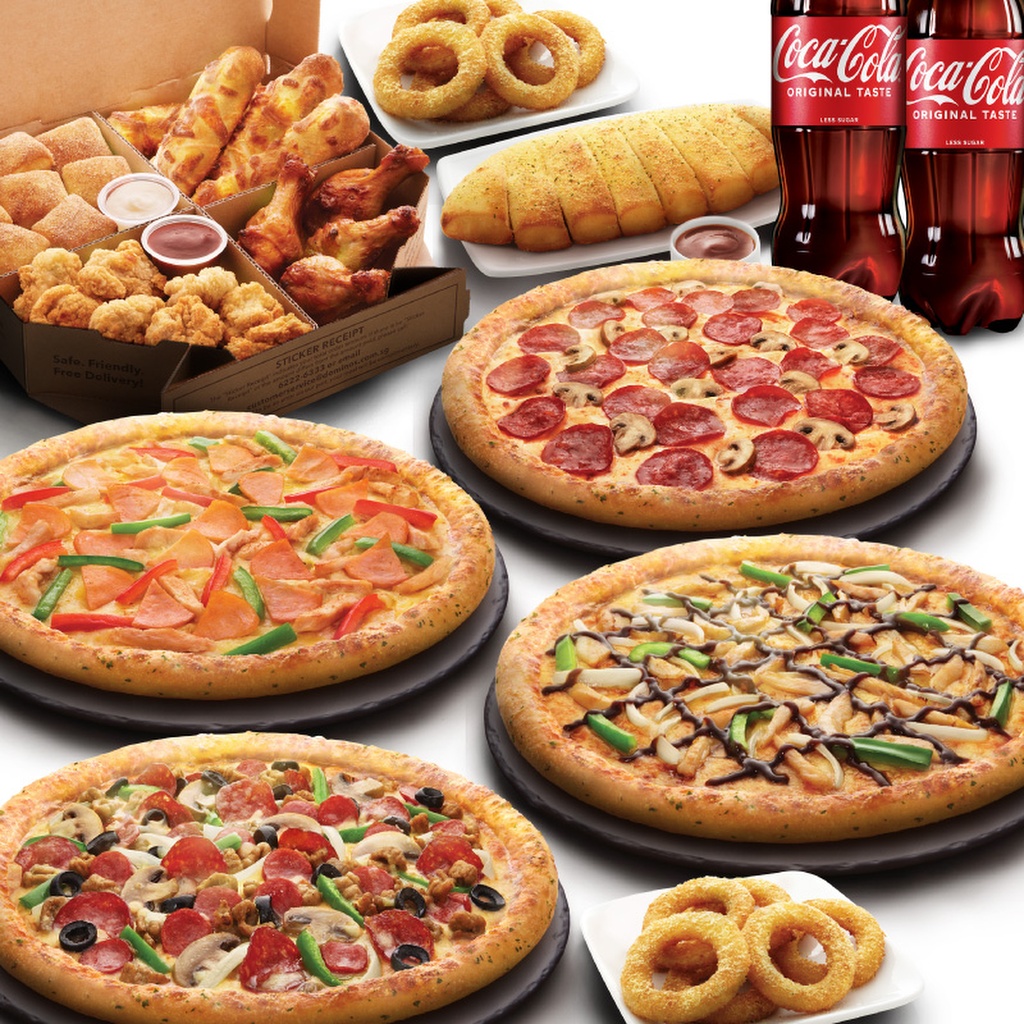 Stay chill and on top of your hosting game with Domino's Pizza's Xmas bundle, which can feed seven or eight hungry party guests. 
The bundle has mains, sides and drinks covered, with four regular pizzas, a bread side, an Awesome Foursome platter (mozzarella cheese sticks, crazy chicken crunchies, golden-roasted drummets and cinnadots), two portions of onion rings, and two 1.5L Coke bottles. 
The Xmas bundle is going at a whopping 44 per cent off (S$88, U.P.: S$157), which works out to a little over 10 bucks per person — giving you more savings to splurge on gifts.
Swensen's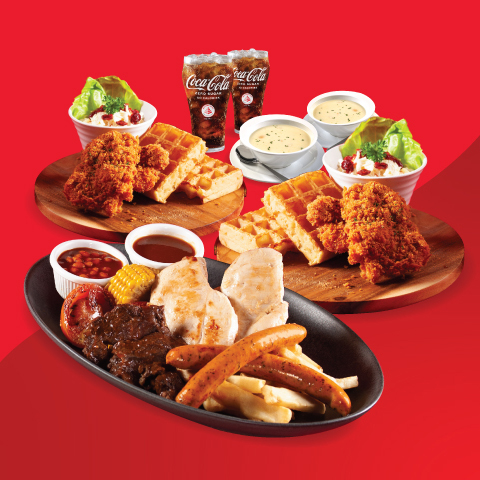 Let Swensen's sweeten your Christmas party prep with its Christmas Sharing Feast, which is going for 30 per cent off (S$75.39, U.P.: S$107.70). Good for an intimate family dinner, the feast comes with two Christmas chicken waffles, one meat platter, two soups of the day, and two Coke zero-sugar drinks. 
If you're craving some desserts after, Swensen's also has its festive ice-cream flavours and cakes available via GrabMart. 
Rive Gauche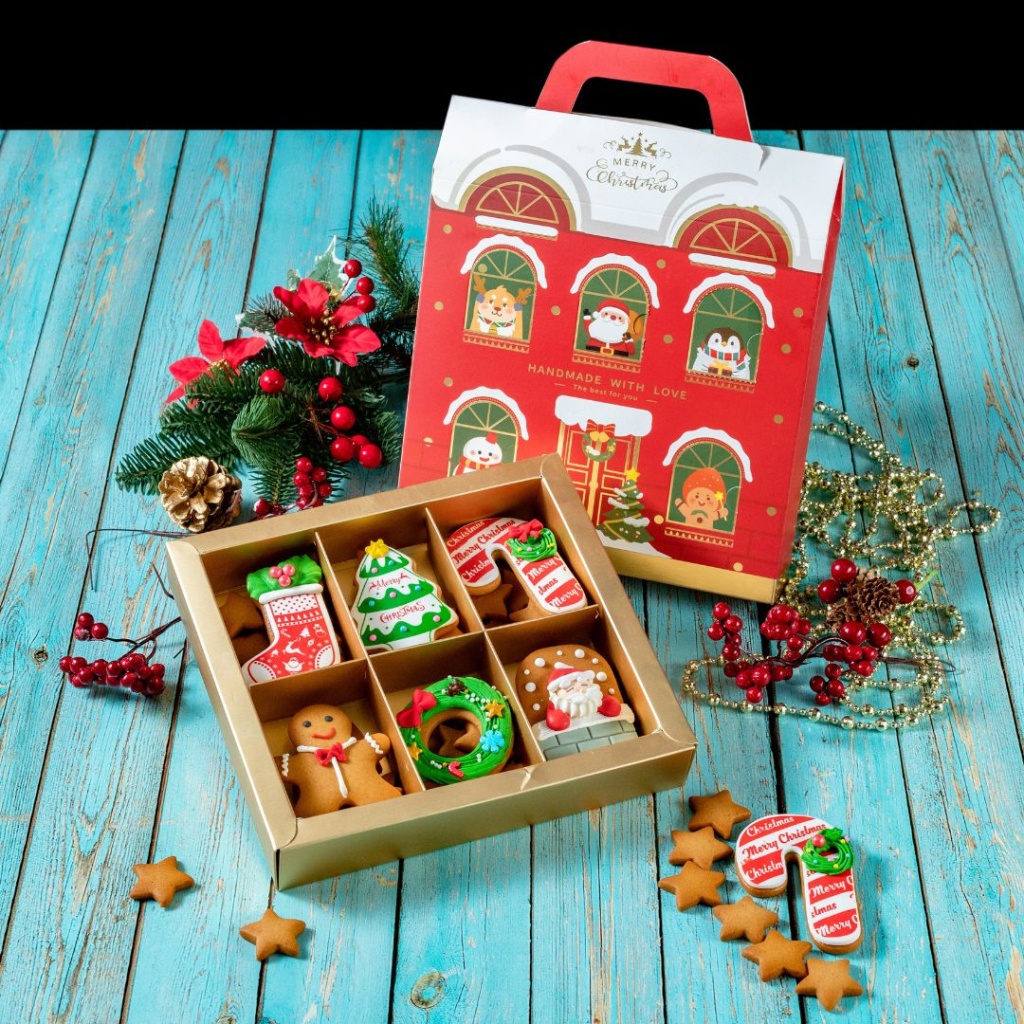 Find cakes a tad heavy for dessert? How about some Christmas brownies and assorted gingerbread cookies from Rive Gauche, known for its elegant and affordable desserts? 
The French-inspired confectionery is offering discounts from 20 per cent on its Christmas selection, which includes those treats, log cakes, and even the quintessential Christmas fruit cake.
GrabMart for all your Christmas booze
If you find yourself in need of some last-minute tipples for your party, pop onto GrabMart for a quick alcohol top-up — delivered instantly to your doorstep. 
Order from merchants such as Shell Select with outlets islandwide, or even Food Folks at Lau Pa Sat, which stocks craft beers.
Gifting ideas
Find gifts for every need with Robinsons and Zalora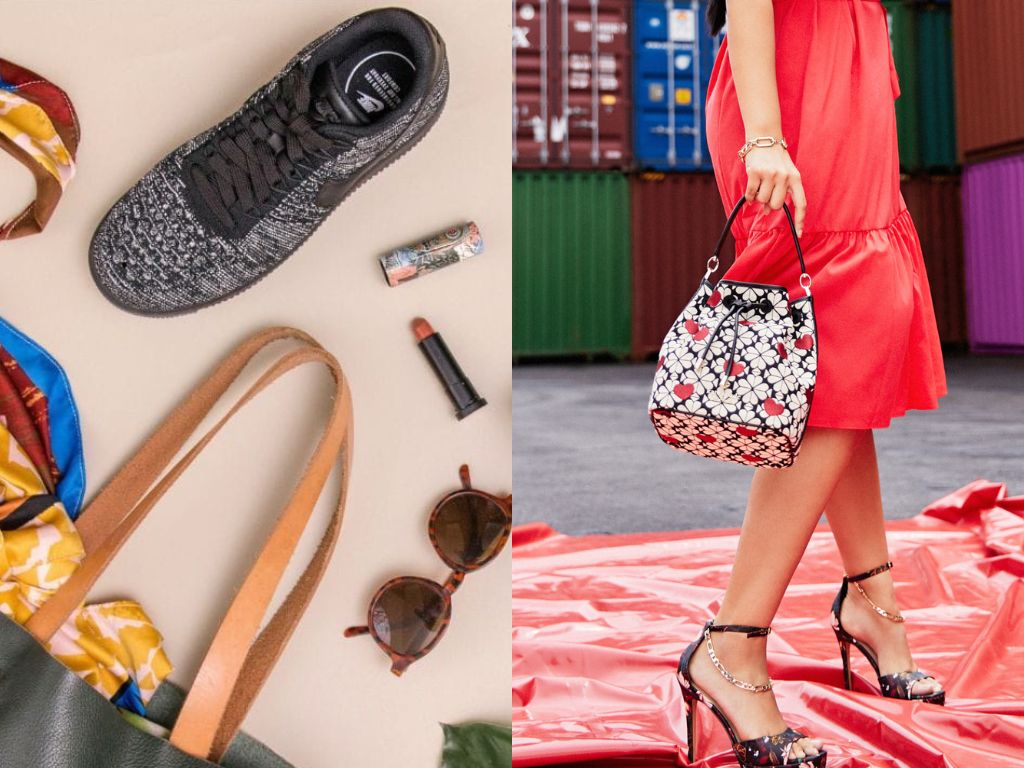 Haven't had time to buy your secret Santa gift for your upcoming party? 
Use PayLater by Grab, and get discounts and cashback across major brands such as Robinsons and Zalora. Shop beauty, tech or gifts for the home with Robinsons, and get 10 per cent off when you spend a minimum of S$150 online. Or, if you're eyeing clothes or accessories on Zalora, get 23 per cent off and an extra 5 per cent cashback with PayLater. 
Both retailers offer a great variety of products, so you'll be sure to find something, no matter who your secret Santee is. 
See which other merchants are offering Christmas discounts this festive season on the Grab app. 
All merchants are on GrabFood, GrabMart, or PayLater by Grab.
This article was written in partnership with Grab. For more ideas to mark Christmas, check out our affordable dining and log cake guides, or visit the Great Christmas Village.