5 places in Singapore to get affordable Christmas meals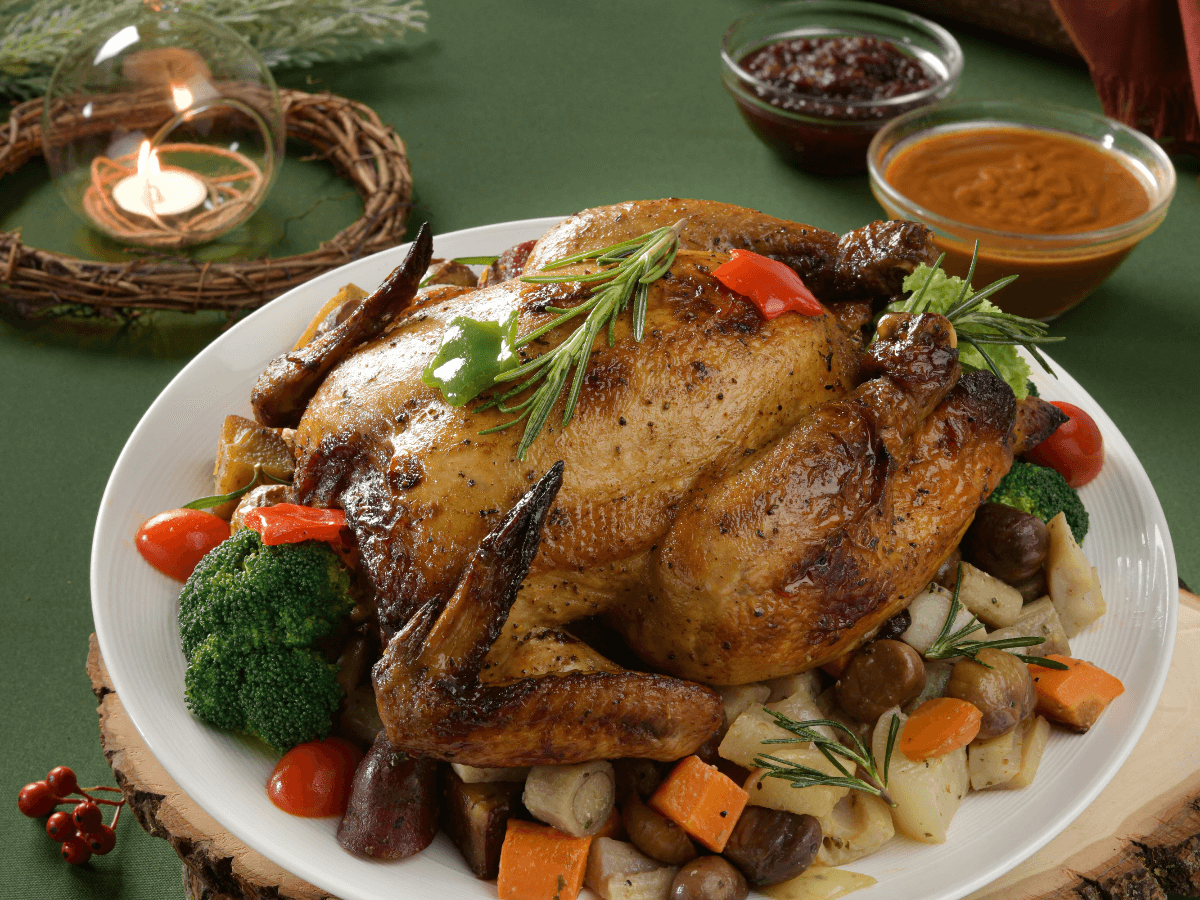 Have you been hearing tunes from Mariah Carey and Michael Buble, and feeling frosty from the November rain brought on by the monsoon season? That's right — Christmas is around the corner.
We've rounded up five places perfect for warm and cosy Christmas meals, or even takeaways for your home parties, so that you can kick back and have a jolly good time this festive season.
1. Swensen's
Multiple stores islandwide
Open: 11.30am to 10.30pm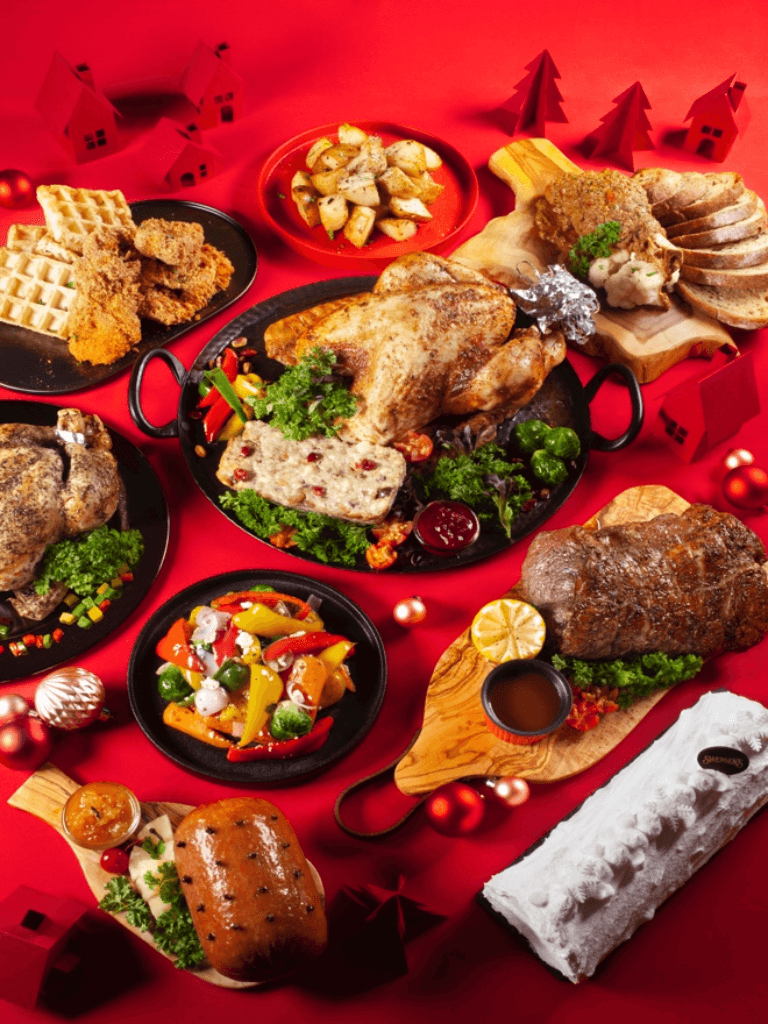 Swensen's has been a mainstay for festive occasions and a great place for Christmas meals with family and friends.
This year, Swensen's new Christmas offerings include the Christmas chicken waffles (S$23.43 for a single portion, or S$38 for sharing among four to six persons). This dish comprises crispy, boneless chicken leg paired with savoury waffles, and is served with maple syrup and cranberry slaw.
Or get the seafood platter (S$42), comprising seabass and salmon fillets, scallops and king prawns, accompanied by steak cut fries, grilled tomato and corn cob.
But what's Swensen's without dessert? It's rolled out its newest ice-cream flavours with these sundaes — Biscoff cheesecake (S$8.35), More S'mores (S$13.70), and tiramisu (S$10.49, non-alcoholic) — and the three flavours come together in its new Claus is Comin' sundae (S$12.63). Alternatively, get the Turkey Crackles sundae (S$15.84), which features a "turkey leg" ice cream and a scoop of sticky and chewy chocolate ice cream.
These creations are available till Jan 3.
2. PizzaExpress
Multiple stores islandwide
Open: Operating hours vary across stores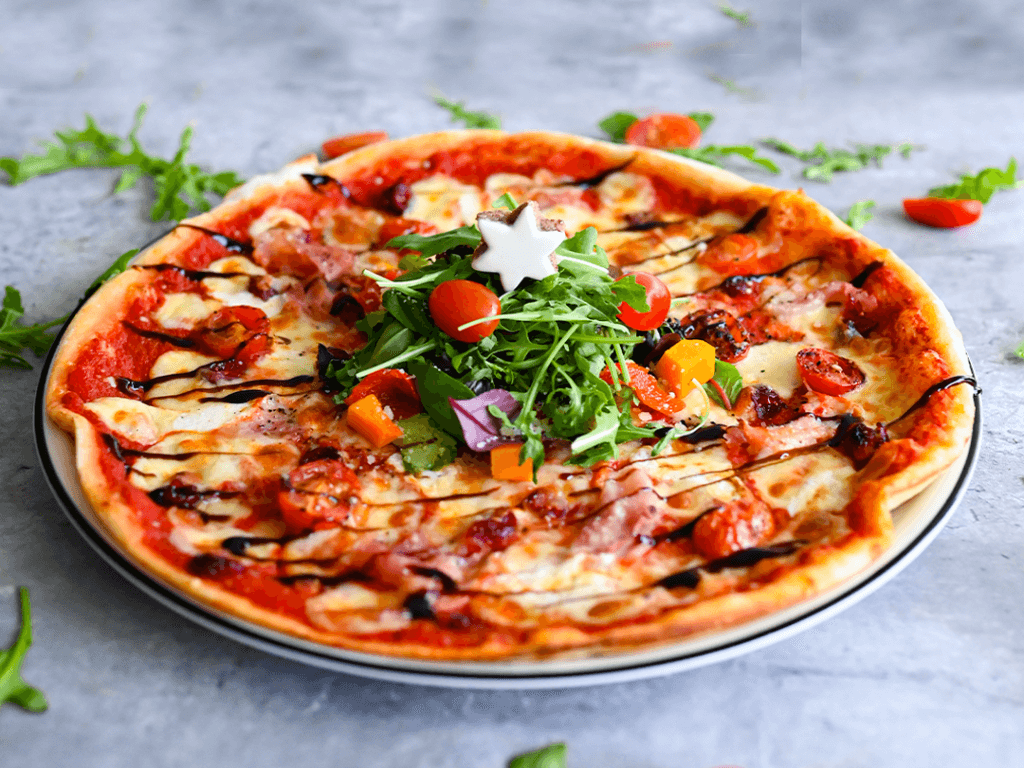 There's nothing quite like the warmth and comfort of sharing pizzas, pastas and drinks.
From Dec 1 to 31, the PizzaExpress festive menu returns with favourites such as the Christmas tree doppio (S$17.80) — cheesy dough balls with pork pepperoni, mozzarella, parmesan cheese, herbs, and spices pesto with Genovese sauce and pesto Siciliano dip — and the natale pizza (S$32) with passata, pork ham, dried cranberries, camembert cheese and mozzarella cheese. Both are perfect for sharing.
Enjoy new items such as the seafood cioppino with penne pasta (S$30) with tiger prawn, black mussel and squid ring stew, sweetened with yellow peppers, celery, wild mushrooms, cherry tomatoes and Spanish red onions. It's sure to warm your body and soul on a chilly Christmas day.
3. Shake Shack
Multiple stores islandwide
Open: Operating hours vary across stores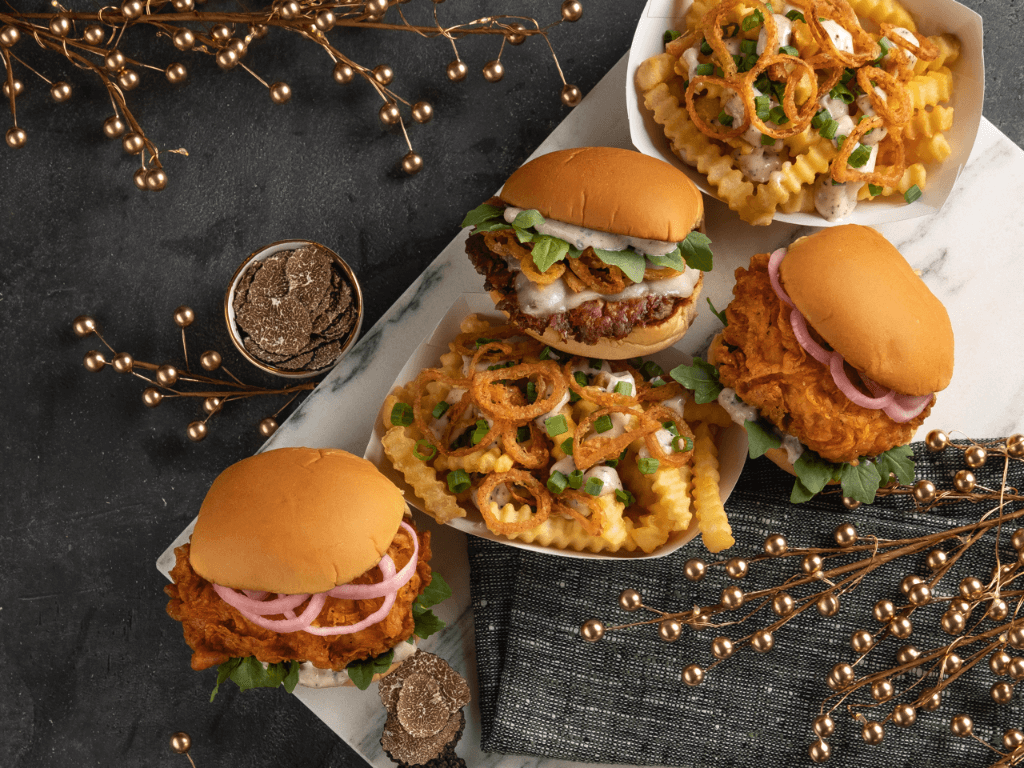 Shake Shack has certainly been keeping its menu exciting. Aside from recently rolling out a special menu in collaboration with Candlenut, it has also launched a Christmas menu for the festive season from Nov 17 to Dec 31.
The newest item is its chocolate peppermint shake (S$9.10). It's a frozen chocolate custard that's blended with peppermint, and topped with whipped cream and candy — a perfect accompaniment to Christmas meals.
Its old favourites are also making a comeback.
These include its black truffle burger — ShackBurger with Swiss cheese, black truffle mayo, crispy shallots and arugula (S$14 for a single patty or S$17.50 for a double patty); black truffle chicken — crispy chicken breast topped with black truffle mayo, pickled shallots and arugula (S$14); black truffle fries — crinkle cut fries topped with black truffle mayo, crispy shallots and scallions (S$8.90); and its Christmas cookie shake — handspun sugar cookie frozen custard topped with whipped cream, crumbled shortbread and holiday sprinkles (S$9.10).
4. RE&S
Multiple stores islandwide
Open: Operating hours vary across stores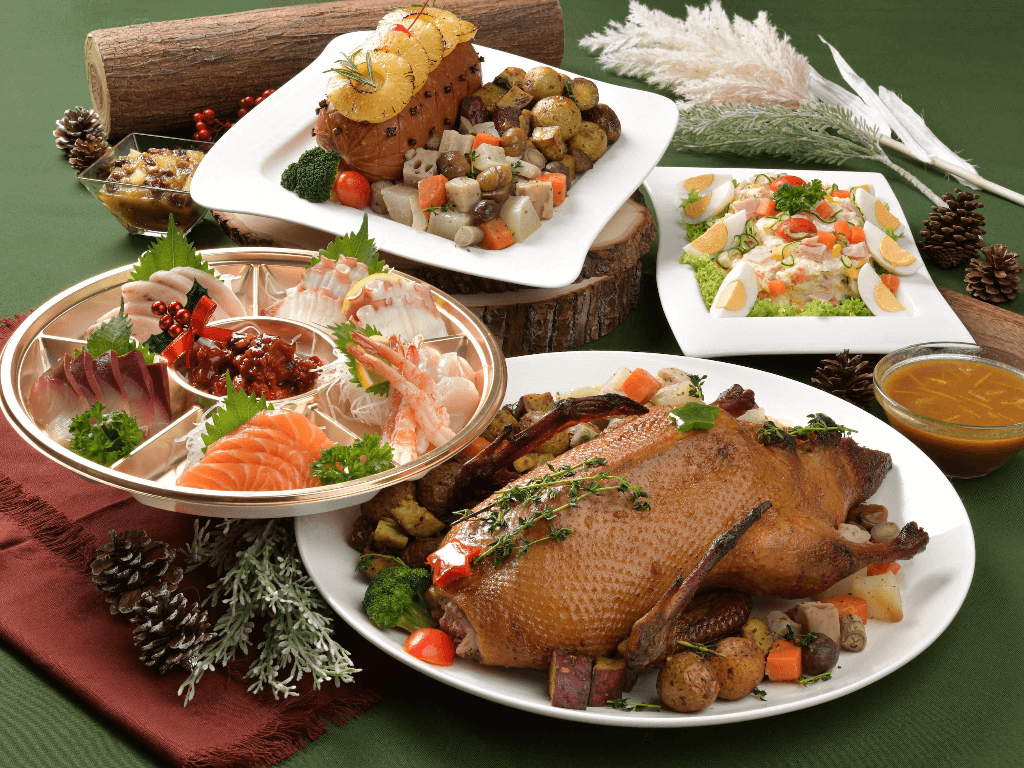 This Christmas, Japanese restaurant group RE&S brings you a diverse selection of over 21 takeaway goodies, which is more than enough to last you through the 12 days of Christmas. Its online orders are open till Dec 30.
Some of the new items include the festive canape platter (S$43.90) and yuzu duck with Japanese chestnut stuffing (S$89.90) — joining existing classics such as the Christmas six-spiced roast chicken (S$65.90), and gammon ham and potato salad (S$29.90).
Satisfy your sweet tooth with treats and desserts such as Valrhona chocolate buche de noel (S$48.90) and Christmas macarons (from S$13.90).
Lastly, usher in Christmas and 2023 with specialty sakes, such as shiboritate ginjo (nama chozo) (S$53, or S$43 with any Christmas bundle purchase) and naniwa masamune daiginjo (S$80, or S$65 with any Christmas bundle purchase).
RE&S is having an early-bird promotion till Dec 4 only for its members, offering 10 per cent off logcakes as well as discount vouchers for Ichiban Boshi, Ichiban Sushi or Kuriya Japanese Market with any Christmas bundle bought.
5. FairPrice
Multiple stores islandwide
Open: Operating hours vary across stores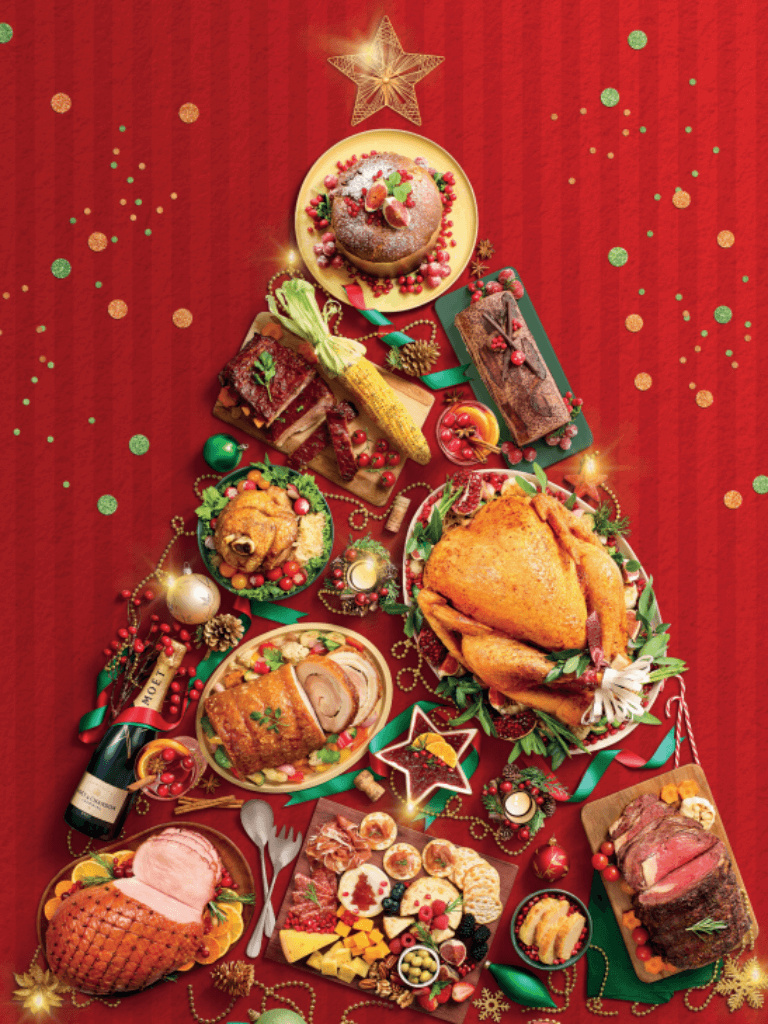 If you're looking to indulge in the festivities from the comfort of your homes, then supermarket chain FairPrice has you covered.
For your meats, the deli stocks favourites such as traditional roast turkey (S$62.50) and honey-baked ham (S$27.50 for whole or S$28 for pre-sliced).
For desserts and sweet treats, look to logcakes (from S$42.90) and panettone (S$28.90).
Ready-to-eat food manufacturer Kelly's will also offer its Christmas specials at FairPrice.
These include the knuckle combo — whole German pork knuckle and Arabiki pork sausages (S$30.90, pre-order needed); stout-infused pork knuckle (S$29.90); and KBBQ gochujang pork ribs (S$29.90). All are sold chilled.
Customers are advised to pre-order online or in stores from now till Dec 16, and collect their items from Nov 22 to Jan 2.
Swensen's, PizzaExpress, Shake Shack, RE&S, and FairPrice are on the GrabFood and GrabMart delivery services. You can also book a ride there.