Hawker Hustlers: Happiness is a warm Mian Mian Bu Duan Peanut Pancake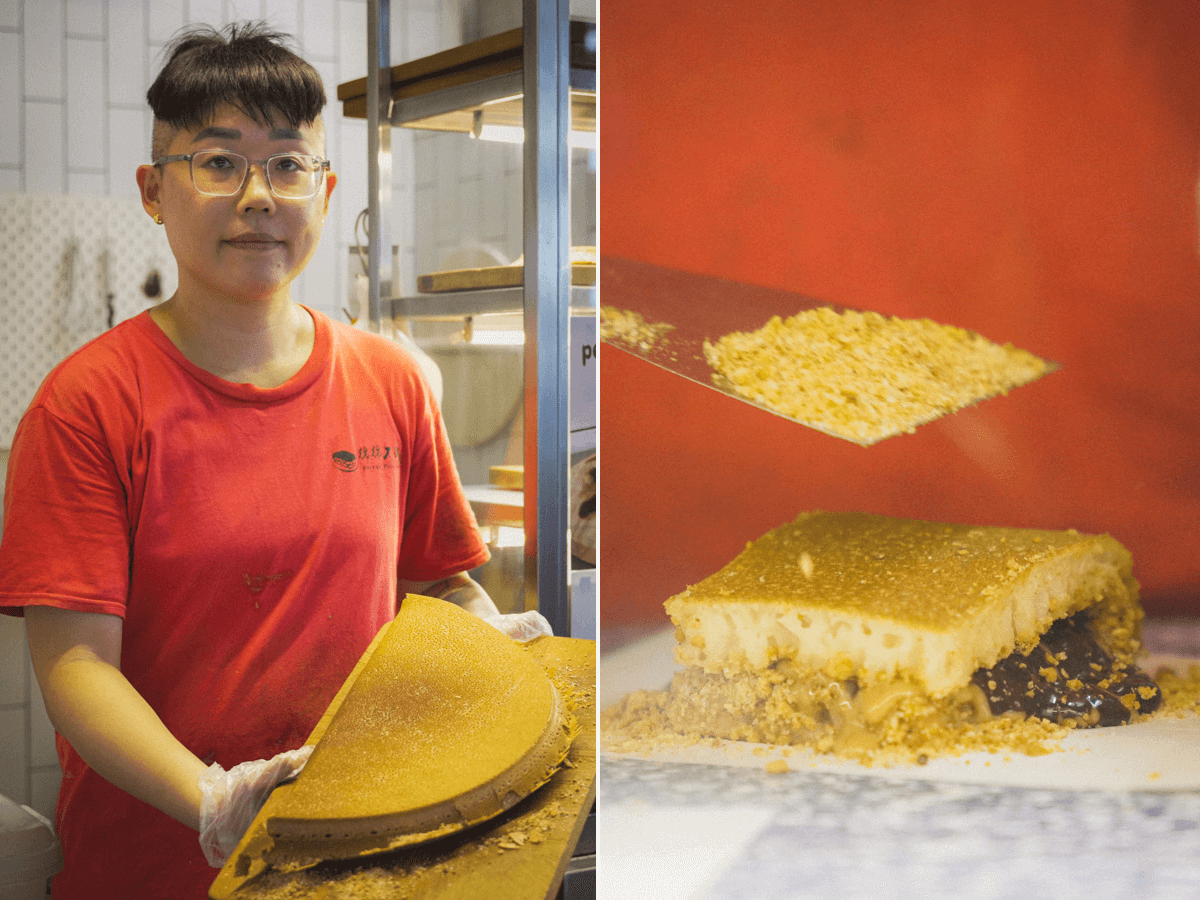 Hawker Hustlers is a HungryGoWhere series spotlighting young and emerging hawkers with compelling stories. Read through all the way for an exclusive GrabFood promo so you can try their food, too.
If you think peanut min jiang kueh are just slabs of flour with peanut filling, think again, urges Li Jiali, founder of Mian Mian Bu Duan Peanut Pancake.
If you were to sit and watch Li work at her stall at Bukit Merah, you might find that min jiang kueh (peanut pancake) making can be a pretty meditative experience — one in which she beats the pancake batter to the rhythm of her heart.
After the dough mixture is laid out to rest for a while, she carefully ladles it onto a hot pan and spreads it evenly.

When the batter puffs up and becomes dotted with holes, it means that the min jiang kueh is almost ready. These holes allow the peanut filling to flow through, such that the kueh and filling becomes inseparable.
Take a bite into the min jiang kueh, and you'll find it has a pudding-like, yet firm, texture — one that is delightfully velvety, moist and chewy.
During our visit, we paired the pancakes with delicious soya bean drinks from a nearby stall.

"The next time you lay hands on (a min jiang kueh), you can open the pancake. Sometimes, it looks like you're staring down at the peaks of the most beautiful mountains," says the 36-year-old.

One morning spent with Li has completely changed my perception of this ordinary dessert. It's easier to see it for what it is — an artisanal craft that deserves more recognition. 
Beyond the usual classics, we got a chance to sample not just your usual cookie-cutter flavours, spanning the likes of peanut butter jelly, creamy coconut and peanut butter chocolate.

Li, a former tax accountant, found her calling in the F&B industry. She was first a barista making specialty brews at Dutch Colony Coffee Co and now, she's an entrepreneur selling min jiang kueh.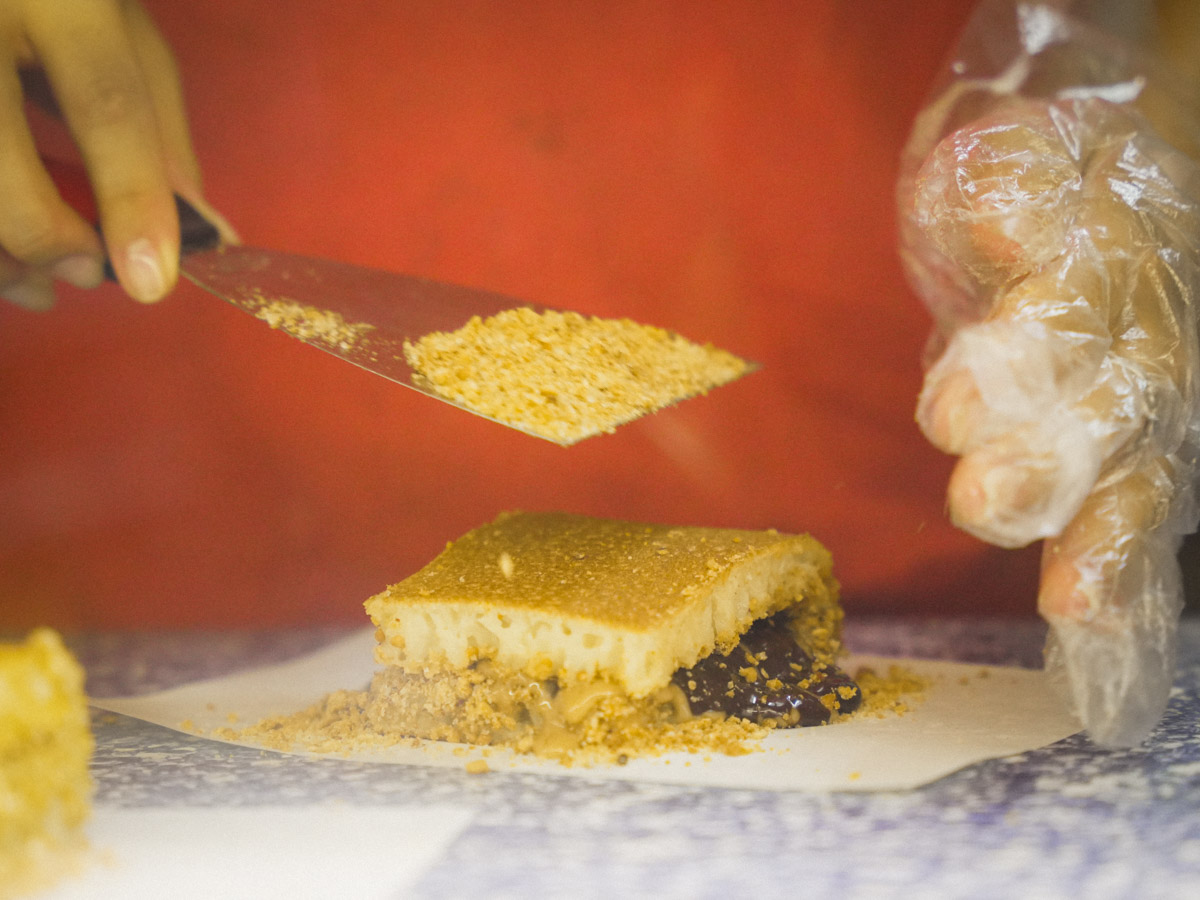 Working with her hands helps her centre herself, says Li, who has bipolar disorder. Over the course of our conversation, we discover her struggles with the condition, the backstory of how she came to found the stall, and even fascinating nuggets of information about the min jiang kueh empire in Singapore.

Amid the hustle and bustle of the world, she hopes to bring some joy to others with her pancakes. "We may not have everything we want in life, but you can always find satisfaction eating peanut pancakes," she says.

Who knew that eating min jiang kueh could be such a philosophical experience?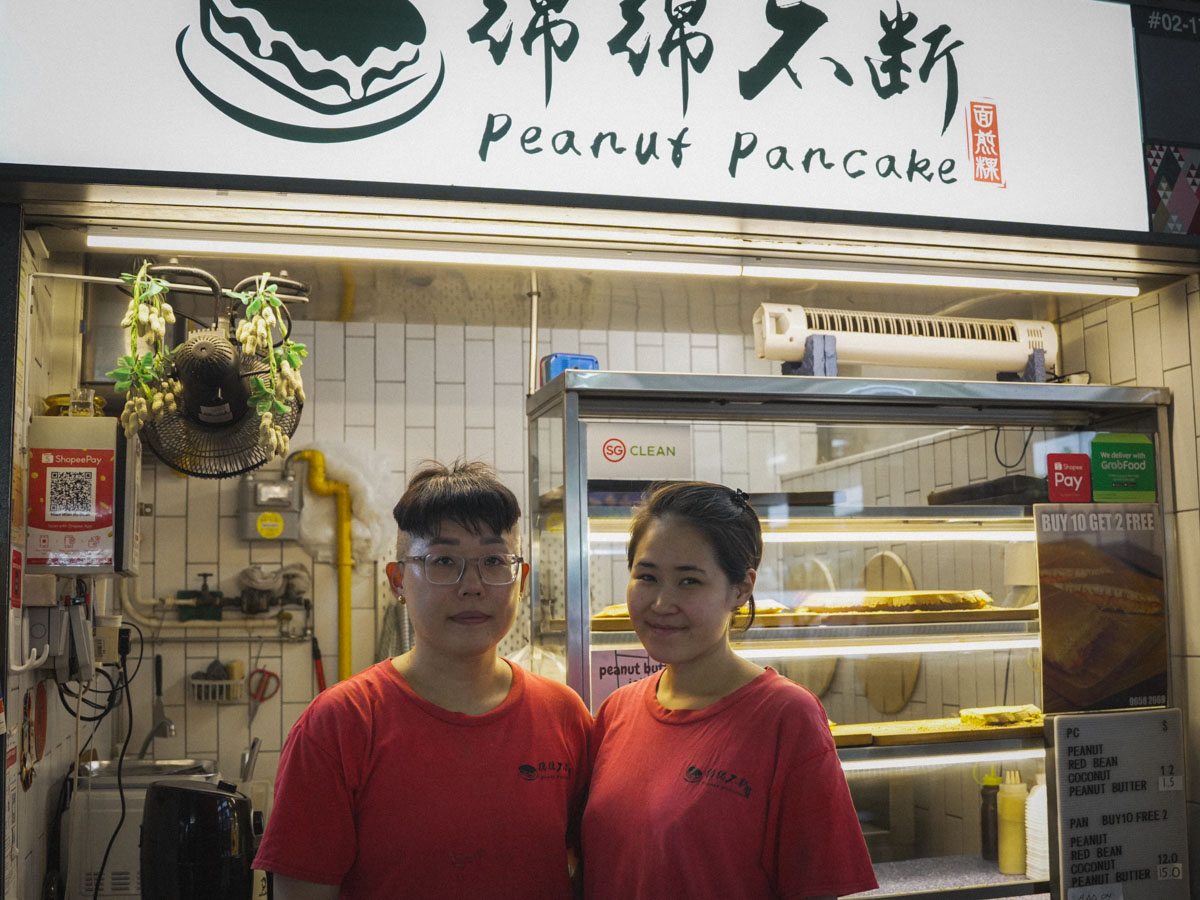 Here's a lightly edited excerpt of our interview:
1. How did you start Mian Mian Bu Duan?
Before starting this business, I was a coffee barista at Dutch Colony Coffee Co. I was there for about two years.

When I left the cafe, I wanted to do something for myself. I wanted to grow within the F&B industry.

My favourite childhood food is min jiang kueh. So I took a National Environment Agency course for a year. I was attached to Granny's Pancake (for my apprenticeship). I knew the boss personally, too. For one year, I learnt how to beat the batter and the foundation of a pancake business.

The secret behind it? You have to follow your heart's rhythm, try to relax as much as possible, chill, and take it easy. Just think about beating the flour. You must be calm.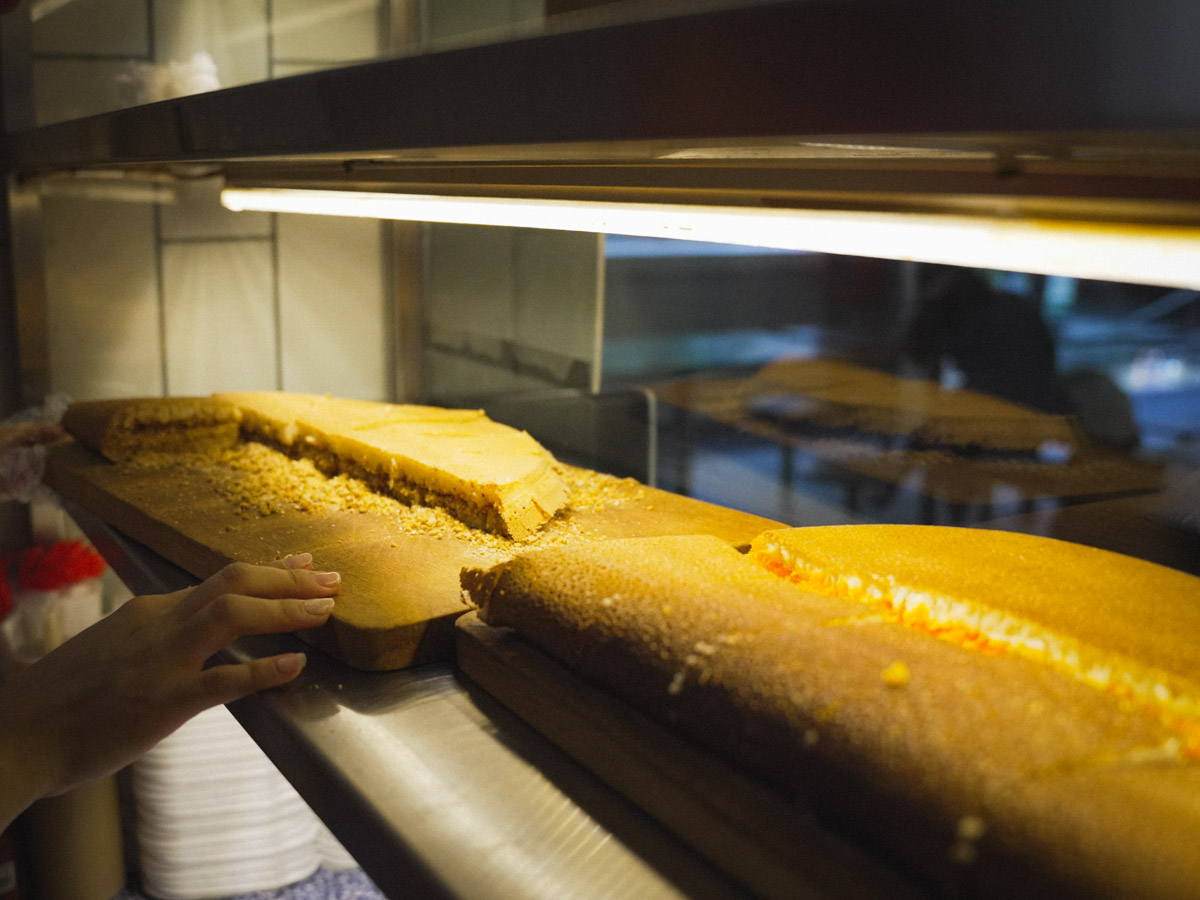 After that, I bid for this stall in 2021 and got it.
I chose this location because it's quite chill, not as busy as areas like the Central Business District, or other more popular neighbourhoods. This is a good place for me to start.  
The name Mian Mian Bu Duan means to continue a trade — to keep practising it.

When I got (my own stall), I realised I didn't actually know how to cook the pancakes! When I was apprenticing, it looked very easy, but I didn't have much chance to cook then.

When the opportunity came for me to do it myself, I realised there were a lot of things I didn't know. I learnt everything by trial and error. The trick is temperature control. You need to make sure the pancake is not burnt, but at the same time it cannot be too soft. So it must be at the optimum heat. Then, it will come out nicely.

One second can make such a big difference. If you leave the kueh on the pan for one second longer or one second shorter, it can make or break the pancake.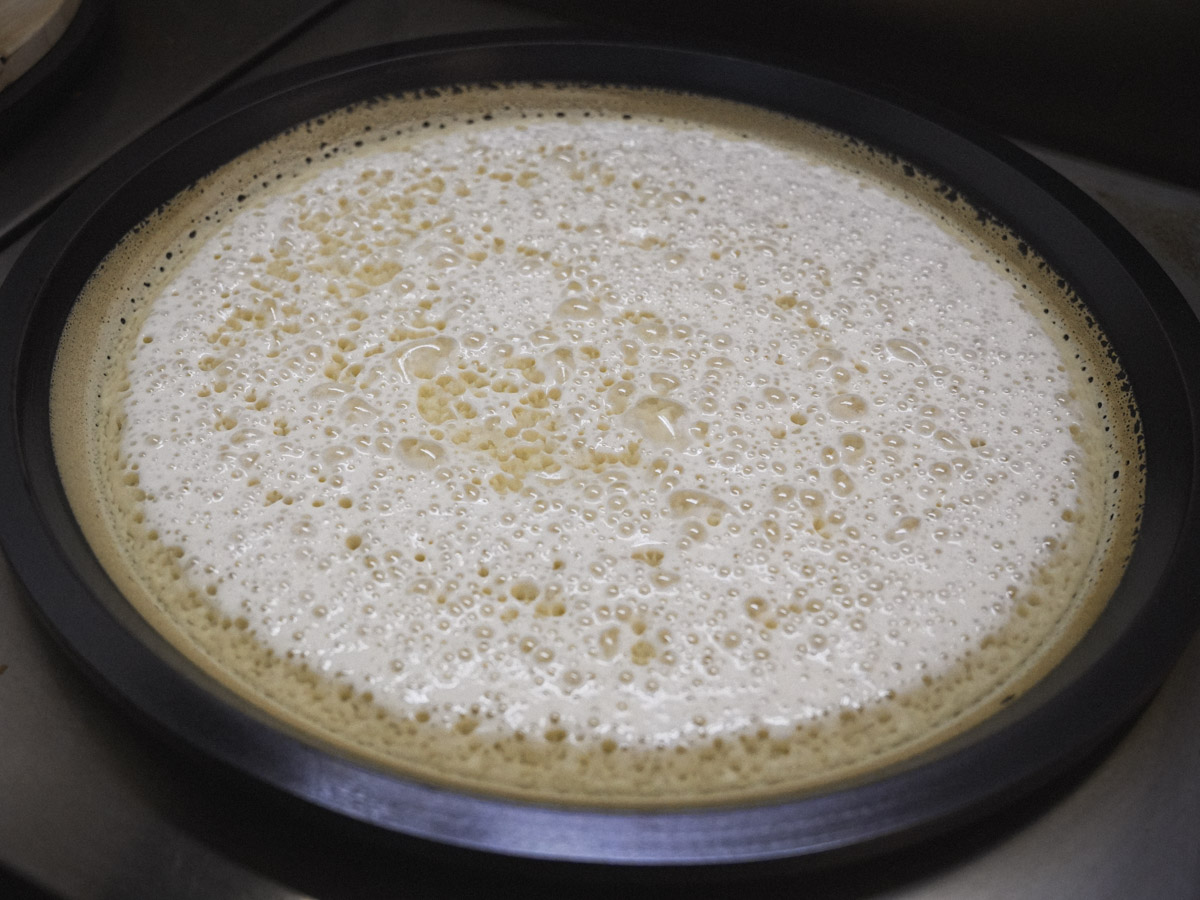 2. What are some of the signatures at Mian Mian Bu Duan?
The peanut, red bean and coconut pancake. These are the three main classic flavours.

I also offer peanut butter jelly — that's our new flavour. We make the jelly from scratch, using New Zealand raspberries, strawberries and blueberries. 
Other innovative flavours include the creamy coconut and peanut butter chocolate, which is (made with) 55% cacao.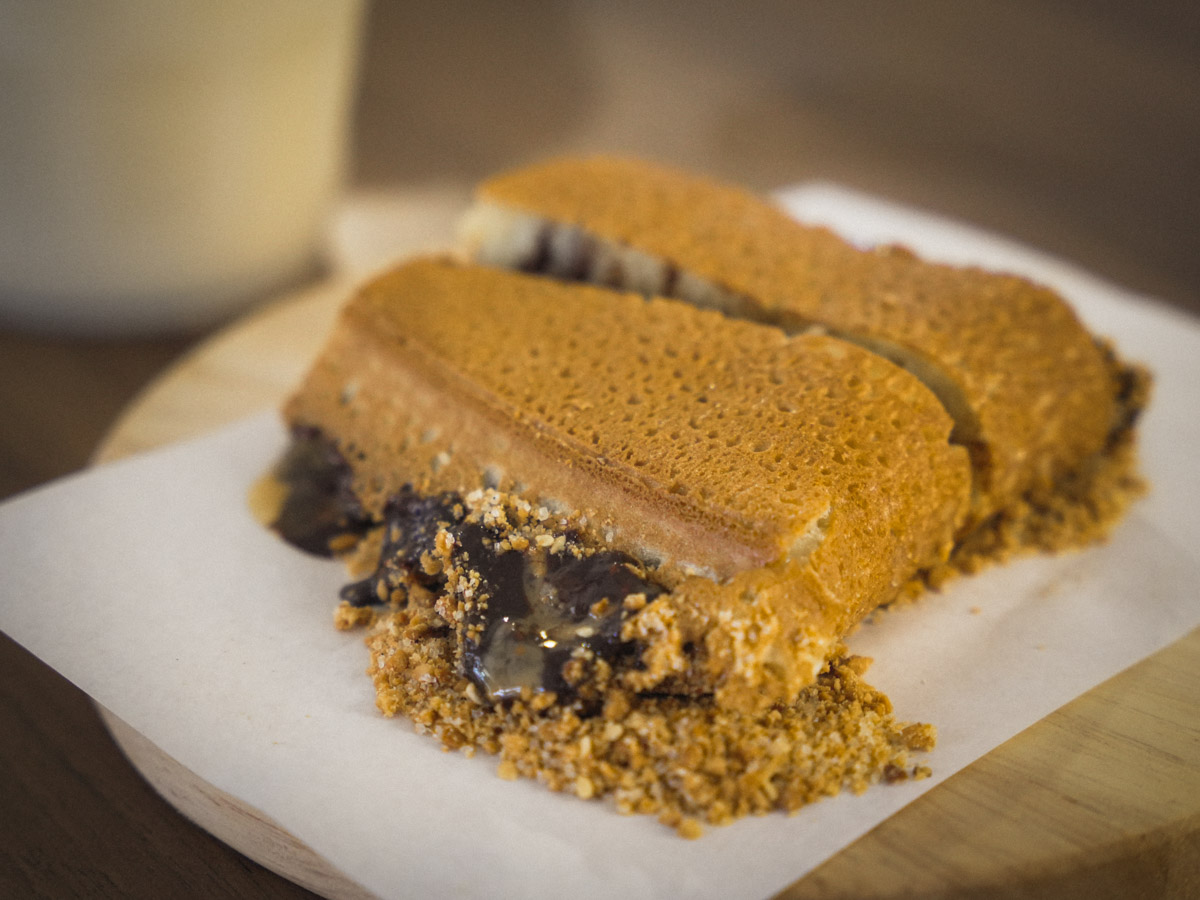 When I first started, I also came up with my own flavours such as Fanta Orange and vegan cheese.

Our top-selling item is the peanut butter pancake. A lot of the elderly go for the classic flavours. 

Today, we made a vegan chilli crab pancake specially for the HungryGoWhere team.
This is something that isn't on the menu. It is the first time we are doing a savoury-and-spicy-flavoured pancake. The vegan chilli crab sauce is homemade and the crab meat is replaced by cauliflower florets.
The pancakes are red in colour and presented in the form of a crab. The crab shape was inspired by my mentor, Billy Ng from Granny's Pancake. He taught me how to rearrange the pancakes to look like a crab.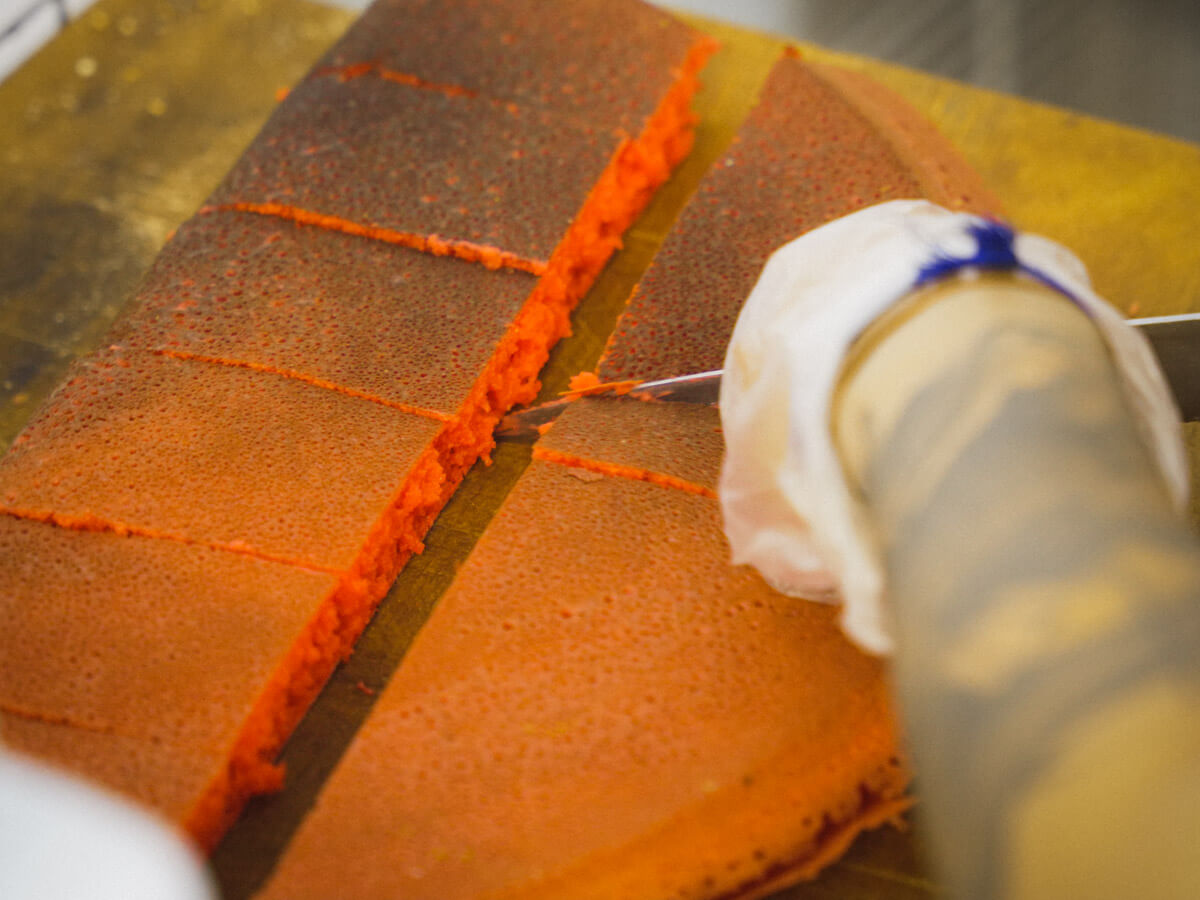 3. What differentiates your pancakes from others?
We mostly source from local suppliers to get our ingredients and we make our pancakes fresh at the stall every day. Each pancake is handmade from scratch, right from the beating of flour by hand.

What differentiates us from others is also the texture of the pancake. It's fluffy, soft and not so cloying. Customers, especially the elderly, find it easy to chew.
4. What was the biggest challenge in starting the business?
My parents initially thought I was crazy when I told them about the hawker idea. After that, they were supportive as they saw that I was serious about it. 
They also helped me sell my pancakes. When I was setting up the stall, my dad helped to drive me around to get supplies since he used to be a taxi driver.
The hardest part about starting a new business is that you have no clue what you're doing. It's very stressful, as you don't want it to fail. 

For me, failure is when there are no customers eating my pancake, or if they think the pancake is not nice. When the pancakes are not up to my expectations or if the batter spoils, my mood tends to get affected for the whole day.

But you have to tell yourself to take it easy. After all, you're just cooking pancakes for people to eat!
After the first three to six months have passed, the business becomes stable; you have a proper flow and a better sense of things. You kind of know the market conditions, how many people are here, (and) how much to make every day. 
Now, I make 400 slices of pancake a day.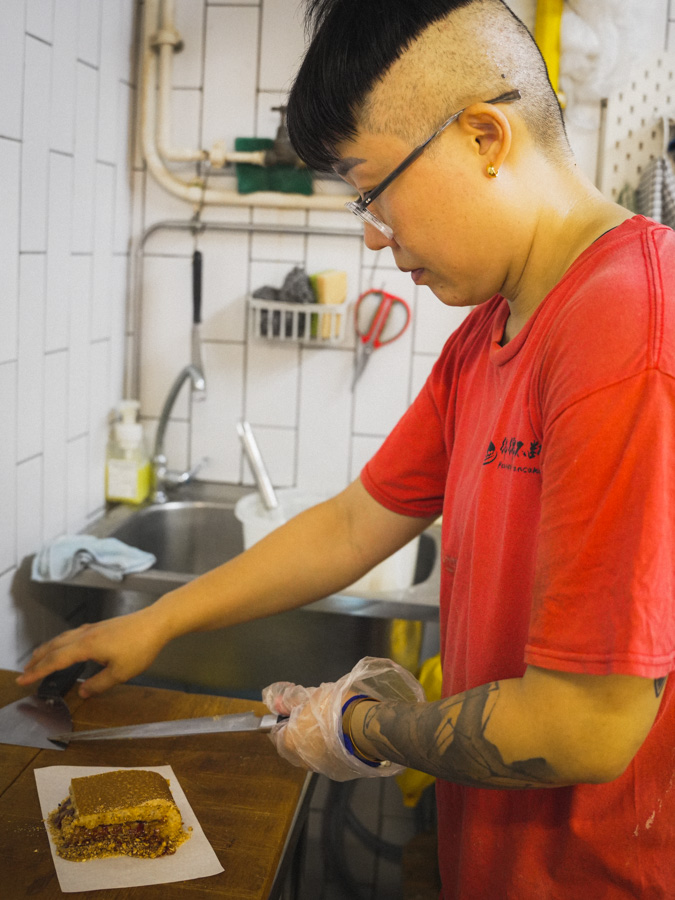 One thing, though — you don't get much personal time, so you don't have a lot of time for friends. 
You also have to learn to trust your own instincts. Some people might give feedback. Your pancakes can be cooked for longer or tweaked here and there. But there's this inner voice you have to listen to and trust yourself. 
5. What's the best part of your day?
The best part of my day is the beginning and the end. I arrive at the stall early in the morning. I take the first bus and reach here at about 6.30am.
There's not many people around, so I can do my work slowly. It's quite therapeutic — baking the batter, pre-heating the pan.

And then at the end, it is also very shiok (enjoyable). Because if you manage (to get) through the day, you'll feel like you have done the work with your own hands.
You've done what you can, and you've earned the money with your own sweat and tears. There's a sense of accomplishment.
These days, I've taken a step back, and Jess, my girlfriend and business partner, is still learning how to cook the pancakes. She's figuring out what works and what doesn't.
We came up with a lot of the new flavours together. We complement each other and we bounce off ideas well.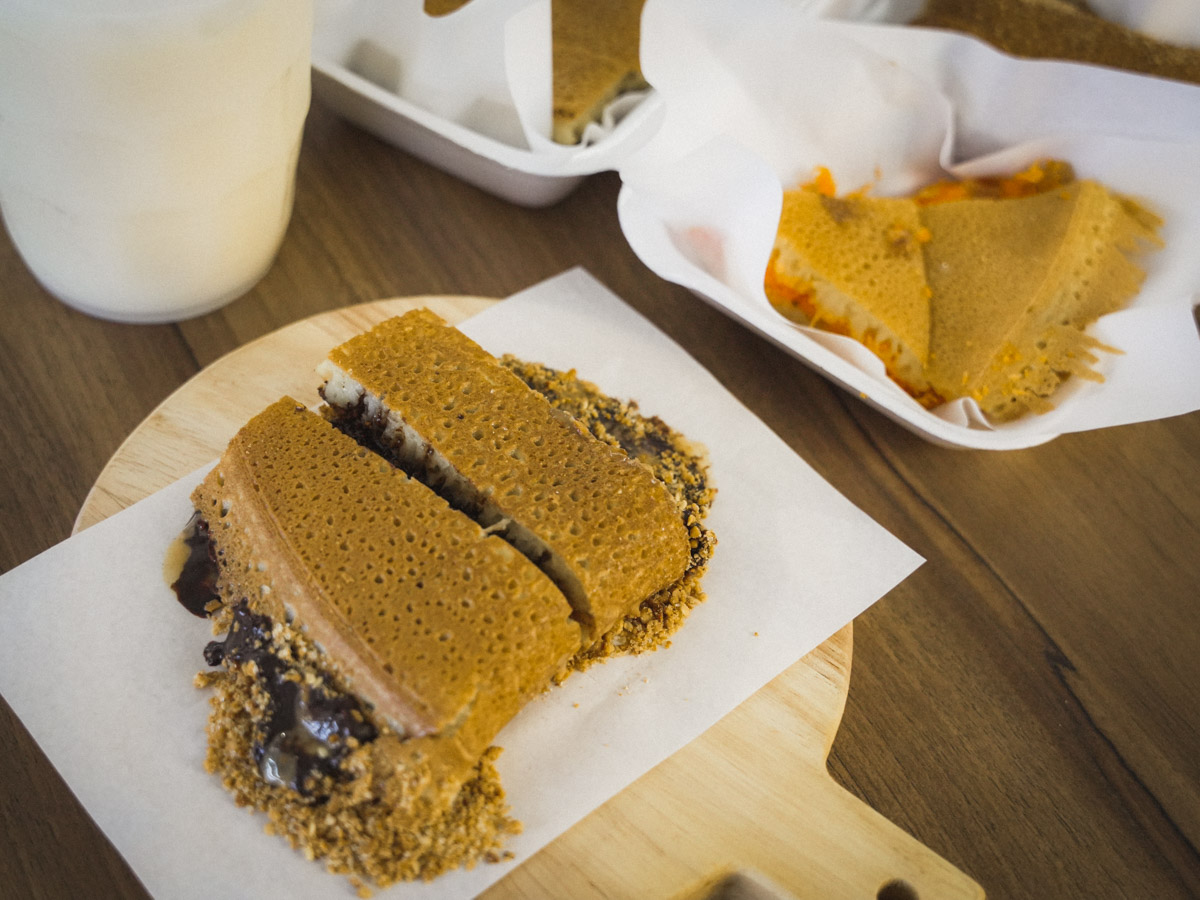 6. What is the min jiang kueh landscape like in Singapore?
Granny's Pancake is one of the leading min jiang kueh chains in Singapore, with more than 10 outlets islandwide. They started off as family business and sell pancakes with traditional flavours.

These days, there are quite a few new min jiang kueh entrants, with some selling innovative flavours such as charcoal, matcha, sesame, even Thai milk tea.

For us, we believe in baby steps. Slow but steady.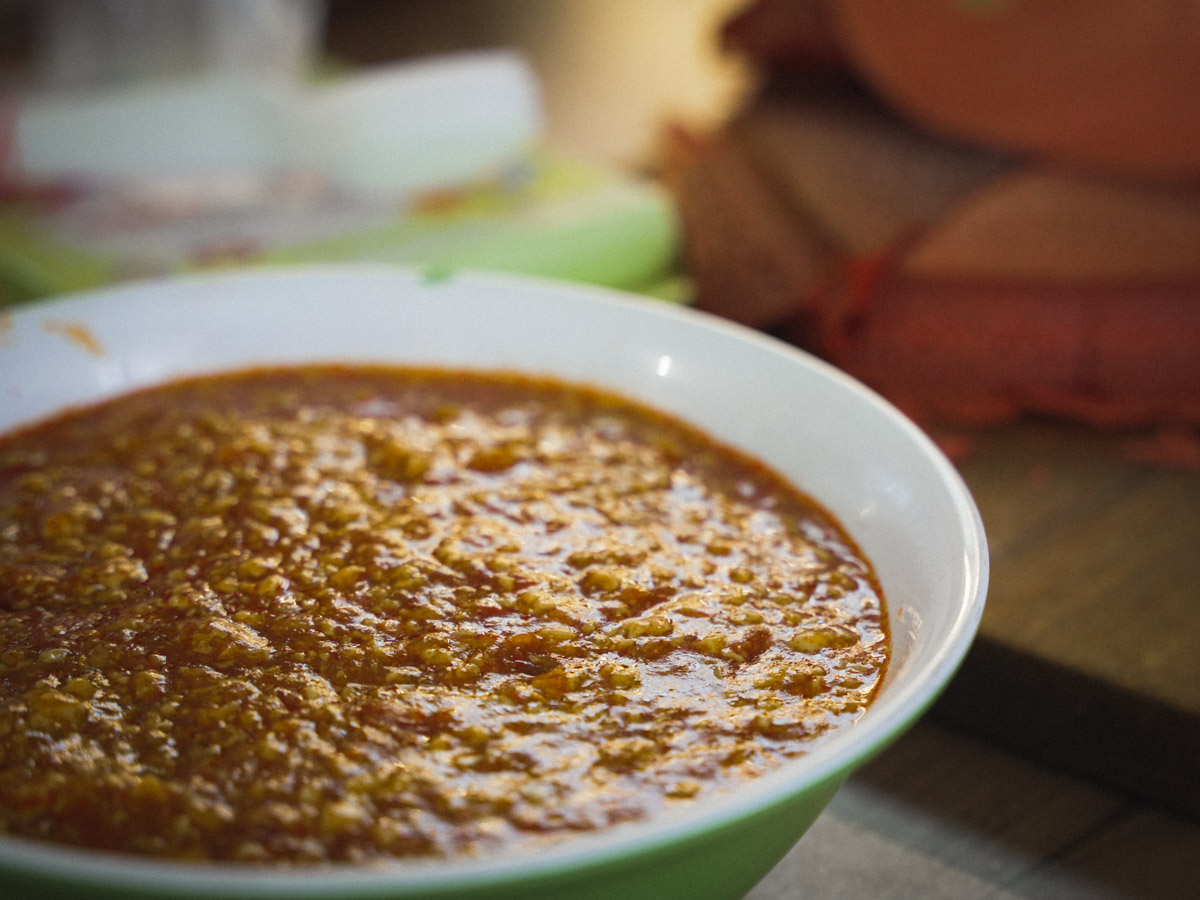 7. I noticed that you talked a little about mental health on your social media. Can you tell us about it?
I was diagnosed with bipolar disorder more than five years ago. It took a long time for doctors to figure out my diagnosis, as I was depressed and felt anxious.

I've been on medication for the last five years, and it helps me stabilise my mood. However, with the medication, it can be quite challenging for me to wake up in the morning as it affects my energy levels. I move a little slower.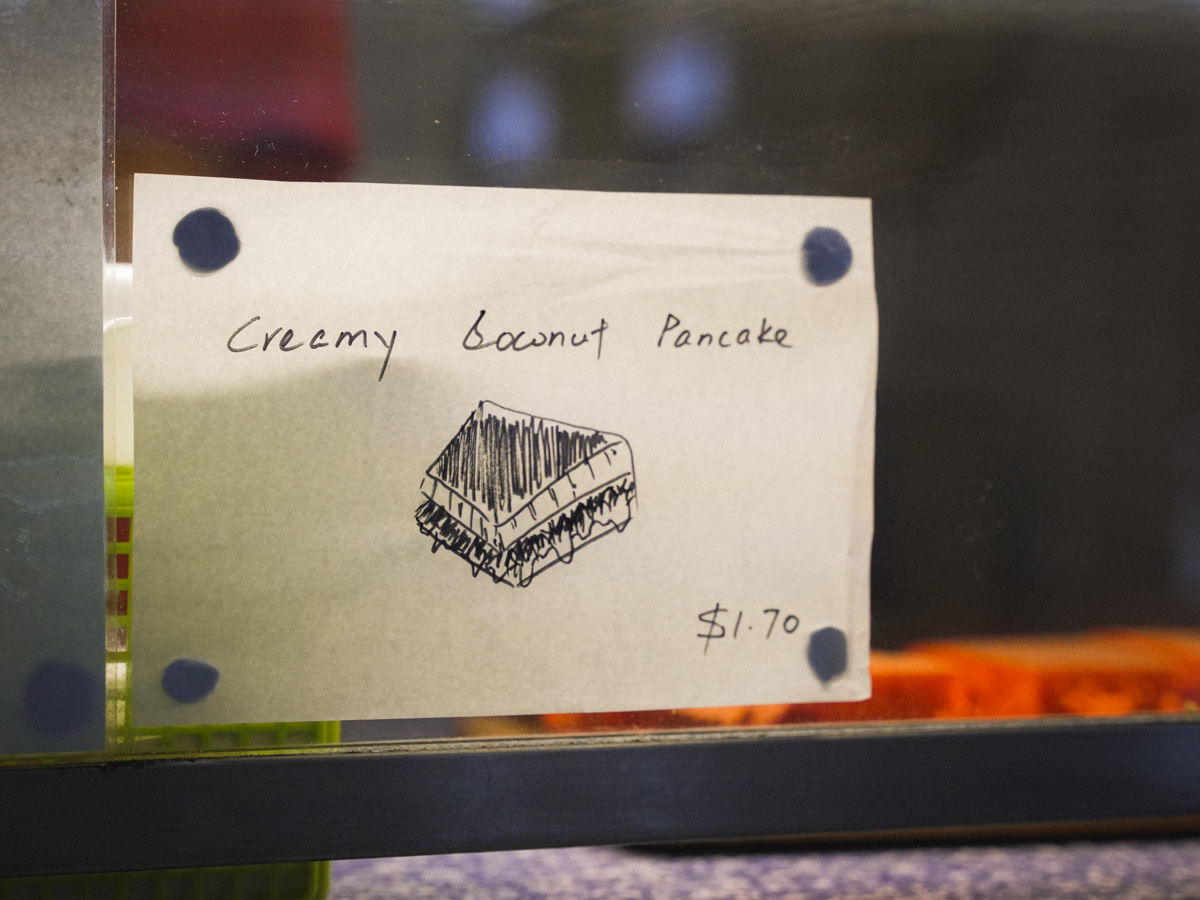 It doesn't help (that I'm) in the hawker trade, which is very physically demanding. You have to bear through it.

Thankfully, Jess came into the picture and it was like a punch in my perspective. She inspired me to do better. Baking helps me, too. It's very therapeutic.

These days, mental health issues are becoming more common. I want to speak out because I want to raise more awareness about this. Some people may not be diagnosed and they may be going through a hard time.

Diagnosed or not, mental illness or not, you should never judge a book by its cover. I am learning that it does not break a limb to be extra nice and kind. If I am able to help, I will help.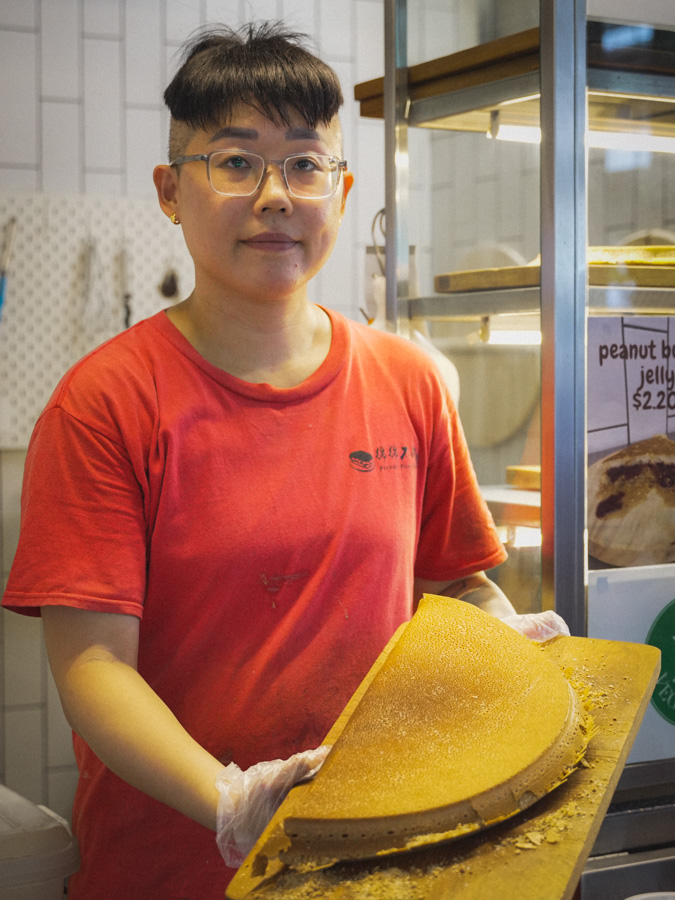 8. Any future plans for the business?
In my opinion, desserts do not need to be a guilty pleasure and min jiang kueh can be a breakfast staple. 
We are hoping to modify our current recipe to make it healthier. If I come up with my own recipe, I can make it according to my own preferences.

Also, we are exploring tweaking our classic flavours. I think we want to go back to the basics.
I'm also itching to do sling coffees, the traditional kind. I love making coffee. Once this (stall) is stabilised, I'm thinking of finding another stall.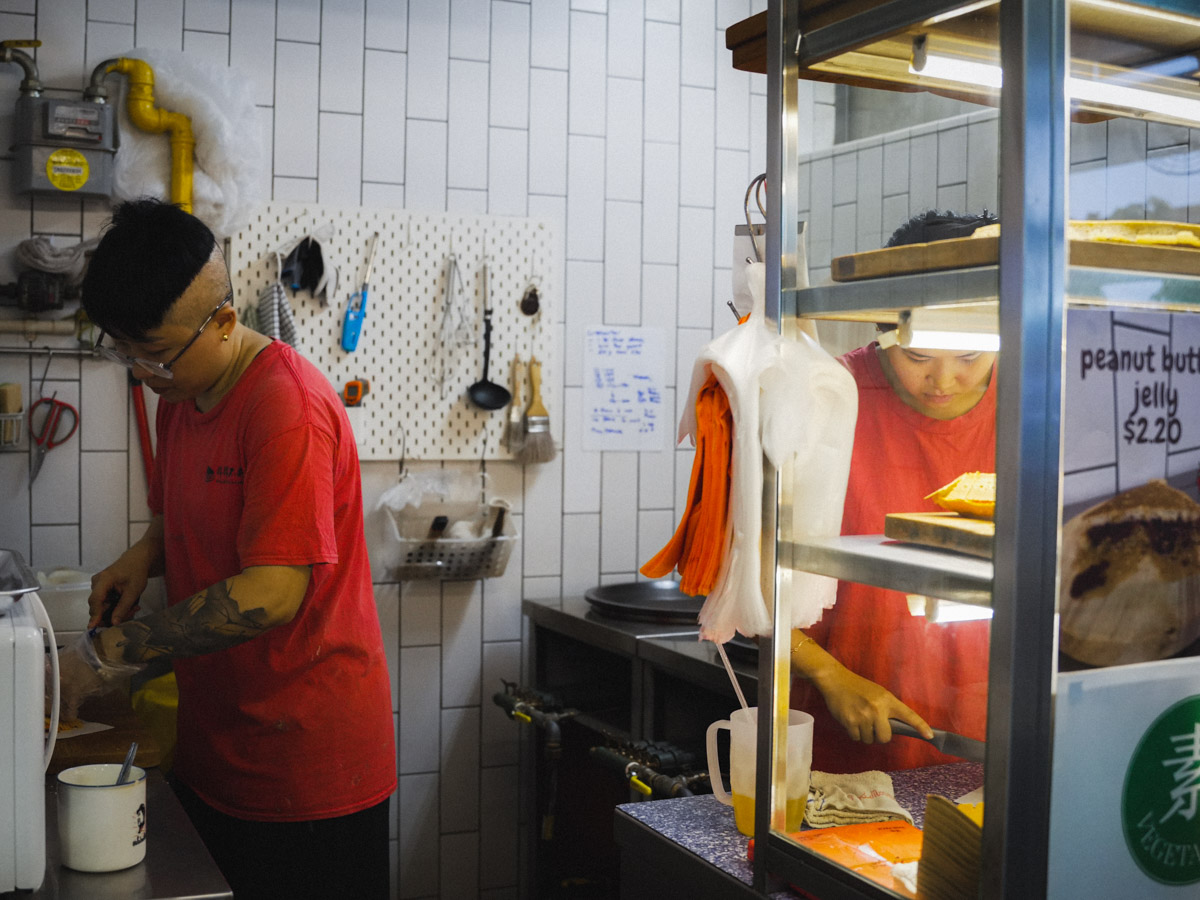 Exclusive GrabFood Promo
Good news for our readers who scrolled all the way to the end! Here's your exclusive GrabFood delivery promo for Mian Mian Bu Duan, valid from July 9 to August 4, 2023:
How it works
Use the promo code HGWMIANMIAN for S$4 off your basket (minimum spending of S$20) when you order from Mian Mian Bu Duan Peanut Pancake – Bukit Merah Central
Stackable with free Mian Mian Bu Duan delivery (up to S$3 off) with a GrabUnlimited subscription
While redemptions last, capped at one redemption per person
Mian Mian Bu Duan Peanut Pancake
163 Bukit Merah Central, 02-17
Nearest MRT station: Redhill
Opens: Monday to Sunday (9am to 4pm)
163 Bukit Merah Central, 02-17
Nearest MRT station: Redhill
Opens: Monday to Sunday (9am to 4pm)
---