Watch 'live' dinosaurs and dine on Michelin-rated food at new Jurassic Nest food hall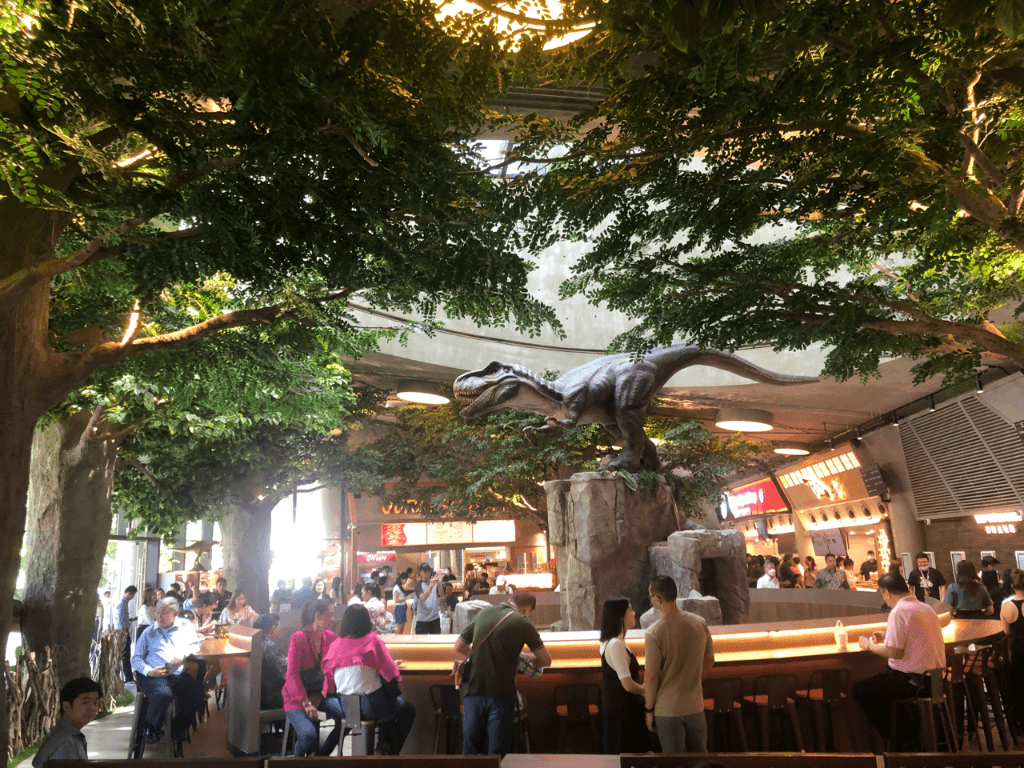 Singaporeans love their dinosaurs — for good reason. There's just something alluring about these incredible prehistoric creatures, isn't there? 
Now, there's another dinosaur-themed option to get your dino fix — Jurassic Nest, a dinosaur-themed food hall, has officially opened at Gardens by the Bay on Friday (Nov 18)! 
It features 18 dinosaurs and its tallest inhabitant, the Brachiosaurus, stands at a whopping 5m.
And foodies, rejoice — for the first time for any food hall in Singapore, more than half the stalls here are Michelin-rated food brands.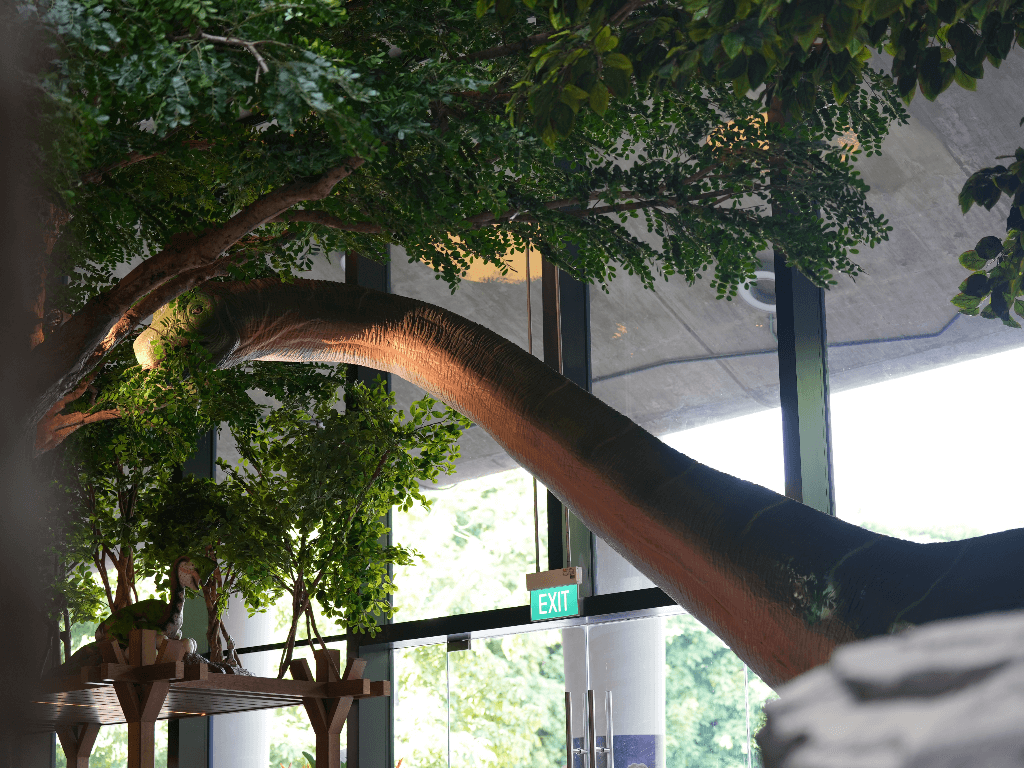 The Michelin-rated vendors are soya sauce chicken rice stall Hawker Chan, ramen restaurant Tsuta, Indian food stall Bismillah Biryani, and Indonesian-style hawker stall Nasi Lemak Ayam Taliwang.
Other equally delicious options include Thai eatery Took Lae Dee, Mama by Putien Group and JN Cafe, which sells family-friendly Western food.
You will get a side of entertainment with your food — three of the hyper-realistic, life-size animatronic dinosaurs come alive 18 times a day across two segments.
I am r
aw html block.
Click edit button to change this html
In the indoor area, a 3m-high waterfall shelters a T Rex and Brachiosaurus that roar to life nine times a day from 12pm to 8pm, and the outdoor area housing an Oviraptor comes alive, also nine times a day, at hourly intervals, from 11.30am to 7.30pm.
The other static dinosaurs, such as the Velociraptor and the Parasaurolophus, are scattered across the food hall. There's also a gift shop selling various dinosaur merchandise such as shirts, dino eggs, and plushies.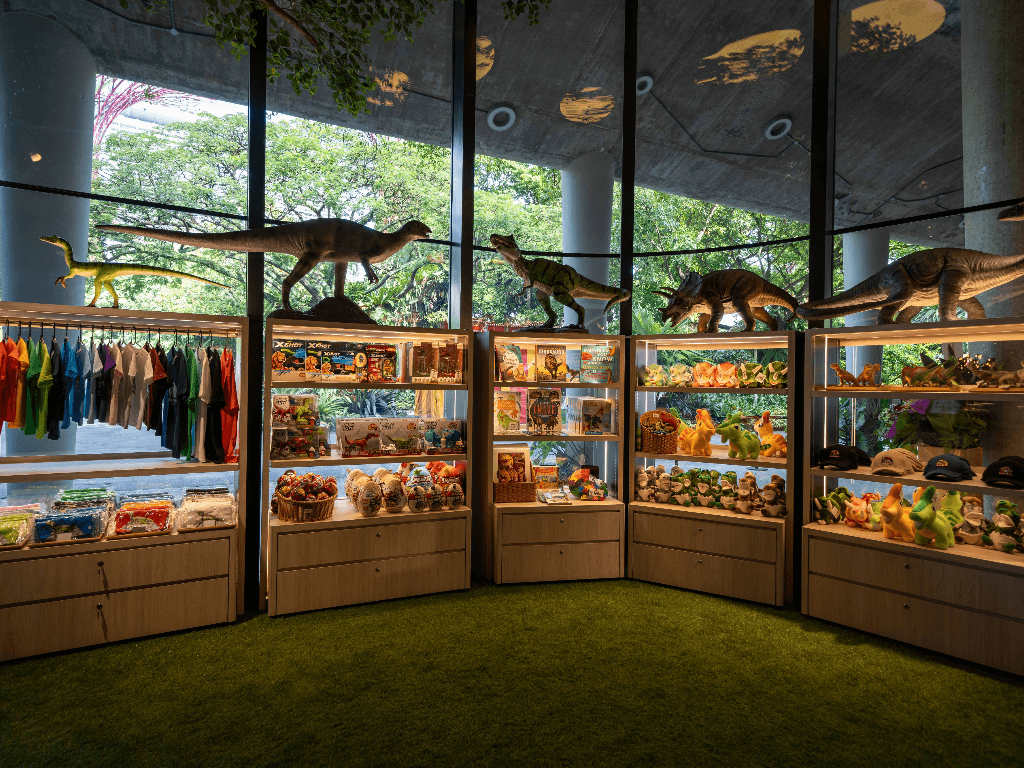 Dishes here start from S$8.80, and you can order from a self-ordering kiosk.
HungryGoWhere was there for a media tasting, and it was a hearty meal indeed. 
The tonkotsu soba (S$13.80) from Tsuta had a milky and umami broth, but what won us over was its tori karaage with mayo (S$10.80) that had a surprisingly well-seasoned crispy skin and juicy chicken meat.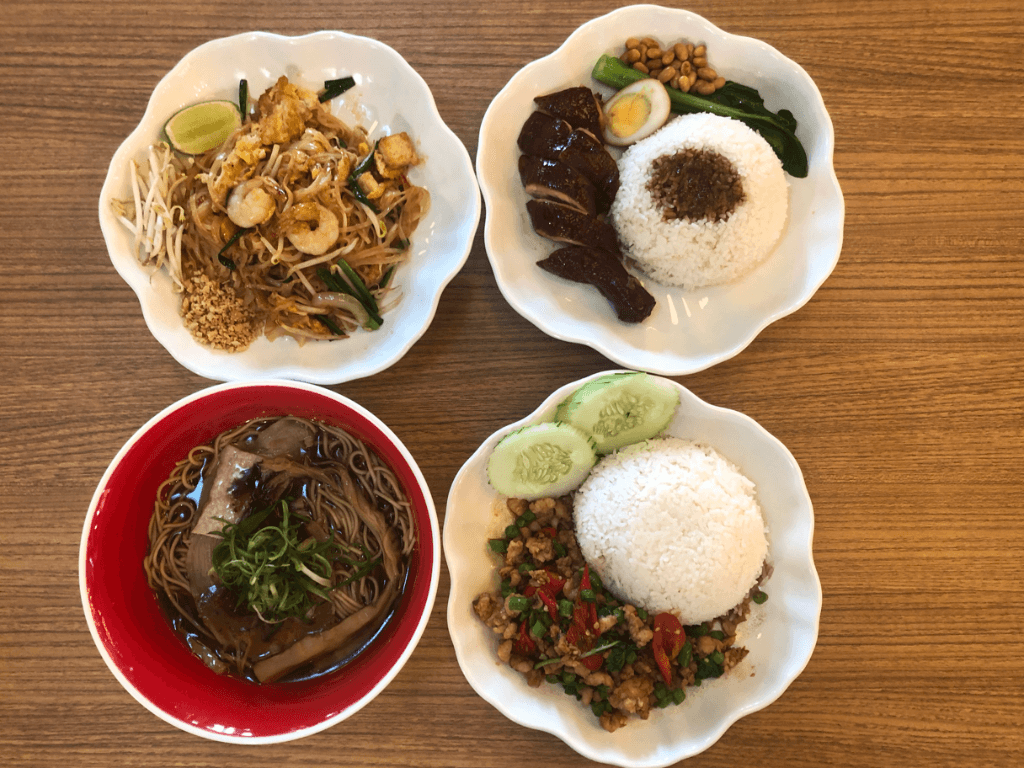 We tried the signature soya sauce chicken rice (S$8.80) from Hawker Chan, and enjoyed the tender meat and flavourful sauce that was on a par with its other outlets.
From Nasi Lemak Ayam Taliwang, we had its namesake dish: The Michelin-featured nasi lemak ayam taliwang (S$9.90), which had well-seasoned chicken, flavourful chilli and garnishes to go along with fluffy coconut rice.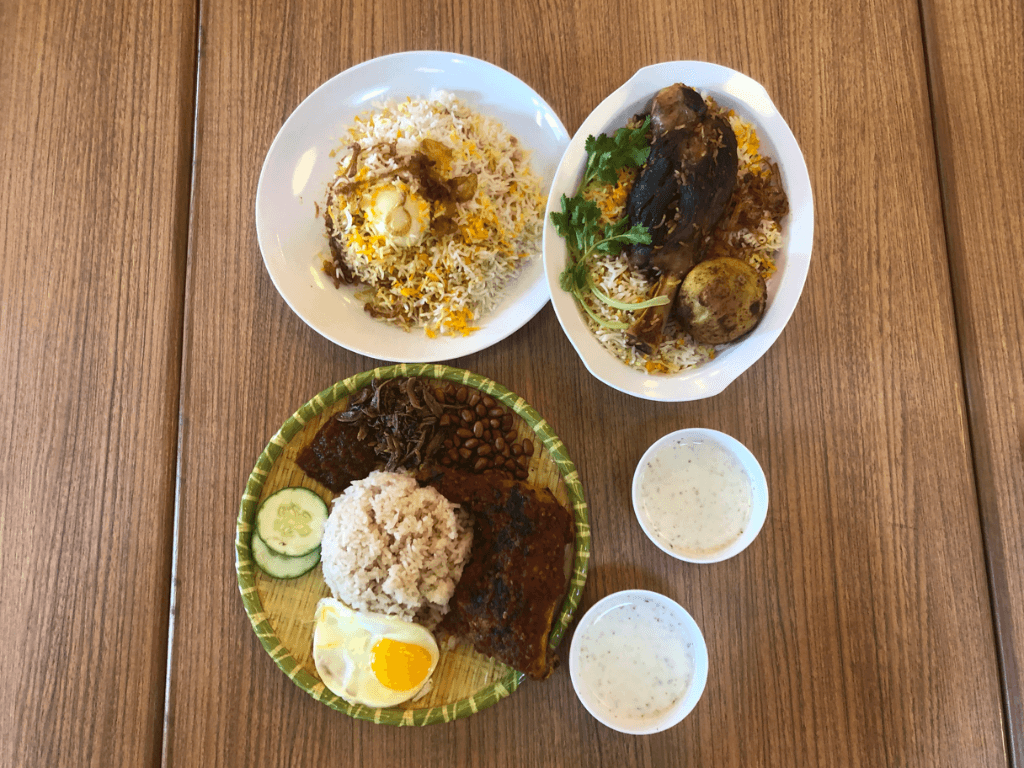 The pad krapow (S$8.80), a minced pork stir-fry dish with chilli and basil leaves from Took Lae Dee, was comforting with its juicy, fragrant minced pork paired with white rice. The winner for us, however, was the pad thai (S$9.80), a classic Thai rice noodle dish, which had the smoky wok hei char, sweet sauce, and zesty lime blended with perfectly fried noodles.
We reckon the Jurassic Nest food hall would be the newest hangout for families, especially with the multitude of events happening at Gardens by the Bay, such as the Pokemon Go Safari Zone event from Nov 18 to 20, Avatar: The Experience at the Cloud Forest, and the highly anticipated Christmas Wonderland happening from Dec 2.

Hawker Chan, Tsuta, Bismillah Biryani, Nasi Lemak Ayam Taliwang, Took Lae Dee, and Putien are on GrabFood. You can also book a ride to the Jurassic Nest food hall.
Supertree Grove at Gardens by the Bay, 18 Marina Gardens Drive
Nearest MRT stations: Bayfront, Gardens by the Bay
Open: Monday to Sunday (11am to 9.30pm, last order at 8.45pm)
Supertree Grove at Gardens by the Bay, 18 Marina Gardens Drive
Nearest MRT stations: Bayfront, Gardens by the Bay
Open: Monday to Sunday (11am to 9.30pm, last order at 8.45pm)