AtTea launches limited-edition milk tea series; celebrates 2nd anniversary in Singapore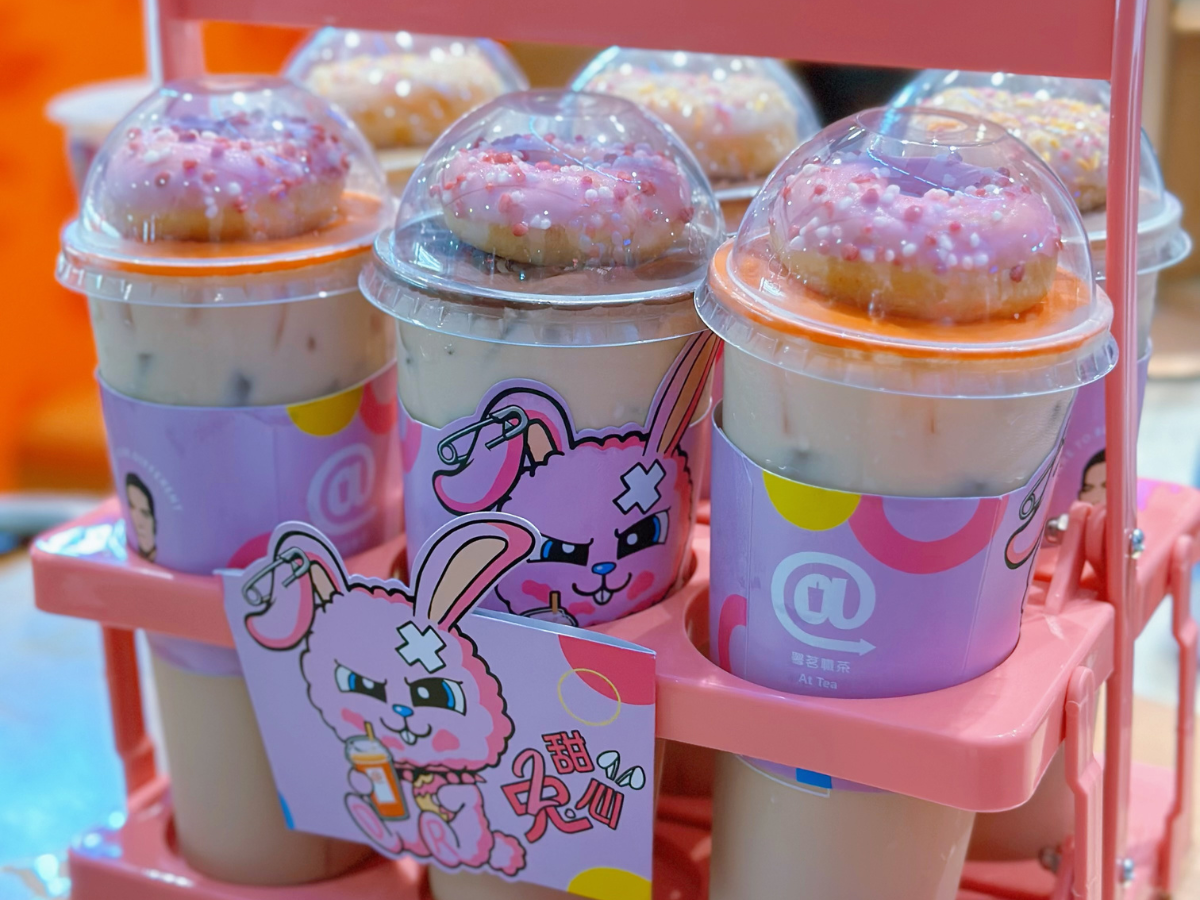 If you haven't gotten your hands on a cup of Jam Hsiao's (萧敬腾) bestselling bubble tea, now's a great time to do so. 
AtTea, the bubble tea brand that Hsiao founded, has just launched an adorable Donut Rabbit milk tea series to mark its second anniversary in Singapore. 
AtTea first opened its doors on our shores in 2021. The bubble tea chain is recognised for its milky drinks. Its popularity led to the expansion of five outlets across the island, with 313@somerset being its flagship store. 
The new line is seasonal and available for a limited time only. It comprises two flavours: Donut Rabbit milk tea (甜心兔奶茶) ($6.80) and Donut Rabbit cheese foam tea (甜心兔奶蓋) ($6.80). There's a bundle deal promotion valid until May 7, where you can purchase two cups of the Donut Rabbit milk tea series for just S$10.88. 
Each cup is dressed in a pink cup sleeve featuring a cute rabbit mascot, which — you've guessed it — is fondly referred to as the Donut Rabbit. 
In fact, all drinks offered by AtTea will don the special cup sleeve during the anniversary period, which also runs until May 7.
On the sleeve is a playful animal clutching a beverage in one hand and a donut in the other, which represents Hsiao's desire for his customers to enjoy the drink and sweet treat together.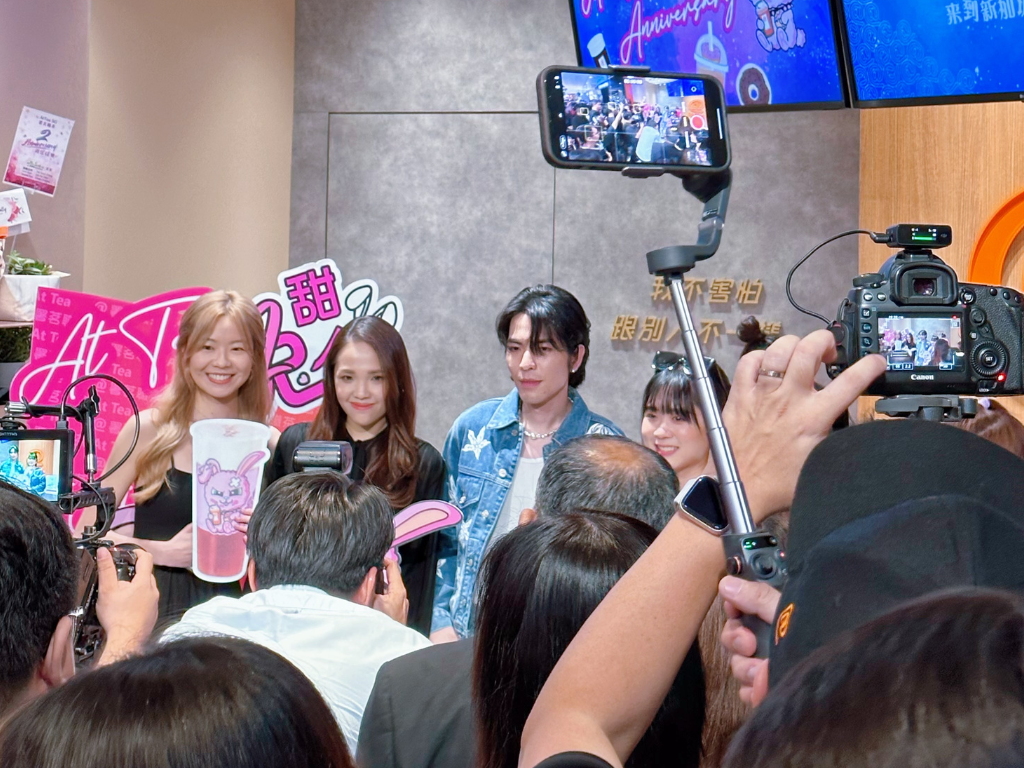 Much to the excitement of his fans, the Taiwanese Golden Melody Awards winner paid a visit to the outlet at 313@somerset yesterday, at about 2.20pm. We heard that his hardcore stans have been queuing from as early as 8am just to catch a glimpse of their beloved star! 
While introducing the exclusive Donut Rabbit series, Hsiao mentioned that the lovable bunny was an icon that inspired his new milk tea launch, for he was born in the year of the rabbit. Fans of his work would also be familiar with the name Donut Rabbit, as it was the name of a TV show Hsiao participated in. He also said that the drinks at AtTea are named after his songs. 
If you're wondering what Hsiao's go-to beverage at AtTea is, it's presently the Donut Rabbit cheese foam tea (甜心兔奶蓋). We can see why – the concoction boasts a creamy layer of savoury cheese foam that pairs well with the aromatic tea blend.
And Hsiao's elevated rendition of the classic milk tea drink, Donut Rabbit milk tea (甜心兔奶茶), has us drooling: It's a fragrant refreshment that's crafted from a smooth and smoky cane-roasted black tea base. 
Just one sip, and you'll be hit with the rich, buttery texture of the milk tea. It's just the right amount of sweetness, too. But that's not the end, for the 'gram-worthy drink also sees a special twist. The beverage comes with a mini donut that's adorned with sprinkles. 
An indulgent treat that's worth savouring, we say.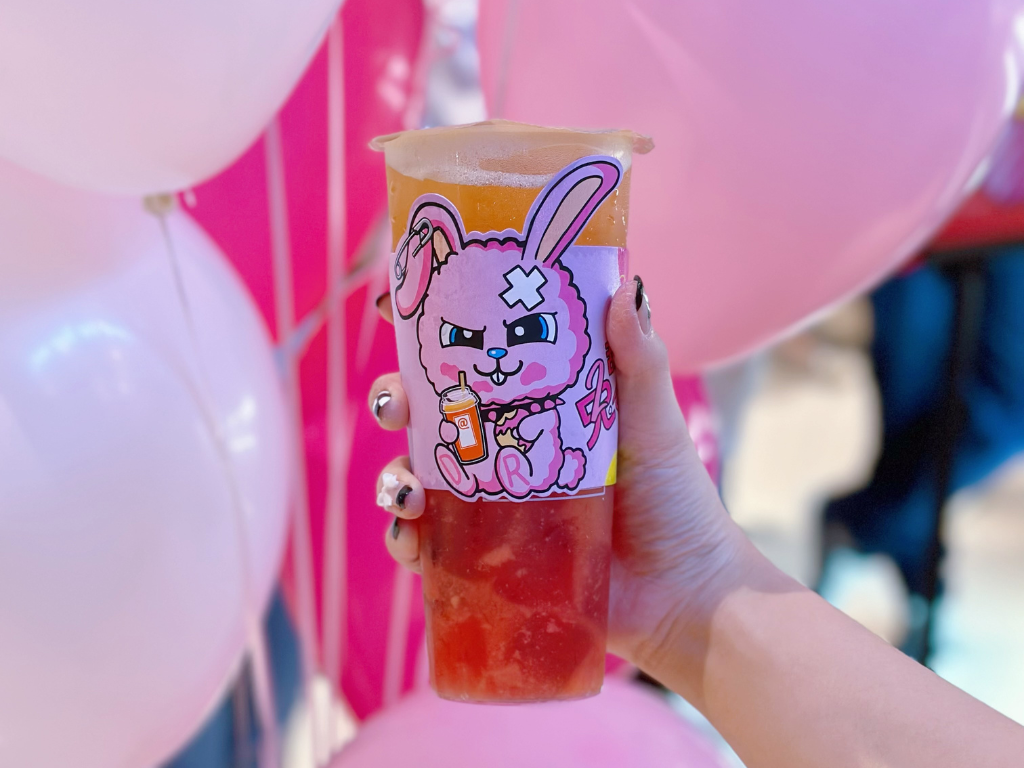 Of course, if you're looking to try other OG flavours, AtTea also has a repertoire of intriguing beverages to choose from. 
Take an intergalactic trip to Planet Sa-Hah with the Singapore-exclusive Pink Meteor 945 (粉红流星94我) (S$6.90). It's a harmonious combination of pink guava, perilla plum and pomegranate ruby jelly. 
Tea aficionados will appreciate the Premium Jam's Signature Tea series, for each cup offers a multi-layered drinking experience. Look forward to three delectable selections, such as the newly launched Dayuling Oolong (大庾岭清心乌龙) and Muzha Tie Guan Yin (木栅铁观音). They're made with premium ingredients, namely 100% whole tea leaves from Taiwan. 
AtTea has also upgraded its loyalty program. Customers can look forward to personalised and exclusive rewards, such as AtTea's "I Am Not Picky" merchandise and vouchers. 
Multiple stores islandwide
Open: Operating hours vary across stores
Multiple stores islandwide
Open: Operating hours vary across stores