Review: Unatoto, the affordable unagi fast-food restaurant you never knew you needed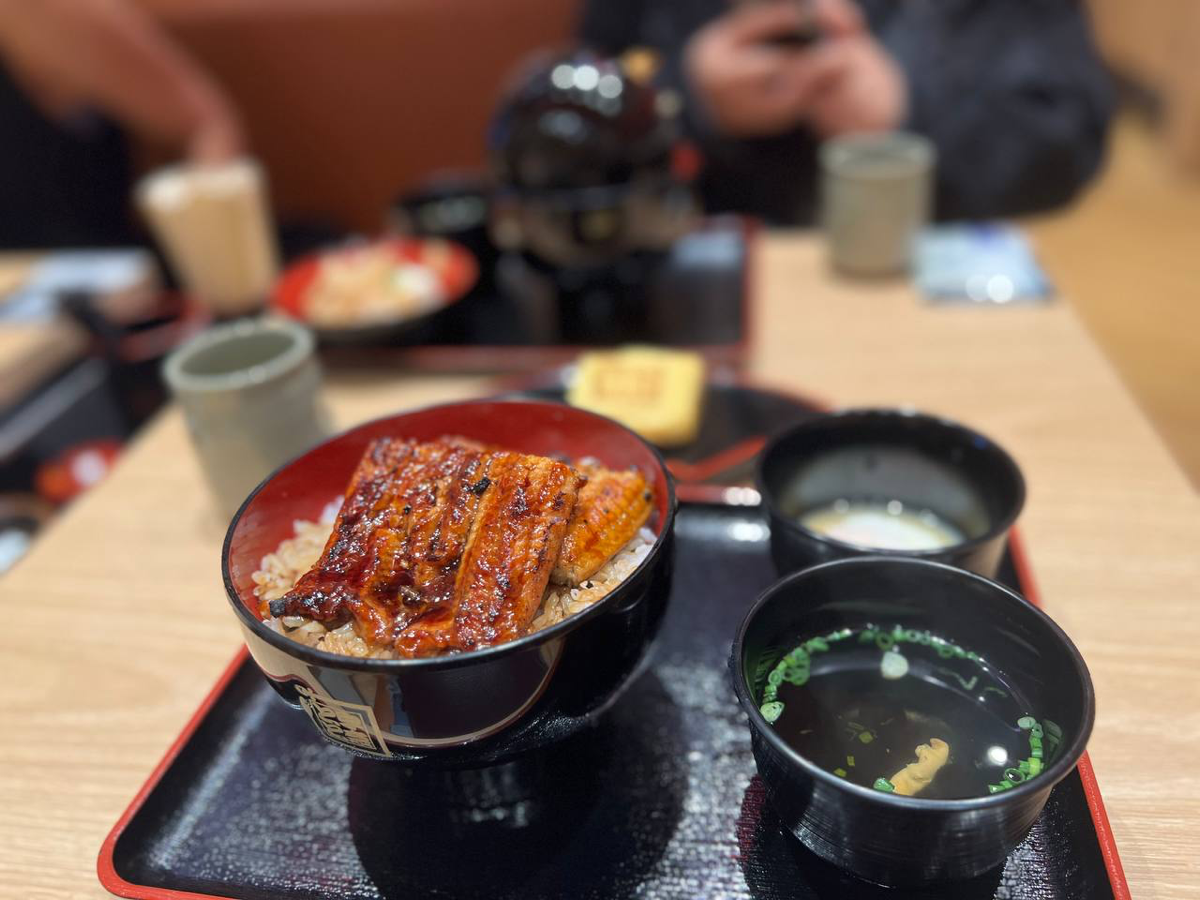 Unatoto, a popular unagi fast-food chain from Japan, has opened its first store in Singapore 
Get unagi rice bowls at pocket-friendly prices – from S$9.50
It's located conveniently in the basement of Guoco Tower, right beside Tanjong Pagar MRT station's Exit J
As a proud Friends fan, unagi is a state of total awareness. But, to most, it's a freshwater eel beloved in Japanese cuisine. 
Jokes aside, unagi isn't new to Singapore and a number of eateries specialise in the delicacy, such as Man Man (now Unagi Tei) and Una Una. 
But unagi isn't typically the most affordable meal around — a decent unagi rice bowl can set you back easily by S$25 or more. 
Well, we've got good news for all the unagi fans out there! With prices starting from S$9.50, Unatoto in Tanjong Pagar makes decent unagi rice bowls a more economical, everyday option.
The backstory
Unagi and "fast food" are two words that don't usually go together, until we heard about Unatoto. Unatoto is a popular Japanese unagi fast-food chain with more than 100 stores in Japan, Hong Kong, Thailand and Vietnam.
Unatoto's first Singapore outlet opened in January 2023 and is located conveniently in the basement of Guoco Tower, right beside Exit J of Tanjong Pagar MRT station.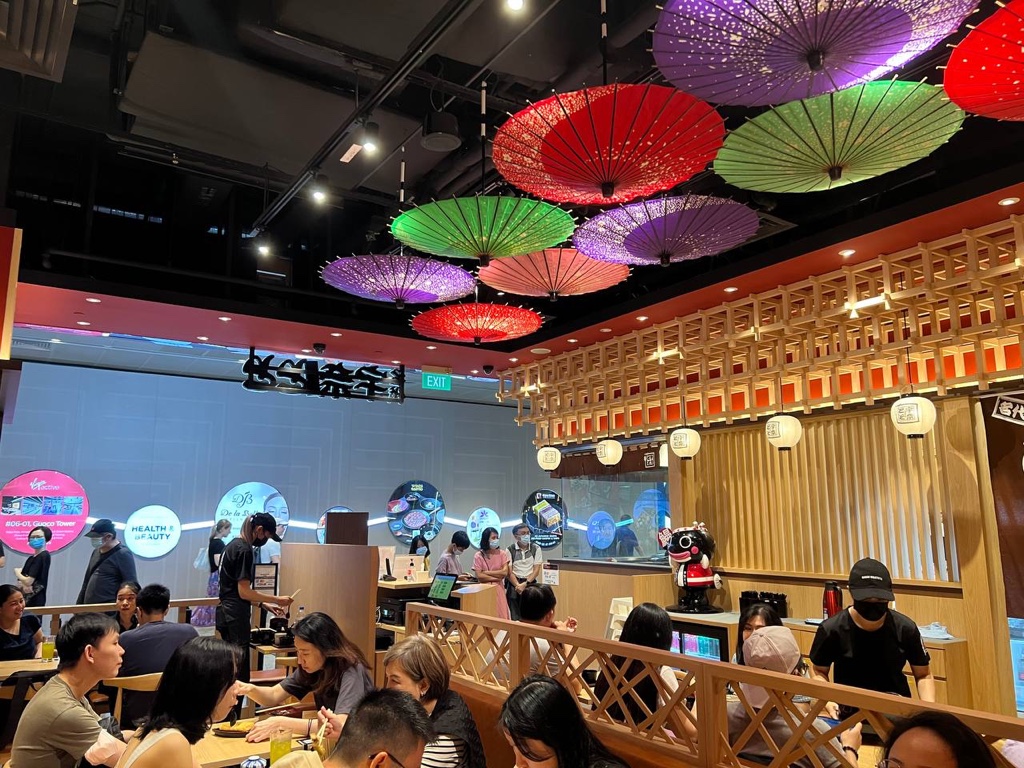 The space itself isn't that big but can seat 50 to 55 people at a time. Given its prime location, we imagine Unatoto can get crowded at lunchtime on weekdays, what with its affordable prices and fast service.
Inside, you'll be surrounded by Japanese decor such as wooden furniture, hanging paper umbrellas and paper lanterns. There's even a cute eel mascot that's the undeniable star of its wall art.
Our verdict
We visited Unatoto on a Saturday afternoon, and thankfully, there wasn't much of a queue. 
Once seated at the restaurant, which is completely cashless, you'll see a QR code for ordering and you can pay directly from your phone.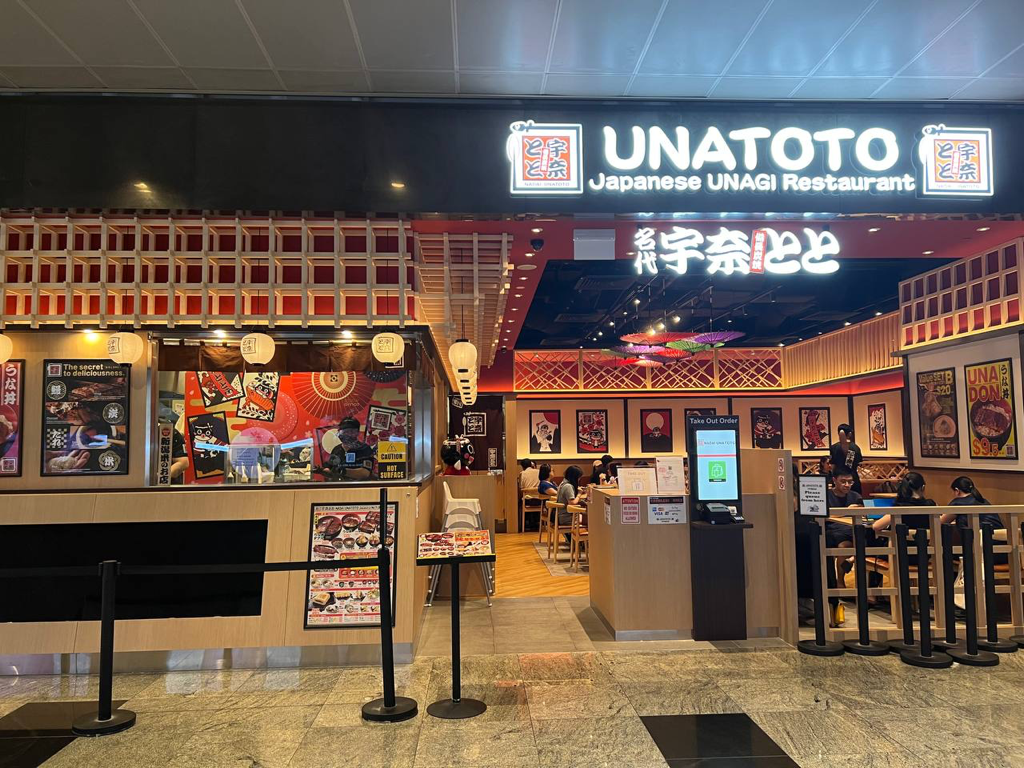 While there wasn't a snaking queue, Unatoto enjoyed a steady stream of customers throughout our visit. 
Unfortunately, the restaurant offers takeaways only in the evenings, so if you're looking for a quick and tasty meal, you should definitely dine in — but during off-peak hours. 
What it's good for
You can't visit Unatoto without trying its signature Unadon (S$9.50), served with a portion of grilled unagi over a bed of fluffy Japanese rice and topped with a generous drizzle of unagi sauce. If you prefer a heartier portion, we recommend getting the Unadon Double (S$14.50), which comes with two pieces of grilled eel. 
The grilled eel had a distinct smoky flavour. My dining companion found it too smoky, but I thought there was just enough char. 
Next to your table, you'll see various spices and condiments, such as unagi sauce, soy sauce and chilli flakes, which you can use to add even more flavour to your meal. We don't think this is necessary, but hey, diner's choice!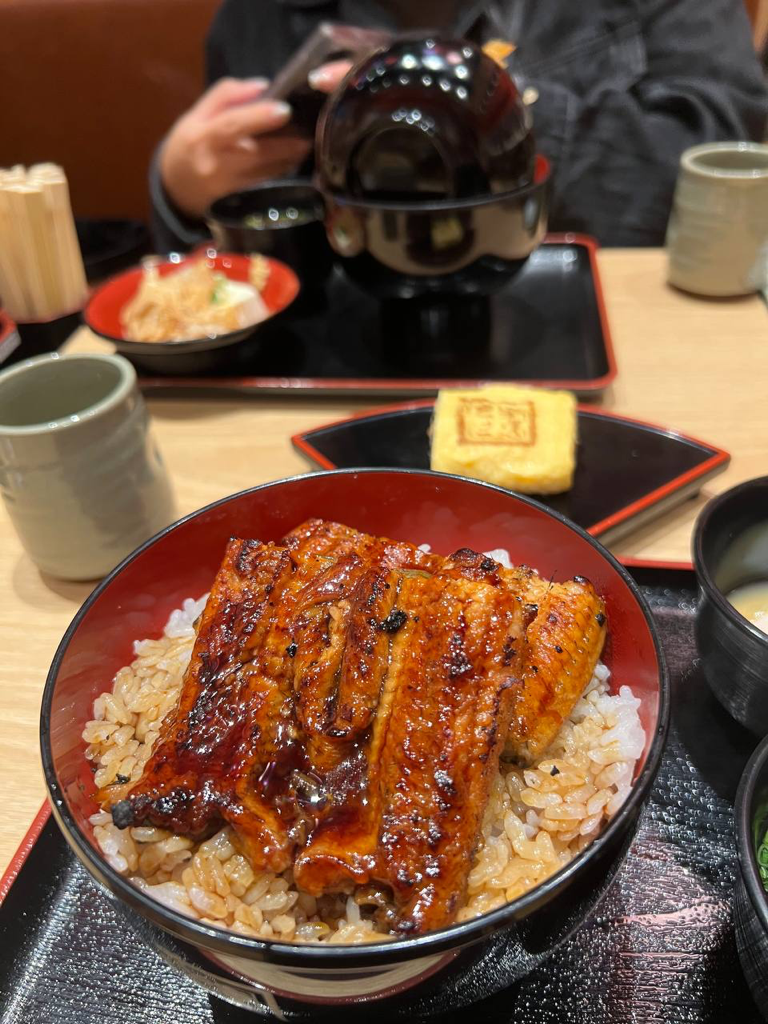 You can also complete your meal with a value set — choose either soup (S$4) or mini noodle (S$5) with one of the following sides: Kimchi, onsen egg, okra (ladies' fingers), chilled tofu, pickled vegetables, or a mini salad. 
We also tried the unagi tempura don (S$15), which caught our attention as my dining companion and I have never had fried unagi. What arrived was an assortment of lightly fried tempura, including unagi, prawn, okra and mushrooms, and more of that delicious unagi sauce drizzled over a generous serving of rice. 
We enjoyed the fried unagi and tempura, which was crisp and well-seasoned. But get it to share — after a while, we felt it was too rich and can be cloying.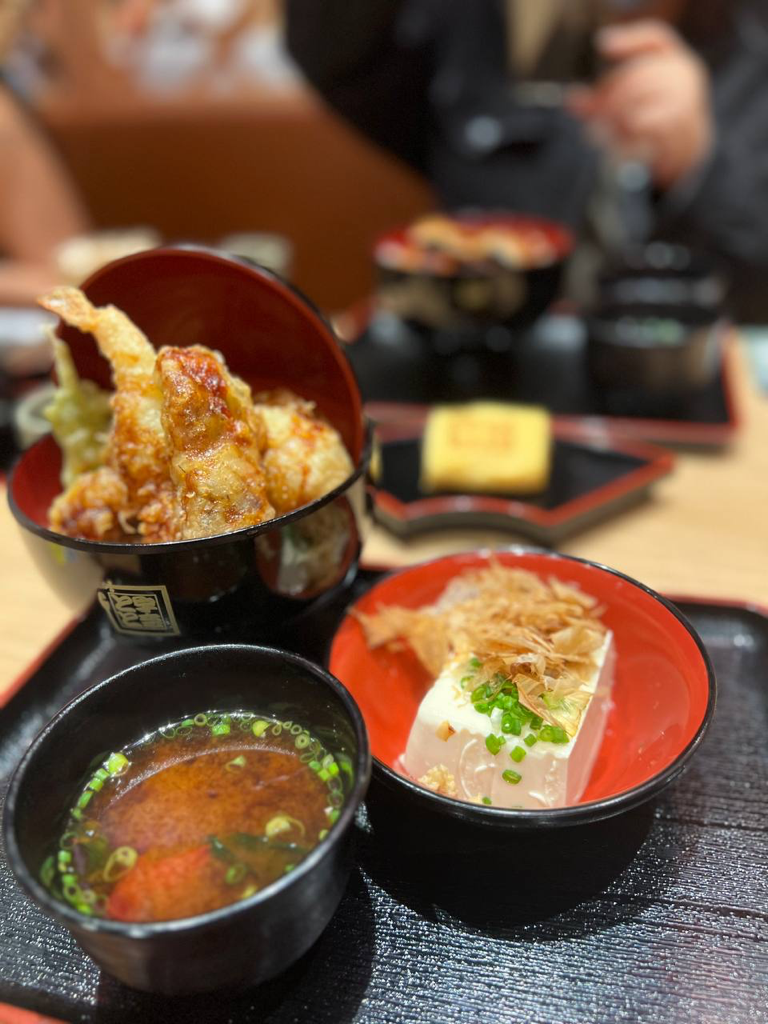 If you're not in the mood for unagi, Unatoto has other options such as teriyaki chicken don (S$8.50), plain udon or soba (S$8). It also serves hitsumabushi (S$13.50), which features finely sliced unagi over steamed Japanese rice, with a set of condiments for seasoning as you'd like.
What it could improve on
We added value soup sets to our meal and tried both options: The red miso and unagi liver soup. 
The red miso soup was flavourful, and had a good amount of tofu and seaweed. The unagi liver soup, on the other hand, was a bit of a miss. It didn't have many ingredients and was rather insipid. If you're not a fan of innards, you should probably skip this.
Another interesting item on Unatoto's menu was the umaki, or Japanese omelette with unagi (half for S$3, regular for S$5.50). The menu portrayed it as a thick piece of unagi sandwiched between tamago, but the half umaki didn't have a lot of eel.  
While there were some hits and misses, our experience was positive overall. Unatoto had tasty unagi and a decent variety of dishes, and was value for money. We can see this place becoming a regular haunt for unagi lovers and we would come back the next time an unagi craving hits.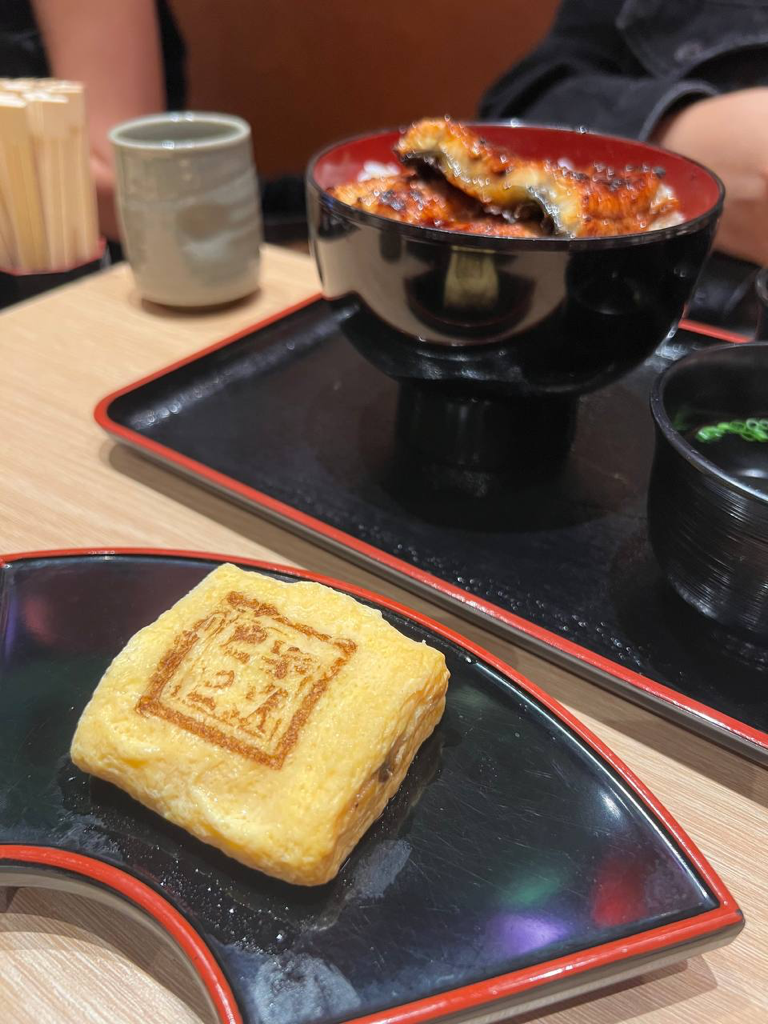 Our quick takes
Is it conducive to conversation? Yes, unless it's full. The tables are rather close to one another.
Is a reservation necessary? No, Unatoto does not take reservations.
How to get there? Walk from Tanjong Pagar MRT station's Exit J or via Guoco Tower's basement.
HungryGoWhere paid for its meal at this restaurant for this review. Still hungry? Read our reviews of Xiabu Xiabu and Overbrod. 
Unatoto is on the GrabFood delivery service and offers free delivery (up to S$3 off) with GrabUnlimited. It can also be found on GrabFood Dine-in.
Alternatively, book a ride to Unatoto.
Guoco Tower, B1-03, 7 Wallich Street 
Open: Monday to Sunday (11am to 3pm, 5pm to 10pm)
Guoco Tower, B1-03, 7 Wallich Street 
Open: Monday to Sunday (11am to 3pm, 5pm to 10pm)