Review: Xiabu Xiabu's single-person hotpot is a treat for solo date nights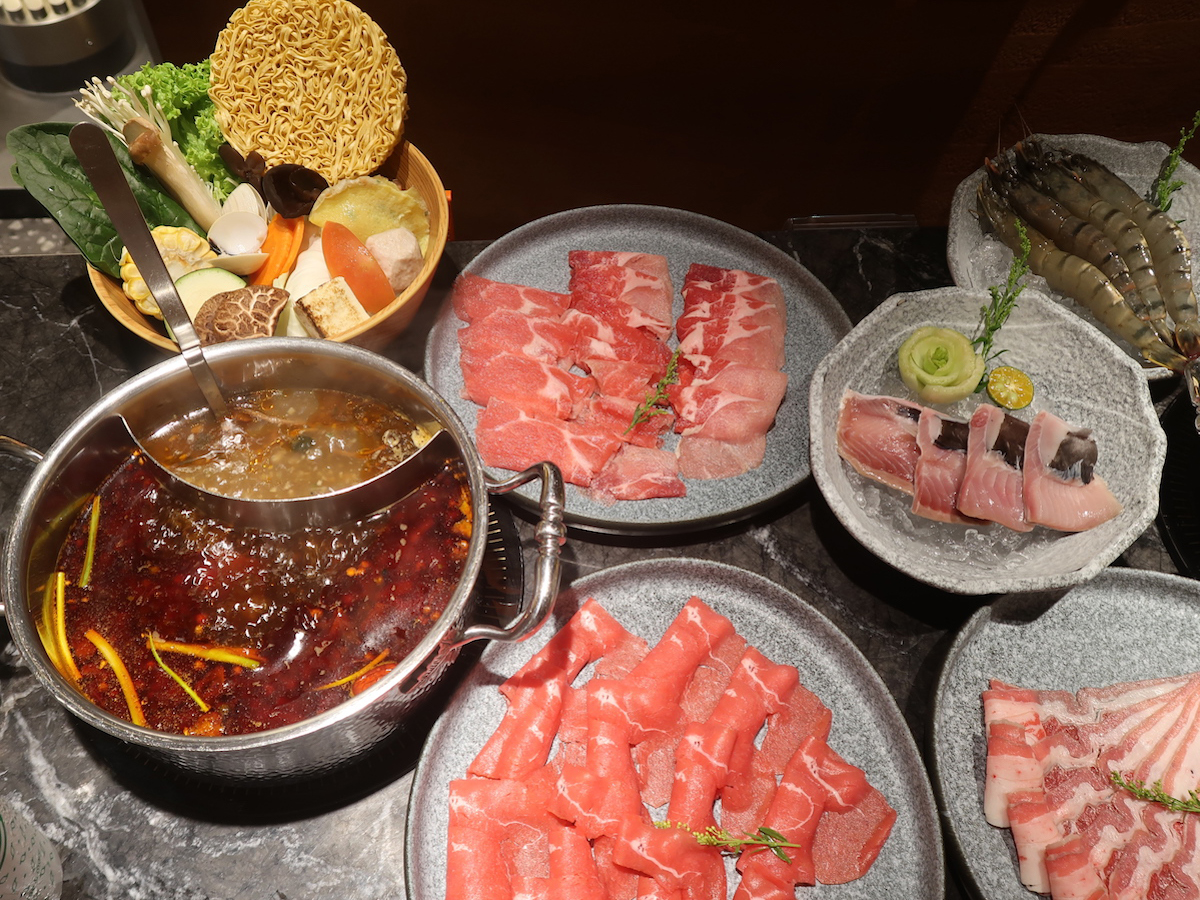 Xiabu Xiabu, a popular hotpot brand from China, opens its first outlet in Singapore 
The set meals come with two soup bases, a protein, vegetables, dried noodles, bubble tea and unlimited shaved-ice dessert
The soup bases, however, aren't comparable to more flavourful options out there
We love our hotpot and the latest entrant to Singapore's highly competitive market is Beijing-born brand Xiabu Xiabu. 
As things stand, it's a pretty saturated market with giants such as Haidilao and Beauty in The Pot dividing the masses. 
Yet Xiabu Xiabu remains optimistic with its USP — individual hotpots for each guest and bar counter seats for dining in.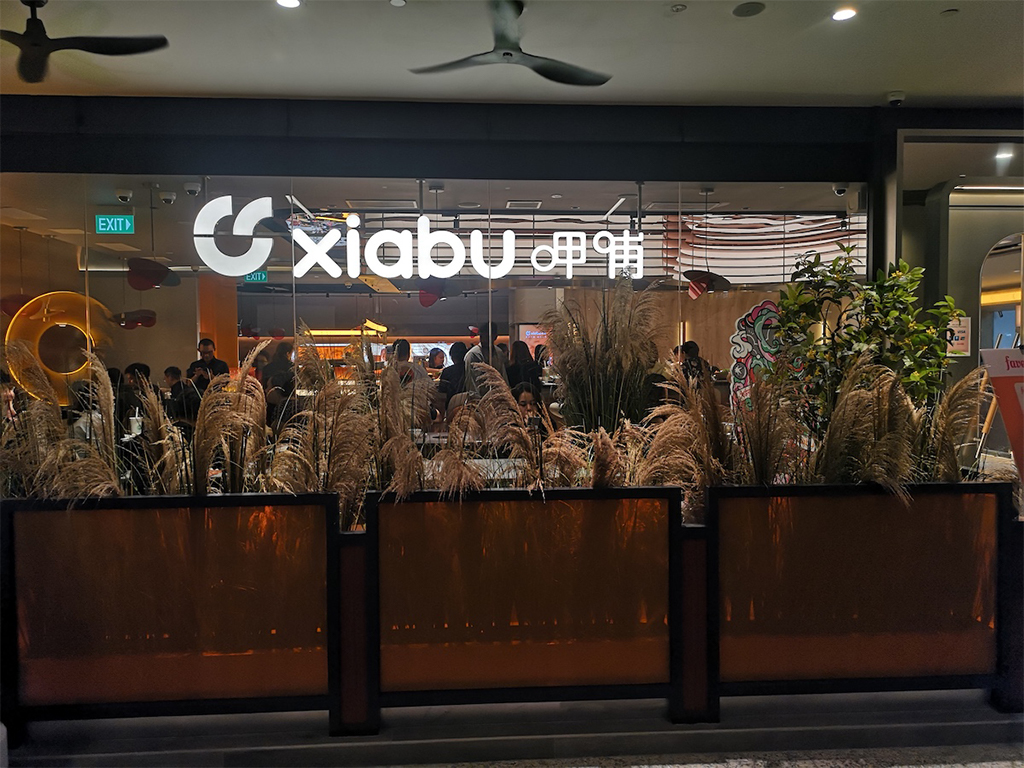 Although Xiabu Xiabu opened its first store in Singapore only in late January, the brand is prevalent throughout China with more than 1,000 stores. In 2013, it was named one of the largest chain catering enterprises in China. 
Its sister brand, Tea Me Tea, is a nod to their Taiwanese founder, and operates both as a separate cafe next door as well as add-ons on the Xiabu Xiabu menu.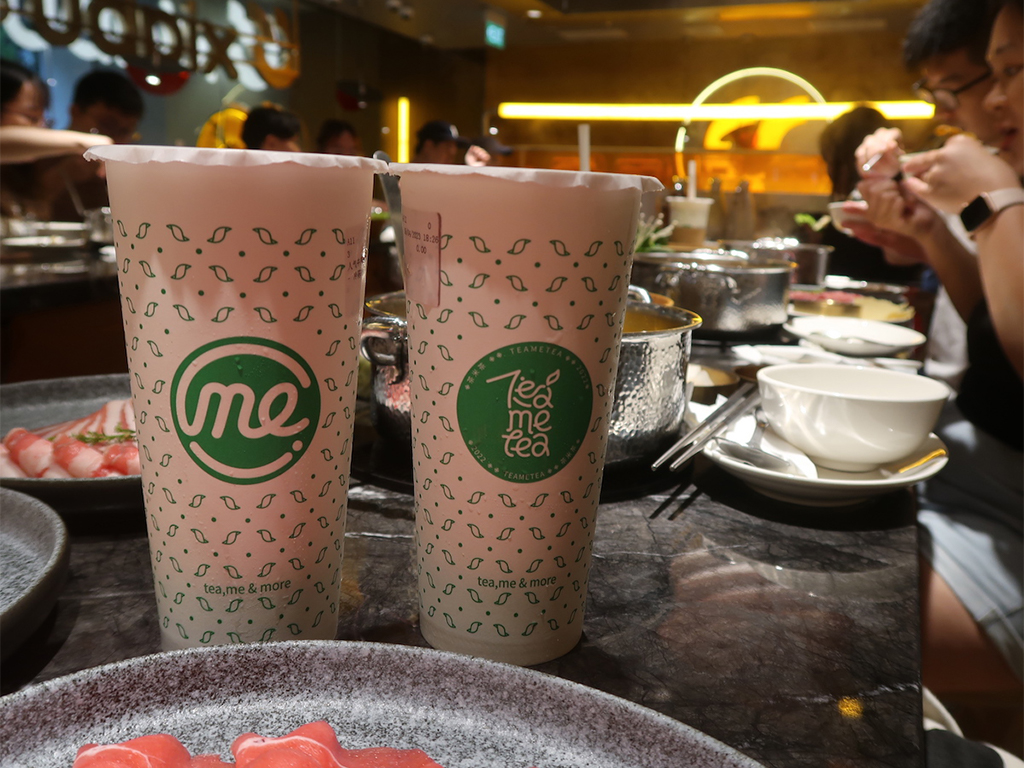 The spanking new restaurant at Lazada One seemed to be the most brightly lit place along the quiet Bras Basah stretch of road when we visited on a Wednesday evening, drawing to it some curious stragglers wandering by. 
If you haven't been here before (nor has your plus-one), then you might need some help decoding the menu. 
You'll first have to choose what soup base you're getting, and each selection will come with a side of Xiabu Xiabu's signature mushroom soup base. 
Next, decide on the set meal, which comes in the options of chicken, beef, seafood or vegetarian.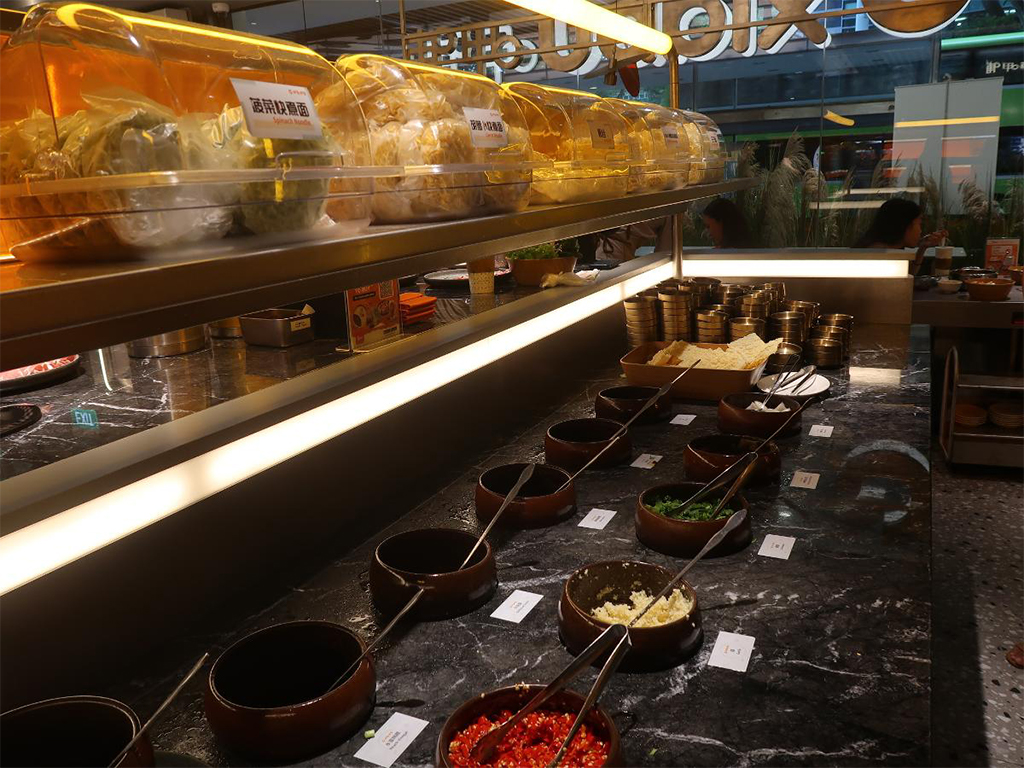 Each individual hotpot set comes with free access to the condiment table and the DIY shaved-ice dessert table, a single serving of vegetables, and a large drink (including bubble tea). 
All in, the sets provide the solo diner with a fairly varied selection of protein, vegetables and carbohydrates — noodles are free as part of the condiment table. But the soup bases don't live up to their counterparts on the market. 
We weren't a fan of its counter tabletops, one of Xiabu Xiabu's selling points, which unfortunately felt cramped once the big plates of food arrived. 
The lack of space on the countertops also meant the induction stove felt too near and seemed an accident waiting to happen, should a drop of boiling mala get propelled too far.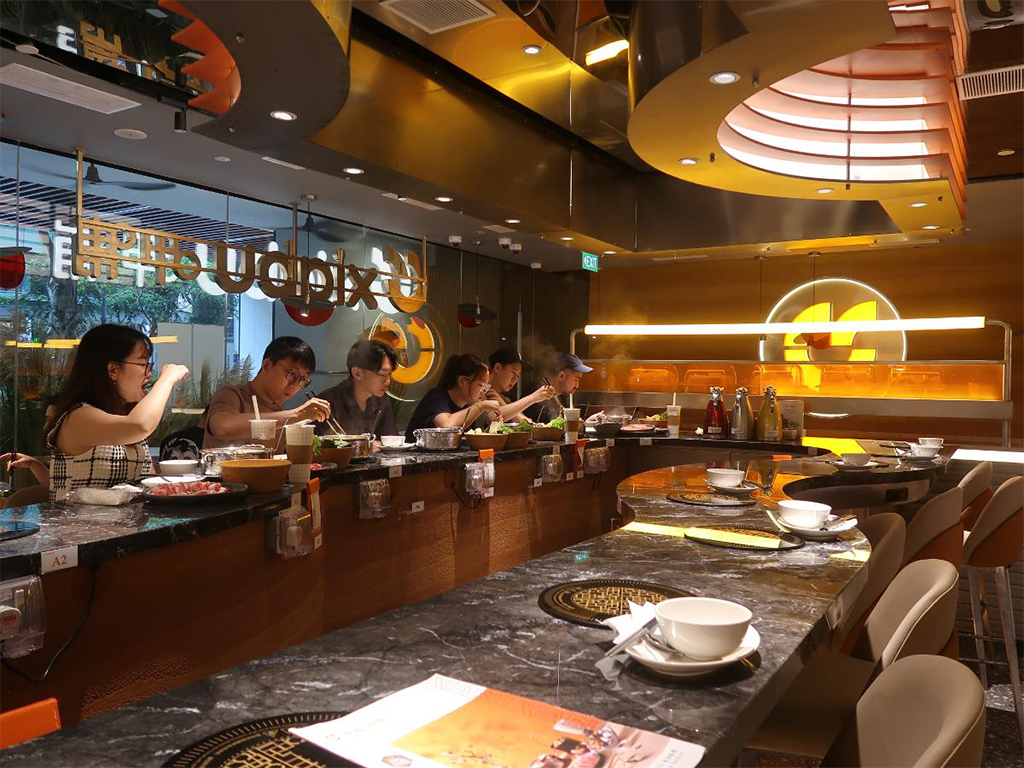 What it's good for
The most unassuming mushroom soup base, offered as a free option no less, turned out to be our favourite out of the three my dining partner and I tried. 
A brown broth with various types of fungi, such as straw mushroom and king trumpet mushroom, the soup was all sorts of umami and well seasoned even before the cooking started.
We both opted for the popular beef set (S$28++), which comes with the option of 140g of USA Choice Short Plate, Australian Oyster Blade, or Australian Thin Beef Flank. 
Our servings of thinly sliced USA Choice Short Plate, Australian Thin Beef Flank and an add-on of Belgium pork collar (S$9.80) arrived in big, heavy plates that wouldn't look out of place at a fancy restaurant. 
We found no fault with the meats that were of uniform thickness and tasted fresh. The short plate, in particular, was a joy to consume with a layer of fat running throughout each slice.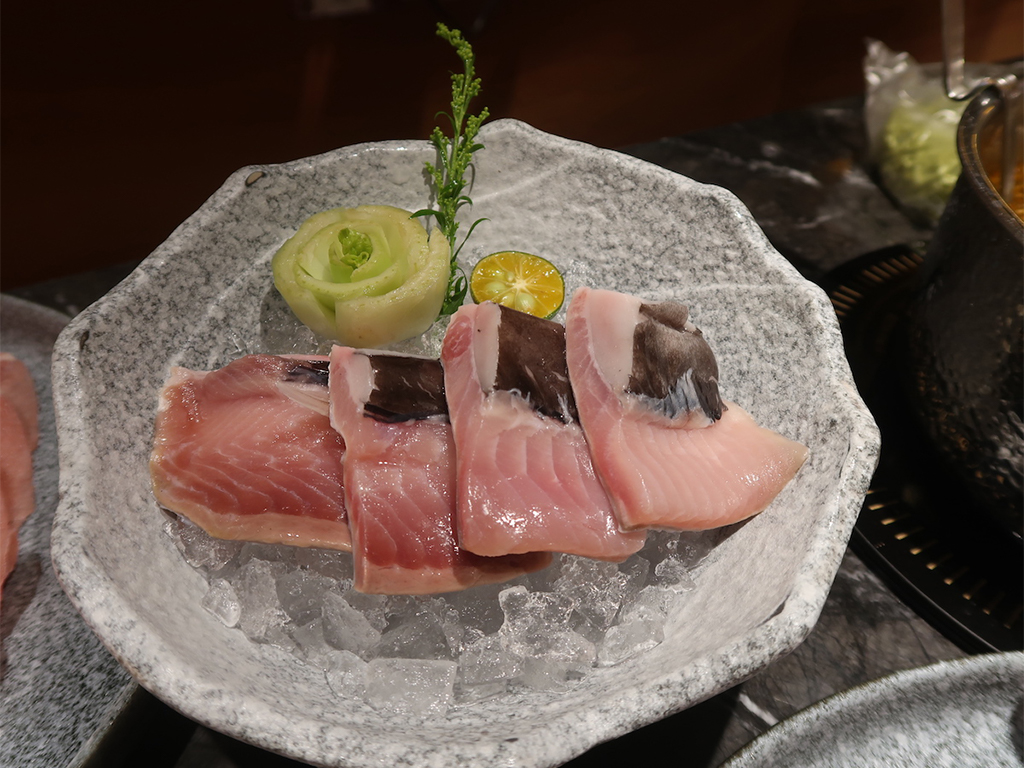 We also couldn't pass up on ordering a serving of milkfish belly (S$12.80), a fatty fish not commonly found in Singapore but so popular in Taiwan that it has its own festival in Kaohsiung city.
The four thick cuts of fish take a longer time to cook, so give them a leisurely bath in the soup. But when they're done, you'll have tender white meat with a generous layer of fatty skin. We highly recommend getting some. 
What it could improve on
While my dining partner went for the Nanyang curry soup base (add S$2++), a flavour created exclusively for its Singapore outlet, I opted for the classic hot and spicy in Sichuan style soup base (add S$2++) to see how it would stack up against the other mala options out there.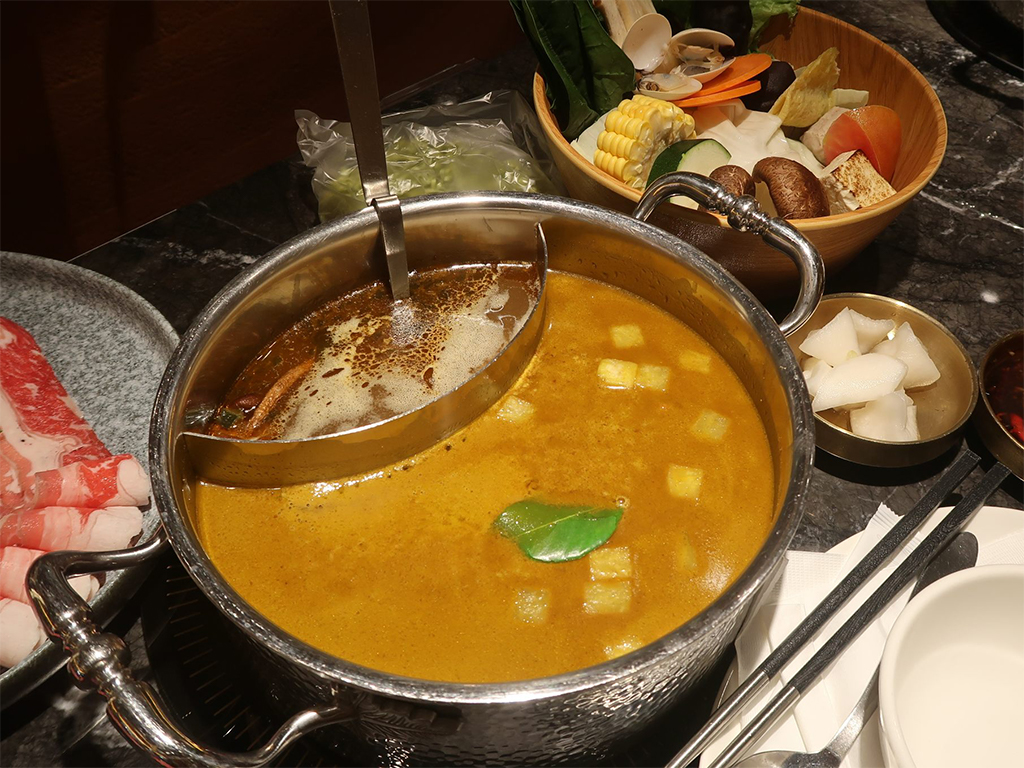 Like most thicker soup bases (such as laksa) that are adapted for hotpot, the curry broth here was a thinner version that tasted like it was flavoured with curry masala. You'd have to really commit to your choice; the curry flavour was one-note and got monotonous after a while.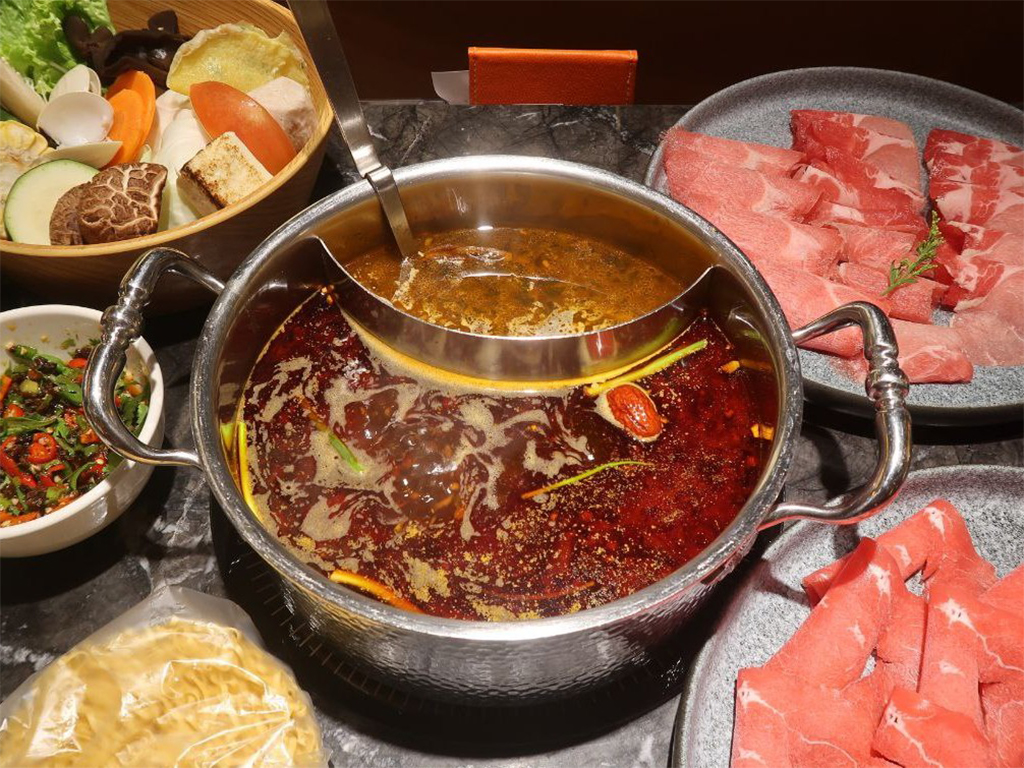 The mala, on the other hand, looked promising with a thick, glistening layer of red chilli oil, but the meat cooked in it came out bland. It also lacked the mouth-numbing kick I'd expect from mala. 
Each set comes with a free drink. We had the entire drinks menu to choose from and went for the da hong pao tea (S$3.60 if ordered a la carte) and jasmine bubble tea (S$5.60 if ordered a la carte). 
They arrived in a larger cup than we expected, with a thick but mediocre brew of da hong pao for me and a rather average jasmine bubble tea for my dining partner. We couldn't find enough gut space to finish the drink, but I'm certain bubble tea fiends would be able to.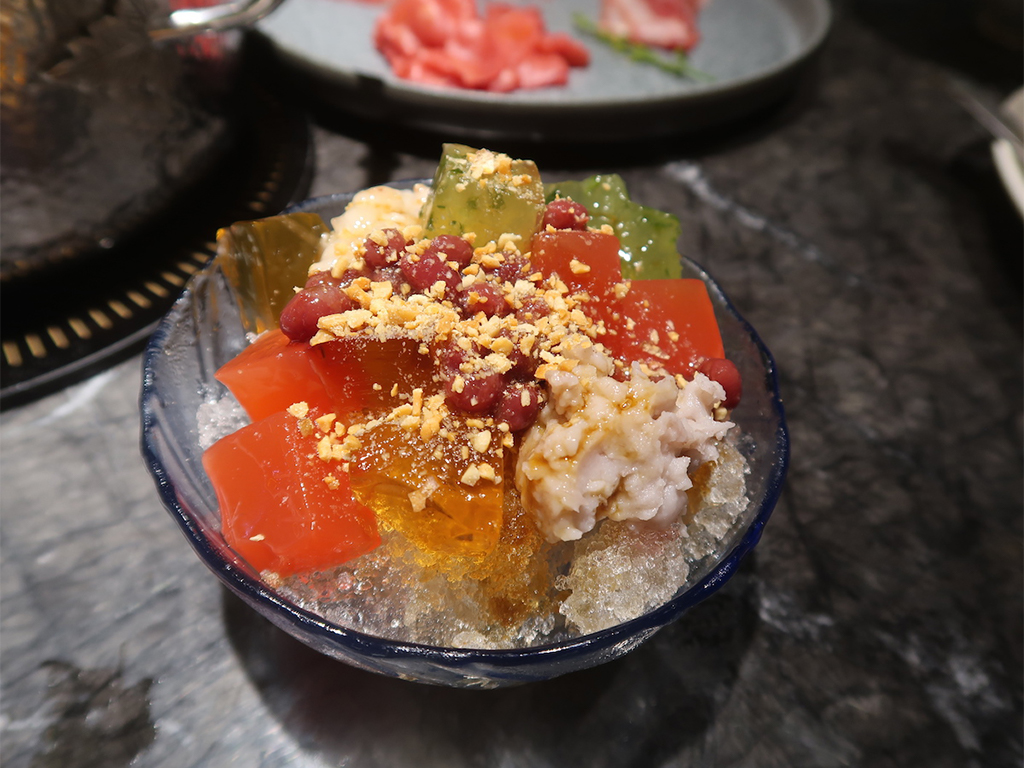 We were looking forward to the DIY shaved-ice dessert counter, where you get to feed the machine with ice and choose from 10 different toppings. The toppings, however, were quite underwhelming with options that were rather bland, such as watermelon jelly, cucumber jelly, oats and barley, lemon juice, taro and brown sugar. 
No doubt it was a fun little exercise just when the food coma kicked in, but we would have liked to see slightly more premium ingredients available.
Our quick takes 
Is it conducive to conversation? Yes. Even at full capacity, the seats and tables are evenly spaced out, so you can hear your friend spill the tea with ease. 
Is a reservation necessary? Absolutely. Given that there's only one outlet in Singapore, make a booking, so you won't have to wait for seats.
How to get there? Lazada One is right by Exit A of Bras Basah MRT station.
Things to note: 
Each reservation will give you 90 minutes to dine in, which is enough time if you're dining as one.

If you absolutely love the da hong pao and oolong tea from Tea Me Tea, you can head to the Tea Me Tea cafe next door to get seconds. 
HungryGoWhere paid for its meal at this restaurant for this review. Still hungry? Read our reviews of Ol' Java and Space Coffee. 
Xiabu Xiabu is on the GrabFood delivery service and offers free delivery (up to S$3 off) with GrabUnlimited. Or book a ride there.
Lazada One, 01-03/04, 51 Bras Basah Road
Opens: Monday to Sunday (11am to 11pm)
Lazada One, 01-03/04, 51 Bras Basah Road
Opens: Monday to Sunday (11am to 11pm)
---