Review: Ol'Java serves bowls of homely comfort from Surabaya & East Java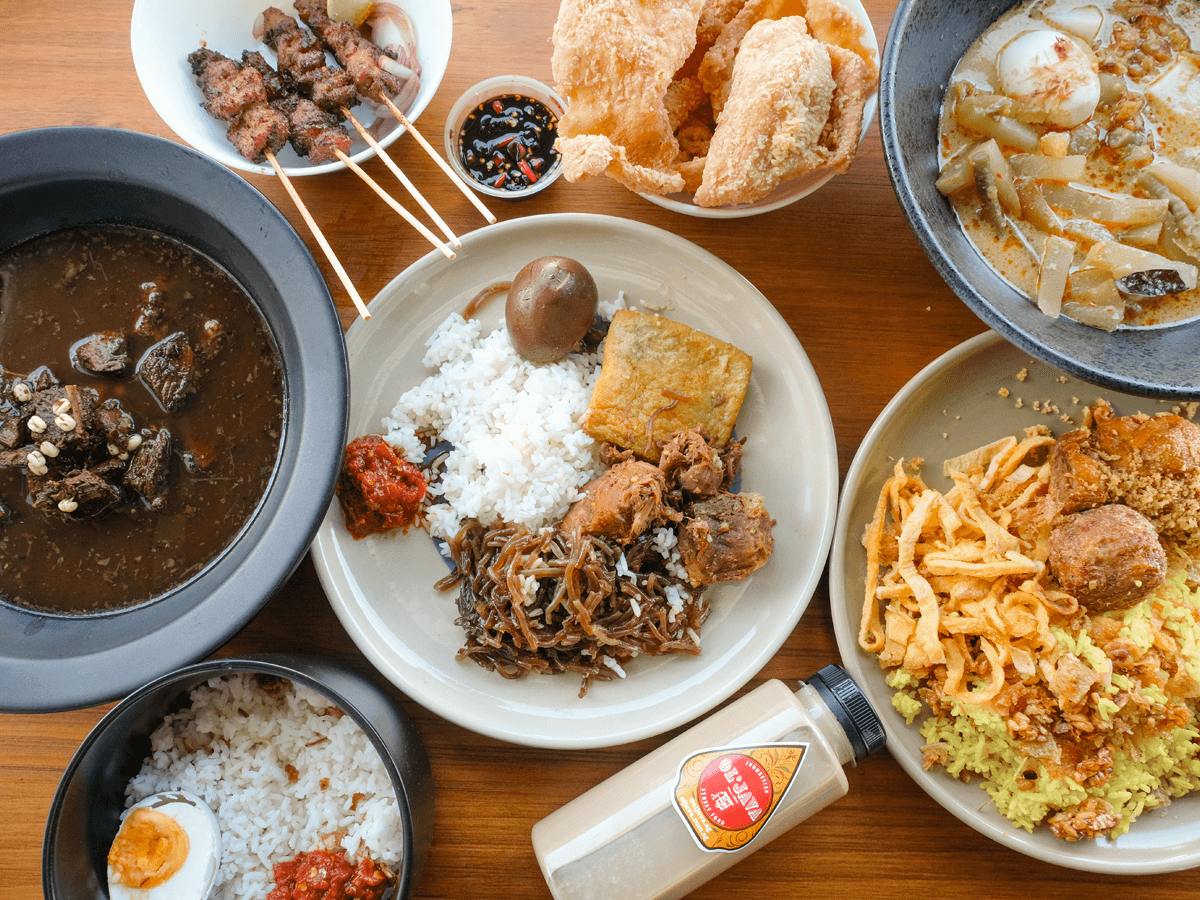 Discover an array of lesser-known Indonesian specialties from Surabaya and East Java at Ol'Java
Think time-honoured street snacks, rice sets, soups and curries, and its own bottled iced coffee made with gula jawa
Our critic says the hits are the Madura duck, naked chicken satay, and the house sambal belacan that packs a punch
Not all authentic Indonesian cuisine is at Lucky Plaza, but you can be sure it has some of the best ones in Singapore. 
One we recently discovered is Ol'Java, a fuss-free eatery on the second floor with an old-timey feel, warung-like ambience and a finger-licking array of lesser-known specialties.
The backstory
Barely four months old, Ol'Java takes over the former premises of Gading Street Food, another Indonesian restaurant that has since moved away down Orchard Road. 
A glance at the wall tells us about the founder's vision: Serving Indonesian dishes she loves from her homeland of East Java, particularly the port city of Surabaya. These include street snacks, soups, curries and some rice dishes that are hard to come by anywhere around Singapore.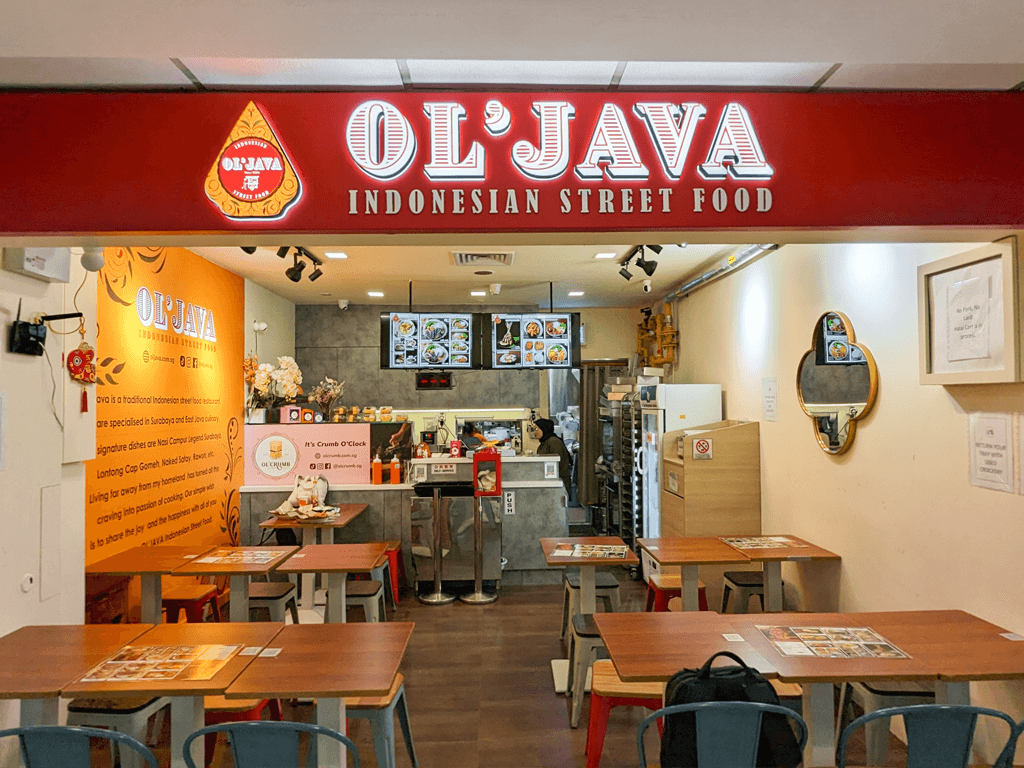 Our verdict
With how Indonesian food is typically priced in Singapore, the S$7.50 to S$15.30 you pay for mains isn't a bad deal at all. What more for food as authentic as this. 
I visited Surabaya in my university days seven years back and thoroughly enjoyed every meal, served by cordial stallowners that barely spoke English. 
If you're into Indonesian food, you've to put this on your list, especially if you end up hungry in the middle of Orchard Road.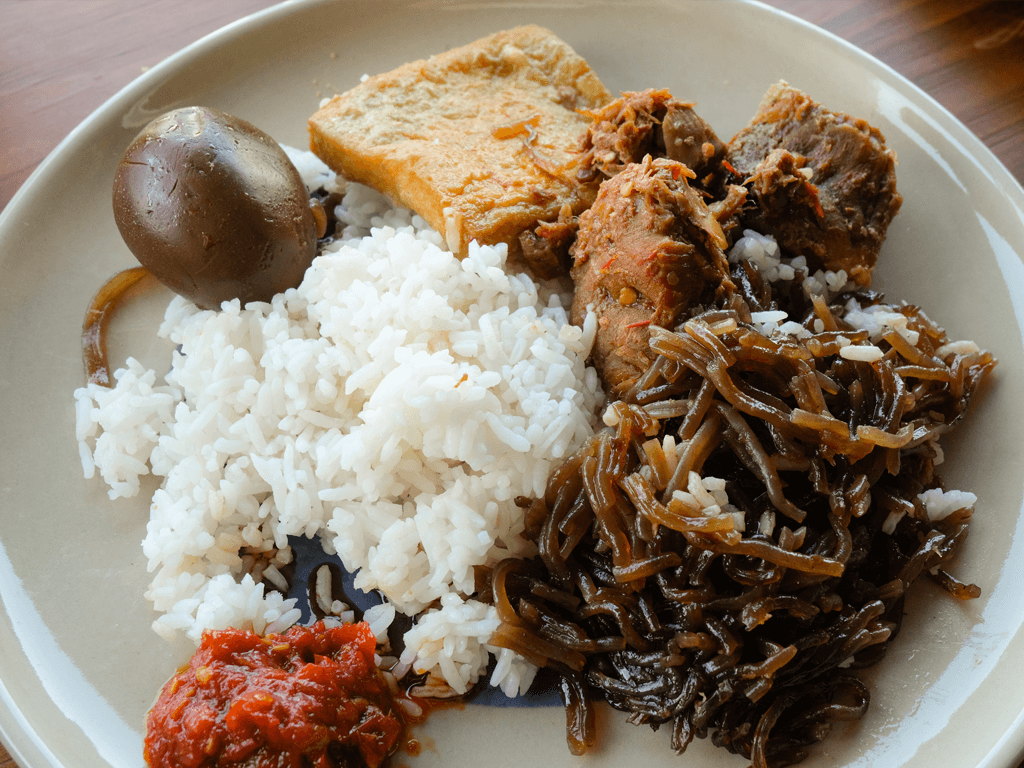 The nasi campur legend Surabaya is hardly the most pretty thing I've eaten this week, mostly because of the clumpy strands of semur soun, the sweet-and-savoury vermicelli flavoured with kecap manis (Indonesian sweet soy). 
Its taste is another matter. This moreish dish is complete with a boiled egg stewed in soy and spice, and a puffy tofu steeped in curry (I also get hints of lemongrass). The set comes with either stewed chicken (S$10) or sambal beef (S$11). The beef isn't as spicy as it sounds, but it's flavourful and tender enough to split with your fork.
The accompanying sambal belacan, by contrast, is hot enough to make pepper munchers break out in a sweat. If you can brave the heat, it's a little garlicky, a little sweet, a little umami, and just delicious. You'll find this same chilli in most of the dishes at Ol'Java.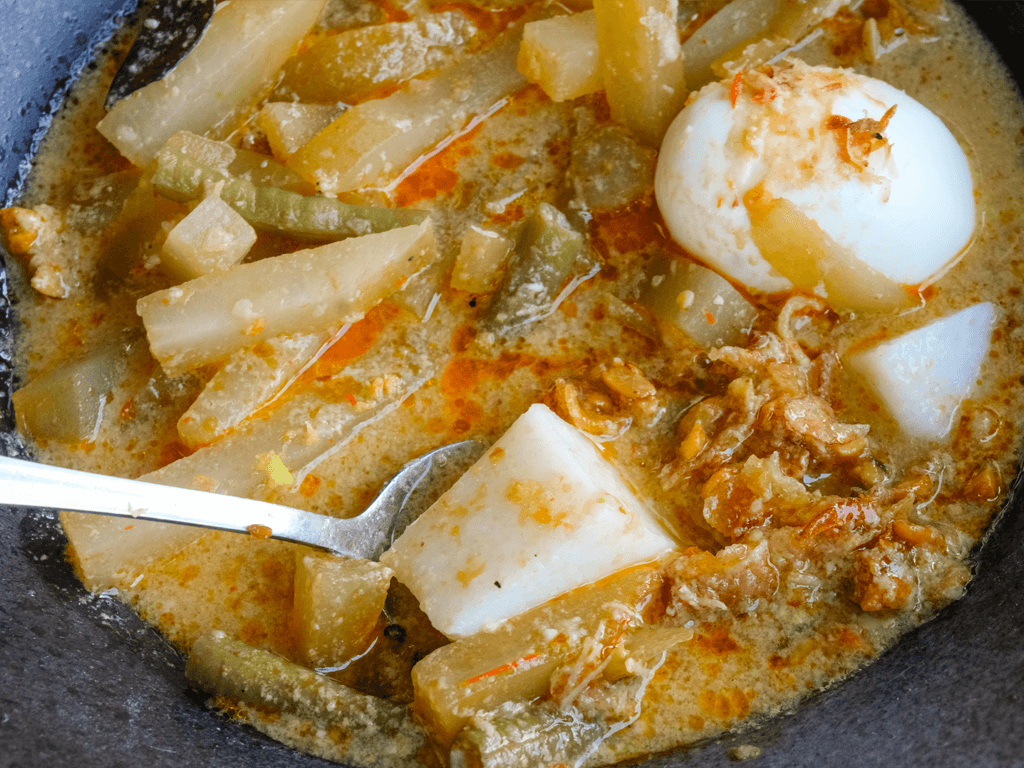 There's a dish called ketupat elite (S$7) with an uncanny likeness to lontong, sharing that combination of boiled rice cakes in sayur lodeh (vegetable coconut milk curry), with the addition of fried coconut shreds and tempeh. 
The light curry is intensely aromatic (great for a coconut-milk lover like myself), the bite-sized vegetables are soft enough, and the tempeh is earthy and nutty. The namesake ketupat soaks up the gravy well, while holding its firm texture. It's overall a compelling dish with an awesome name.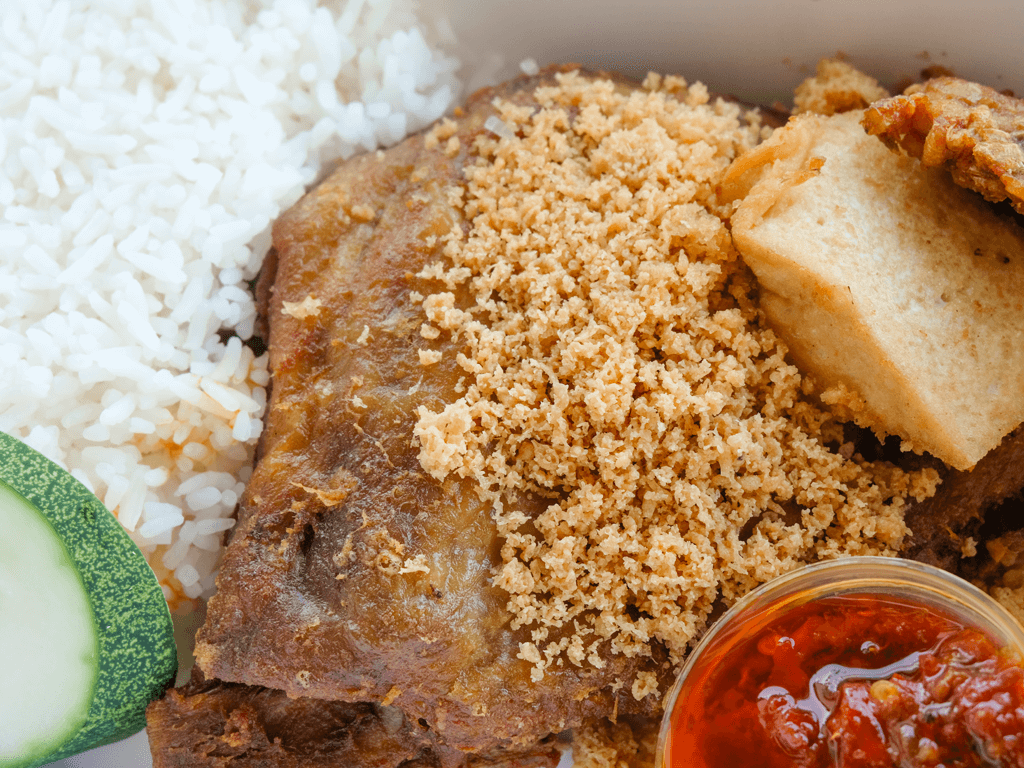 On to the bebek Madura (S$11.50), a dish from the Madura Island just off the northeastern coast of Java. 
Duck is something I eat every time I go to Indonesia, preferably from restaurants that serve only one type of dish: Deep-fried duck in a crumbed coating that arrives so fresh it crisps up on the plate.
The one here is quite comparable: Crack open the skin to get to the salty meat underneath, soft enough to fall from the bone with a light touch. 
On top is a sprinkling of something called kremes — fine-crumbled batter that's a common topping for fried poultry across Indonesia. The bebek Madura also comes with fried tofu and tempeh on rice.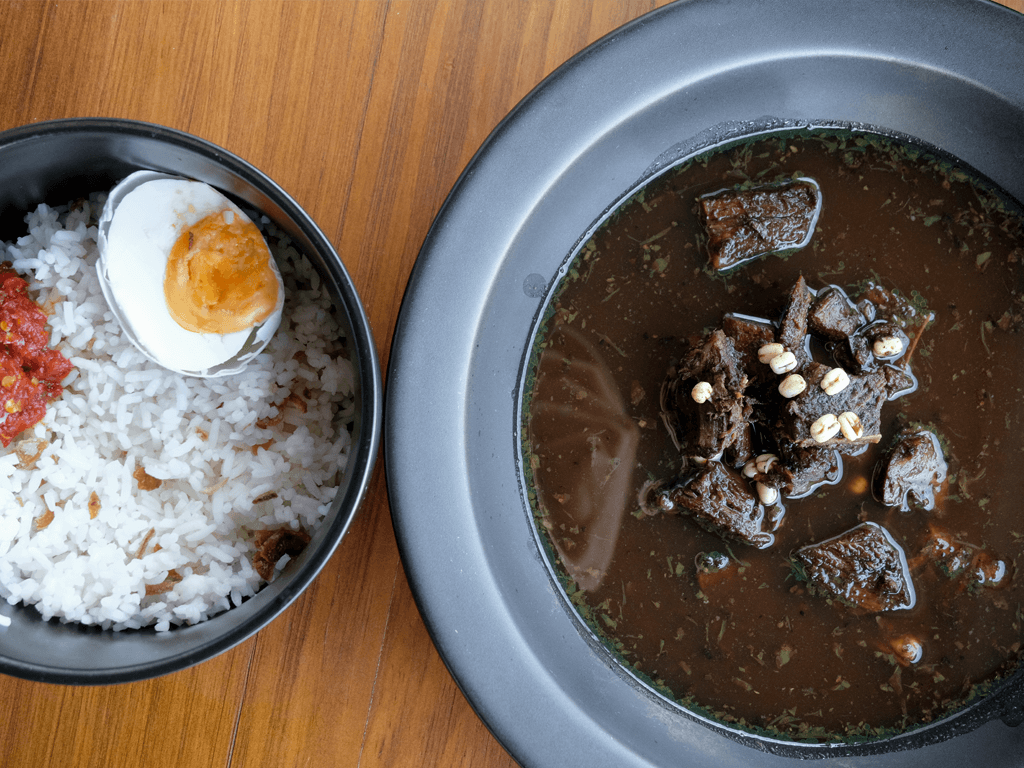 Buah keluak, the black jewel of Peranakan cooking, is used in rawon (S$8.50) — the traditional Javanese beef buah keluak soup famous in places such as Surabaya and Malang. 
The best rawon — boiled for hours until the beef is soft and the soup rich with buah keluak's slight bitterness — should be black but not too thick. And Ol'Java delivers.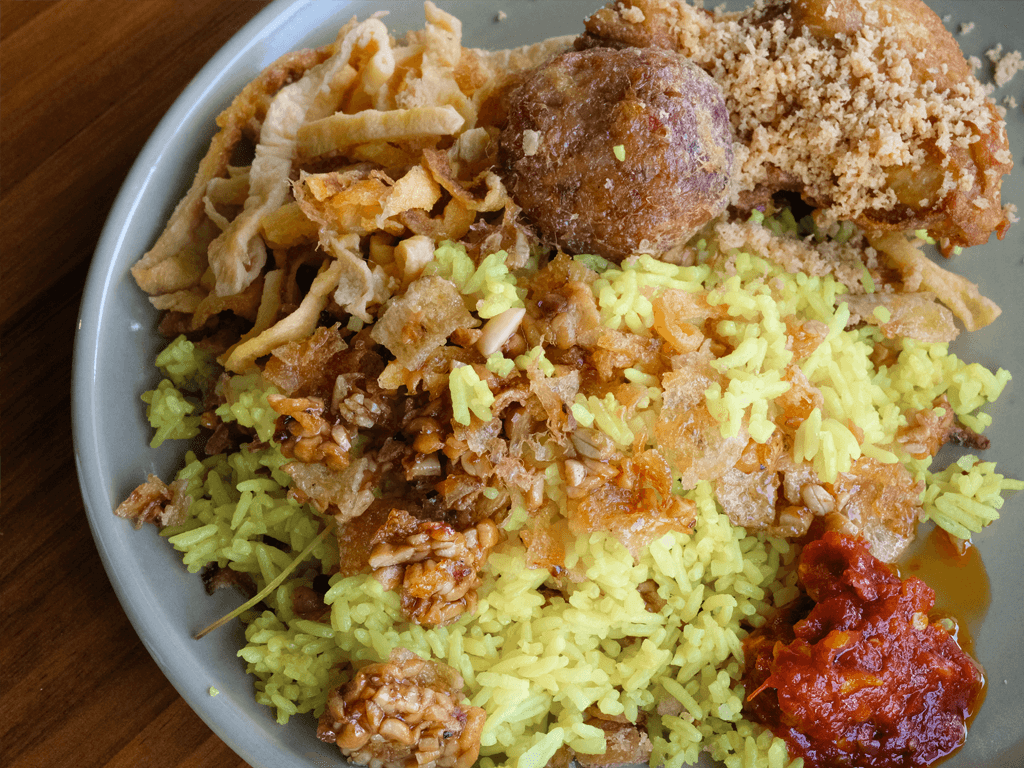 For those unfamiliar with nasi kuning, the dish name translates to turmeric rice, which is why the rice has a bright-yellow hue. The grains are also cooked with coconut milk, making this a particularly fragrant and moist treat. 
The traditional nasi kuning comes with chicken (S$10.80), beef (S$11.80), or complete (S$14.80 — both chicken and beef). Like the Madura duck, the chicken option comes crisp with a light batter, although I found the meat to be a tad drier. 
There are fluffy omelette shreds, a stuffed mashed-potato fritter (perkedel) that's crisp-edged and fine, and most interestingly, tempeh that's been candied to bring out its addictive maltiness.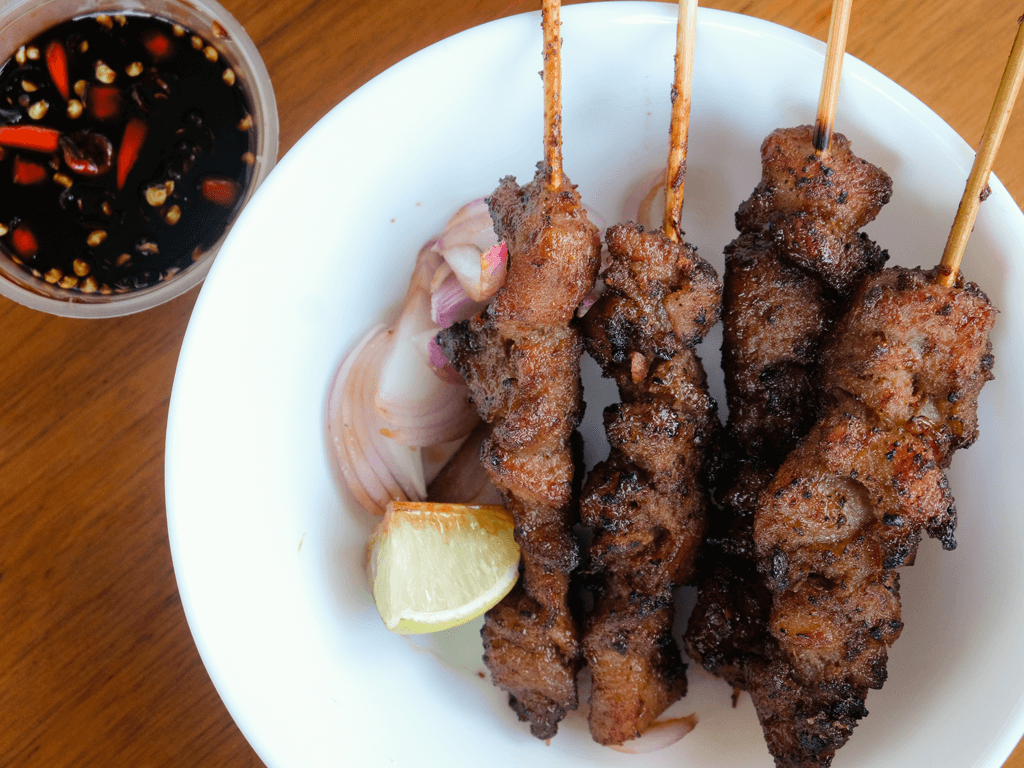 I can't fathom why the sate ayam naked or naked chicken satay (S$8.50 for four sticks) has such a scandalous name, but I do know it's a must-try despite its somewhat steep price. 
Sizeable chunks of chicken leg are marinated and grilled on charcoal till the edges are crisp and charred. It makes all the difference; the meat is sweet, juicy and tender.
Instead of the peanut sauce commonly served in Singapore, you get chilli padi swimming in thick dark soy — I prefer this to the former.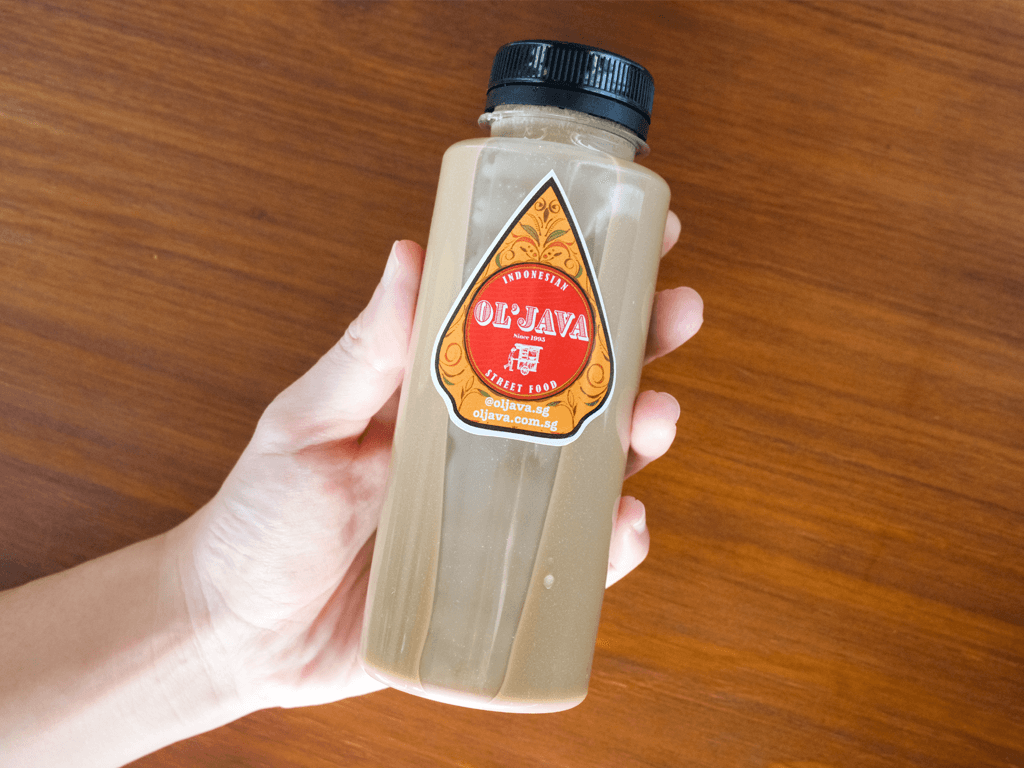 If you managed to finish every speck of sambal on your plate, you probably deserve a drink. Help yourself to some soft drinks from the fridge or get the iced kopi kampung (S$4.80), a refreshing dark-roasted coffee with fresh milk and gula jawa (Indonesian palm sugar).
It's the sugar that makes this distinct from Western iced coffee, accentuating the beans' natural sweetness with its caramel and butterscotch notes. Don't worry, it's not excessively sweet.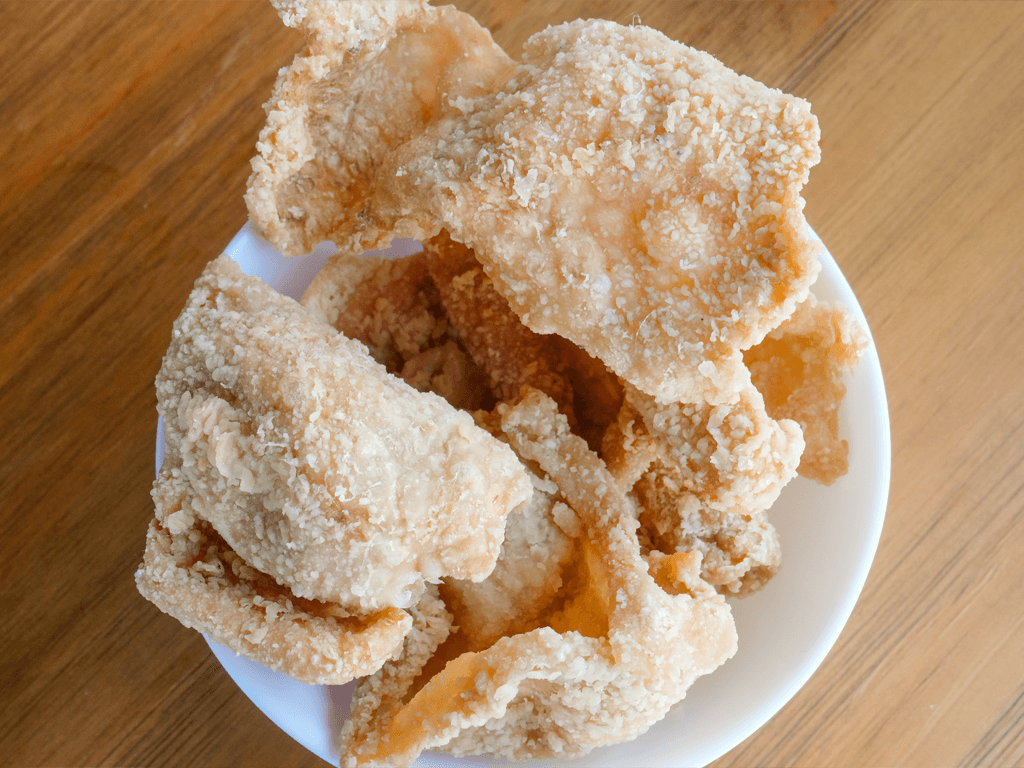 Egged on by reviews I saw online, I ordered some fried chicken skin (S$7.50) for the table. 
The large pieces are crispy, yes, but also as bland as it gets. A sprinkling of salt and cayenne pepper, perhaps even some lime, would be perfect. You could probably eat this with sambal, but with such huge chunks of skin, it'd be difficult to get them coated nicely.
Our quick takes 
Is it conducive to conversation? Turnaround is high during peak hours, but if you're coming in the mid-afternoon — definitely.
Is a reservation necessary? Walk-ins only.
How to get there? Lucky Plaza is a two-minute walk from Exit A of Orchard MRT station.
Things to note: 
Look out for Ol'Java's occasional off-menu specials, which you'll find at the counter

You'll also find old-school Indonesian lapis cakes from its sister brand Ol'Crumb sold here
HungryGoWhere paid for its meal at this restaurant for this review. Still hungry? Read our reviews of Sembarang Nasi Lemak & Padang and Ima-Sushi.
Ol'Java is on the GrabFood delivery service and offers free delivery (up to S$3 off) with GrabUnlimited. Or book a ride there.
Lucky Plaza, 02-63, 304 Orchard Road 
Opens: Fridays to Wednesdays (10.30am to 7.30pm), Thursdays (10.30am to 10.30pm)
Lucky Plaza, 02-63, 304 Orchard Road 
Opens: Fridays to Wednesdays (10.30am to 7.30pm), Thursdays (10.30am to 10.30pm)
---