Review: Hong Kong Burger chain attempts a 'smashing' entrance in Singapore — but did it succeed?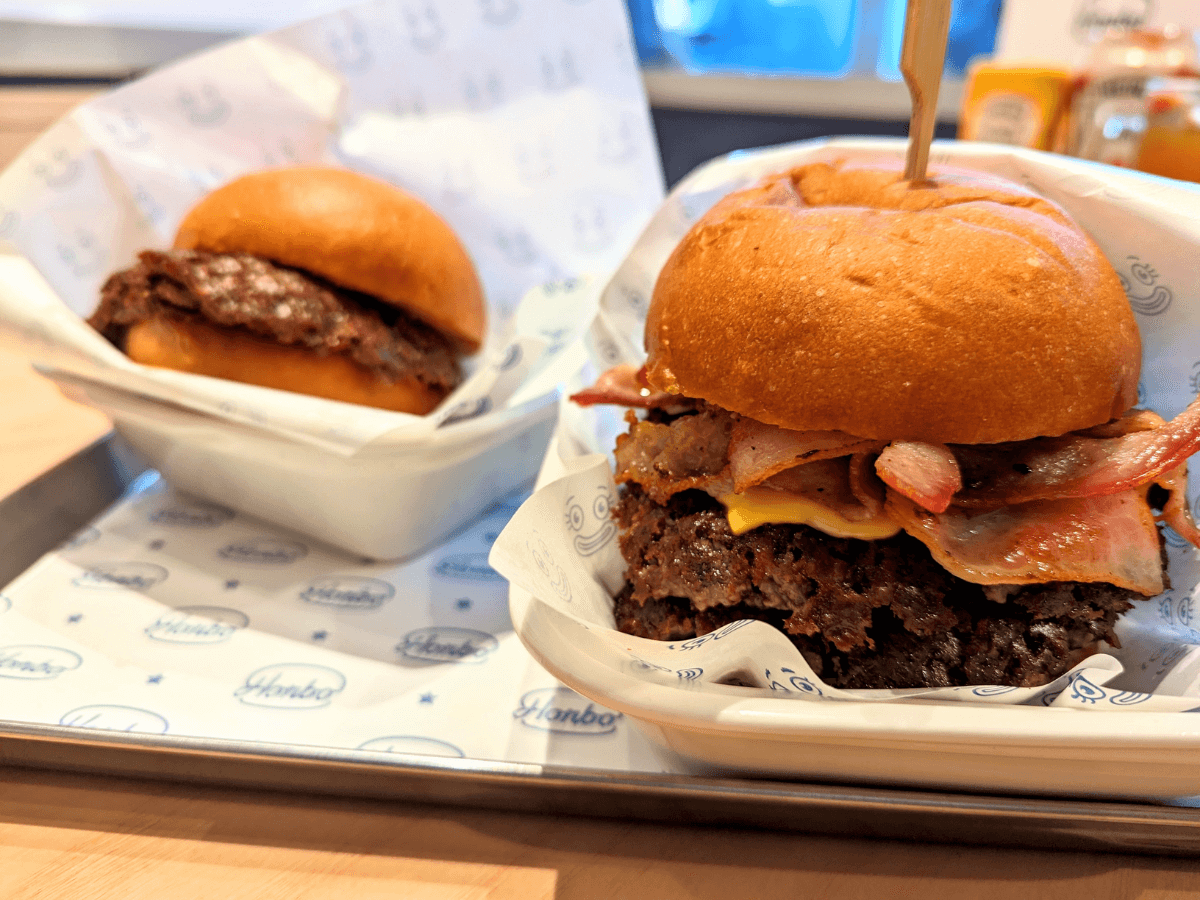 Hong Kong brand Honbo arrives in Singapore, its first international outpost
Unlike its American counterparts, it serves smashed beef patties alongside more conventional offerings
The potato milk buns are the highlight of the meal. However, other elements were nothing to shout about
Burgers might be quintessential American fare, but its reach is pervasive as chefs and chains around the world dole out their own renditions. 
Diners in Singapore are blessed with a host of local outfits offering a slew of quality and affordable burgers, such as Three Buns, Wildfire Burgers and Project Burgs. In recent years, however, foreign franchises have also landed in Singapore, making the food-mad city its home.
These include Shake Shack, Five Guys, Eggslut, and now, Honbo. 
The latest international brand to land in Singapore, Honbo — unlike its counterparts — is not American. It's a Hong Kong chain that serves not just regular steakhouse burgers, but also more… grounded burgers that are literally smashing (more on that later).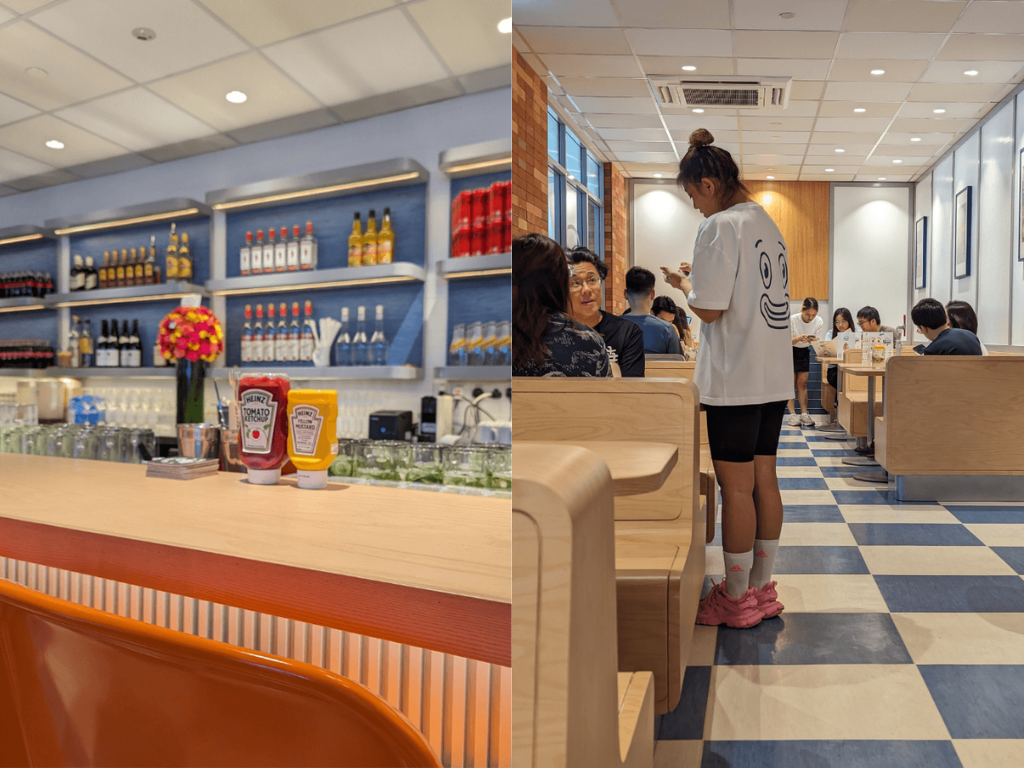 The backstory
To the uninitiated, the name "Honbo" is just another quirky moniker. For locals in its hometown of Hong Kong, however, they know that Honbo is simply Cantonese for the word "hamburger".
That is exactly what founder Michael Chan had sought to perfect when he returned to Hong Kong from America — a simple, straightforward American burger. Honbo quickly gained popularity and was most recently crowned the Eater's Choice for Best Burger in 2021 by Lifestyle Asia Hong Kong. 
Six years and six outlets in Hong Kong later, Honbo decided to make Singapore its first overseas destination.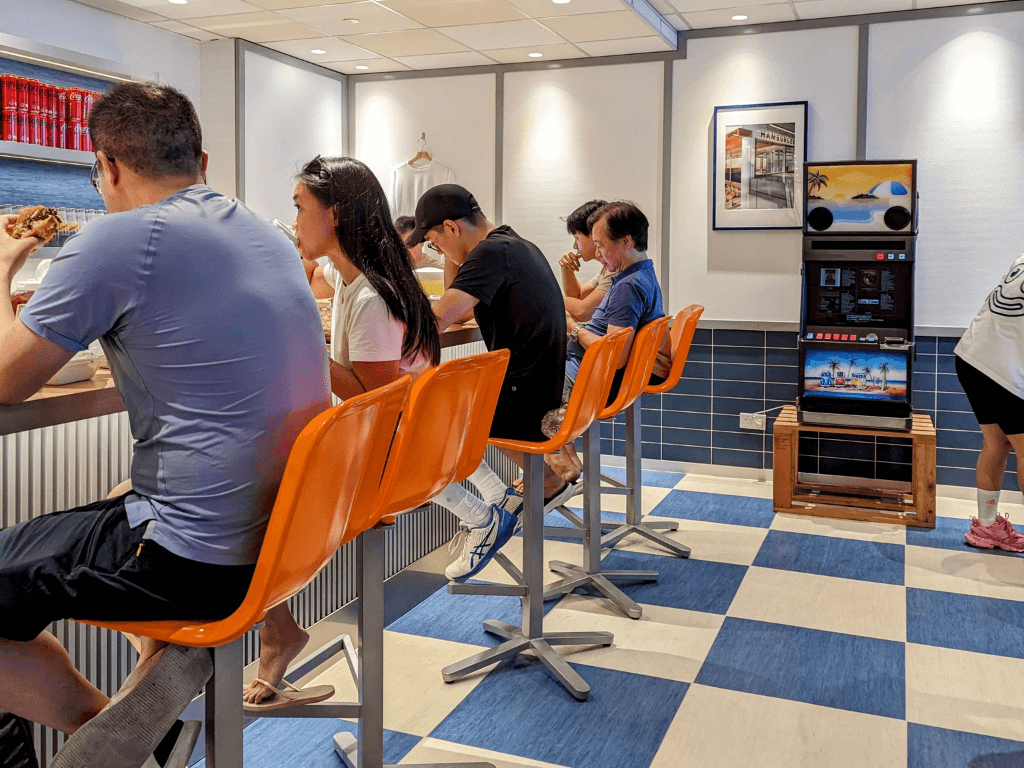 Our verdict
A welcome addition to the F&B offerings in Chijmes, Honbo stands out as the only burger specialty store amongst its predominantly Japanese neighbours. 
Reminiscent of an American diner, the space is casual and comfortable, with light beats that aren't too intrusive. With burgers priced from S$15 to S$28 on Honbo's menu, they are a great option for any occasion. However, while delectable, they may not offer the best value for your money.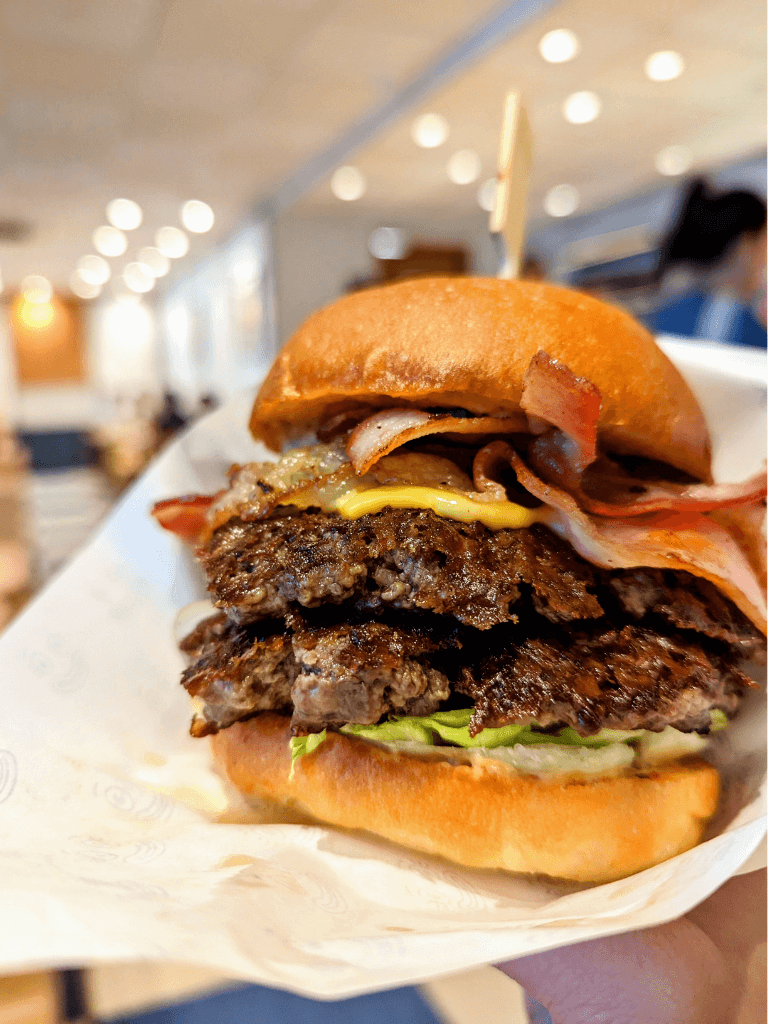 We went for the extremes, from the signature Honbo (S$18), a basic smashed burger bearing the name of the eatery, to The Gold Standard (S$28), what I call Honbo's all-in-one burger. Both tasted as you would expect, which is not bad at all. 
Decked with two thick 4oz beef patties, two slices of cheese, some bacon and complete with Honbo's standard array of toppings, the sheer scale of The Gold Standard takes the prize. 
Try to fit all that in a single bite and you would be rewarded with a mouthful of pure satisfaction. The flavours are balanced, while the bacon slices and iceberg lettuce offer a textural contrast to the palate.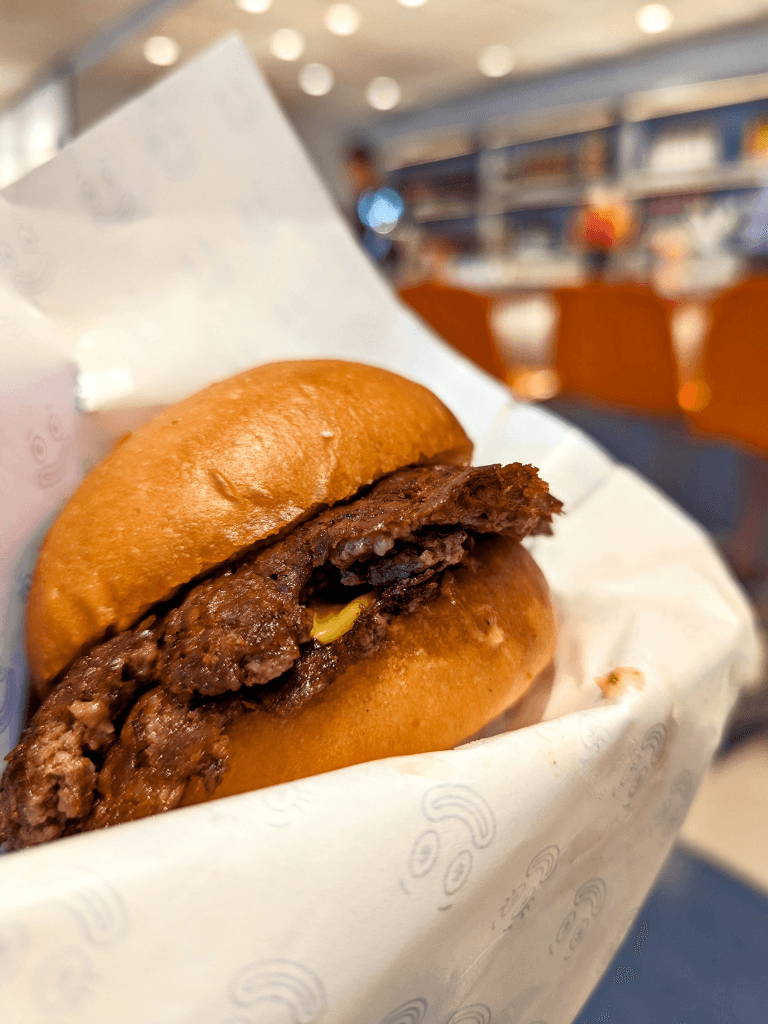 Honbo is a smashed burger, featuring a thinner patty that is hand-smashed under the griddle to give a crispier texture, compared to its juicier, meatier sibling. This offers a refreshing change to the more commonly seen steakhouse burgers.
What is common between the two burgers is the bun. The oh-so-fluffy buns. This is hands down the highlight of our meal. 
The potato milk buns are fragrant, soft and pillowy. They maintained their structure even under the weight of The Gold Standard and would immediately bounce back when pressed. They are also not too buttery, so their flavour does not get in the way of the rest of the burger. 
It comes as no surprise that the buns are artisanal, based on an exclusive recipe developed by renowned baker, Eric Kayser. Honbo isn't alone in hyping up the quality of its buns, but it's certainly The One that stood out for me.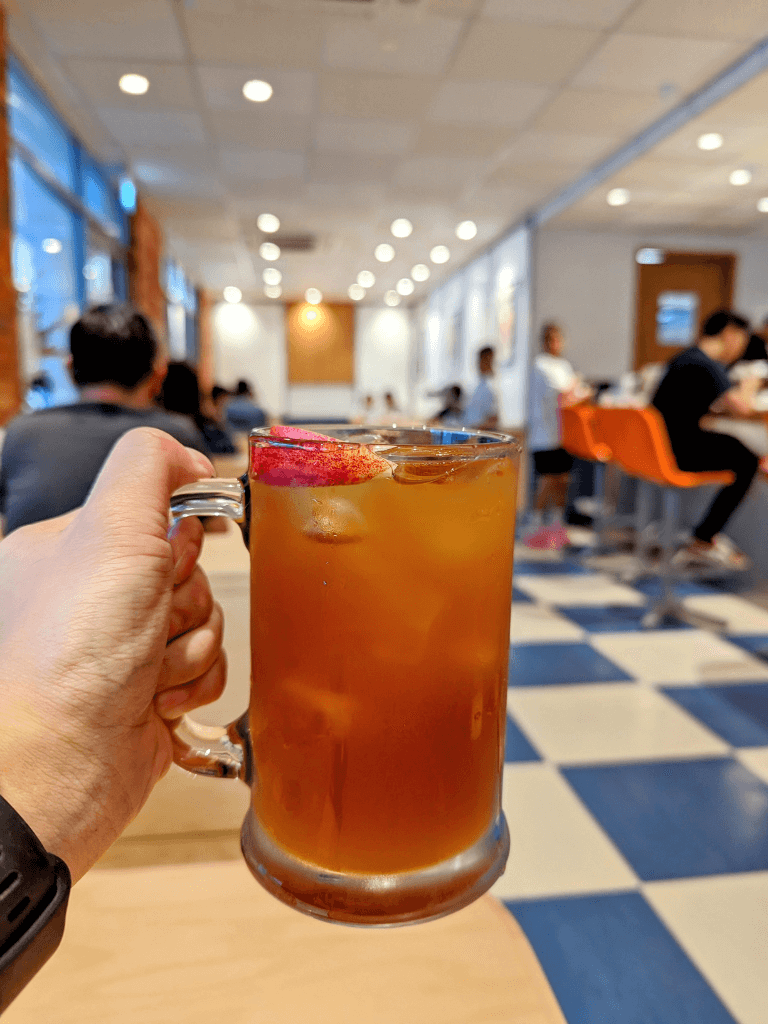 We capped off the meal with a glass of apple pie iced tea (S$7), homemade in-store with freshly juiced apples, cinnamon syrup and black tea. 
It was not too sweet, which apple juice tends to be, but I imagine that the distinctive cinnamon flavour — to augment the "pie" in its name — could be a hit or miss for people, depending on personal preferences.
What it could improve on
In addition to Honbo's burgers, we had the chilli fries (S$15) — because why stop at regular fries — and the coleslaw (S$5) for balance (IYKYK).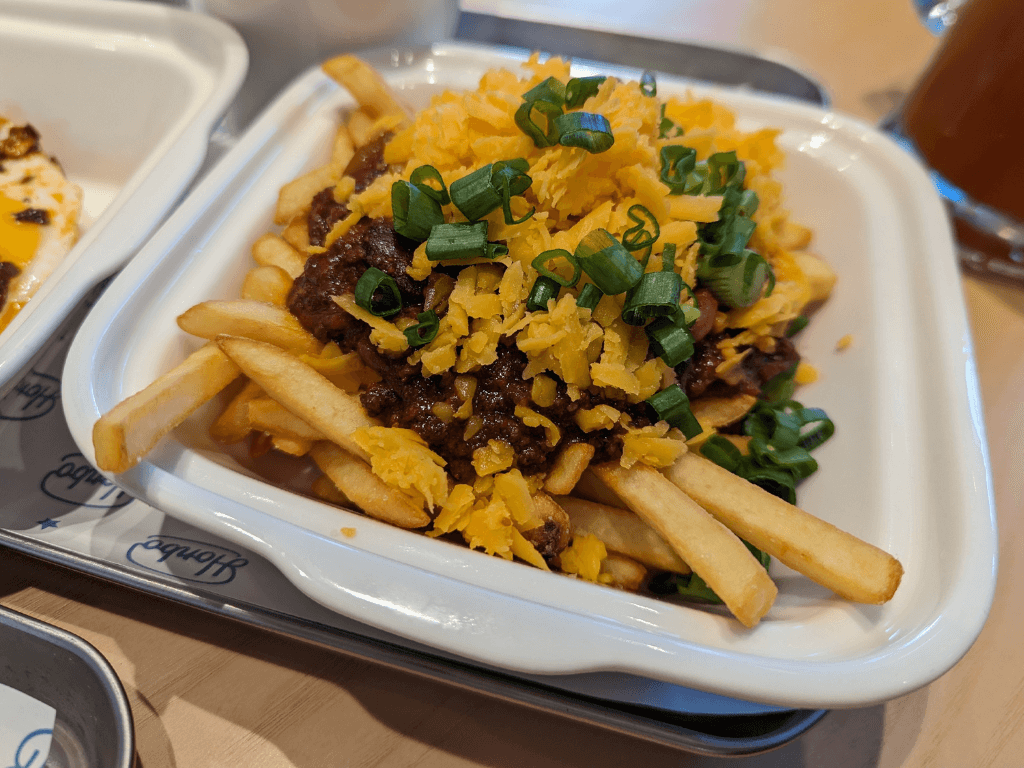 While the fries, when enjoyed by themselves, stood out for being fully filled with potato, making for a satisfying bite (I am looking at you soggy, empty fries), both side dishes were nothing to write home about. 
The coleslaw was crispy, watery and tangy, as one would expect, but the portion was small. Meanwhile, we found ourselves struggling to taste any of the chilli, cheese or beef toppings in the chilli fries. 
But here is a pro tip: Order the chilli crunch fried egg add-on (S$2.50) and mix it in with the fries, letting the bright yellow yolk flow through the dish. Now we are talking.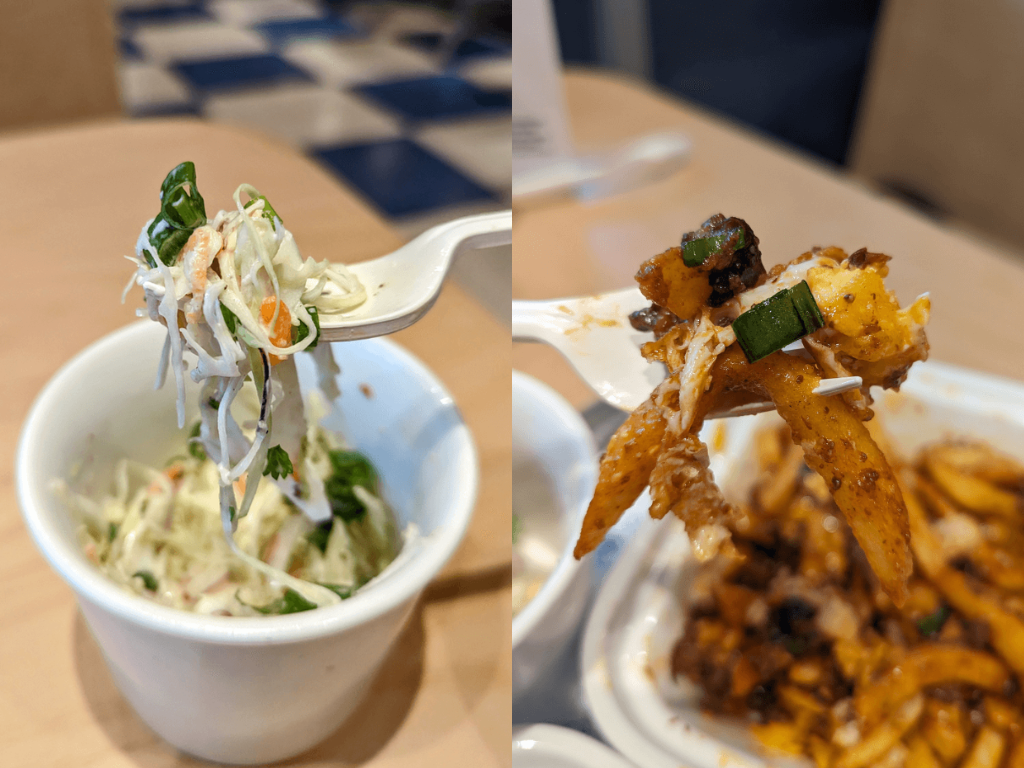 For me, the patty is the soul of any burger — it's the climax and the highlight. Honbo went the extra mile to grind its patties in-house from USDA prime-grade American beef for the full depth of flavour; alas this was ultimately a miss for my tastebuds. 
Cooked to medium doneness, the thick patties in The Gold Standard were still not as juicy as I had hoped. Meanwhile, the smashed patties in the Honbo did not differ all that much from their thicker counterparts. Yes, there was less to bite into, but they were neither more crispy or more caramelised as the hype made them out to be.
Finally, we did not manage to try some of the chain's signatures, such as the Flagrant Smash sauce imported from Hong Kong or the much raved sweet potato fries (S$8). I would understand if it were Sunday (as inventory dwindles before the next shipment), but to be out of stock right at the start of the weekend (Saturday lunch) is very unfortunate.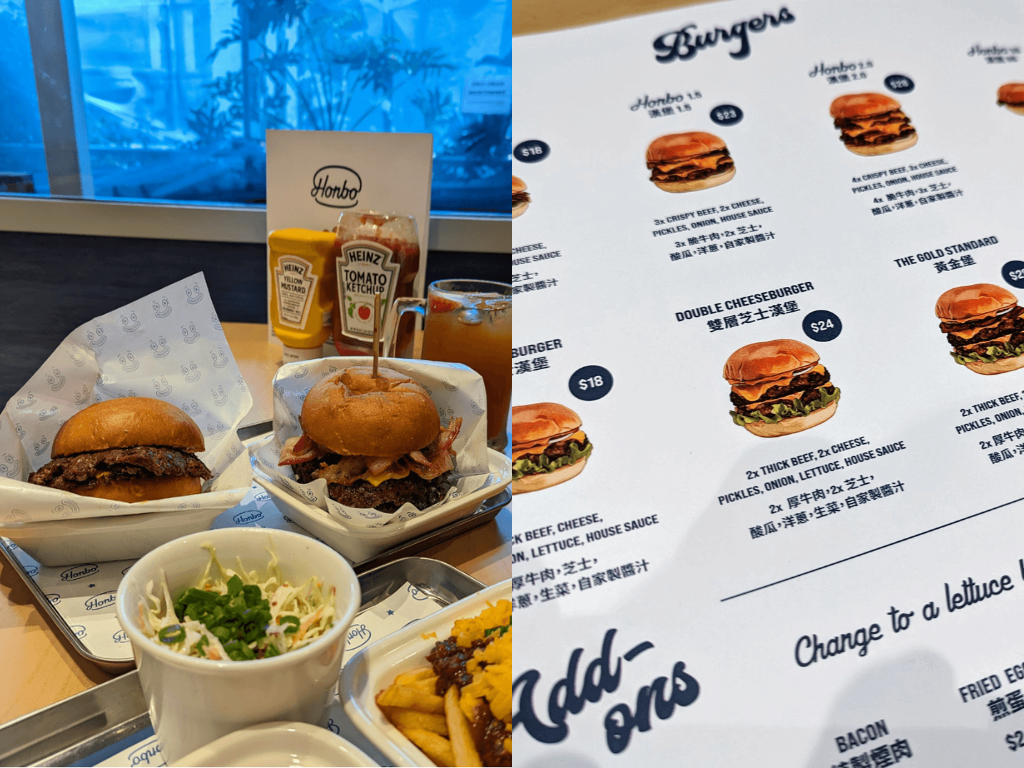 According to Chan, we don't know this yet, but we will be missing the taste of Honbo soon and will be dying to return for another bite. Let's see if that checks out!
Our quick takes
Is it conducive to conversation? Definitely! With the diner-style seating, spacious design and light music, it is great for catching up with friends.
Is a reservation necessary? Not to worry: We headed down during peak Saturday lunch time but there was barely a queue, you will be ushered to your seat in no time.
How to get there? You may walk for six minutes from Bras Basah MRT station (Circle Line) or from City Hall MRT station (North-South Line/ East-West Line). 
Chijmes, 01-09, 30 Victoria Street
Open: Monday to Sunday (12pm to 10pm)
Chijmes, 01-09, 30 Victoria Street
Open: Monday to Sunday (12pm to 10pm)