Review: Get juicy meats, smoked burgers and Western classics at Garang Grill Express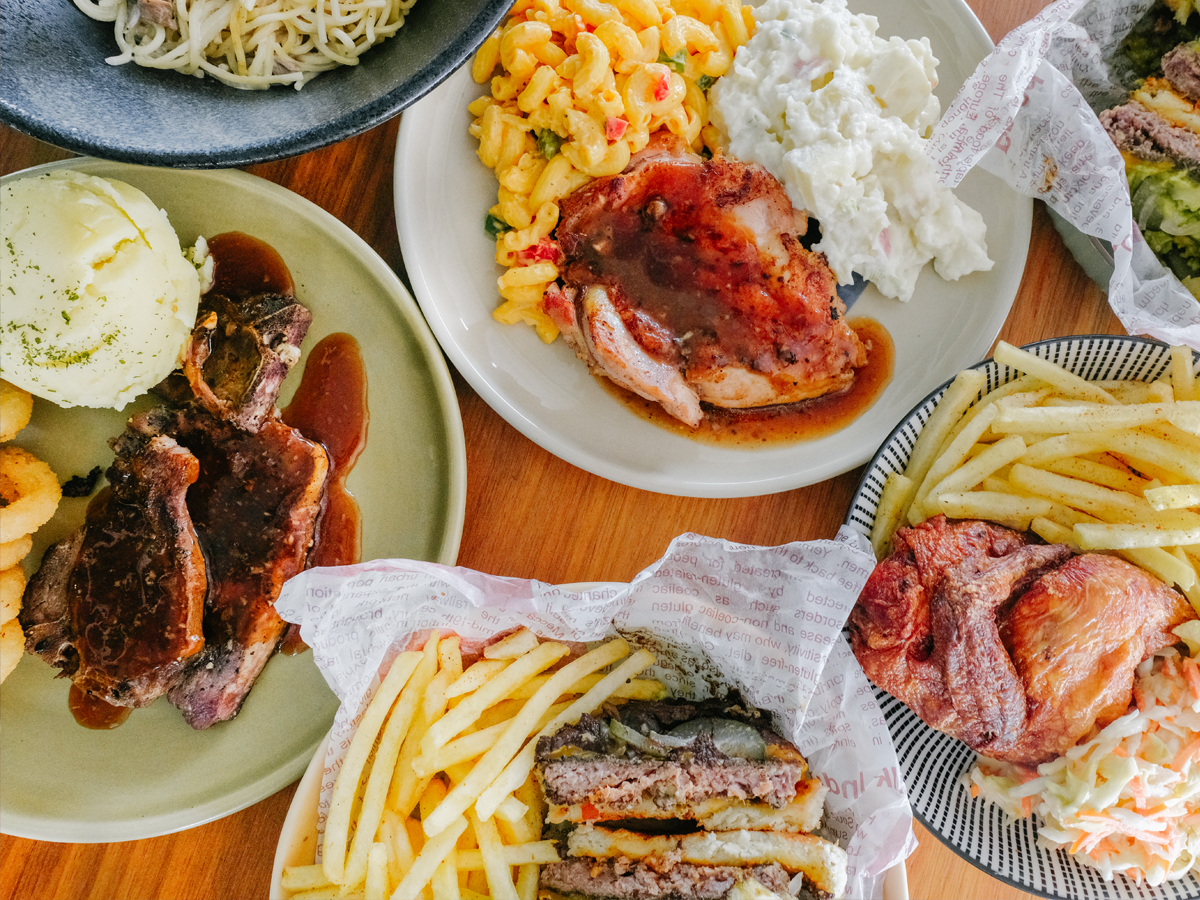 This quick-service joint by the New Ubin Seafood Group serves decent Western classics
Get your fill of fusion burgers that are smoked and grilled
Dishes we recommend include the lamb chop, smoked pork and mushroom pasta, and buah keluak burger
Imagine someone grouped together Chinese, Indian, Malay and Thai food, and just called it Asian food. That's what makes the notion of "Western food" such a unique thing in Singapore.
On the one hand, it could mean fancy European dishes and American fried chicken, and on the other, the pork and chicken chops ladled with black pepper or mushroom sauce — plus a side of baked beans or rice to match — that you'll find in neighbourhood coffee shops everywhere. 
The latter's roots lie in Singapore's Hainanese community, and it's this cuisine that we're talking about in this review.
The backstory
Garang Grill isn't exactly a new concept. Created by the New Ubin Seafood Group, its outlets in Tampines and Bukit Timah plated up meaty rice bowls and barbecued pork ribs for several years. Its last stall shuttered in 2022. 
Garang Grill Express, which opened in March 2023, takes a step away from its older brother with a more basic menu, specialising in Western fare closer to what you'd find in neighbourhood coffee shops.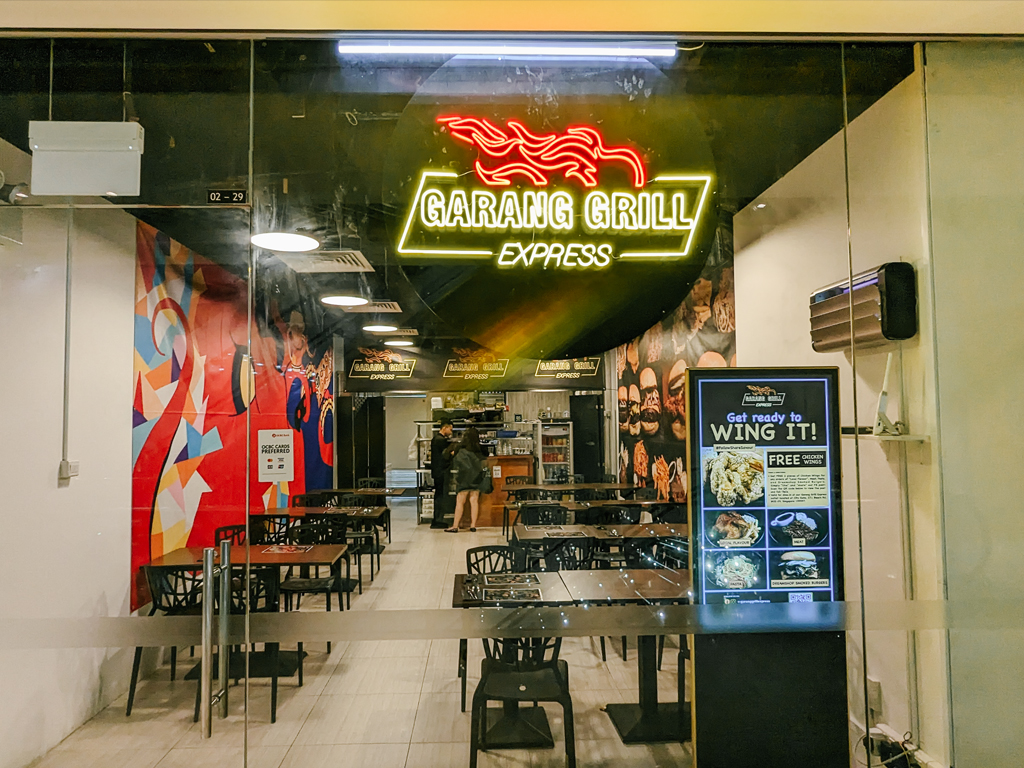 Our verdict
Garang Grill Express wouldn't be my first (or even seventh) choice for a date night, but if you're hanging around Lavender or Nicoll Highway, and looking for a moreish, no-frills Western meal at decent prices, what are you waiting for? 
Be sure to try the "Dreamshop" smoked burgers, previously available only on New Ubin Seafood's online menu.
What it's good for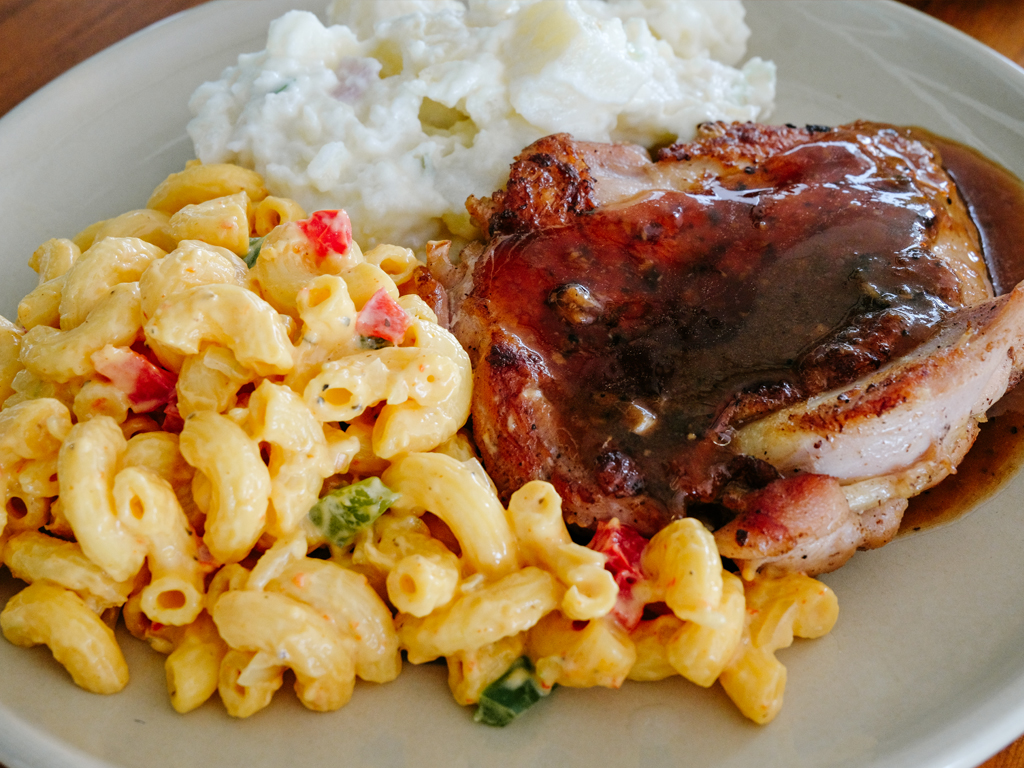 Take me to a Western-food stall, and four out of five times, you'll find me ordering myself some chicken chop. 
Better yet if there's a black-pepper-sauce variant. 
The black-pepper chicken chop (S$11.50) here is delicious. Sure, the slab of meat could be bigger, but it's the right amount of firm and tender, slicing beautifully into juicy pieces of chicken that's well-marinated and full of flavour. The spicy sauce is loaded with aromatic peppercorn bits, and hints of garlic and onion.
For sides, I chose the Mexican pasta, which features cheesy but not overly wet macaroni and bits of bell peppers. It also comes with chunky potato salad that's not overly exciting, but creamy and tasty enough to satisfy. Did I mention the portion of the sides is huge?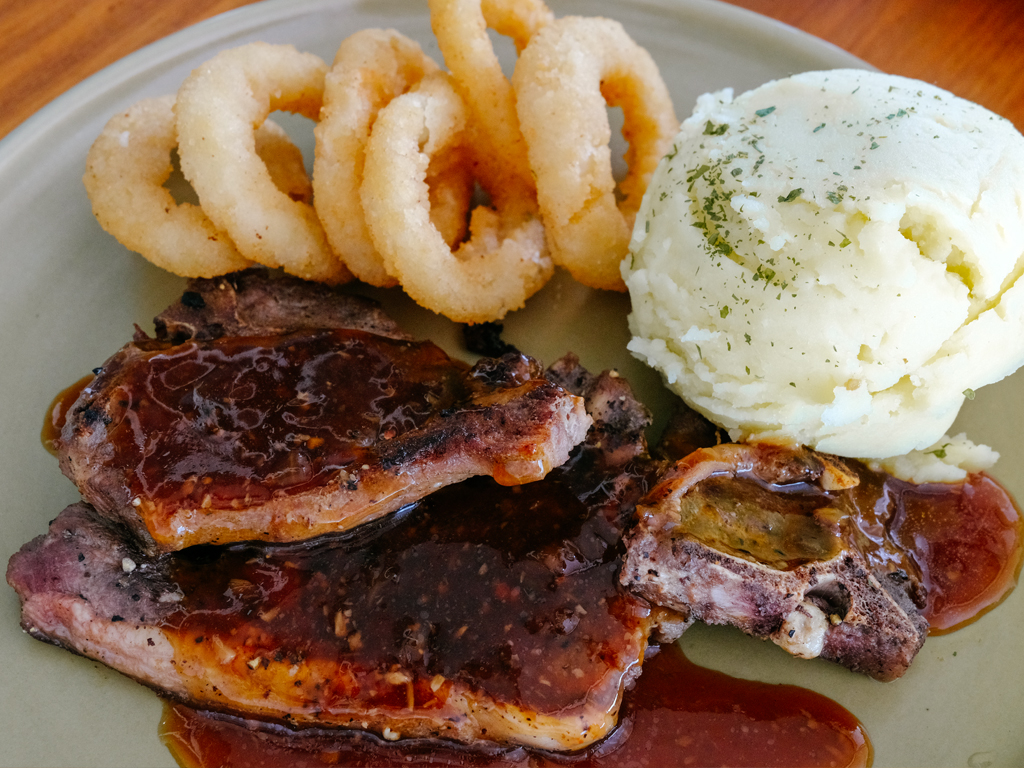 The lamb chop, at S$21.90, is a lot pricier than the chicken, making it the second-most-expensive item at Garang Grill Express (just behind the Australian striploin). The taste is also richer and more complex — slightly gamey, slightly grassy, and very luscious. 
The lamb is easy to slice and even easier to chew. It comes with a savoury brown sauce that goes great with the meat. 
The accompanying mashed potato is simply massive, if not a little dry. It could be great with a tad more milk and butter. The onion rings, as well, are a little on the pale side, but taste sweet and hefty.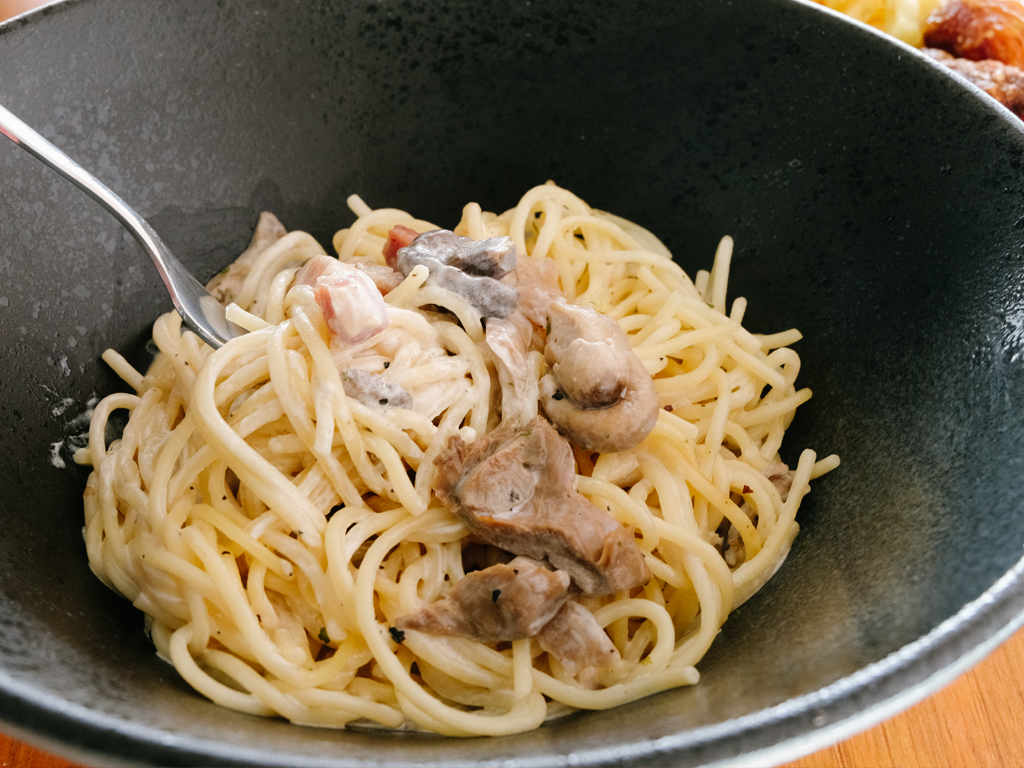 I didn't expect a pasta to be one of my favourite dishes here, but the smoked pork and mushroom pasta (S$14), despite its plain appearance, is scrumptious. The al dente spaghetti and seasoned cream form a hearty base for the umami-laden morsels of button mushroom and smoky pork.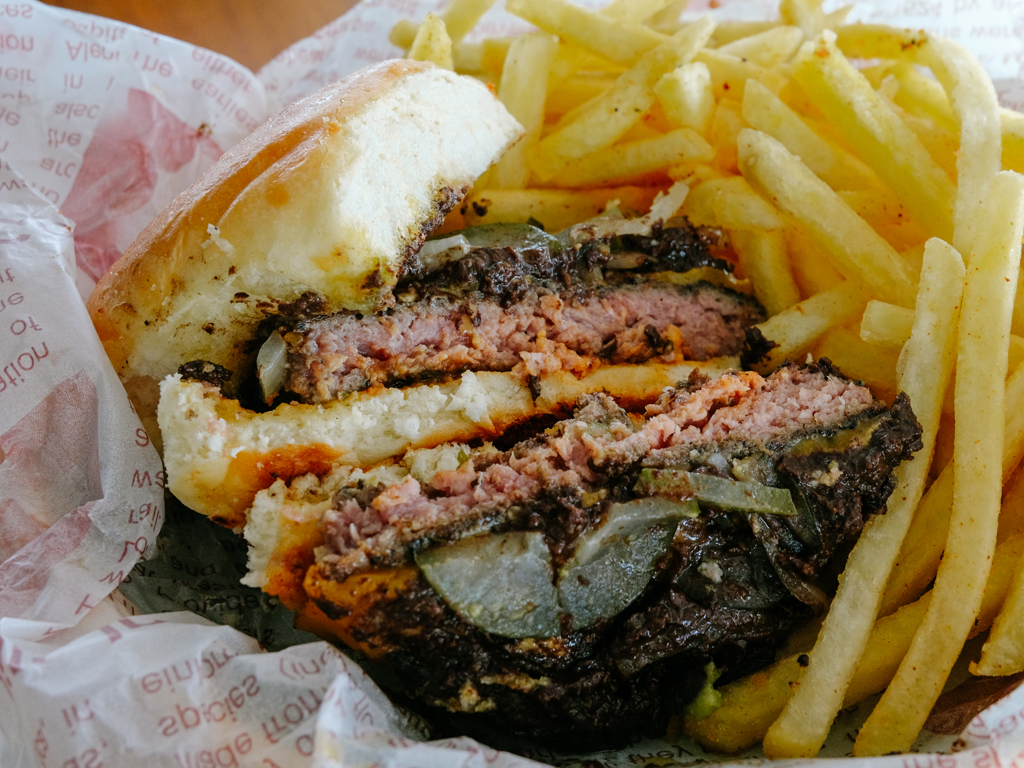 Quality meat grilled over charcoal is the foundation for the smoked burgers here. What's interesting is the use of potato rolls — the squarish kind you get at old-school Western-food stalls — as burger buns, perhaps for a nostalgic touch? 
The fluffy underside is buttered and toasted till crisp, which holds well against the myriad of flavours dreamt up by Garang Grill Express. 
The buah keluak smoked burger (S$17.50) has that nutty, earthy and slightly bitter flavour you'd get at a good Peranakan restaurant. Instead of the typical chicken, however, I chomp into a well-seasoned patty with a smoky depth. It's an acquired taste that not everyone will enjoy, but I'll have this anytime.
The guacamole and lime smoked burger (S$17.50) is a tad messier and possibly healthier, too. 
Zinged up with a creamy mash-up of avocado, lime juice and cooked onions, it's a southwestern citrus twist to the cheeseburger that's delicious. I reckon some salsa and sour cream would make this a lot more fun, but it's a yummy dish as is.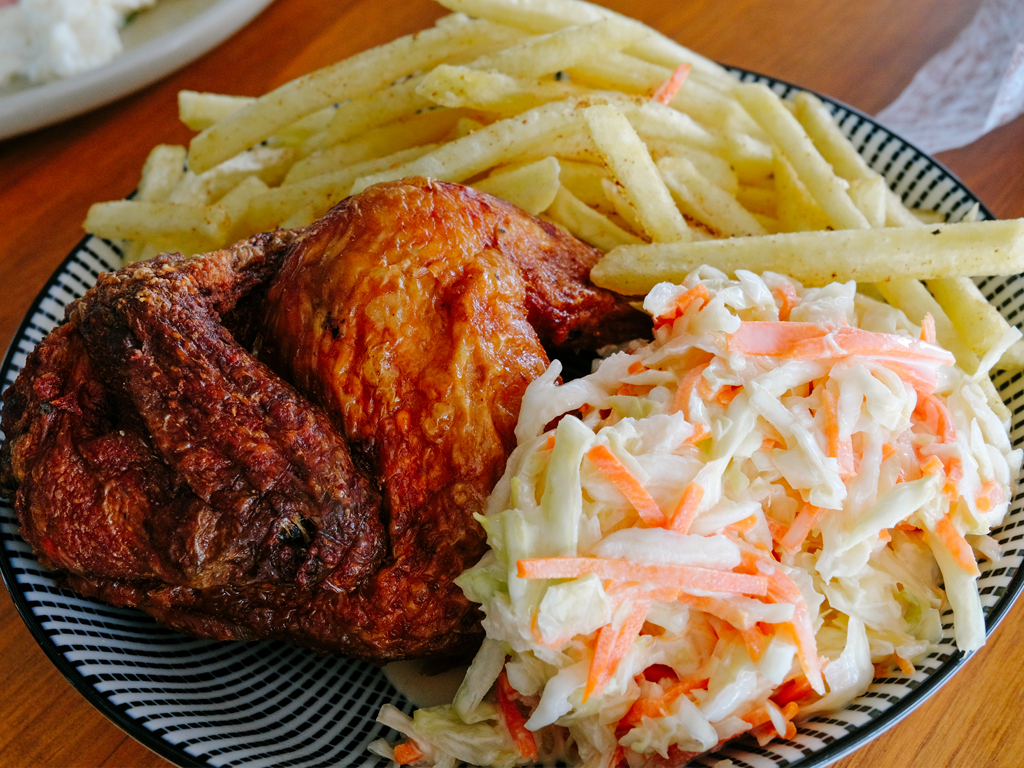 There's plenty to love about fried chicken that's not heavily battered and dripping with oil. 
Garang Grill Express's half spring chicken with fries and coleslaw (S$10.90) has crisp skin that gives way to juicy, tender flesh. Rather than salt, you taste a lot of the chicken meat's natural essence.
What it could improve on
That being said, the accompanying fries are on the bland side, and could do with extra seasoning and perhaps a double fry. Like the onion rings from before, they are pale and not yet crispy.
There are canned drinks for thirsty diners, but that's all you'll find here. A stronger beverage programme would be nice but not critical for a quick-service restaurant like this. 
The interior at Garang Grill Express is also as bare-bones as it gets — perhaps a spruce-up is in order?
Our quick takes
Is it conducive to conversation? Yes, the tables are nicely spaced out.
Is a reservation necessary? Walk-ins only!
How to get there? Head to the second floor of City Gate, a three-minute walk from Exit A of Nicoll Highway MRT station.
HungryGoWhere paid for its meal at this restaurant for this review. Still hungry? Read our reviews of solo-hotpot restaurant Xiabu Xiabu and new cafe Space Coffee. 
Garang Grill Express is on the GrabFood delivery service and offers free delivery (up to S$3 off) with GrabUnlimited. Or book a ride there. 
City Gate, 02-29, 371 Beach Road
Open: Tuesday to Sunday (11am to 9.30pm)
City Gate, 02-29, 371 Beach Road
Open: Tuesday to Sunday (11am to 9.30pm)