Review: Oh My Don — ex-Parkroyal Marina Bay chef serves hearty Japanese don from Yishun stall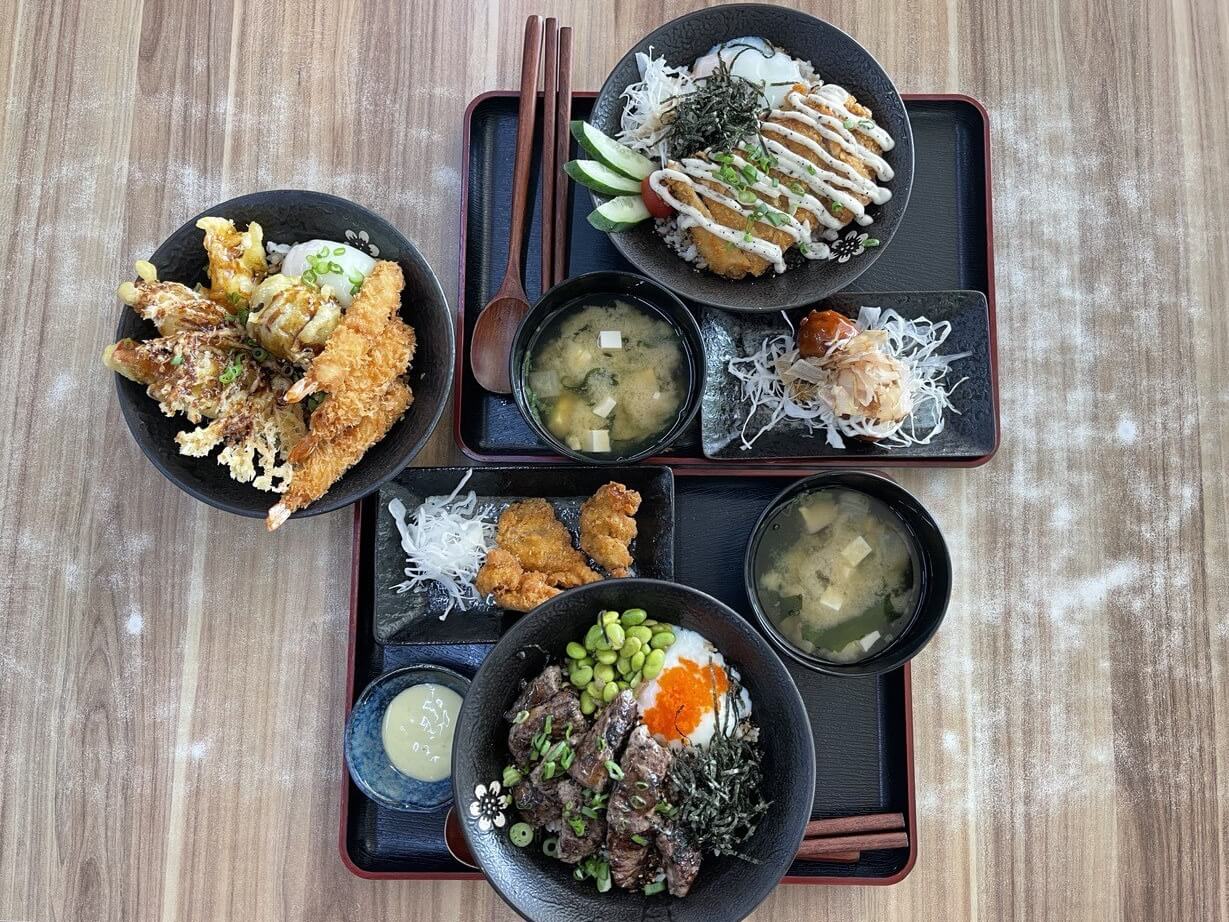 Oh My Don serves pretty Japanese rice bowls prepared by an ex-hotel sous chef
The Yishun stall is mostly a one-man show: Lester Lai handles everything from taking orders to cooking and serving customers
There are seven rice bowl varieties and a salad option on the menu
It has become increasingly common these days for veteran restaurant chefs to ply their trade in hawker centres and coffee shops. 34-year-old Lester Lai — a former sous chef at Peppermint, an international buffet restaurant at Parkroyal Collection Marina Bay — is no stranger to this. 
His stall Oh My Don is in a small Yishun coffee shop. It's mostly a one-man show, with Lai taking orders, cooking and even going the extra mile to serve customers at their tables — a rarity at coffee shops. 
The menu is straightforward. The dishes are self-explanatory and you don't have to wonder what you're getting. 
The main menu items are rice bowls, such as Japanese curry meatball don (S$8.90), beef steak don with truffle ponzu (S$10.90), and salmon don with mentaiko sauce (S$8.90).

You've the option of adding S$2.90 to make it a set. There are three set options, all of which come with miso soup and your pick of a side dish: Yaki cheese balls, chicken karaage (Japanese-style fried chicken) or tempura ebi (battered prawns). 
Other extra sides not found in the sets include tempura soft shell crab (S$5.90), salmon miso soup (S$3.90) and edamame (S$1.50).

Moving forward, Lai intends to beef up the menu.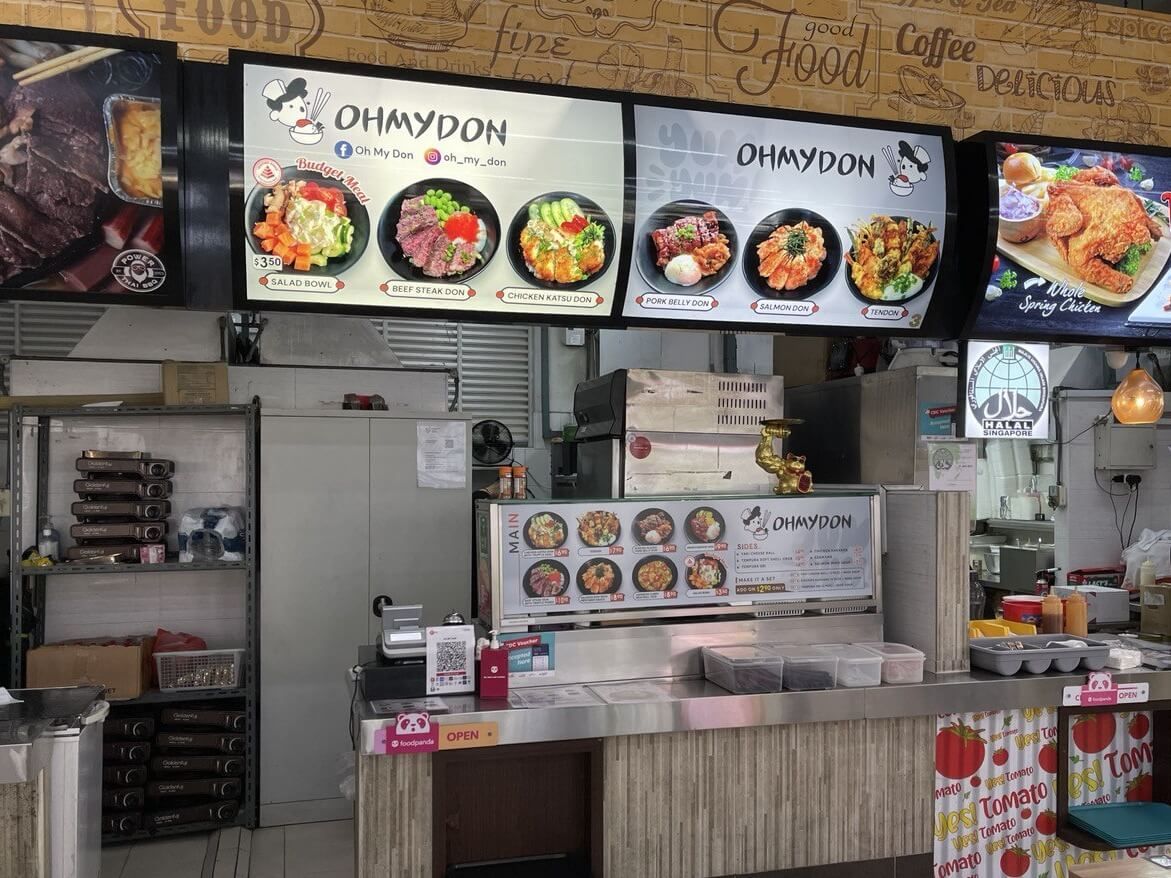 The backstory
Lai, the man behind everything at Oh My Don, worked as a hotel chef for about a decade before setting up this stall. 
Three years ago, he conceived the idea of starting a business but hesitated because of the coronavirus pandemic. He decided to wait till the situation improved and, at the end of 2021, began making preparations to start the stall.

Oh My Don opened on Jan 23. It has just eight main dishes comprising seven rice bowl varieties and a salad bowl (S$3.50). 
He chose to serve rice-based dishes, since rice is a staple in Singapore, and many Singaporeans prefer to have rice for lunch and dinner. 
Lai's journey through the food industry began in his youth. Upon completing secondary school in Malaysia, he came to Singapore and started working in F&B. His first job here was at Kenny Rogers Roasters, before he moved on to work at hotel restaurants. At Peppermint, he was made the sous chef and oversaw the Western food section.

But given that he handles pretty much everything at Oh My Don alone — his wife helps him on weekends and her days off — he had to create a menu that wasn't too laborious. He, therefore, decided against featuring complex Western cuisines.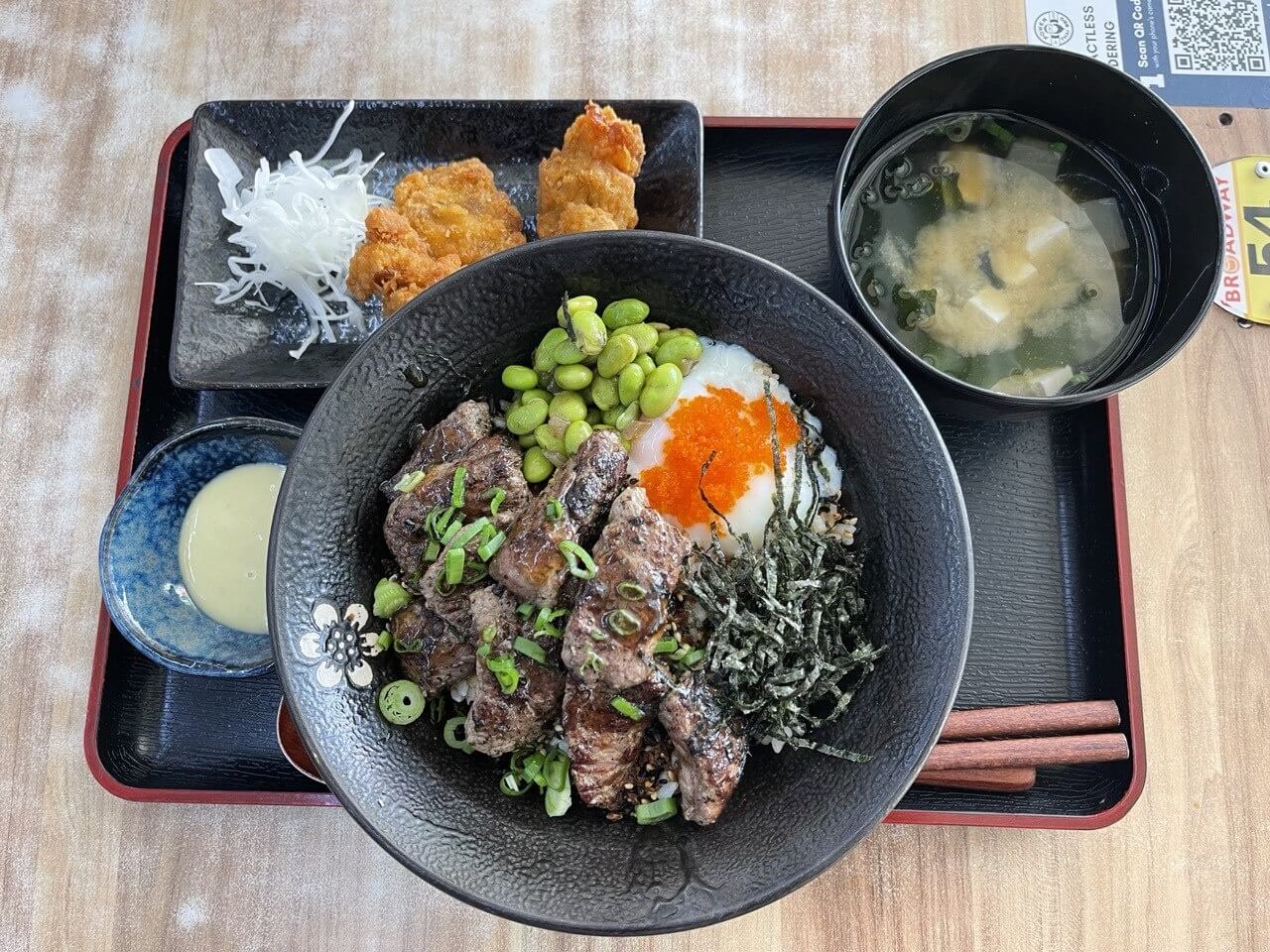 Our verdict
What this place is good for
The beef steak don with truffle ponzu (S$10.90) was the first item on the menu that caught my attention. I had never seen truffle ponzu (a Japanese citrus-based sauce) being served at a coffee-shop stall. 
I decided to upgrade it to a set with chicken karaage and miso soup. To my surprise, the chicken karaage came with a side of wasabi mayonnaise, instead of the standard mayonnaise typically used at coffee-shop and hawker stalls. Even the miso soup had a generous serving of ingredients (soft tofu cubes, konbu and radish) in it.

Apart from the beef steak don, my colleague and I ordered the tendon or tempura rice bowl (S$7.90) and chicken katsu don with truffle aioli set with yaki cheese balls and miso soup (S$6.90).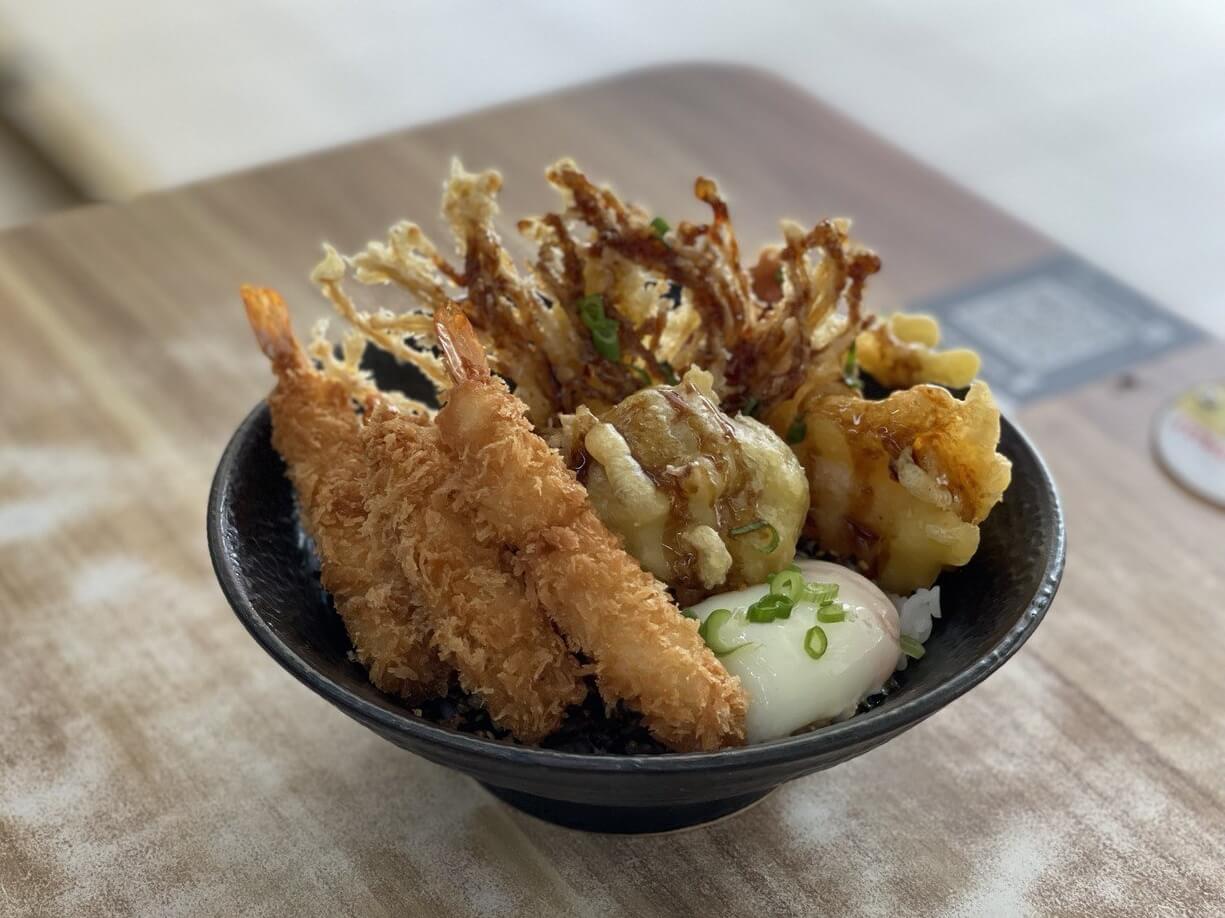 The tendon consisted of battered crabstick, enoki and shiitake mushrooms, pumpkin, sweet potato, baby corn, three prawns, and an onsen egg atop a bed of rice. 
At S$7.90, it's a good deal, given the variety of fried goodness you get. The battered prawns were yummy — the exterior was crispy and the prawns were firm to the bite.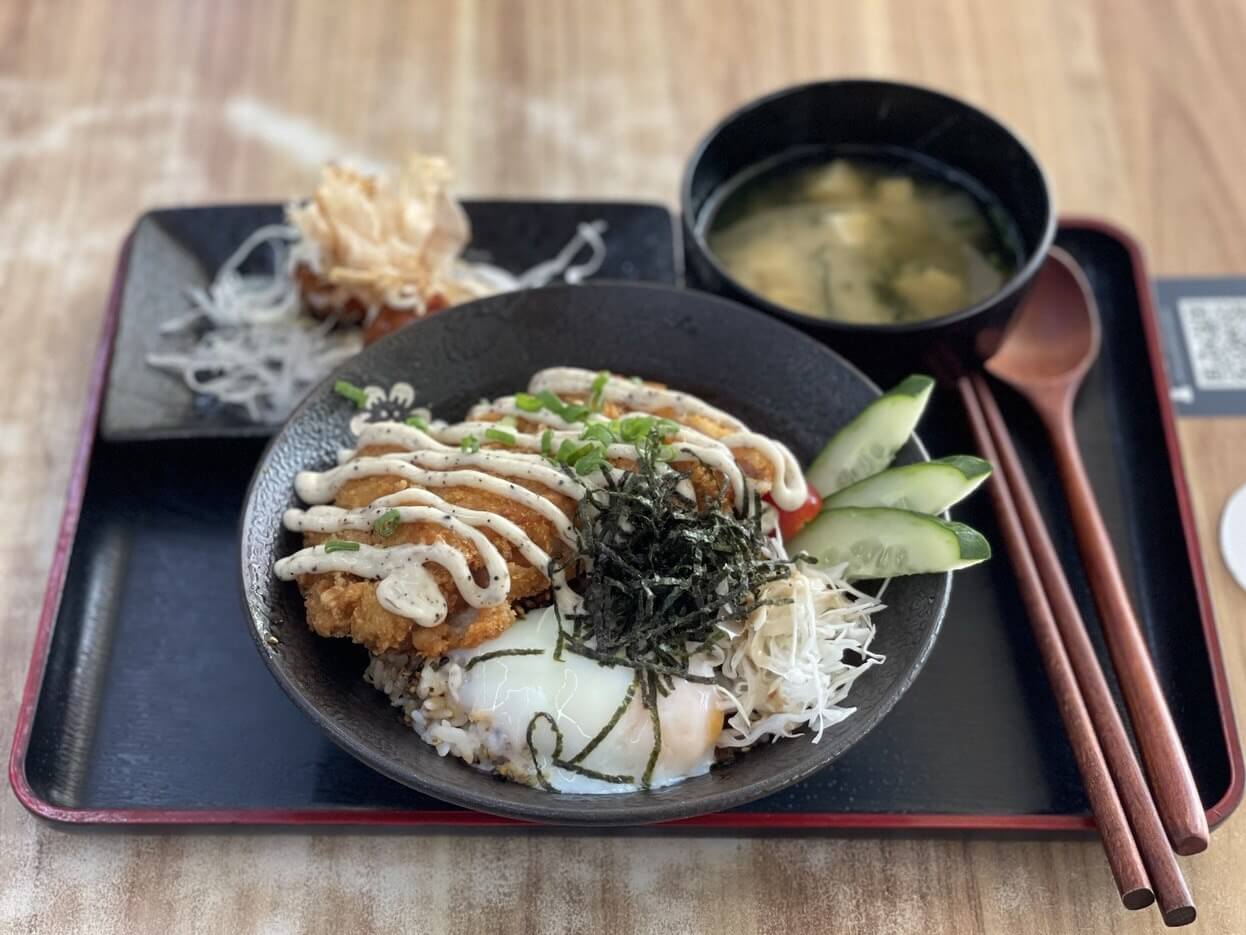 The chicken katsu don with truffle aioli — which I am told is popular — comes with cucumbers, cherry tomato and an onsen egg, and is topped with shredded seaweed. The truffle aioli has a subtle truffle aroma to it and went well with the fried chicken. 
One of the things that stood out for me was the rice itself. Lai uses Japanese short-grain rice that has a sweet and salty taste, making it quite flavourful by itself. It might have to do with the dark-brown sauce drizzled over the rice. The sprinkle of black and white sesame seeds also added some nice bits of crunch to it. 
Lastly, I really liked that the food was served in small Japanese-style trays. The bowls and plates also had a Japanese aesthetic. 
The use of elongated wooden spoons and chopsticks made the experience more complete. It's almost as though we were dining at a Japanese restaurant — but at wallet-friendly prices. Clearly, presentation is a priority for Oh My Don and I appreciated it. 
What it could improve on
Among the rice bowls we ordered, the beef steak don with truffle ponzu was the best. The beef, cut into bite-sized pieces, had a slight char on its surface. Thankfully, the beef was a little over medium-rare and had a slight pinkish hue on the inside. But the chef didn't ask us how we would have liked our beef done. That added option would have been nice.

For the tendon, the batter was a little thick around the edges for some of the fried pieces. My preference is a thinner batter, so that it's a little less floury.

If I were to get the set next time, I would recommend either Set B (chicken karaage with miso soup) or Set C (tempura ebi with miso soup).
The yaki cheese balls were nothing to shout about in terms of taste, but I appreciated how they were topped with bonito flakes to make them look more appealing. For the chicken karaage, it didn't taste anything like the high-quality fried chicken you'd get at a Japanese eatery. But the wasabi mayonnaise definitely made it tastier. 
In terms of the wait, my colleague and I were the only customers when we placed our orders. It took about 10 minutes before the food arrived, which was reasonable though a tad long for the quick service typical of most coffee shops. It did make us wonder if Lai could cope with more customers, since he's alone at the stall most of the time.

Overall, it's a place I'll visit again because it serves pretty good rice bowls that are easy on your pocket. Next time, I'll have a go at other menu items such as the salmon don with mentaiko sauce and Korean glazed pork belly don (S$6.90). 
Our quick takes
Is it conducive to conversation? It's located in a coffee shop, so there's bound to be chatter and the usual cling-clang of cutlery around you. But the coffee-shop setting is more casual than a restaurant's, and there's no time limit on dining in. So chat away. 
How to get there? The nearest MRT stations are Khatib and Yishun. If you're coming from either MRT station, take bus service 117 from the bus stop opposite the station and alight at Block 430B Yishun Avenue 1. It's a five-minute walk to the stall. 
Things to note: 
Oh My Don is located in a tiny coffee shop and there's a petrol station (Sinopec Yishun) nearby. 

There's a carpark entrance right beside the coffee shop, so be sure to watch out for cars. 

If you're getting a set, you'll likely spend close to S$10, if not slightly more.
HungryGoWhere paid for its meal at this stall for this review.
​​Vista Spring@Yishun, 01-01, 431 Yishun Avenue 1
Open: Monday to Sunday (11am to 9pm)
​​Vista Spring@Yishun, 01-01, 431 Yishun Avenue 1
Open: Monday to Sunday (11am to 9pm)