5 fuss-free lunch options in Singapore when work has you stuck at your desk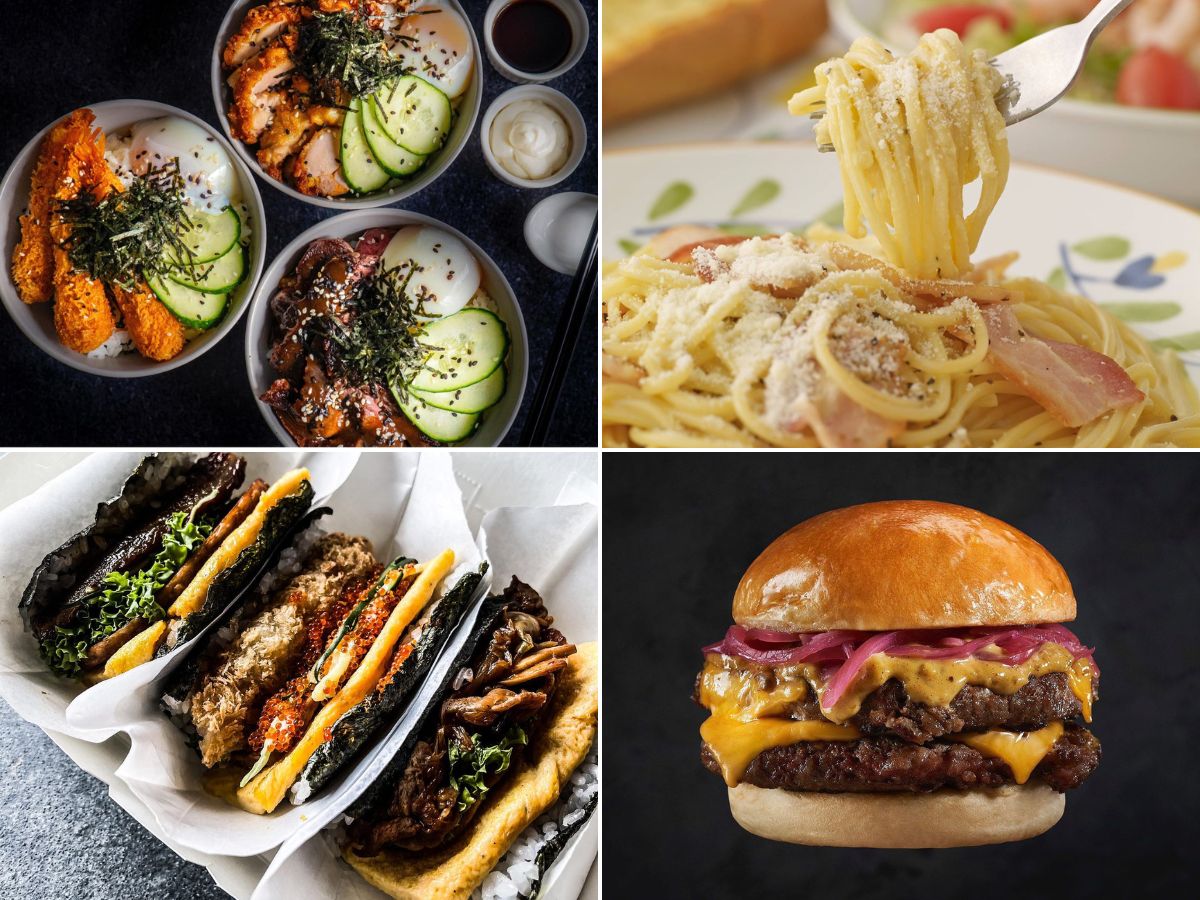 Ever had one of those days when you are hungry and craving your favourite food, but have work that's keeping you bound to your desk?
Thank goodness for delivery platforms such as GrabFood, which can deliver a convenient and fuss-free meal straight to where you are, so you can fuel up and relive those cravings while clearing your work.
It doesn't have to be a run-of-the-mill option either. We know there's plenty of options on GrabFood already, but if you're bored of the usual salads, wraps and soups, we've got just the answer for you.
Make a beeline for Grab Signature merchants — brands only found on the GrabFood platform — to add some variety to your lunch delivery in Singapore to your office. From rice bowls to burgers, your lunch at your desk will no longer be sad.
Besides spicing up your lunch hour, you'll also earn twice the GrabRewards points when you order with these Grab Signature brands. 
What's more: You can take advantage of your GrabUnlimited subscription to get up to S$3 off delivery fees, so it's easier on your wallet.
Read on to find out what you can order in for your office lunch delivery.
1. 2280 Burgers by BurgerLabo
Henderson Industrial Park, 01-10, 213 Henderson Road
Open: Monday to Saturday (11am to 9.15pm)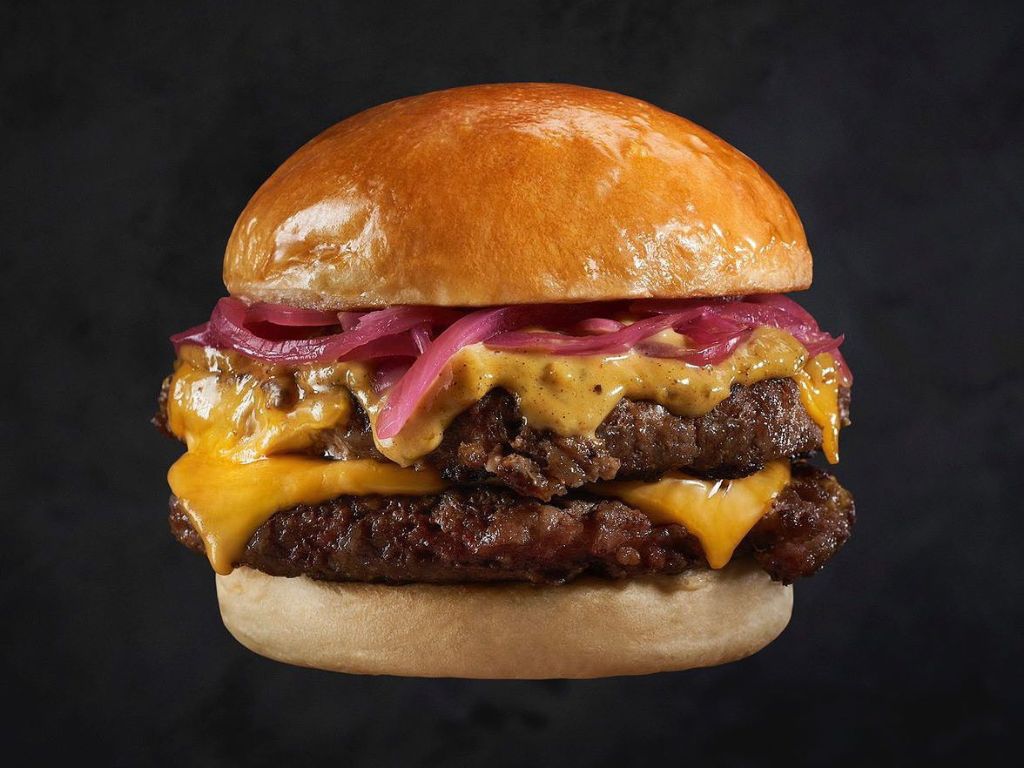 Why visit? Burgers are a fuss-free office lunch delivery option, and they help to stem the hunger pangs quite satisfactorily, too. These babies can be eaten anywhere without cutlery, and hence are made for those hectic days.
2280 Burgers is one for the burger lovers — it's the more affordable offshoot of BurgerLabo, known to grill up some of the best burgers in Singapore. Perfect for foodies looking for convenience and a more wallet-friendly price, without compromising on quality.
Price range: $$
Crowd favourites: Those who enjoy premium grilled burgers are in for a treat with the 2280 burger (S$9.90 for single, S$13.70 for double). It's assembled in the same way as BurgerLabo's legendary basic burger, which is almost double the price, but uses a grass-fed Aberdeen Angus Patty instead for greater value.
2. Fat Sumo
Oasia Hotel Novena, 01-03, 8 Sinaran Drive
Open: Monday to Sunday (11.30am to 8.30pm)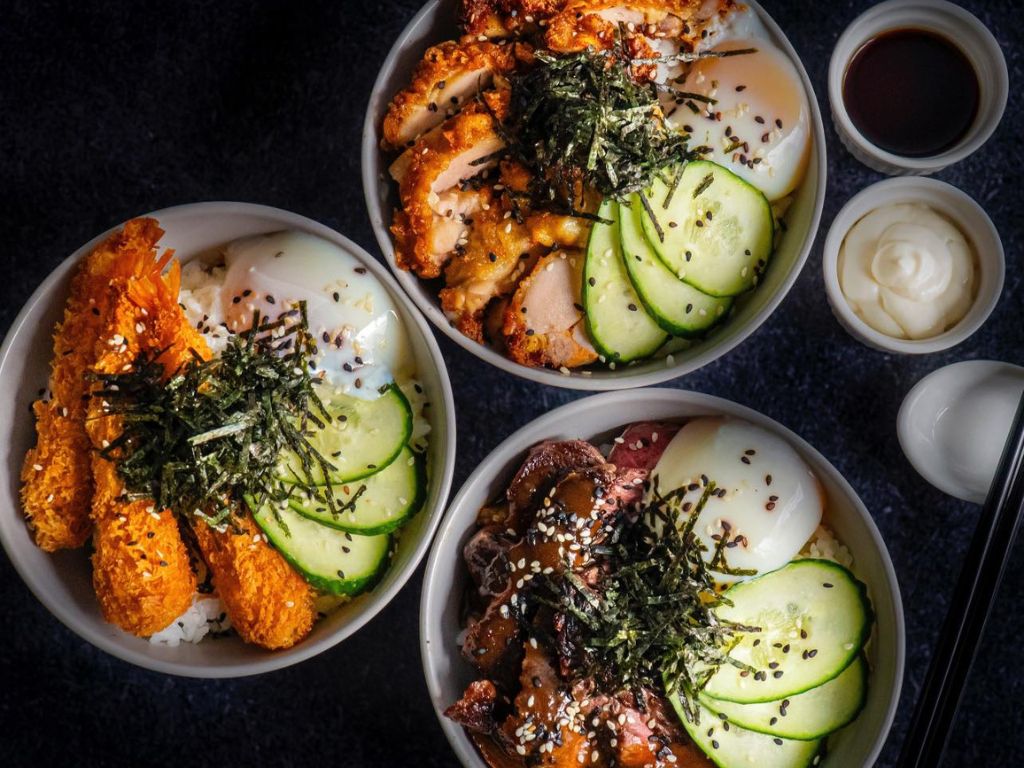 Why visit? Donburi, or Japanese rice bowls, are another popular convenient office lunch delivery option. After all, everything comes nicely packed into a single bowl, which you can devour with a spoon while typing, if you so wish. Plus, who would say no to a bowl of indulgent Japanese food that's bursting with flavour?
In the case of Fat Sumo, you can be assured the rice bowls will be scrumptious. The online-exclusive restaurant was conceived by the same folks behind the popular Fat Cow, a brand renowned for serving some of the most decadent beef bowls in Singapore.
Price range: $$
Crowd favourites: Fat Sumo's donburi options are relatively uncomplicated, with a good balance of protein, carbs and vegetables. Each bowl is created using your favourite Japanese ingredients. 
Are you craving some crunch in your food? Get the ebi donburi (S$18.19), comprising panko-coated prawns drizzled with nacho sauce on a bed of rice, accompanied by an onsen egg. If you're feeling extra indulgent, get its bestselling wagyu donburi (S$21.40) that's a lavish treat with slices of succulent grilled wagyu beef.
3. Saizeriya
Multiple stores islandwide
Open: Operating hours vary across stores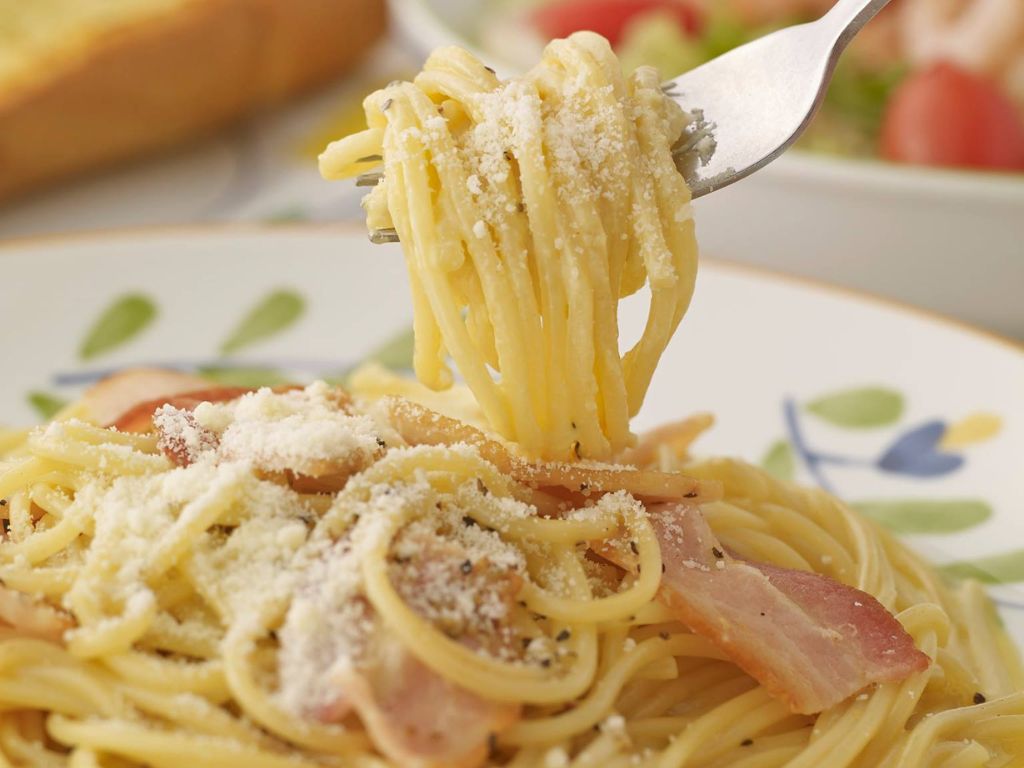 Why visit? Saizeriya's reputation is well-established among diners in Singapore. As the king of fuss-free casual dining, the Japanese-Italian chain provides a dizzying array of simple and easy-to-eat dishes, including pasta and pizza at pretty affordable price points.
With such an extensive menu, there's something for everyone — especially if you're craving Japanese-European fusion dishes. Best of all, you can pig out without worrying about making a dent to your wallet, for dishes are really reasonably priced.
Price range: $
Crowd favourites: Every Saizeriya stan has his or her own must-orders at this casual eatery. But if you ask us, you can't go wrong with the creamy milano doria (a cheesy buttered rice gratin, S$5.90) or the rich bolognese pasta (S$5.40) on days when you just want a quick but filling lunch.
4. Chef Sumo
Customs House, 02-02, 70 Collyer Quay
Open: Monday to Friday (12.15pm to 2pm, 6.30pm to 9.30pm), Saturday (6.30pm to 9.30pm)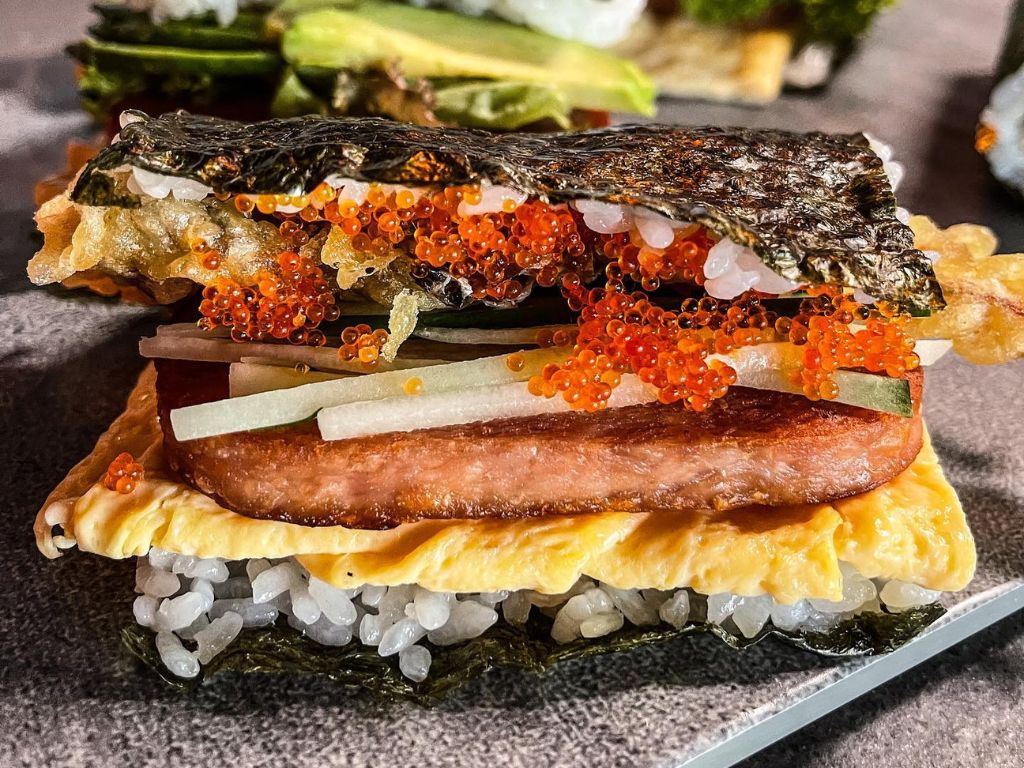 Why visit? Like we said, burgers are the ultimate fuss-free office lunch delivery option, but what if you're bored of the usual buns-and-patty combo? Enter Chef Sumo — a concept that's offering wallet-friendly flavour bombs in the form of onigiri burgers.
As its name suggests, the onigiri burgers by Chef Sumo, which is the sibling concept of popular rooftop bar Kinki, are a creative twist that marries a typical burger with sushi handrolls.
The loaded onigiri burgers comprise premium Japanese ingredients ranging from unagi to wagyu beef that's stuffed into a cosy pocket of fresh seaweed and Japanese rice.
Price range: $$
Crowd favourites: Onigiri burgers are the name of the game here, and prices start from a reasonable S$8.42 with the basic chick (tamago and spam). But why limit yourself to that when there are some unique and hearty options, such as the crabbie pattie (soft-shell crab, S$13.82) or the kimchi kimmie (pork belly and kimchi, S$12.74) to spice up your lunch?
5. Zac Butchery
1B Figaro Street
Open: Monday to Friday (9am to 6.30pm),  Saturday and Sunday (9am to 5.30pm)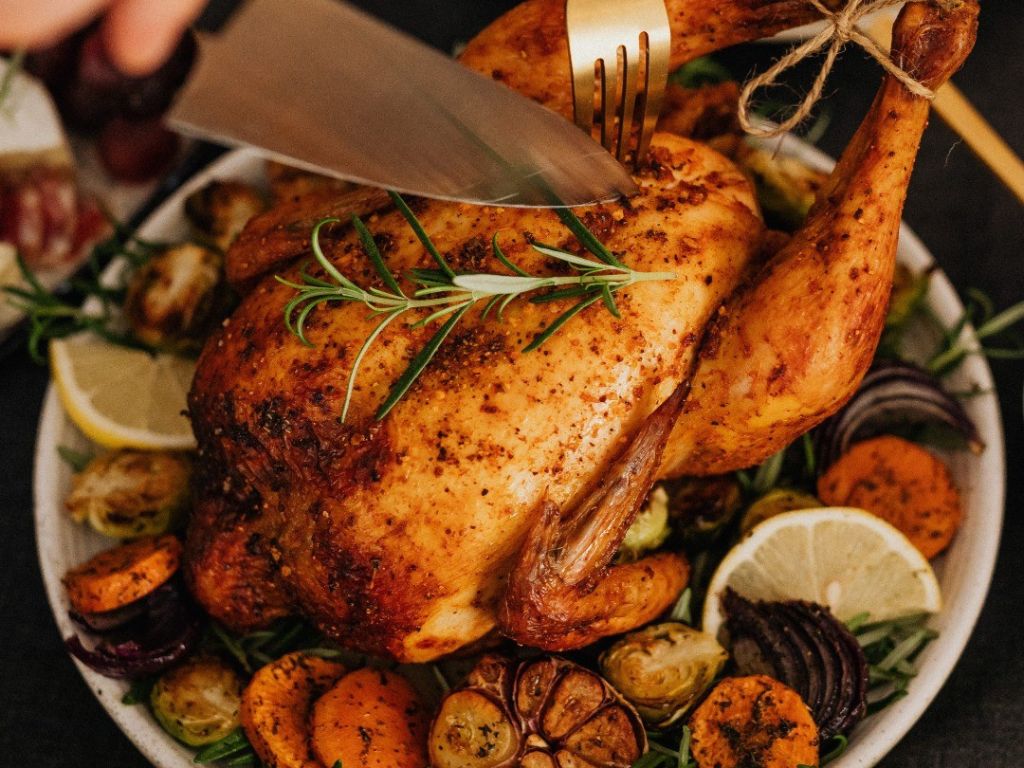 Why visit? Stuck at work but want to whip up a delicious western meal for your family and friends? Zac Butchery is the perfect solution, offering an array of pre-marinated meats and instant meals that helps you save time from prepping and marinating. 
The halal-certified butchery has a range of premium cuts and meats that you can quickly throw on the grill for a hassle-free dinner party, plus its website has a list of convenient recipes you can refer to as well.
Price range: $$
Crowd favourites: We all love a well-seared, juicy chicken thigh. Zac Butchery offers a trio of pre-marinated (S$9.95 for two 250g pieces) options for the home cooks who wish to whip up a fuss-free lunch at home. 
The seasonings include basil, peri-peri and cajun. The same options are also available for chicken breast (S$11.70 for two 250g pieces) and chicken wings (S$17 for 1kg).