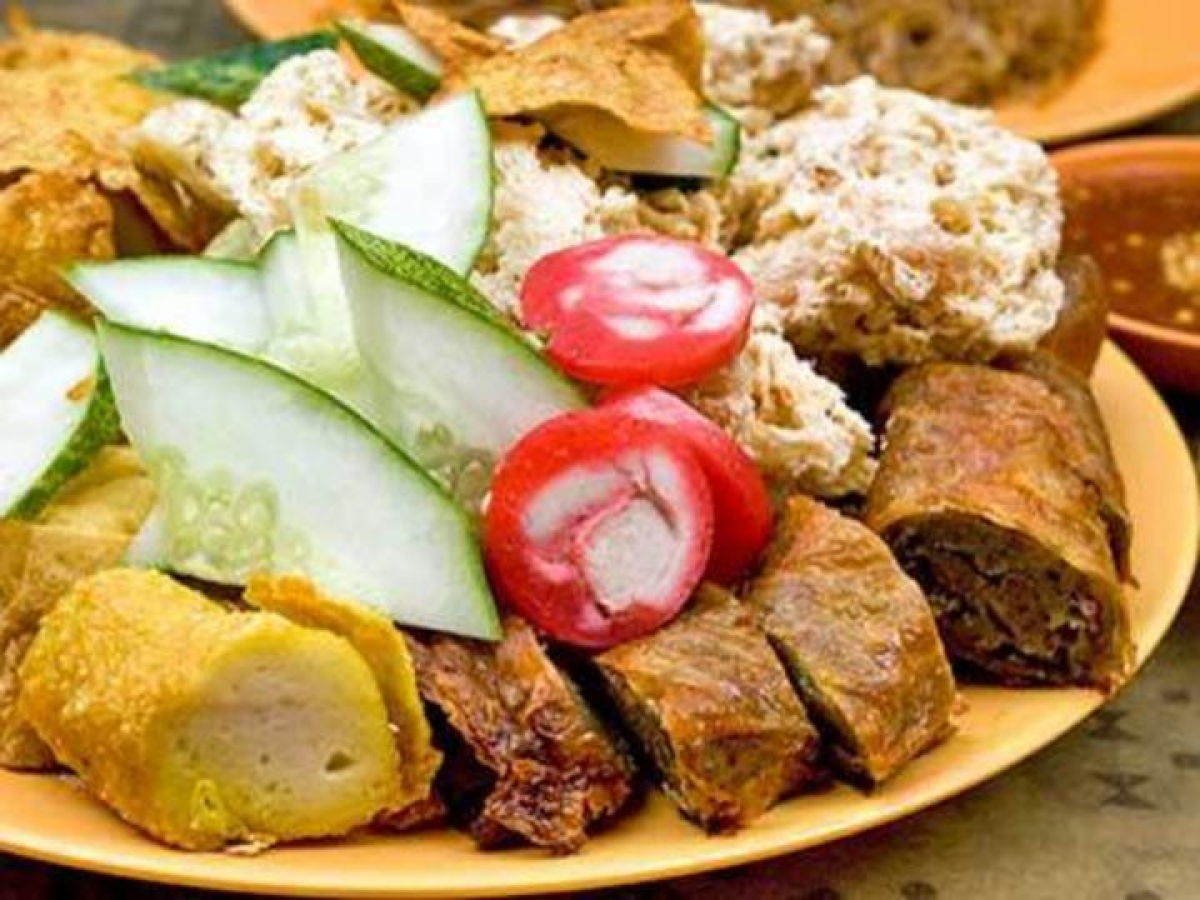 Ngoh hiang (literally "five spices") is a much-loved hawker snack of fried items. It has its roots from the Hokkien and Teochew dialect groups.
Traditionally, ngoh hiang consisted of four classic items—meat roll (popularly known as "ngoh hiang"), liver roll, pink sausage and egg slice. Later, prawn fritters were also added. Now, most hawkers include supplied items like tau kwa (firm beancurd), fish ball, and century egg to extend their range.
We taste-tested some iconic ngoh hiang specialists and pit them against one another in this review. Who will emerge as the champion of fritters?
China Street Fritters EDITOR'S PICK!
#01-64 Maxwell Food Centre
Opening hours: Tue-Sun: 12pm-7.30pm
Rating: 4.5/5
China Street Fritters had its beginnings as a roadside stall in China Street during the 1940s. Now, this heritage hawker stall is run by the second generation owners. Specialising in Hokkien-style ngoh hiang, they offer the four classic items—sausage, meat roll, liver roll, and egg slice—as well as tau kwa, fish ball, and century egg. Prawn fritter is not on the menu.
For the four classic items, they were very fresh and well-made. The sausage was bouncy and had a good balance of lean meat and fat. The meat roll and liver roll were meaty, tasty and aromatic. But our favourite was the egg slice, which had a crispy crust, while the inside was melt-in-the-mouth.
Overall, we liked how all the items were well-fried but managed to retain a clean taste. The bee hoon was tasty and sufficiently moist, acting as a more-than-decent accompaniment to the fried items. However, the watery chilli sauce could have had more punch.
Lao Zhong Zhong Five Spice Stall BEST VARIETY & BEST CHILLI
29 Tai Thong Crescent, Lao Zhong Zhong Eating House
Opening hours: Tue-Sun: 11.30am-11pm
Rating: 4.5/5
Be spoilt for choice at Lao Zhong Zhong's amazing variety of Teochew-style ngoh hiang. In addition to the four classic items, there are 10 other kinds of items available here.
Besides century egg, tau kwa and fish ball, the rest of the items are freshly made on the premises. For the four classic items, they were much better than average, but lacked the finesse of China Street Fritters.
More memorable items include the hae cho (prawn roll), braised cuttlefish and prawn fritters. The prawn roll was fat and full of crunchy chopped water chestnut and onion. Also, do try the two types of prawn fritters—both the pancake and crispy versions. The crispy prawn fritter was very light and airy.
Deserving special mention is their super shiok chilli sauce. It was very aromatic and piquant, and had chopped raw onion and peanut which gave it that extra special kick!
Five Spice Prawn Fritter
1 Tanjong Pagar Plaza, #02-04/05
Opening hours: Daily: 11.30am-1.30pm
Rating: 4/5
The range here is minimal, but this doesn't deter the daily stream of customers who wait for up to 20 minutes for the elderly stall owner to fry each order one plate at a time.
The main draw here is the prawn fritter, which is cooked upon order. It's a fascinating process to watch—the stallowner spoons batter onto a spatula, tops it with prawn and beansprouts, covers it with more batter, then deep-fries it. The result is a crisp pancake with soft, mushy insides with bursts of refreshing beansprout. The whole sensation was immensely homely and comforting.
The other items on the menu are homemade egg slice, meat roll, and pink sausage, as well as supplied tau kwa and fish ball. They were decent but not as memorable as the prawn fritter. The fried items were also rather oily. However, we enjoyed the rather unusual fried bee hoon. A thicker variety of noodle was used, which gave more bite. We liked how it was moist and lightly seasoned, completing the rustic food experience.
Hup Kee China Street Ngoh Hiang
#01-97 Maxwell Food Centre
Opening hours: Tue-Sun: 11.30am-7.30pm
Rating: 3.5/5
Against their established peer in the same food centre, Hup Kee has proved to be a worthy competitor. They also offer Hokkien-style ngoh hiang without prawn fritters, with the same range of items as China Street Fritters.
On the whole, Hup Kee's homemade offerings were better than those from run-of-the-mill ngoh hiang stalls, but stopped short of being outstanding. Their pink sausage was a bit too sweet and soft for our liking. Also, the meat roll was pathetically thin. It was so thin we could hardly taste the filling.
Thankfully, the fried items demonstrated good control of temperature and oil. They were crispy without being greasy. The bee hoon was extremely flavourful, airy, and bouncy, but it also made us rather thirsty.
Bukit Merah Central Wu Xiang Guan Chang
Blk 163 Bukit Merah Central, #02-26 Bukit Merah Central Food Centre
Opening hours: Mon-Sat: 1pm-9pm
Rating: 3/5
There are hits and misses here, but their fresh and hearty ngoh hiang is certainly worth a try if you're in the vicinity.
Hits included the meat roll and liver roll. We enjoyed their fat and tasty meat roll and liver roll. Another must-try is the homemade spring roll, filled lots of juicy yam bean and other vegetables. Although the tau kwa is supplied, it was of good quality. The beancurd was fried till crispy on the outside, but the interior was gorgeously moist and melt-in-the-mouth.
Skip the overly dense and heavy yam roll. The crispy prawn fritter wasn't greasy, but it wasn't light and airy enough. The bee hoon could have been more moist, but at least it wasn't overly salty or greasy.
inSing.com made anonymous visits and paid for its own meals at the stalls featured here.
---