TWG Tea's new takeaway teas are an absolute treat for tea lovers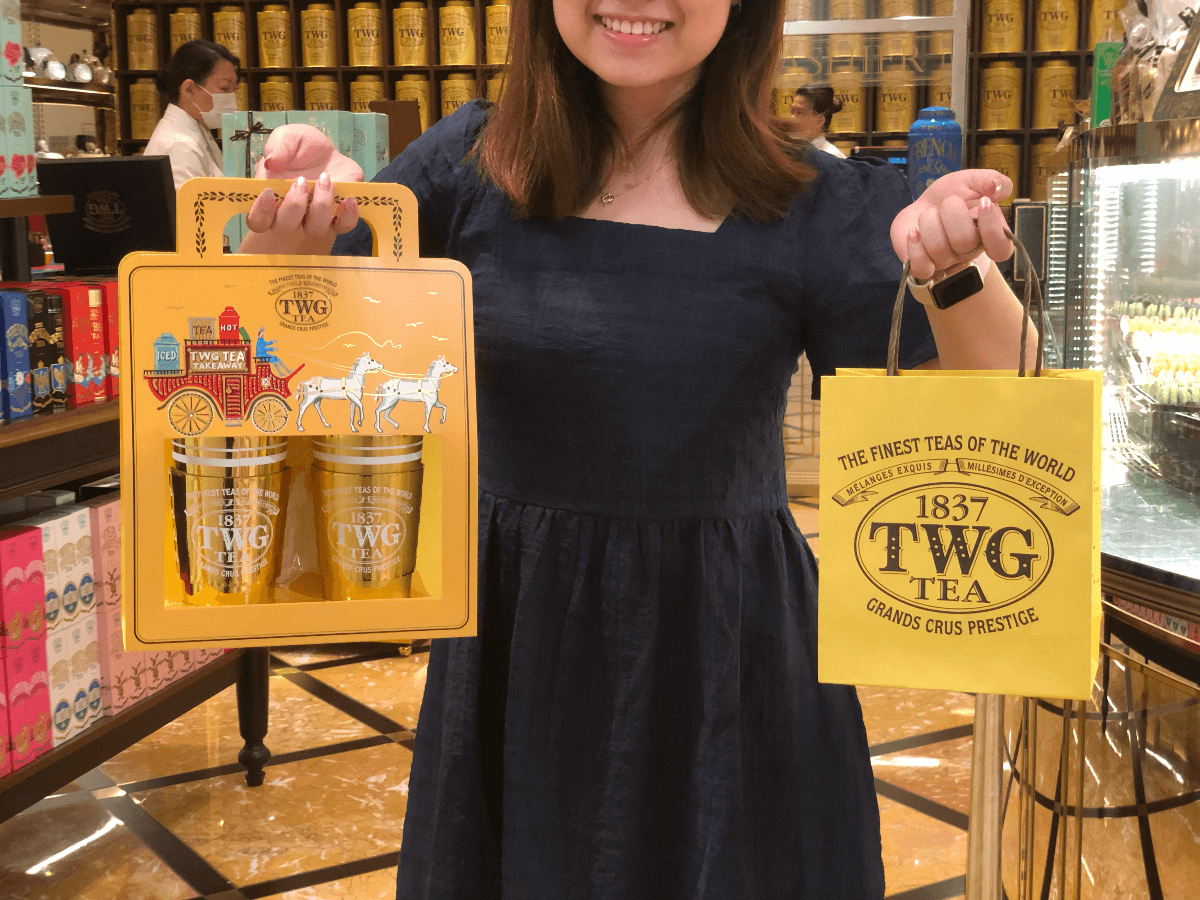 TWG Tea's new stable of takeaway teas — a first for the brand in 14 years — has been the talk of the town in recent weeks. 
The luxe gold cups and reusable glass straws have been making the rounds of social media, with tea lovers making a beeline for its Takashimaya store to get their hands on these pretty cups. 
TWG Tea was established in 2007 as a subsidiary of a Singaporean lifestyle company, The Wellness Group, from which — you guessed it — the abbreviation TWG was derived.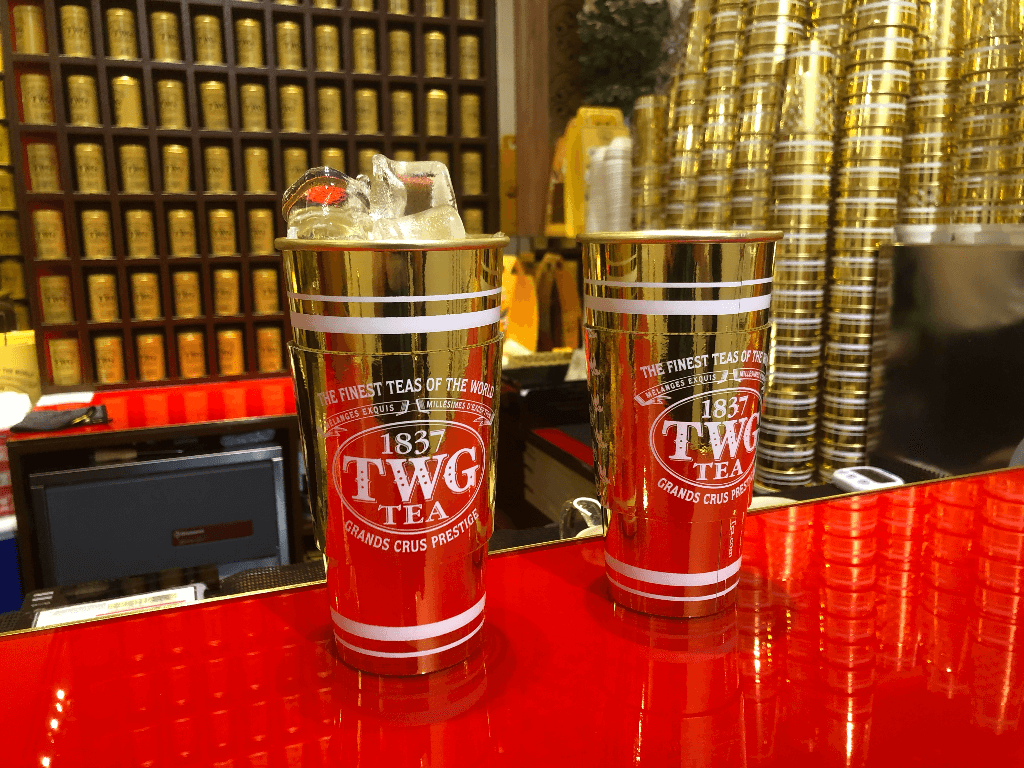 Since then, it has served up its namesake brand of artisanal tea in luxury tea houses across the world.
HungryGoWhere headed to its Takashimaya outlet, the only one that does takeaways in the gold cups, to see what all the rage is about.
The teas come in posh, gold biodegradable cups in several varieties of carriers — single or double holders decorated with an illustration of a horse carriage or flowers.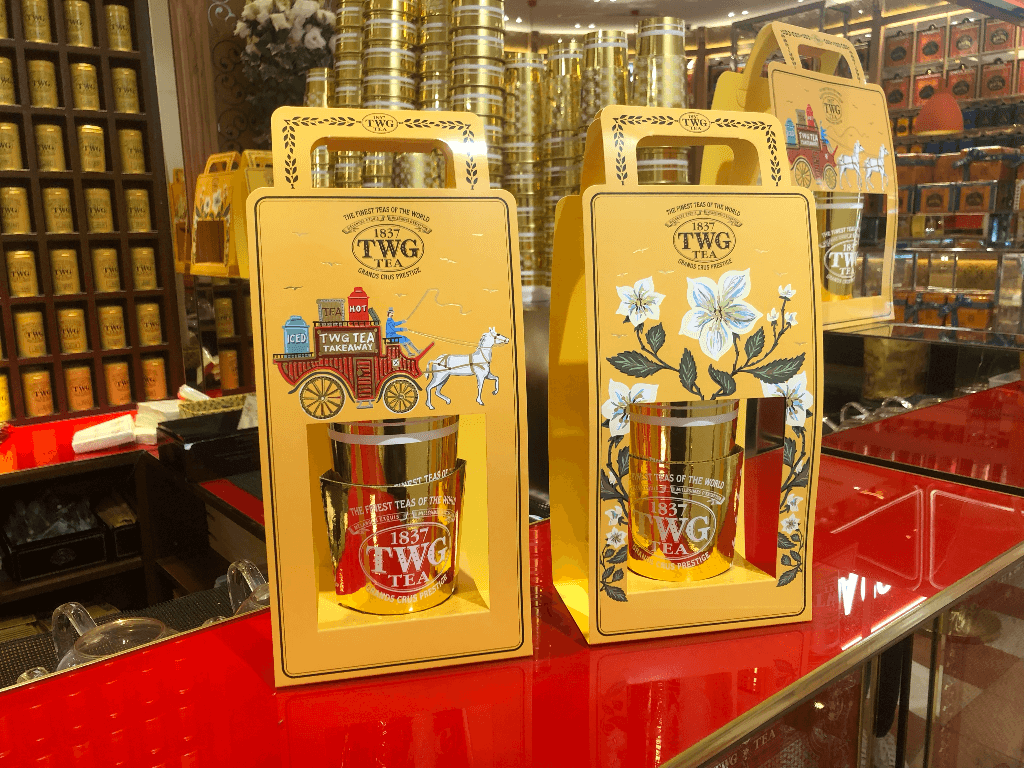 All the teas are made to order and brewed on the spot. It's quite the sight to watch the smartly dressed staff brew and strain the tea behind the counter.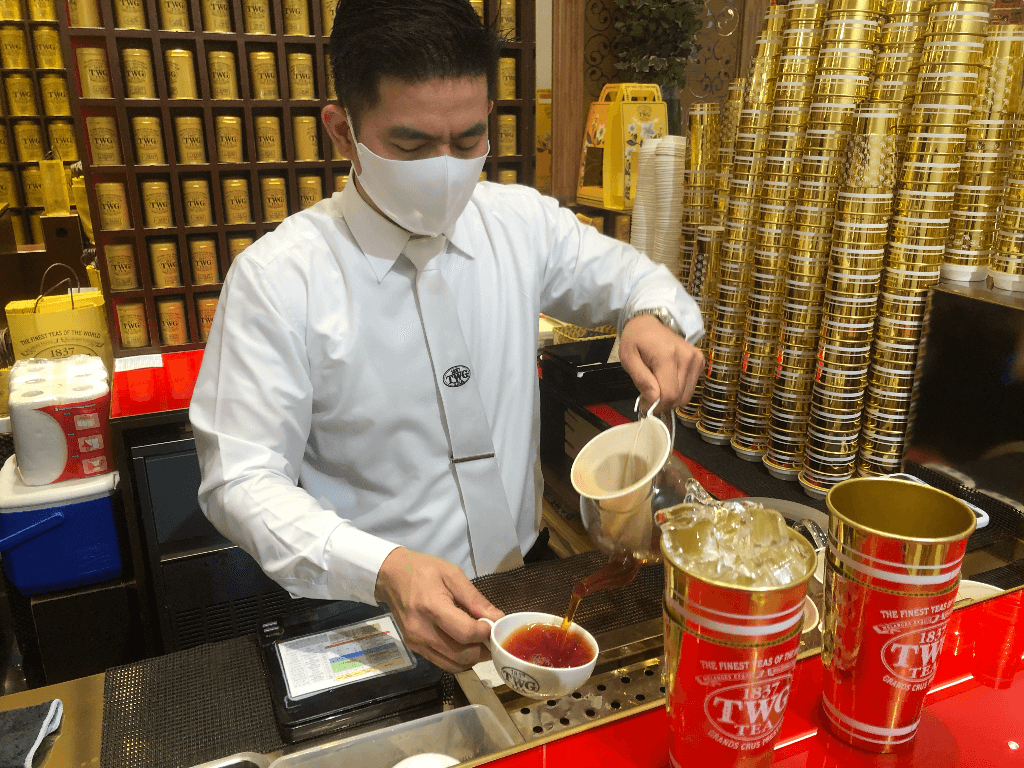 While each cup of tea goes for S$8, TWG Tea is also running promotions for takeaways. 
They are: Tea and macarons for S$20, which includes a hot or iced tea and a box of six macarons, or tea and chocolates for S$22, which includes a hot or iced tea and a box of six chocolate bonbons.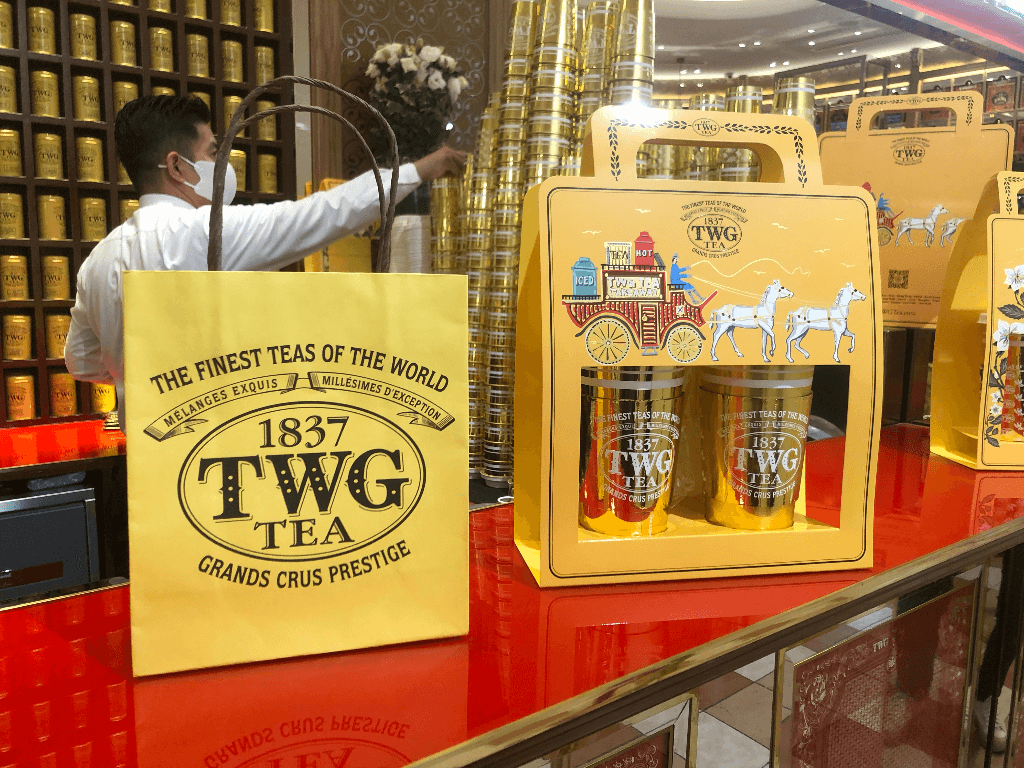 HungryGoWhere ordered two teas — eternal summer tea (cold) and 1837 black tea (hot) — and six macarons: 1837 black tea and blackcurrant; earl grey fortune and chocolate; napoleon tea and caramel; bain de rose tea; silver moon tea and strawberry; and number 12 tea and tiramisu.
A popular choice, the eternal summer tea has refreshing floral, fruity and zesty notes that make it a great thirst quencher. Meanwhile, the 1837 black tea is TWG's signature blend with a full aroma and smooth mouthfeel that's easy on the palate.
Hot teas come with sugar sticks, in the form of crystallised white-sugar popsicles, and those who get their beverages cold may ask for sugar syrup if they prefer their tea sweetened.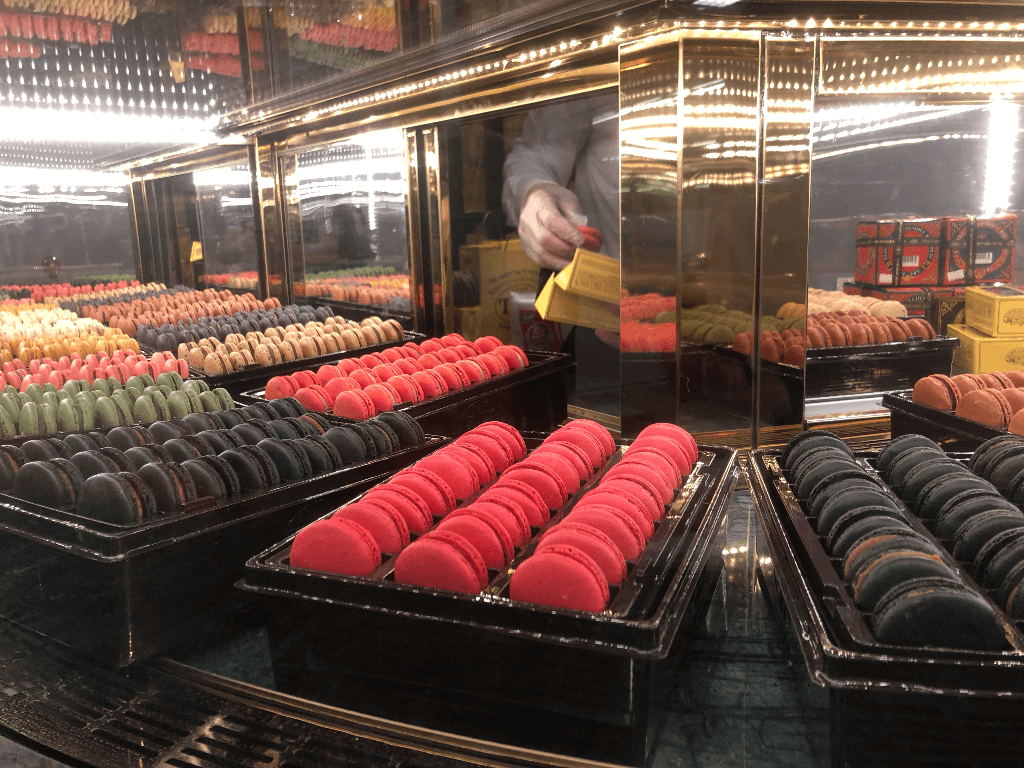 Another TWG signature is its 1837 black tea and blackcurrant macaron, which has a subtle flavour, so that it doesn't overpower the taste of the tea you're meant to eat it with. 
The earl grey fortune and chocolate, and napoleon tea and caramel macarons weren't overly sweet as caramel-flavoured pastries tend to lean that way. 
Other interesting flavours were the bain de rose tea macaron with an expected floral fragrance and surprising complexity. The silver moon tea and strawberry macaron's ganache was too sweet, so much so that its strawberry flavour overpowered the more subtle tea-flavoured meringue shells. 
Our favourite was the number 12 tea and tiramisu macaron that had the right amount of sweetness complementing the slight bitterness of coffee. Fans of yuan yang and tiramisu will love this.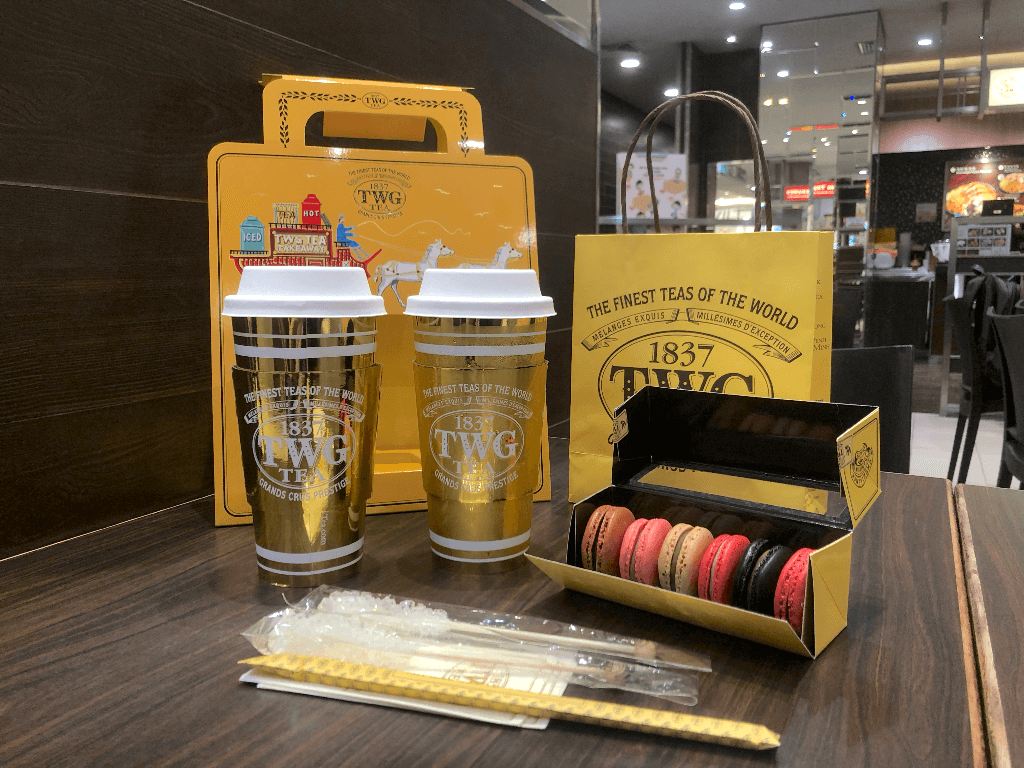 There are a few things to note, though. Even though the gold cups are sturdier than your average fast-food chain takeaway and you might want to use them again at home, they are recommended for one-time use, according to the TWG staff. 
What you can reuse is the accompanying glass straw that comes with an order of cold teas.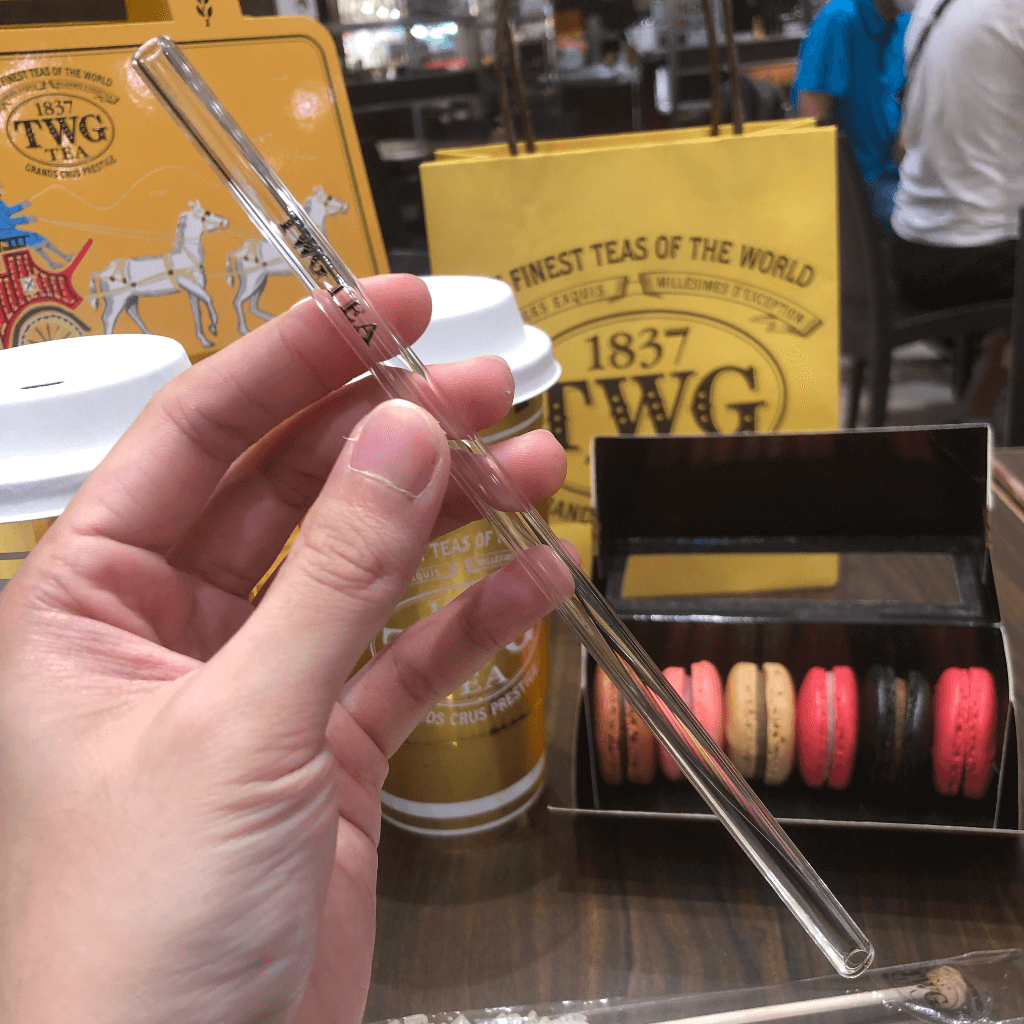 Overall, it's great that TWG Tea's offerings are available for takeaway. 
A TWG Tea staff member says the company plans to carry on its gold cup takeaways in the long run and offer it at its other stores if this trial is successful. 
Looking at how people are queuing for these cups, it's likely that you won't have to wait much longer until they're offered at more outlets islandwide.
Want to get your hands on this early TWG Tea release? You can book a ride to its store. 
Takashimaya, B2-02-2-2, 391 Orchard Road
Nearest MRT station: Orchard
Open: Daily (10am to 9.30pm)
Takashimaya, B2-02-2-2, 391 Orchard Road
Nearest MRT station: Orchard
Open: Daily (10am to 9.30pm)