Tim Hortons opens in Singapore: Now you can have Canada's most iconic donuts and coffee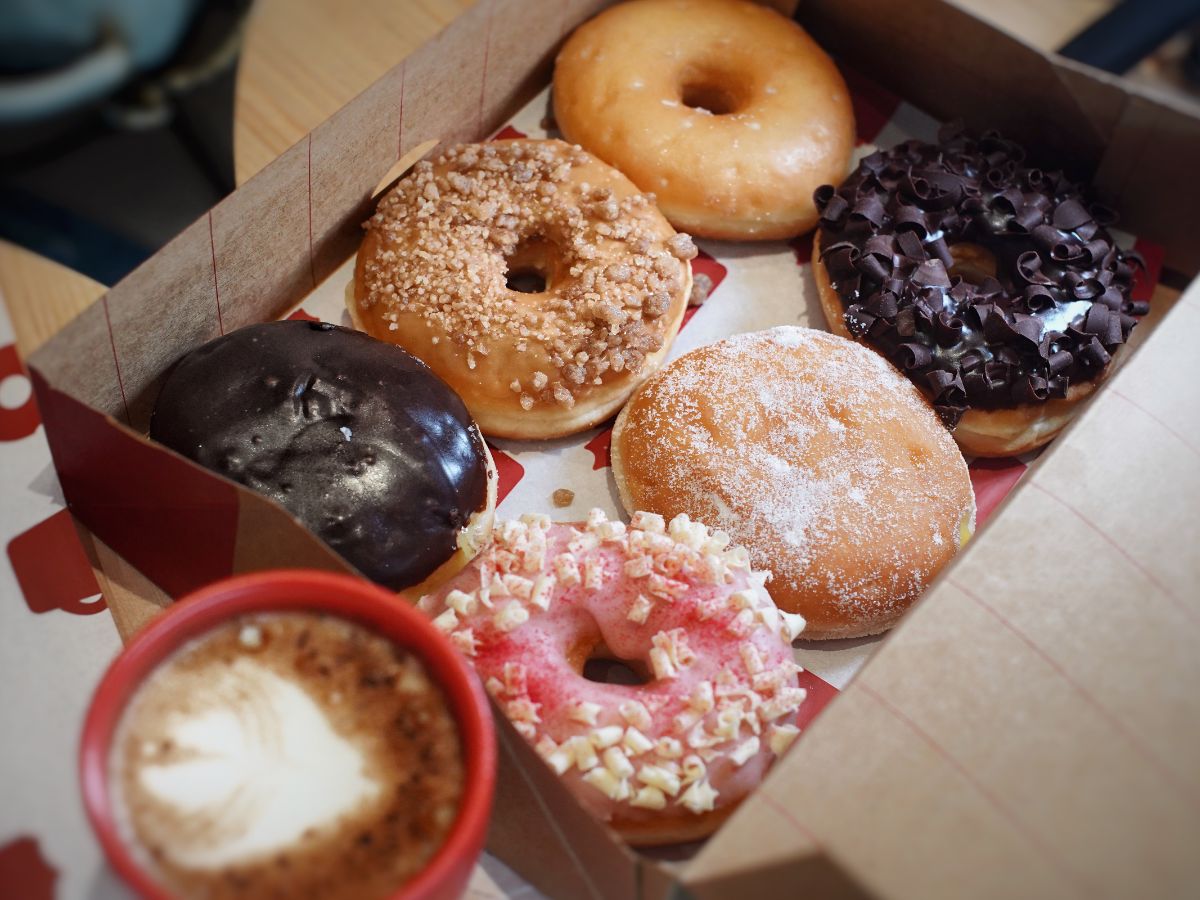 Ask any Canadian what the country's most iconic brand is, and there'll most likely be one answer: Tim Hortons.
Hailing from the land of maple syrup, the brand was founded by hockey star Tim Horton in 1964 in Ontario, the second largest and most populated province in the country.
As time went by, the coffee shop chain expanded and went on to become one of the most popular brands in the country, beloved for its speciality of donuts and coffee.
The cultural staple has even gotten some of Canada's biggest names to collaborate with it, such as musicians Justin Bieber and Shawn Mendes, further cementing its iconic status.
After almost six decades of operations, Tim Hortons can now be found at more than 5,700 locations globally, in countries such as the United States, United Kingdom, China and Thailand.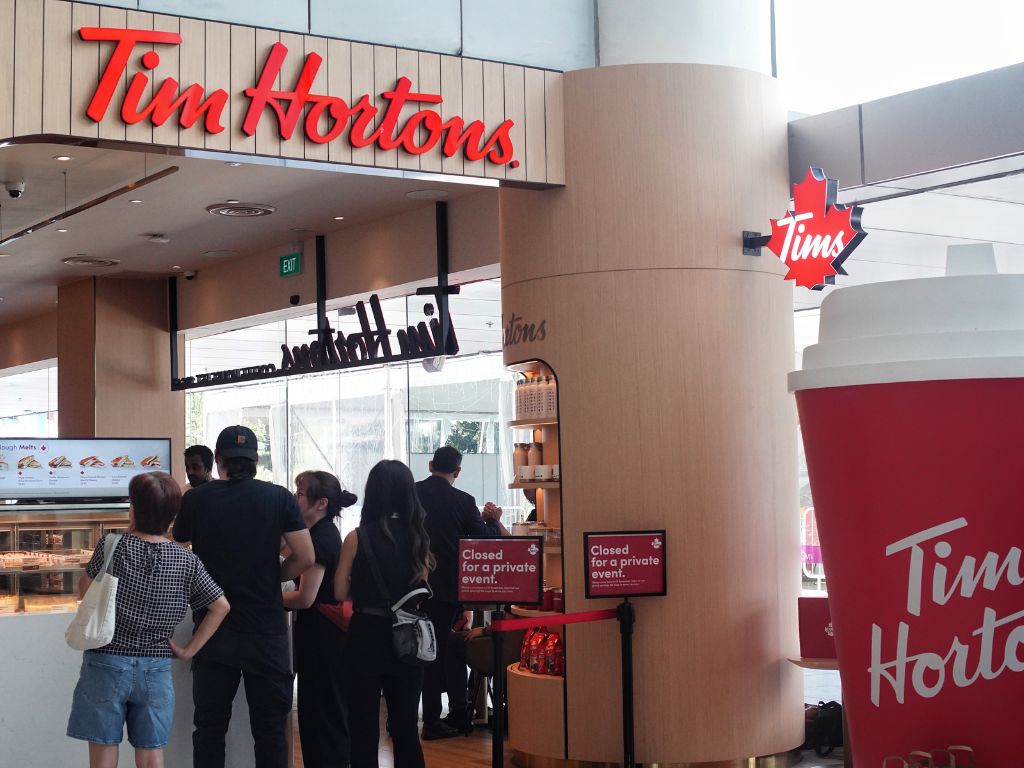 And, from Nov 17 onwards, it can be found in the Little Red Dot, too, as Tim Hortons Singapore will officially launch its first outlet at Vivocity.
More outlets are planned for the next few months at high-traffic locales, such as Nex mall and Suntec City, aiming to make it accessible to Singaporeans all around the island.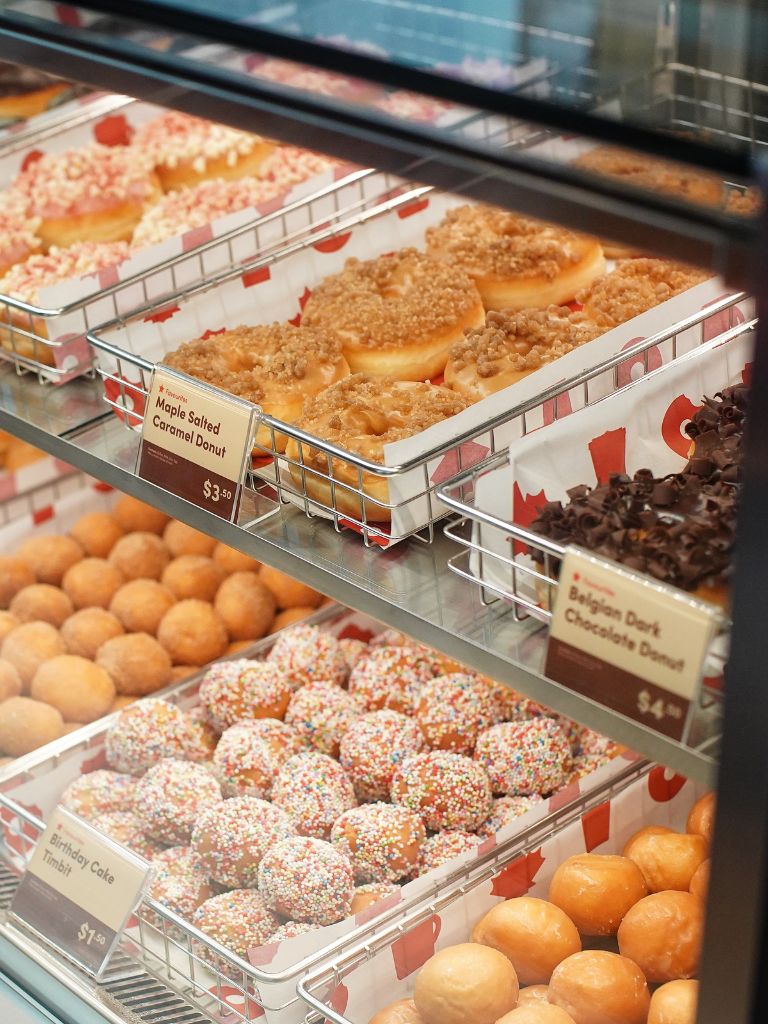 The Tim Hortons Singapore menu contains many of its all-time favourites and will also feature some new items, such as sourdough melt sandwiches, which are meant to cater to local palates.
Those familiar with the chain will be pleased to know that Tim Hortons' famous donuts can be found on the menu, featuring six flavours. Note that you can only get these in a pack of six for S$20 currently.
The flavours are: Maple salted caramel, Belgian dark chocolate, Boston cream, strawberry Belgian white chocolate, yuzu lemon cream and, of course, the classic glaze.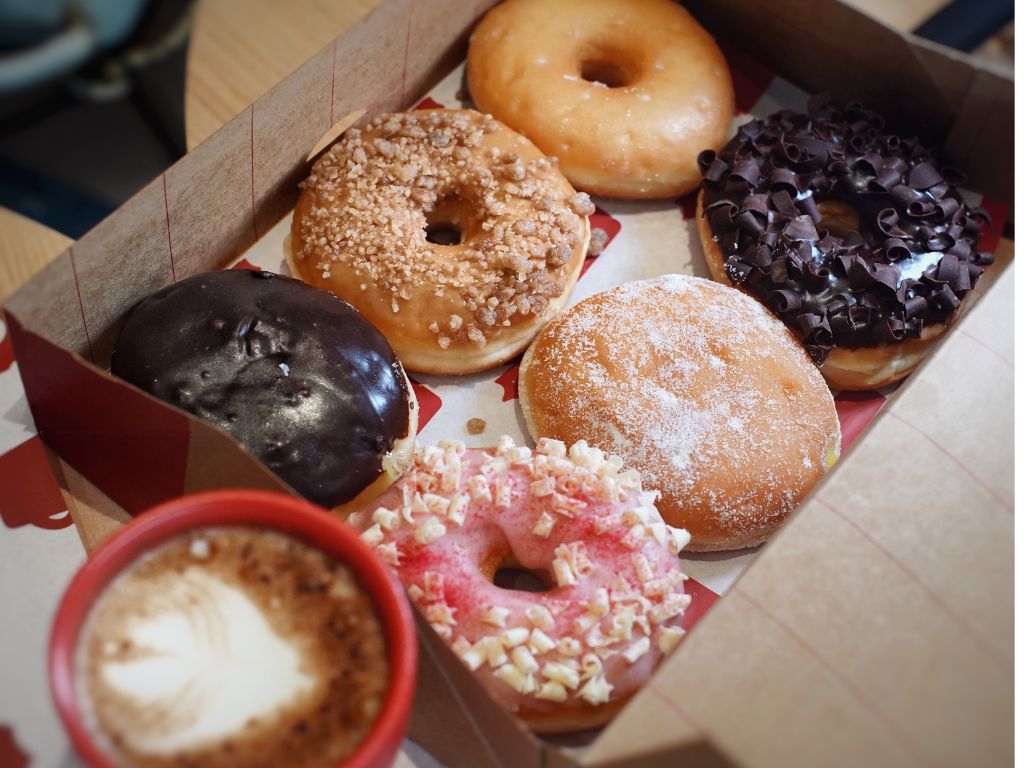 Each comes with a decently fluffy texture, and our favourites include the Boston cream for its silky and decadent cream and the maple salted caramel, a rich and toasty morsel with bits of biscoff to give it extra dimension.
If you're looking for just a tidbit to snack on and don't wish to wolf down an entire donut, Tim Hortons' signature Timbits are a great alternative.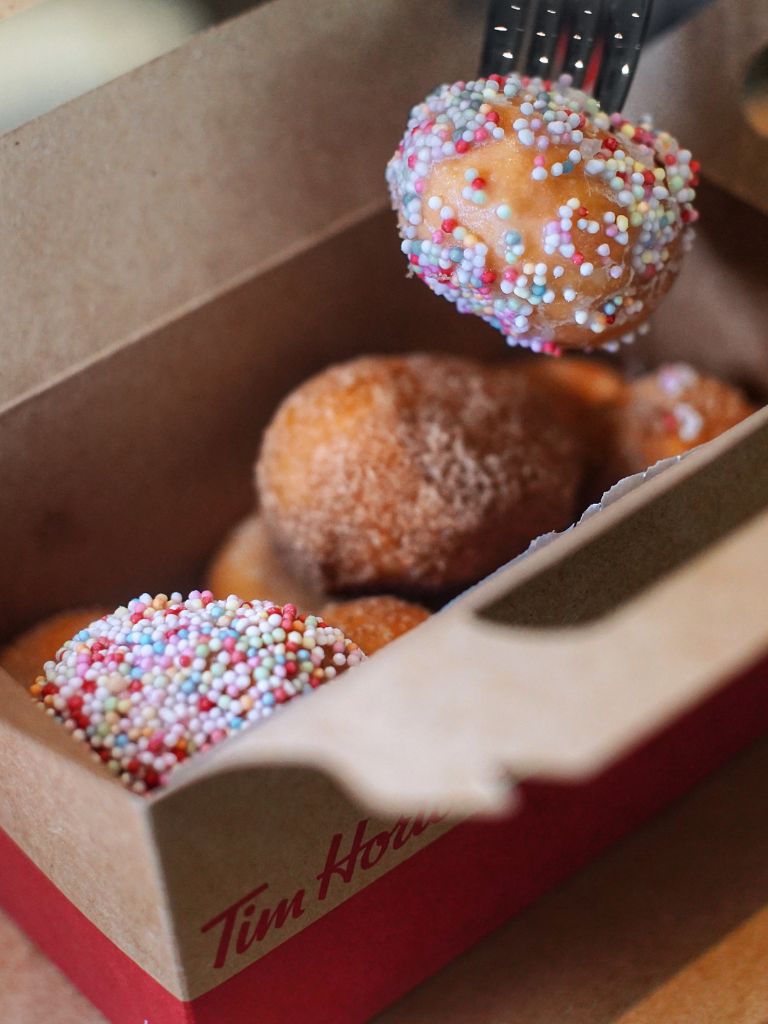 Timbits are the brand's adorably bite-sized globes of dough, caked in a layer of flavouring. They are currently available in a pack of 10 for S$10.
These come in three flavours — classic glaze, cinnamon sugar and birthday cake — and their petite size and soft chewiness make them great for satisfying those afternoon snack cravings.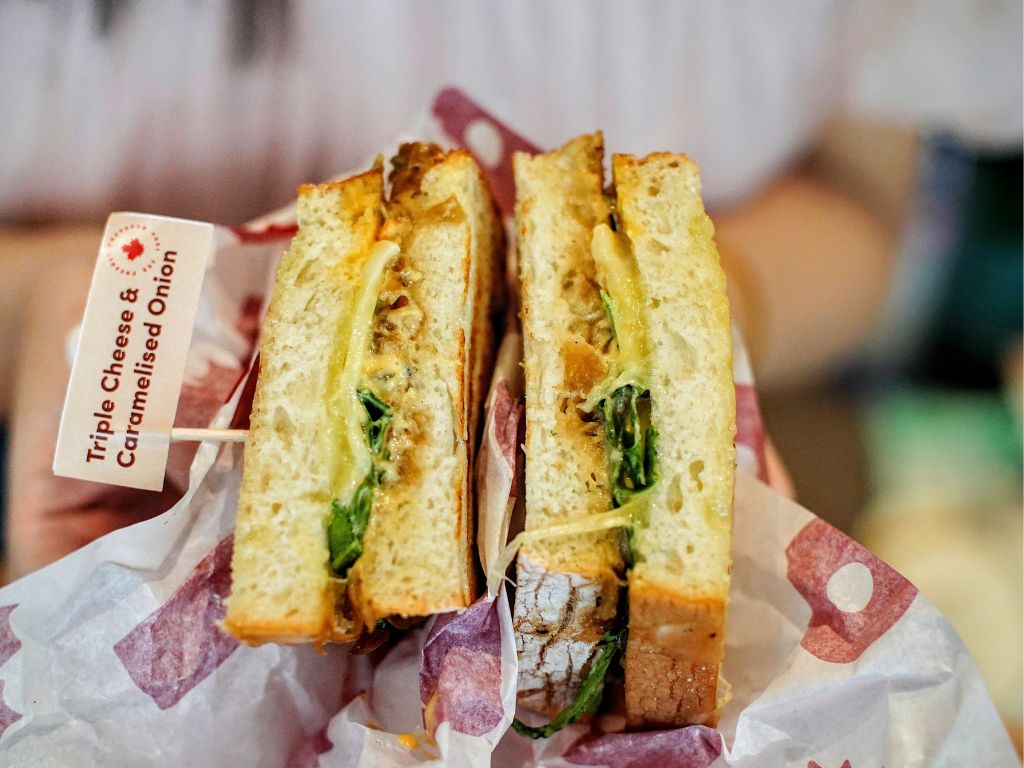 Besides all the delightful doughy treats, Tim Hortons' Singapore menu also contains a slew of sourdough melts (from S$8.90) that will only be available for dine-in customers. These tiny parcels feature melty cheese and hearty fillings that are bookended by two slices of crusty grilled sourdough bread. 
Sandwich lovers have the option of six flavours. These range from the straightforward but gratifying triple cheese and caramelised onion to the more lavish maple-glazed chicken ham and cheese and truffle egg mayo cheese.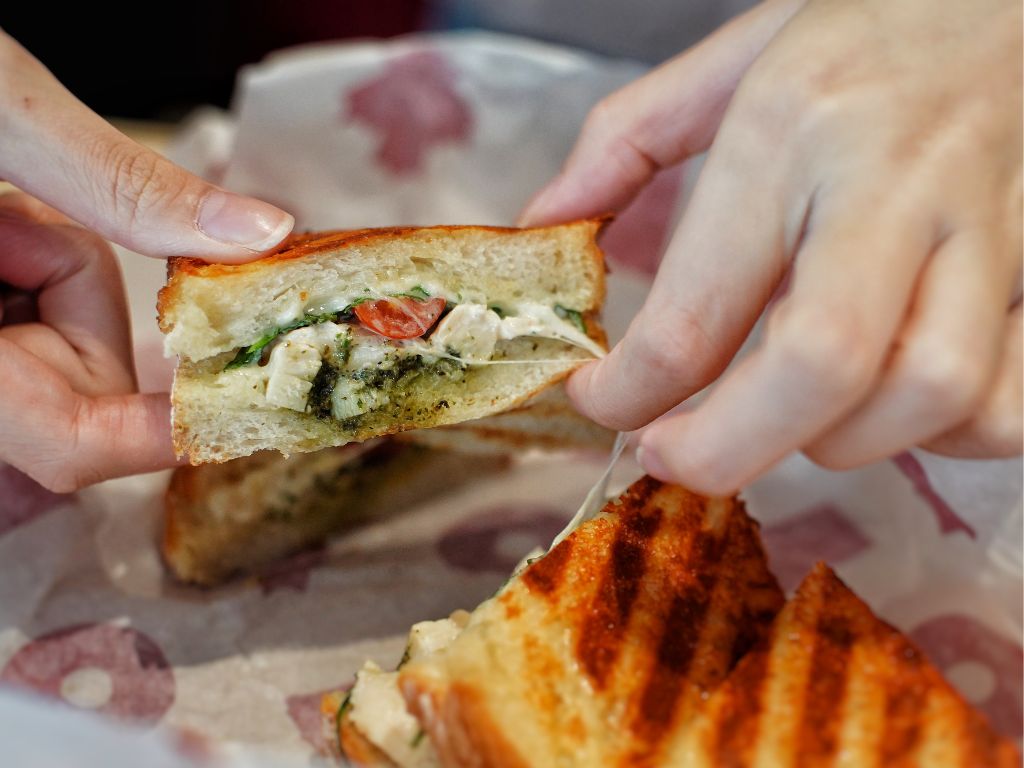 Out of the bunch, the triple cheese and caramelised onion impressed us the most with its rich and creamy textures, while the pesto chicken and mozzarella also proved enjoyably tangy and earthy.
Don't worry too much about feeling 'jelak' after a few bites — we found that the recipes for the sandwiches have been adjusted so they taste pretty light and are not overwhelming on the palate.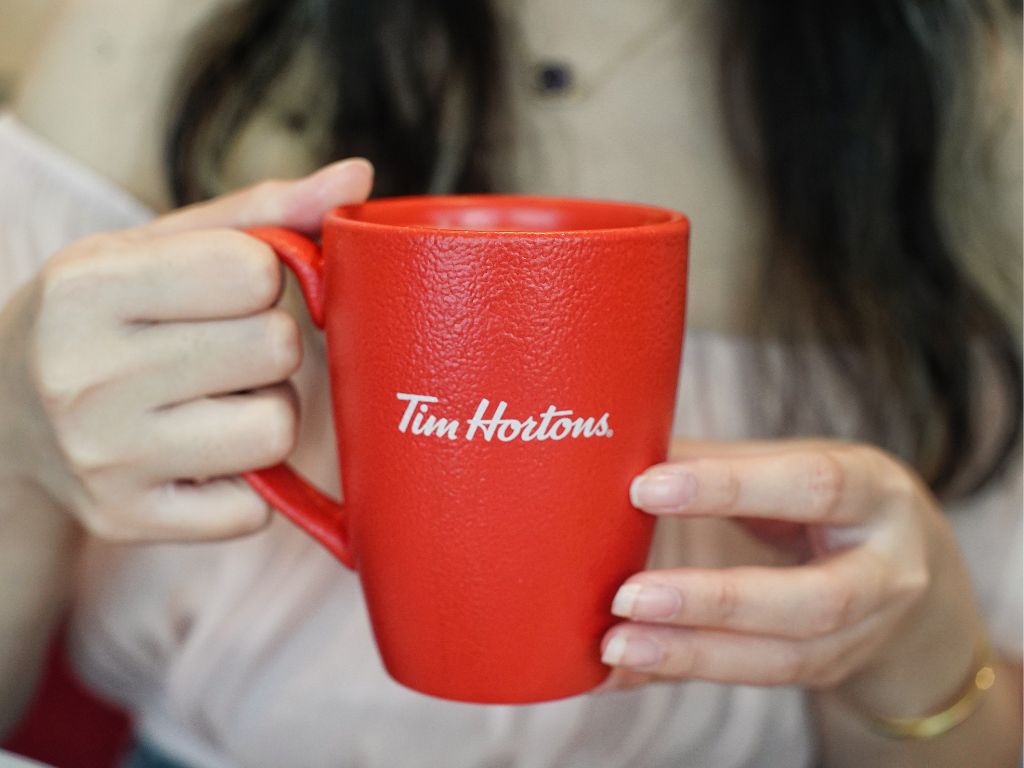 Besides its donuts, Tim Hortons is also very much beloved for its coffee, and there's a reason why.
According to the brand, the magic in its cuppas start from the very beginning, as it responsibly sources its premium Arabica coffee beans from reputable cultivators in heritage-rich regions such as Latin America and Africa.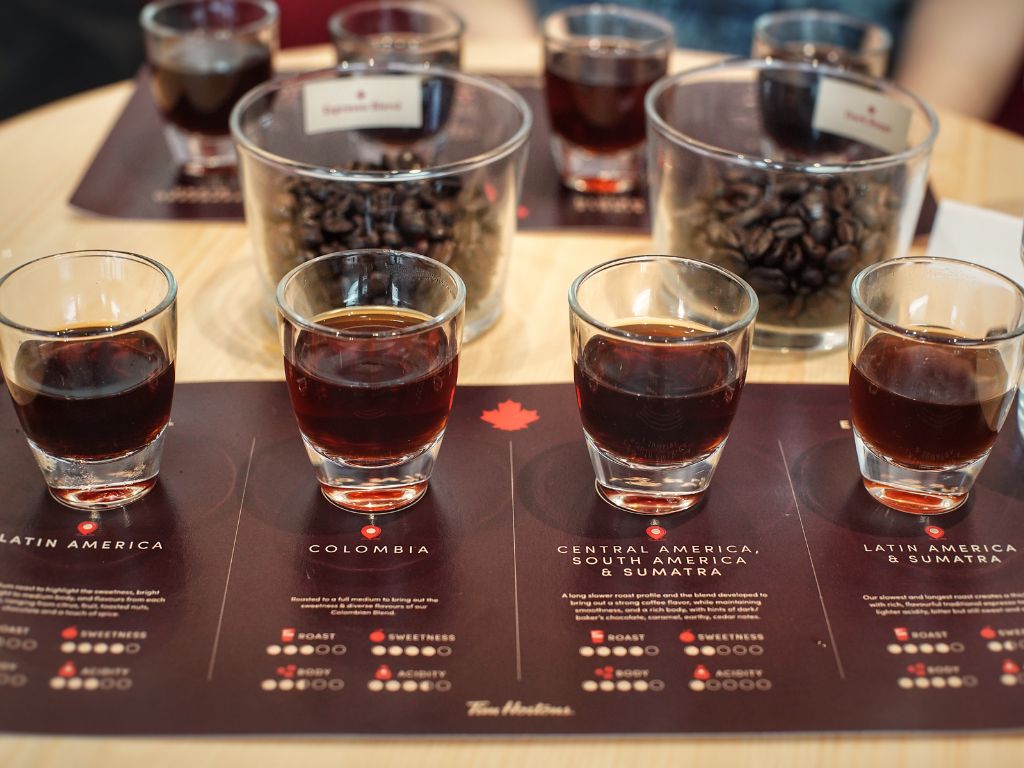 The coffee is then deftly blended by its expert coffee masters and roasting masters to concoct the most suitable espresso profiles for its beverages. 
For example, the "Tims' espresso blend" will be used in beverages such as the basic espresso coffee including the cappuccino (S$5.20), flat whites (S$6.50) and also its flavoured signature lattes. 
For those who like their coffee sweet, Tim Hortons has you covered with its signature lattes such as roasted hazelnut (from S$7), Belgian chocolate mocha (from S$7) and maple cinnamon (from S$7) for a warm comforting taste of Canada.
Coffee enthusiasts who enjoy cleaner, more articulate coffee notes can try the single origin Colombian Brew (S$6) made from its special "Colombian beans" roast that brings out more delicate floral nuances. 
In case you need to beat the heat, Tim Hortons' Ice Capps also make an appearance on the menu. 
The frosty treats are available in both coffee and non-coffee variations, with flavour permutations such as salted caramel macchiato (caffeinated, from S$7) and matcha (non-coffee, from S$7).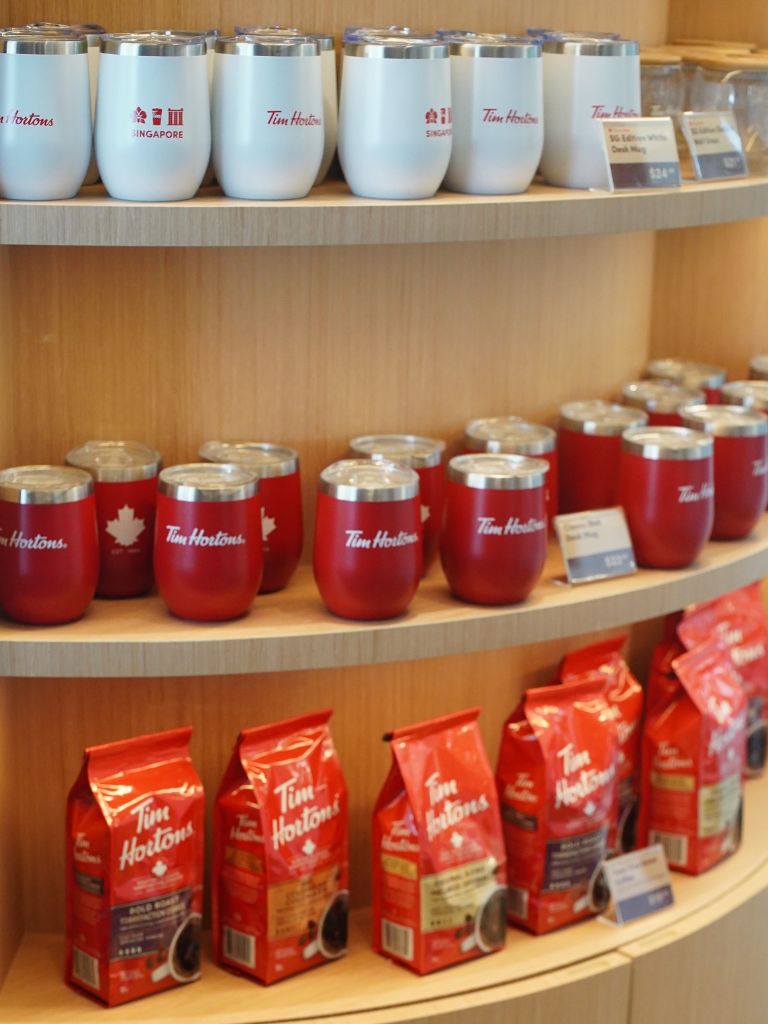 To celebrate the launch, Tim Hortons will be running exclusive promotions to welcome new customers!
There will be four promotions:
Between Nov 17 to Nov 19, the first 100 customers each day will be able to enjoy a regular cafe latte on the house, every week for six months.


On Nov 17, the 101st to 200th customers will be given exclusive Tim Hortons merchandise.

On Nov 17, the 30 best-dressed customers will receive an exclusive swag box worth up to S$80.

There will also be an always-on promotion — customers who download the brand's app and sign up as a member will receive a regular cafe latte on the house!
VivoCity, 01-207, 1 HarbourFront Walk
Nearest MRT station: HarbourFront
Open: Monday to Sunday (10am to 10pm)
VivoCity, 01-207, 1 HarbourFront Walk
Nearest MRT station: HarbourFront
Open: Monday to Sunday (10am to 10pm)
---