Only on GrabFood: McDonald's Happy Festival is back, with up to 50% off selected items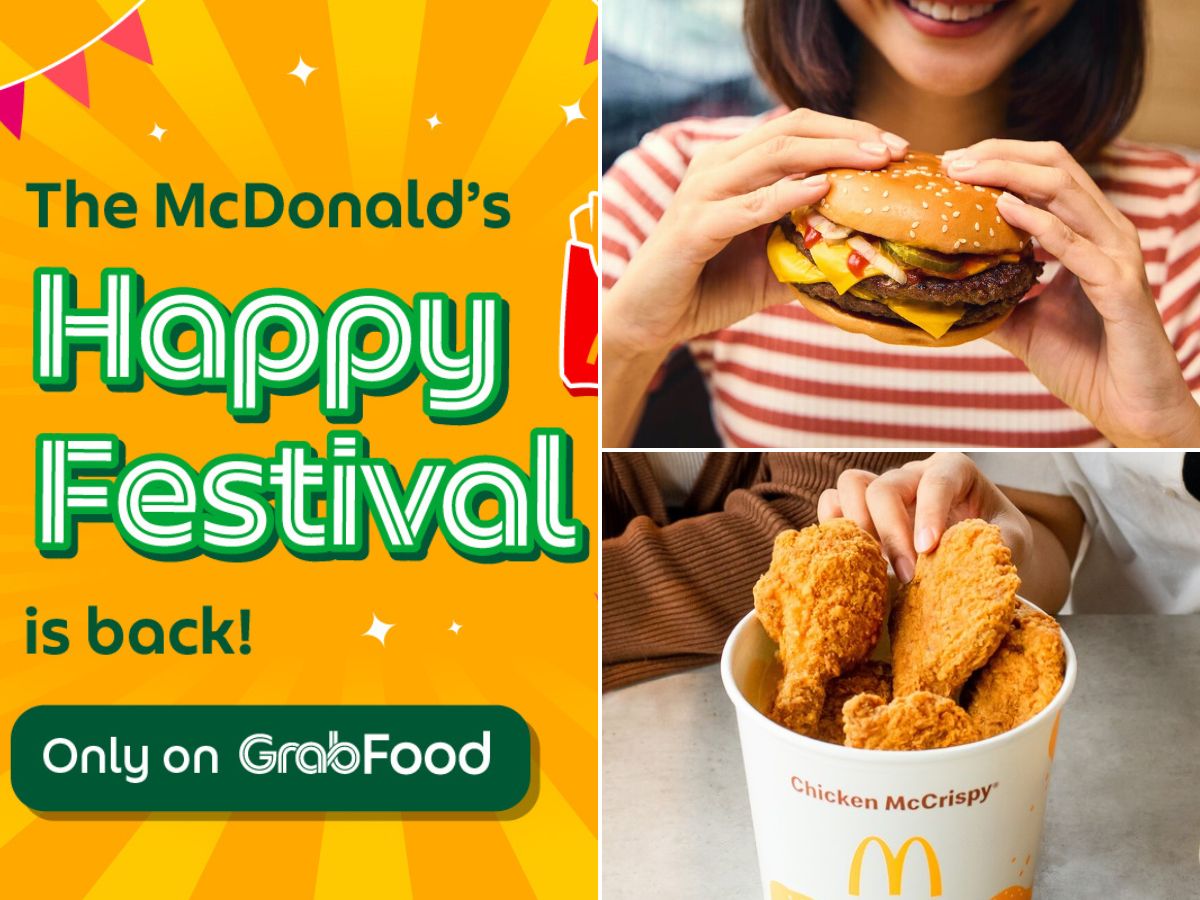 Irish and British novelist Iris Murdoch once said: "One of the secrets of a happy life is continuous small treats." 
That seems to be a philosophy that McDonald's abides by, given that it has been rolling out treat after treat for its fans, from the return of cult favourites (hello, beloved McGriddles) to new menu items and, now, jaw-dropping promos.
We're talking about its Happy Festival, which is returning for just two weeks in March! 
Exclusive to the GrabFood platform, you'll get to enjoy a slew of offers — up to 50% off selected McDonald's items! — from March 16 to 29.
The previous edition of McDonald's Happy Festival featured different deals every three days, but this year, you'll get to pick from four offers that are available all at once and for one entire week!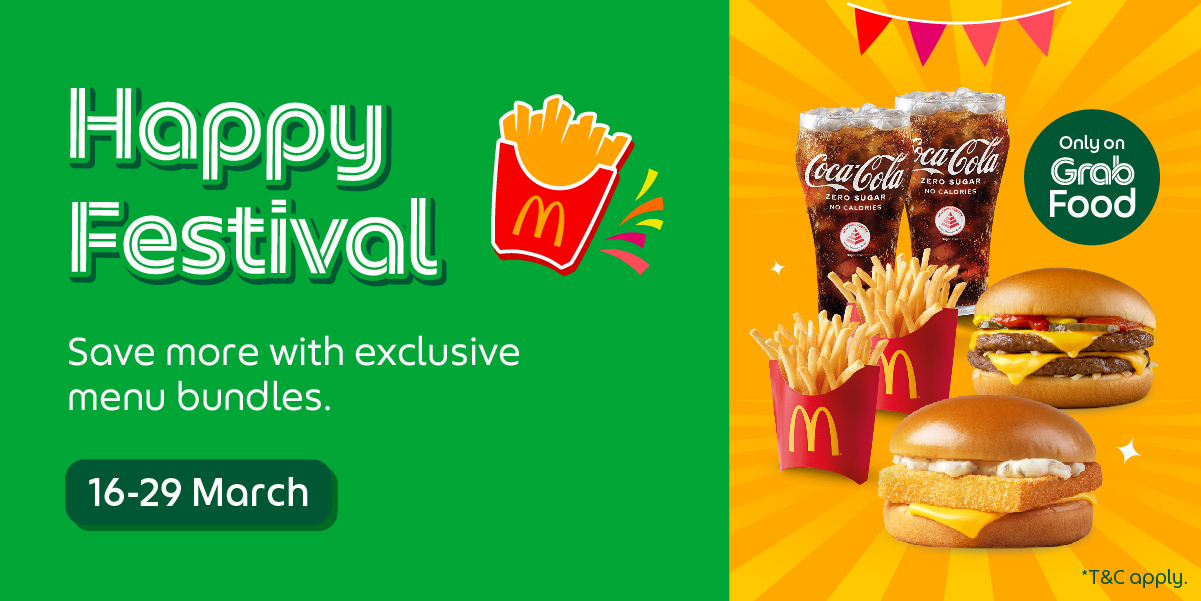 Each week will feature one deal for each of these categories: Three to four people, two people, sides and drinks. 
The larger bundles will include Chicken McCrispy bundled with other items, whereas the two-pax bundles are a combination of some of McDonald's popular extra value meals (EVM).
For the week of March 16 to 22, larger groups will be able to enjoy a bundle for four at just S$29.95 — 34% off from the original price of S$45.60. The hearty meal comprises six pieces of chicken McCrispy, 20 chicken McNuggets, and three medium fries.
Those looking for a simple meal for two will be entitled to a bundle comprising one Filet-O-Fish EVM and one McSpicy EVM for S$12, a drop from the original price of S$15.75.
Besides the heftier bundles, you'll also be able to enjoy a one-for-one apple pie (S$2.10 each) deal and a frappe treat where you get 20% off two frappes (caramel and/or mocha) for S$7.60 in total.
In the second week of the Happy Festival that runs from March 23 to 29, you'll get the option of a bundle for four that comes with a six-piece Chicken McCrispy value bundle, McChicken EVM, and McSpicy EVM.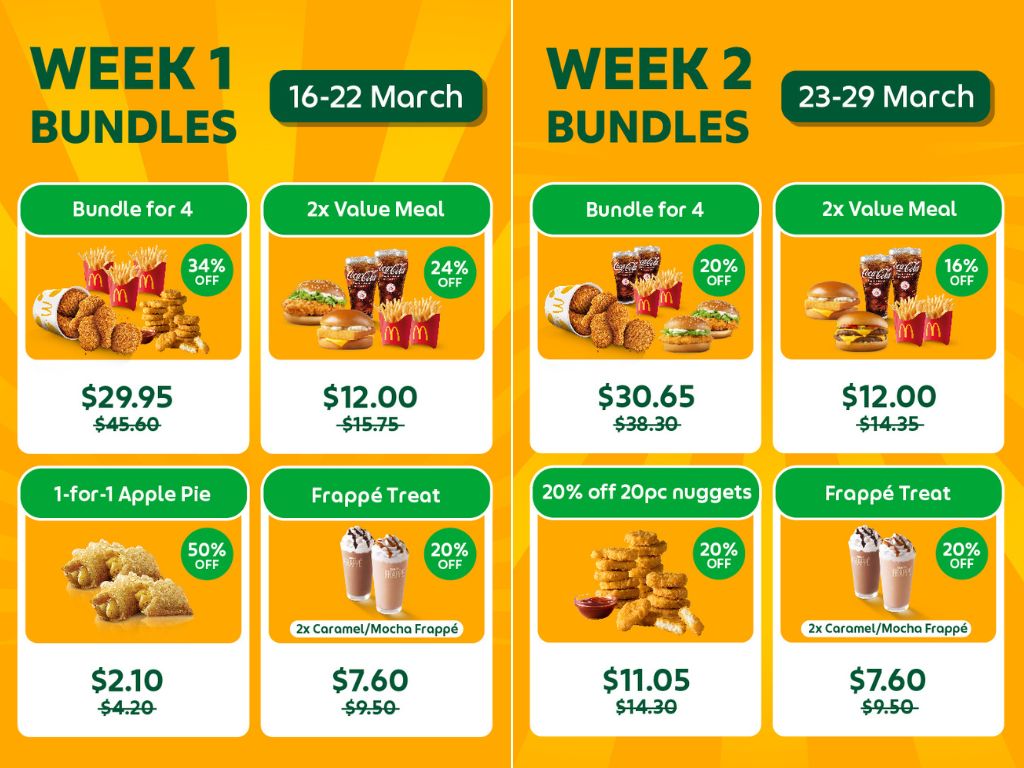 Meanwhile, the option for two will be a pairing of a Filet-O-Fish EVM and a double cheeseburger EVM for S$12, down from the original S$14.35. For sides, you get 20% off 20-piece McNuggets, so it'll go for S$11.05 instead of S$14.30. 
The same frappe deal in week one continues into week two.
For anyone feeling worn out after a tough week and in need of a little boost, why not hop onto the GrabFood platform and make use of McDonald's Happy Festival deals? 
After all, continuous small treats are one of the secrets to happiness in life — we won't argue with that.
Multiple stores islandwide
Opening hours: Operating hours vary across stores
Multiple stores islandwide
Opening hours: Operating hours vary across stores
---