Hawker Hustlers: Fukudon's Remus Seow dishes up hearty donburi in Marine Parade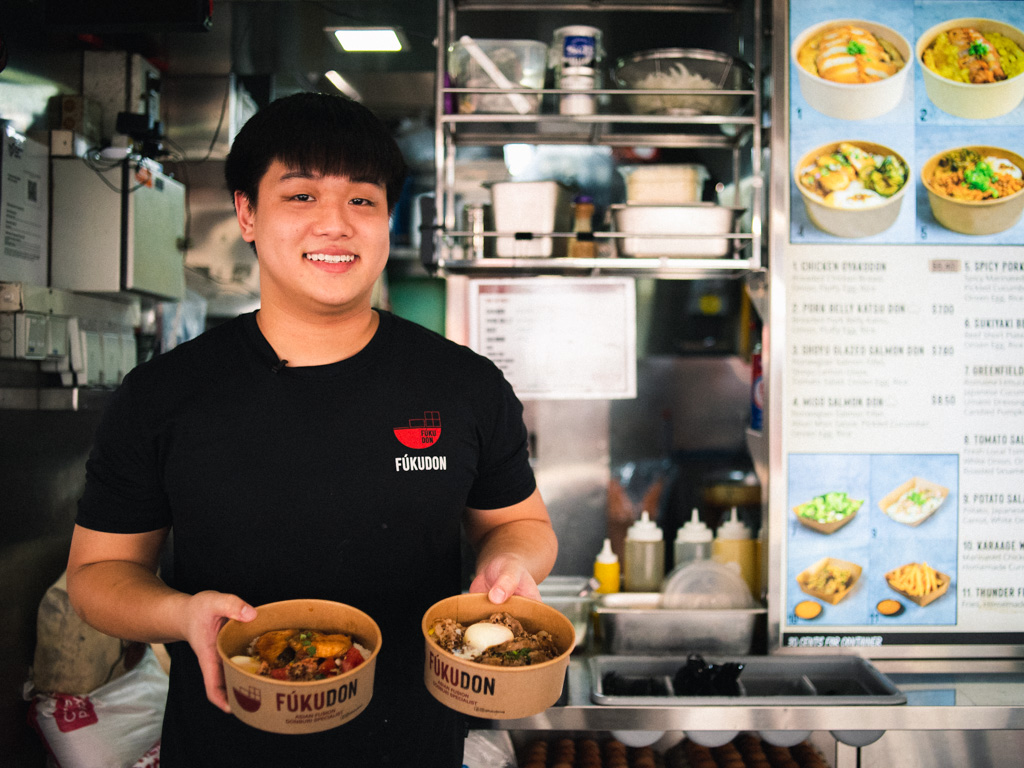 Hawker Hustlers is a new HungryGoWhere series spotlighting young and emerging hawkers with compelling stories.
Fukudon sits in an unassuming corner of Marine Parade Central Market and Food Centre. It's almost easy to miss for those unfamiliar with the area.

But, as we observed from a distance, a steady stream of customers in the know make a beeline for its hearty, delicious and affordable Asian fusion donburi (rice bowls). Fukudon's customer base ranges widely from gym bros and students to neighbourhood aunties and working adults. In fact, without fail, one mystery customer orders its crunchy-fries set every afternoon at 3.

Opened in 2020, Fukudon's loyal following is testament to the hard work of Remus Seow, 27, who has built a reputation for creating dishes that are a cut above the usual Japanese hawker fare.  
With his baby face and casual demeanour, Seow comes across as friendly and approachable, striking an easy rapport with the HungryGoWhere team.
After stints in Michelin-starred kitchens such as Les Amis and Basque Kitchen by Aitor, Seow took the plunge and ventured into the hawker business at the very place he grew up in: Marine Parade. 
He also wanted to pay homage to his fondest memories from his schooling years. "During my secondary school days, my friends and I would queue up during recess to buy our favourite donburi bowls. We squeezed a load of mayonnaise on top of our meals, making it even more sinful and scrumptious. I had always yearned to create my own version of donburi bowls with that same warm and hearty feel.

"Being able to bring my memories to life through Fukudon is not only nostalgic, but a great joy knowing everyone else can feel the same."
Here's a lightly edited excerpt of our interview:
1. What's the story behind Fukudon?
I started Fukudon based on my secondary school memory. I was studying at Bedok South Secondary and there always was a long queue at the Japanese stall in the school's canteen.
During the pandemic, I was still working at Basque Kitchen by Aitor. The lockdowns happened and many restaurants had to switch to takeaways. During that period, there was a lot of uncertainty. I wasn't sure how long this situation would go on for. 
Then the pay cuts started… I was talking to my secondary school friend Jonathan Khoo (now our business partner), and he suggested: "Why not open your own hawker stall?" I took it as a joke at first.

When that happened, I went home to think about it. I asked my then-girlfriend (now wife). She said: "It's a risk, but if you want it, you should go for it."

I was only 24 at the time. I thought, if I do this, and if I fail after two years, I can do something else.

I met my other business partner, also my childhood friend, Bryan Tan, who suggested that we make rice bowls. The moment he said it, the memory of my secondary school came back. 
He knew that there was a stall at Marine Parade, and this was where I grew up previously. I close my eyes, I can walk the whole place. So there's a story behind this; there's some soul in it.

For me, my earliest memory starts at the hawker centre. It didn't start in a restaurant; I wasn't born with a silver spoon in my mouth. 
I grew up with homecooked food. You know the movie Ratatouille? When the rat ate the cheese and had that mind-blowing experience? It's the same thing when it comes to hawker food. It's something I hold dearly to my heart.
Fast-forward to the R&D process with my wife, who's also a chef. She's now a sous chef at Les Amis restaurant. I was working there when I met her. She was the one who supported me every step of the way. I couldn't have done this alone. Nobody in their right mind can do this alone.

The first two rounds of R&D were a total failure. I can throw up and spit into the drain. Even the dog won't eat it. It was that bad. 
I had little experience with Japanese food. Previously, I was doing French, Spanish and Asian. 
I literally broke down. I started crying. Did I make the wrong move before we even started? My wife said: "There's no harm in trying one more time." I sat there for a while. I was very tired. But I decided to try one more time and tweak the dishes. 
We tweaked the alcohol levels, the burning of the alcohol levels, how we fry, how we plate, the sauce for the salmon, and tried to make the techniques consistent. All these didn't come overnight. After that, the food tasted not bad. After the seventh or eighth round, we invited our friends to come over and we collected a lot of feedback.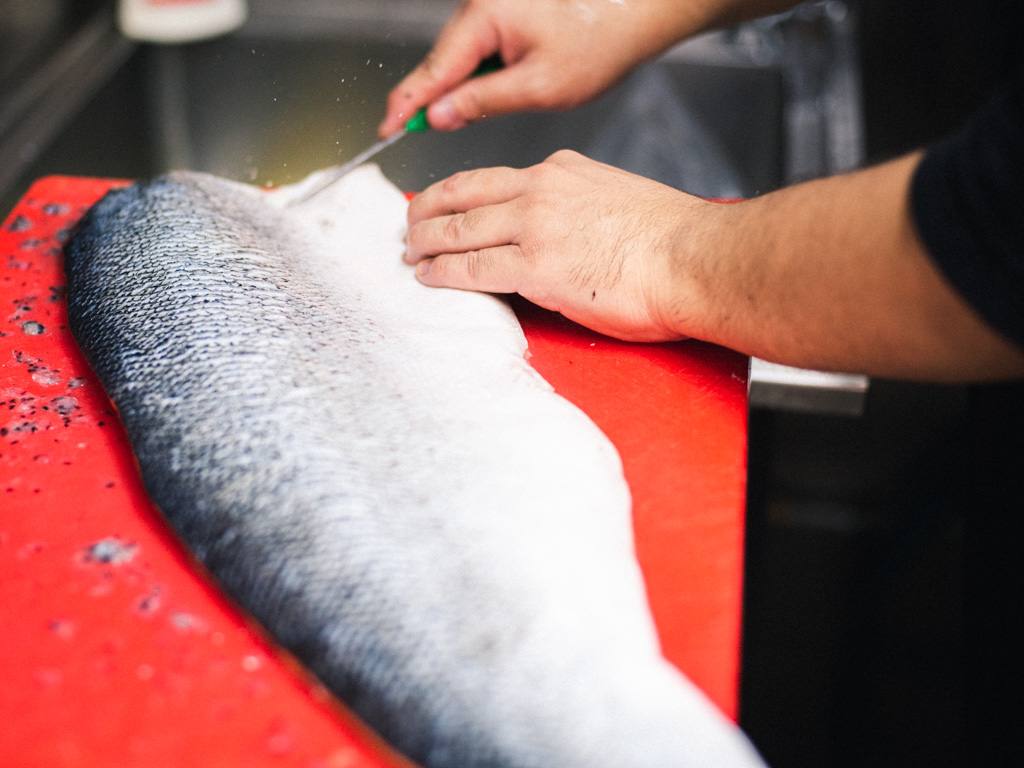 The first day we opened the shop, nobody came for the first half hour. I was like: "Oh, shit. Is this my life now?"

But then word of Fukudon slowly grew and we were super packed. For the first month, I worked from 7am to 2am every day. It was crazy. I worked until I wanted to die. All the lights were already off and I was still here, peeling potatoes, cooking the onions and everything.

After six to seven months, there was the Covid-19 Heightened Alert and we did takeaways. 
We decided to expand. We went to Punggol at first, but we didn't think it through because that was a very secluded location. Not a lot of people came down. So we moved to Novena. Slowly, I grew my team.
2. What makes Fukudon's food different?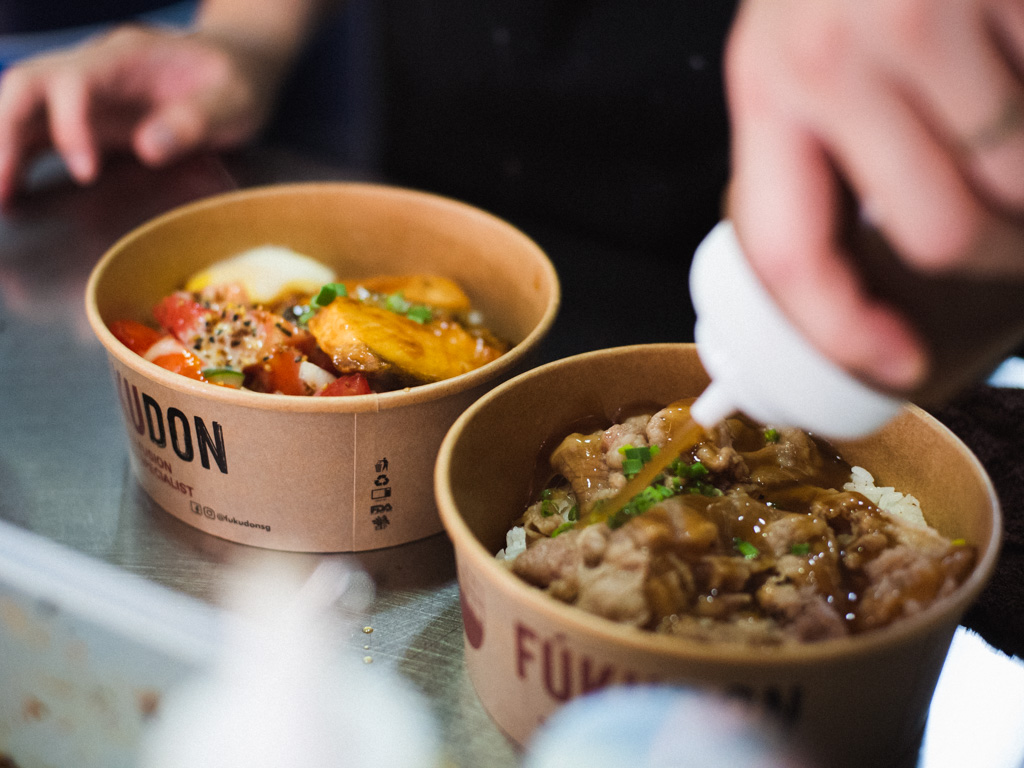 All our sauces are done by ourselves. We cook on the spot, so your food is not like cai fan (economic rice) where it's put outside. The taste, the quality, the pricing of the food. That's the difference between our food and others. 
It's affordable and showcases how Japanese food is supposed to taste. 
Usually, at most places, the salmon and chicken breast are dry. I try my best to use my skills to make it as authentic as possible.
3. What was the biggest difference between working in fine dining and the hawker trade in Singapore?
It's the suppliers. There's a big difference. I compare it to clothing. You have your luxury brands like Prada and Gucci, then H&M and Uniqlo, and then you're down to pasar malam (night markets). 
At different levels, the sourcing of the supplier will be very different. For me, all my contacts are from the fine-dining world. I can't bring them here, so I have to reach out to new suppliers. 
Luckily, my wife's cousin works in cai fan, so he helped connect me to good suppliers.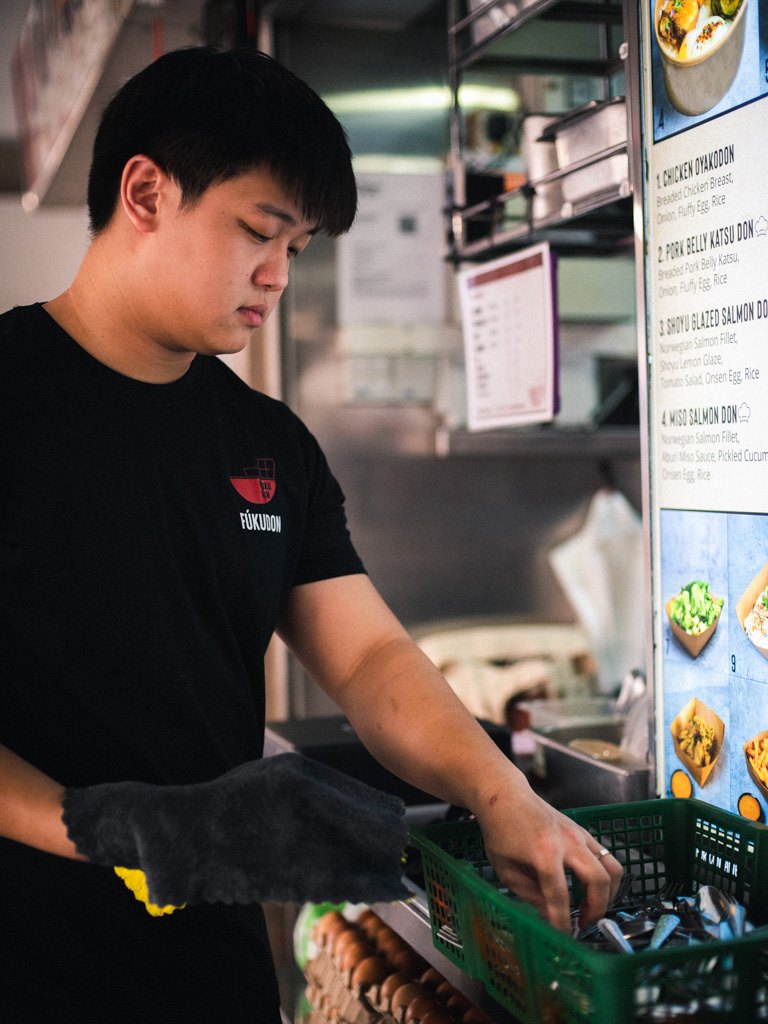 4. What's the best part of your day?
When people enjoy the food. Some people are a bit sceptical, but after they try it, they enjoy it. 
They tell me that the food is very good. That's when you feel a sense of accomplishment, that you have done something right. We always want to do something right in our lives, whether it is making our parents proud or making it in life. When that happens, you feel good: "Oh, I'm the one who made the food that is nice and they return."

There was a student who just ate one beef rice bowl. And then he came back to order one more bowl straight after. I said: "Bro, you can really eat!" He went: "I'm hungry, I'm hungry." (laughs)

Actually, Fukudon means "happy don".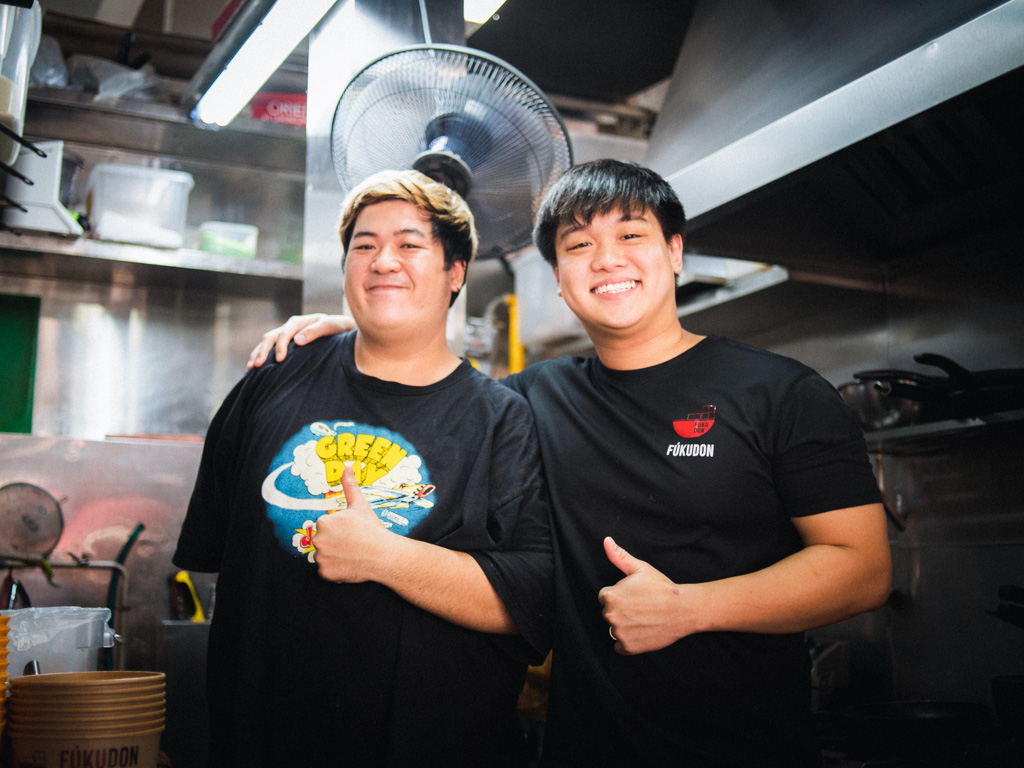 5. What was the worst day?
There was one day I almost went crazy. When it comes, it all happens at the same time. One staff member was down with Covid, the gas ran into problems, the fryer was spoilt, all on the same day. And I had long queues. I closed the shop, rushed to get all the things settled. I got through all that. This happens occasionally.

I came to a point where I got numb to it, but I'm able to be more prepared. 
I can put in place timelines, and if someone is sick, how to cover them. I try to make it work. At the end of the day, I tell myself the day will still go on, people will still complain, but you just go with the flow. You need to tell yourself to just do the best that you can. Whether it's good enough for other people, it does not matter. It matters only to you.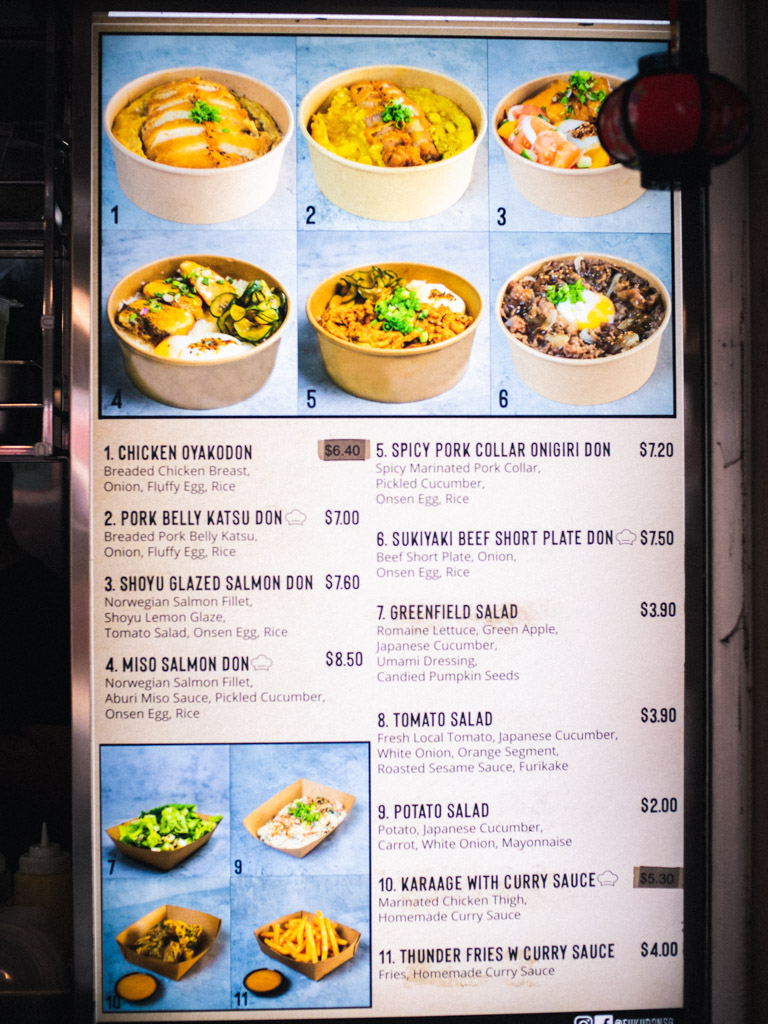 6. How has being a hawker affected your personal life?
I wouldn't say it's crazy, crazy. My life is a simple life. Just play mahjong and poker. Three nights ago, I was playing poker for three days straight. But not a crazy amount, lah, just hanging out with friends.

It's how simple or how complicated you want your life to be. There's a lot less me-time with my wife, but I still try to spend as much time with my family. 
My wife is off on the weekends, and then on Monday, my mother-in-law takes care of our daughter, together with my helper, and from Tuesday to Friday, our daughter will be at my mum's place where my mum educates her in Mandarin. It's the best I can do.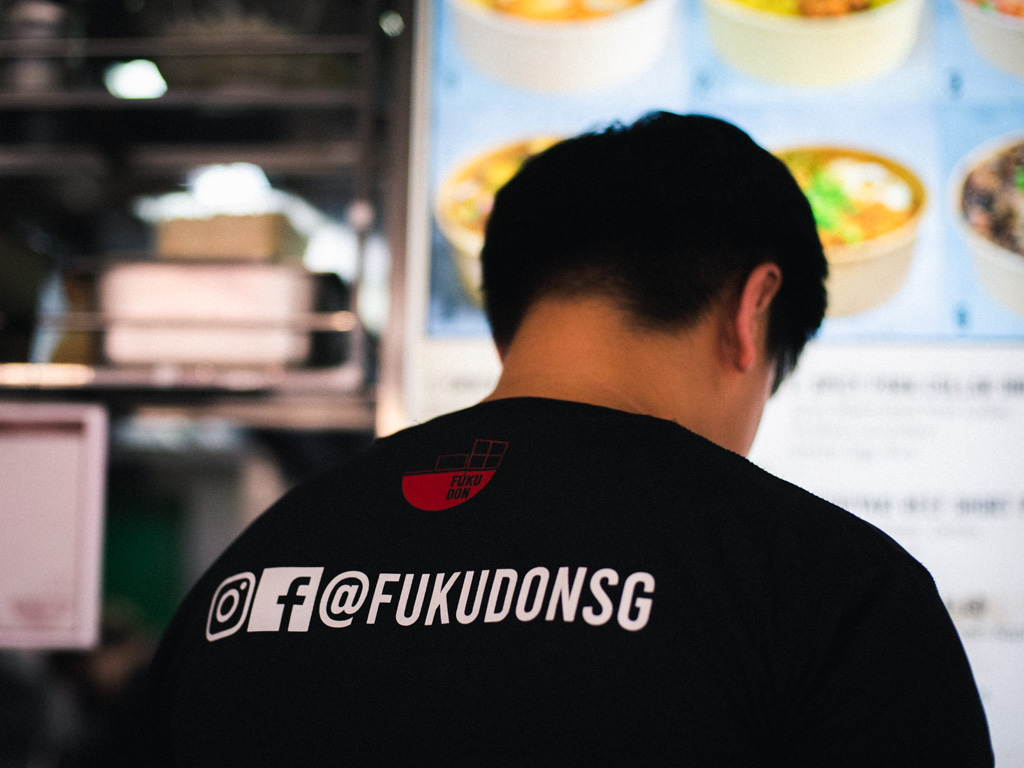 7. Plans for Fukudon?
We want to open another three outlets, each with a different concept, depending on the chef we bring in.

At Fukudon, I want to create a culture where everyone is on an equal level. I build the company around my people. I don't call them my workers, but my colleagues. We are all trying to support one another.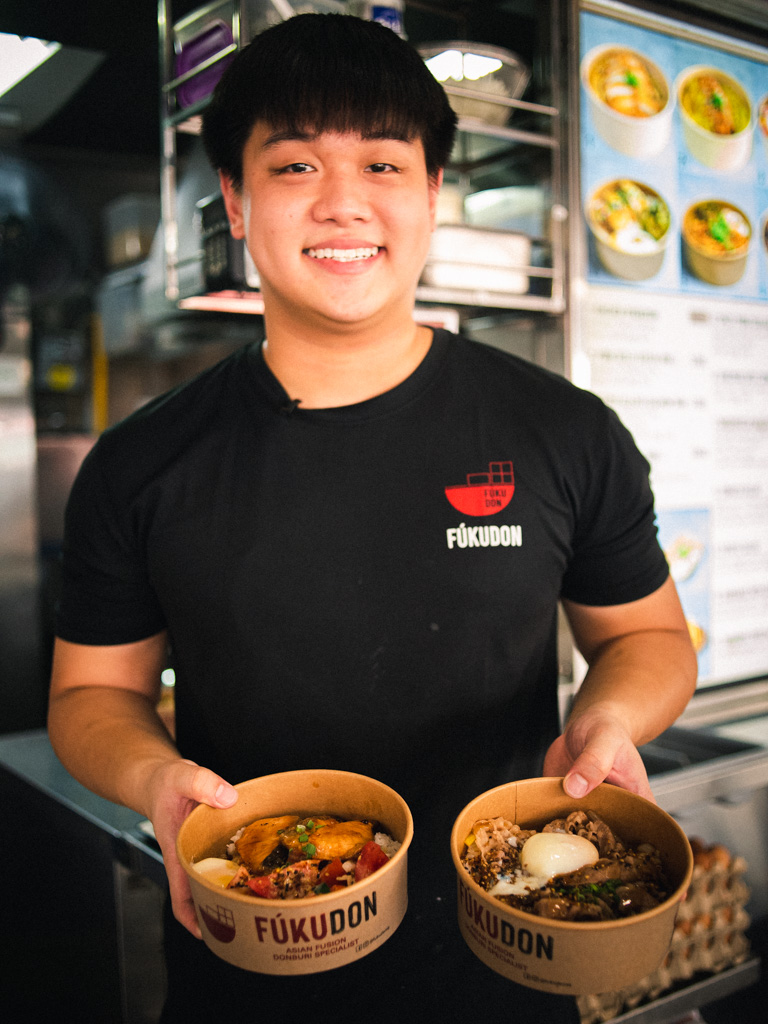 8. Favourite stall that you would recommend within your hawker centre?
The Chinese stall next to mine, called Chinese Noodle. I've eaten the whole menu already. I swear, she's got the best chilli-oil dumplings and cold noodles. It's still very shiok, even though I've been here for the last three years. 
Good news for our readers who scrolled all the way to the end! Here's your GrabFood donburi delivery promo for Fukudon, valid from May 6 to June 6, 2023: 
How it works
Use the promo code HGWFUKUDON for S$4 off your basket (minimum spending of S$20) when you order from Fukudon's Marine Parade stall on GrabFood 
Stackable with free Fukudon delivery (up to S$3 off) with a GrabUnlimited subscription 
While redemptions last, capped at one redemption per person
Marine Parade Central Market and Food Centre, 01-48, 84 Marine Parade Central
Velocity@Novena Square, Koufu Cookhouse, 03-47, 238 Thomson Road
Open: Monday to Sunday (11am to 8pm)
Marine Parade Central Market and Food Centre, 01-48, 84 Marine Parade Central
Velocity@Novena Square, Koufu Cookhouse, 03-47, 238 Thomson Road
Open: Monday to Sunday (11am to 8pm)
---