Monster Curry launches Mala series: Rice, pasta, and pizza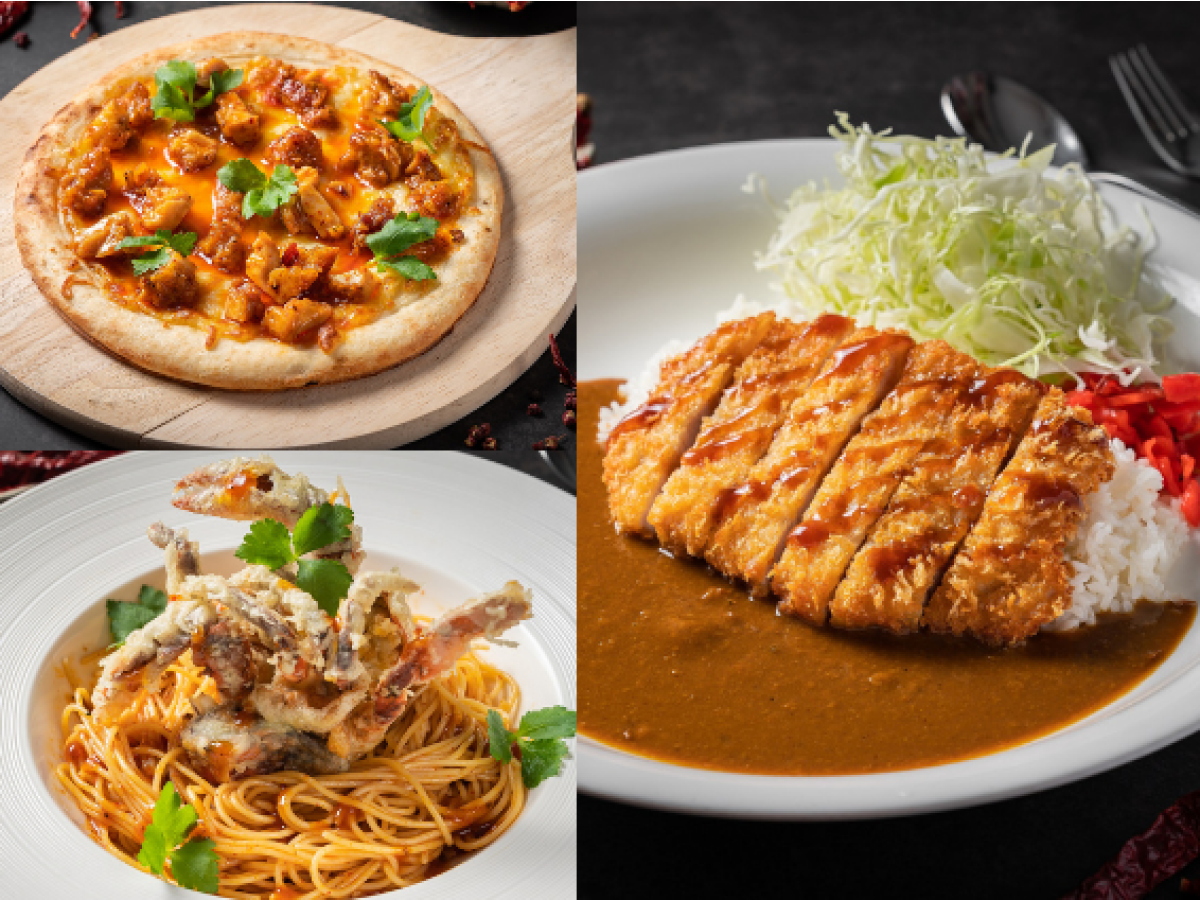 What we liked:
The Soft Shell Crab Mala Pasta – it was tasty, and the spice was just nice.
The Pork Katsu Mala Curry Rice – the meat was well done and went well with the thickness of the curry.
The ambience was delightful.
What we did not like:
The Tori Karaage Mala Curry Pizza – the numbing feeling was a little too overwhelming.
Mala variations have popped up in almost every eatery in Singapore, and it is apt that Monster Curry jumps on the bandwagon.
To satisfy your Mala cravings in a new way, head down to Monster Curry to try out their limited-edition Mala Japanese curry dishes, the first of such kind in Singapore.
On the menu, you can find their three new Mala offerings- the Pork Katsu Mala Curry Rice ($13.80), their Tori Karaage Mala Curry Pizza ($9.80), and the Crispy Soft Shell Crab Mala Pasta ($16.80).
These dishes are exclusive to their Chinatown Point outlet from Mar 1, for a limited period only.
For their curry rice, you can choose between their different spiciness levels from slightly spicy (Xiao La) to medium level of spiciness (Zhong La), and the highest level of spiciness (Da La).
Monster Curry's signature Japanese curry sauce contains 14 different spices and vegetables, slow-cooked for 2 days.
They have blended the all-new homemade mala sauce into the curry sauce, giving the dish the perfect umami-ness mixed with a perfect spicy kick.
Our verdict on the Pork Katsu Mala Curry Rice: This was one of our favourites from the series as it was not too numbing but gave us the Mala kick. The curry's thickness went well with the hint of mala. When eaten with the pork, you can get a mix of sweet and spicy flavours.
This goes well with the texture of the meat as well. The meat was tender yet crispy on the outside, making it a hit for us. We wish there were a little more vegetables as that gave the dish a little crunch and balance.
With the Tori Karaage Mala Curry Pizza, you will get a thin pizza crust spread with homemade Mala Japanese curry sauce and topped with a generous serving of Tori Karaage.
This new 8-inch pizza is suitable for a feast of one, so if you are looking to treat yourself, this is perfect.
Our verdict on the Tori Karaage Mala Curry Pizza: At one glance, it looked intimidating in terms of spice, but when you bite into it, it proves to be otherwise. The pizza had a good blend of curry and mala that was not too spicy for our palates.
But, the numbing sensation overpowered our tastebuds, and we could not really enjoy the pizza as much. There was one straight flavour from the mala spice, so we felt that it lacked depth in flavours.
However, the chicken chunks were juicy and surely gave us the variant textures we were looking for. If you are looking for a mala challenge, this dish is all you need. Though it was not our favourite, if you are an avid mala fan, try this out.
Lastly, their little fusion delight may excite your palate as well.
Choose their Crispy Soft Shell Crab Mala Pasta cooked to al-dente and tossed with a generous serving of mala sauce topped with crispy soft shell crab.
Our verdict on the Crispy Soft Shell Crab Mala Pasta: This dish had the best balance in textures, in our opinion. Starting with the soft-shell crab, we were given three crabs, and they were all juicy and full of flavour.
It did not have a strong seafood essence which we appreciated, and the contrast in textures between its outsides and insides was well done. Though the crabs sat in our pasta for some time, they did not turn soggy but instead retained their flavour.
When you try the crab along with the pasta, you would realise that the hint of mala from the pasta goes excellently with the crunchy crabs. The pasta was well cooked and had just the right amount of sauce as well. Though there were no other noticeable ingredients, the dish was tasty and quite easily became a must-try.
Besides these Mala dishes, you can feast on their other dishes such as Pork Shabu-Shabu Omelette Curry, Gastro Squid Ink Pasta, or even their sweet treat like Matcha with Azuki Beans Honey Toast.
For more updates on their latest offerings, visit https://www.monstercurry.com.sg/.
---