Review: 51 Tras — industrial-style cafe dishes up aburi chee cheong fun, S'pore-inspired pastries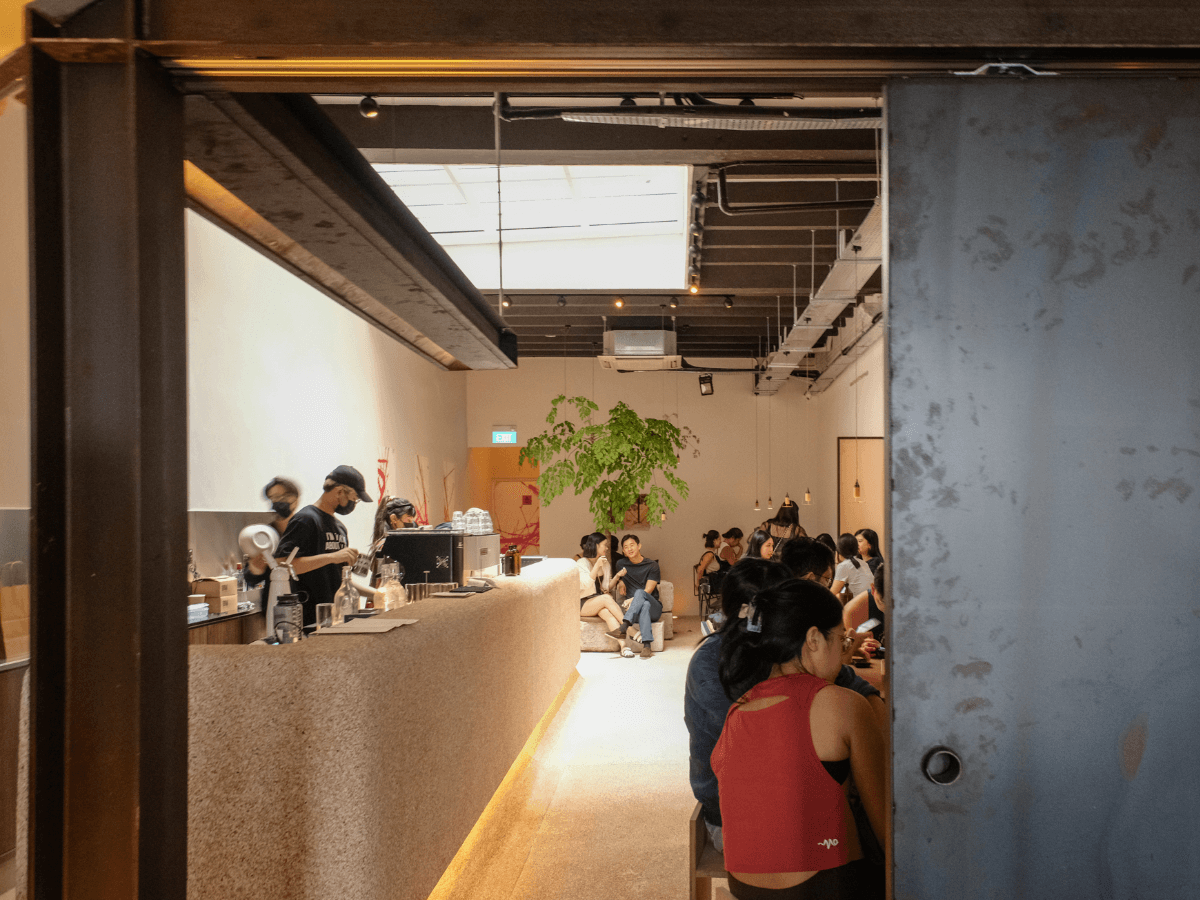 51 Tras is a collaborative concept by three Singapore chefs
Among the standouts are the aburi chee cheong fun, laksa quiche and muachee mochi blondie
The industrial-style cafe also serves a selection of sake, shochu and easy-drinking cocktails
Step into any hawker centre worth its salt and you'll find yourself a decent chee cheong fun, the ubiquitous rice noodle roll that's steamed till translucent and silky-soft. 
I've snacked on hundreds of them in my lifetime — from the savoury Hong Kong-style served with soy sauce and a sprinkling of toasted sesame seeds, to the more common Singapore variety drenched in dark sweet sauce and, occasionally, a decadent shrimp sambal. 
I hardly consider myself a connoisseur, but I love the dish — so much that talk of an aburi (Japanese for "flame-seared") version led me to Tanjong Pagar one weekend. 
Before I continue, I must emphasise this isn't a chee cheong fun review — well, at least not completely. This is about 51 Tras, a new cafe wedged in the middle of Tras Street.
The backstory
51 Tras is a unique concept that combines food offerings from three culinary artists: Pastry chefs Maxine Ngooi and Francis Wong, and Ben Yeo — you know, that Mediacorp celebrity who used to run Hawkerman and Tenderfresh? 
Ngooi, who co-owns the popular Joo Chiat patisserie Tigerlily, plays with Asian ingredients and splashes of Singapore flavours for the pastry menu. Wong, who used to head the now-defunct Non Entree Desserts, takes care of the dessert and cakes that he bases around the cafe's Eclipse theme. Which leaves us with Yeo and his latest venture, SG Chee Cheong Fun.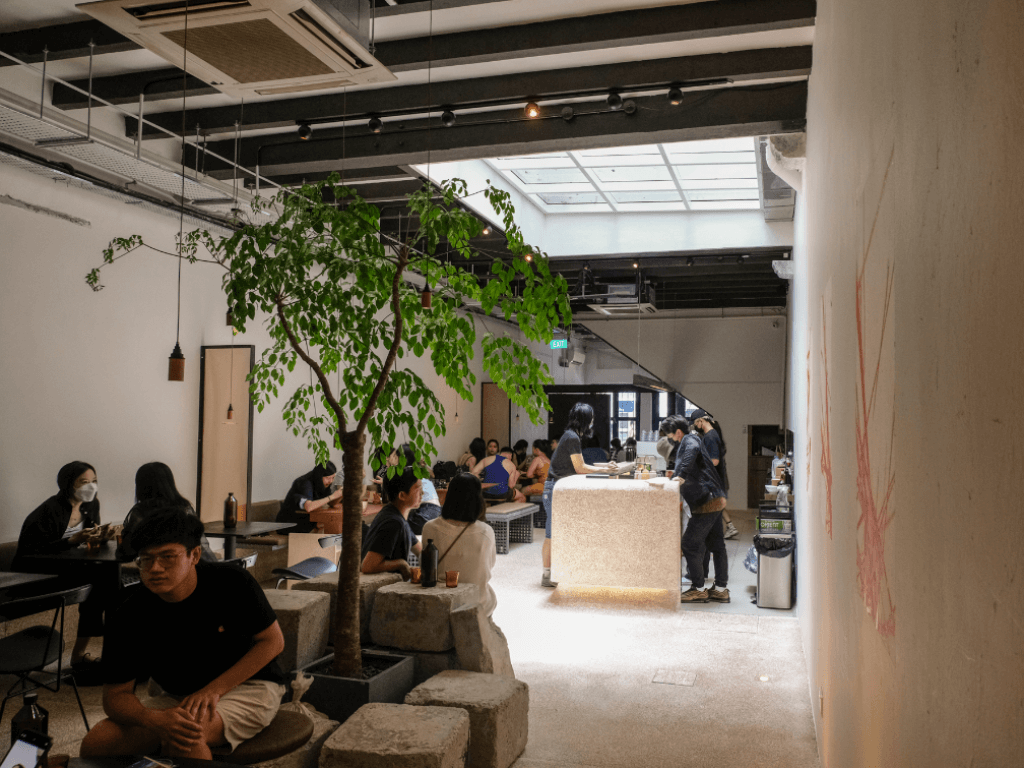 Our verdict

As far as industrial-inspired cafes go, 51 Tras is one of the more promising ones. 
It's not a cafe in the way its neighbours Baristart and Nesuto are, where matcha lattes, cream puffs and dainty cakes take centre stage. 
Self-described as a creative space, the large room is filled with raw furnishings and a small tree, with grungy art and exposed concrete lining the walls. It's an apt setting for an art gallery — or, in this case, a kitchen of food-loving collaborators inspiring one another to create food as art?
Swing by for a midday treat of pastries and dessert, and stay for the drinks — from coffees and sodas topped with whipped cream to a curated booze menu. The vibes are fantastic.
What it's good for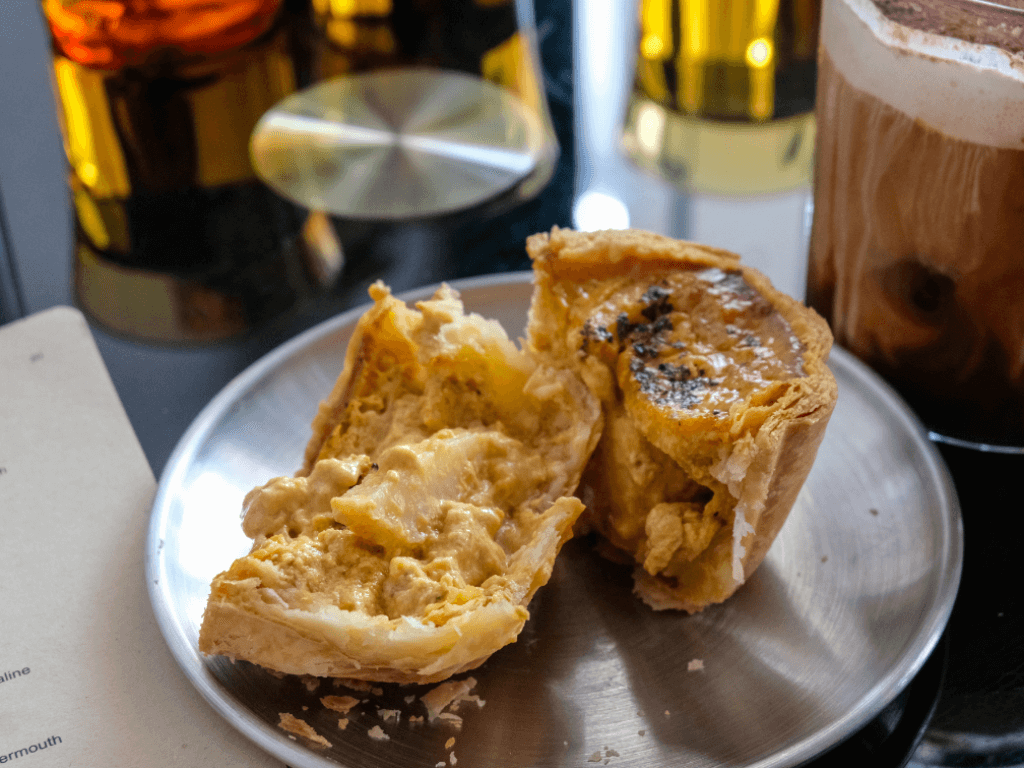 You can't go wrong with the laksa quiche (S$8), part of a selection of four pastries that Ngooi brings over from Tigerlily Patisserie daily.
The buttery pastry is packed with fragrant spicy coconut custard, like a laksa broth that's been reduced and thickened. It's a tad runny for a quiche, which she makes up for with extra-flaky pastry, and morsels of prawns and fishcake. The flavours and textures work brilliantly, and we'd have ordered more if they didn't sell out so quickly.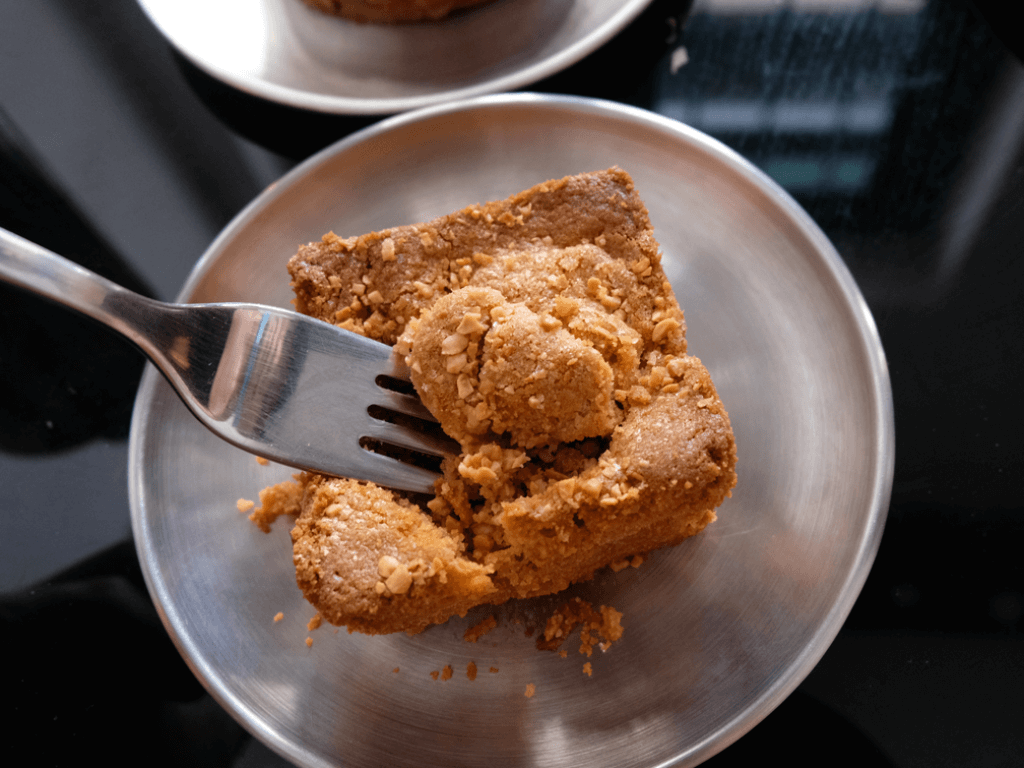 The muachee mochi blondie (S$8) is another tasty choice, stuffed with mochi and tucked in a crumbly layer of powdered peanuts. It has everything you love in a good muah chee — crunch, sweetness and chewiness — with the added fudginess and denseness of a blondie.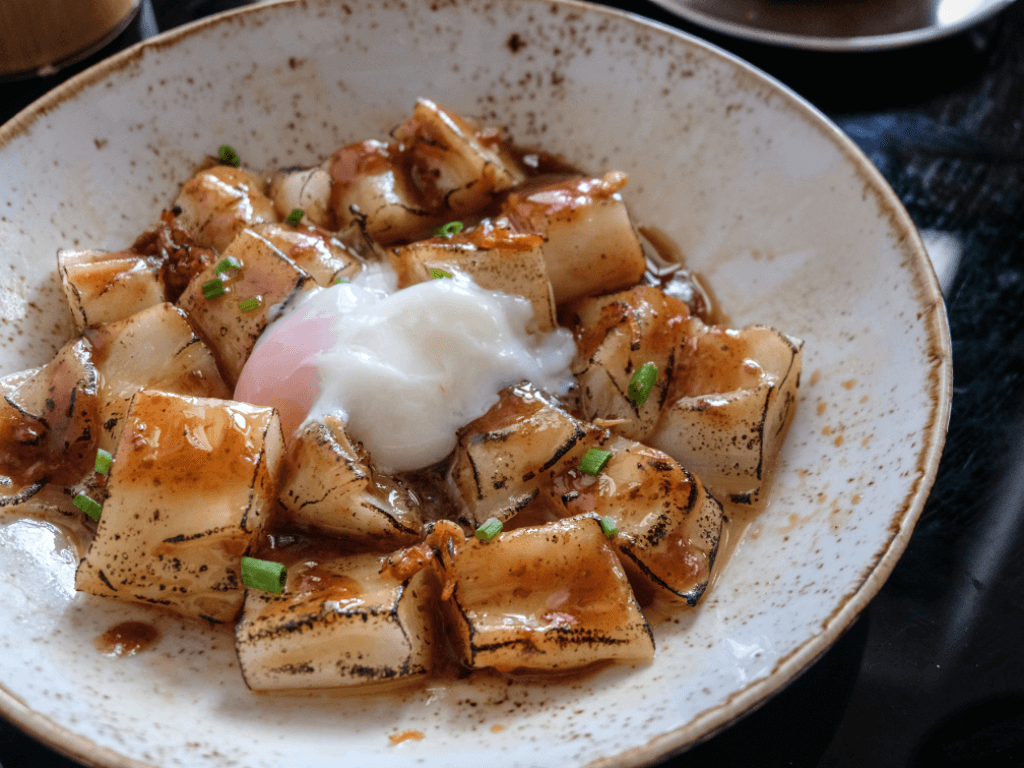 Then there's Ben Yeo with his aburi chee cheong fun (S$14.50). 
The thing about this classic dish is that you can't fake it. It's either on point, or your grandmother goes home. His version is slippery-smooth and comes torched with an underlying smokiness, luxing it up with onsen egg, crispy shallots and robust sambal chilli. But it's the smoky sweet sauce that really gets us going. Granny would baulk at paying this much for chee cheong fun, but I'd do it anyway.
Every table around us seemed to be enjoying (or taking photos of) Francis Wong's Instagram-worthy creations, so really, who could resist? 
The Pacific Rim (S$9) comes as a small orange cake that opens to reveal mandarin yuzu mousse and milk chocolate curd. It tastes like a tarter version of the classic chocolate-and-orange pairing. There are also bits of coconut flakes for added crunch, which, as a coconut lover, I absolutely approve of.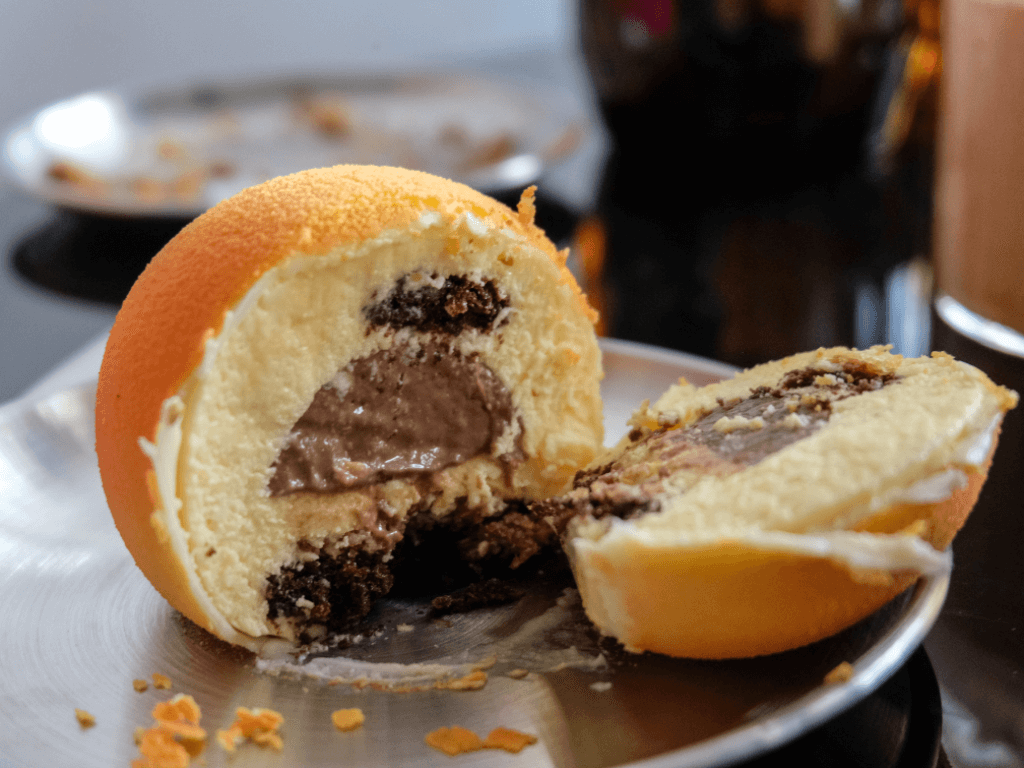 You could have an iced latte or mocha, but according to the staff, the einspanner (S$8.50 for black or S$9 for white) might be the ticket here. While this Viennese-style coffee is typically served hot, the ones here come iced, topped with cool whipped cream that's been soda-charged to give it a fizzy mouthfeel. I ordered the black version to better taste the coffee — made with a Brazilian-Ethiopian bean blend from Cumolo Coffee in Chinatown — and relished the fruity notes and balanced acidity. It's like a good espresso tonic, but creamier.
The short drinks list also has beverages such as honey orange chocolate and orange cream soda, which I'll be back to try.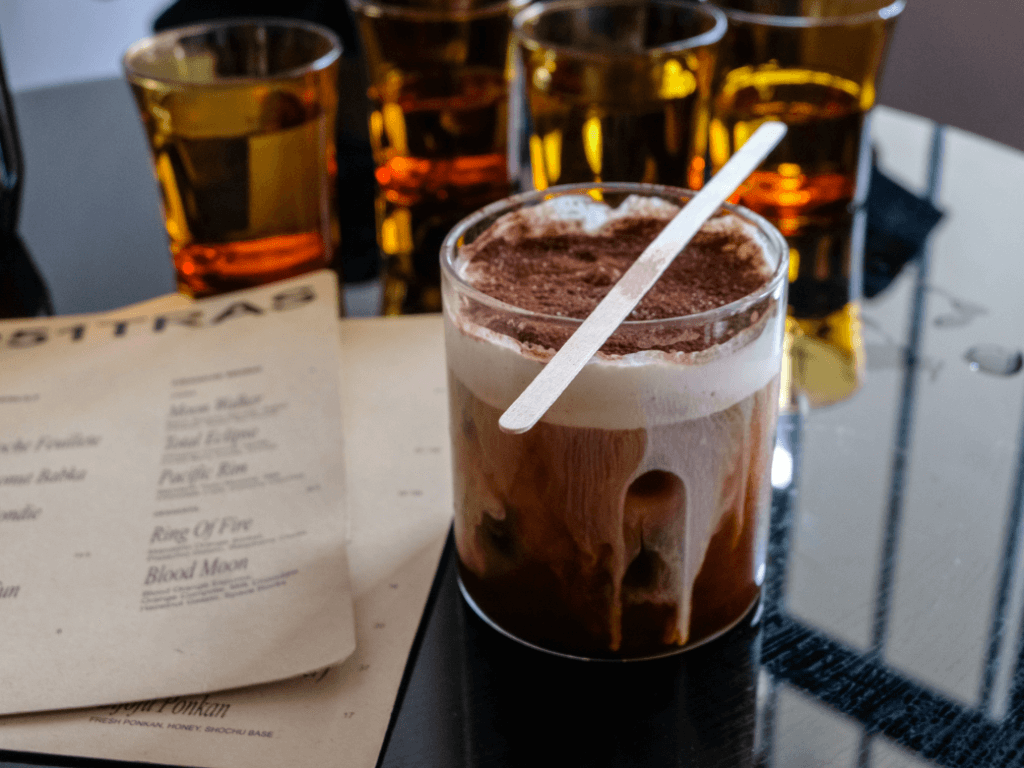 If you're looking to imbibe, 51 Tras offers a few beers and ciders, as well as a particularly impressive collection of sake, shochu and umeshu (from S$16 a glass or S$98 a bottle). 
I'm more of a cocktail man, so I get the 03 Vodka (S$20), a feisty concoction of vodka, ripe mango juice, lime, Angostura bitters, and strangely… chilli padi. This is a tropical flavour bomb that's sweet, sour, bitter, and spicy at the same time. While delicious, it was fairly low in alcohol strength.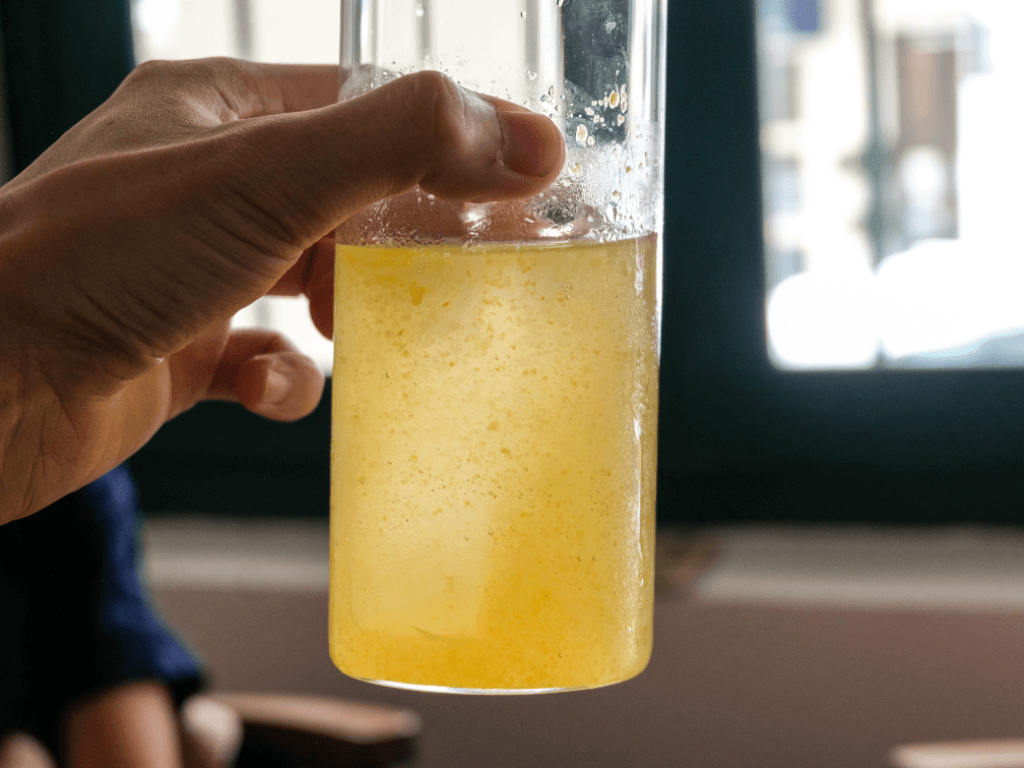 There are four other cocktails named after different alcoholic spirits – I reckon the 01 Gin (S$20), with Campari and two types of vermouth, could knock your socks off.
What it could improve on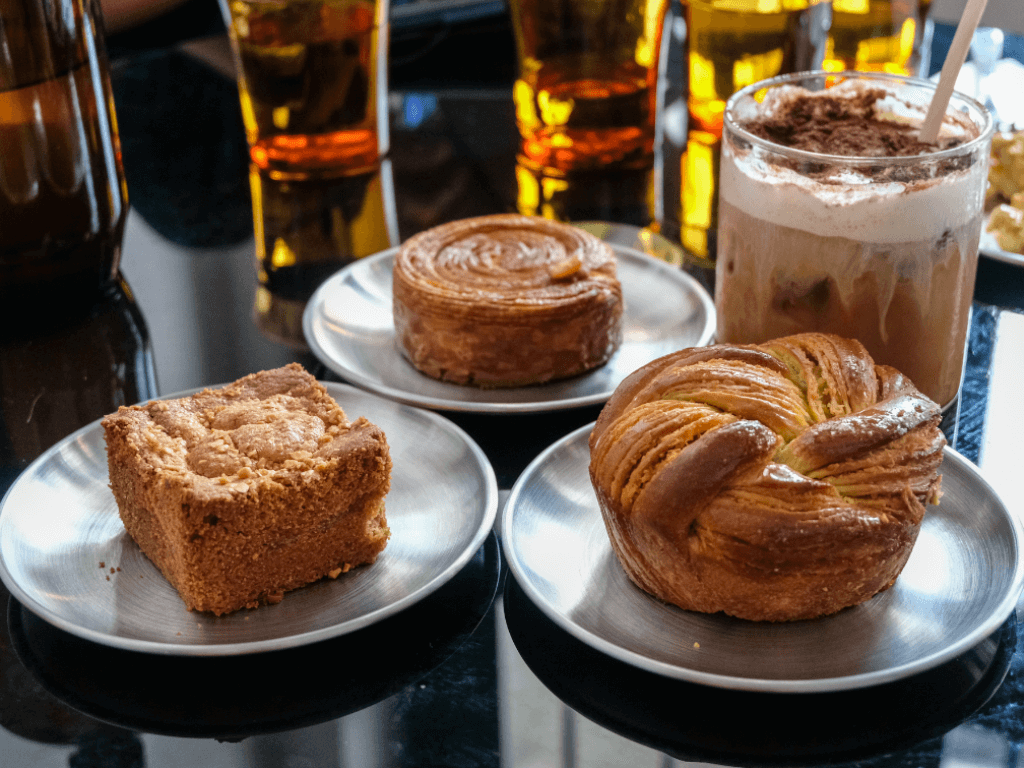 Compared with Ngooi's other pastries, the haebi hiam brioche feuillete and gula melaka coconut babka (both S$8) weren't particularly memorable. 
The brioche feuillete — like a bready kouign-amann with a caramelised sugary top — didn't quite appeal with its intense, savoury shrimp sambal flavour. I'd have enjoyed this more in a less buttery pastry. 
The babka was less fluffy and soft than I hoped and tasted closer to plain coconut bread. Perhaps some bits of gula melaka inside would make this more interesting.
The Blood Moon (S$16.50), another round dessert by Wong with a planet-esque chocolate shell, juxtaposes milk chocolate hazelnut gelato with blood orange espuma foam. While I love the idea, I expected more espuma, which would have cut the richness of the gelato for a more refreshing experience.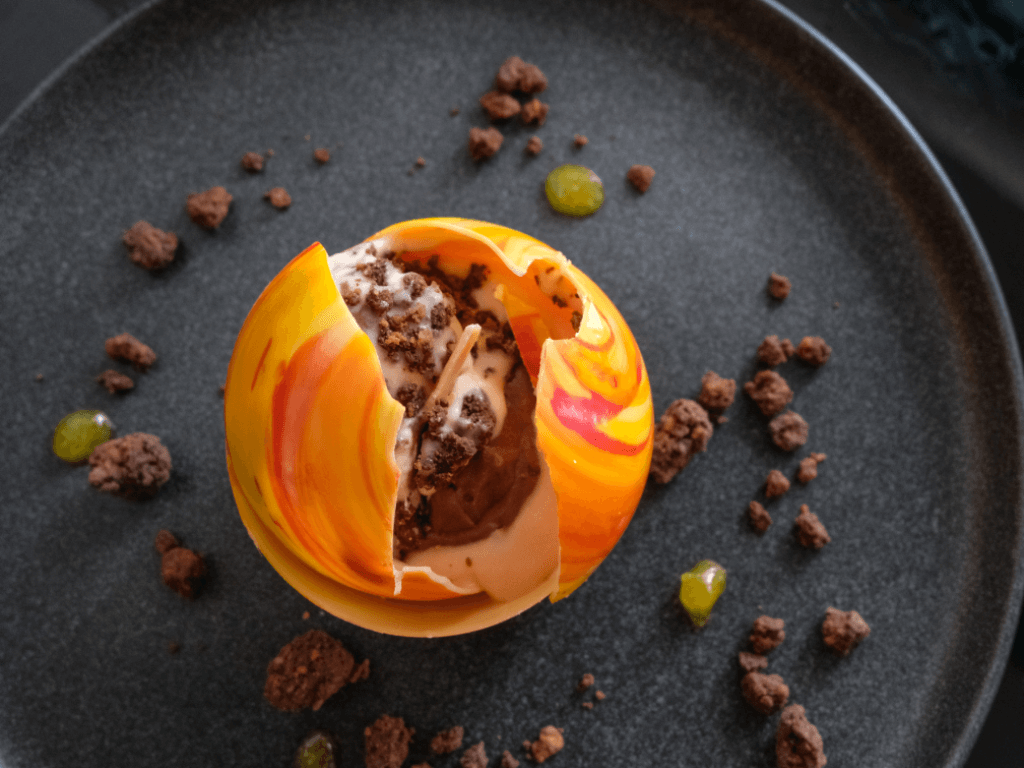 Our quick takes 
Is it conducive to conversation? Like in a lot of minimalist industrial-style spaces, it can get slightly echoey. The music is loud enough to be present but not overbearing.
Is a reservation necessary? Walk-ins only! Avoid going for brunch for a higher chance of scoring a seat. 
How to get there? Make your way to Tras Street, a three-minute walk from Exit A of Tanjong Pagar MRT station.
Things to note: 
Service can be slow on weekends, but when you manage to get the attention of the staff, they are quick to recommend dishes to suit your tastes. 

Cakes and dessert usually sell out early, before 3pm, so head there early if you can.
HungryGoWhere paid for its meal at this eatery for this review.
Book a ride to 51 Tras.
51 Tras Street
Open: Wednesday to Sunday (11am to 7pm)
51 Tras Street
Open: Wednesday to Sunday (11am to 7pm)